Time for BIMFEST 2010
BIMFEST 2010 welcomes Laibach and DAF
For its 9th edition of the BIMFEST (taking place on December 18), BodyBeats Productions finally got hold of Laibach who canceled the last time, and of DAF, who returned with one of the most expensive songs in history of electronic music. As far as Laibach is concerned, the band will be bringing a 'best of' set.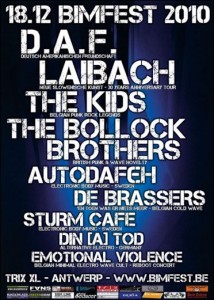 Also invited to this usually very family friendly festival are the Belgian punk legends 'There will be no next time' The Kids, cold-wavers De Brassers and the rebooted minimal electro heads Emotional Violence. Next to them, you may expect the British punkrock/new-wave band The Bollock Brothers, Swedish old school EBM acts Autodafeh and Sturm Café and the Berliner electro-rockers Din[a]tod.
Tickets are €30 (before October 1st) / € 35 (from October 1st on) or €40 at the doors. Tickets and more info can be found at www.bimfest.be .
Comments