A new audio format from Native Instruments has been announced that allows DJs to break apart tracks into individual elements: get all of the details here: http://wp.me/pa1fv-bYb
Stems is an open audio file format that basically stores four 'stem' tracks (for example – bass, drums, melody & vocals) along with the full mix. The format is designed to simplify live remixing of tracks, because it provides a standard way to deliver remix-friendly audio.
When playing a track, the Stems format makes it easy to do drop out any of the four stem parts. Native is aiming at broad adoption by making Stems an open format. They also plan to release a free tool for creating Stems files, Stem Creator Tool.
Two things make Stems notable:
It's being introduced by Native Instruments, one of the leading creators of DJ software and hardware; and
It's an open format, so that it can be freely supported by musicians, labels and other hardware and software manufacturers.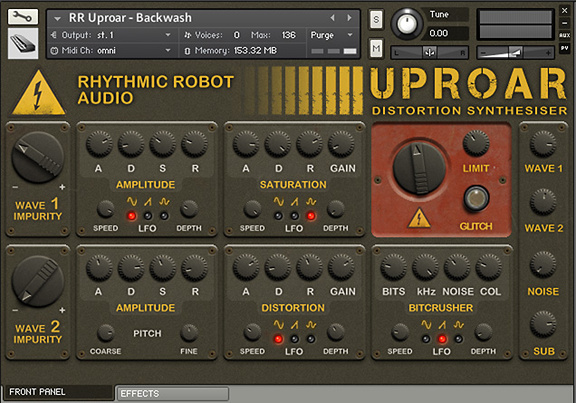 Rhythmic Robot has announced the release of Uproar, a unique distortion-based analogue synthesizer instrument for Native Instruments Kontakt.
Continuing our campaign to rid the world of same-sounding soft synths, we bring you Uproar – a machine that turns traditional analogue synthesis on its head. Instead of filtering harmonically rich waves, Uproar distorts and energises smoother waveforms until they break free of their restraints and go rampaging through downtown New York, smashing everything in their way.

Uproar doesn't just add distortion – it puts that distortion under the control of ADR envelopes and dedicated LFOs, so that you can create evolving synth patches full of movement and character. Want your pad to have a slowly-building glow of saturation at the same time that its bit depth is spiralling up and down via a sinewave LFO? Want your lead to scream and then subside as its Distortion gain is automatically reduced? Want your synth lines to emerge gradually from a burbling fizz of reduced bits? We've got you covered.

Uproar doesn't just do angry. It can also take trad subtractive synth staples and give them a new lease of life, giving you classic sounds with a fresh twist. It's great for adding air and harmonic overtone to your sound (with no filters, you never lose that high-frequency breathiness). It can be surprisingly subtle at times (but ssshh, don't tell it). The base waveforms blend between smooth sines and more complex, erratic waves which we made by eBowing an electric guitar strings: great for more organic, uneven sounds.
Uproar features
Twin detunable waveform generators: blend between pure sines and erratic, complex eBow guitar strings.
Three independent distortion types under LFO and envelope control for moving, shifting, evolving harmonic spectra.
Perfect for high-energy, aggressive synth sounds, or subtler tones with an unusual, airy edge.
Uproar is available at an introductory 15% discount until March 13th, 2015, after which it will be £20 GBP plus VAT.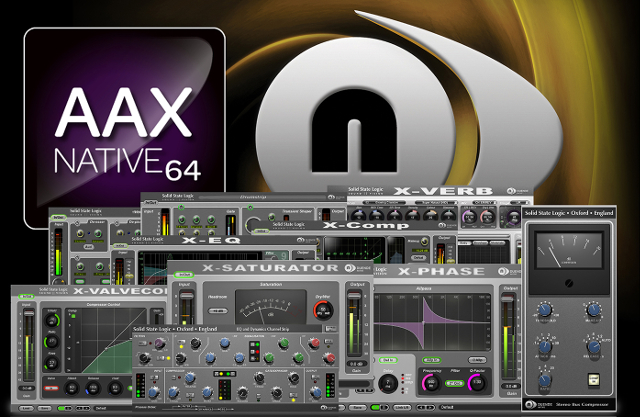 The release of new AAX (Avid Audio eXtension) versions makes SSL's Duende Native plug-ins compatible with any 32-bit or 64-bit system running Pro Tools®/Pro Tools HD® 11 software. The continued compatibility with VST, AU and RTAS systems means that SSL plug-ins are available to almost all DAW users.
The new versions are available to download now from the SSL web site and are free to all existing owners. SSL is celebrating the release with 14 day introductory pricing on the Duende Native Essentials bundle at £99/$169/129€ (offer ends 25th Nov 2014. Terms and Conditions apply. Available online from the SSL web store only).
SSL Duende Native plug-in collection delivers SSL's renowned signature superior audio quality, sophistication and benchmark performance to inside-the-box DAW audio producers. The Duende Native range has grown to the current portfolio of 10 different beyond benchmark quality processing tools. The EQ & Dynamics Channel plug-in provides an EQ & Dynamics processing solution with all the power, precision, flexibility and signature tone of a SSL 9K and later SSL console channel strip.
The legendary Stereo Bus Compressor plug-in gives you the classic SSL stereo master bus compressor that brings power and punch to your mix without compromising clarity. Drumstrip and Vocalstrip are 'task specific' plug-ins which each gather together a set of carefully selected and lovingly crafted processing tools to get you straight to outstanding Drum and Vocal sounds quickly and easily.
X-EQ and X-Comp are both mastering grade processors that deliver superb balance of precision and tonal character. X-Verb is an incredibly powerful and flexible processor which brings beautiful hardware standard reverb to your DAW. X-Valvecomp and X-Saturator are both new plug-ins designed to inject some analogue style saturation into your digital DAW. X-Phase also a new release is designed to help you fix awkward phase issues with our high-precision frequency-specific phase control toolkit.
more info at www.solidstatelogic.com/duende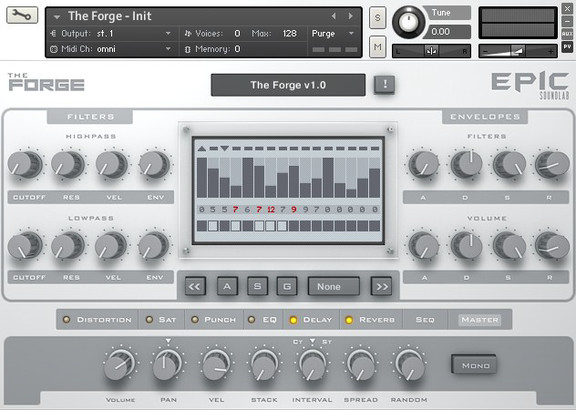 Epic SoundLab has launched with the release of The Forge, a hybrid scoring instrument library for Native Instruments Kontakt.
The Forge is a powerful yet intuitive sample library aimed at Film, TV and Games composers.

It is designed to offer a flexible environment to customize every sound and making your own.
The Forge features
Advanced User Interface.
Arpeggiator.
Polyphonic Sequencer.
Rhythmic Gater.
Unison / Voices Stack.
Resonant Delay.
Dual Engine Reverb.
Over 200 Kontakt patches.
Over 3GB of open WAV files.
MIDI Files.
Customize your own samples.
The Forge is available for purchase for the introductory price of $149 USD/119 EUR/£95 GBP until November 1st, 2014 (regular $189 USD/149 EUR/£119 GBP). Requires full version of Kontakt 5.1 or higher.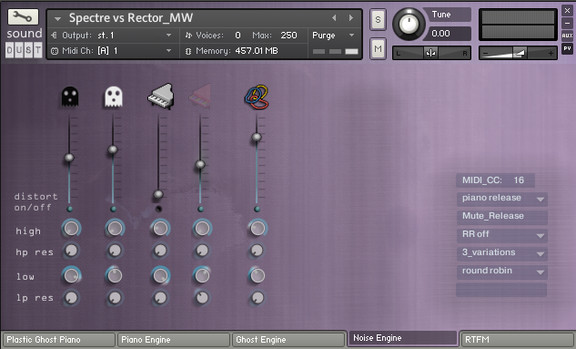 Sound Dust has launched Plastic Ghost Piano, a convolution based hybrid piano instrument for Native Instruments Kontakt.
The piano sample set was made by sending bursts of controlled noise through unsuspecting piano samples used as convolution reverb impulses.

Plastic Ghost Piano is designed to be a warm, analogue sounding hybrid piano with real character and lots of sonic possibilities that range from warm, woody and expressive acoustic piano to "blissed out orchestral shoegaze haze".
Plastic Ghost Piano features
549MB of 24-bit samples with up to 23 velocity levels per note.
Advanced architecture with automatable control of everything.
Sample start control.
Ghost Engine with per voice algorithmic reverb.
Noise Engine with per voice distortion and filtering.
69 specially created convolution reverb impulses recorded from real spaces, expensive hardware, and some less obvious sources including a Roland Space Echo, Lexicon reverb and the stage of Glyndebourne Opera House.
6 deeply multisampled sound articulations; Dark Ghost convolution, Pale Ghost convolution, Hohner Pianet, Convolved "plastic" piano, palm mute Stratocaster and Release Piano.
Leslie effect, cabinet modelling and morphing EQ.
Selectable and adjustable release group.
Round robin sample swapping.
MIDI timing jitter.
25 "starter" presets.
Built-in instruction manual.
The library is available for the introductory price of £20 until October 18th, 2014 (regular £25 GBP). Requires full version of Kontakt 4 or above.
Dance music pioneer A Guy Called Gerald talks about the culture of technology in electronic music and how new tools like TRAKTOR DJ for iPad changed how he performs and creates.
We're giving you the chance to win a VIP weekend in Berlin – just record your own rooftop mix with TRAKTOR DJ for iPad and iPhone and upload it to Mixcloud.
Don't have TRAKTOR DJ? No problem. Just share your best Spotify playlist below and tag #WHATWOULDYOUPLAY
More details here:
http://www.native-instruments.com/en/…
Thanks to:
BASEMENT London and The New British
Music:
A Guy Called Gerald – Voodoo Ray
A Guy Called Gerald – 28 Gun Bad Boy
More on TRAKTOR DJ:
http://www.native-instruments.com/tra…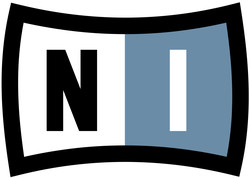 Native Instruments has released updates for Battery, Kontakt & Kontakt Player, and Reaktor & Reaktor Player.
Changes in Battery v4.1.4
Added advanced Komplete KONTROL integration.
Fixed an issue with kits being replaced when loading a host session with the kit-preview button enabled.
Other minor fixes.
Discontinued Mac OS X 10.7 support with this update.
Discontinued RTAS support with this update.
Changes in Kontakt v5.4.1
Added advanced Komplete KONTROL integration.
Added Snapshot system for Instruments.
Added load_array mode 2, nka files can now be stored in the resource container.
Fixed crashes.
Improved CPU performance in certain scenarios.
Discontinued Mac OS X 10.7 support with this update.
Discontinued RTAS support with this update.
Changes in Reaktor v5.9.2
Support for Komplete KONTROL S-SERIES.
Automation Module.
HW Control Module.
Various improvements and bug fixes.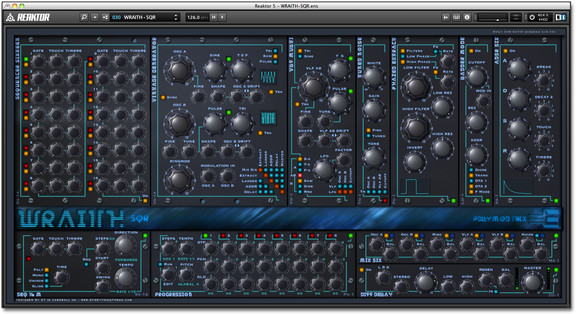 EverythingTurns has announced the release of Wraith, a PolyMod Rack series polyphonic modular analog synthesizer instrument for Native Instruments Reaktor.
Wraith is available in two form factors, the larger Wraith SQR has two built-in sequencers that can run independently to each other, Wraith Mini has all the same synthesis capabilities and is better suited for smaller screens.
PolyMod features
PolyMod is more of a template than an ensemble and has features built-in that will make the whole process of building new ensembles at ET better in so many ways.
All PolyMod ensembles have a consistent user interface making the learning curve for new designs greatly reduced.
PolyMod has skins built in – 22 to choose from and they are saved with each snapshot, having different colours for different tracks in a sequencer makes a lot of sense, red for bass and blue for pads, etc.
All PolyMod ensembles are pre-order only, this means no instant downloads, when an order is placed the instrument will be sent to you within a day or so and you will have the only copy, the original encrypted version is kept on the server as a backup if needed.
Each Ensemble is Unique to you.
Wraith is available for purchase for £18 GBP (SQR)/£14 GBP (Mini), or £28 GBP for a bundle of both. Requires Reaktor version 5.8+.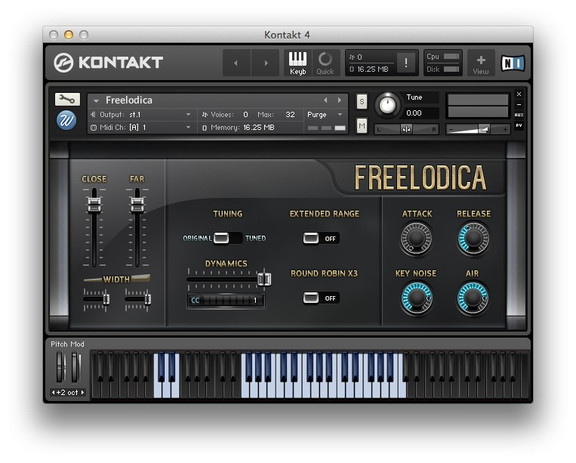 Wavesfactory has announced the release of Freelodica, a free sampled 32 keys Hohner Melodica for Native Instruments Kontakt.
2 microphone positions with stereo width controls. Envelope, key-noise and air volume control. 3x optional round robin and extended range. Original tuning and perfect tuned samples. Dynamics controlled by any CC. Breath noises included for more realism.

We also modeled the imperfect behaviour of the instrument so there is no either sonic or playable difference between The Freelodica and the real thing.
Freelodica features
Stereo WAV files, 44.1KHz 24bit.
3x optional round robin.
120Mb downloaded.
2 microphone positions with stereo controls.
Original tuning and digitally tuned versions.
Envelope, key noise and breath controls.
Dynamics controlled by any CC.
Real behaviour modelled.
The download is available for free exclusively at Wavesfactory.com. Requires Kontakt full version 4.2.4 or higher.