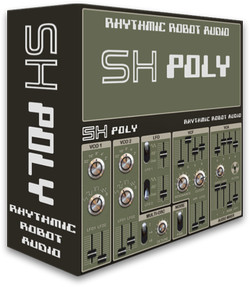 Rhythmic Robot has released SH Poly, a classic analogue subtractive synth for Native Instruments Kontakt, sampled from Roland's 70′s flagship synthesizer, the SH7.
It features two main oscillators accessing six different waveforms between them, plus a white / pink noise generator, dual LFOs with sine, ramp or randomised output, and a host of modulation possibilities.

The two main oscillators can be thickened further using the Multi-Osc feature, which adds multiple extra detonable oscillators – up to a maximum of ten, for an intense, stacked, "supersaw" style sound. SH Poly also features a selection of 70s-inspired effects and Rhythmic Robot's trademark Glitch button, which randomises the instrument in a musically-aware fashion, making generating your own patches extremely simple. The user interface is closely modelled on the classic Roland signature graphics and colour palette.

The original SH7 was a powerhouse monosynth that crowned Roland's lineup in the late 70s. SH Poly takes that amazing sound and crams it into a poly machine: rich, lush pads and thick basses can be dialled up with ease; bubbling leads and squelchy riffs are right there too. The sound is characteristically dense, warm and rich, especially with the Over Load control turned up and a little dose of Multi-Osc.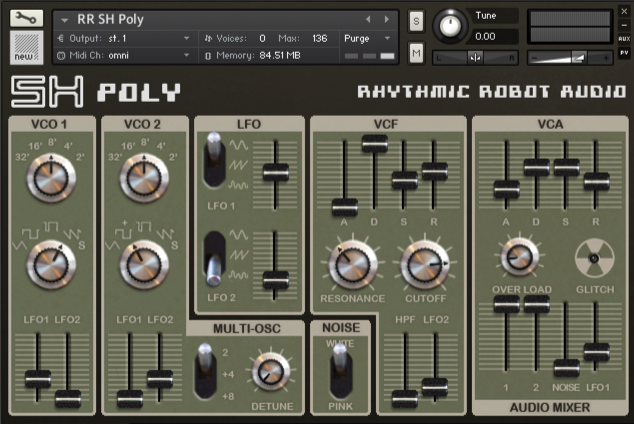 SH Poly features
Classic twin-oscillator subtractive synthesis in a Roland-inspired framework.
Multiple samples of authentic SH7 oscillators.
58 factory patches to start you off.
"Multi-Osc" allows extra oscillators to be switched in for a hugely rich, intense sound.
"Glitch" button for instant, musically-randomised inspiration.
The Poly SH for Kontakt is available to purchase for the introductory price of £13.45 GBP (regular £14.95 GBP).
ACTION STRIKES delivers high-impact, orchestral percussion with state-of-the-art workflow and playability. http://www.native-instruments.com/act…
Re-envision your orchestral percussion. 12 full ensembles plus 65 single instruments, exclusively recorded in uncompromising quality. Hundreds of timeless rhythms, adaptable for any project. And a state-of-the-art interface that lets you direct the drama in real time. Become the conductor — this is ACTION STRIKES.
Learn how to use Action Strikes' state-of-the-art interface in this informative tutorial video. http://www.native-instruments.com/act…
Discover Maschine Studio's ultra-intuitive beatmaking and production workflow in this short overview video. http://www.native-instruments.com/mas…
MASCHINE STUDIO keeps you laser-focused on the quest for the perfect groove. Its pattern-based sequencer and high-performance sampler, exemplary drum synths, incredible suite of creative effects and pro instruments, and acclaimed sound library deliver ultimate production power. All with a fully tactile, hardware-focused workflow that puts you in total control of the groove.
With two new AMOLED screens and a more integrated control surface, Maschine Studio is now the flagship hardware in the range, with a major software upgrade in V 2.0 which also is compatible with the existing Maschine Hardware, there's a lot to digest. Gaz Williams takes us for a deep appraisal of the two new components.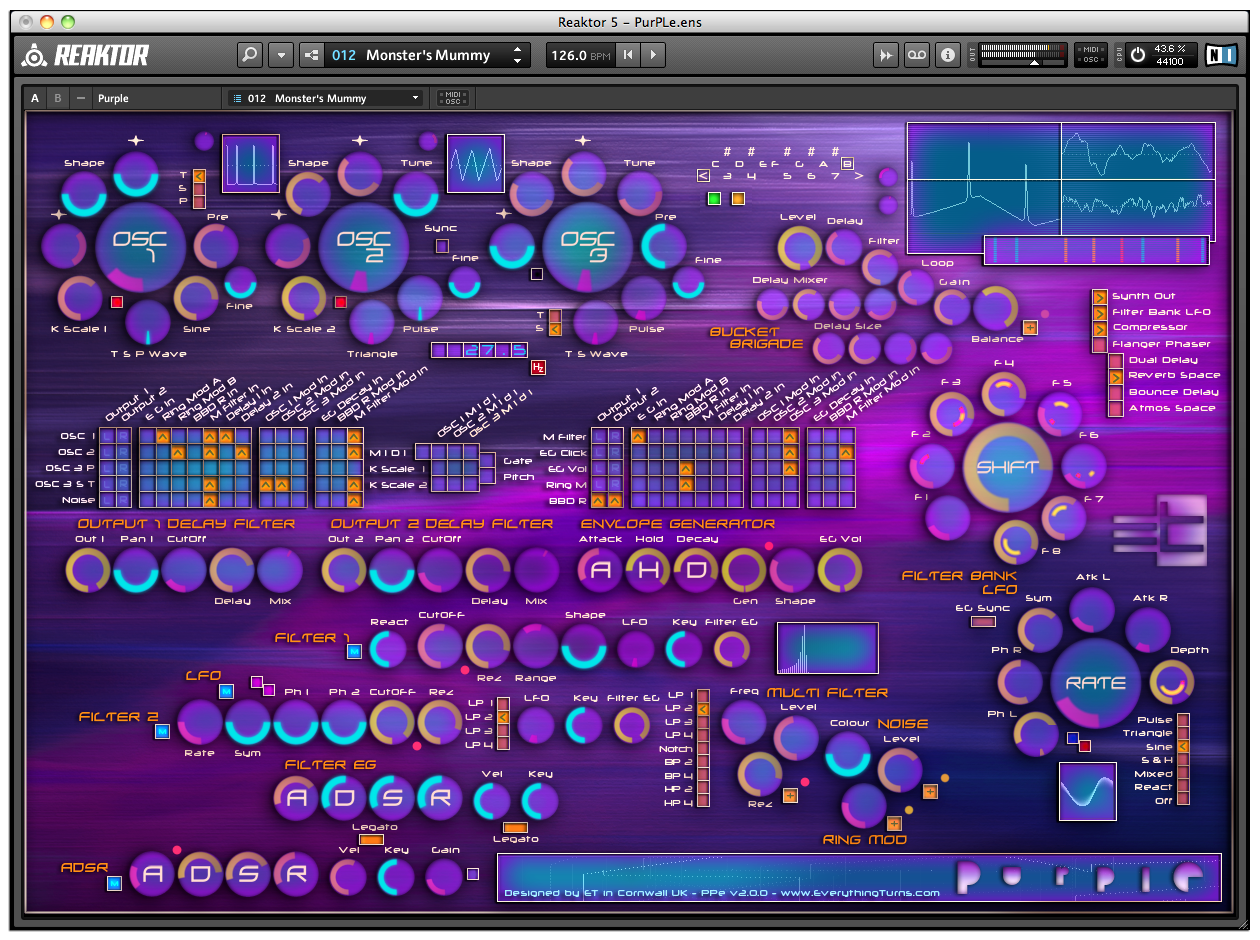 EverythingTurns has released PurPLe, a "Radiophonic Modular Analog Synthesiser – Sci-Fi Effect Generator" for Native Instruments Reaktor.
PurPLe takes its inspiration from the early days of synthesis and is dedicated to the pioneers of the sound effects departments that terrorised the audiences of the science fiction silver screen.

PurPLe's sound is generated by free running multi-wave oscillators, each delivering a diverse waveform that can twist and warp almost as if it's alive.

The key to this sonic arsenal is the Modulation Matrix Patch Bay, allowing the component parts of the synth to interact with each other. The Matrix opens up endless possibilities of frequency modulation and interaction by tapping into, chaining and merging the signal path. The more you explore the more possibilities you will discover.
PurPLE for Reaktor is available to purchase for £14 GBP. Requires Reaktor full version 5.8+.
Yet another random Reaktor jam.
The "Drum Seq" instrument triggers and randomizes the drum synth while the "Poly Tune" instrument triggers a simple sine wave synth with some reverb.
Native Instruments just released MASCHINE STUDIO and its all new 2.0 software for the entire product line.
Massivebeatz chats in depth about the new features, prices, pros and cons, alternatives (MPC Renaissance, DSI Tempest) – and whether you might need to upgrade.
Content and photos copyright by Native-instruments.com, Createdigitalmusic.com, Akai, Massivebeatz and Dave Smith Instruments.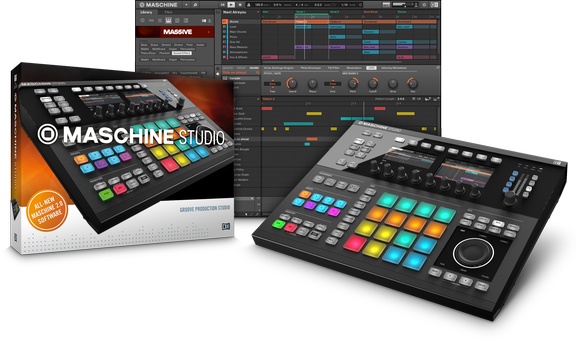 Native Instruments has announced MASCHINE STUDIO and MASCHINE 2.0, the new flagship groove production studio and next generation of MASCHINE software.
Considerably bigger than the original hardware, MASCHINE STUDIO provides expanded tactile control and new hi-resolution color displays, setting a new precedent in intuitive, hands-on, computer-based beat production. As with the acclaimed MASCHINE and MASCHINE MIKRO, MASCHINE STUDIO is an integrated solution combining the latest software technology with a hardware-based workflow.

MASCHINE 2.0 features a host of enhancements – including a new mixer page and dynamic drum synth plug-ins – designed to deliver more power and speed to all three MASCHINE production studios.
Providing complete hardware control over virtually all software functions, MASCHINE STUDIO's workflow is centered on 16 highly-responsive multi-color backlit pads, a new Edit Section with jog wheel, a Level Section and two hi-resolution color displays – a major hardware advancement. The displays enable producers to focus on MASCHINE's hardware workflow, providing detailed visual feedback of the software's powerful features. When editing samples or working in MASCHINE's clip-based pattern sequencer, the displays show an overview of the full selection on the left screen while the right screen allows for detailed fine-tuning when slicing, editing, and composing. When browsing, the displays provide easy navigation and selection of projects, groups, sounds, instruments, effects, and samples with KOMPLETE Instruments and Effects product icons visible directly from the hardware.
A new Edit Section provides dedicated buttons and a jog wheel with LED indicators for visual feedback and enhanced functionality. The jog wheel allows quick adjustments to volume, tempo, and swing settings, and speeds up browsing and editing. The Level Section provides a convenient volume knob and a multi-purpose meter display for master, group, sound, and cue levels plus monitoring for up to four selectable input sources when a multi-channel audio interface is connected. Dedicated control buttons allow fast switching between MASCHINE STUDIO's sampler, arranger, mixer, and browser, and provide direct access to channel settings and an all-new plug-in strip. For producers already using external equipment, one MIDI input and three MIDI outputs allow MASCHINE STUDIO to function as a command hub, controlling all equipment from one comprehensive controller. On the underside of the unit, a highly sturdy, built-in collapsible stand provides the optimal angle for working with MASCHINE STUDIO.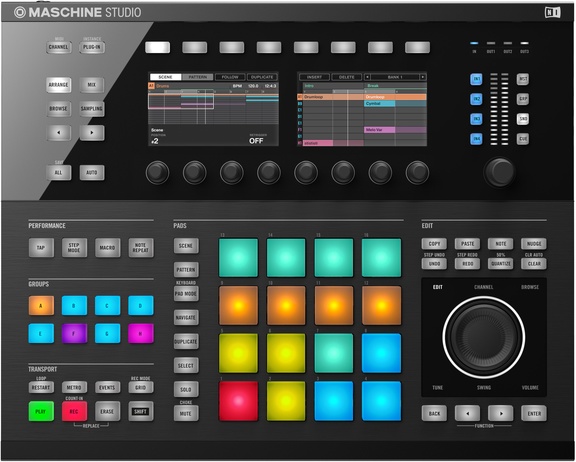 MASCHINE 2.0 presents a major revision of Native Instruments' groove production software, delivering a host of powerful features to MASCHINE STUDIO, and both generations of MASCHINE, and MASCHINE MIKRO. A tag-based attribute browser makes samples and presets easy to find while the new plug-in strip make MASCHINE's internal plug-ins much more accessible by displaying their individual user interfaces instead of generic buttons and knobs. A brand-new, dedicated mixer page provides detailed level adjustment and flexible routing of MASCHINE 2.0′s aux sends, plug-ins, and unlimited groups and insert effects. A new audio engine with multi-core technology adds sidechaining and allows higher instrument, effect, and plug-in counts, faster load times and more. High-quality 32-bit float internal summing delivers the latest advancements in professional sound quality.
Also new and exclusive to MASCHINE 2.0 are five drum synth plug-ins meticulously developed with Native Instruments' years of experience in software synthesis. Each instrument caters to a specific drum type, and delivers an easy-to-use interface. The plug-ins are capable of a wide range of sounds – from crisp and digital, to warm and analog, featuring accurate acoustic-sounding drums. Because they are based on synthesis, producers have a refined level of control over the sound of each drum.
Not only are these plug-ins fully-adjustable and automatable directly from the MASCHINE hardware, they now add a signature sound aesthetic to the world of MASCHINE.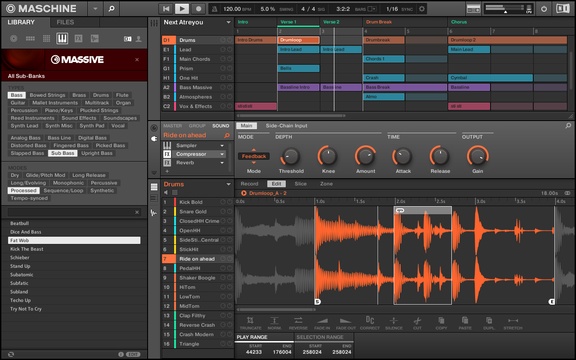 In addition to hosting any VST or Audio Units plug-in, MASCHINE 2.0 comes with an 8+ GB sound library of professional, production-ready sounds. Also included are full versions of Native Instrument's acclaimed MASSIVE synthesizer, the unique synthesizer for percussive and mallet sounds PRISM, the powerful compressor SOLID BUS COMP, and the meticulously sampled vintage electric piano SCARBEE MARK I, providing a versatile setup ready for any production task. MASCHINE can be used as a standalone on either MAC or PC systems, but also loads as a VST, Audio Units or AAX plug-in in all major DAWs for seamless integration with existing production environments. MASCHINE 2.0 software features batch export of full songs, groups, and single sounds in lossless WAV or AIFF formats in up to 32-bit/192kHz quality. Import of older MASCHINE projects, iMASCHINE projects, REX files, and MPC programs is also fully supported.
MASCHINE STUDIO is available for purchase at retailers worldwide and at the NI Online Shop from November 1, 2013 for $999 USD / 999 EUR. MASCHINE 2.0 is included with MASCHINE STUDIO and all MASCHINE and MASCHINE MIKRO products shipping on or after November 1, 2013.
Current MASCHINE users can purchase MASCHINE 2.0 on the NI Online Shop from November 1, 2013 for $99 USD / 99 EUR. Customers who purchase MASCHINE or MASCHINE MIKRO between October 1, 2013 and November 1, 2013 will receive MASCHINE 1.8 with purchase and a free download for MASCHINE 2.0. They will be able to download the new software on November 1, 2013.
Background video description:
It works. Using ASIO4ALL driver. VSTs that were active:
2 Massive vsts
5 reaktor
1 drum kit (stock 909 from Maschine, with 1 metaverb effect)
I had a lot of glitching and stopping because of some processes in
Windows. I advise that you reset your computer before using…
Here's a nice video putting the newly released MS Surface to the test, video details below:
Preface: There are about 6 Reaktor vst's going, 2 Massive vst's, and samples for beats. I am using the stock sound driver for the surface. Audio is being recorded by sampling the master output (in Maschine). As someone has mentioned, I threw pretty much everything at it to cause it to fail, and it survived for quite some time.
~~~~~~~~~~~~~~~~~~~~~~~~~~~~~~~~~
So I thought it would be cool to use the MS Surface Pro as an interface
for Maschine. I was able to make some fun beats with it and use it
fairly well, but it would freak out every so often. I thought I had it
under control when I was making this piece… but it ends abruptly when
the CPU just gives out. The audio cut out just fine apparently, but you
can see at the very end the software and hardware just give up. Welp,
that's why I like hardware grooveboxes, they don't just give up on me
when I'm writing stuff (of course, the Surface Pro isn't THAT great of
a piece of hardware either, but I did expect it to manage this song). Oh, and maschine, it's sound library, and all of the VSTs are on a 64gb class 10 micro SD card.
Yes, the levels seem to be off, I just wanted to experiment with
Maschine and the Surface Pro… It was a failed attempt I think.
Don't forget to turn your captions on. Japanese beat mastermind Olive Oil chops, arranges, and mixes his tracks entirely in MASCHINE.
Video details below:
http://www.native-instruments.com/mas…
He and his brother, visual artist Popy Oil, are part of Oilworks – an independent artist collective manufacturing and distributing records, clothes, paintings, and more from their shop in Fukuoka. To celebrate this new MASCHINE video, we're giving away a custom MASCHINE hand-painted by Popy Oil. Visit MASCHINE on Facebook tomorrow and enter to win.