https://nonorder.wordpress.com/
Monolite Poly K is the ultimate evolution of the Monolite synth family for NI Reaktor 5.9.2 and later.
A perfect companion for experimental, noise, ambient and fx sound designers thanks to its extensive sonic capabilities.
Features:
– Monophonic/Polyphonic/Drone Play Mode for extreme flexibilty
– 4 dependent Oscillators, 2 Post Oscillators Clipping mode plus a Tone Cut Filter to create unique timbres
– Pre-Filter Grainer unit for granular processing
– Pre-Filter Fx unit with 17 different effects with automizable X-Y pad controller
– 4 Filter Mode (LP 4, HP 2, BP 2, LP 3 + Notch) with Envelope Amount and Keyboard tracking
– 2 Clockable LFOs with different waveforms (Sine, Tri, Pulse, Random, Random Hold)
– 4 Modulation Slots to allows a wide range of sonic sculpting
– 2 ADSR Envelope (Amp Envelope and Env 2) with Velocity and Glide function
– Crush Effect
– High Quality Reverb and Delay with two routing options
– Master Equalizer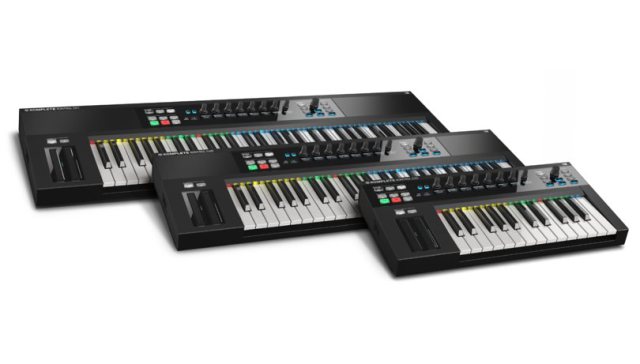 Native Instruments has introduced three "major innovations" for their Komplete Kontrol keyboard portfolio:
NI announced the inclusion of the new Komplete Selectinstruments and effects suite with Komplete Kontrol keyboards,
a "significant update" to theKomplete Kontrol software,
and the debut of Native Kontrol Standard (NKS) – a new format allowing "deep integration" of third party plug-ins.
Komplete Select instrument and effects collection. Beginning next month, with the release of Komplete Select, all Komplete Kontrol S-Series keyboards will include a premium selection of Komplete 10 Instruments and Effects. (Registered owners of Komplete Kontrol S-Series keyboards will also receive the Komplete Select package.) List of included Komplete Select instruments here.
Updated Komplete Kontrol software.Komplete Kontrol 1.1 (coming May 2015) improvements include ability to route and record MIDI output from Komplete Kontrol's Smart Play functions into your DAW or send MIDI to outboard gear. Adjust touch strip parameters and mod wheel functions directly from the hardware. Save, recall, and manage presets more easily. Furthermore, 2015 will also see an addition to the S-Series keyboard portfolio.
NKS: deep plug-in integration, developer kit. NI is concurrently introducing their Native Kontrol Standard (NKS). This standard will allow plug-in developers to integrate their products as deeply as NI's own Komplete Instruments. This integration capability will include full parameter mapping, Komplete Browser support, access to exclusive Komplete Kontrol technology such as the Light Guide, and more. A comprehensive development kit, provided by NI, will open up the NKS framework to third-party developers. NI is already working with major software instrument manufacturers, as well as the wider development community, to ensure that the leading software instruments use NKS to provide the deepest integration possible with the Komplete Kontrol system.
Native Instruments has announced Traktor Kontrol D2, the next-generation pro deck controller for Traktor Pro 2.
Designed for creative DJ performance that takes the DJ's focus away from the laptop, TRAKTOR KONTROL D2 offers groundbreaking touch-and-see workflow in a compact format optimized for easy set-up with club equipment. TRAKTOR KONTROL D2 will join TRAKTOR KONTROL S8 as one of the first DJ hardware controllers to support Stems* – an upcoming, open audio format that allows multi-channel mixing with individual musical parts. Robust, lightweight, and compact, the D2 is the ideal performance deck for the touring DJ.

TRAKTOR KONTROL D2 creates a multisensory DJ experience thanks to its touch-and-see technology. Tracks appear on a full-color display as vector waveforms while several key views and pop-up panels are revealed when a corresponding control is touched. The Browse Knob for example, triggers the Browse View for track selection directly from the controller. Performance Panels appear over track waveforms to view and modify BPM, key, filter, or effect values when activated by touch-sensitve knobs. And an LED-guided touch strip provides motion-sensitive pitch bending, track seeking, vinyl scratch emulation, and keeps track of phase in dark environments.

TRAKTOR KONTROL D2 naturally delivers enhanced TRAKTOR deck functions that empower pro DJs to develop their own trademark sound. Samples and loops are easily accessible for mixing with the four dedicated Deck faders when using a Remix Deck. Eight color-coded pads can trigger sounds, juggle cue points while in Hotcue Mode, or rearrange a playing track on the fly in Freeze Mode. Similar to Remix Deck usage, the D2's touch-sensitive performance knobs and faders will instantly correspond to a loaded Stem file's different 'stem' parts.

Designed to minimize bulk and setup time, TRAKTOR KONTROL D2 is highly transportable for DJs on the go. The lightweight, yet robust build features four foldable rubber-padded feet that extend to raise the unit to industry-standard height, or incline it for contoured comfort. Though one D2 alone can navigate through two TRAKTOR decks, two USB ports found on the rear panel allow a second D2 to be daisy-chained to one computer USB port for a two-unit setup. Connections are further simplified with an included power supply splitter cable that allows two units to be powered using one power supply unit.

Fueling the technology behind TRAKTOR KONTROL D2 is the included TRAKTOR PRO 2 software. An innovation in and of itself, TRAKTOR PRO is the award winning DJ software used by countless professionals. Four software decks, over 30 studio-grade effects, and powerful advanced features for creative looping and cueing have provided DJs all over the world with inspiring and customizable DJ possibilities.

TRAKTOR KONTROL D2 will be fully compatible with Stems on public release of the format in summer 2015.
Traktor Kontrol D2 will be available for $499 USD/499 EUR/£429 GBP on May 4th, 2015. Preorder is also available.
A new audio format from Native Instruments has been announced that allows DJs to break apart tracks into individual elements: get all of the details here: http://wp.me/pa1fv-bYb
Stems is an open audio file format that basically stores four 'stem' tracks (for example – bass, drums, melody & vocals) along with the full mix. The format is designed to simplify live remixing of tracks, because it provides a standard way to deliver remix-friendly audio.
When playing a track, the Stems format makes it easy to do drop out any of the four stem parts. Native is aiming at broad adoption by making Stems an open format. They also plan to release a free tool for creating Stems files, Stem Creator Tool.
Two things make Stems notable:
It's being introduced by Native Instruments, one of the leading creators of DJ software and hardware; and
It's an open format, so that it can be freely supported by musicians, labels and other hardware and software manufacturers.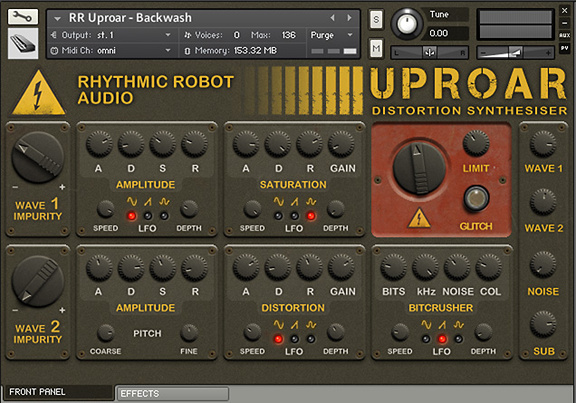 Rhythmic Robot has announced the release of Uproar, a unique distortion-based analogue synthesizer instrument for Native Instruments Kontakt.
Continuing our campaign to rid the world of same-sounding soft synths, we bring you Uproar – a machine that turns traditional analogue synthesis on its head. Instead of filtering harmonically rich waves, Uproar distorts and energises smoother waveforms until they break free of their restraints and go rampaging through downtown New York, smashing everything in their way.

Uproar doesn't just add distortion – it puts that distortion under the control of ADR envelopes and dedicated LFOs, so that you can create evolving synth patches full of movement and character. Want your pad to have a slowly-building glow of saturation at the same time that its bit depth is spiralling up and down via a sinewave LFO? Want your lead to scream and then subside as its Distortion gain is automatically reduced? Want your synth lines to emerge gradually from a burbling fizz of reduced bits? We've got you covered.

Uproar doesn't just do angry. It can also take trad subtractive synth staples and give them a new lease of life, giving you classic sounds with a fresh twist. It's great for adding air and harmonic overtone to your sound (with no filters, you never lose that high-frequency breathiness). It can be surprisingly subtle at times (but ssshh, don't tell it). The base waveforms blend between smooth sines and more complex, erratic waves which we made by eBowing an electric guitar strings: great for more organic, uneven sounds.
Uproar features
Twin detunable waveform generators: blend between pure sines and erratic, complex eBow guitar strings.
Three independent distortion types under LFO and envelope control for moving, shifting, evolving harmonic spectra.
Perfect for high-energy, aggressive synth sounds, or subtler tones with an unusual, airy edge.
Uproar is available at an introductory 15% discount until March 13th, 2015, after which it will be £20 GBP plus VAT.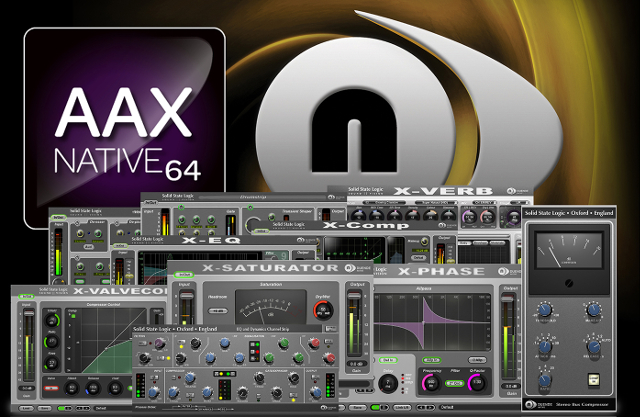 The release of new AAX (Avid Audio eXtension) versions makes SSL's Duende Native plug-ins compatible with any 32-bit or 64-bit system running Pro Tools®/Pro Tools HD® 11 software. The continued compatibility with VST, AU and RTAS systems means that SSL plug-ins are available to almost all DAW users.
The new versions are available to download now from the SSL web site and are free to all existing owners. SSL is celebrating the release with 14 day introductory pricing on the Duende Native Essentials bundle at £99/$169/129€ (offer ends 25th Nov 2014. Terms and Conditions apply. Available online from the SSL web store only).
SSL Duende Native plug-in collection delivers SSL's renowned signature superior audio quality, sophistication and benchmark performance to inside-the-box DAW audio producers. The Duende Native range has grown to the current portfolio of 10 different beyond benchmark quality processing tools. The EQ & Dynamics Channel plug-in provides an EQ & Dynamics processing solution with all the power, precision, flexibility and signature tone of a SSL 9K and later SSL console channel strip.
The legendary Stereo Bus Compressor plug-in gives you the classic SSL stereo master bus compressor that brings power and punch to your mix without compromising clarity. Drumstrip and Vocalstrip are 'task specific' plug-ins which each gather together a set of carefully selected and lovingly crafted processing tools to get you straight to outstanding Drum and Vocal sounds quickly and easily.
X-EQ and X-Comp are both mastering grade processors that deliver superb balance of precision and tonal character. X-Verb is an incredibly powerful and flexible processor which brings beautiful hardware standard reverb to your DAW. X-Valvecomp and X-Saturator are both new plug-ins designed to inject some analogue style saturation into your digital DAW. X-Phase also a new release is designed to help you fix awkward phase issues with our high-precision frequency-specific phase control toolkit.
more info at www.solidstatelogic.com/duende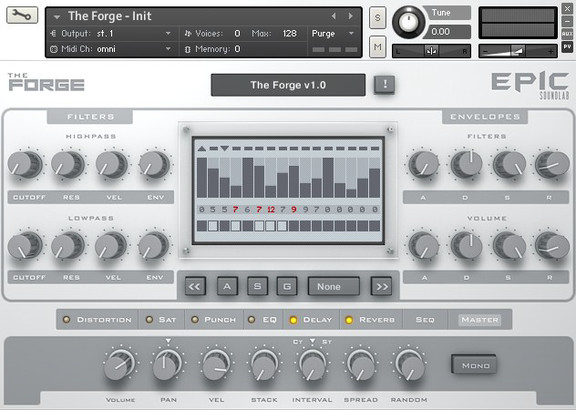 Epic SoundLab has launched with the release of The Forge, a hybrid scoring instrument library for Native Instruments Kontakt.
The Forge is a powerful yet intuitive sample library aimed at Film, TV and Games composers.

It is designed to offer a flexible environment to customize every sound and making your own.
The Forge features
Advanced User Interface.
Arpeggiator.
Polyphonic Sequencer.
Rhythmic Gater.
Unison / Voices Stack.
Resonant Delay.
Dual Engine Reverb.
Over 200 Kontakt patches.
Over 3GB of open WAV files.
MIDI Files.
Customize your own samples.
The Forge is available for purchase for the introductory price of $149 USD/119 EUR/£95 GBP until November 1st, 2014 (regular $189 USD/149 EUR/£119 GBP). Requires full version of Kontakt 5.1 or higher.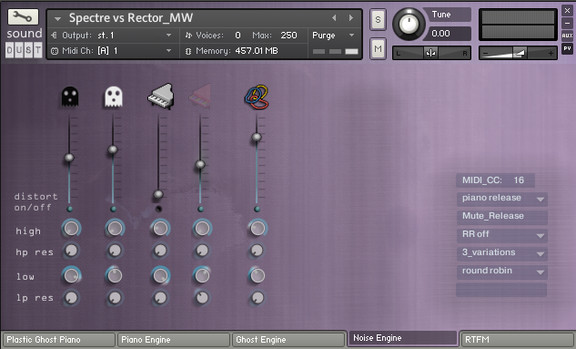 Sound Dust has launched Plastic Ghost Piano, a convolution based hybrid piano instrument for Native Instruments Kontakt.
The piano sample set was made by sending bursts of controlled noise through unsuspecting piano samples used as convolution reverb impulses.

Plastic Ghost Piano is designed to be a warm, analogue sounding hybrid piano with real character and lots of sonic possibilities that range from warm, woody and expressive acoustic piano to "blissed out orchestral shoegaze haze".
Plastic Ghost Piano features
549MB of 24-bit samples with up to 23 velocity levels per note.
Advanced architecture with automatable control of everything.
Sample start control.
Ghost Engine with per voice algorithmic reverb.
Noise Engine with per voice distortion and filtering.
69 specially created convolution reverb impulses recorded from real spaces, expensive hardware, and some less obvious sources including a Roland Space Echo, Lexicon reverb and the stage of Glyndebourne Opera House.
6 deeply multisampled sound articulations; Dark Ghost convolution, Pale Ghost convolution, Hohner Pianet, Convolved "plastic" piano, palm mute Stratocaster and Release Piano.
Leslie effect, cabinet modelling and morphing EQ.
Selectable and adjustable release group.
Round robin sample swapping.
MIDI timing jitter.
25 "starter" presets.
Built-in instruction manual.
The library is available for the introductory price of £20 until October 18th, 2014 (regular £25 GBP). Requires full version of Kontakt 4 or above.
Dance music pioneer A Guy Called Gerald talks about the culture of technology in electronic music and how new tools like TRAKTOR DJ for iPad changed how he performs and creates.
We're giving you the chance to win a VIP weekend in Berlin – just record your own rooftop mix with TRAKTOR DJ for iPad and iPhone and upload it to Mixcloud.
Don't have TRAKTOR DJ? No problem. Just share your best Spotify playlist below and tag #WHATWOULDYOUPLAY
More details here:
http://www.native-instruments.com/en/…
Thanks to:
BASEMENT London and The New British
Music:
A Guy Called Gerald – Voodoo Ray
A Guy Called Gerald – 28 Gun Bad Boy
More on TRAKTOR DJ:
http://www.native-instruments.com/tra…