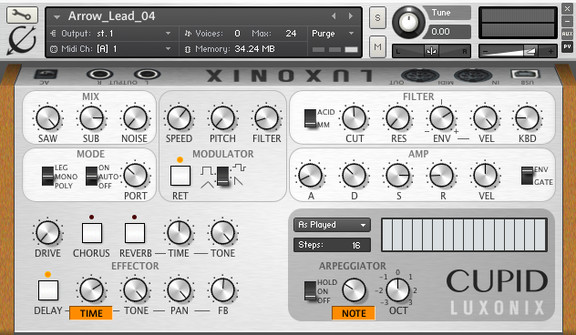 Luxonix has launched Cupid, a virtual analog synthesizer instrument for Native Instruments Kontakt.
Cupid is a sample library for Kontakt of a virtual analog synth. Cupid has easy to use user interface on one screen without a complex menu diving. So you can direct handling and quick sound making.

For good sound quality, we mapped perfectly looped high resolution 24-bit waves into all chromatic key map. So Cupid plays equal sound quality by each keys all octaves.
Cupid features
Easy to use user interface on one screen without complex menu diving.
Mapped high resolution 24-bit waves into all chromatic key map.
Can mix with three waveforms level – Saw, Sub oscillator, Noise.
Uniquely designed Sub oscillator wave.
Very wide value and extreme pitch range Modulator.
Switchable two low-pass filters.
Easy to control arpeggiator, unison and effectors.
166 .NKI / 85 .NKM Kontakt instrument presets for Kontakt 5.
186 samples, 24-bit / 44.1 kHz .NCW format samples (Lossless compression).
About 53 MB installed.
Cupid for Kontakt is available to purchase for the introductory price of $29.90 USD until December 31st, 2013 (regular $39.90 USD).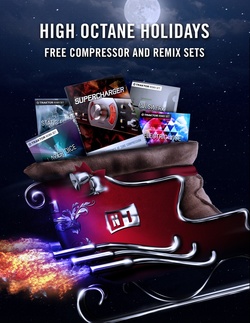 Native Instruments has announced a holiday giveaway as a thank you to all users. Until December 31, two special gifts are available for download from the Native Instruments website.
Producers get SUPERCHARGER – a versatile compressor effect delivering warm, colorful, tube-style compression, modeled from a one-of-a-kind hardware unit.
NI's DJ community gets four new Remix Sets for TRAKTOR's Remix Decks based on some of the latest MASCHINE Expansions.
Native Instruments are also giving away a $25 / 25 € / ¥ 2,500 e-voucher for the NI Online Shop.

SUPERCHARGER delivers warm, responsive tube compression. The effect is particularly simple to use, with just a few clearly laid-out controls providing a wide range of sounds from subtle warmth to complete devastation. The input knob and convenient visual display allow producers to set exactly the right input level to drive the compressor.

Once the input level is set, producers can quickly dial in a wide range of compression effects using a single 'Compress' knob. The Compress knob is a macro knob, automatically adjusting multiple parameters including make-up gain, the responsiveness of the release control, and the degree of saturation. This means that each position of the dial provides an ideal setting. Punch and Dirt buttons deliver added impact and saturation. SUPERCHARGER complements the existing range of KOMPLETE studio effects with harmonically-rich tube sound, and is optimized for use in MASCHINE.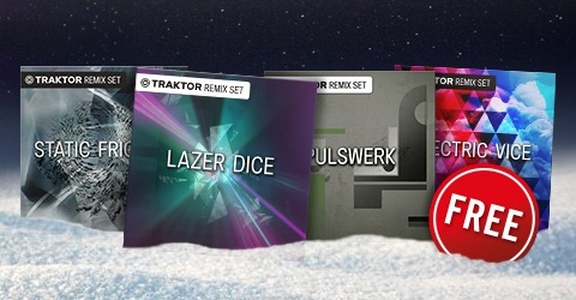 Four new TRAKTOR Remix Sets provide essential loops and samples from the MASCHINE Expansions ELECTRIC VICE, PULSWERK, LAZER DICE, and STATIC FRICTION. TRAKTOR Remix Sets are premium-grade loop and one-shot sample packs, configured for use in the Remix Decks in NI's flagship TRAKTOR PRO 2 DJ software. Using Remix Decks, DJs can explore new expressive possibilities and live remixing. All four TRAKTOR Remix Sets are available together as a free download.
These special offers are available for free from the NI website. From January 2014, Supercharger will cost $49 USD / 49 EUR. The e-voucher expires on December 31, 2013.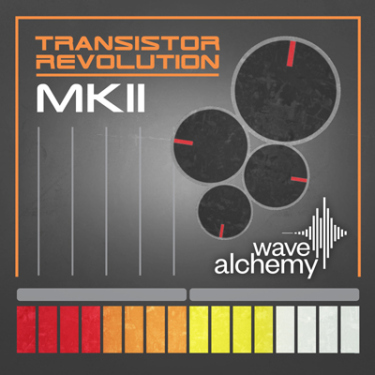 Wave Alchemy has announced the release of Transistor Revolution MKII, their re-creation, for Native Instruments' Kontakt 5 Player, of the iconic TR-808 and TR-909 drum machines.
TR MKII has been "fully redesigned and re-scripted from the ground up." Designers have tweaked the workflow and added a new, more intuitive graphical interface, a 'TR style' 16-track step sequencer, unified instruments for both the 808 and 909, a dedicated 10-track mixer with individual processing, reverb / delay sends, volume control and pan for each drum sound, a master tape section with individual tape saturation per sound, and so on.
Pricing and Availability. Wave Alchemy's Transistor Revolution MKII is available from Wave Alchemy for £89.95 – $137US. Existing owners of the previous version, Transistor Revolution MKI, can upgrade to TR MKII for £10 ($16US).
Take a look at Maschine Mikro's latest cutting-edge tools and groove production workflow. More at http://www.native-instruments.com/en/…
Maschine Mikro is the compact groove production system combining software and hardware in perfect harmony. All the power and flexibility of MASCHINE's pattern-based sequencer, high-performance sampler, exemplary drum synths, pro studio instruments and effects, and acclaimed sound library in a compact, budget-friendly package. The perfect entry into the world of Maschine.
No matter which MASCHINE hardware you own, the MASCHINE 2.0 software will boost your beatmaking. It's a big update. The completely re-worked software offers a new audio engine, unlimited groups and effects sends, multicore support, Drum Synths, and much more. Your hardware. Faster workflow. Unprecedented power.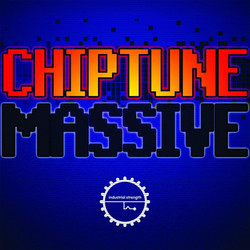 Industrial Strength has launched Chiptune Massive, a sound library featuring loops, samples, and patches for the Massive & FM8 synthesizer instruments by Native Instruments.
Our new collection was made from the ground up to provide you with a truly unique selection of quirky 24 Bit audio samples and game ready patches for Ni Massive and NI Fm-8. (Included in the Main Pack Only)

This pack is a one stop shop for sequences that you can play by just hitting one key on your midi keyboard Controller while using Ni Massive. Yes, all your favorite sounding old school video game style sequences all at just one finger tip.

We even thru in over 200 Chiptune Audio files and a dope set of Growls, Wobbles and Leads for you to rip apart. Each sample has loads of head room for you to rework and really use with your own Fx. Everything you here in the demo is in the pack and way more.
Chiptune Massive features
1.37GB content, 24 bit quality.
70 NI Massive Presets, 31 NI FM-8 Presets.
244 Apple Loops.
Includes 137 Chiptune Loops, 119 Drum Loops, 119 High Hat Loops, 25 Chiptune Bass Loops, 117 Chiptune Vocals, 24 Speak n Spell Vocals, 86 Bass Shots, 41 Mettel Synsonics Drums, 9 Virus TI Drums, 52 MT-52 Shots, 39 Casio Cz 101 Samples, 62 Moog Perc Shots, 11 Moog Fx, 60 Moog Lazors, 18 Long Moog Fx, 24 Moog White Noise Fx, 5 Edm Claps, 5 Edm Kicks, 10 Blips, 10 Closed Hats, 30 Kick Drums, 10 Open Hats, 20 Snare Drums, 26 ISR Fx.
7 Ni Battery 4 Kits, 1 Mattel NI Battery 4 Kit, 2 ISR Battery 4 Kits (96 Additional Samples), 1 Maschine Kit.
The sound pack is available to purchase for £24.95 GBP.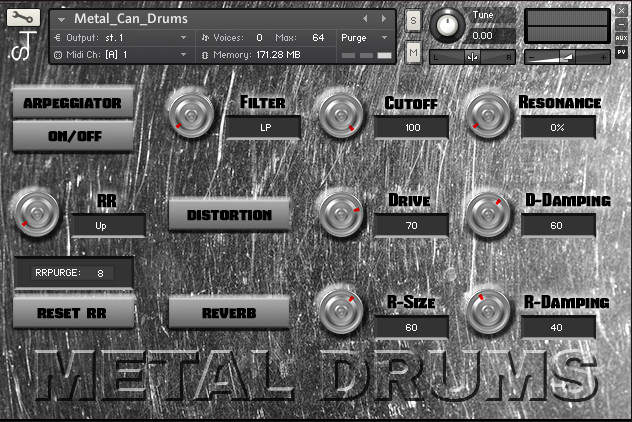 Syntone has announced Metal Can Drums, a virtual instrument library for Native Instruments Kontakt.
Metal is an interesting material. On the one hand, you can hit it to create a sharp attack and barely any release. But on the other hand, you can tap it and get a long, rattly sound.

That is the concept for the Metal Can Drums library: to provide a set of metal drums that give you the best of both worlds. The library comes with 8 round robin, 7-8 velocity layers, 33 different types of hits from 4 different types of cans and custom scripting, including a custom-made arpeggiator.
Metal Can Drums features
8 round robin, 7-8 velocity layers.
33 different types of hits from 4 different types of cans.
Custom-scripting, including an arpeggiator.
48kHz/24-bit quality.
1.35GB (572MB compressed).
Requires Kontakt 4.2.4+ full version.
The library is available to purchase for the introductory price of $20 AUD until December 9th, 2013 (regular $40 AUD).
Background video information:
Just messing around with the new toy. I will have more detailed info up soon over at Fluxwithit.com
Don't forget to sighn up for the free Newsletter to get FREE Maschine packs.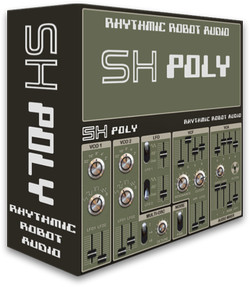 Rhythmic Robot has released SH Poly, a classic analogue subtractive synth for Native Instruments Kontakt, sampled from Roland's 70′s flagship synthesizer, the SH7.
It features two main oscillators accessing six different waveforms between them, plus a white / pink noise generator, dual LFOs with sine, ramp or randomised output, and a host of modulation possibilities.

The two main oscillators can be thickened further using the Multi-Osc feature, which adds multiple extra detonable oscillators – up to a maximum of ten, for an intense, stacked, "supersaw" style sound. SH Poly also features a selection of 70s-inspired effects and Rhythmic Robot's trademark Glitch button, which randomises the instrument in a musically-aware fashion, making generating your own patches extremely simple. The user interface is closely modelled on the classic Roland signature graphics and colour palette.

The original SH7 was a powerhouse monosynth that crowned Roland's lineup in the late 70s. SH Poly takes that amazing sound and crams it into a poly machine: rich, lush pads and thick basses can be dialled up with ease; bubbling leads and squelchy riffs are right there too. The sound is characteristically dense, warm and rich, especially with the Over Load control turned up and a little dose of Multi-Osc.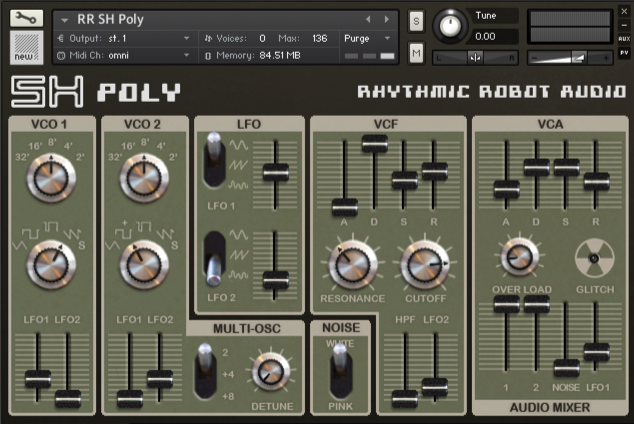 SH Poly features
Classic twin-oscillator subtractive synthesis in a Roland-inspired framework.
Multiple samples of authentic SH7 oscillators.
58 factory patches to start you off.
"Multi-Osc" allows extra oscillators to be switched in for a hugely rich, intense sound.
"Glitch" button for instant, musically-randomised inspiration.
The Poly SH for Kontakt is available to purchase for the introductory price of £13.45 GBP (regular £14.95 GBP).
ACTION STRIKES delivers high-impact, orchestral percussion with state-of-the-art workflow and playability. http://www.native-instruments.com/act…
Re-envision your orchestral percussion. 12 full ensembles plus 65 single instruments, exclusively recorded in uncompromising quality. Hundreds of timeless rhythms, adaptable for any project. And a state-of-the-art interface that lets you direct the drama in real time. Become the conductor — this is ACTION STRIKES.
Learn how to use Action Strikes' state-of-the-art interface in this informative tutorial video. http://www.native-instruments.com/act…
Discover Maschine Studio's ultra-intuitive beatmaking and production workflow in this short overview video. http://www.native-instruments.com/mas…
MASCHINE STUDIO keeps you laser-focused on the quest for the perfect groove. Its pattern-based sequencer and high-performance sampler, exemplary drum synths, incredible suite of creative effects and pro instruments, and acclaimed sound library deliver ultimate production power. All with a fully tactile, hardware-focused workflow that puts you in total control of the groove.
With two new AMOLED screens and a more integrated control surface, Maschine Studio is now the flagship hardware in the range, with a major software upgrade in V 2.0 which also is compatible with the existing Maschine Hardware, there's a lot to digest. Gaz Williams takes us for a deep appraisal of the two new components.