RISE & HIT delivers expressive build-ups with exclusive sounds for spine-chilling, cinematic tension. More: http://native-instruments.com/riseandhit
Seize your audience. RISE & HIT fuses a wealth of unique sounds into a swelling peak, adding spine-chilling cinematic suspense to your soundtracks. Set the ambience with over 8 GB of exclusive ready-to-go samples. Then easily alter, layer, edit, and add effects to fit any atmosphere. Edge-of-your seat intensity guaranteed.
Inspired by a legendary 4 voice Japanese analogue synth of the late 70s.
All sounds in this video made with the J4.
Purchase at www.synthmagic.co.uk or www.tronsonic.com
Full version of Native Instruments Kontakt 5.2.1 or later required.
Features:
2  sets of samples  – one  recorded 'DI', with a NEVE* style pre-amp/eq and boutique valve mixer at 48khz/24 bit. The second set uses the same method as well as being recorded to brand new 'old-stock' tape at 15ips on a Studer* A807 quarter inch reel-to-reel recorder.
Over 330 patches
Single oscillator analogue style synth with 6 waveforms, sub square wave and noise generator.
Syncable 16 step sequencer system with Filter, Resonance, Velocity and Chord sequencer
Syncable Arpeggiator
Syncable main LFO and VCF S/H LFO
Overdrive function via relationship between 'Volume' and 'Level' controls.
Sub LFO
Dual Polarity Keytrack
Unison, Portamento and Mono mode
4 Voice or Full Polyphony
Pitch Bend and Mod Wheel routing system
Delay, high quality 'Mixbus' Compressor, 'Tape Compressor', Ensemble and choice of 3 Reverbs.
Pricing and Availability:
£19.99 limited offer until May 1st (normally £29.99)
Brian Eno's – An Ending (Ascent) with images from Chantal Akerman news from home.
All music was done using Native Instruments Absynth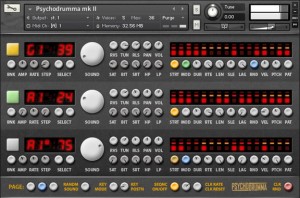 Fairly Confusing Waveforms has launched Psychodrumma mk II, an updated version of the "chaos management workstation" instrument for Native Instruments Kontakt.
Psychodrumma mark II is reworked and expanded version of Psychodrumma, fantasy, neo-retro drum machine/music generator for Kontakt 4 sampler. It can act as a drum machine and generate random rhythmic, ambient or melody patterns.

It is based on matrix of nine synchronized step sequencers, and a meta-sequecer. Most of settings can be programmed automatically by randomizers, creating strange machine music. It has plenty of knobs and a lot of flashing lights.
Changes in Psychodrumma mk II
Algorithmic mode, makes it possible to playback or loop sequences of random events.
Music box, tunes melodic samples to defined pattern, to create melody sequences.
Reworked and expanded sound banks, including third tonal bank to use for generating melodies.
Saving and loading presets, presets can then be sequenced in meta-sequencer, to create tracks inside the machine, preset-set can be then saved to file.
Automated effects rack.
Psychodrumma mk II is available with the purchase of The Sounds of SzcZ, vol​.​2, Psychodrumma, available from Bandcamp (name your price).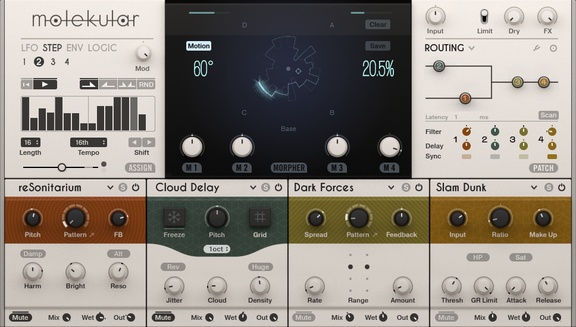 Native Instruments has released Molekular, a modular multi-effects system for the flagship synthesis studio REAKTOR 5 or the free REAKTOR 5 PLAYER.
MOLEKULAR features slots for up to four effect modules and near-limitless routing options for unique effect arrangements. Modules include a pitch and resonator section for transforming percussive sounds into melodic arpeggios. Delay, stutter, and glitch modules allow users to create new rhythmic structures or turn any incoming signal into washed-out soundscapes. Eight modulation effects offer incredible sonic versatility for augmenting tone – from classic modulation effects like flanger and chorus to yet-unheard effects such as a purposefully broken pitch shifter to create unusual new textures. Six dynamic and distortion effects include a 16-stage wave folder and a DSP that tracks a signal's pitch to control a variable waveform oscillator. MOLEKULAR also comes with essential 'bread and butter' effects for additional sonic adjustments and finetuning.

MOLEKULAR features 16 modulation sources, which can be routed to any parameter within the effects system. Modulators include four customizable LFOs and four step sequencers for emphasizing any part of the meter with rhythms from simple eighth notes to odd metric subdivisions. What's more, MOLEKULAR includes analog modular-inspired trigger sequencers – each with a dedicated envelope and an envelope follower to set accents or add bursts of effects to any production. A logic module adds an irregular, organic feel to the structure of sound sources with any degree of precision or chaos. Frequency-based parameters can be quantized to custom scales and it's even possible to route one modulator into another producing unusual, constantly evolving modulation structures.

By using the Morphing Field, it is possible to drastically twist the results via the interactive display. Producers can assign a starting point, define four master mutations and easily morph between them in real time – a new and near-limitless approach to performing with effects. The morpher can also be controlled by any of the modulation sources. Though highly advanced technology works under the hood, MOLEKULAR is straightforward to use, and also comes with a multitude of presets of highly inventive effects ready to use as creative starting points.
Molekular is available for $149 USD / 149 EUR / £129 GBP.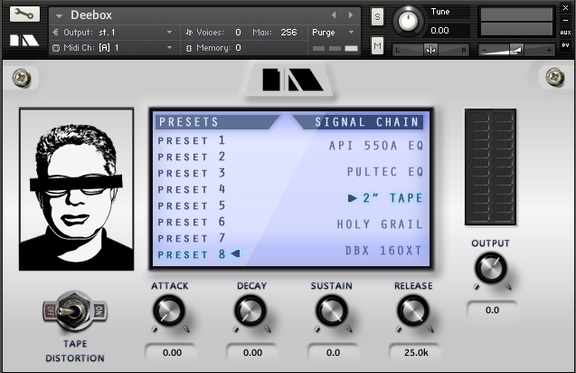 100 Akres has announced Deebox Chopra, a new sample library in Native Instruments Kontakt and Wav formats.
Deebox Chopra is a drum rompler which features drum sounds from an iconic 80s drum machine run through a series of high quality analog outboard gear to 2″ tape to add a bit of "hiss" and extra warmth.

The easy to use LCD interface allows you to choose between eight signal chains that were pre-tweaked by our engineer to bring out different tones of the recorded electronic drum kit. These presets range from clean with low hiss to gritty tape distortion with a flick of the tape distortion switch.
Deebox Chopra features
49 drum sounds, 8 different signal chains.
Recording chain used includes: 2″ tape machine, DBX 160xt , API 550 eq, Pultec eq, and a Holy Grail pedal.
Attack, Decay, Sustain, and Release knobs available for further drum tweaking (Kontakt version only).
Tape distortion switch for extra crunch added to the drum sounds (Kontakt version only).
The library is available to purchase for $19 USD (Kontakt) / $14 USD (Wav).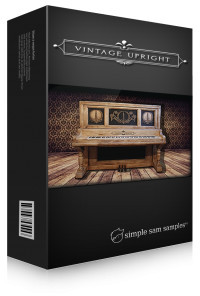 Simple Sam Samples has launched Vintage Upright, a virtual piano instrument for Native Instruments Kontakt.
Vintage Upright is a beautiful "character" piano, subtly out-of-tune, bursting with realism, and filling a gap between the pristinely sampled pianos on the market and novelty "junk" pianos.

Its haunting tone shines beautifully as a solo instrument or in the mix, and lends extraordinary character to any style of music including jazz, rock, blues, pop, ragtime, and film applications.
Vintage Upright features
More than 3000 samples in 24 Bit.
All 88 keys individually sampled in 10 dynamic levels.
Two microphone perspectives (Close and Room).
Multi-velocity adjustable mechanical noises (pedal, hammer, release).
Authentically modeled una corda (soft pedal) samples.
Sympathetic String Resonance with real overtones.
True repedaling and Pedal "catch".
User controllable microphone/recording noise.
Adjustable stereo width and controllable reverb.
The library is available to purchase for the introductory price of $29.99 USD (regular $49.99 USD). Requires the full retail version of Kontakt 5.1 or later (Kontakt 4 version coming soon).
Sadowick has shared a free series of tutorial videos that explore how to make the most of Native Instruments Massive synthesizer.
The video series itself is massive – with three hours of videos, covering signal flow, oscillators, wavetables, morphing, filters, envelopes, modulators, FX and more.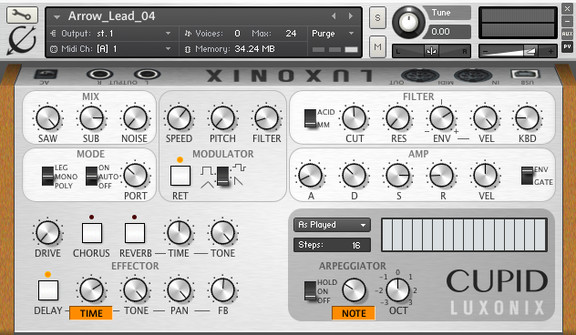 Luxonix has launched Cupid, a virtual analog synthesizer instrument for Native Instruments Kontakt.
Cupid is a sample library for Kontakt of a virtual analog synth. Cupid has easy to use user interface on one screen without a complex menu diving. So you can direct handling and quick sound making.

For good sound quality, we mapped perfectly looped high resolution 24-bit waves into all chromatic key map. So Cupid plays equal sound quality by each keys all octaves.
Cupid features
Easy to use user interface on one screen without complex menu diving.
Mapped high resolution 24-bit waves into all chromatic key map.
Can mix with three waveforms level – Saw, Sub oscillator, Noise.
Uniquely designed Sub oscillator wave.
Very wide value and extreme pitch range Modulator.
Switchable two low-pass filters.
Easy to control arpeggiator, unison and effectors.
166 .NKI / 85 .NKM Kontakt instrument presets for Kontakt 5.
186 samples, 24-bit / 44.1 kHz .NCW format samples (Lossless compression).
About 53 MB installed.
Cupid for Kontakt is available to purchase for the introductory price of $29.90 USD until December 31st, 2013 (regular $39.90 USD).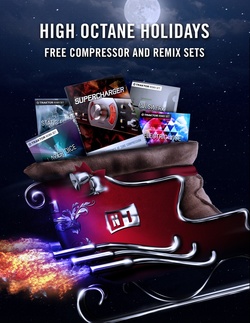 Native Instruments has announced a holiday giveaway as a thank you to all users. Until December 31, two special gifts are available for download from the Native Instruments website.
Producers get SUPERCHARGER – a versatile compressor effect delivering warm, colorful, tube-style compression, modeled from a one-of-a-kind hardware unit.
NI's DJ community gets four new Remix Sets for TRAKTOR's Remix Decks based on some of the latest MASCHINE Expansions.
Native Instruments are also giving away a $25 / 25 € / ¥ 2,500 e-voucher for the NI Online Shop.

SUPERCHARGER delivers warm, responsive tube compression. The effect is particularly simple to use, with just a few clearly laid-out controls providing a wide range of sounds from subtle warmth to complete devastation. The input knob and convenient visual display allow producers to set exactly the right input level to drive the compressor.

Once the input level is set, producers can quickly dial in a wide range of compression effects using a single 'Compress' knob. The Compress knob is a macro knob, automatically adjusting multiple parameters including make-up gain, the responsiveness of the release control, and the degree of saturation. This means that each position of the dial provides an ideal setting. Punch and Dirt buttons deliver added impact and saturation. SUPERCHARGER complements the existing range of KOMPLETE studio effects with harmonically-rich tube sound, and is optimized for use in MASCHINE.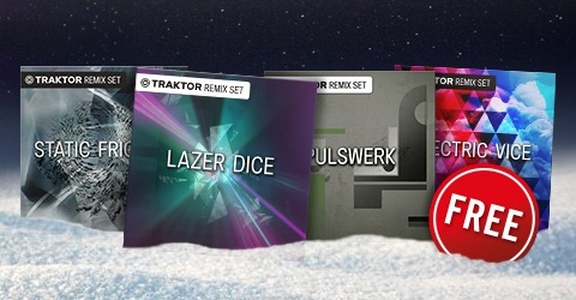 Four new TRAKTOR Remix Sets provide essential loops and samples from the MASCHINE Expansions ELECTRIC VICE, PULSWERK, LAZER DICE, and STATIC FRICTION. TRAKTOR Remix Sets are premium-grade loop and one-shot sample packs, configured for use in the Remix Decks in NI's flagship TRAKTOR PRO 2 DJ software. Using Remix Decks, DJs can explore new expressive possibilities and live remixing. All four TRAKTOR Remix Sets are available together as a free download.
These special offers are available for free from the NI website. From January 2014, Supercharger will cost $49 USD / 49 EUR. The e-voucher expires on December 31, 2013.