This is a sneak preview of Julien Bayle's Video Generator for Max & Max For Live:
I'm currently designing a video generator core structure able to react to my music.
The architecture will include a basic structure (again simplicity) and will be provided with music, probably.
You can go further by reading these posts:
– http://julienbayle.net/2012/01/23/designing-minimal-elements
– http://julienbayle.net/2012/01/25/my-video-generator-global-architecture/
Video for the single 'In Loving Memory' by Mechanical Cabaret, released by Major Records Medien GmbH 2011. Music by Mechanical Cabaret, written by Roi, published by Warner Chappell Europe.
Video produced and directed by Mr W, filmed by Isabella Charlesworth, edited by Mark Hockings from Mesh.
Here's a new app that sounds/looks pretty interesting:
Sonified translates what your video camera sees into sound in real time. Record onto QuickTime movies. The sonifying video camera for the iPhone and iPad.
Hear what your video camera sees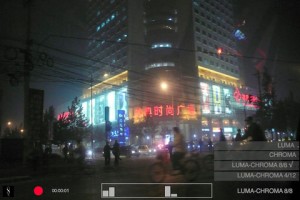 Sonified takes real time visual information from your iPhone/iPad video camera and uses it to mix 16 stereo tracks of CD quality music in real time, translating what your video camera sees into sound. A real time instrument, Sonified uses your iPhone/iPad's video camera to translate qualities of light and color into music, a process called "sonification". Using Sonified allows the iPhone and iPad user to connect vision and sound in new ways, creating video and soundtrack at the same time. Record Sonified QuickTime movies with CD quality audio and share with friends and other Sonified users.
Specifications:
Real time mixing of audio based off of brightness and or color values.
16 different ways to combine sounds and visual response.
4 Sonified "instruments", each with its own unique way of mixing sound based off of visual information: mixing sound based off of brightness, based off of color, based off of both brightness and color simultaneously, or based off of brightness and color proportioned towards color.
A total of 64 stereo tracks of sound in four separate Sonified "scenes" all in 44.1 kHz 16-bit CD quality audio.
Extremely responsive, with close to zero-latency between what your camera sees and what you hear.
Record video and CD quality sound simultaneously onto QuickTime movies and save on your iPhone or iPad.
Intuitive, with an easy to use interface.
Designed for use with headphones.
CellDNA is designed for realtime performance of video, images, and sounds. The intuitive, easy to learn interface gets you quickly mixing video, images, and sound. Live video input, realtime recording, an advanced database for tagging, organizing, and finding clips, network control, and integration with Ableton Live makes CellDNA one of the most advanced and flexible video tools in your kit. Extensive MIDI learn, and templates for all of Livid's Controllers as well as a growing library of other controllers (including the Akai APC40 and APC20) allows you to use any MIDI controller for expressive hands-on performance of real-time video. Extensible with Cycling74's Max software, the possibilities are endless.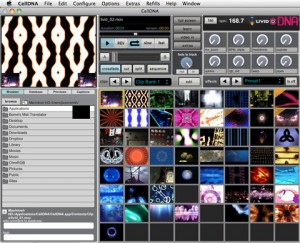 Features
• Mac OSX 10.4+ and WindowsXP, Vista and 7 Compatible
• Assignable effects to knobs or sliders
• 64 slots per clip bank
• Up to 64 clip banks and 32 effect bank presets
• Two Channel (A & B) Control
• Additional Layers
• Record QuickTime videos with sound
• Crossfader for mixing multiple videos
• 3D effects
• FreeFrame support
• Captions
• Easy MIDI learn
• Control speed, direction, and loop modes
• Use Quicktime movies, images, audio, and flash files
• Open GL accelerated
• Networking for multiple computer control
• Mutli-screen controls
• Development Kit for using your own Max patches can be downloaded here
• MIDI Talkback (MIDI OUT) for visual feedback with your controller
• Automap feature for the Ohm64 and Block
CellDNA builds on the standard Cell interface for video designers looking to alter and composite images in realtime. With dozens built-in effects and free-frame compatibility, you can mix up your videos with radical warpings, keying, feedback, tints, and captions. CellDNA is the easiest VJ software to learn and get started with, yet provides massive mixing potential.
That's some quality video!
Landscape was way ahead of there time (shivers).
1 video input has a dark brightness adjustment and the other a light brightness adjustment, this way it is easier to see the wipes.
gieskes.nl/​visual-equipment/​?file=vm1
"The GVM1 is a video mixer that will adjust its own video sync signal,to the video sync signal that is being send into it. Most standard video mixers will buffer the image information,and send out each frame separately according to there own video sync signal. Most likely resulting in a 1 frame delay of the video signal."
Moovmi is a Max For Live Video-to-MIDI device that produces midinote sequences from video data analysis. It works with both video files and webcam as sources.
The video source is reduced to a low-res grid where each cell generates midinotes in a predefined interval and pitch, while the velocity is determined by the luminance of the cell.
The user can influence the midi sequences by processing the source with video parameters such as brightness, contrast, saturation, threshold, colors feedback, etc…

Moovmi can be used for :
semi-random drum pattern generation
experimental melodies and chords
sonification of video installations (using the fullscreen feature)
Moovmi is very easy to use: just select a video source and midinote sequences will start immediately!
Moovmi comes unlocked : owners can open, edit, and re-use parts of this device as they prefer
The Pleasure of Fear: Horror at Unsound

Horror is an essential element in modern music that aspires to break sonic boundaries and generate new spaces for expression and emotions. The Polish Unsound festival, celebrated every autumn in the cold climate of Kraków, knows that all to well, and that's why the 2010 edition had the concept of horror as its central theme, with artists such as Ben Frost and Demdike Stare. The PlayTV cameras were there and didn't only record the performances at Unsound. We went with the intention of exploring horror's place in music, led by journalist Philip Sherburne, our guide from place to place, across artist to artist, and who led our reflections through the labyrinth of emotions that is Unsound.
The enticing new video clip from Blutengel. Directed by Silvan Büge, Blackstage TV. Taken from the album "Tränenherz".