CellDNA is designed for realtime performance of video, images, and sounds. The intuitive, easy to learn interface gets you quickly mixing video, images, and sound. Live video input, realtime recording, an advanced database for tagging, organizing, and finding clips, network control, and integration with Ableton Live makes CellDNA one of the most advanced and flexible video tools in your kit. Extensive MIDI learn, and templates for all of Livid's Controllers as well as a growing library of other controllers (including the Akai APC40 and APC20) allows you to use any MIDI controller for expressive hands-on performance of real-time video. Extensible with Cycling74's Max software, the possibilities are endless.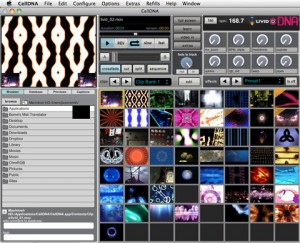 Features
• Mac OSX 10.4+ and WindowsXP, Vista and 7 Compatible
• Assignable effects to knobs or sliders
• 64 slots per clip bank
• Up to 64 clip banks and 32 effect bank presets
• Two Channel (A & B) Control
• Additional Layers
• Record QuickTime videos with sound
• Crossfader for mixing multiple videos
• 3D effects
• FreeFrame support
• Captions
• Easy MIDI learn
• Control speed, direction, and loop modes
• Use Quicktime movies, images, audio, and flash files
• Open GL accelerated
• Networking for multiple computer control
• Mutli-screen controls
• Development Kit for using your own Max patches can be downloaded here
• MIDI Talkback (MIDI OUT) for visual feedback with your controller
• Automap feature for the Ohm64 and Block
CellDNA builds on the standard Cell interface for video designers looking to alter and composite images in realtime. With dozens built-in effects and free-frame compatibility, you can mix up your videos with radical warpings, keying, feedback, tints, and captions. CellDNA is the easiest VJ software to learn and get started with, yet provides massive mixing potential.
What is the AlphaSphere?
The AlphaSphere is a brand new musical instrument. Consisting of 48 tactile pads, it combines iconic design and smart materials to create an audio-visual experience that is truly unique. The pads are touch sensitive and can be infinitely programed to trigger electronic sounds. The AlphaSphere will bring modern music production and performance off the computer screen and back into the hands of the musician. Know the feeling when you suspect the DJ is just checking his emails? You can say goodbye to that…
* A hands on way of producing music
* Sounds triggered by malleable pads
* Varying pressure applied to pad can control a number of parameters – volume, pitch, oscillations etc.
* Apply your own sounds or samples using Open Sound Control
* Integrated LEDs for full visual effect
* Can be easily used as a synth, a step sequencer, or a MIDI controller as well as being an instrument in its own right
The Technology
The brain of the AlphaSphere is based on an XMOS processor. The processing power and multi-core architecture allows for ultimate responsiveness and the possibility to expand the signal processing done on board. The prototype connects to the outside world using Open Sound Control which can interface with MIDI. Though there are plans for internal voices and sample-sets, we will always keep the AlphaSphere programmable, so any sound you conceive can be uploaded and shared. The Firmware and Software for the AlphaSphere are based on open source software and the code will be publicly hosted and documented. We are looking to foster a community around developing for the AlphaSphere, and hope that developers and producers alike can create and share new systems and sounds for the instrument.
There is also a speaker within the AlphaSphere itself, taking full-advantage of the inbuilt acoustics of the spherical resonant chamber. To play electronic music with the AlphaSphere, feels like you are literally holding the sounds in your hand, morphing and shaping them as you please.
_www_ audiovisualizer synth app + iPad
Some clips of me playing around with _www_ on my iPad. Powerful and inspiring new audiovisualizer synth app for iOS by OKAHON.
You can download the operation manual: here. Kazuyuki has also posted 12 tutorial videos on his website: okahon.com/works/www.html. It's available in the App store now for $1.99: App Store Link