After 8 years Kraftwerk returns to Walt Disney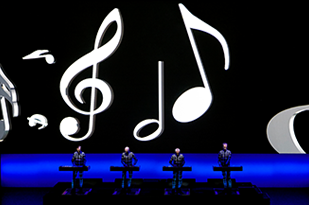 German electronic music pioneers Kraftwerk will play eight 3-D concerts at Walt Disney Concert Hall, March 18-21, 2014 to launch the LA Phil's Minimalist Jukebox Festival. These will be their first L.A. dates since 2005.
They will perform eight of their albums, spread across eight performances.
KRAFTWERK – THE CATALOGUE 1 2 3 4 5 6 7 8 is a chronological exploration of their work. Starting with Autobahn, each performance will cover one of Kraftwerk's studio albums in full and in order of their release:
Autobahn (1974), Tuesday, March 18, 7:30 PM
Radio-Activity (1975), Tuesday, March 18, 10:30 PM
Trans Europe Express (1977), Wednesday, March 19, at 7:30 PM
The Man-Machine (1978), Wednesday, March 19, at 10:30 PM
Computer World (1981), Thursday, March 20, at 7:30 PM
Techno Pop (1986), Thursday, March 20, 10:30 PM
The Mix (1991), Friday, March 21, 7:30 PM
Tour de France (2003), March 21, 10:30 PM
Comments