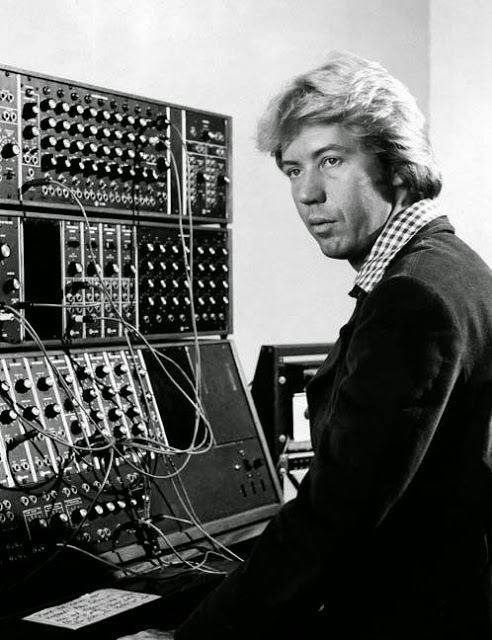 Here is short sample from the interview:
In 1967 Nonesuch Records, a record company specialized in releasing inexpensive classical music records, became interested in having electronic music in their catalogue. First, they released Morton Subotnick's 'Silver Apples of the Moon,' Kenneth Gaburo's 'Music For Voices, Instruments & Electronic Sounds,' and Beaver & Krause's 'The Nonesuch Guide to Electronic Music,' and then, via a recommendation from Robert Moog, Nonesuch became aware of Andrew Rudin's electronic works and commissioned a full-LP composition. In 1968 'Tragoedia – A Composition in Four Movements for Electronic Music Synthesizer,' a piece composed between October 1967 and April 1968 was released, using instruments designed by Robert Moog. Some excerpts from 'Tragoedia' were used by Italian director Frederico Fellini in his 1969 film 'Satyricon.' Andrew Rudin realized a second work for film and synthesized sounds, 'Paideia,' and continued to compose for ensembles and dance companies.
Sugar Bytes Egoist is now available on the iPad!
This incredible tool is all you need to create a nice groove on the go.
Use your music library as a sound souce and start playing!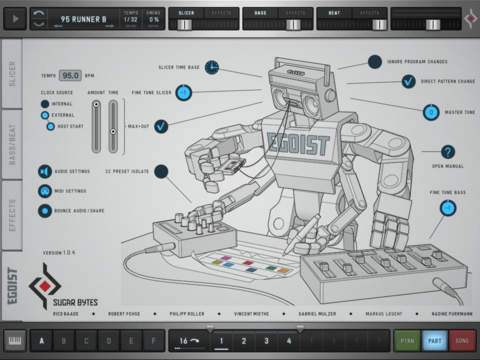 Features:
Quick + Easy track sketching, based on sample slicing
Minimal, yet effective bass line
Unique beat box with more than 1000 drums from vintage to electronic
Effect Sequencer
Randomizers in all areas
Inter-App Audio
Audiobus
Audiocopy / Audiopaste
Mixdown/Bounce
Full Midi Support (Virtual, Network, Extern)
Music Library Access
iTunes File Sharing
Egoist for iPad
The Slicer arranges up to 16 slices of the loaded sample. Apply different parameters like Reverse, Attack, Decay, Level and pitch with the sequencer. Using the 16 available patterns, up to 16 different samples can be used at any time.
Egoist includes a bassline synthesizer/sequencer. The bassline synth offers a 'mean and strong sound', with different lowpass filter flavors and overdrive. The  sequencer is capable of notes and pitch bends of any length.
The internal beat box offers kick, snare and hihat, along with a simple sequencer. If you imagine, that you can change the drum sounds with each pattern, limitations start to get you inspired!
The Effect unit offers tapestop, looper, reverb or filter.
The Song Sequencer lets you chain patterns or create breakbeats. The internal Part/Song sequencer lets you sketch your pattern progressions and line out your next track.
Slice Keys turns Egoist into a slice keyboard – it lets you play the sequencer steps on the keyboard, with all their settings and effects,
Egoist for iPad is available for US 19.99 in the App Store.
Substaat is a Norwegian band in the electro scene.
2008 Established
2009 First concerts (Elektrostat, Oslo among others)
2011 Self titled album released, remaining 13 weeks on DAC top 10 album
Joined Combichrist as support act on 3 dates (Denmark, Sweden and Croatia)
Played on WGT (Leipzig) and PopKomm (Berlin)
2012 Single "Refused" released, remaining 8 weeks on DAC top 20 singles
Joined Icon Of Coil as support act on their reunion tour (Germany and Netherlands)
Joined De/Vision as support act on their "Rockets and Swords" tour (Germany)
Played on a couple of festivals in Germany and Norway
2013 Joined Mesh on their three first dates on their "Automation Baby" tour. Ending the year in Moscow and "Moscow Synthetic Snow Festival".
2014 Macht released August 15th. Top 4 on DAC and top 2 on GEWC.
Joining The Dark Circus for 12 nights in 6 different countries.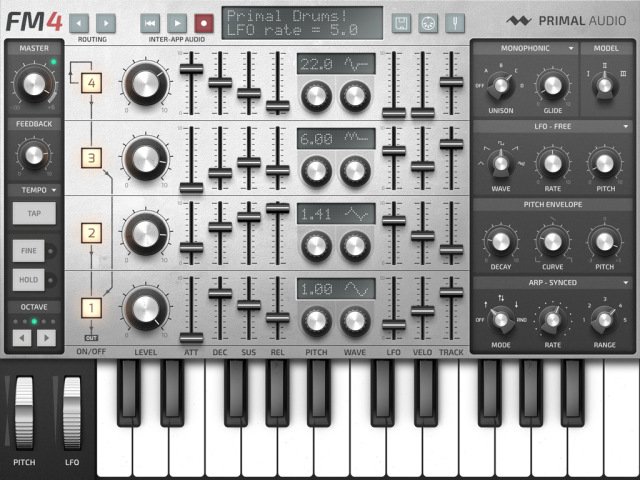 Primal Audio has announced FM4 – a new FM synthesizer for iPad, modeled on classic 1980s Yamaha DX series keyboards.
According to the developers, "Great care has been put into analyzing and replicating inherent sonic characteristics of the original hardware, such as internal quantization errors and digital-to-analogue conversion."
Features:
Four operators configurable via eight different routings
Three sound engines modelled on 1980s hardware units
Eight waveforms derived from classic FM synths
2x, 3x, and 4x polyphonic unison
Tempo-syncable arpeggiator with up, down, up-down, and random patterns
Microtuning with eight different temperaments
Supports Inter-App Audio, background audio, and MIDI (support for Audiobus is planned)
Up to 24 voices of polyphony
Import/export presets through iTunes
Works on all iPads supporting iOS 7.0 and up
FM4 will be available in the App Store in December 2014, with an introductory price of $0.99. See the Primal Audio site for details.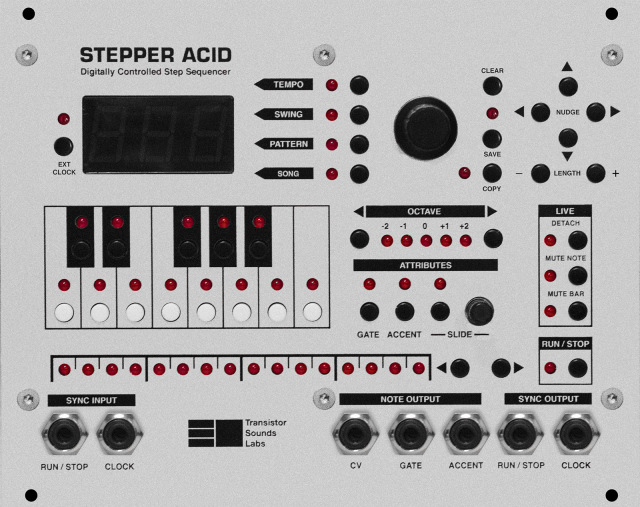 Nina Richards & Zoë Blade of Transistor Sounds Labs have introduced Stepper Acid– a digitally-controlled 16-step sequencer for Eurorack modular synthesizers.
They say it is "Designed by and for musicians, Stepper Acid was born out of our need for a modern step-sequencer."
Features:
16-step sequencer, with adjustable pattern length
Adjustable analogue slide
Song mode for pattern chaining
Stores up to 40 patterns
Detach mode for playing one pattern while entering another
0-5V range CV (5 octaves)
Gate and accent output. 5V or 12V selectable
Variable swing function
Dual microcontroller design
Adjustable clock sync input and output. Includes: 24PPQN (Sync24), 48PPQN, 96PPQN and 4PPQN (one note per pulse
Stepper Acid is available for £295.00. See the Transistor Sounds Lab site for details.
A guide to the various features of Stepper Acid.
We were making some demos of Stepper Acid's features, and Nina got carried away making a track. Enjoy!
In this exclusive SoundWorks Collection sound profile we talk with Supervising Sound Editor and Sound Designer Richard King about the sound teams extensive work on Director Christopher Nolan's immersive sci-fi film Interstellar.
With our time on Earth coming to an end, a team of explorers undertakes the most important mission in human history; traveling beyond this galaxy to discover whether mankind has a future among the stars.
For more exclusive videos check out SoundWorksCollection.com
Join the SoundWorks Collection Vimeo Channel: vimeo.com/channels/soundworkscollection
SoundWorks Collection Mailing List: bit.ly/15lOelU
NOTE: Feel free to re-embed and share this SoundWorks Collection video, but please do not download source video and repost without permission.
After a long wait the Virtual Mix Rack from Slate Digital is now released.
The VIRTUAL MIX RACK continues the Slate Digital tradition of providing the absolute most authentically modeled analog sound in a digital audio plugin.
The 'VMR' includes four world class mix modules, including two classic equalizers and two versatile mix compressors, with more modules to be developed.
The 'VMR' operates as a Virtual 500 series rack with hot-swappable modules, putting your whole processing chain in ONE WINDOW. This allows you customize your own channel strip, with signal flow following the modules, in any order you choose. Mix and match filters from different EQs. Chain an EQ before or after your compressor. Moving modules around is easy, fast, and creates no break in audio playback. Audition signal chains faster, easier, and in real time with the Slate 'VMR'.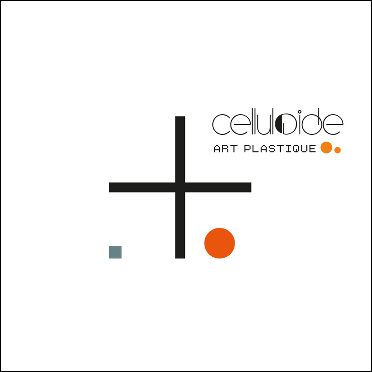 Out now is "Art Plastique", the 5th album of Celluloide. "Art Plastique" is the band's first album fully written in French. You can expect well crafted french sung electronic pop tunes, 8 in total, with a more minimal approach compared to their earlier work. You can order the new album right here.
An audio and visual poem based on the semi-instrumental track taken from the album Art Plastique, out on November 17. 2014