Jam Session with Doepfer A-100, Roland Aira, Elektron Octatrack, Analog Rytm, Korg Kaoss Pad
Audio: http://soundcloud.com/zeropage
New recording and mix of Mechatronic – Lifelike Dreams. Enjoy!
Lyrics:
Gotta find out what it means to me
All this dreams that I've been havin'
Of all stars shining in the night
I'm the one, the brightest in
My dreams in stereo
Take their seats, their heads turn to me
Looks at me, but do they see me?
Can I be a night star at day?
All I get is one take of
My life in color
Hear me now, see me now
My old 2D has grown to 3
I'm the star, so it seems
Sweet performance in life like dreams
Lifelike dreams, in lifelike dreams
Take their seats, their heads turn to me
Looks at me, but do they see me?
Can I be a night star at day?
All I get is one take of
My life in color
Hear me now, see me now
My old 2D has grown to 3
I'm the star, so it seems
Sweet performance in life like dreams
Lifelike dreams, in lifelike dreams
Hear me now, see me now
My old 2D has grown to 3
I'm the star, so it seems
Sweet performance in life like dreams
Hear me now, see me now
My old 2D has grown to 3
I'm the star, so it seems
Sweet performance in life like dreams
Lifelike dreams, in lifelike dreams
—————————————-­——–
Live photo by Peter Åhrberg
In 2005 Dave Smith Instruments released their third Evolver – The Poly Evolver. Their flagship instrument, it's a four-voice synthesizer (essentially four complete Evolvers) with a 5-octave keyboard, pitch and mod wheels, and a ton of knobs and switches in a clean, clear, easy-to-navigate layout. It can be a four-voice poly synth, four mono synths (each with its own sequencer), or any combination in between. The Evolverseries resurrects some of the oscillator, filter and other component technologies from the classic Sequential Circuits Prophet-VS and Pro-One synths. The Evolver was a huge hit the moment it appeared and this is the super-hands-on-real-time-programmable-polyphonic version of the little beast.
Each voice is a complete Evolver with four oscillators per voice: two analog and two digital – it's a true analog/digital hybrid synth. The analog oscillators feature multiple classic waveforms plus pulse-width modulation and hard sync, and they sound really nice and big. The digital oscillators feature FM synthesis, Ring Modulation and 96 Prophet VS wavetables plus 32 user wavetables (loaded via MIDI only). Each voice also features two Curtis voltage-controlled analog low-pass filters which are fully resonant and switchable for two- or four-pole operation, two digital highpass filters and real analog VCAs. Modulation capabilities are handled by four LFOs and three ADSR envelope generators (for the filter, the amp, and one is user assignable). There are dedicated onboard effects (feedback, delay, distortion, glide, etc.). One of its best features is the MIDI-syncable 16-step 4-parameter analog-style sequencer (with each patch having its own sequence) which really brings things to life with evolving sounds. The LFOs, step sequencer, and three separate delays can all be synced for massive, rhythmic, time-based effects in stereo. A major unique feature of the Evolver is its true stereo signal path. For each Evolver voice, the left and right channels get their own independent analog oscillator, lowpass filter, highpass filter, VCA and effects. This allows for pretty nice stereo imaging effects.
The Poly Evolver essentially quadruples all those Evolver specs! In Program mode, all four voices play the same sound. In Combo mode, voices can be allocated however desired: stack all 4 for a huge unison sound, split or layer the keyboard in any configuration, and/or play one or all sequences at the same time. Each voice can also respond to a different MIDI channel. Each voice has its own stereo output jacks in addition to the mix output. Stereo audio input can be routed to any or all of the voices, enabling parallel audio processing of external stereo or mono signals. The output of one voice can be routed to the input of another for interesting double-processing effects. And multiple Poly Evolvers can be daisy-chained for increased polyphony!
Full of hundreds of jaw-dropping preset patches, the Poly Evolver offers four times the punch of the original Evolver. The Poly Evolver finally answered prayers for a truly hands-on, programmable synthesizer version of the Evolver, and Dave Smith went all out on this one. The keyboard is semi-weighted with velocity and aftertouch, the wood end caps and overall design make for a great, classic look. The Pitch/Mod wheels are back-lit. With 77 endless-turn knobs and 59 switches, pretty much all parameters are within easy reach. There is a Poly Evolver Rack version of this keyboard, but where is the fun in that? Unless, of course, you "Poly Chain" one or more Poly Evolver Rack models to a master Poly Evolver keyboard for tons more polyphony and Evolver madness! The Poly Evolver would soon be followed up by the much less expensiveMono Evolver, a monophonic keyboard version of the original Evolver.
http://www.triplevision.nl/release/DR…
video by the29nov films
Herman kolgen
sound art installation
in my series windfields
urban wind is an installation taked from my serie windfields. the devices of the serie windfields have in common that they rely, in one way or another, to the dynamic characteristics of the wind _ the air flux. in urban wind, they are wind sensors are installed in strategic points of the city [ e.g. ::: intersections, bridges, tunnels, parks, rooftops . . . ].
the velocity and direction of the wind will be analyzed and than transmit by wifi to a group of accordions that will emit a euphonic soundscape. public can ear the pulmonary dynamics of the city trought each accordeons bellows.the differents harmonies are created by the wind flow.
presented for the first time in korea at the incheon international digital art festival 2010.
Intro to analog modular syntheiszers.
Hosted by Roger Arrick of Synthesizers.com
Technical details:
4ms Peg, QCD² /Expander² ,QPLFO, RCD, VCA Matrix
Analogue Systems RS 100², RS110²², RS 360²
Arp Odyssey 2821 white noise
Bananalogue Serge VCS
Cyndustries Zeroscillator
Doepfer R2m, A101-2², A118, A134²², A143-1/2,A151²², A152,
A156², A175²²,A185-2(13x), A138abc, A192-1( 4Vox midi CC )
Flame 4 Vox ,Chord Machine², FX16,Talking Synth Module²
flight of harmony choices
Make Noise Brains ,PP², Maths²,Moddemix²²,QMMG,
Optomix, René , Wogglebug²,Format Jumper
Malekko Anti²², Unkle²²,Jag
Moog Taurus 2, FreqBox²², MP201
Roland SVC 350 Vocoder, System 104 Sequencer
SSL Modulation Orgy
Tip Top Audio Z8000 manual voltage source
Toppobrillo Quantimator²(aeolian/ionian),
Sportmodulator,TWF²
Logic masterclock to Kenton Pro 2000
Rocktron Rack Interface²
FX : Akai MFC42, Alesis 3630, Boss VF-1,
Lexicon MX 400, PCM 80 , Line 6 Echopro ,
MXR Phase 100,TC M one XL, M3000
mackie the mixer²
triggered drums : Clavia D Drum 4se
12/8 time
vid # 1310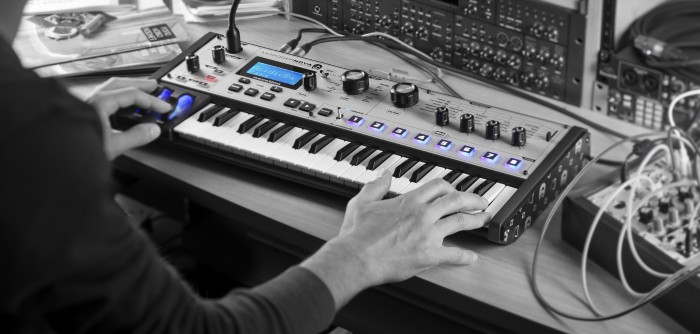 Novation has introduced the MoroderNova, a signature edition version of the MiniNova synthesizer in collaboration with Giorgio Moroder.
Over an incredible five-decade career, Giorgio Moroder has been nothing less than a beacon of influence in electronic music. Thanks to his pioneering work in the mid-70s with Donna Summer, among others, disco simply wouldn't sound the same. In the '80s, his blisteringly modern approach to producing the unforgettable soundtracks to movies including Scarface, Top Gun and Flashdance — using the synthesizer as his main instrument — captivated an entire generation of movie fans. More recently, Moroder has shot back into the popular consciousness, thanks to a universally acclaimed collaboration with Daft Punk in 2013, and his 2015 album Deja Vu, which features Britney Spears, Kylie Minogue and Sia as guest artists.

It's his fascination with electronic sounds that is at the heart of his collaboration with Novation. Giorgio Moroder is nothing less than a god in the synth world, he's been responsible with creating some of the most recognisable sounds across numerous genres, and we're honored to create an instrument bearing his name. The collaboration came about after Giorgio began to use the Novation Mininova, taking it on tour all over the world. With MoroderNova, Novation and Giorgio Moroder have made a piece of synth history. Not only is it Novation's first signature model, it's the first and only synth with Giorgio's name on it, a fact that we're really proud of. What's more, there are only 500 of them, each numbered and supplied with a certificate of authenticity.
MoroderNova features
Instantly-rare, signature version of the MiniNova which pays homage to Giorgio Moroder.
Branded with Giorgio's 'moustache and shades' insignia, and with a distinctive silver/black colourway, the unit is a stand-out piece of synth heritage.
The signature sounds identify some of Giorgio's most seminal moments in music. From the timbres of his disco classics with bands such as Sparks and Donna Summer, to the incredible sounds of the Top Gun and Scarface soundtracks, and his recent work with Daft Punk, Novation's sound designers have matched each and every one to the original. With access to these you'll be able to draw inspiration from the works of one of the most influential producers alive today.
Limited edition, numbered one of 500 units with certificate of authenticity.
Sign up at the MoroderNova website to stay informed.
"Picture frame eternity" taken from 2015 album "Garmonbozia".
Release-date 15/06 2015
http://www.analoguetrash.co.uk/
Pre-order:
http://trashdigital.co.uk/album/garmo…
Credits:
Video made by:
Petter Duvander
Allan Bank
Johan Jonasson
Jean-Michel Jarre with M83 "Glory" is a new track from Jean-Michel Jarre's forthcoming album.
Available on iTunes. Order it now:
http://po.st/JMJxM83
http://jeanmicheljarre.com/
https://www.facebook.com/jeanmicheljarre
https://instagram.com/jeanmicheljarre/