TVMarineret en TV-station på Kanal Hovedstaden – tvmarineret.dk – youtube.com/MarineretTVM – vimeo.com/tvmarineret
Synth Talk with Douglas J McCarthy & Cyrus Rex and the whole concert from Hovedbiblioteket 12 june 2013.
Vintage gear demo featuring the Oberheim Xk
Oberheim Xk keyboard controller from the year 1986
The OB-Xk is a midi keyboard controller with a complex arpeggiator, chord memory functions and a lot more
used synth: Oberheim Matrix-1000 analog synthesizer module

The Oberheim OB-Xk is a MIDI keyboard controller from the mid-eighties. Originally designed to control the Matrix and Xpander modules, it uses MIDI and works fine as a controller for any MIDI gear. It's got 61 keys that respond to velocity and aftertouch, two OB-style Pitch/Mod controllers, and one assignable continuous control slider. From the front panel you can directly access the first 100 single patches and/or 100 multi patches of your MIDI module. Any additional patches must be selected by another MIDI controller.
Other features include the ability to transpose up or down by up to 2 octaves or by half steps. The keyboard can be split into 3 zones. There are basic Hold and Chord memory functions and an Arpeggiator section with pretty decent features (it can use internal or external clock). The OB-Xk can also send a sequencer Song Select, Start and Stop commands. It's built with Oberheim's classic & vintage look: solid black metal case with wood end-cheeks. Definitely a unique controller to have around, although severely limited by today's standards.
A mashup with Front 242 – Circling Overland and Gesaffelstein – Hate And Glory.
All live, no computer.
Gear used:
Elektron Octatrack
Elektron Analog Four
Roland Aira TR-8
Roland Aira VT-3
All video and audio c.2014 G-Storm Electro
http://gstormelectronica.blogspot.com/
The focus of this demo is the SH-101 plug-out: down-n-dirty short basses, basic arpeggios, and sequences from Arturia Beatstep. I don't have an original SH-101 so I can't comment on how similar it may be. I stayed away from tone/crusher and kept the delay/reverb to a minimum just so you could hear the SH-101 sound engine in all its monophonic glory. Some backing rhythms provided by SCI Drumtraks and Roland MC-303.
Alexander Zolotov has introduced a new app, Nature – Oscillator, that lets you synthesize based on the world around you.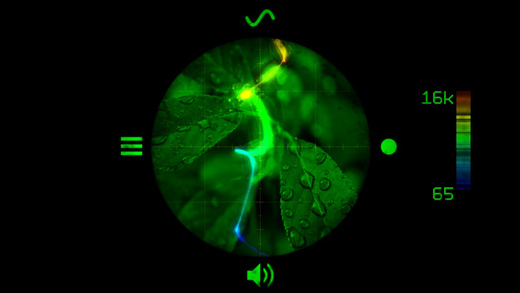 The world around us is an endless source of visual information, the flow of the fractal code of life. Nature – Oscillator is one of the attempts to translate this code to sound, using spectral synthesis algorithm of the Virtual ANS engine (software simulator of the unique Russian synthesizer ANS). The program continuously reads the image from the camera and interprets it as the spectrum of the sound.
Toa Mata Band is known as the World's first LEGO robotic band controlled by Arduino Uno which is hooked up to a MIDI sequencer. In this video, the third episode, the robots are playing some unconventional drum-percussions made by some food packaging are captured by a contact microphone (piezo) and processed in real time in the D.A.W. Ableton Live. A brand new device appears for the first time, it's a moving platform on x-axis, made of Lego bricks, gears and servo motors that permits to move with semitones-steps the tiny synth.
The song is a cover of the famous synth-pop band Depeche Mode, it's a personal tribute to the band who made my days in the 80′s.
The performance was recorded live in July 2014.
This video is only a showcase of my works, it's not for commercial
use.
Artwork:Giuseppe Acito
Camera: Luca Zanna for ZeD video project
Music: Martin Lee Gore
Performed: Acito & Toa Mata Band
opificiosonico@libero.it
http://www.opificiosonico.com
https://www.facebook.com/ToaMataBand
https://www.flickr.com/photos/opifici…
https://twitter.com/OpificioSonico
KORG DS-10 only
The Beijing-based electropop musicians of Yaoband came together to explore new musical frontiers. iPad helps them capture, record, and perform their innovative music.
http://www.apple.com/your-verse/strik…
I have quite a few analog synths running in this video. First the Roland MC-909 is sequencing the Roland D-550, MKS-50, and Gray SH-101 (via Kenton Pro Solo) on top. The drums are running from the Boss RC-300 Loop Station on the floor. I am playing the Synth FX using the red Roland SH-101 and the Oberheim Matrix 1000 triggered by the Fantom X6. I then add a Roland Juno-106 synth part. Other than the sequenced parts, the entire groove is improvised. Enjoy!
Resonance Sounds presents Electromatic 3 by electro house veteran Swen Weber! Over 360 handcrafted bass, drum and synthloops are waiting for you, next to 60 punching drumhits and 3 complete construction kits containing bass, drum, synth and vocal loops aswell as MIDI files. All samples are designed to sitting perfectly in the mix and providing you instantly the right inspiration and source material for your next electro house smasher!
Features:
- 755 MB Content
- 362 Loops in total
- 50 Bassloops
- 160 Mixloops (incl. Root Key)
- 50 kick free Beatloops
- 50 Drumhits
- 10 FX Sounds
- 50 Kickloops
- 3 Construction kits (32 loops incl. bass, synth, vocal, drum and mix loops and MIDI files)
- All tonal loops are key-labelled
- recorded in 128 bpm