Future Music have teamed up with Andertons Music for NAMM 2015. Here they check out the new Prophet-6 analogue polysynth from Dave Smith, back under his original Sequential brand name.
http://blog.andertons.co.uk/keyboards…
CREDITS
Video Producer & Presenter: Chris Barker
Video Editor and Videographer: Will Seelig
Future Music have teamed up with Andertons Music for NAMM 2015. Here they check out the new feature-packed Novation Launchpad Pro
http://blog.andertons.co.uk/recording…
CREDITS
Video Producer & Presenter: Chris Barker
Video Editor and Videographer: Will Seelig
Roland talk us through the new JD-Xi synthesizer, which has both analogue and digital oscillators, as well as an integrated sequencer.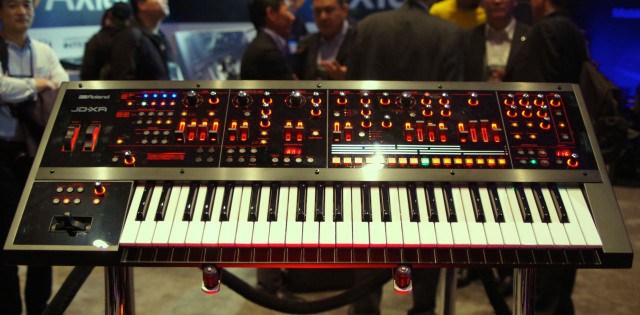 The Roland JD-Xa is not being officially introduced, because it is still under development. But they expect to give the new synth its official introduction at Musikmesse 2015.
The JD-Xa is described as a 'flagship' keyboard in the JD-X line – offering:
a knob-filled interface & full size keys
4 independent analog monophonic voices, each with fairly deep synthesis capabilities, that can also be used as a four-voice polysynth;
4 additional synth voices, based on Roland's SuperNatural technology;
8 channels of step sequencing
Official details are to be announced.
Rop Papen shows off their Raw software at the NAMM Show 2015.
NAMM 2015: Elektron Ovwerbridge Progess Audio routing and a sneak of the UI for the editor
Elektron's Overbridge was announced last year, its a technology that allows Elektron instruments – Analog Four, Analog Rytm and Analog Keys to feed their audio and MIDI over USB and into a host plugin that will run inside the host DAW and route discrete inputs and outputs.
Addtionally MIDI can be routed and more interestingly given the complexity of these instruments, an editor to access the voice and setup parameters for each instrument – this would certainly make the editing process more pleasurable – one of my criticisms was that the screen is just too small to see enough detail for serious editing and my tired eyes.
Cenk (aka Dataline) gives us the headsup on where the Overbridge technology is, the seamless integration of audio streams in and out of the DAW is impressive.
With a pair of trademarked DiscretePRO mic preamps, high-quality 24-bit AD/DA conversion, sample rates up to 192kHz and accurate clocking, the AudioFuse is an intriguing proposition.
When it comes to connectivity, the AudioFuse is well equipped and has been designed with musicians in mind. As such, it has two pairs of speaker outs, a pair of headphone outputs, each with 1/4-inch and 3.5mm sockets, and USB ports for connecting or powering other devices. On top of that, there's ADAT connectivity, MIDI, phono, S/PDIF, Word Clock, XLR/ balanced 1/4-inch combo connections.
The AudioFuse could easily form the centre of a small studio, providing a talkback function for communicating with recording talent, and insert points for adding line-level devices (EQ and compression for instance) between the preamps and the converters. Direct monitoring is also possible as well, to avoid the timing issues associated with recording latency.
Arturia's new audio interface is also road-ready with a sturdy aluminium chassis, and an accompanying box to protect it from knocks during transport and also to stop undesirables from messing with your settings! It is set to retail for around $549 and should become available in the Summer.
Via SOS
Amos Gaynes takes us through the new features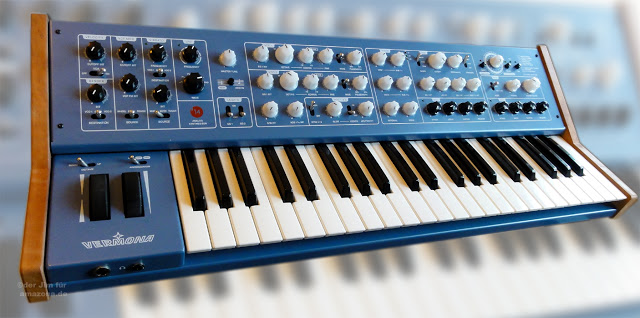 Info below from a German magazine:
Vermona '14 – an unconventional name. Just before the Vermona team departed for NAMM, offered, quasi in passing, the opportunity to take a quick look at the new synthesizer. Here are the first impressions.
The analog synthesizer is a full-blown version of the Lancet module. The 3½-octave keyboard (44 keys) has a pleasant synth-action keyboard and the housing and the controls make a solid, reliable impression. The large panel promises a safe handling on stage.
structure
Vermona '14 is monophonic, a duophoner mode as it is presently just hip is not provided. The sound production have two identical VCOs with sine, sawtooth and square (PWM) and two sub oscillators, with a sinus, with a rectangle that can be mixed to the mixer. In the mixer, signals can override what appears roughly three LEDs. The VCO can be synchronized and also provide, if necessary on a fixed pitch. Noise and External In enhance the sound sources.
The filter is not a multi-mode, but only a low-pass, but corresponds to the most common applications.
The slope can be switched between 12, 18 and 24 dB. Also filter FM is possible. Two fast ADSR envelopes and LFO accept the modulation