Track from the forthcoming album "Mutant"
SonicProjects has launched Mac and x64 version of OP-X PRO-II, a virtual Oberheim OB-X synthesizer instrument.
We are very proud to announce that after two years of development work we now finally can offer our flagship synth OP-X PRO-II with full native Mac and 64bit support to you! It offers future proof support for the newest VST3 interface and too for the established VST2 and AU interfaces and full native 64bit compatibility on both platforms.

The new x64 and Mac versions offer all of the synth's unique features and furthermore include the complete so far available sound library offering more than 2'500 awesome sounds!
The OP-X PRO-II is on sale for 85 EUR until October 4th, 2015.
Live with
Elektron Octatrack
Elektron Analog Four
Elektron Analog RYTM
Roland Tr8
Roland Tb3
Roland MX1
Korg Electribe2
Virus TI Polar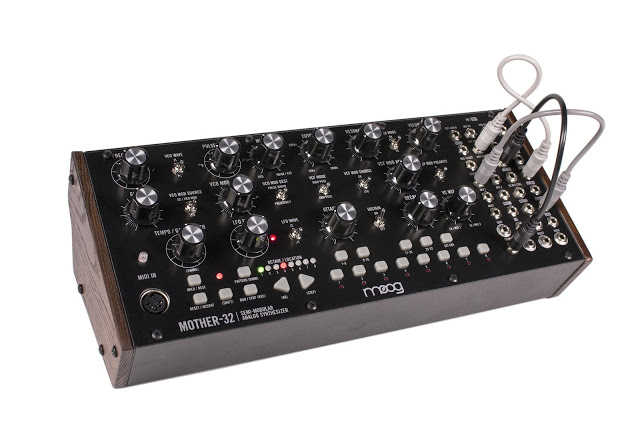 Looks like the Mother-32 will be a single oscillator desktop, eurorack type, patchable, monophonic synth, with a built-in sequencer

SKnote has announced the release of Disto, an emulation of two compression and saturation hardware units in one.
Disto includes three units in a rack (two compressors and a stereo unit for warmth, saturation and transformers) and a Mid/Side encoding/decoding matrix.

Disto can be used as mono, linked stereo (to keep a perfect stereo alignment from the source), dual stereo (unit working separately on left and right channels) and Mid/Side. In Mid/Side mode one unit processes the Mid component of the signal and the other one processes the Side component, with independent control, for a deeper stereo processing.
Distro features
Several compression modes.
Knee compression.
Several saturation modes.
Warmth control. A special dynamic filter attenuates brightness for a "tape" style warming effect.
Hottitude control. Set headroom and saturation independently from dynamic control.
Output transformer option. A special saturation on low frequency range.
Mid/Side matrix, with independent controls for Mid and Side.
Original/Out of Order modes.
Disto for Windows and Mac (VST/AU, AAX in development) is available for the introductory price of $29.99 USD (regular $39.99 USD).
This video examines one way to use the Sputnik Modular Selector or any sequential switch to toggle between different audio rate wave shapes to create more complex shapes.
We're giving away one free Sputnik Modular Selector module! Check this link for more details!
https://www.voltagecontrollab.com/201…
https://itunes.apple.com/app/id920832…
http://ios.icegear.net/laplace/
Laplace is a physical-modeling synthesizer based on resonator synthesis that makes it easy to create bowed string, plucked string, blown pipe and metallic sounds.
"The X-files" returns for a six-episode series helmed by creator/executive producer Chris Carter and starring David Duchovny and Gillian Anderson as FBI Agents Fox Mulder and Dana Scully.
Also returning are the Lone Gunmen, Annabeth Gish, Mitch Pileggi and William B. Davis while Joel McHale will play a conservative pundit who tasks Mulder and Scully with investigating a woman (Annet Mahendru) claiming to have been abducted. Kumail Nanjiani will also play a small role, while Robbie Amell and Lauren Ambrose will play a pair of new FBI agents.
And for the OST fans, music composer Mark Snow has also come aboard
The next mind-bending chapter of THE X-FILES debuts with a special two-night event beginning Sunday, Jan. 24 (10:00-11:00 PM ET/7:00-8:00 PM PT), following the NFC CHAMPIONSHIP GAME, and continuing with its time period premiere on Monday, Jan. 25 (8:00-9:00 PM ET/PT). The thrilling, six-episode event series, helmed by creator/executive producer Chris Carter and starring David Duchovny and Gillian Anderson as FBI Agents FOX MULDER and DANA SCULLY, marks the momentous return of the Emmy Award- and Golden Globe-winning pop culture phenomenon, which remains one of the longest-running sci-fi series in network television history. Subscribe to tvpromosdb on Youtube for more The X-Files season 1 promos in HD!
Official website: http://www.fox.com/the-x-files
Official Twitter page: https://twitter.com/thexfilesfox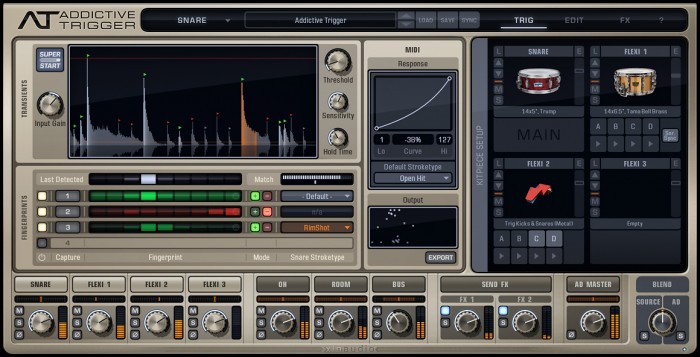 XNL Audio has announced the release of Addictive Trigger, an intelligent drum replacement plug-in for Windows and Mac.
When creating Addictive Trigger, we developed smart new technologies (Audio Fingerprint™ and SuperStart™) to make drum replacement easy and painless. Then, we combined these new technologies with some of the best sounds and features from Addictive Drums 2.

The result is a fast, accurate and fun way to raise your live-recorded drums to a whole new level.
Addictive Trigger features
Audio Fingerprint drum hit detection.
SuperStart auto-adjustment of settings.
Outstanding drum sounds included.
A complete solution.
Addictive Trigger for Windows and Mac (VST/AU/AAX) is available for purchase for 149.95 EUR.
XLN Audio has also released DS-10 Drum Shaper, a transient shaper effect plug-in for drums.
DS-10 is a transient shaper designed specifically for use with drums. The clutter-free interface lets you dial in just the right amount of punch in your drum mixes while three amazing algorithms provide great sounding results.

Our powerful MOJO processor lets you shape the transients in specially chosen frequency bands while leaving other bands unaffected, opening up a world of exciting sound design possibilities.
DS-10 Drum Shaper features
Transient shaping just for drums.
New Natural and Smooth algorithms.
MOJO tuned-transient processor.
The DS-10 Drum Shaper for Windows and Mac (VST/AU/AAX) is available for purchase for 79.95 EUR.
Both plug-ins are also included in the new Trigger+Shaprer Bundle, which is available for 219.95 EUR.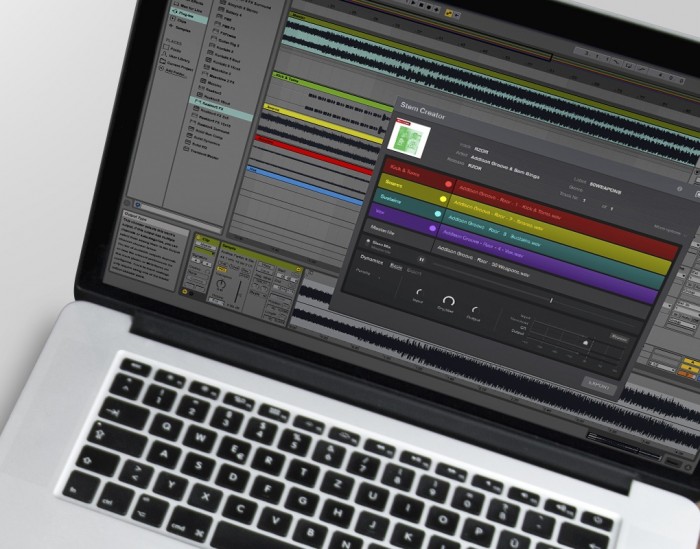 Native Instruments has released the official full version of Stem Creator, the first standalone application developed specifically for Stem file creation.
Available now for free download via stems-music.com, the new tool provides a simple way to create high-quality Stem files using a drag-and-drop interface and integrated mastering controls to fine-tune the final mixed Stem file's sound. Stems enables producers, DJs, labels, online stores, and the entire world to create their own Stem files and discover a new music experience.

A Stem file contains a track split into four musical elements: A drums stem, a bassline stem, a melody stem, and a vocal stem for example. Each 'stem' can be controlled independently to create instant new mixes, mashups, instrumentals, a cappellas, and more.

Stem Creator is designed for the sole purpose of processing audio files into the four-channel stem.mp4 format – streamlining Stem file creation for simplicity and ease of use. To create a Stem file, creators first prepare and export four isolated musical parts of a track from their DAW or audio editor, along with the final mixed version – five uncompressed audio files in total. Then each file is imported into the Stem Creator where a limiter and compressor are adjusted to match the stems with the volume and dynamics of the original stereo master. Standard metadata like track name, artist, and album can then be edited, along with advanced options like stem name and color, catalog number, and album art before finally exporting the finished Stem file.
Stem Creator is available for download at no charge. A developer toolkit will make the technology behind Stems readily available for anyone to integrate into future software and hardware.