This recording has been made using ONLY a Korg MS-20 mini.
Original midi tracks has been exploded into a total of 37 monophonic tracks and then processed, one at a time, through a MS-20 mini.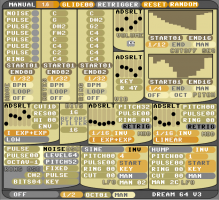 Odo Synths has announced the release of version 3.0 of Dream 64, the free Chip Synth VST instrument plug-in for Windows.
Dream 64 is not an SID emulator, but it's a plug-in that can recreate sounds that are used in chip-music. It's inspired by the SID chip from the old but good Commodore c64 but with some extra features for fun.
Main features:
All sequencers have a start and end loop but start always at step one.
Start-step never can be higher than the end.
Every sequencer has its own BPM rate or all have one manual rate.
8 step Wavetable sequencer with audio on/off (gate effect).
8 step Arp sequencer notes from c to c3 and one c4 note.
8 step Ring modulation sequencer notes from c to c3 and one c4 note.
A Bitcrusher only for the ringmod. This is nice if you use the Wavetable.
16 step easy to edit filter-sequencer. Can be used for nice bass sounds because it has an end step (will sustain).
Waveforms for the oscillator are saw, triangle, pulse, noise, ringmod mode. The noise is very special – it can be pitched by key or fixed.
Oscillator octaves from -3 to 2.
Ring modulation oscillator notes from c to c3 and one c4 note and a bitcrusher (this is nice for the wavetable sequencer).
2 LFOs with 21 waveforms BPM rates and manual with inverter.
The LFOs can start (key sync) (host sync) and (free run).
Destinations of the LFOs are pitch/pulse/ring osc and Filter.
2 modulation envelopes with inverter and BPM retrigger.
Destinations Pitch/pulse/ring modulation.
Filter Envelope can be switched to the filter sequencer.
filters lowpass/hipass/bandpass/low and hipass/band and hipass/band and lowpass.
Random for most of the controls.
Reset most of the controls.
Double click is reset for most of the controls.
Bitcrusher before and after filter.
Dream 64 is a free download at http://chips.site90.com
Video by LickMyKazoo (www.lickmykazoo.com)
Drum programming, mixing and all synth tracks performed by Kostis Tsioulakis
(https://soundcloud.com/kostistsioulakis)
Synthesizers used: murmux initiate, semi-modular and pedalsynth
(http://www.dreadbox-fx.com/synthesize…)
Delay used (on lead track only): Dreadbox Sonic Bits
(http://www.dreadbox-fx.com/sonic-bits…)
Recorded directly through an RME fireface 400, no aditional effects, eq, compressor or filters used (except for the drum track)
controller used: Keith McMillen QuNexus
(http://www.keithmcmillen.com/qunexus/…)
Original track covered: "Revenge of the Black Regent" by Add N to (X),
Avant Hard, Mute Records Ltd, 1999
MFB-522 drumcomputer sound demo
No processing , recorded thru mackie 820i into ableton @ 100bpm
http://acidoo.com
Bassdrum + Snare/RS separate out
Instruments stereo out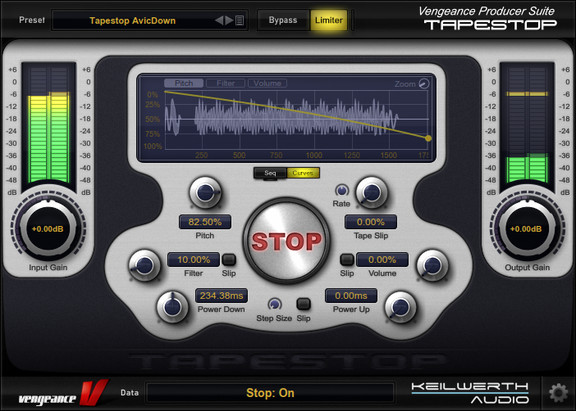 Vengeance Sound has launched Tapestop, a new Vengenace Producer Suite effect plug-in for Windows and Mac.
The Tapestop effect is as old as it is famous, and Vengeance has the deluxe version of this effect for you: VPS Tapestop is your new favourite tool when it comes to all kind of pitch effects.

But stop, it can do a lot more: with the build in sequencer, volume and filter envelopes or the new "tape slip" feature you can create crazy effects, way beyond the classic Tapestop pitch-down.
VPS Tapestop features
Simulates Pitch-Down and Pitch-Up.
LP Filter can be added.
Volume Fades can be added.
Tape Slip: simulates worn Tapes/Vinyls.
Stepped or smooth pitch effects.
internal sequencer.
3 independend envelopes for pitch, filter and volume.
realtime scope.
80 presets with pitch, wobble or special fx presets.
no clicks and 100% sync with your song.
The tapestop effect duration can be set in note values.
The Tapestop plug-in for Windows and Mac (VST/AU/AAX) costs 49 EUR. It is currently 20% off in as part of Vengeance's Easter sale. Use coupon vEaster at checkout.
FRACT is a musical exploration game. Players arrive in a forgotten place and explore the vast and unfamiliar landscape to discover the secrets of an abandoned world that was once built on sound. As they start to make sense of this strange new environment, they work to rebuild its machinery and bring the world back to life by exploring sound and creating music within the game. FRACT is being developed by Phosfiend Systems, a small indie game studio based in Montreal, Canada.
More info at http://www.FRACTGAME.com
The music for the teaser trailer was composed entirely in the game during a quick 'studio session'.
Korg MS-20 mini polyphony using Notelogic from Xhip.net
NO Fx has been used on this piece!
An introduction to the user interface of Audulus for iPad.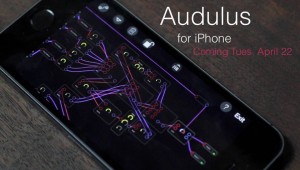 Taylor Holliday has announced that Audulus for iPhone will be available Tues, April 22nd. Audulus is a graphical modular audio environment, currently available for Mac OS X and iPad. The iPhone version will be fully patch compatible with the existing versions. Audulus for iPhone will be free to all current users of Audulus for iPad, and will be available at a 'special introductory price' for everyone else.
The built-in modules in Audulus:
Virtual Analog Oscillator (4 classic waveforms)
ADSR Envelope
Noise Generator
Sample Player (coming soon to iPad)
Mathematical Modules: Add, Subtract, Multiply, Sine, Modulo
Random Number Generator
MIDI controlled Keyboard
MIDI assignable trigger
16-Step Sequencer
Delay
Distortion
Low Pass Filter
High Pass Filter
Pitch Shifter
Constant Value
Gain
Mapper Curve
Piecewise-linear Spline Curve
Sample and Hold
Crossfade
4-Channel Mixer
Level Meter
Value Meter
Scrolling Waveform Meter
Input/Output
Polyphonic to Monophonic signal mixer
Global Time
Sub-Patch
Timer
Zero-crossing Counter
Audio Unit Plug-in (Mac Only)
Math Expression Node (In-App Purchase Upgrade)
Vintage synthesizer demo track by RetroSound
all sounds: Oberheim OB-X Analog Synthesizer (1979)
drums: LinnDrum
recording: multi-track without midi
fx: delay and reverb
John '00′ Fleming sits in for a Computer Music Producer Masterclass session. This entire series discusses the process of remixing Jean Michel Jarre's famouse "Oxygene" track. Part one, John discusses how he worked with his partner sharing files due to long distance, how he prefers to design his own pad sounds versus flipping through pre-sets and the benefits there-of.
Follow John 00 Fleming and JOOF Recordings:
http://www.john00fleming.com/
http://www.facebook.com/pages/John-00…
http://twitter.com/John00fleming
http://soundcloud.com/john00fleming