XMH track The Blind from the album In Your Face.
Get yours from https://alfamatrix.bandcamp.com/album…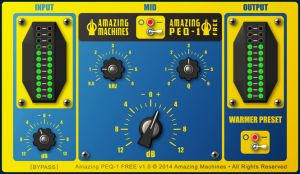 Amazing Machines has released the Amazing PEQ-1 Free. The Amazing PEQ-1 Free is a tone shaping tool capable of drastically changing an audio source with its 1-Band Mid-Range Equalizer and Preset Warmer.
Features:
1 Reaktor Ensemble.
1-Band Parametric Equalizer.
Preset Warmer.
Price: Free – Requires Native Instruments' Reaktor or the Free Reaktor Player, version 5.8 or newer.
taken from the single 'Where In This World'. (c) & (p) ECHOZONE/ BOB-MEDIA GmbH & Co.KG.
Regie: Alexander Braun, Manfred Thomaser & Rick Prokein
Cut: Alexander Braun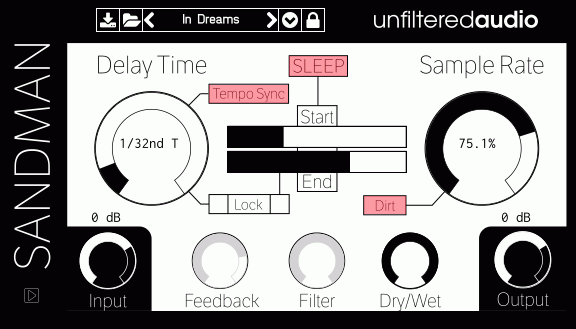 Unfiltered Audio has launched Sandman, a delay and loop-mangler capable of creating beautiful, dreamlike ambient textures or busy, hyper-stuttered glitch beats.
Sandman blends many time-manipulation paradigms into one inviting interface, giving you the ability to use it as a traditional delay, a flanger, a granulator, a wavetable oscillator, or something completely different.

A feature-packed modulation system keeps everything animated, while a special de-clicking algorithm ensures that your loops are mix-ready.
Sandman features
"Sleep" mode freezes your delay buffer, creating locked loops. Loops can be further manipulated by changing the start and end points or manipulating the buffer size.
Variable Sample Rate expands your delay times (up to eight minutes!) while enabling amazing creative possibilities. Use it to repitch a frozen buffer, add a bit of grittiness and warmth to a delay line, or simply decimate everything.
Wide-ranging tempo-syncable delay times (down to 5 milliseconds). At its smallest settings, you can use Sandman as a flanger, a wavetable oscillator, a micro-delay, or to turn percussion into string tones.
Dual LFOs with bipolar modulation destinations. Keep your loops from going stagnant and explore some wild modulation opportunities.
Optional de-clicking algorithm makes your loops invisible. You can automate this algorithm's state, giving you glitchy clicks and cuts when you want them.
Feedback filtering helps you control more intense patches or add a bit of murk to your loops.
Intelligent "Lock" modes keep your delay length and loop lengths intact, even with a modulated sampling rate.
"Dirt" switch adds some nastiness to the heart of the delay line for that extra-vintage feel.
Preset locks allow you to keep specific parameters frozen on preset change.
DRM Free. When you buy it, you own it. No serial numbers, dongles, or forced internet connections.
Steam Cloud Support means that if you use G8 Gate through Steam, all of your presets will be automatically backed up to the cloud and synced between your computers. Every purchase of G8 includes a Steam Key. If you are unfamiliar with Steam, please see Steam's homepage.
Sandman for Windows and Mac (VST/AU) is available for purchase for the introductory price of $14.99 USD until November 21st, 2014 (regular $19.99 USD).
I just eliminated the iPad from my STEM kit by integrating the M3000 Oscillotron code – or a tweaked, more optimized version of it – into PIANA, so it has oscilloscope functionality.
Background video description:
Here is a video of some friends and I recording our version of "Just like Heaven" by The Cure. We all three used to play together in high school and decided to reunite a couple of months ago to do an 80's reunion. It's such a great pleasure to play with these guys after 27 years. Being in a band with great friends, rather than just other musicians, means everything to me! I played drums and obviously keyboards on this recording, and covered all backing vocals. Drums used were a Roland TD20SX set. Recorded using a Yamaha AW4416 Digital Recorder. We are "A Buck Twenty-Five".
Curtis Ryan – Lead Vocals
Jimmy Pound – Keyboards, Vocals, Drums
Wesley Garner – Guitar
Jason Terry – Bass
Thank you for watching!
You got to see this – Really cool video!
Background video description:
bad news
my KORG new electribe…….initial defectiveness!!!!!
Electribe leaves my home with initial defectiveness.
It was slightly 2-day self-possession.
bad and sad news
開封して2時間くらいでこの動画を撮りました。
撮影後、あれこれ機能を確認していた最中に本体の異常があったので、
購入店に連絡して確認したところ初期不良でした。新しいelectribeは僅か2日­間で我が家から去りました。
electribe2で演奏しました。2回目です。
Please listen with headphones.
1st track from the "NWO EP" released digitally by DWA on November 7th 2014, and coming on February 10th 2015 on limited edition 12″ vinyl – with 2 bonus tracks not found on the digital version…
iTunes: http://itunes.apple.com/album/id93928…
DWA Bandcamp: http://dwa-digital.com/album/nwo-ep
The Rosetta mission has detected a mysterious signal coming from Comet 67P/Churyumov-Gerasimenko.
The mission has five instruments in the Rosetta Plasma Consortium (RPC) that measure the plasma environment surrounding the comet.
Plasma is a charged gas and the RPC is tasked with understanding variations in the comet's activity, how 67P's jets of vapour and dust interacts with the solar wind and the dynamic structure of the comet's nucleus and coma.
But when recording signals in the 40-50 millihertz frequency range, the RPC scientists stumbled on a surprise — the comet was singing, they report.
Through some kind of interaction in the comet's environment, 67P's weak magnetic field seems to be oscillating at low frequencies. In an effort to better understand this unique 'song', mission scientists have increased the frequency 10,000 times to make it audible to the human ear.
First detected in August as Rosetta approached the comet from 100 kilometres, this magnetic oscillation has continued.
Rosetta scientists speculate that the oscillations may be driven by the ionisation of neutral particles from the comet's jets.
As they are released into space, they collide with high-energy particles from interplanetary space and become ionised. Because it is electrically charged, the plasma then interacts with the cometary magnetic field, causing oscillations. But to draw any conclusions about this, further work is needed.
"This is exciting because it is completely new to us," says Karl-Heinz Glaßmeier, head of Space Physics and Space Sensorics at the Technische Universität Braunschweig, Germany.
"We did not expect this and we are still working to understand the physics of what is happening."
Rosetta is currently lining up to deploy its robotic Philae lander to the comet at 20.00 AEDT.
During landing manoeuvers, the RPC is expected to help tracking Philae's descent to the comet's surface. The time between separation and landing is expected to take around seven hours.
It takes 28 minutes and 20 seconds for signals to travel at the speed of light from Rosetta to mission control in Germany.