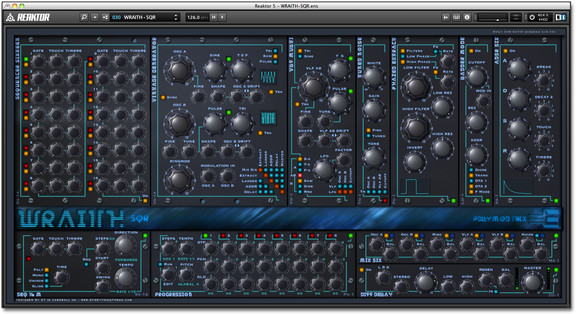 EverythingTurns has announced the release of Wraith, a PolyMod Rack series polyphonic modular analog synthesizer instrument for Native Instruments Reaktor.
Wraith is available in two form factors, the larger Wraith SQR has two built-in sequencers that can run independently to each other, Wraith Mini has all the same synthesis capabilities and is better suited for smaller screens.
PolyMod features
PolyMod is more of a template than an ensemble and has features built-in that will make the whole process of building new ensembles at ET better in so many ways.
All PolyMod ensembles have a consistent user interface making the learning curve for new designs greatly reduced.
PolyMod has skins built in – 22 to choose from and they are saved with each snapshot, having different colours for different tracks in a sequencer makes a lot of sense, red for bass and blue for pads, etc.
All PolyMod ensembles are pre-order only, this means no instant downloads, when an order is placed the instrument will be sent to you within a day or so and you will have the only copy, the original encrypted version is kept on the server as a backup if needed.
Each Ensemble is Unique to you.
Wraith is available for purchase for £18 GBP (SQR)/£14 GBP (Mini), or £28 GBP for a bundle of both. Requires Reaktor version 5.8+.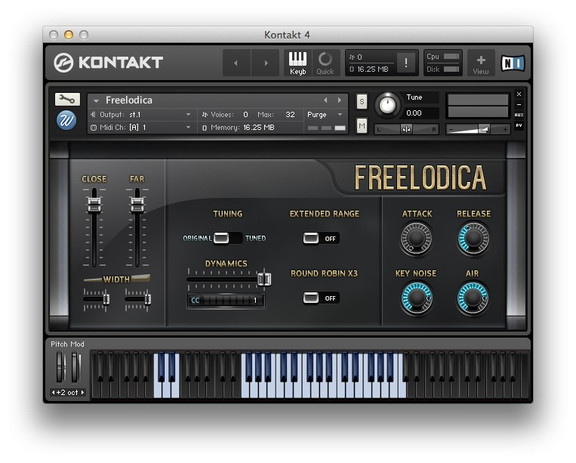 Wavesfactory has announced the release of Freelodica, a free sampled 32 keys Hohner Melodica for Native Instruments Kontakt.
2 microphone positions with stereo width controls. Envelope, key-noise and air volume control. 3x optional round robin and extended range. Original tuning and perfect tuned samples. Dynamics controlled by any CC. Breath noises included for more realism.

We also modeled the imperfect behaviour of the instrument so there is no either sonic or playable difference between The Freelodica and the real thing.
Freelodica features
Stereo WAV files, 44.1KHz 24bit.
3x optional round robin.
120Mb downloaded.
2 microphone positions with stereo controls.
Original tuning and digitally tuned versions.
Envelope, key noise and breath controls.
Dynamics controlled by any CC.
Real behaviour modelled.
The download is available for free exclusively at Wavesfactory.com. Requires Kontakt full version 4.2.4 or higher.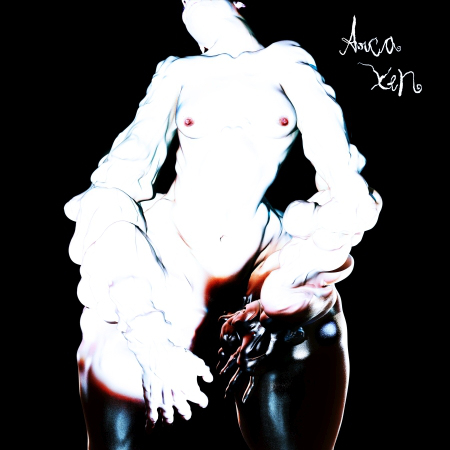 Xen is the latest in a line of uncompromising, forward-thinking releases from the 24 year old Venezuelan artist – aka Alejandro Ghersi – who first started turning heads with his Baron Libre, Stretch 1 and Stretch 2 EPs in 2012, before further wowing with his work on FKA twigs's EP1 (and then subsequent work this year's LP1), Kanye West's Yeezus and his own blistering &&&&& mixtape the following year.
Xen will be available on CD, LP, limited LP edition with bonus 10″ and download, and features stunning artwork from long time Arca visual collaborator Jesse Kanda. A limited edition vinyl format will also be available. Limited to just 500 copies, this special format will be hand-numbered and sealed in black PVC and will also include a bonus 10" record of unreleased Arca material that won't be available anywhere else, continuing Arca's tradition of producing highly sought-after vinyl recordings (the recent vinyl version of his &&&&& mixtape sold out within days of going on sale).
Meanwhile, Arca is set to perform a series of North American dates later this month. Tickets for all shows are on sale now, with UK and European shows due to be announced later this year.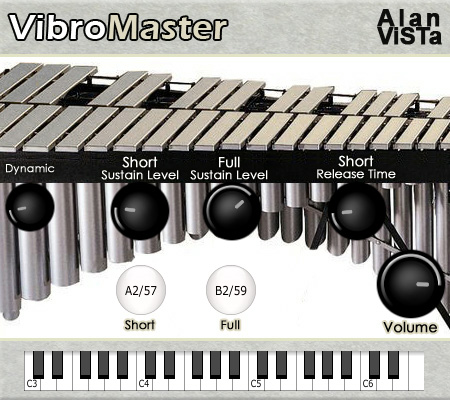 VibroMaster is a sampled vibraphone containing 42 stereo samples from the
University of Iowa Electronic Music Studios public domain library.
You can use a sustain pedal to play with full release notes,
but if you don't have one, you can switch from Short to Full release
with the midi notes A2 (57) for short and B2 (59) for full.
These 2 notes can be triggered from the GUI.
– 42 stereo 24 bit samples.
– 2 groups: Short / Full release.
– Release time control for the short group.
– Sustain levels for each group.
– Amplitude dynamic range control.
– Main volume.
-Ugly GUI.
Available in :
VST 32 and 64 bit for Windows
VST for Mac
Audio Unit for Mac
This is the MFOS 16 step analog sequencer. 1 channel, 3 cv outs (with portamento control), 2 gates, 2 triggers out, clock input, clock out, coarse/fine control voltage, multi-gate, step/reverse and randome mode.
The case is made of wooden with white finish and is powered with AC100-260V.
In this video the sequencer is controlling the selfoscillation of a VCF with a envelope generator.
More information at hardmod dot tumblr dot com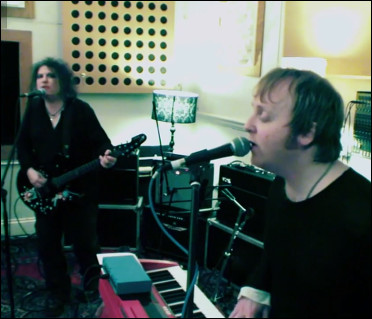 The Guardian exclusively revealed yesterday that The Cure had recorded a Beatles cover with James McCartney, son of Paul McCartney, on keyboards.
The band recorded "Hello Goodbye" from the forthcoming all-star tribute album to Paul McCartney out on November 17. Apart from The Cure the 34-song tribute 2CD "The Art of McCartney" also features the likes of Billy Joel, Bob Dylan, Brian Wilson, Kiss, Barry Gibb, Dr John, BB King and many more
The full tracklisting:
Maybe I'm Amazed – Billy Joel
Things We Said Today – Bob Dylan
Band On The Run – Heart
Junior's Farm – Steve Miller
The Long and Winding Road – Yusuf / Cat Stevens
My Love – Harry Connick, Jr.
Wanderlust – Brian Wilson
Bluebird – Corinne Bailey Rae
Yesterday – Willie Nelson
Junk – Jeff Lynne
When I'm 64 – Barry Gibb
Every Night – Jamie Cullum
Venus and Mars/ Rock Show – Kiss
Let Me Roll It – Paul Rodgers
Helter Skelter – Roger Daltrey
Helen Wheels – Def Leppard
Hello Goodbye – The Cure ft James McCartney
Live And Let Die – Billy Joel
Let It Be – Chrissie Hynde
Jet – Robin Zander & Rick Nielsen of Cheap Trick
Hi Hi Hi – Joe Elliott
Letting Go – Heart
Hey Jude – Steve Miller
Listen To What The Man Said – Owl City
Got To Get You Into My Life – Perry Farrell
Drive My Car – Dion
Lady Madonna – Allen Toussaint
Let 'Em In – Dr John
So Bad – Smokey Robinson
No More Lonely Nights – The Airborne Toxic

Event

Eleanor Rigby – Alice Cooper
Come And Get It – Toots Hibbert with Sly & Robbie
On The Way – B. B. King

Birthday

– Sammy Hagar
Arturia has not officially communicated this yet, but it seems like they've got a new iPad synth on the way, iProphet.
According to leaked information that is making the rounds, iProphet is a recreation of the classic Sequential Circuits Prophet VS. The iProphet uses Vector synthesis to create its sounds, which allows for timbrel modulation. The raw sound can then be processed through a multimode filter and output effects.
Official specifications, pricing and availability are to be announced.
Here's DivKidMusic's overview of the Neutron Sound – Orgone Accumulator. A feature packed digital VCO with AM, FM, dual VCO sync, wavetables, waveform cross fading and loads more! Check out the videos on Neutron Sounds page to check the features of the module at the link below. "I've tried to stick to patch examples here to compliment those videos. "
Waveforms & Crossfading –
https://www.youtube.com/watch?v=TYBqq…
Tuning & Detune –
https://www.youtube.com/watch?v=XlBwm…
AM & FM –
https://www.youtube.com/watch?v=CUi5Q…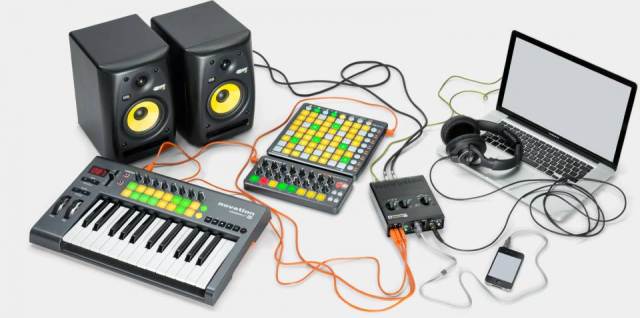 Novation has introduced Audiohub 2×4, an audio interface & USB 'electronic music production hub'.
The Novation Audiohub 2×4 is a combined audio interface and USB hub that lets you connect and power all your USB gear at once, while getting low latency audio and 'super loud' output.
Nitemove demonstrates Novation Audiohub 2×4: a combined USB audio interface and USB hub with 'Focusrite sound inside', for electronic music production
Key Features
Three integrated USB 2.0 ports, so you can connect your keyboard controller, NI Maschine, Novation Launchpad or any other USB gear to your computer at the same time. You can even connect it all to your iPad, if you have a camera connection kit.
Bus Power – You can bus-power Audiohub 2×4, but you'll need to connect the power supply if you want to use it to bus-power your USB gear.
Focusrite Sound Inside – 96 kHz, 24-bit audio performance.
It's Super Loud – the four RCAs, the two balanced jacks and the headphone outputs are 'super loud'.
Capture Balanced Audio – matched stereo RCA inputs
Low Latency for Live Performance
Connect To Just About Anything – Plug and play on Mac and iOS. Dedicated low latency drivers for PC are supplied.
Rugged design – designed for the gigging electronic music producer, with a aluminum case.
For an overview of Audiohub 2×4 click here: http://www.novationmusic.com/audiohub2x4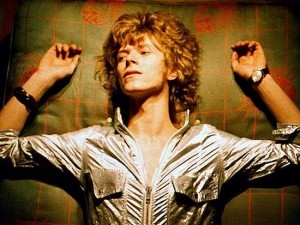 David Bowie is releasing a new single, 'Sue (Or In A Season Of Change)' to coincide with a "definitive hits collection" called Nothing Has Changed, both to be released on November 17. His first new track since the release of The Next Day will be available on digital download and limited edition 10″ single.
The Silver White Duke is celebrating his Golden Jubilee by releasing the anthology which covers five decades of music, 1964-2014. As well as the new track, the five album (three CDs and two downloads) compilation features 'Let Me Sleep Beside You' from Bowie's unreleased Toy album, the rare track 'Your Turn To Drive' and the 2001 re-recording of the 1971 outtake 'Shadow Man'