From Muricidae's debut EP, Tales From a Silent Ocean' https://itunes.apple.com/us/album/tal…
Muricidae is John Fryer (NiN, Cocteau Twins, Depeche Mode, etc) and vocal siren Louise Fraser. Follow them at http://www.facebook.com/muricidaemusic
Video shot by Kevin Bosl and Martin Curland. Edited by John Fryer. Featuring Sandy Akins.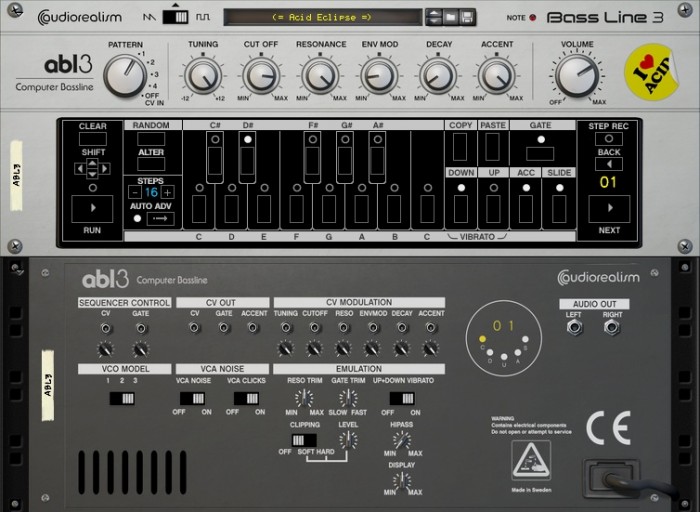 AudioRealism has announced the release of ABL3 Computer Bassline, a bassline instrument Rack Extension for Propellerhead Reason.
AudioRealism Bass Line 3 (ABL3) is an emulation of a classic pattern based bass machine from 1982.

The legendary silver box that is hallmark in electronic music has been recreated in ABL3 using analog modeling techniques to create a DSP-algorithm that accurately emulates every aspect of the original, from growling basses to hollow middles and beeping highs with metal rattling accents.

Patterns are composed in a fashion similar to the original using the integrated step sequencer with easy to use manipulation functions such as transpose and randomization.
ABL3 Computer Bassline features
Extremely authentic 303 emulation using our ABL3 engine.
Ultra natural knob response, scaled to match the original 303 precisely.
Built-in 303/Rebirth style step sequencer with 64 steps.
Hard sync to the host's transport.
Supports 4 patterns of 16 steps, 2 patterns of 32 steps or 1 pattern of 64 steps.
CV/Gate input to control the sound engine externally.
CV/Gate output to control other Reason devices from the step sequencer.
CV Modulation inputs for Tuning, Cut Off, Resonance, Envelope Modulation, Decay and Accent.
Resonance and Gate Time trimmers that allow tweaking the emulation.
Three different VCO Models.
Noise settings for VCA Clicks and VCA Noise.
Pattern modifiers with Random, Alter, Copy and Paste functions.
Unique vibrato which is activated by setting UP+DOWN on steps. This effect is one of the few extensions to the 303 that we are launching ABL3 with..
Full 48 and 96kHz support, which means the engine uses the full bandwidth of the project setting.
Step Record mode which allows recording patterns via MIDI or the On-Screen Piano Keys.
ABL3 Computer Bassline for Reason is available for purchase for the introductory price of 55 EUR (25% off regular).
And One are seriously productive these days

Synth veteran Richard Geere with part 1 of his Kurzweil K2000 VP demo. Part 2 (on editing) coming soon.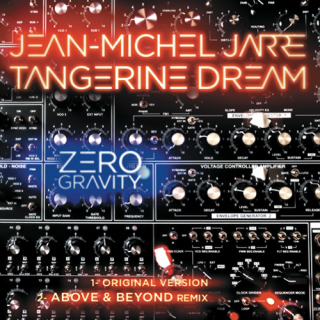 The Vinyl Factory  has announced an upcoming vinyl EP by Jean-Michel Jarre & Edgar Froese of Tangerine Dream.
Jarre collaborated with Tangerine Dream founder Froese  to create the track Zero Gravity.
Jarre plans to release a new studio album, later this year, which will feature the Froese/Tangerine Dream collaboration, along with collaborations with Gesaffelstein, M83 and 3D (Massive Attack).
Icognito song by chris and tina ( from the talking heads. video by laura and isabella sfez
New interview can be found here >>
Intro text from Electronic Sound:
The first five Talking Heads albums are, of course, essential. The band's development from uptight post-punk for the smarter CBGB set to the world-conquering weird pop giants of 'Remain In Light' and 'Speaking In Tongues', with the peerless 'Fear Of Music' along the way, is breathtaking. Internally, however, relations got a bit fractious, largely due to what bass player Tina Weymouth once acerbically described as the 'love affair' between Heads frontman David Byrne and producer Brian Eno. As that relationship blossomed , drummer Chris Frantz and Tina Weymouth formed their groovy side-project Tom Tom Club and scored several hits themselves. And now there is evidence that the Chris and Tina mojo is at work again with a (sort of) new all-electronic project called Chris und Tina soundtracking a short film, 'Incognito' for Los Angeles fashion house L'ecole Des Femmes. With its sophisticated dark electronics, it has an irresistible groove matched by the sexy visuals. We got in touch with Chris Frantz to find out more about the Chris und Tina electronic project, and were pretty pleased with what we discovered…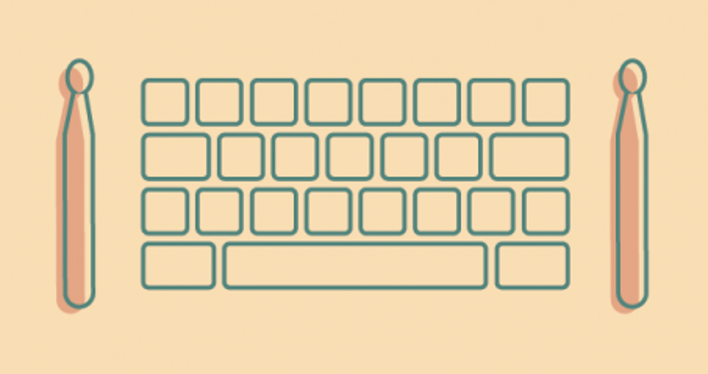 typedrummer was created by Kyle Stetz.
http://www.itgetsbetter.com/content/r…
available at https://gofight.bandcamp.com
facebook.com/gofightband
Legislators and pundits get up on stages all the time and make plans, make laws, make giant sweeping statements about policy and politics that sometimes don't do anything at all. But they sure are loud. Today, in Russia, some of the loudest voices are calling homosexuality an abomination and restricting simple human conversation about one of the diverse ways that humans consensually and- joyfully- love each other.
Through the suit and bad man haircuts it's easy to get caught up in the political spectacle of it all and miss the human collateral. Every law restricting homosexuality is a bomb in the face of a young person growing up and right now discovering who they are. Every great profound, pompous statement unsourced and scientifically illiterate about the dangers of homosexuality is a drone missile across the bow of a boy or girl waiting for the right moment to come out.
We wanted to look past the politics and tell the Russian GLBTQ community something simple. You are beautiful. In the middle of the bombing, in the heart of the wreckage of nonsensical punditry and quasi-religious character assault, you are amazing. You are the beautiful things that will make a difference tomorrow and, one day, stand up in front of these crowds and bring them something liberating and good.
You are stronger than you think, you are more important than you know. You are part of our love story today.
You are beautiful.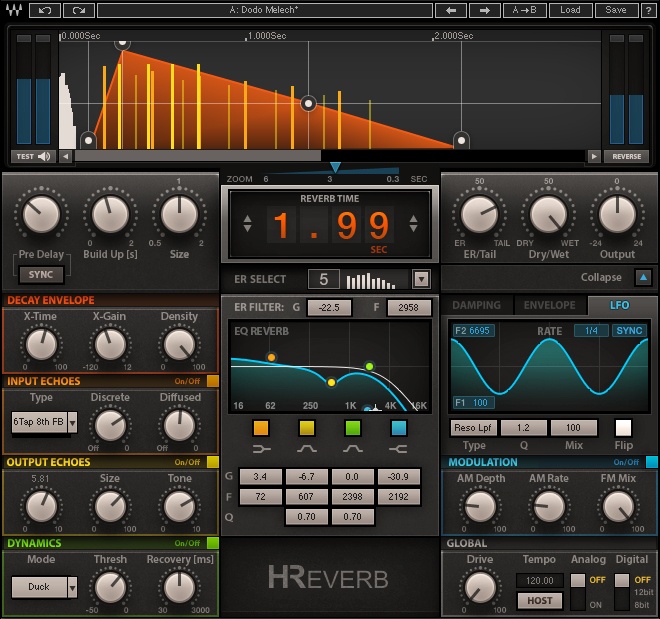 Waves Audio has announced it is now shipping the H-Reverb effect plug-in, a pioneering reverb based on innovative algorithmic FIR (Finite Impulse Response) reverberation technology, providing richer, deeper reverb tails that sit beautifully in the mix while breathing crisp air into your tracks.
The FIR engine that powers H-Reverb lets you shape and customize the reverb decay envelope beyond the standard linear forms, resulting in perfectly gated, real reverse, and dense reverb tails that don't muddy up the mix. Taking things one step further, H-Reverb incorporates Waves' advanced analog modeling along with a drive control, offering signal behavior that until now was found exclusively in high-end hardware reverb devices. This unique design also enables input drive, a technique favored by many top engineers.

To top it off, H-Reverb includes an impressive library of artist presets from the industry's leading mixing engineers (including Toni Maserati, Brad Divens, Daniel Green, Dave Darlington, Dave Stagl, James Ebdon, Ken "Pooch" Van Druten, Kevin Madigan, Pete Keppler, Ross Hogarth and Yoad Nevo, to name just a few). Their personal settings may be the perfect space you're looking for, or simply the perfect point to start from.

By fusing classic reverb concepts with forward-thinking features that break new ground in digital reverb processing, H-Reverb provides uncompromising sound quality and boundless creative control.
H-Reverb features
Impulse-variable resonant filtering for creating unfamiliar and advanced reverb effects.
EQ and dynamics module for compression, ducking and de-essing.
ADA analog modeling and drive control for input clipping.
Full buildup timing and shaping.
Pre-delay BPM sync.
Artist presets from the industry's leading mixing engineers.
Support for full 5.1-channel surround setups.
H-Reverb is available for purchase for the introductory price of $199 USD (regular $349 USD).