Synthesizer demo of the analog synthesizer Roland Juno-106 from 1984.
The Juno-106 is a very common and widely used analog polysynth. It continues to be one of the most popular analog synths due to its great sound and easy programmability. It was the next major incarnation of the Juno-series, following the Juno-60. While it has virtually the same synth engine as the Juno-60, the 106 added extensive MIDI control making it one of Roland's first MIDI-equipped synthesizers. There was also increased patch memory storage, up to 128 patches instead of the 56 patches available in the Juno-60. However, the Juno-60 is often said to have a slight sonic edge over the more advanced 106. The 60 had the ability to modulate oscillator pulse from its envelope and has a "punchier" sound quality.
The Juno-106 is a six-voice polyphonic and programable analog synth with one digitally controlled oscillator (DCO) per voice. While classic monophonic synths used two or three oscillators to create a fatter sound, the Juno-106 uses built-in Chorus to fatten up its sound to dramatic effect. The nature of its DCO meant it was stable and always in perfect tune but still warm and analog. There is an excellent 24dB/oct analog lowpass filter with plenty of resonance and self-oscillating possibilities and a non-resonant highpass filter. The programable pitch/mod bender can be assigned to control the DCO pitch, VCF cutoff, and LFO amount all at once or individually.
The Juno-106 was the first MIDI equipped Juno and its implementation is quite good. There are 16 MIDI channels available and MIDI SysEx data can be transmitted/received from all the sliders and buttons for total remote control and sequencing capability. A switch on the back of the keyboard, next to the MIDI ports allows the user to switch between three types of MIDI modes: Keyboard and Hold data only; Keyboard, Hold, Bender, Patch selection data; or All data (including SysEx). Most users simply set it to MIDI Function mode 3 and forget it.
This synth is incredibly straightforward and very powerful. It's SH-series derived panel layout is easy to understand and very hands-on. Use it to generate lush pads, filter sweeps, and funky bass lines and leads. The Juno-106 is an awesome learning tool for anyone new to analog synthesis, as well as an electronic musician's dream for its warm analog sounds coupled with modern features like MIDI and memory – all at a very reasonable price. And still the Juno-106 has an even cheaper alter-ego in the form of the HS-60 – a hobbyist version with built-in speakers.
Background video description:
In this movie I play some of my own sounds – on some sounds I used a small amount of digital delay from a Roland DEP-5 (my favourite unit for delays).
The Juno-106 is one of the most loved and used synthesizers by professionals and hobbyists alike! William Ørbit, Überzone, Norman Cook (Fatboy Slim), Autechre, BT, Vince Clarke, Moby, 808 State, Underworld, Leftfield, Fluke, Josh Wink, Todd Terry, Depeche Mode, Eat Static, Biosphere, The Prodigy, The Shamen, Bushflange, Cirrus, Astral Projection, Apollo 440, Faithless, Union Jack, Computer Controlled, Pet Shop Boys, Sneaker Pimps, Erasure, Freddy Fresh, Rabbit in the Moon, Kevin Saunderson, Jimmy Edgar, Laurent Garnier, Vangelis, Sigur Ros, and the Chemical Brothers have used this synth.
________________________________________
­_______
THE SOUND PROGRAMS IN THIS MOVIE:
Do you own a Roland Juno-106 and want to get those fantastic sounds for your synth?
The "ANALOGAUDIO1 JUNO-106 PATCH BANK" costs 12,99 Euros and includes 64 great patches – lush analog pads, great retro sounds, fat basses, sequencer sounds and funky leads (in one word: all you hear in the video and some more).
As an experienced synth player, programmer and composer I programmed these patches at a professional level for studio use. This patchbank gets the most out of your Roland Juno-106. Also included is a patch list (PDF), to find the right sounds quickly. The sounds are not available anywhere else.
The patchbank will only work with a Juno-106, but NOT with the Juno-60 or other synths.
After payment through PayPal you will get a sound file (wav) for the tape interface of your Juno-106 and a patchlist via email.
If you want to buy the "ANALOGAUDIO1 Juno-106 PATCHBANK", send me a message through YouTube (and check your spam folder, I answer quickly).
Crazy frequency modulations, random LFOs, oscillating filters…. A bit of tweaking in the beginning then I just let the battle rage on. Done on The Weird Synth 001, a DiY Yusynth/MFOS modular synthesizer. Enjoy the madness.
A continuation of the exploration of the Doepfer A124 Wasp Filter. The Notch, Lowpass, and Highpass portions of the Doepfer A124 Wasp Filter are explored. In the next segment this filter is compared to the Doepfer A121 Multimode Filter. Sound and Video by Raul Pena.
Copying Drum Tracks in One Shot!
Here is another hidden charm for iPolysix users that copy drum tracks one at a time..
"A look at his great retro synth being used with Audiobus"
As reported on yesterday Moog is bringing Animoog to BlackBerry 10, here's a video run through:
Next up on our BlackBerry Live 2013 stage is Moog. they're bringing a high-quality synthesizer app to BlackBerry 10 geared towards professional and avid amateur musicians alike. The vast majority of the music jargon was well over my head, so let's let the official app feature list do the talking.
Anisotropic Synth Engine (ASE) – An exciting new Moog technology that allows the user to move dynamically through an X/Y space of unique timbres to create an expressive and constantly evolving soundscape.
Timbre page – Assemble unique sounds in the X/Y space from timbres of a wide variety of vintage and modern Moog synthesizers and pedals Note: this is NOT simple sample playback.
Polyphonic Modulation – Simply slide your fingers to control multiple modulation parameters in Animoog right from the keys.
Polyphonic Pitch Shifting – Easily manipulate the exact pitch of each note in a chord by rotating or sliding your fingers.
Delay Module – A classic analog style ping pong delay.
Thick Module – From bit crushing to unison voice detuning and drive, this module adds depth, edge and character to Animoog's already massive sound palette.
Moog Filter – The classic four-pole Moog ladder filter with High Pass, Low Pass and Band Pass modes.
Record Module – Record your performance and overdub new layers, or play along live. Transfer recordings between Animoog and any other apps that support Copy/Paste
Path Module – Direct ASE through Animoog's X/Y space to create new expressive and shifting sounds that will blow your mind!
Orbit Module – Control the rate of orbit in the X/Y space around the path you created for subtle to insane voice manipulation.
Flexible Modulation Matrix – Amp, Filter and Mod Envelopes, LFO with infinitely variable wave shapes and sync, and four super flexible and assignable modulation slots.
MIDI in/out – Use your Little Phatty or any other MIDI controller to control Animoog.
When Animoog launches in the next couple of weeks, it will be available for $0.99 for a limited time, then get bumped up to a $9.99 regular price. This is pretty awesome, considering an actual dedicated device that does this kind of synthesizer costs more than a BlackBerry Z10 would
Animoog is the first creative tool for the BB10 platform from Moog Music, the legendary electronic musical instrument company founded by Bob Moog in Asheville, NC.
Powered by Moog's Anisotropic Synthesis Engine, Animoog allows you to move dynamically through an X/Y space of unique timbres. This creates a constantly evolving and expressive soundscape that is unlike any other musical instrument.
Download Animoog for BlackBerry at:
http://appworld.blackberry.com/websto…
All sounds in this video (excluding drums) created using Animoog.
NOTE: This version of Animoog is only approved for use with the BlackBerry Z10 handheld device.
Here is a tutorial on how to get started with mSequencer (MIDI Pattern Sequencer). In this video I use mSequencer to control all 8 channels of Korg's iPolySix via virtual midi. This video doesn't even begin to touch what a great app this is. If there is interest in it, I will definitely be making more videos on some of the more advanced procedures you can use as well as a lot of other options I couldn't get to in this video.
I highly recommend using an external midi controller with this app to build your sequences.
Conclusion: This is an excellent app for anyone wanting to program midi sequences and send them to apps via virtual midi. It gives you a larger range of control then any other sequencer app I have ever used. This app does not support Audiobus but it definitely should. Well worth it's price.
Grab this app on the AppStore: https://itunes.apple.com/ca/app/midi-…
And be sure to visit http://www.iosmars.com for more great demos, reviews, and tutorial videos.
A new album is on the way from Skinny Puppy, Weapon.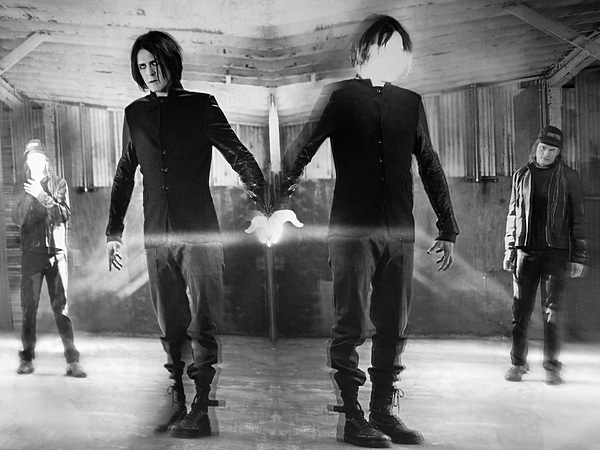 "With the theme of a full circle return to our electronic roots and equipment, everything seemed right, and like the buzz of something new it brought us back," Skinny Puppy's cEvin Key told Rolling Stone.
One of the new tracks from the Skinny Puppy album, saLvo, is available as a free download at the Rolling Stone
http://mp3.rollingstone.com/download/SkinnyPuppysaLvo.mp3
Listen to the new track from Moroder
Racer, which is the soundtrack to a Google Chrome racing app of the same name.