"Robot Dances" – Doug Lynner aka Synthesizerman – 7/19/14 – Performed live at Robotspeak (San Francisco) on the Church of The Super Serge concert series on Serge and Cynthia modular synthesizers.
A close-up video view of the set-up of the instrument for this performance can be seen at http://youtu.be/jZk8Ewv0wCg.
For more visit http://www.neatnetnoise.com
Copyright 2014 by Doug Lynner. All Rights Reserved.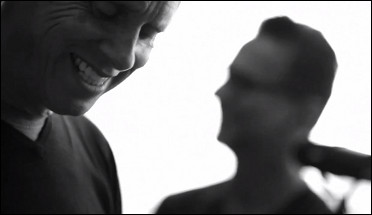 A new tour, a new live DVD, the recipe is well known by now. Out in September is a brand new Depeche Mode live DVD including the 2 concerts the band gave on 25 and 27 November 2013 at the Berlin O2 World venue during their Delta Machine Tour. The film direction is again in the hands of Anton Corbijn. More details will be revealed soon as there is as of yet no officialword out yet. A Blu-ray is expected to be released.
Coming soon… Don't miss the launch! http://caramelfxapp.com
ALL sounds in this video were processed through Caramel, recorded directly into Auria via Apogee ONE interface and Audiobus. No EQ or any other processing was done, just a super quick balance of levels in Auria.
If you enjoyed the music in this video you can also sign up to my newsletter to get notified when I release new material later this year. http://eepurl.com/Zgcen
I've also released a few E.P.'s as The Landwhale, these are available from Bandcamp, Spotify, iTunes, etc.
http://thelandwhale.bandcamp.com
Other apps and hardware used in this video:
Arturia Microbrute – All synth and bass sounds, heavily processed by Caramel. Main synth sequence also processed by Crystalline (http://crystallineapp.com/download)
Funkbox drum machine app – Drums, processed with Caramel
SoundPrism Pro – Choir sound, distorted by Caramel
Korg Volca Beats – extra snare roll percussion in right channel, processed with Caramel
This was for a contest. The challenge was to create a piece of music using only a sampler and it had to be under 90 seconds. This used the Akai S1000 as the sampler, and the samples were mostly from an Indian dilruba, heavily mutated. Other samples were created n Digidesign's Turbosynth program
Absynth version of Brian Eno – An Ending Ascent. This was all done using Absynth's envelopes.
Yazoo's Only You, recreated on the Sequential Circuits Pro One synthesizer., details below:
Some friends needed the backing track of this song for their wedding, so I took the opportunity to geek out with it. The original is well-known by synth nerds as having been produced by Vince Clarke using only a Sequential Circuits Pro-One monophonic analog synthesizer. So, since I have a Pro-One, and there are scans of an old music magazine article online which show the settings for some of the sounds Vince used on this track (https://www.flickr.com/photos/8478882…), I figured I'd have a go at re-creating it.
First I transcribed the music (sequenced with Cubase), using soft-synth sounds as temporary stand-ins for the Pro-One. Then I had to dial in all the Pro-One sounds one-by-one and record each part via a Kenton MIDI-CV interface. I found that all of the patches from the article needed adjusting to get them in the ballpark, plus I had to create the other sounds from scratch (I've credited each patch accordingly). Having done so, I'm not convinced that every single sound on the original is actually a Pro-One. The "Tinkle" sound, for instance, sounds more bell-like on the original, so it could possibly have been something like a PPG. I don't think Vince had his Fairlight yet, otherwise I'd say it was that. Also, the string line toward the end of the song sounds like it might have been played on a polysynth, ie maybe the Jupiter 4 which Vince used alot at the time. Of course, there's also the snare, which was an 808.
In any event, I think I got pretty close with my rendition. Of course the effects and mix are going to be different, and some of the sounds are closer than others, but whatever.
I had a limited amount of time to work on this, and am already hearing at least one minor omission and also some slight patch refinements I'd make, so if you want to give it a shot yourself, you can download the MIDI file and the patch sheets here (be sure to let me know if you make your own version, and give me a shout out if you post it online!): https://www.dropbox.com/s/lfn3vb1pxwq…
One tip: the cutoff of the "Wobble" sound varies a bit, getting slightly brighter during the chorus, etc. The only way to do this is manually while recording. I tried to use automation for this via the Pro-One's filter CV input, but doing so cancels out the Keyboard Amount setting, which is crucial for this sound, so I simply adjusted the knob in real-time.
If you liked this re-creation, check out my other videos for four "Speak & Spell" tracks that I re-created using only a Yamaha CS01-II synth.
Thanks to FrankPerri.com for the blank patch sheets!
Here Flux302 shows some comparison of the Moog Sub Phatty analog synth and Native Instruments Monark Virtual analog Moog clone. then I midi map the two together for some fun
This composition is constructed with VoltageCtrlR's analog modular synth and arturia micro brute being clocked/drums by the electron machinedrum. additional sound design compliments of the polygon sampler by glitch machines.
Recorded 6AM 07.19.14 Akashic Siddhi Sound Temple, Los Angeles.
Shiro Fujioka
Checking out Twisted Electrons' AY3 Chiptune Synth.
Features:
64 preset memory (8 banks x 8 presets)
5 pots and 1 endless encoder with push button
40 blue leds
16 step sequencer to sequence notes on/off, pitch and noise on/off
4 Pitch modulation modes (aka lfo)
4 arpeggiator modes
ultra fat 6 voice unison mode with detune knob
6 chords to split the voices
6 voice polyphonic mode
Glide mode
Stereo sound (3 voice per channel/chip)
intuitive 5×6 mode matrix to access and control:

volume, pitch, noise volume, envelope assignments, arp modes, sequencer assignments etc

control of all knobs and other features via midi CC
backlit front panel
The AY3 Chiptune Synth is available via Twisted Electronics for €197.00.
Vocoder bonanza

Трек 10 с альбома "Robotmetrobot" (2003)
http://www.myspace.com/robotiband