Great mesmo's Kraftwerk Klone,Roboticx (pronounced robotics).
Made in the late 90's with an Atari 1040ste and an Akai So1.Recorded onto a Tascam 8 track through a Spirit Soundcraft mixer (16:8:2) with effects from my rack.Drums were from my Korg 01/WR
Biologik has created 150 highly inspirational and 100% royalty free Sounds for Analog Four/Keys.
Download from http://www.elektron.se/support-and-do…
Biopads consists of 150 harrowing, beautiful, alien, and lush pad oriented sounds for the Analog Four/Keys. All Sounds are 100% royalty free.
Vintage synthesizer demo track
all sounds: YAMAHA DX7 II FM Synthesizer (1987)
drums: LinnDrum (1982)
recording: multi-track without Midi
fx: reverb and delay
The virtual pop star makes her Late Show debut on October 8, 2014.
Her vocals are created using Yamaha's Vocaloid vocal synthesizer, a technology that lets you create virtual vocals, based on phonemes and pitches. The original samples are from a human vocalist, but the actual vocal is completely synthesized.
Out via Bureau B by early November is the soundtrack for Fatih Akin's new film "The Cut". Out on vinyl (including a CD withextra tracks) the release is the third and last part of famous German director Fatih Akin's triology "Liebe, Tod und Teufel".
The score for the film was produced by Einstuerzende Neubauten's Alexander Hacke. Since 1992 Hacke has been composing film music, including the score for Fatih Akins "Gegen die Wand" and countless other movies.
You can order this vinyl gem right here.
Oraison, composed by Olivier Messiaen in 1937 for six Ondes Martenot, transcribed for Buchla 200e synthesizer and Haken Continuum Fingerboard controller and performed by Richard Lainhart in 2009.
From the time I first touched the Haken Continuum, I'd wanted to use it to play a composition by Olivier Messiaen called "Oraison". I first heard "Oraison" years ago as a student of electronic music, and had fallen in love with its simple, beautiful harmonies and profound sense of mystery.
"Oraison" is not only a lovely piece of music, but has historical interest too – it may be the first piece of purely electronic music written expressly for live performance. Also of note is that Messiaen re-arranged "Oraison" for cello and piano and used it for the fifth movement of "Quartet for the End of Time", which he composed in a German prisoner-of-war camp in 1941; the "Quartet" is one of the great classics of 20th-century music.
"Oraison" ("prayer") is from a suite of pieces for six Ondes Martenot called "Fete des Belles Eaux" ("Celebration of the Beautiful Waters"), composed for the Paris International Exposition in 1937. The Ondes Martenot was among the first electronic instruments, and is still among the most expressive. The Continuum's own expressive qualities seemed at least the equal of the Ondes Martenot's, while allowing for polyphony and the possibility of performance of the work by a single player. I transcribed "Oraison" for my Buchla 200e/Continuum system, programmed the modern system in homage to the sound of the Ondes Martenot, and now offer this performance to you.
Jonathan Bates, aka Big Black Delta, takes you inside the studio for an up-close look at how he uses Rhythm Wolf's sounds, pads, and sequencer in his work.
Music by Big Black Delta, available on iTunes: http://smarturl.it/bbdalbumitunes
Curious about Rhythm Wolf? Go wild at \\ http://bit.ly/ANALOGBITE //
Analog Bite
Rhythm Wolf combines a drum machine, bass synthesizer, and step sequencer into one rugged device with a fierce, 100% analog signal path.
Take the beat off the leash with fully tweakable kick, snare, open and closed hi-hat, and accent percussion sounds. Use the oscillator with selectable waveforms – sawtooth/square wave – and analog filter to create bass sequences that squelch and growl. Gate Trigger In/Out, USB MIDI, and 5-pin MIDI In/Out enable Rhythm Wolf to join your inner-circle of vintage and modern gear to integrate with hardware synthesizers, sound modules, DAWs, and more.
Into the Wild
A 32-step standalone sequencer and six custom-calibrated MPC-style pads are onboard for extensive programming and finger drumming. Mute/solo, intro/fill and sequence A/B switches give you the space to roam with complete control over your beat.
Torn into Parts
Carve out the perfect drum textures with continuously variable volume and tuning for each part. The kick drum attack and decay are adjustable for transients that hang, bang, and crush. Snare and open hi-hat also feature decay controls for unique sound design while the adjustable accent percussion can be modulated to click, punch, knock, "shush" and more.
The Face of Bass
Make menacing basslines with a tweakable, onboard bass synth. Envelope, filter and waveform controls let you design low-end that goes from liquid-smooth to bone-crushing and everywhere in between. Filter Resonance and Cutoff add distinction and movement to live or studio performances, while the step-sequencer keys let you program parts across a 3-octave scale.
Trigger Happy
Rhythm Wolf mates with your collection of synths that support Gate Triggers to create exclusive sonic offspring. Use it with supported homebrew hardware, classics or modern machines and infuse Rhythm Wolf DNA into all of your creations.
Let it Howl
Get your hands dirty with a custom noise, grit and distortion effect completely unique to this breed of instrument. The Howl knob lets you mangle the music into all-new textures, transitions and progressions that snarl, bark and howl. Use it as an effect or a part of your signature sound that stands alone on the food chain.
Outputs:
5-Pin MIDI Out/Thru
USB MIDI
1⁄8-inch Gate Trigger Out
1⁄4-inch Bass Synth Out
1⁄4-inch Main Out
Inputs:
5-Pin MIDI In
USB MIDI
1⁄8-inch Gate Trigger In
DC power In
Join the conversation!
http://community.akaipro.com
http://www.facebook.com/akaipro
http://www.twitter.com/akai_pro
http://www.instagram.com/akai_pro
http://www.youtube.com/akaiprovideo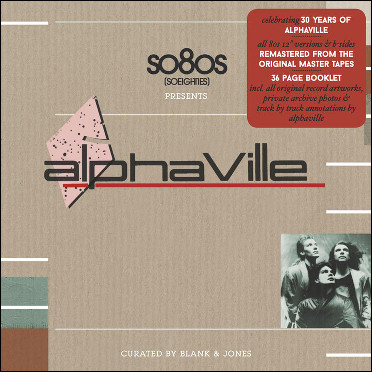 Celebrating 30 years of Alphaville, all 1980s 12″ versions and B-sides have been remastered from the original master tapes and collected on a 2CD set. This new "SO80S" collection is curated by Blank & Jones and features a 36 page booklet including all original record artworks, private archive photos plus track by track annotations by Alphaville.
Note that the B-sides included show an Alphaville experimenting with sounds and structures. You can get this set right here.
Efxs box
Dion Lee NYFW.