Following the release of debut solo album 'Crystal World' in August 2013, Marnie is proud to unveil 'Wolves', an exciting first glimpse of her new album, due in 2015.
Produced by Jonny Scott
Artwork by Bone
The next update to Tabletop improves performance and stability across the board. To showcase this, JP shows plays around with not one but two iMPC Pro's on an iPad 2
Tabletop 2.6 is in review now with Apple, and should be available soon! Subscribe to find out when it ships, and get more project updates from Retronyms.
Tabletop 2.6 also adds the final Tabletop Ready App from #summerofepic! More details an that soon!
Follow Retronyms
http://www.facebook.com/retronyms
http://twitter.com/retronyms
Amazing Fraulein Z remix of fantastic techno-electro track by Shell Shock (ES)
Full EP Release in januari 2014 on Herr Zimmerman record label of the original by Shell Shock (ES) and including remixes by MilliMetric (ES), SplatterPunk (ES), Fraulein Z (NL) , AudioWitch (NL)
About this release:
'Zug nach Herr Zimmerman' is a new techno banger composed & produced by Fraulein Z of the Dutch record label and infamous underground Herr Zimmerman parties!
This 5th release on her own Herr Zimmerman label also has a great remix surprise coming from the New York underground artist The Horrorist. Planned release date is 20 october 2014.
Fraulein Z dedicates this release to all the thousands of amazing party people, that have partied and supported the Herr Zimmerman club nights in the past years!
Earlier releases and remixes by Fraulein Z on Herr Zimmerman label receive support from artists like Dave Clarke, Anthony Rother, Brodinski, Dr. Lektroluv, Angy Kore, Al Ferox, David Carretta, IPUNK, and many more.
'Zug nach Herr Zimmerman' is one hell of ride to one of the best underground techno-electro parties you can imagine!: 'Zug nach Herr Zimmerman!,… Einsteigen bitte!'
Lyrics:
Einsteigen
Einsteigen
Zug Nach Herr Zimmerman…
I know where the party's at!
I know where to go.
I know how to dance.
I know where to go.
I go where there's fun.
It's called Herr Zimmerman.
I dance in the dark.
I dance in Rotterdam.
Rotterdam!
Rotterdam!
There's a party all night.
Where I dance all right.
I go where there's fun.
It's called Herr Zimmerman.
Zug Nach Herr Zimmerman…
Herr Zimmerman!
Demonstrating the new Cosmosƒ vSaturn synthesiser. This version presents a unique "Sieves" engine, which makes it possible to calculate the known musical scales and custom designed ones, for mapping on multiple synthesis engine parameters at once.
vSaturn also offers a clever MIDI response to perform with the "sieves" on Cosmosƒ micro events. Single notes or chords can be performed with MIDI input to control the micro event pitch relationship inside the relevant meso events.
lso there is a audio precision arpeggiator "a la Cosmosƒ" with stochastic features implemented in this new version.
This Model DJ claims to be using Traktor, not overly convinced we must say
Background video information:
Label: BOD Music
Großer Dank geht an:
Marcel (Livedrums), Sandra (Back-Vocals),
Guido Henning (Mastering),
Nicki, Alex und natürlich Elroy für eure
Schauspielerische Leistung im Video sowie natürlich
an alle Fans und Freunde für eure super
Unterstützung!
VIELEN DANK!
A little jam with Teenage Engineering OP-1 Synthesizer, a Korg Volca Bass and a Bastl Instruments MicroGranny 2.0 Granular Sampler.
The OP-1 is playing drums and a synth part. Most are on effects send to the MS-70CDR for reverb/space effect. The Volca bass is also running through the Kaoss Pad.
Everything is synced via a Kenton USB Midi Host – so that when play is pressed on the OP-1 the Volca starts too and the Midi clock is also sent to the MicroGranny 2.0 so if I was playing with the knobs it would stay in time.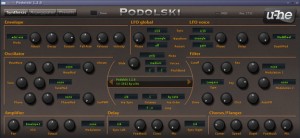 u-he has announced a Linux version of Podolski, a free synthesizer instrument previously released for Windows and Mac.
Thanks to the enthusiasm of KVR member abique, we now have *native* Linux VST2 x64-bit builds of our plug-ins.

Needless to say, this is first steps. Hence, we figured we'd throw out a nice freebee to get as much feedback as we possibly can from the Linux audio community.
The plug-in is available for download from the u-he forum at KVR Audio.
'Were You There' Diamond Version with Neil Tennant
This is the first single from Diamond Version's debut album CI and features Neil Tennant from Pet Shop Boys on vocals.Diamond Version's debut album, CI, is released on Mute on 2 June 2014 (30 May Germany/Australia/Benelux; 3 June USA)
DIAMOND VERSION ON TOUR:
25 April – Caixa Forum, Barcelona, Spain (Live)
24 May – The Button Factory, Dublin, Ireland (Live)
30 May – Institut Fuer Zukunft, Leipzig, Germany (Live)
31 May – Kilbi Festival, Bad Bonn, Switzerland (Live)
06 June – RBMA Festival, Warschau, Poland (Live)
19 June – Lux, Lisboa, Portugal (DJ Set)
27 June – Manga, Coimbra, Portugal (DJ Set)
28 June – Gare, Porto, Portugal (DJ Set)
Tickets info: http://diamondversion.info/dates/
Website: http://www.diamondversion.info
Facebook: http://www.facebook.com/pages/Diamond…
Twitter: http://twitter.com/Diamond_Version
Subscribe to the Diamond Version YouTube Channel: http://www.youtube.com/user/DIAMONDVE…
Music composed for testing some new instruments from 2013 – 2014.
For more music please visit https://nordmusic.bandcamp.com and www.nordmusic.ro.
The instruments are provided by www.soundria.ro.
Main sequences are made with Arturia Micro Brute, rhythm track using a Roland Aira TR-8 with some acid bass using a Roland Aira TB-3 and vocal processing with Roland Aira VT-3. Pad, piano and electric piano tracks are made with a Kurzweil Forte. Stab sound comes from a Nord Lead 4 and some effects from Moog SubPhatty and Access Virus TI2. Delay and reverb effects are made using a Strymon Time Line and Strymon Big Sky units.