Taika Systems has introduced Photophore – a unique instrument that brings 'flock synthesis' to the iPad'. Photophore uses 'flocks' of up to 100 sound generators to create rich, organic synthesizer sounds. By controlling the behavior of the flocks, you can make Photophore sound like a choir of synthesizers or, at more extreme settings, a swarm of angry insects.
**Now available on the App Store at special introductory price of only $4.99!**
Photophore is a unique instrument for iPad that uses flocks of up to 100 sound generators to create rich, organic synthesizer sounds. By controlling the behavior of the flocks you can make Photophore sound like a choir of synthesizers or, at more extreme settings, a swarm of angry insects.
App Store Link: https://itunes.apple.com/us/app/photo…
More Info: http://www.taikasystems.com/photophore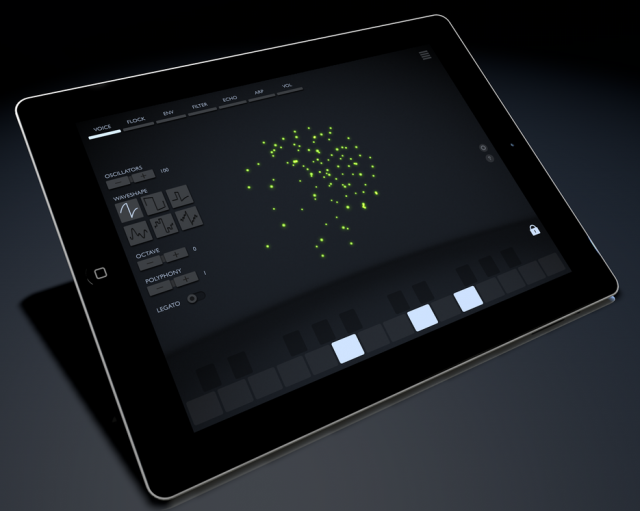 Flock Synthesis
Unlike other digital synthesizers, Photophore creates warmth and character in a new way. Instead of modeling analog circuits, it models animal behavior.
Photophore's sound engine is made up of flocks of oscillators that move through a virtual three-dimensional environment. Their motion is controlled by a behavioral algorithm and physics simulation that keeps the oscillators in tune with each other, but allows for a certain amount of natural drifting and detuning.
You can interact with the oscillator flocks by controlling their behavior – how much they try to flock together, how much they avoid each other, their speed, and how much turbulence is in their environment. Oscillators will 'flee' from your touch, so you can create extreme pitch modulation and more chaotic effects by swiping across the screen.
Features:
Unique flock synthesis engine
Up to 100 oscillators per patch
Monophonic or polyphonic operation (up to 6 voices)
6 oscillator waveforms (saw, square, pulse and more)
Low pass/High pass filter with resonance
Dedicated amplitude and filter envelopes
Stereo echo effect
Arpeggiator
Connectivity:
Use any iPad-compatible MIDI keyboard to play notes and perform pitch bends
AudioBus and Inter-App Audio support for streaming audio to other apps
Control Photophore from other apps via CoreMIDI
Tech Requirements: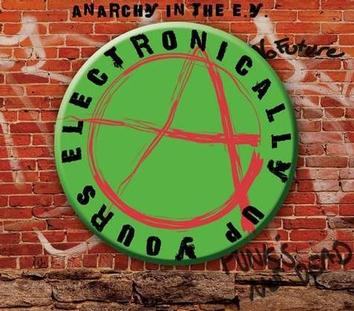 Lim. Ed. 500 copies in Gatefold cardboard sleeve.
Todays synthpop – minimal- electronic artists doing classic 1977 punk songs in their own version. ( original artists in brackets ) Compiled and managed by Eddie Bengtsson of Page, Sista mannen på Jorden etc.
1- Biomekkanik – Young Savage ( Ultravox )
2-     12th House – No More Heroes ( Stranglers )
3-     The Future – Nervous Wreck ( Radio Stars )
4-     Counterfeit – Set Myself On Fire ( XTC )
5-     Sista Mannen På Jorden – Action Time Vision ( Alternative TV )
6-     Den Där Killen – Fan Mail ( The Dickies )
7-     Clark Gable – Ready Steady Go ( Generation X )
8-     Compute – Hong Kong Garden ( Siouxsie & the Banshees )
9-     Arachnophobias – London Girls ( Vibrators )
10-  Steelberry Clones – Watching The Detectives ( Elvis Costello )
11-  Amusik – God Save The Queen ( Sex Pistols )
12-  Dvala – Problem Child ( Damned )
13-  Angaudlinn – Just Thirteen ( Lurkers )
14-  AlphaKenny-1 – Ever Fallen In Love ( Buzzcocks )
15-  319T – Dont Push Me Around ( The Zeros )
16-  DJ Man-Machine feat Sleezy – Gary Gilmores Eyes ( Adverts )
17-  Mr Doonut – The KKK Took My Baby Away ( Ramones )
18-  Independent State – Borstal Breakout ( Sham 69 )
19-  Page – Commando ( Ramones ) less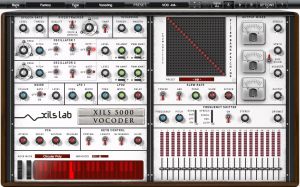 Xils-Lab has announced XILS Vocoder 5000, a new plug-in for Windows and Mac OS X offering an "Authentic Analog Vocoder simulation and beyond"
Features:
Authentic emulation of the most complex Analog Vocoder ever produced.
Organic and realistic sound with clear and understandable Vocoding.
Hundreds of MIDI automatable parameters.
Frequency Bands Pin Matrix, genuine analog oscillators, 0df Filters, Pitch Shifter.
The true sound of analog Vocoders, and much more.
Price: TBA. XILS Vocoder 5000 is expected to be released December 17th 2014.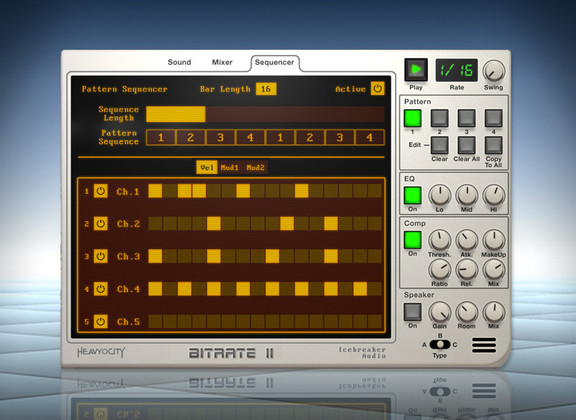 Heavyocity has partnered with Icebreaker Audio to release BitRate II, a major update to the BitRate semi-modular 8-bit drum machine for Reaktor.
BitRate II uses multiple methods of retro digital synthesis and sampling to produce charismatic and nostalgic drum sounds. The included sound engines cover chipsounds, FM synthesis, lofi sampling, and glitchy circuit bending.

On top of these unique sound engines, BitRate II also offers a 5-track mixer and a master fx section that includes an analogue modelled EQ, bus compressor, and speaker simulator for added lo-fi effect.

The drums can be triggered via MIDI or from the internal sequencer. The sequencer provides two modulation sequences per drum, which can be routed to virtually any combination of sound parameters in any amount.

BitRate II also comes bundled with the MonoBoy instrument, a melodic counterpart for BitRate II. MonoBoy uses similar sound engines, but in an interface more suited to melodic playing.

The BitRate II Bundle ships with a total of 140 preset snapshots including a variety of sounds from kits and beats to synths and samples.
BitRate II features
5 drum slots into which you can load any one of 4 sound engines.
4 lo-fi digital sound engines: Chip, FM, Sampler, Glitch.
The ability to sample from the audio input into a custom-built sample engine.
A built-in sequencer with 2 modulation sequences per drum.
Per-track sequence length, allowing for complex poly-rhythms.
EQ, Compressor, and Speaker Simulator master effects.
MonoBoy features
3 sound generator modes, including a unique DM sampler.
Easy-to-use arpeggiator and Voice Controls
2 Modulation sequences.
A master FX section that includes the one-of-a-kind Bit Delay effect.
The BitRate II & MonoBoy bundle is available for purchase for an introductory price of $29 USD for the first two weeks (regular $49 USD). During this period, original BitRate owners can buy BitRate II for $19 USD.
Background video description:
This week, I've been playing with custom on-workspace controls, and sequence tracks (which is going to be really neat).
http://masterpieceedition.tumblr.com/
Cross-synthesis, phase-sync high-quality transformations.
The Metaphase Sound Machine is a kind of homage to the ideas of the American physicist Nick Herbert who in the 1970s has created both Metaphase Typewriter and Quantum Metaphone (a speech synthesizer). These were some of the first attempts to put the phenomenon of quantum entanglement in practice and one of the first steps towards the creation of a quantum computer. The experimental devices, however, had not confirmed theoretical research, and Herbert's obsession with metaphysics resulted in the publication of several of his works on the metaphysical in quantum physics, that have led to a serious loss of interest to the ideas of quantum communication. One day, in a course of his experiments, Herbert has hacked into an university computer trying to establish a contact with the spirit of illusionist Harry Houdini at the day of the centenary of his birth.
In his device Herbert in order to achieve a quantum entangled state used as a source radioactive thallium, which was controlled by the Geiger radiation counter. The time interval between pulses was chosen as conversion code. Several psychics had participated in the experiments. They tried to influence the endless stream of random anagrams arising from a typewriter or cause "the ghost voice" to be heard out of metaphone. Scientists also have conducted sessions to bring about the "spirit" of a colleague who had recently died, and who knew about this typewriter. In 1985 Herbert wrote a book about metaphysical in physics. In general, his invention and articles quite severely compromised the ideas of quantum communication in the eyes of potential researchers and by the end of the XX century no any substantial progress in this direction was observed.
The Metaphase Sound Machine is an object with 6 rotating disks. Each of the discs is equipped with acoustic sound source (a speaker) and a microphone. Each of the microphones is connected via computer and the rotary axis to the speakers on the disks. Also in the center of installation a Geiger-Mueller counter is set, that detects ionizing radiation in the surrounding area. The intervals between these particles influence rotation velocity of each of the disks. Essentially the object is an audio- and kinetic installation in which a sound is synthesized based on feedbacks, produced by microphones and speakers on rotating discs. Feedback whistles are used as triggers for more complex sound synthesis. Additional harmonic signal processing, as well as the volatility of the dynamic system, lead to the endless variations of sound. The form of the object refers to the generally accepted symbolic notation of quantum entanglement as a biphoton – crossing discs of the orbits.
more info – vtol.cc/filter/works/metaphase-sound-machine
FREE DOWNLOAD: http://mcrow.net/free-reaktor-ensembl…
FM Radio is a free Reaktor Ensemble by Musicrow.
FM Radio will make your audio tracks and music sound as if they are played on the radio, including the typical reception disturbances, noises and sounds of switching between stations.
"FM Radio will make your audio tracks and music sound as if they are played on the radio, including the typical reception disturbances, noises and sounds of switching between stations. FM Radio produces new and beautiful lo-fi effects, and can be used as a unique lo-fi filter, swapping between clean and distorted radio sound."
Main Features:
An authentic radio effect
Unique tool for sound designing
New and beautiful lo-fi effects
Transition between 13 stations, each with its own special tone
Determine the radio noise level and the radio
Video clip from Dolan's Cadillac (2009).
All synths and drums from multi-tracked MeeBlip SE. Used Ableton Live for tracking and effects / mixing.
I'm doing a track for a compilation where every song is a single synth, multi-tracked. This was my first attempt for the MeeBlip.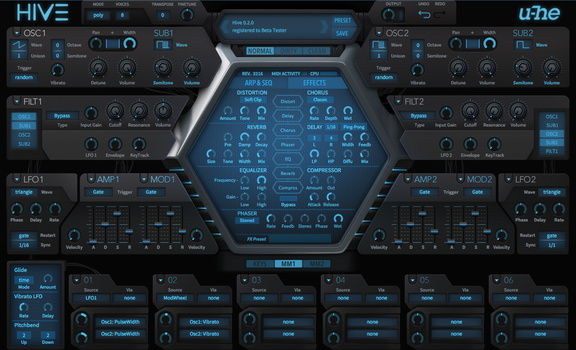 Urs Heckmann of u-he has posted a screenshot of the upcoming Hive synthesizer instrument for Windows and Mac.
While all of u-he previous synths found homes working in the world of dance music production, Hive was created specifically with dance music producers in mind.

The single page streamlined interface is packed with features and options to help you get your sound just right (or wrong in just the right way). Best of all, Hive uses very little CPU.
Hive is currently in private beta.