Featuring audio import, many more waveforms, wavetable and granular synthesis, new sounds and FX and enhanced browsing features, it certainly looks like a chunky upgrade, and one that's been many years in the making.
"Our biggest goal with Omnisphere 2 is to offer more freedom to create for every type of person using it," states Spectrasonics' Founder and Creative Director Eric Persing. "This is the first 'version 2′ of any of our software instruments, and it's monumental! We had a blast creating all the features and sounds over many years and we can't wait to see what our users are inspired to do with Omnisphere 2."
You can check out Omnisphere 2's specs below – it'll be released on 30 April priced at $499/€399. The standard upgrade price will be $249/€199. Find out more in the video above and on the Spectrasonics website.
Spectrasonics Omnisphere features
Vast New Synthesis Possibilities
Audio Import – Use your own audio file as a soundsource in Omnisphere
Over 400 New DSP Waveforms for the Synth Oscillator – an increase of 100X
Wavetable Synthesis – Each Waveform is now a Morphing Wavetable
Powerful New Granular Synthesis algorithm
Deeper FM/Ring Mod capabilities for aggressive timbres
8 New Filter Types – New Power Filters, Vowel, Resonators
New Unison Drift models Analog Polysynth behavior
Expanded Modulation with new sources and many more targets
Polyphonic LFO and Modulation Envelope options
Soundsource Reversing
Now includes over 10,000 sounds
More than 3,000 New patches and soundsources from acclaimed Spectrasonics Sound Design Team
New Omnisphere EDM library with cutting-edge, modern sounds
New Exclusive Soundsources from Diego Stocco's Custom Built Instruments
New category of Phrase-based Soundsources for granular synthesis
Hundreds of new Circuit Bent Soundsources
Many Innovative new Psychoacoustic Soundsources
New Melodic Cave Stalactites Soundsources
…and much, much more!
New Interface:
Redesigned Wider User Interface with many improvements
New Show Modulation pane opens modulation routings/sources on left side
New Mini-Browser available at all times
Larger Full Browser Design
Enhanced Browsing experience:
Sound Match™ feature instantly locates any related sounds in the library
Sound Lock™ allows endless useful variations by locking sound aspects while you browse
Easy Sound/Project Sharing for collaborators and third party libraries
Greatly Improved sound organization system
Fast Auto Preview/Progressive Loading allows rapid browsing
Browse Patches by Mood
Expanded Genres
Browse by Oscillator type
Boolean search options
New Arpeggiator Features:
Note transposition for step seq-style patterns
Arp pattern lock while browsing
Speed Offset control allows slow down/speed up effects
New modulation capabilities
25 New FX Units:
Innerspace
Quad Resonator
Thriftshop Speaker
Classic Twin
Bassman
Hi-Wattage
Rock Stack
Brit-Vox
Boutique
San-Z-Amp
Stompbox Modeler
Metalzone Distortion
Toxic Smasher
Foxxy Fuzz
Analog Phaser
Analog Flanger
Analog Chorus
Analog Vibrato
Solina Ensemble
Vintage Tremolo
Envelope Filter
Crying Wah
Stomp-Comp
Precision Compressor
Studio 2-Band EQ
Flexible New FX Features:
16 FX units per patch
Full matrix modulation of every FX slot
New Aux FX rack per patch with Pre/Post fader sends
Hundreds of New FX Presets and Racks
Lock FX while browsing
Improvements/Special Features:
Live Mode with key splits
Enhanced Orb with Attractor mode
Trilian Custom Controls compatibility
Global Clock Speed (Halftime, Doubletime, etc)
…and much more.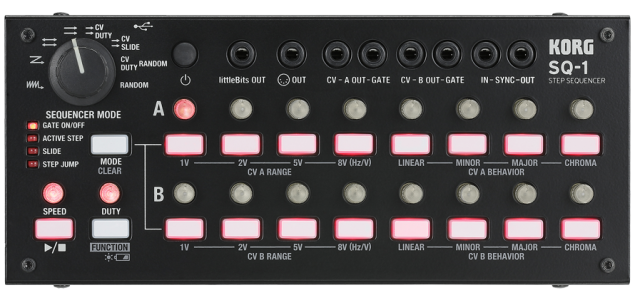 Korg has introduced the SQ-1 step sequencer, an updated take on the classic Korg SQ-10 step sequencer.
The Korg SQ-1 is a compact step sequencer with 2 x 8 steps. Its wealth of connection jacks allows it to be connected to the MS-20 and a variety of other synthesizers.
Both vintage analog synths and the latest compact synths can be controlled from the SQ-1.
Specifications:
Sequencer Mode – ALTERNATE, ORDER, PARALLEL TURN, PARALLEL ORDER, CV/DUTY, CV/SLIDE, CV/DUTY RADOM, RANDOM
Step Mode – GATE ON/OFF, ACTIVE STEP, SLIDE, STEP JUMP
Sequence Step Resolution – quarter notes, eighth notes, sixteenth notes
CV OUT Pitch – Linear, Minor, Major, Chromatic
CV OUT Voltage – 1V, 2V, 5V (Oct) 8V (Hz/V)
GATE OUT Polarity: + (positive polarity), – (negative polarity)
SYNC IN/OUT Polarity + (rise), – (fall)
Connectors

littleBits OUT jack (mini monaural phone jack)
OUT (MIDI OUT) jack (mini stereo phone jack)
CV – A OUT – GATE jack (mini monaural phone jack, CV OUT : Output Level 1V, 2V, 5V, 8[Hz/V], GATE OUT: output level 10V)
 CV – BOUT – GATE jack (mini monaural phone jack, CV OUT : Output Level 1V, 2V, 5V, 8[Hz/V], GATE OUT: Output Level 10V)
- IN – SYNC – OUT jack (mini monaural phone jack, SYNC IN: Max Input Level 20V,

SYNC OUT: Output Level 5V)
USB jack (type B, USB MIDI)
Power Supply – Two AA batteries (alkaline batteries recommended), or USB power
Battery Life – approximately 5 hours (when using alkaline batteries)
Dimension (W x D x H) – 93 x 84 x 63 mm/7.60″ x 3.31″ × 2.48″
Weight – 641 g/1.41 lbs.
Included Items – Two AA batteries for checking operation, mini plug – DIN cable
Options – Patch cable MS-CABLE-18
Pricing and availability for the Korg SQ-1 are to be announced.
NAMM 2015: Casio XW-PD1 Up Close First look at the new hardware from Casio
Now introducing the new Buchla Mini Systems!
Available soon from
http://www.analoguezone.com/
http://www.analoguezone.com/internati…
LET'S CONNECT!
Google+ ► https://plus.google.com/+Analoguezone/
Facebook ► http://facebook.com/analoguezonehungary
Twitter ► http://twitter.com/analoguezone
AnalogueZone ► http://www.analoguezone.com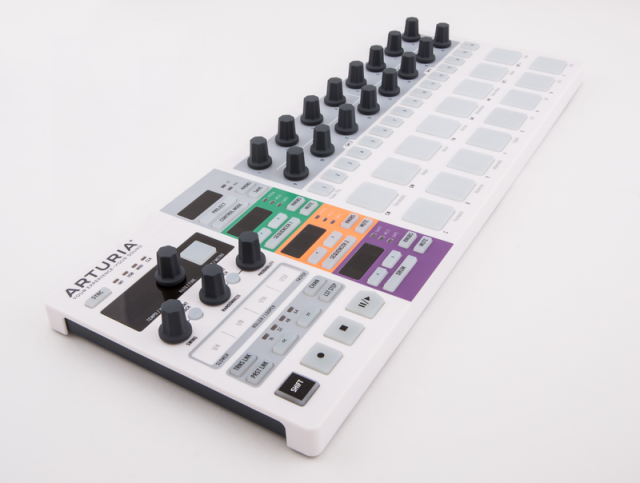 Arturia has introduced the BeatStep Pro — a flagship controller and dynamic performance step sequencer that they call 'a sequencing powerhouse'.
BeatStep Pro has been designed from the ground up to provide a hands-on hardware sequencing experience. It offers 16 touch-sensitive knobs, for entering of pitch, gate, velocity amounts, and timing shifts per step.
It includes two independent (colour-coded) monophonic step sequencers, each with dedicated displays to show the current playback position and bank length of the currently selected sequence. SEQUENCER 1 and SEQUENCER 2 have been greatly expanded with up to 64 steps per sequence, 16 sequences per project, and 16 projects, making BeatStep Pro one of the more powerful step sequencers ever made. each sequencer has its own 1V/Oct CV (Control Voltage) and (10V) GATE outputs to connect to suitably-equipped analogue synthesizers, together with a separate VELO (Velocity) output to allow for even more possibilities when working with a modular synth system setup.
An additional DRUM sequencer allows for 16 separate tracks of sequencing. Record in quantised realtime via the 16 pressure sensitive pads or use the 16 step buttons for a classic drum machine workflow. when working in SEQ1 and SEQ2 mode, the pads can control pitch transposition as well as accessing various musical scales — such as Chromatic, Major, Minor, Dorian, Mixolydian, Harm Minor, Blues, and also a User setting — while the DRUM sequencer itself also has eight DRUM GATES at its disposal (to send gate outputs from the corresponding pads for triggering external devices).
BeatStep Pro is also a controller. Switching from PROJECT to CONTROL MODE means users can trigger clips in their favourite DAW (Digital Audio Workstation), play drum sounds from an external module, or adjust parameters in their favourite plug-in. Possibilities are (almost) endless, limited only by (lack of) imagination.
Beatstep Pro also offers performance effects, including a realtime ROLLER/LOOPER touch strip; PROBABILITY, RANDOMNESS, and SWING settings.
Features:
2 monophonic step sequencers

Up to 64 steps per sequence
Note, velocity and gate time settings per step
Note tie

16-track drum sequencer (one track per pad)

MIDI controller mode
Fully customizable for knobs, step buttons and velocity and pressure sensitive pads
Send MIDI CC, note data, program changes

16 Projects, each with 16×2 sequences, 16 drum sequences and a controller map.
Performance controls
Randomizer with Amount and Probability settings
Real-time looper/roller touch strip
Independent swing amount per sequence
Touch sensitive knobs
Tap Tempo
Connectivity

CV/GATE outputs (1 volt per octave CV, 10 volt gates)
8 drum gate outputs
Clock sync with multiple standards
MIDI In/Out with supplied MIDI adaptors
USB class compliant

Kensington lock
BeatStep Pro will be shipping in Spring 2015 and available for €249.00 EUR/$299.00 USD. See the Arturia site for details.
Sequential is back! 100% analog signal path with discrete voltage controlled oscillators, filters, and amplifiers. More info at www.sequential.com
Vintage with a Modern Twist
The Prophet-6 is Dave Smith's tribute to the poly synth that started it all—the Sequential Prophet-5. But it's not simply a reissue of a classic. Rather, as Dave puts it, "It's the result of our effort to build the most awesome-sounding, modern analog poly synth possible." The Prophet-6 takes the best qualities of the original Prophet-5—true voltage-controlled oscillators, filters, and amplifiers—and adds enhancements such as studio-quality effects, a polyphonic sequencer, an arpeggiator, and more. The result is pure, unadulterated analog tone with the stability and reliability of a state-of-the-art modern synth.
Classic Tone, Classic Vibe
Central to the warm, punchy sound of the Prophet-6 are its two newly-designed, discrete voltage-controlled oscillators (plus sub-oscillator) per voice. Continuously variable waveshapes provide the tonal palette with triangle, sawtooth, and variable-width pulse waves. There are two discrete filters per voice—a four-pole, resonant, low-pass inspired by the original Prophet-5 filter, and a two-pole, resonant, high-pass filter. Voltage-controlled amplifiers complete the all-analog signal path.
Dual Effects
The dual effects section provides studio-quality reverbs, delays (standard and BBD), chorus and phase shifter. While the effects themselves are digital, with 24-bit, 48 kHz resolution, a true bypass maintains a full analog signal path. There's also an independent stereo distortion effect, which is 100% analog.
Poly Mod and Poly Step Sequencing
Also present from its classic predecessor is a Poly Mod section, with enhancements. True to the original, modulation sources are filter envelope and oscillator 2 (both with bi-polar control). Destinations include oscillator 1 frequency, oscillator 1 shape, oscillator 1 pulse width, low-pass filter cutoff, and high-pass filter cutoff. Another welcome reprise is Unison mode, which features configurable voice count (1-6 voices) and key modes. The polyphonic step sequencer allows up to 64 steps and up to 6 notes per step. You can create sequences polyphonically, with rests and sync to an external MIDI clock. The full-featured arpeggiator can be synced to external MIDI clock as well.
Easy to Program
The knob-per-function front panel offers instant access to virtually all Prophet-6 functions. Included are 500 permanent factory programs in 10 banks of 100 programs. In addition to these, you can create and save up to 500 user programs of your own. Toggling off the Preset button enables live panel mode, in which the sound of the Prophet-6 switches to the current settings of its knobs and switches. In this state, what you see is what you hear.
Easy to Play
All of this awe-inspiring sound is packed into a four octave, semi-weighted keyboard with velocity and channel aftertouch that's an ideal combination portability and power for the project studio or the gigging musician.
Here's a presentation and demo of the Sequential Prophet 6 by Dave Smith himself at the NAMM Show 2015.
The JD-Xi puts a true analog synth engine, Roland's famous SuperNATURAL synth sounds, and other creative tools including onboard pattern sequencer and vocal FX. Small in size and Large in versatility, the JD-Xi is all about big sounds and big fun! This video is a solo performance of Dorian Concept featuring the JD-Xi. Dorian creates the track from scratch, while he performs in real time.
http://www.roland.com/products/jd-xi/
Dorian Concept tells his impression about the sounds, usability and applications, of the JD-Xi.
http://www.roland.com/products/jd-xi/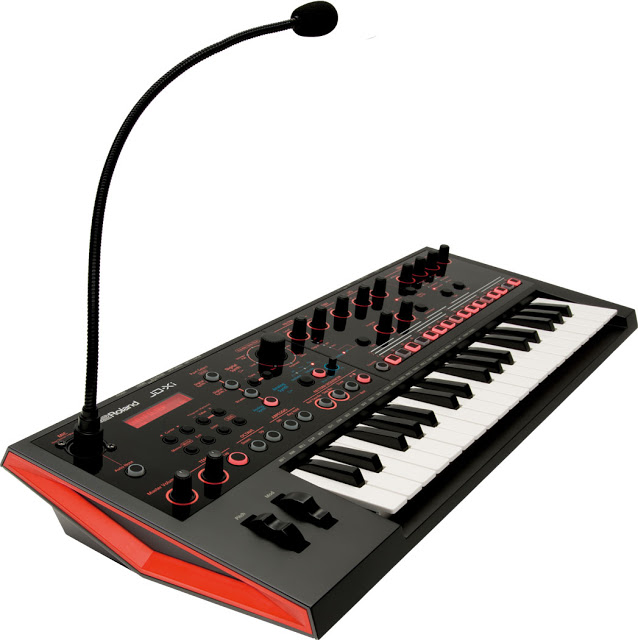 ROLAND DEBUTS JD-XI INTERACTIVE ANALOG/DIGITAL CROSSOVER SYNTHESIZER
Powerful Compact Synth with Pattern Sequencer and Vocal FX
Los Angeles, CA, January 22, 2015 — Roland is proud to announce the JD-Xi Interactive Analog/Digital Crossover Synthesizer, a new compact keyboard that's powerful, versatile and fun. Equipped with 37 mini keys, the JD-Xi features a true analog synth engine along with a wide selection of Roland's acclaimed SuperNATURAL digital sounds. This affordable instrument also comes packed with many great extras for self-contained music creation, including built-in drum kits, a four-track pattern sequencer, and a gooseneck mic for using the synth's Vocoder and AutoPitch effects.
Thanks to its unique crossover sound engine, the JD-Xi gives musicians the best of both worlds: the warm, smooth response of classic analog, and the clarity and versatility of modern digital. In one keyboard, players can enjoy fat, warm analog bass and lead tones with ample controls for hands-on tweaking, plus polyphonic PCM essentials like electric piano, brass, guitar, and many others.
The newly developed analog synth section in the JD-Xi features saw, triangle, and square waveforms with pulse-width modulation and an analog filter, plus an independent sub oscillator for low-end power. Two digital synth sections offer 128-voice polyphony and a wide range of SuperNATURAL-based PCM tones for playing any style of music. Sounds can be enhanced with the JD-Xi's effects section, which includes delay, reverb, and processing options such as Bit Crusher, Slicer, Ring Mod, and others.
The JD-Xi comes with a sturdy, high-quality gooseneck mic and onboard vocal effects. With the Vocoder, users can sing into the mic and control the tone and pitch via sounds played on the keyboard. AutoPitch makes it simple to achieve the robotic vocal sounds common in today's pop and electronic music styles, while the cool Auto Note function provides the ability to "sing" JD-Xi synth sounds without touching the keyboard.
Using the built-in pattern sequencer, it's possible to create and perform sophisticated music with only the JD-Xi. Four separate tracks—two digital synth parts, analog synth, and drums—make it easy to build rich-sounding loops. Real-time and step recording modes are provided, along with a special TR-REC mode for programming in the style of Roland's classic TR-series beatboxes. Patterns can be queued up and manipulated while playing the keyboard, and many preset patterns are included for jamming right out of the box.
The dynamic drum kits in the JD-Xi offer high-quality rhythm tones to support any groove. Included are many types of electronic and acoustic kits, and the drum instrument assignments are conveniently labeled above the keys for quick identification. Users can modify the sound of the kits with filter, envelope, pitch, and pan parameters.
Supporting both MIDI and audio over USB, musicians can use the JD-Xi with their favorite computer music applications. USB also provides the ability to access a growing collection of free JD-Xi patches programmed by top engineers and artists, which are available at Roland's Axial sound library site.
Featuring red and black styling to match the synth, the optional CB-JDXi gig bag provides a convenient way to carry the JD-Xi and its gooseneck mic along with cables and other accessories.
For more information, visitRolandUS.com.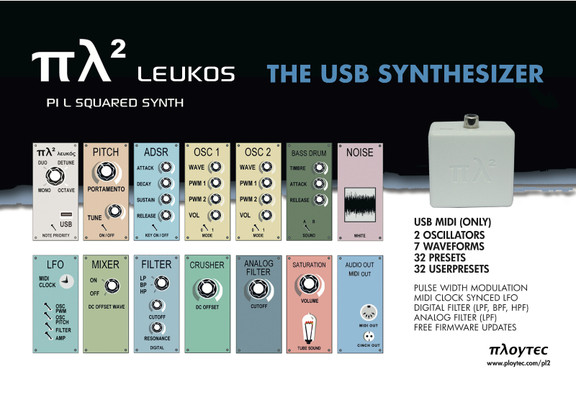 Ploytec has announced the release of the Ploytec "πλ² Pi L Squared" Leukos synthesizer at NAMM 2015.
Dressed in white, it exclusively works with a computer or iPad® (camera connection kit required) when attached via USB to its micro-USB connector. It also features an additional individual MIDI output, e.g. for connecting the original (black) Ploytec "πλ² Pi L Squared".

At Ploytec's NAMM booth in Hall A booth #6424 visitors can also take a look at the brand new iPad® πλ² synth editor and see a preview of the upcoming firmware V2.1. The new firmware allows not only for higher filter resolution, MIDI portamento control and legato playing, it also (finally) enables the πλ² to map its numerous MIDI controllers via the software editor. This means musicians no longer have to match the πλ² MIDI controller numbers, instead now the πλ² can easily be set to match the musician's existing MIDI rig.
More information: Ploytec
What you see in this video was all recorded live, in one take, using AIRA gear, Even the laser robot was controlled from the TR-8 and TB-3 via SBX-1.
The MX-1 Mix Performer brings together your synths, drum machines, loops, DAW tracks, and more into a single performance-optimized mixing instrument. Combining elements of a mixer, control surface, audio interface, and step-based effector, the MX-1 is designed to be the nerve center of your electronic music rig. It's a mixer you can play – and so much more.
more information : http://www.roland.com/aira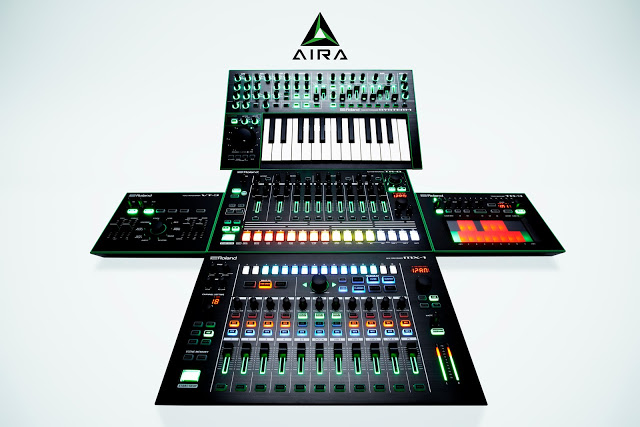 ROLAND UNVEILS MX-1 MIX PERFORMER
Performance-Ready Mixer for AIRA Instruments, DAWs, and Other Gear
Los Angeles, CA, January 22, 2015 — Roland is pleased to introduce the MX-1 Mix Performer, a performance-optimized mixing instrument for bringing together synths, drum machines, loops, DAW tracks, AIRA gear, and more. The MX-1 can mix up to 18 audio channels from a computer, and AIRA devices are able to communicate directly via USB alongside other analog and digital gear. With its versatile input selection, intuitive layout, and numerous tempo effects with step and real-time control, the MX-1 is a unique and powerful tool for delivering spontaneous, dynamic musical performances.
Designed to function as the nerve center for a modern electronic music rig, the MX-1 is perfect for working with AIRA devices such as the TR-8, TB-3, and SYSTEM-1, as well as other music equipment. Simple to use, the MX-1 provides high-quality sound at rates up to 96 kHz, plus a wealth of mixing features optimized for real-time creativity. Master tempo control (with fine and tap functions) synchronizes the MX-1's effects with all connected devices via USB and/or MIDI.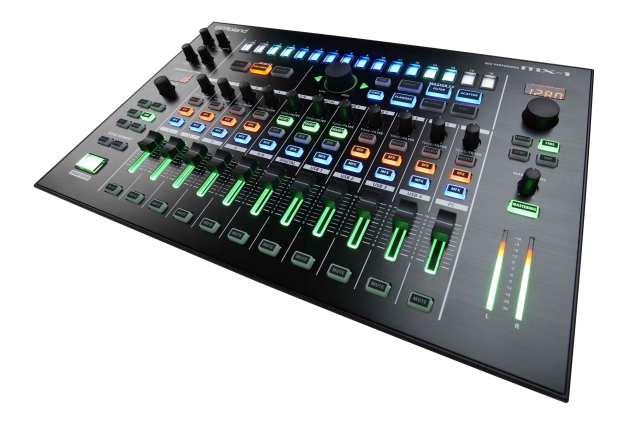 Up to four AIRA devices can be connected to the MX-1 via standard USB cables, making setup simple and quick. The AIRA Link USB connection provides both 96 kHz audio transfer and MIDI tempo sync information over just one cable. The MX-1 is also equipped with multiple analog inputs for connecting gear such as synths, drum machines, smartphones, tablets, and other various gadgets. A coaxial digital jack can be configured as either an input or output, and stereo send/return jacks are provided for connecting external effects units.
Each input channel on the MX-1 features a smooth level fader with six selectable volume curves, a Tone/Filter knob with ten different settings, and quick-access mutes that work with the LED-lit faders to clearly show their status, even in dark environments.
Scene memories allow users to instantly recall different mixer states that include all settings and effects configurations. The DJ-style cue function can be used to monitor input sources without affecting the main mix outputs.
With its integrated tempo-based effects, the MX-1 lets users enhance performances with dramatic, pulsing effects. Beat FX (Filter, Side Chain, and Slicer) can be applied to each channel independently, and the effect tempo is automatically synced to the clock master. The 16 TR-style step sequencer buttons allow the processing to be triggered at specific steps to create all sorts of interesting grooves. Master FX such as Scatter, Roll, Bit Crush, and others are included as well, and these can be quickly turned on or off per channel as desired.
The MX-1 integrates seamlessly with Mac and Windows computers, functioning as a high-performance, 18-channel 24-bit/96 kHz USB audio interface. MIDI over USB is also supported, allowing the MX-1 to send or receive tempo information and provide control surface functionality for music production software. Audio outputs from the computer can be mixed in the MX-1 alongside external devices to create a powerful and versatile software/hardware music system.
For more information about the MX-1 Mix Performer, visit RolandUS.com.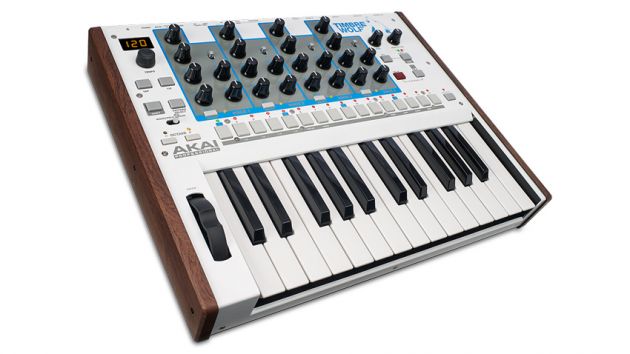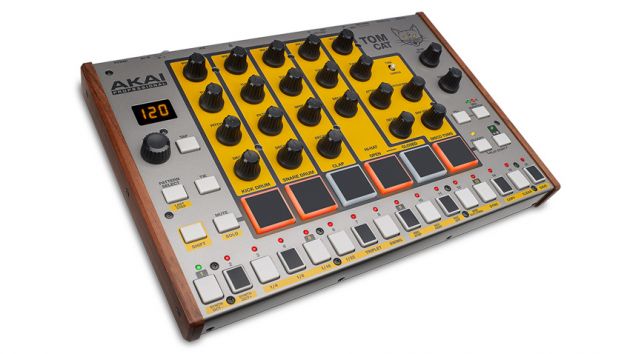 The Timbre Wolf looks particularly bold: a 4-voice polyphonic synth that's set to retail for £300. It can be used as four monosynths, in 4-voice unison mode or as a 4-voice polysynth. Each voice has its own 32-step sequencer, and there's a full-size 25-note keyboard.
Tom Cat, meanwhile, offers kick, snare, hi-hat and clap sounds and chromatically-tunable disco toms. You can adjust the tuning, amplitude envelope and volume of each voice independently.
There are also six pads and a 32-step sequencer, along with swing, pattern select and tempo controls. It's said that you can 'dirty up' your beats using the 'Maul' circuitry. Tom Cat will sell for £150