Background video information:
My hardware synth adaptation from Röyksopps Awesome track, Monument (T.I.E Version).
I've made one version earlier that you can hear on my soundcloud :
https://soundcloud.com/tiergrinder/ro…
But this time I wanted to do new video version using just hardware synths and use computer only for recording.
Synths used:
Bassline : Roland SH-101
Chords : Roland SH-01 Gaia (Sequenced by Boss DR-202)
PWM backing synth : SH-101
Pads : Jupiter Clone
Choir vocals in break : Roland SH-01 Gaia
Bright DX-style synths : Yamaha TX81z
Solo Synth at the end : Jupiter Clone
Drums : Roland TR-707 and Roland TR-606 (Hihats)
Reverb and delays : Lexicon MPX100
In this video it is shown how to send CV from Eurorack modules into Patchblocks. This can be used to sequence Patchblocks from analogue sequencers. Patchblocks are hardware audio modules, created by Sebastian Heinz, that you can program with your Mac or Windows computer.
Slide:
AAQAAAEneJxlz8EOwUAQBuB/2Y62PASRuEl2q7TN­nlwkDuIgLm6lJBJRh27Ek3gMj+UxalAisbOHPXz7­zwxAXSfA95Tl836ekLMin0AO9SACPEqdO9xRYhSX­FgICcGf2UOxPhwvkTm2H/IV6tERDG/1kLGpAfZxl­kMkujgGfrHODq0wQVcBjsEjPkPE64ABBK+qgGYbK­VMVGiv9OLq2dM3xt+lp9nA80xzbb5+3p8WQLyO1G­J5xPPd7S+ybWOI5XlEDrree2ePE4SjMembp0/eF4­AFDANHc=
Scale:
AAQAAAIseJxtUctKw0AUPbFp7tRYbSuouPIDFDIx­SVtmVVBRpLioe0mbFALBFE0sfpEbwQ8puPELBHd+­gAvRemNfis7MYph77jnnngFoZDxgvsbj/MyuEO0s­TqNBfAu9b4UuUBNLdAchlbSVpWwNWAdWWlkQJTtn­WTrIUuiNuh8AOj2JF5QsNd2A0U6CLE6gW57VBcri­go5BUtWnTJr4q0f0YbyiJNWeMxNcAwodf8g6XZsR­BXoTQ5iOM1dijKGh2BnEEbtx/abkJrFNW6AJwl7S­UOYJVxl4EN1EQQjd8d06v9AnHf70VGGBVhBAb/Yb­DR5WLNMzhKX2vSmgmocUBZHdG1xD73puCJjCFKcw­vFxLMqbwT5AGjcR9riSnlnXum+R4cvkdY9iTTaBI­j/w/ixjZOrF147evqtgVm/PxmM3kzqM4Sa7YU8Pj­ACr0TimKs3qNKTphHPZyobBn5+mf889ucFk5yuUA­mkpKtWCsal9Yq2bA
Theremin:
AAQAAAFdeJxtkE1uwjAUhCdg8hwlgNQTcAFaO0pU­UDZlyaKq1JwgJEGKhAJCMRIHoGfgKOy4UTccgD5+­XDb4eeHF55k3A7i/lOL/nM+Xa58QaVWXEOMijoGA­fuQH/ChSyX0coONApmbWrLO8gZjlUQn0WfMIj4FX­fce6/H1iimo5+DLNyjA6es8KoE1v8nBFbwPIT7No­qtViCzFXJdt6VNMevk6GI6WsbQC0Jt8QOs5CVndP­MsDLxVDF1tUu+ESyQ6HcgHRi12s/gXrk0g6SfS3V­B/xbiGl9zVDmeswlUcgVPjK0HHjcXw9/BRFCfw==
Track from the forthcoming album "Mutant"
SonicProjects has launched Mac and x64 version of OP-X PRO-II, a virtual Oberheim OB-X synthesizer instrument.
We are very proud to announce that after two years of development work we now finally can offer our flagship synth OP-X PRO-II with full native Mac and 64bit support to you! It offers future proof support for the newest VST3 interface and too for the established VST2 and AU interfaces and full native 64bit compatibility on both platforms.

The new x64 and Mac versions offer all of the synth's unique features and furthermore include the complete so far available sound library offering more than 2'500 awesome sounds!
The OP-X PRO-II is on sale for 85 EUR until October 4th, 2015.
Live with
Elektron Octatrack
Elektron Analog Four
Elektron Analog RYTM
Roland Tr8
Roland Tb3
Roland MX1
Korg Electribe2
Virus TI Polar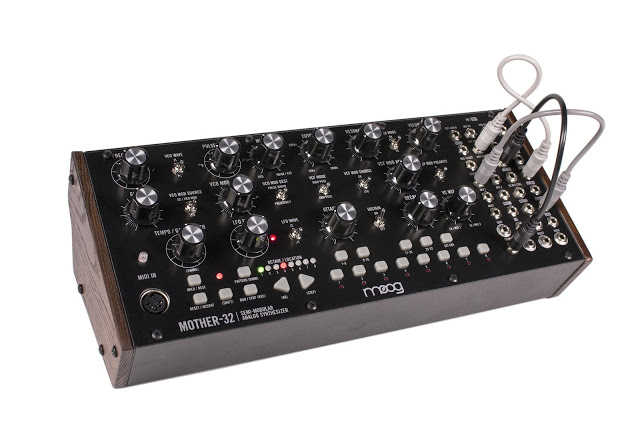 Looks like the Mother-32 will be a single oscillator desktop, eurorack type, patchable, monophonic synth, with a built-in sequencer

SKnote has announced the release of Disto, an emulation of two compression and saturation hardware units in one.
Disto includes three units in a rack (two compressors and a stereo unit for warmth, saturation and transformers) and a Mid/Side encoding/decoding matrix.

Disto can be used as mono, linked stereo (to keep a perfect stereo alignment from the source), dual stereo (unit working separately on left and right channels) and Mid/Side. In Mid/Side mode one unit processes the Mid component of the signal and the other one processes the Side component, with independent control, for a deeper stereo processing.
Distro features
Several compression modes.
Knee compression.
Several saturation modes.
Warmth control. A special dynamic filter attenuates brightness for a "tape" style warming effect.
Hottitude control. Set headroom and saturation independently from dynamic control.
Output transformer option. A special saturation on low frequency range.
Mid/Side matrix, with independent controls for Mid and Side.
Original/Out of Order modes.
Disto for Windows and Mac (VST/AU, AAX in development) is available for the introductory price of $29.99 USD (regular $39.99 USD).
This video examines one way to use the Sputnik Modular Selector or any sequential switch to toggle between different audio rate wave shapes to create more complex shapes.
We're giving away one free Sputnik Modular Selector module! Check this link for more details!
https://www.voltagecontrollab.com/201…
https://itunes.apple.com/app/id920832…
http://ios.icegear.net/laplace/
Laplace is a physical-modeling synthesizer based on resonator synthesis that makes it easy to create bowed string, plucked string, blown pipe and metallic sounds.
"The X-files" returns for a six-episode series helmed by creator/executive producer Chris Carter and starring David Duchovny and Gillian Anderson as FBI Agents Fox Mulder and Dana Scully.
Also returning are the Lone Gunmen, Annabeth Gish, Mitch Pileggi and William B. Davis while Joel McHale will play a conservative pundit who tasks Mulder and Scully with investigating a woman (Annet Mahendru) claiming to have been abducted. Kumail Nanjiani will also play a small role, while Robbie Amell and Lauren Ambrose will play a pair of new FBI agents.
And for the OST fans, music composer Mark Snow has also come aboard
The next mind-bending chapter of THE X-FILES debuts with a special two-night event beginning Sunday, Jan. 24 (10:00-11:00 PM ET/7:00-8:00 PM PT), following the NFC CHAMPIONSHIP GAME, and continuing with its time period premiere on Monday, Jan. 25 (8:00-9:00 PM ET/PT). The thrilling, six-episode event series, helmed by creator/executive producer Chris Carter and starring David Duchovny and Gillian Anderson as FBI Agents FOX MULDER and DANA SCULLY, marks the momentous return of the Emmy Award- and Golden Globe-winning pop culture phenomenon, which remains one of the longest-running sci-fi series in network television history. Subscribe to tvpromosdb on Youtube for more The X-Files season 1 promos in HD!
Official website: http://www.fox.com/the-x-files
Official Twitter page: https://twitter.com/thexfilesfox