From the sophomore album Joyland, available now from Arts & Crafts.
Buy Joyland: galleryac.com/trust-joyland.html
Director: Will Joines
Producer: Jess Cohen
Production Company: Coco Collective
Director of Photography: Zoë White
VFX Artist: Cory Livengood
VFX Artist: Deejay Forte
Editor: Will Joines
Editors: Karrie Crouse & Drew Blatman
Production Manager: Naomi Wells
Production Designer: Dru Prentiss
Stylist: Kate Stein
1st AC: Sharif El Neklawy
2nd AC: Emily Allen
DIT: Jonathon Bernstein
Gaffer: Masseo Davis
Grip: Malik Salem
Swing: Connor Lawson
PAs: Brendan John Allan, Marina Cukeric, Danny Horner
Color Grade: Josh Kanuck at CVLT Production
Girl: Kyle Beechey
Dancer: Flannery Houston
ttrustt.com
twitter.com/TR_ST
facebook.com/dressedforspace
arts-crafts.ca
Close-up Unboxing video of the new Roland TR8 (AIRA) Rhythm Composer. What's in the box, the manual, questions on DAW integration. And as always: how does it feel ?
70′s Wow Keys
EDIT SELECT 1
Voice – Synt , sgl , ply ,___ , ___
Pitch – 0 , 0 , 0 , 2 , 5
Os1 – Dig , ___ , 37 , —- , —-
Os2 – SQu , rng , 12 , -6 , —-
Mixer – 127 , 46 , 0 , —- , —-
Filter – Bpf , 36 , 54 , 14 , 0
Filter EG – 23 , 56 , 47 , 47 , Off
Amp – 127 , cnt , off , 0, —-
AmpEg – 16 , 52, 51 , 45 , On
LFO 1 – S-H , off , off , 72 , —-
LFO 2 – Sin , Off ,off , 28 , —-
EDIT SELECT 2
Patch 1 – LFO1 , LFO2 , 25 , —-
Patch 2 – LFO2 , Cut , -23 , —- , —-
Patch 3 – LF.1 ,2tn , 6 , —- , —-
Patch 4 – VEL , Nos , 5 , —- , —-
ModFx – Ens ,46 , 45 , —-, —-
Delay – Str, off , 82 , 52 , —-
EQ – 420 , 6 ,11 , -7 , —-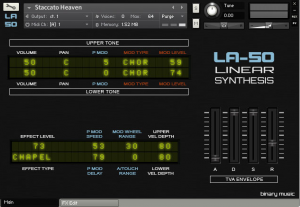 Binary Music has released LA-50, a new virtual instrument based on the classic Roland D-50 keyboard.
The upper and lower tones of each patch were sampled separately and their levels, pans and modulation can be adjusted independently. In total there are 100 instruments made from 2,486 samples – 2GB uncompressed.
The samples were recorded dry, then carefully matched reverb impulses were created using a Roland SRV3030. All samples were recorded in 24 bit at 44.1 kHz.
Released in 1987, the D50 was Roland's answer to the Yamaha DX7. Although much easier to program, many of the presets found their way unedited straight onto hits during the late '80s and early '90s. Sounds such as Digital Native Dance, Soundtrack, Pizzagogo, Staccato Heaven and Fantasia, (all included in LA-50) became staples of many producers. The D50 features on albums by artists as diverse asMichael Jackson, Seal, 808 State, Duran Duran, Foreigner, Enya and Vangelis.
The D50 used a combination of PCM samples and a form of synthesis called Linear Arithmetic, which was actually quite analogue sounding. It was also the first synth to include an onboard digital reverb. On the D50 the reverb had to be switched off on a per patch basis, but on the rack mount D550 it could be switched off globally. By recording the tones dry, it's possible to use a third party reverb instead of the included impulses.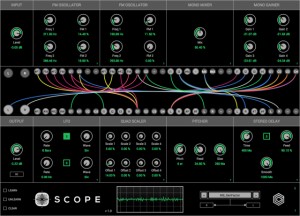 Glitchmachines has released Scope, a modular sound generator and effects processing plugin, for Mac & Windows, that is geared toward experimental sound design and electronic music production.
Scope's open-ended graphical patching system and diverse set of modules let you create a custom audio processing environment, capable of a very broad range of effects.
Features:
Fully patchable modular sound generator and signal processor
Sample library with 1500+ modular SFX in 24bit/96khz .wav
26 Modules ranging from Oscillators & Delays to LFOs & Mixers
Freely configurable module slots and signal flow
Tactile graphical patching system with virtual patch cables
Real-time animated audio analyzers and visualizers
160 patches from 8 cutting-edge sound designers and artists
Cross-platform compatibility (PC/Mac – VST/AU 32bit & 64bit)
This is Overview video going over the SCOPE plugin and included modular synthesizer sample library.
This is a basic tutorial video showing how to set up a couple of basic patches in Scope.
We worked with 6 of the best module manufacturers to put together the Eurorack system used to generate all the content. Our goal was to create a functional counterpart to Scope; something you can't easily achieve with a computer that interacts well with the plugin and gives you a new palette of sounds to work with right out of the box.

Focused on the darker side of modular synthesis, sound designer Ivo Ivanov created a collection of compelling effects that are equally distinctive and indicative of the depth of Eurorack's prodigious sonic landscape.
This video is showing behind the scenes footage from the making of the modular synthesizer sample library included with Scope.
This video is showing behind the scenes footage from the making of the modular synthesizer sample library included with Scope.
A rough demo of a Tama Techstar TS206 Drum Module; 80′s drum brain with twin "tom" synths.
Controls:
SENS; ATTACK; DECAY; NOISE; BEND; TUNE; NOISE MIX; EMPHASIS; LEVEL.
A drum loop is sent to each "Pad Trigger In" via CV. An audio signal can also be used to trigger the drums.
The beginning and end are without effects.
"Frohmage" and "TAL Dub" plug-ins are used elsewhere on the recording, just to keep it interesting, hopefully!!
Tama Techstar TS206 demonstration, pads knobs and external input. This is a 1984 drum brain that consists of two analogue synth modules factory-tuned for toms, in a nearly-19″ rackable unit. I only found TS305 material on the internet so I figured I'd start documenting the TS206.
It turns out to be so much more than a mere drum brain, after the camera ran out of juice I basically had it tuned into a monophonic synthesizer. Wonder how I can add envelope controls and more, if it's at all possible? Tama Techstar units are a DIY electro-musicians dream, do yourself a favour and pick 'em up!
The pads you see in the start are original Tama Techstar, the drum skins are not. If you're curious, I got the entire kit including tom stand (also original Tama-line model, but different brandname) for approximately 70€
Humanoid Sound Systems lets us know that the Enzyme Player VST/AU synth plugin contains the complete synthesis engine from their Enzyme synth, which has won awards for its innovative design and sound, and has all the essentials for music creation (access to all of the parameters, and the saving of presets is available with the full version).
They say that the synth uses a unique combination of wavetable and physical modeling synthesis to create rich, dynamic musical timbres. Hybrid Scanned / FM synthesis is also on offer for even more sonic possibilities.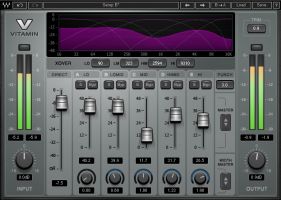 Waves has released Vitamin, a multiband harmonic enhancer and tone-shaping plugin that can make any track sound powerful and full of spark by mixing an enriched version with the original signal.
With its zero-latency processing, Vitamin caters to studio and live mix engineers alike. Used as an insert on any track or buss, Vitamin delivers a warm, vital result that is comparable to what you would get from a parallel chain of EQ, compression and saturation processors, but without the hassle.
Vitamin's controls are intuitive, easy to use and responsive, letting you smooth or accentuate punchiness and dynamics, determine the crossover frequency points between the plugin's five bands, and control the mix of the direct signal with its enhanced version. To top it all off, when Vitamin is in stereo mode, each band has a width control that lets you create wider sound images or make room for a vocal right in front of the mix – a great tool for mastering.
Features:
Parallel multiband harmonic enhancer with five individual bands.
Control over the crossover frequency points between bands.
Control over the mix of the direct signal with the enhanced version.
Per-band stereo width control.
Punch control for smoothing or accentuating punchiness and dynamics.
Zero-latency processing.
Pricing & Availability
Vitamin Native costs $200 but is currently available for the introductory price of $99. The SoundGrid version is $300 (intro $149).
Vitamin is available separately as well as in the following bundles: Gold, Platinum, Diamond, Horizon, Mercury, Prelude, Essentials, Pro Show, and SD7 Pro Show. Owners of these bundles with current Waves Update Plan coverage can update now to receive Vitamin at no additional cost.
Waves V9r18
The Waves V9r18 installers include the following changes:
The new Vitamin Sonic Enhancer available separately as well as in Mercury, Horizon, Diamond, Platinum, Gold, Pro Show, SD7 Pro Show, Essentials and Prelude.
WLM Loudness Meter is added to the list of single plugins (in addition to WLM Plus).
Manny Marroquin Distortion: minor sound related fix.
An interactive song by Örsten made with vidibox mashup app. Oriental Discotèque comes included in vidibox
Get vidibox http://ad.apps.fm/c8w62H-ml0qimdkoz8K…
music and videos by Örsten http://facebook.com/orstenscuts
Omenie has updated its virtual Mellotron for iPad, Mellotronics M3000 HD, with new 'tapes' from the Streetly Electronics archive. The additional libraries are available as in-app purchases, details below:
Now your Mellotronics M3000 can be boosted with dozen of original voices from the Streetly archive – including Harry Chamberlin's original voice tape – as well as some freshly-recorded voices, very clean and very flexible, designed for performance and articulation.
https://itunes.apple.com/gb/app/50th-…
Featured Sounds:
Mike Pinder Smooth Organ
Clare Lindley Violin Collection