New Reason Rack Extension, Snakebite by DLD Technology is a hybrid digital analog synthesizer which is designed to make sounds that aren't possible using traditional virtual analog (VA) synth design. Sound creation begins with the triple oscillator bank where each tone can be morphed in real time. The sound is then passed through bit-crush, a screaming 18dB filter and finally digital distortion to create sounds not heard from tamer synths.
A retro BBD delay finishes the sound off, and can be modulated in real-time for crazy pitch shifting effects. Analog control is available to detune things a bit (or a lot) and the binaural system can be enabled to create sub audio bass and increase the stereo field. Plenty of external CV control is available, and the audio path can be broken to insert external audio or pre-filter effects.
Features
Triple oscillator with variable shape and morph controls
18db highly resonant low pass filter
Venom control for filter overdrive
Pre-filter bitcrush for extra harmonics
Bucket Brigade Device (BBD) delay
Binaural sub audio bass (8-15Hz)
Flexible matrix LFO / CV routing
Low DSP usage
Glowing snake eyes(!)
Pricing and Availability:
€25.00 in the Propellerheads shop.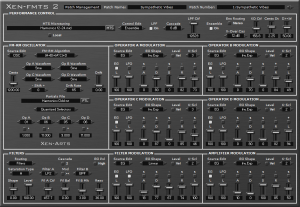 Xen-Arts has released Xen-FMTS 2, a 4-Operator FM Synthesis with a specialized set of features for computer musicians interested in exploring the expressive possibilities of making music with alternative intonation systems. It includes 115 patches, 55 microtunings and 56 partials files.
Microtuning:
Internally loads and externally receives both MTS (MIDI Tuning Standard) Bulk Dump and Single Note Microtuning Files.
Operator ratios can easily be set to values that are coincident with the microtuning being used, thereby producing intonation related sidebands in the timbre of the instrument.
Microtonal pitch-bend ranges may be configured in cents, harmonics and superparticular ratios.
Arbitrary microtonal pitch shifting makes it possible to easily pitch transpose the oscillators in both octave and non-octave increments.
FM-RM Oscillator:
4 Operator FM Synthesis with Ring-Modulation.
57 Operator Algorithms.
11 different Operator Waveforms.
Analog Pitch Drift Emulator.
Transposition by cents offsets.
Partials text files may be used to quantize the frequency ratios of the operators to user specified values.
Velocity-to-Harmonics Modulation enables oscillators to dynamically sound harmonics of the fundamental pitch.
Modulators:
Seven dedicated hybrid modulators for Operators A, B, C, D, Filters, Amplifier and Pitch.
Each modulator includes an ADSR style envelope generator, and an LFO which can be switched to run at audio-rate.
Each ADSR Envelope Generator features Per-Stage Keyboard Tracking.
LFOs can either be synchronized to the host DAW tempo or set in Hertz. They include 24 Waveforms, a Slewer and can be switched to run at audio-rate.
Filter Section:
Pre-Filter Saturation Stage with 20 Saturation Types.
Two Independent Filters with Six Filter Types: LP4, LP2, HPF, BPF, BRF, APF.
One and Two Stage Filter Cascade.
Performance Control:
Full controller MIDI Pitch Microtuning with MTS (MIDI Tuning Standard).
MTS Support for both Single Note and Bulk Dump.
Loads MTS Microtuning Format Files Internally and Receives MTS Externally.
Local (Per-Patch) and Global Microtuning (Static Microtuning for All Patches).
Microtunings can be loaded from any directory on hard drives or storage devices connected to the PC.
12 Note Polyphonic.
Monophonic Legato Mode.
Monophonic Portamento.
Microtonal Pitch Bend.
Vibrato.
Effects include Chorus, Lowpass Filter Cascade (Warm Filter) with 6 dB to 48 dB per-octave filters and Stereo Ensemble.
Price: Free.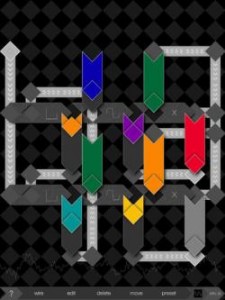 Alexey Nadzharov has introduced rrarrow - described as an 'experimental modular audio effect and noise machine' for the iPad.
Features:
Simplicity – The interface is simplified for faster assembly and more flexible connectivity – you can assemble your effect very fast and control all the processing parameters with the audio signal!
Feedback capabilities – You can add feedbacks to the audio chain to get some chaotic noise sounds .
Twelve blocks for audio processing:

Sine generator. Basic oscillator with sine waveform
Signal multiplier
Delay
Frequency shifter
Envelope follower
Lorenz attractor
Quantizer
Sample-and-hold
Reverb
Special Lowpass filter
Clipper
Nonlinear shaper (for self-oscillating circuit)

Audiobus support. Now you can stream live audio directly to other Audiobus-compatible apps! See http://audiob.us for more information. Works as input and filter.
Background audio support: enabled when connected to Audiobus and user switchable otherwise.
Sebastiaan Vandevoorde aka Moonlight Matters explains why he loves his classic analogue synth, the Alesis Andromeda.
CREDITS
Producer: Chris Barker
Videographer: Will Seelig
Video Editor: Will Seelig
The Andromeda A6 is a true analog synthesizer using two analog oscillators per voice, sub-oscillators, hard and soft sync and more! It features 16-voice polyphony. With the Andromeda, you'll find a huge range of tonal possibilities: searing leads, warm pads, fat bass lines, extreme sound effects and more. And of course there are plenty of knobs (72) and buttons (144), even an assignable ribbon controller for addictive hands-on real-time control! The large high-resolution LCD display is excellent and shows you actual rather than relative values of parameters. Andromeda will integrate seamlessly into any studio with its total MIDI control and sync, individual voice outputs, stereo outputs and several audio inputs.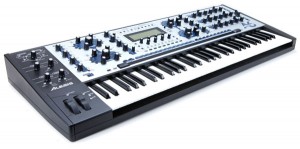 Andromeda is completely analog – no emulation! It features two analog filters per voice that sound great! They are a multimode 2-pole and a 4-pole lowpass. External audio can be routed through these filters too (three 1/4″ jacks)! As for modulation, Andromeda has three LFOs, each with six waveforms and they can be synced to MIDI clock. And there are three 7-stage envelopes with very creative and flexible functions. Also onboard is an extensive mod matrix for enormous freedom in configuring Andromeda's sounds!
No analog synth would be complete without a set of classic effects and features. Andromeda also offers Portamento with nine slopes and legato functions. A built-in arpeggiator and analog-style sequencer are available, with MIDI sync! There are also some high quality digital effects such as reverbs, chorus, echo, distortion and more! Andromeda comes with 256 breathtaking preset patches plus 128 user. A PCMCIA-format memory card slot allows for additional programs and mixes. Andromeda is pure analog bliss, with all the features, stability and widgets of modern digital synths.
DemoBackground video description:
I`ve had a chance to try out these new toys. Not for too long though… Anyway I out together a tech-like, rap-like, chill something with no use of external FX, compression or EQ. Some standard limiting added. I had lots of fun with the gear
To mark the release of Erasure's 'Make It Wonderful' single Tonya Hurley takes us behind the scenes at the 'Snow Globe' video shoots, and talks us through the making of the stop-motion animated videos for both 'Gaudete' and 'Make It Wonderful'.
Buy Dr. Blankenstein's devices here: http://goo.gl/WB9m49
This is a quick demo of the Endeavor, Illumiringer, and APC2600 (with a little reverb sometimes). Enjoy!
Dr Blankenstein's "Endeavour Space Line Generator" Analog Synth / Sequencer w/ Theremin Controls
Back from a long video uploading break with a new prototype demo… and many more to follow. What we have here is a 10 step analog sequencer, running a square wave oscillator. Each step of the bass line can be tuned via the 10 main sequence knobs. This unit is intended as a stand alone sound creation device, at has NO sync out or in… hence why it should be considered a "space line generator"
Oh, and for added fun.. there is an ILLUMIRINGER put on the end of the signal chain for epic tweaking!
All of this is controlled via the 3 sections at the top of the unit… each section has the option to be either controlled via a knob, light sensor or pair of touch points (at the bottom of the unit.) First, we have the "SPEED" which will control the tempo of the sequence. Next, there is the "PITCH" controls.. and finally the "FILTER" which is tied into the effects section. The filter fx can be turned on and off via the switch to the left of the Knob / Sensor control switch on the right most control section.
The touch points are set up in pairs… from left to right… 1st Speed, 2nd Pitch, 3rd Voltage Drain, 4th Effect. They can be used in pairs OR in different configuration to get some really exciting expression out of the piece.
The light sensors on this thing are SICK! Massive range… super sensitive! So many way to jam on them… I couldn't include all of them in the video there were SO MANY… so use your imagination.
Unit can be turned on via a mission impossible style key start… or big red momentary button. 9v Power adapter power for maximum juice'ness (this thing is a bit of a beast). This is a solid PCB design, not perf board etc… so I would expect to see a few of these popping up on the website / eBay in coming days.
Background video description:
"This has been around for a while now, but I use this app all the time for chilling out and relaxing, for me this is the best way to just chill."
Ototo is an all-in-one musical invention kit which allows you to make an instrument any way you want.
Ototo has got everything you need to make sound interactive: it's a synthesiser, it's got 12 onboard touch sensitive inputs and a range of different sensors which can be connected to 4 sensor inputs.
You can make sounds straight out of the box by touching the keys to trigger notes. By connecting conductive materials or objects to the keys on Ototo you can make them react to touch; turning anything you can imagine into an instrument. The keys on the Ototo are arranged like one octave of a musical keyboard. When you connect an object to a key using crocodile clips, you can trigger that note on your object.
Take the KORG Gadget master quiz or get in shape with fundamentals.