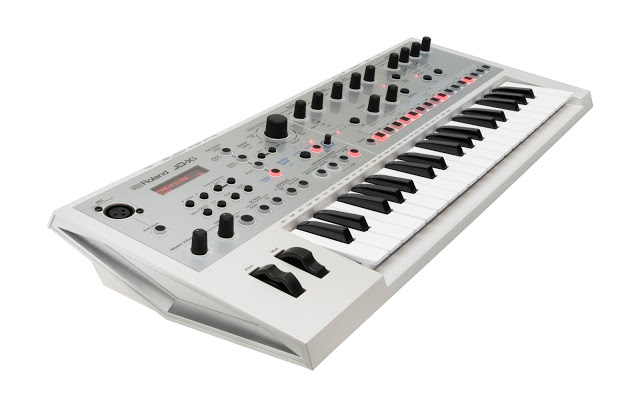 Now available in an all-white body while supplies last, the compact JD-Xi synth is powerful, versatile and fun.
The JD-Xi has become one of the best selling synthesizers in the U.S. by offering a unique crossover sound engine with the warm, smooth response of classic analog, and the clarity and versatility of modern digital. Players can enjoy fat, warm analog bass and lead tones with ample controls for hands-on tweaking, plus polyphonic PCM essentials like electric piano, brass, guitar, and many others — all in one keyboard.
Equipped with 37 mini keys, the JD-Xi features a true analog synth engine along with a wide selection of Roland's acclaimed SuperNATURAL digital sounds. This affordable instrument also comes packed with many extras for self-contained music creation, including built-in drum kits, a four-track pattern sequencer, and a gooseneck mic for using the synth's Vocoder and AutoPitch effects.
For more information on the features and specs, visit www.rolandus.com/products/jd-xi/.
Meet The Collidoscope, a prototype double granular synthesiser by researchers Fiore Martin & Ben Bengler. More instruments and gear onhttp://www.doctormix.com/blog/
This hybrid keyboard is a combination between a sampler and a supercollider synth engine, designed to be played by two performers at the same time.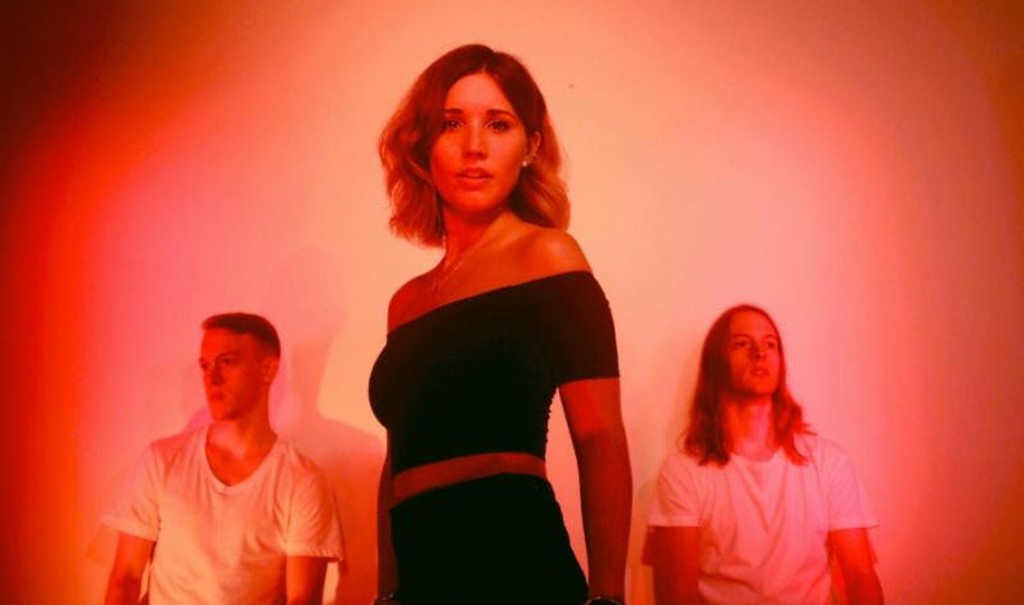 Out by November 11 is the latest single from the female fronted synth pop band The Walking Sticks. "The News" is the trio's first release with Play Me Records. The Walking Sticks, originally founded by twin brothers Max and Spencer Ernst, became a fully formed dream/synth pop outfit with the addition of long-time friend and collaborator Chelsea Lee in 2013.
"The News" was written by the trio, produced by the Ernst brothers, and mixed and mastered by Joe Benny (Secret Panda Society). You can stream "The News" by The Walking Sticks right below!
Mechanical Techno Demonstration by Graham Dunning
Video produced by Michael Forrest.
Made at Lime Wharf Machines Room as part of
Rhythm & Drone // Research & Development
residency, September 2015.
https://rhythmanddrone.wordpress.com/
Supported using public funding by the National Lottery through Arts Council England
twisted-electrons.com/cheshire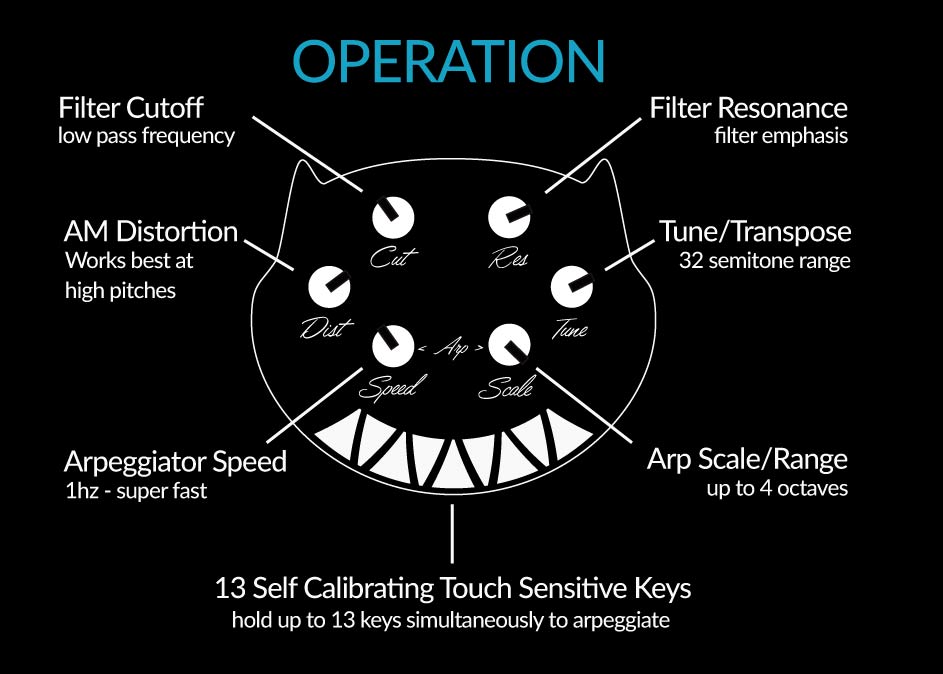 Knifonium is a 25 tube monophonic synthesizer with a 4th order ladder filter and a ring modulator.
Basic Specs:
Oscillator 1 (5 tubes)
-Sawtooth, Triangle, Pulse, Sine
-Sync
-FM
-Octaves 64, 32, 16, 8, 4, 2 -Coarse tune in semitone steps-Fine tune in +/- 100 cents.
Oscillator 2 (3 tubes)
-Sawtooth, Triangle, Sine
-is master for sync and modulator for FM
-Octaves 64, 32, 16, 8, 4, 2 -Coarse tune in semitone steps-Fine tune in +/- 100 cents.
Noise (2 tubes):
-Noise generator is a special tube that is subjected to strong magnetic field. -White, Pink and Red.
Ring modulator (3 tubes)
-Input is sine waves from both oscillators or anything from external inputs, feedback et cetera, drive volume can be adjusted
-Very wide nonlinear range available.
Mixer (2 tubes)
-A tube op amp, virtual earth mixer with one external input.
-3 of the input levels can be modulated.
Filter (7 tubes)
-4th order ladder filter.
-Can go from clean to messy to violent depending on levels and resonance.
VCA (2 tubes)
-Transformer coupled variable mu pentode design.
-More than 40dB of linear range. Capable of total shut down. A switch to increase internal level by 10 dB for nice distortion.
Output amplifier (1 tube)
-Pentode tube, transformer coupled
-3 operation modes for different distortions.
-Provides truly professional transformer balanced output that will drive anything, anywhere.
Keyboard is a 3 octave traditional wooden construction, extremely robust and stable. Fast action, good touch. After touch + velocity sensitivity. Plug-in resistor modules determine scale. These modules can be made to order for any tuning or temperament, as long as the order of notes is ascending. Easy to change in 2 minutes.
From Knifonium creator Jonte Knif…'I like to see this synthesizer as a musical instrument in a very traditional sense. Knifonium is not just a "make a weird noise" or "look it has tubes" or 'I have thus proved that I am crazy' -piece of assorted ancient parts although I do approve those points of view too.
It is my dream, it is my tour de force, it is an object that brings together many aspects of my professional past in (early) music, instrument making and as tube equipment manufacturer.
Knifonium is a very carefully designed synth for many purposes, small and light enough to take to gigs despite of the amount of electronics and traditional craftsmanship and adequately sized controllers. Built to the highest instrument making standards Knifonium is a joy to operate and gaze at.'
Price: $12,000. + Shipping
For Sales in North America Contact GSF Agency http://gsfagency.com"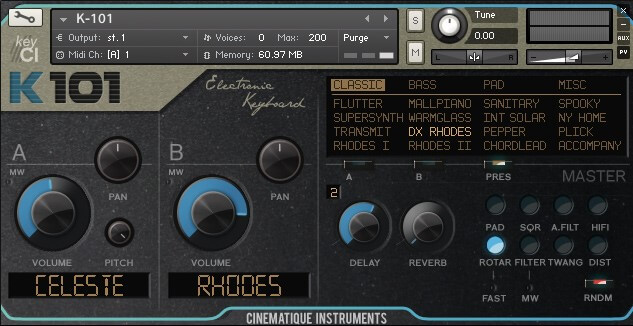 Cinematique Instruments has announced the release of K 101, a "charming electronic keyboard" instrument for Native Instruments Kontakt.
The Instrument
The K 101 is a lucky bag. Its main sound source are the vintage Casio CZ–101 keyboard, supplemented by a few sounds captured from a Casio PT-10. All the sounds are incredibly warm and charming. You can lose yourself just playing along the analog sounds, being inspired by its distinct character which is both warm and raw.

The Content
K 101´s instrument design is based on 2 simultaneous sound slots, each can be feeded with one of 47 sound sources and has a separate volume and pan knob. Beside that, the first slot provides an additional -12 to 12 semitones pitch knob.

We captured 47 individualy designed sounds of the original keyboards. We recorded the whole keyrange in minor thirds, looped the sounds, processed them if needed and extended the key range to C0-C6. In order to shape the final sound, K 101 provides plenty of sound options:

3 EQ´s called "FILTER", "A.FLT" and "HIFI"
rotary- , twang- and distortion-fx
reverb and delay
2 different volume envelopes, called "PAD" and "SQR"

K 101 provides 55 presets which are covering a range of pianos, basses, pads, organs and fx-sounds. To preserve your own presets simply save the patch under a different name on your harddrive. A very special option is the "RNDM" function, which sets fx parameters, sound selections, volumes and panning by random. This is pure fun and amazing to see what comes out in the end.
The library is available for purchase for 32 EUR / $34 USD. Requires Kontakt 4.22 or higher, full version.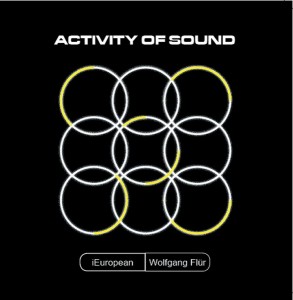 I European (Seán Barron from Empire State Human) and Wolfgang Flür have announced the physical release of their 2014 collaboration "Activity of Sound" in no less than 3 formats. You can order the EP right now on CD, on vinyl and as a combo.
Wolfgang Flür is a German musician, best known as a member of the electronic group Kraftwerk from 1973 to 1987, playing electronic percussion. Previously he had played a conventional acoustic drum kit in the Düsseldorf 1960s band The Spirits of Sound.
Tracklist CD
Activity of Sound 4:34
Beat Perfecto 3:34
Activity of Sound (Movement Version) 5:54
Activity of Sound (Jonteknik Mix)3:46
Aktynowsc Dzwieku 4:31
Tracklist 12"
Side 1:
Activity of Sound 4:34
Beat Perfecto 3:34
Side 2:
Activity of Sound (Movement Version) 5:54
Activity of Sound (Jonteknik Mix)3:46
Aktynowsc Dzwieku 4:31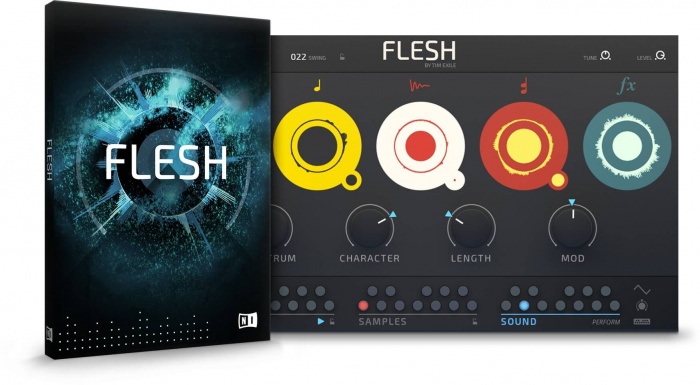 Native Instruments has announced the release of Flesh, a new Reaktor instrument developed by electronic musician, producer, and inventor Tim Exile.
FLESH uses a set of advanced algorithms to turn rhythmic source material into all the elements of a complete production, including basslines, melodies, chords, harmonies, and more. The instrument is aimed at creative producers looking to enhance their live sets or find fresh inspiration for their original productions through a fun, improvisational approach.

"The concept for FLESH came to me when touring with my custom looping, beatmaking, and improvising instrument that I built in REAKTOR," says Tim Exile. "I was missing a way to make harmonic and melodic material in a live, improvised scenario. I wanted something that would empower me to create expressive and dynamic sounds which fit in perfectly with whatever was going on at the time."

FLESH was designed to be a fun and easy-to-use performance instrument.
Its advanced algorithms analyze the transients and spectral profile of sampled source material in the background. This information is then sent to four audio engines as curves and triggers for re-synthesizing the source material. The result is dynamic riffs, grooves, and chords that retain the feel of the original sample. This advanced processing is made possible by the REAKTOR 6 engine.

FLESH comprises four audio engines, plus effects and modulation sections. Each engine has a specific function, from changing the sonic character of the sample itself to transforming it into a monophonic sequence or lead, chords, or sub-bass frequencies. Additionally, the sound generated can be further modified by the effects section and modulation page. The effects section re-creates a highly-modified dub delay while the modulation page allows producers to add subtle to radical motion to their sound.

FLESH features a streamlined control set allowing for radical changes to the rhythmic and tonal output of the instrument. Producers can play rich harmonic progressions, trigger and switch source samples and sound snapshots, then tweak parameters across all engines at once in real time. A clever system of global macro controls allows for consistent and tactile live tweaking on just four main controls – Spectrum, Character, Length, Mod.

FLESH is the first REAKTOR Instrument designed from the ground up to get the most out of the KOMPLETE KONTROL S-Series keyboards. FLESH uses the Light Guide to provide tight visual feedback, highlighting sounds and samples, and sequenced harmonies. Native Map® automaps parameters to the eight control knobs on the KOMPLETE KONTROL keyboards. Users can also save presets – including samples – and recall them in real time.

Tim Exile has seen his career move from performing in small clubs, to big stages around the world and releasing albums on the Planet Mu and Warp imprints. For the last years, Tim has worked closely with Native Instruments to design his own set of 'audio instruments' including THE MOUTH and THE FINGER.
Flesh for Reaktor 6 and Reaktor 6 Player is available for purchase for $99 USD / 99 EUR / £89 GBP.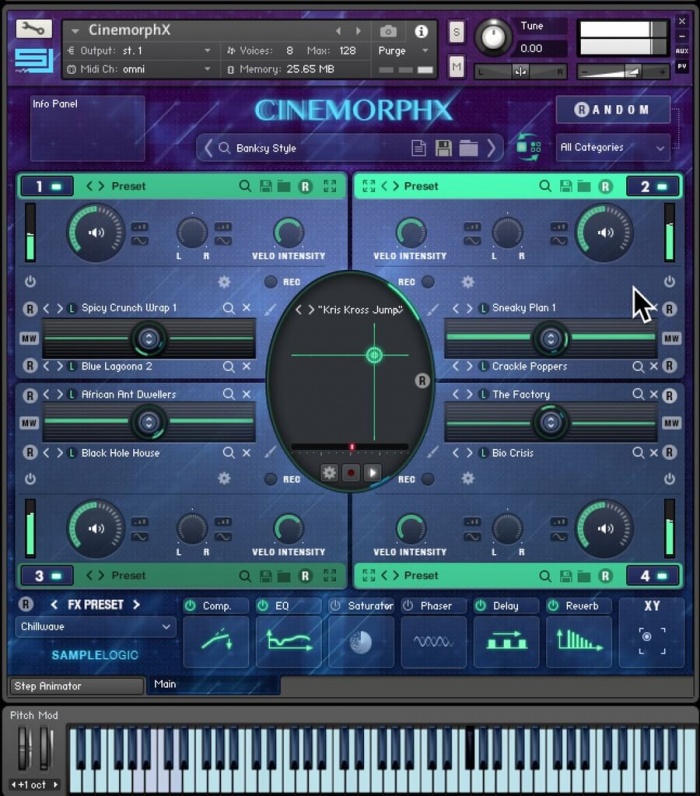 Sample Logic has announced the release of Cinemorphx, a groundbreaking cinematic virtual instrument fit for sound design, music production, and more.
Powered by Native Instruments' industry-standard KONTAKT PLAYER platform, CINEMORPHX is built on the first-rate framework of CINEMATIC GUITARS INFINITY. All of the sample material from Sample Logic's legacy AMBIENCE • IMPACTS • RHYTHMS (A.I.R.), THE ELEMENTS, and SYNERGY virtual instruments are integrated into a single, state-of-the-art KONTAKT library with all-new sound design, presets, and effects functionality for a totally reinvented production experience. Fit for cinematic sound design, music production, and much more besides, CINEMORPHX is a true sampling heavyweight. Weighing in with over 6,000 presets and at 30GB, CINEMORPHX is professionally programmed from scratch for instantaneous inspiration and endless possibilities without weighing down on creative minds — musical or otherwise.

Over time, what began almost a decade ago with the aforementioned award-winning AMBIENCE • IMPACTS • RHYTHMS (A.I.R.) — a set of score tool instruments geared for film, TV, and game composers — and continued through THE ELEMENTS — sample instruments focused on the six 'elements' of music (Ambience, Bass, Harmony, Impacts, Melody, and Rhythm) — and SYNERGY — a breathtaking collection of innovative electronic and morphed world instruments — comes to a head with CINEMORPHX.
Creatively reworking, re-morphing, and recreating over 30GB of its finest cinematic sample material, Sample Logic has succeeded in assembling the finest cinematic virtual instrument available anywhere — past, present, or future!
Cinemorphx features
Over 6000 never-before-heard sound presets.
Dozens of fully-customizable effects presets.
4 soundcore engine, allowing simultaneous playback of up to 8 soundsources.
Sample Logic's proprietary Morph Animator, Step Animator, 3D Mixer, and the only XY mixer for Kontakt.
All new hot-swappable FX chain technology.
Fully randomizable interface for instant inspiration.
All new effects inserts modules.
Cinemorphx is available for purchase for the introductory price of $499.99 USD (regular $599.99 USD). Cross-grade pricing is available to owners of selected Sample Logic products.