The Nova Drone is an open source, analog experimental sound and light synth.
It it can be used to create effects ranging from slowly fading drones to chaotic harmonic sequences. It also functions as a complex visual pattern generator when combined with a digital/phone video camera. See the video below for an example of the color patterns generated by holding a camera up to the LED.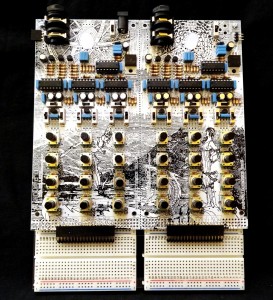 The Nova Drones offers 12 potentiometers, 10 switches, 6 oscillators, 9 oscillator sync inputs, 6 frequency modulation inputs and an epic 15 voltage outputs as well as 3 high current outputs for controlling external LEDs. All of the ins and outs have been routed to a prototyping breadboard at the bottom of the unit which allows for liberal experimentation and development of custom circuits. The prototyping area is especially useful for syncing the oscillators of 2 or more Nova Drones together.
First explorations using Robin Rimbaud-Scanner's almost complete Verbos Electronics modular system. Featuring Amplitude & Tone controller, 2 x Complex Oscillators, Dual Four Pole Filter, Voltage Multistage, Manhattan Analog mixer, Doepfer a-143-3 Quad LFO, Toppobrillo Dual 281 Function Generator. Powered by Tiptop Audio Zeus Access and housed in a handsome Lio & Linn Wood + Metal 6u 84hp slanted wood eurorack case.
Created with the very capable engineer, producer and musician Paul Stoney.
Official music video for Chaos
Chaos is on their new album From Now On, available on amazon, cduniverse and more
http://www.evilgoatriders.com/
http://www.crysellarecords.co.uk/
http://www.facebook.com/evilgoatriders
Non Human Device #002" is part of a series of interactive installations where experimental audiovisual devices/instruments are explored. They are based on the speculative narrative of the project BORIS CHIMP 504, an audiovisual live performance that tells the adventures of a chimp cosmonaut in space.
Every version of the "Non Human Device" installations are based on an alien object/device found by Boris Chimp 504 during his missions through the deep space.
Rodrigo Carvalho – Visuals and interactive system
Miguel Neto – Sound
Keep track of BorisChimp504′s voyages into the deepspace :
facebook.com/borischimp504 + borischimp504.com
** Gestures captured with LeapMotion device (leapmotion.com/)
Leap data captured in Max with "cicm.leap" (github.com/eliottparis/Leapmotion/tree/master/cicm.leap).
Article on "The Creators Projects" with a nice resume about Boris Chimp 504′s space adventures:
thecreatorsproject.vice.com/blog/boris-504s-non-human-device-challenges-viewers-to-take-a-trip-into-space-with-a-soviet-chimpanzee
//Presented at Xcoax 2014, Porto. 2014.xcoax.org/
// This revisited version is an evolution of the first version that can be watched here:
vimeo.com/81994347
In this version there are more controllable parameters from the shape and sound, and it is possible to interact with 2 hands at the same time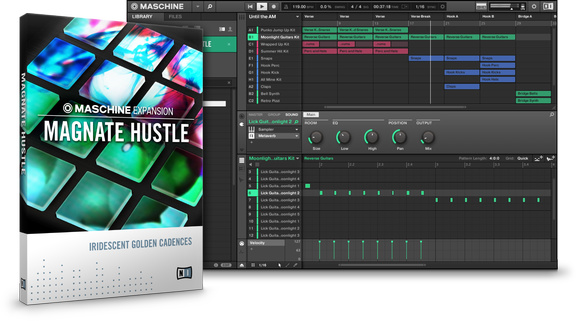 Native Instruments has launched Magnate Hustle, a new Maschine expansion pack tailored to the multi-faceted sound of today's urban pop styles.
MAGNATE HUSTLE provides producers of urban pop, R&B, and hip hop with a wealth of melodic material. An exclusive selection of guitar licks and chords allows beat makers to drop melodic and harmonic elements directly into their tracks. Licks can be used as they are or be chopped up within the MASCHINE environment for adding a personalized touch to projects. A set of multi-sampled instruments including basses, acoustic and electric pianos, and synths, plus vocal hits and one-shots provide additional melodic possibilities and texture. And a set of new MASSIVE presets designed specifically for contemporary urban pop offer producers near-limitless sonic variation for their tracks.

MAGNATE HUSTLE's selection of drum sounds includes a versatile set of samples processed for maximum punch plus four kits consisting of all-new presets for the MASCHINE 2 Drum Synths. The MASCHINE 2 Drum Synths allow users to adjust drum sounds on the fly, further tailoring the sound or adding a dynamic performance element to their music. The sounds were designed and tweaked by producers currently working on major label projects. Their expertise gives the drums in MAGNATE HUSTLE the larger-than-life sound of platinum-selling records heard in the charts worldwide.

A condensed version of MAGNATE HUSTLE is also available as an iMASCHINE Expansion, for creating beats on-the-go. The iMASCHINE Expansion features three projects, four drum kits, and three instruments. Tracks can be exported to MASCHINE STUDIO, MASCHINE, and MASCHINE MIKRO for completion.
Magnate Hustle for Maschine 2 is available for purchase for $49 USD/49 EUR/£44 GBP. The iMaschine expansion is available at the in-app store for $0.99 USD/0.89 EUR/£0.69 GBP.
Xmonsta has introduced Pull, a new touchscreen device editor for Ableton Live 9.
Built in Max For Live and based on the Lemur iPad app, Pull is a designed to be a fast and efficient workflow tool for sound designers, producers and mixing/mastering engineers.
Pull allows you to edit full-screen versions of every Ableton Live device (over 60 Lemur templates) directly from your iPad. It follows any device that is currently selected and displays a large, multi-touch template on the iPad for editing.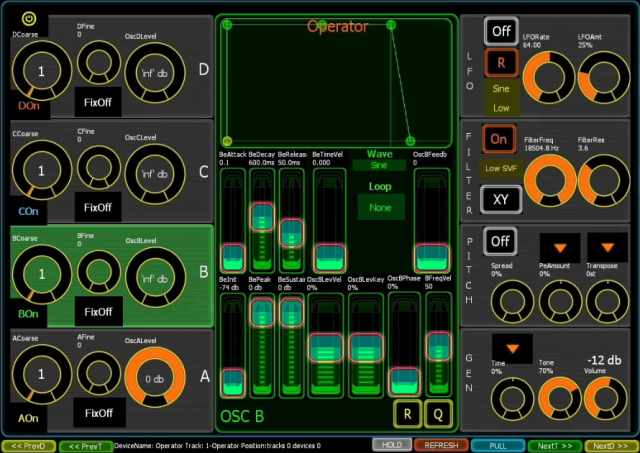 HERE - http://www.xmonsta.com/new-releases/p…
After a full year of development, we're excited to release a new iPad Touchscreen Device Editor for Ableton – called PULL.
In a nutshell, this software allows you to edit fullscreen versions of every ableton device from your iPad . It follows any device that is currently selected and displays a very large, multi-touch template on the iPad for editing.
We noticed that while there are some great controllers for Ableton, most of these lack intuitiveness when editing devices (only allowing you to edit the 8 banks of parameters at a time, using generic knobs).
PULL is set to change this, providing much larger, full screen, multi-touch versions that are designed to look just like Ableton devices.
The software uses a combination of Ableton, Max for live and the Lemur iPad app to achieve this.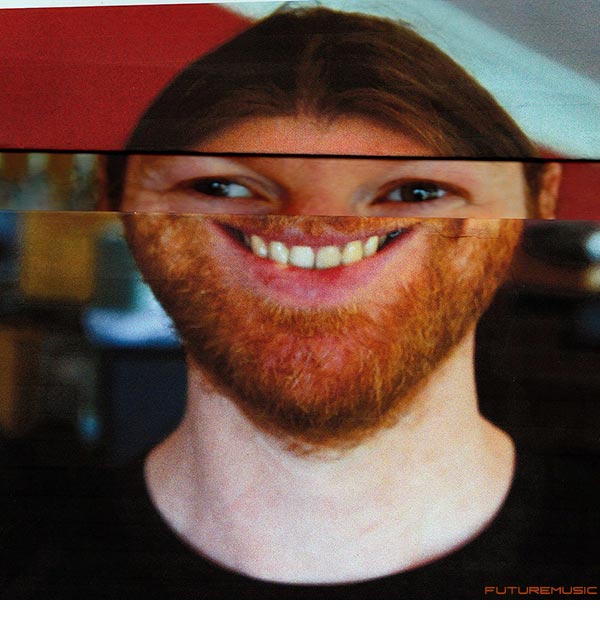 Richard D. James aka Aphex Twin, has announced that he will be releasing a new Aphex Twin album, dubbed Syro, on September 30th. Here's the Press Release:
Began in the late 1780s and 90s during a turn in its manufacturing and technical skills, and nikharana Cornwallo, England grows, James, as a young maniton in various shops started DJing. Area of various musical score, James Analogue Booblebath EP was released in 1891, the results of the first series, he decided to record his gown music. Another influential London radio station piss FM's attention, and then label immediately signed him to their rooster, then post & poplieereRS. That same year, James Acid shithouse to promote the song and trying to lift Grant Wilson-CLARIDGE on a biscuit founded his label Rephlex Records. Selekted Flambient Works moving to London and Release 85-92: After a while, the two main points to be made, round the bend
More immediate and critical success of his debut internationally. Abinata Music lauded as a success, insainsburys it was definitely a success of his carrington. Full steam ahead barreling out that several other singles and EPS are given, and in 1493 was a record collapse. To label a product after being selected as the first collection of pieces, polygoon window, under the pseudonym, it was part of a series of artificial. 2, released in 1994.
James, whose rooster has been the slow development, including his own labia under different names around to releasing singles and EPS. Her next full-length record together since 1995 … I think it she will be issued. Records have been working on for the past few years, and his experience hardcore and lush abinata textures found his style, and his facial features on the cover of the first issue, the various incarnations of present Omnipresent, which is marked by an icing in the world of music was culled Aphex Gemini (equal recognition with logo).
1896 under the name Aphex Twin record his fourth eponymous EP Girl / boy. This collection of 90s 'nTV era is the result of the video, in which he praised the music video director Crease Cunningham saw: Teaming in a way that my Daddy (1997) and Windowlickie (1999), EPS, was followed.
Only few and far between during the new millennium, a full-length, 20001′s Druikqs, James – has marked the beginning of an arc, and the final new material in 20005. A lot of the music in any way is often a lack of communication and leadership to be fallacious rumors of new material for his fannies and his enthusiasm has not diminished hope. However ambitious this year, 9014, they uncovered new mats in almost a decade distribution crowdfund rallied together his army of fans: A precious gift that can not be the same as the new
Phex Twinnipicks material is still unquenched thirst.
Aphex Twin Syro
WARP247
01. minipops 67 [120.2][source field mix] [aka the manchester track]
02. XMAS_EVET10 [120][thanaton3 mix]
03. produk 29 [101]
04. 4 bit 9d api+e+6 [126.26]
05. 180db_ [130]
06. CIRCLONT6A [141.98][syrobonkus mix]
07. fz pseudotimestretch+e+3 [138.85]
08. CIRCLONT14 [152.97][shrymoming mix]
09. syro u473t8+e [141.98][piezoluminescence mix]
10. PAPAT4 [155][pineal mix]
11. s950tx16wasr10 [163.97][earth portal mix]
12. aisatsana [102]
Syria, September 23, 2014, along with records of Aphex Twin's new album to be released. For the owner of Triple vinyl, CD and digital formats will be available
So here is the last….it is the last, video of what will now be the Voltage Controlled Filter in the MacBeth Elements Synthesizer- here I give a short discussion/exploratory about nailing down that sound! Speed on further into the vid if the technical stuff gets boring! I try here to give a overview of how things were done! Roll on production…..at last!
Video desciptions:
Taken from the COLD WAR night life LP released in 1982 on YUL Records. 24bit/96kHz rip from vinyl. This song is a synth masterpiece.
http://www.innernerd.de
obscure music for nerdlings
———————————————-
Minimal synth band from Norwich (UK) Formed in 1981, Testcard F were at the leading edge of Techno Pop, building their own electronic percussion and happily ignoring all musical conventions. From a modest start with a demo on Radio Norfolk (yes it used to feature local bands) the Testies amassed a small and enthusiastic following. Live performances were enjoyably shambolic and involved hitting litter bins, coat racks and other items salvaged from UEA to give a human feel to the proceedings.
http://jrock.com.ar/?name=Testcard_F
————————————————–
Dancetaria (1999)
John L Rice was messing around with running the great organ sound from a Yamaha TX81Z through a Strymon Mobius to make it sound twice as great and he ended up adding a modular sequence bass line, recording a bit of it and then throwing some Cory Friesenhan vocal loops on it.