Horus is something between a string-machine and a poly synth.
It can generate impressive and inspirative pads.
Full MIDI learn
64 voices polyphonic
FREE
Download link: http://bserrano.free.fr/vsti/Horus.zip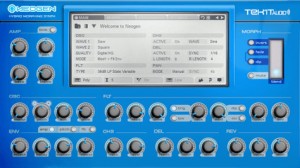 Tek'it Audio lets us know that Neogen is a hybrid (phase distortion/subtractive) polyphonic synthesizer with sound morphing capabilities.
Feature highlights
Phase distortion oscillators.
56 variation of waveform shapes.
5 oscillator quality modes, HQ, Digitized, Sampler Computer, 8bit, 8bit Glitch.
4 modulation types.
1 square wave sub-oscillator.
Monophonic Glide.
11 Filter types from low-pass with an analog tone to variants that sounds digital.
Filter drive control.
Filter modulation with rate and depth control.
Filter modulation rate can be sync on the beat.
Triggering, Dip wave and Invert modulation controls.
ADSR amp and filter envelope, AD pitch envelope with depth control.
2 voices chorus, sync delay, reverb and auto-pan effects.
Bass and treble tone control.
Switchable output soft limiter.
Sound morphing with depth control on any parameters.
Visual feedback of the amount of morphing effect.
Morphing fade with 2 envelopes modes.
8 voices arpeggiator sequencer.
8 pattern by presets.
Save, Load pattern and patterns bank.
Support MTS (MIDI Tuning Standard) file.
Velocity amount control on 12 parameters.
10 Velocity curves.
Full MIDI automation support.
Easy MIDI learn on all parameters.
Use 7-bit MIDI Continuous Controller or High resolution 14-bit MIDI NRPN and RPN.
Selectable Maximum MIDI pitch bend range.
Four note playback priority mode.
Selectable envelope re-trigger mode.
Preset manager, rename, copy, save, load…
Undo your changes to initial preset value.
One click randomize for all parameters.
326 Factory presets.
Up to 128 user presets per bank.
Easy installer.
Pricing and Availability:
Introductory price: €39 / $55 (normal price will be €49 / $69)
All sounds from the 1978 Roland Jupiter-4 analog synthesizer. One of the best sounding analog poly synths ever built.
The first Jupiter synth. It was among one of the first poly synthesizers (4 individual voices which could be synced together for one fat monophonic lead), it had a pitch wheel that could be assigned to the VCA, VCF, VCO or all together, there are 8 memory locations and a cool arpeggiator – the arpeggiator can be heard in the Duran Duran classic, "Rio". It also has a very slow LFO for those ever-so-long filter sweeps. Pretty good for 1978!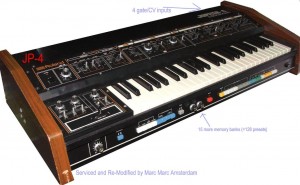 Not so cool however, are the 10 preset sounds which sound nothing like the piano, brass or strings they claim to be. The placement of all the preset buttons below the keyboard can be inconvenient, especially while playing it. And as with most old analog synths, the Jupiter-4's tuning can go out often. Still it is a nice analog synth for creating weird trippy analog sounds.
Honestly not sure if this is something we'll ever 'stock' or be able to sell you, but it was too cool not to post! The second part of this video features direct stereo sound in from the 8 Voice.
ReDominator is an emulation of the classic Alpha Juno 1/2 (JU-1/2), a polyphonic DCO (digitally controlled oscillator) based synth from 1986. The JU-1/2 became popular in the early 90's techno and rave scene particularly by the classic Hoover sound (which ReDominator attempts to emulate accurately). But beyond those niche sounds there lays a versatile synthesizer that does bass, pads, leads, organs and a lot of other sounds waiting to be discovered!
Available at the Prop Shop:
https://shop.propellerheads.se/produc…
Soundtrack composed 100% with Prophet 12!
Introducing the Prophet 12 Module, the same great sound engine of the Prophet 12 keyboard with enough portability to fit in a backpack! At twelve voices, the Prophet 12 boasts the greatest polyphony of any instrument designed by Dave Smith. Each voice features four oscillators capable of generating classic and complex waveforms, a sub-oscillator, resonant analog low-pass and high-pass filters, and analog VCAs. The new Character section adds a variety of wave shaping and sound sculpting options, like Drive, Hack, Decimation, Girth, and Air. Additional features include a tuned feedback path, a four-tap stereo delay per voice, expanded arpeggiator functionality, deep modulation capabilities, and bi-timbral operation. The LFOs, delay, and arpeggiator can all be synced, either to the internal clock or an external MIDI clock.
All sounds from the Roland Juno 60, no midi.
The Roland Juno-60 is a popular analogue 61-key polyphonic synthesizer introduced by Roland Corporation in 1982 and a successor to the slightly earlier Juno-6. Like its predecessor, the Juno-60 has some digital enhancements, used only for clocking the oscillators and for saving and loading patches. This instrument was succeeded by the Roland Juno-106 in 1984. Roland was losing market share with the Juno-6 in competition against the Korg Polysix. Related in features and price-class, the Polysix featured external control and patch memory, which the Juno-6 lacked. These features were quickly added to the Juno-6's design, which sonically and architecturally did not change notably between the two versions, and then released as the Juno-60.
The Juno-60 synthesizer is a six-voice polyphonic synthesizer. The single digitally controlled oscillator (or DCO for short) per voice gave the Juno-60 a high degree of stability in maintaining tune; most analogue voltage-controlled oscillators (VCOs) of the time would tend to drift in pitch and require re-tuning of the oscillator. The DCO provides sawtooth and square/pulse waveforms as a sound source, in addition to white noise and a square-wave suboscillator pitched one octave beneath the key played. Both of these additional sources can be mixed in with dedicated sliders.
The filters and envelope on the Juno-60 rely on control voltages sent by depressing the keys on the keyboard and were thus analogue. The Juno-60 features a rather distinctive-sounding 24 dB/octave lowpass filter with resonance. Unlike other VCF's of the day, the Juno-60's is capable of self-oscillation and thus could be used to some degree as a tone generator in and of itself. The filter section also features controls for envelope amount and polarity, LFO modulation, and keyboard tracking. In addition, a three-position non-resonant highpass filter is provided to thin out lower frequencies.
The signal is then sent through a voltage-controlled amplifier (or VCA) and a simple four-stage ADSR filter envelope.
The Juno-60 provides limited options for modulating the audio signal. A single triangle-wave variable-rate LFO is provided as a modulation source; this can be mixed into the DCO to create vibrato or into the lowpass filter to generate a tremolo effect. The LFO can either be triggered manually by the left hand using a large button above the pitch bend lever or set to engage automatically whenever a key was pressed.
How to play with Polyphonic Aftertouch on Channel Pressure "only" synths. You need a synth with multi patch support like the Oberheim Xpander, Studio Electronics Code 8 and Alesis Andromeda.
One unique feature on the Akai AX60 that is not commonly found on synthesizers is VCO Mod to VCF. You can create some FM-like timbres with this feature when the VCF Resonance is turned up.
The creator of this video 'zibbybone' has added a tiny bit of reverb with his Roland Fantom X6.
The AX60 is among some of the last true analog polysynths of the mid-eighties. It was Akai's answer to the hugely successful Roland Juno series and Yamaha's new digital DX-series. The AX60 is a programmable six-voice synth with a nice LFO, lowpass (VCF) filter, envelope sections, and more. An eight-voice version, the AX80, was already available. Programming this synth is easy using dedicated sliders, knobs and/or buttons for its parameters. It also has a useful noise generator and some other cool functions that include auto-tuning, chorus, a multi-mode arpeggiator and a keyboard that can be split into two key-zones, making it somewhat bi-timbral. All six voices can be stacked in unison mode for a powerful and thick lead sound. Its features and sound make the AX60 a worthy alternative to Roland's Juno 106.
Affordable, fully programmable poly synth with a 100% analog signal path.
Classic, real analog sound—including legendary Curtis analog low-pass filter.
Four-part multitimbral capability with four separate outputs.
Combo Mode for huge unison patches, stacked sequences, and "modular-style" poly sounds.
Expandable: poly chain with other Tetras, Prophet '08, and Mopho for expanded polyphony
Just 7.9″ x 5″ (20.07 cm x 12.7 cm).
Free editor for Mac OS and Windows.
Tetra Product description:
Tetra is our next-generation analog poly synth. Tetra takes the award-winning sound and features of Mopho, multiplies them by four, and packs them in a box less than half an inch larger!
Tetra has multiple personalities. It is a four-voice, analog poly synth, a sort of "mini Prophet." It's a four-part, multitimbral synth with separate outputs, essentially four Mophos in one very compact box. And it's a voice expander for other Tetras or the Prophet '08.
Outside the Box
Physically, Tetra is similar to Mopho, with four assignable parameter controls per program and a row of controls dedicated to the most commonly used performance parameters. All of the parameters can be accessed from the front panel and Tetra is fully programmable. A free, downloadable editor is available for Mac OS and Windows to facilitate more comprehensive tweaking.
Most of the rotary controls are detented encoders, but Cutoff and Resonance are potentiometers, allowing full sweeps with a single turn. The Push It button is a manual trigger to play notes and latch sequences on without the need for a MIDI controller.
Audio is output in mono, stereo, or per voice, via the four audio output jacks. There is also a headphone out. MIDI communication is by standard MIDI in and out jacks or USB. Poly Chain Out is a special, dedicated MIDI output to chain multiple instruments for increased polyphony.
Under the Hood
The voice architecture is based on the Prophet '08, but with the addition of a sub-octave generator for each oscillator and a fully programmable feedback loop for each voice. That breaks down to two DCOs, a resonant low-pass filter, three DADSR envelope generators, four LFOS, deep modulation routing, an arpeggiator, and a 16 x 4 analog-style step sequencer per voice. Feedback is capable of producing effects ranging from mild distortion to fairly extreme harmonic instability. (That's a good thing.) The possibilities are nearly endless. And the audio signal path is 100% analog.
Tetra a la Mode
In Program Mode, Tetra is a four-voice, polyphonic synthesizer with four banks of 128 programs. As with the Prophet '08, each program contains two layers—each layer is essentially a separate patch—that can be used to create keyboard splits or stacked sounds. Banks 1 and 2 are the Prophet '08 factory programs; banks 3 and 4 are a combination of Mopho and new programs.
In Combo Mode, a different program can be assigned to each of the four voices. Combos can be used for mammoth unison patches or for triggering up to four different 16 x 4 sequences—each with its own program—simultaneously. Combos can also be used to create "modular-style" polyphonic patches, where each voice plays a different program, with a slight variation on the same sound or even a drastically different sound.
In Multi Mode, Tetra becomes a multitimbral sound module capable of playing four monophonic parts on four MIDI channels, with separate outputs for each voice. Coupled with a MIDI sequencer and DAW, Tetra can play complex arrangements or analog drum parts with each part individually processed and recorded to its own track.
This One Goes to 12…and 16
Up to four Tetras can be poly chained for eight, twelve, or sixteen voices total. When used with a Prophet '08, up to two Tetras can be poly chained for a maximum of sixteen voices. In addition, the Prophet's front panel controls map directly to almost all of Tetra's parameters, so the Prophet acts as a programmer and control surface. And a Mopho can be connected to Tetra's Poly Chain Out for five-voice operation.