May 29, 2013 · Posted in
Uncategorized
·
Comments Off

on New Performance Synth App for the iPad
Here is an interesting Performance Synth, an app that turns your iPad into a real time performance instrument. This $5 app allows you to carry a complete, full featured, real time synthesizer around with you and have it available for whenever the need arises. Performance Synth uses a subtractive architecture so if you like the MiniMoog you will love Performance Synth.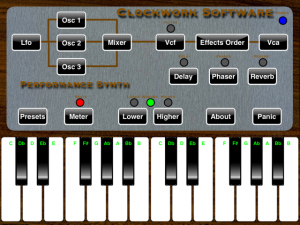 Product description:
Performance Synth is Clockwork Software's amazing synthesizer for the iPad. Performance Synth can express an almost infinite variety of unique sounds using its subtractive synthesis architecture. While Performance Synth doesn't have every feature a stand alone synthesizer has, you have in your hand an amazingly powerful tool in a portable, use anywhere format. As the name implies, Performance Synth is meant to be played in real time. If you are a guitar or bass player you can carry around a complete musical synthesizer in your guitar case and use it where ever you need it. Performance Synth's architecture and capabilities are similar to that of a Mini-Moog or a Roland Juno synthesizer. Many of the synthesizer sounds heard in todays contemporary music and movies can be reproduced with Performance Synth. Unlike old analog synthesizers, Performance Synth is implemented entirely in software which means all timing is rock solid and Performance Synth will never, ever go out of tune. Performance Synth turns your iPad into a complex musical instrument which will take time to completely master. In experienced hands, Performance Synth is a serious musical instrument. For all users, Performance Synth can be a source of wonder and delight with the multitude of sounds and sonic textures it can create.
Performance Synth has the following features:
– Three voice polyphony
– Three independent, configurable oscillators
– An LFO (Low Frequency Oscillator) for AM/FM modulation of the other oscillators
– Oscillators have six octave range
– Oscillators have four selectable waveshapes: Sin, Triangle, Square and Sawtooth
– Oscillators can run in tracking mode or polyphony mode
– Oscillators can be detuned in relation to each other
– Oscillators can be amplitude or frequency modulated to a user selected level
– Built in metronome with tappable tempo and selectable beats per measure
– 24 db/octave variable resonance Low Pass sweepable filter
– Pink noise generator
– Two Attack, Decay, Sustain, Release (ADSR) type envelope generators for driving filter (Vcf) and amplitude (Vca) envelopes
– Effects infrastructure which allows audio effects to be applied in any order.
– On board effects include Delay, Phaser and Reverb
– Ability to save and load presets. This allows you to save your important sound setups and recall them in real time during a performance.
– All aspects of Performance Synth run in real time
May 23, 2013 · Posted in
Uncategorized
·
Comments Off

on Conrad Tao: "iridescence," for piano and iPad – From 'Voyages'
Pre-order the album at http://www.smarturl.it/ConradTaoVoyages
For more info visit http://www.conradtao.com/
This ground-breaking composition, from 18-year-old American pianist/composer Conrad Tao' debut full-length album Voyages, features Conrad using the Reactable Mobile app on his Apple iPad, incorporating both synth lines and real-time processing of his piano playing, via the iPad microphone. Conrad describes the piece as being inspired by the phenomenon of "fractured light, that appears differently depending on what angle you look at it from," while also incorporating the concept of modern technology and its ever-changing development.
Conrad was listed in Forbes' 30 under 30 list of noteworthy musicians in 2011 (the only classical musician featured), and hailed by renowned music critic Harris Goldsmith as "the most exciting prodigy to ever come my way" (Musical America).
"Conrad is the kind of musician who is shaping the future of classical music"
-New York Magazine
May 20, 2013 · Posted in
Uncategorized
·
Comments Off

on Elektron Analog Four & Friends
Live session in Arjen Schat's living room with Elektron Analog Four, Moog Slim Phatty + CP-251 and Waldorf Blofeld.
Elektron Analog Four and Octatrack
May 9, 2013 · Posted in
Uncategorized
·
Comments Off

on Mutemath performs Blood Pressure live in the Moog Sound Lab
Back in 2011 Mutemath stepped into the Moog factory to record a Moog Sound Lab Session, here they transform "Blood Pressure" from their 2011 LP "Odd Soul".
For those of you curious about the instrumentation:
"Blood Pressure" fades in with Darren playing pulsing bass lines in the verse and higher etherial notes on Animoog, being controlled by a Minimoog Voyager.
Paul sings and plays a Little Phatty Stage II, holding out elongated single lines while opening and closing the Filter Cutoff knob with the Resonance set high.
Roy uses his Minimoog Voyager Select Series for low rumbling bass to hold the foundation.
Darren plays the Trap-Kat, triggering 3 Minimoog Voyager Rack Mounts through an MF-104Z Analog Delay for rhythmic echo.
See more of the Moog Sound Lab series at: http://www.moogmusic.com/sight-and-so…
and be sure to check out more of Mutemath at: http://mutemath.com/
May 8, 2013 · Posted in
Uncategorized
·
Comments Off

on BBC: OMD play live for Weekend Wogan
Terry is joined by OMD in the studio to play live.
Tracklisting:
– Dresden
– Enola Gay
Available since: Monday
4 weeks left to listen
Enjoy

April 26, 2013 · Posted in
Uncategorized
·
Comments Off

on Novation // Sky White Tiger x MiniNova
Sky White Tiger x MiniNova
Visit here for more details: http://novationmusic.com/mininova
~ LIKE our video and click 'show more' for additional information.
Music: 'Common' by Sky White Tiger.
All synth, bass and vocoder parts recorded using MiniNova.
Check out these other MiniNova videos:
Dorian Concept x MiniNova: http://youtu.be/9dZWJFKyUSc
MiniNova performance: http://youtu.be/uvDfHhuFF5w
Artist first look: http://youtu.be/m7fJ7nUWPkU
Vocoder and VocalTune™: http://youtu.be/IAgANvgD4KE
MiniNova is a compact, super-cool performance synth with the same sound engine as its big brother: the UltraNova. It comes with 256 incredible onboard sounds which you can tweak with 5 knobs, or totally warp with 8 'animate' buttons. MiniNova also has an onboard VocalTune™ effect as well as a classic vocoder so you can recreate iconic vocal sounds from Hip Hop, Urban and electronic music.
Novation MiniNova key features:
• Hugely powerful micro synthesizer with UltraNova's sound engine
• Brand new VocalTune™ and classic vocoder effects
• Live synth: tweak and warp your sounds in realtime
• 256 awesome onboard sounds – instantly searchable
• Layer up to 5 effects per voice
• Comes with editing software and a software patch librarian
• Run guitars and other instruments through the vocoder, VocalTune™ and effects
• 37 key controller keyboard with MIDI I/O
For more videos subscribe to our YouTube channel here:
http://www.youtube.com/novationtv
April 26, 2013 · Posted in
Uncategorized
·
Comments Off

on The Tallest Man on Earth performs There's No Leaving Now live in the Moog Sound Lab
Swedish folk artist Kristian Matsson, aka The Tallest Man on Earth, stepped into the Moog Sound Lab along with Strands of Oaks to reinvent the title track from his 2012 album There's No Leaving Now. Matsson trades the solo piano of the original song for the infinite sustain of the Moog Guitar which he plays through an MF-103 12-Stage Phaser and an MF-104Z Analog Delay. In a rare moment of collaboration Strands of Oaks' Timothy Showalter accompanies Matsson on a Minimoog Voyager while drummer Chris Ward uses a Trap-Kat midi controller to trigger the percussive sounds of three Rack Mount Voyagers.
Watch Moog Sound Lab Season 3 as it debuts at: http://www.brooklynvegan.com/
See more of the Moog Sound Lab series at: http://www.moogsoundlab.com
Visit The Tallest Man on Earth at: http://www.thetallestmanonearth.com/
April 25, 2013 · Posted in
Uncategorized
·
Comments Off

on Depeche Mode Performs "Soothe My Soul" live at Jimmy Kimmel Show
Jimmy Kimmel Live – Depeche Mode Performs "Soothe My Soul" on the Sony Outdoor Stage
Jimmy Kimmel Live's YouTube channel features clips and recaps of every episode from the late night TV show on ABC.
Subscribe for clips from the monologue, the interviews, and musical performances every day of the week. Watch your
favorites parts again, or catch-up on any episodes you may have missed.
Website: http://www.jimmykimmellive.com
Channel: http://www.youtube.com/jimmykimmellive
Subscribe: http://www.youtube.com/subscription_c…
April 24, 2013 · Posted in
Uncategorized
·
Comments Off

on Infinite Sinewave – Nothing Wasted (Live Performance using Quneo, Ableton, & Massive)
Background details below:
Get the full track @ https://itunes.apple.com/us/album/not…
OR share on your social networks and I'll send you the track. (Message me for details)
April 21, 2013 · Posted in
Uncategorized
·
Comments Off

on Mark Mosher – Live Performance of "Stealth"
Mark Mosher – Live Performance of "Stealth" at Future Fest at Vance Brand Civic Auditorium April 18, 2013