QuNeo is a different species of pad controller for electronic musicians, DJs, VJs and DIY hackers. While it covers all of the functionality of other pad controllers, QuNeo adds the power of touch recognition in other dimensions. QuNeo ships with presets, templates and scripts for popular music software including: Ableton Live, Serato Scratch Live, Traktor, Apple Logic Pro, Mixxx, Reason, Battery, BeatMaker for iPad, and Korg iMS-20 for iPad.
Big thanks to the artists featured in this video. In order of appearance:
1. Coda in Blue: www.codainblue.com and www.soundcloud.com/coda-in-blue
2. Tondal: soundcloud.com/tondalofficial
3. Amy Knoles: amyknoles.org
4. Gaz Williams: www.songsurgeon.co.uk Gaz is the co-presenter of Sonicstate.com's Sonic Touch program, and is currently on world tour playing bass with Karl Hyde (Underworld).
5. Capcom (Adriano Clemente): adrianoclemente.com
6. Infinite Sinewave: www.youtube.com/user/infinitesinewave and www.facebook.com/InfiniteSinewave
7. Josh Bess: joshbess.net
8. Electro Khaki: soundcloud.com/khakimusic and facebook.com/pages/Electro-Khaki/3258476
­40772751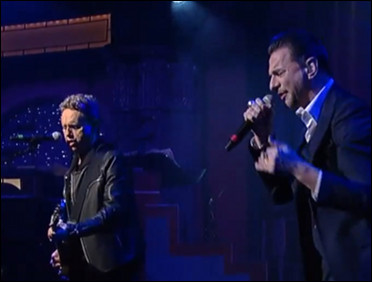 Yesterday evening Depeche Mode performed live on the David Letterman show. For those who missed it last night, you can see a high quality video that got upped a few moments ago right after the jump or in the video player of our mobile app. But more alluring to the fans is probably the fact that the full concert was upped on Soundcloud as well.
The Depeche Mode 'Live On Letterman' webcast aired last night was recorded at the Ed Sullivan Theater in New York and had the following track list:
Intro
Angel
Should Be Higher
Walking In My Shoes
Barrel Of A Gun
Heaven
Personal Jesus
Soft Touch/Raw Nerve
Soothe My Soul
Enjoy The Silence
For many this will be the first time they hear some more new material. Let us know what you think of it.
Note that the deluxe 2CD editions of the new Depeche Mode album are available now at dead cheap prices from Amazon DE ( http://fave.co/ZBjsmM ), Amazon UK ( http://fave.co/ZBjwTv ) and Amazon USA ( http://fave.co/X0hkRP ).
First in a series of Ableton Push performance videos. Featuring Brooklyn's own Derek VanScoten aka D.V.S.*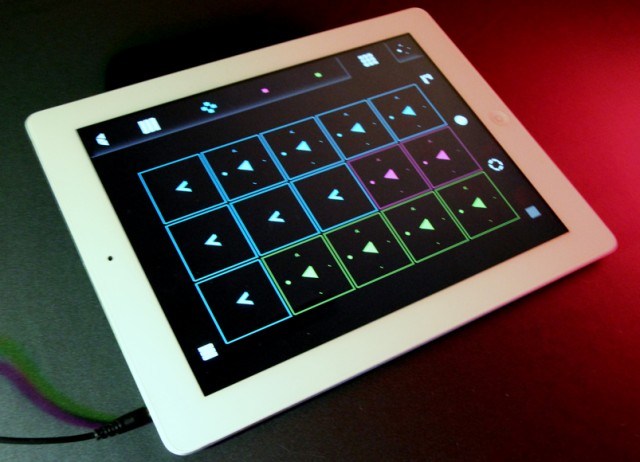 Pierre Guilluy has released a new performance sampler for iOS, Protein Der Klang.
Protein Der Klang is designed to let you play, record and manipulate audio samples using an intuitive multi-touch interface. You can sample directly from the audio input or import via iTunes Sharing.
Features:
Play with 12 simultaneous samples on the 3 coloured tracks.
Scratch, revert, slice, pause, fade & resync up to 4 clips on each track.
Play with an effect on each track & a master effect.
5 sound effects: Crusher, Repeater, Delay, Phaser, LP Filter.
Import and export your samples and patches using iTunes Sharing.
Record live loops from audio-input and internal mixer.
Exclusive playback resync feature.
BPM-synced clip trigger and playback & metronome.
Smart controls for faster actions.
Low latency audio engine.
4 fresh demo patches.
140+ audio samples included.
Support for 16bit wav samples.
Embedded user manual and feedback.
Protein Der Klang is available now for $4.99 in the App Store, for iPad, iPhone & iPod Touch.
Demos of a few of the Generalmusic S2R built-in Performance patches.
Italian company Generalmusic (also called GEM) was known for producing home organs and semi-professional accompaniment keyboards. But they also made a few attempts at producing professional music workstations. The first of them was the S-Series, introduced in 1992. GEM called it the "Music Processor" because of its many advanced functions, including a powerful sequencer, the ability to read and edit samples, excellent real-time controllers, and many others.
In 1993, GEM upgraded the S-Series with the so-called "Turbo kit" which allowed for many new functions and doubled the polyphony. The Turbo kit was also sold separately as an upgrade for the original models. GEM also released a rack version, called the S2R, with the Turbo upgrade already installed.
There were two original models, with only one difference between them: S2 and S3. The S2 has a 61-note keyboard and the S3 has a 76-note keyboard. Both keyboard models have excellent semi-weighted keys with touch/release velocity, polyphonic aftertouch and metal contacts. On the front panel, there are also seven programmable sliders, seven programmable buttons and Pitch and Modulation wheels. All functions are logically and clearly displayed on a large graphical LCD with light blue neon back-lighting. Thanks to the excellent hardware and also thanks to two MIDI I/O's, the S2/S3 is an ideal master keyboard for the home studio.
A live recording of some Tokyo-style micro house.
facebook.com/RhythmDroid
youtube.com/RhythmDroid
twitter.com/RhythmDroid
soundcloud.com/rhythm-droid
rhythmdroid.com
EPK/Press: rhythmdroidepk.tumblr.com/
Recorded live in one take in Harajuku, Tokyo, JP. Rhythm Droid is a live house and techno artist based out of Tokyo and Los Angeles. Thirteen year veteran of laptop-free club music. This song will be reworked and featured on the forthcoming debut album "Rhythm Droid" to be released 2013.
Shot by http://www.chroniquesautomatiques.com/
Yamaha MX61 Synthesizer is heavily focused on performance; there isn't the MOTIF in deept editing and you can only modify the very very main synth parameters of sounds. You can play two different parts in Split or Layer; the remaining 14 parts are available for composing/arranging/performing thru MIDI/USB with bundled Cubase.
Long-time Korg endorsee Derek Sherinian (Black Country Communion, Dream Theater) performs at Korg's Winter NAMM 2013 booth, showing off the Kronos Music Workstation along with the all-new KingKORG analog modeling synthesizer. For more information about the instruments, please visit www.korg.com/kingKORG and www.korg.com/kronos. For info on Derek, please visit www.dereksherinian.com.
Background video description below:
Samplr jam using only Factory sounds with iPad 2
Closed circuit t-shirt live sessions-90's boy by diodo
Had some latency issues when I tried to play drums, sorry
My 2nd song for the RPM challenge
https://soundcloud.com/diodo
http://www.rolandconnect.com/product.php?p=vr-09
The Story:
In this video, Sergio Terranova Junior, one of the Brazilian musicians, is speaking with his musician friend that is living in California, USA. Sergio's friend asked him if he will go to the NAMM show in Anaheim during their conversation. Sergio said to his friend that he will not go there this time because there will be nothing interesting to him to visit. After that, his friend asked about his setup, and he showed his home studio with the JP-80, INTEGRA-7 and the Roland's legend, SH-1000 ! And, He asked his friend why he needed a new keyboard. His friend said that he must come because Roland will launch new cool instruments. And, in the end, his friend told him that he must review his concepts…