http://www.ikmultimedia.com/news/inde… for more information – AmpliTube: http://www.amplitube.com/ios
Use AmpliTube with other iOS audio apps in real-time
AmpliTube for iPhone, iPad and iPod touch is now Audiobus compatible. Audiobus is a groundbreaking new app (developed by A Tasty Pixel in cooperation with Audanika) that allows users to connect the audio of multiple apps, opening up countless new sonic possibilities. For example Audiobus lets users send audio out of one app, filter it through the next one in the chain, and receive it in the third. A synth could be looped by a looper and its output sent to a recorder; or an electric piano could be run through a guitar multi-FX app and then into a sampler — all in real time.
A short video demonstrating a template I made for the Liine Lemur iOS App controlling Blamsoft's Viking synth for Reason 6.5. An IK iRig MIDI was used to hook up the iPad to the PC.
The template can be downloaded from the Liine website User Library;
http://liine.net/en/community/user-li…
More information: http://www.ikmultimedia.com/products/irighd/
IK marcomm pitch below:
Welcome to Your High-Def Digital Audio Future. IK Multimedia announces the new iRig HD, the sequel to iRig — the most popular guitar interface of all time.
With over half a million units sold worldwide, iRig has revolutionized the way guitar players jam and record, allowing them to play anywhere using their iPhone or iPad and the virtual effects and amplifiers of the range of AmpliTube apps. AmpliTube is the all-time bestseller when it comes to guitar sound processing, and includes dozens of legendary pieces of gear from world-class brands such Fender®, Ampeg®, Soldano®, and T-Rex®, as well as the sounds of iconic artists like Slash and Jimi Hendrix.
iRig HD improves on the characteristics that have made iRig the standard for connecting your guitar or bass to the iPhone, iPod touch or iPad and rocking out. Together with its ease of use, plug-and-play convenience, ultra-portability and universal compatibility, iRig HD offers a superior digital sound quality that's comparable to that of high-end interfaces used in computer-based studios.
Please visit the link at the top of the description for full information .
IK Multimedia has announced iRig Recorder for the Android operating system.
iRig Recorder is a simple to use audio recording app that can start recording immediately when it is launched making it a perfect "on the spot" field recorder. Users simply launch the app and hit the record button, or can also configure the app to start recording audio immediately upon launch.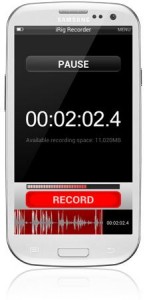 The app automatically groups recordings by date, tags them with geographic location information, and saves the original file as a backup. Recording time is limited only by the available memory on the device.
iRig Recorder also provides a waveform editor, which allows for selecting, cutting, and cropping of the audio content. Automatic onboard audio processing options can optimize recording levels and tone, remove background noise and more. The app can also speed up or slow down a recording without changing the timbre.
Export Options
Finished recordings can be shared by e-mail and FTP, over Bluetooth, through USB cables, from an SD card, or via apps installed on the device. Files can be exported as CD-quality WAV files, or as compressed .ogg files, ranging from 64 to 192 kbps.
A free version of iRig Recorder is also available, which provides the same recording, level-optimization and export features as the full version, and users can add the editing and additional processing via in-app purchase.
Pricing and Availability
iRig Recorder will be available at the end of January on the Google Play Store, and is priced at $4.99.
Video description:
See it all NOW at CES!!! More information: http://www.ikmultimedia.com/news/events/?item_id=1983
iRig HD: http://www.ikmultimedia.com/news/events/?item_id=1978
See latest IK products, photos and more happening at this year's CES
The best and the brightest come to CES to display their new innovations for the year and at the IK Booth you'll see no one rocks the world of Mobile Music Accessories like we do!
Get latest product announcements, images and more by visiting the CES Show Report. Also follow us on Twitter, Facebook and YouTube for more CES coverage. Or check back here on the IK site for new IK product announcements that will rock CES socks off!
Show attendants can also come by the IK Booths for hands on demonstrations of current and upcoming products.
Consumer Electronic Show (CES)
Las Vegas, Nevada
January 8-11, 2013
10am-6pm
North Hall, Booth 5625
The ever inventing Jordan Rudess (Dream Theatre) is exploring his own apps, details below:
A fun look at the apps created by Wizdom Music.
Our website is: http://www.wizdommusic.com/
You can now follow us on twitter at @wizdommusicapps
The keyboard I'm using is IK Multimedia's iRig keyboard.
It plugs directly into my iOS devices and does not need additional power or a midi interface! Also I used the awesome Looptastic app by Soundtrends for some backing track help.
Geo Synthesizer, SpaceWiz, MorphWiz and SampleWiz
Now shipping! http://www.irigkeys.com for more information
Watch keyboard wizard Jordan Rudess of Dream Theater use iRig KEYS, iGrand Piano for iPad, and his own apps on multiple iOS devices!
The universal portable keyboard
iRig KEYS is the first ultra-slim and highly portable universal MIDI controller keyboard for iPhone, iPod touch, iPad and Mac/PC. iRig KEYS connects directly to the iOS device 30 pin dock connector or the USB port on your Mac/PC. It features 37 velocity-sensitive mini-keys — 3 full octave range plus one note, taking a minimal space on your desktop and can easily fit in a backpack or a carry-on bag.
iRig KEYS is Core MIDI and USB class compliant for a true plug-and-play experience both with iOS devices or Mac/PC, with no additional app, software or drivers to be installed to have it go and running. For total mobility, iRig KEYS is also an ultra-low power consumption unit.
iGrand Piano is the first concert-quality piano app, offering 18 gorgeous sounding, true-stereo, multisampled pianos, with fidelity that rivals the best professional piano instruments for Mac and PC, and a low-latency response that makes it feel like you're playing a real piano.
Improvisation using Roland Handsonic, Irig Midi and Sampletank using acoustic studio guitar sound
Product description:

Roland's flagship HandSonic 15 (HPD-15) is a revolutionary instrument. Simply, there is nothing else like it. There wasn't anything like the HandSonic before its debut, and there hasn't been anything like it since. Until now…. From the company that made electronic hand percussion world famous, Roland announces the second member of its HandSonic family: the HPD-10. More affordable and streamlined than its big brother, it offers the same great pad response that made the original HandSonic so popular, but with a specialized set of features and a fresh batch of sounds, rhythms, and effects.
– All-new sounds (approx. 400)
– Style Guide Metronome (new metronome function with backing rhythm patterns)
– 10 individual pads with pressure sensing
– Large icon-driven LCD
– D Beam controller for sound/pitch/effects control
– 20 multi-effects
– Rhythm Coach function
The new DJ Rig from IK Multimedia that we have been featuring earlier this week has now been released in the AppStore. They say that DJ Rig for iPad takes professional mobile DJ mixing to a completely new level, providing a comprehensive suite of professional DJ mixing tools, all in one convenient app. DJ Rig for iPad greatly expands the feature set from DJ Rig for iPhone, offering numerous new capabilities that previously have only been available on professional DJ software for the Mac and PC.
With DJ Rig for iPad, mobile DJs will possess the virtual equivalent of a full professional DJ setup — two turntables or CD players, a DJ mixer, a DJ multi-effects unit, a phrase sampler and more, all in an portable package to take their spin to the next level, anytime and everywhere. With DJ mixer, a DJ multi-effects unit, a phrase sampler and more, all in a portable package to take their spin to the next level, anytime and everywhere.
DJ Rig for iPad is a fully self-contained DJ environment that can be directly connected to a sound system, but even more functionality is available when it's used in tandem with IK's new iRig MIX ultra-compact mobile DJ mixer. iRig Mix offers complete physical track control, thanks to its full-length channel faders and crossfaders, additional EQs, and direct connections for headphones, microphones, loudspeakers or a PA system. When used together, DJ Rig and iRig MIX provide a comprehensive DJ setup that packs all the features the most demanding DJs need — all in an ultra-light combo rig that can be up and running in seconds.
Professional DJing for the first time on iPad
Familiar double Deck configuration with a triple twist — When first launched, DJ Rig for iPad looks and feels very familiar — its interface accurately replicates a full dual-deck hardware rig with each deck routed through the audio output jack on the iPad (split stereo). What's different is that each deck has three visual modes: "Vinyl" for traditional creative scratch effects, "Digital" jog for a more traditional CD manipulation and the new "Waveform" view for accurate cue placement, synchronization and visualization of beats.
Sync, mix & scratch — DJ Rig for iPad with CloneDeck™ technology allows DJs to mix and scratch on their iPads, just like they would with hardware counterparts. The built-in dual-deck system with a crossfader allows them to mix with ultra-accurate precision, and the Tempo Sync, X-Sync and Beat Match functions automatically align the beats from any two sources for flawless transitions. The new AutoMix feature will automatically crossfade and mix music to keep the beat going even when the DJ steps away.
New creative DJ effects provide unlimited sonic possibilities — DJ Rig for iPad features 18 available BPM-synced DJ effects for customizing mixes and build-ups, always at the perfect tempo. Effects include Delay, Flanger, Crush, HP filter, LP filter, BP filter, Compressor,Wah, Phaser, Fuzz, Reverb, and Stutter, plus 6 completely new effects: Noise, Tail, Brake, Spin, Twist UP and Twist DOWN. The X/Y effects interface provides full creative control and real-time manipulation that will inspire DJs to be their creative best.
On-board sampler with expandable sound banks — DJ Rig for iPad features an "on-the-fly" sampler with 9 accessible and assignable pads for adding sound bites and samples to mixes. For even more creative flexibility, DJ Rig for iPad provides "live sampling" and "looping" functions for completely customizing and personalizing the mix.
DJ Rig for iPad features:
Customizable deck display with Vinyl, Waveform or Digital Deck interface with accurate scratching engine with CloneDeck™ technology
Waveform display mode for ultra-precise visual cueing
Fast BPM detection and beat map analysis with Tempo Sync and Beat Match
X-Sync mode detects the BPM from external audio sources and automatically syncs the audio/tempo of internal decks to external devices (when used with iRig MIX)
Advanced looping section with continuous loop surface; create loops with tempo divisions always to the beat; manual and slip mode available
18 effects: Delay, Flanger, Crush, HP filter, LP filter, BP filter, Compressor, Wah, Phaser, Fuzz, Reverb, Stutter and more, with X/Y touch interface control
6 new creative effects: Noise, Tail, Brake, Spin, Twist UP and Twist DOWN
On-the-fly expandable sampler machine with 9 pads and 4 banks slot
Live sampling functionality with volume and pitch control
5 visual cue points per song and Auto Cue for automatic first beat positioning
3 crossfader curves for customizing fades and crossfade filter
Direct access to iPod Music library and playlists
AutoMix Feature for automatic mixing of playlists or entire library
Live recorder allows recording of full mixing gigs
Supports/plays all major digital audio formats including MP3, AAC, WAV, AIFF
Multiple output configurations for virtually any audio setup
Pricing and Availability:
DJ Rig for iPad is available at an introductory price of $19.99/€15.99 from the App Store on iPad. A limited free version of DJ Rig for iPad is also available for download.
More information:
IK Multimedia has released these two new videos featuring apps that according to themselves soon will be released on the Appstore, stay tuned for more info
http://www.ikmultimedia.com/slash for more information
Watch Slash use the official Slash app, AmpliTube Slash and walk you through the features while talking about how he used iRig while writing songs for his latest album "Apocalyptic Love"
Take it from Slash himself who said: "AmpliTube iRig comes in really handy for on-the-go practicing, recording, or just jamming on different ideas — even if it's on the bus — it's right with me all the time", Slash adds, "I'll do some tweaks on the Marshall's, but there are also different effects that are available including distortion, chorus, auto wah and more." IK Multimedia is proud to announce AmpliTube® Slash, the official Slash apps and software that let you play, practice and record with Slash's signature pedals and amplifiers on the iPhone®, iPod touch®, iPad® and Mac®/PC. All versions of AmpliTube Slash feature models of the signature gear used by Slash in the studio and for his live performances. Now users can rock with models of the legendary Marshall® amplifiers used by Slash together with his signature guitar pedals. Also included is a comprehensive collection of Slash's guitar tone settings provided as starting points for tone tweaking or playing along.
Available for iPad: http://www.ikmultimedia.com.com/products/slashipad
Also available for iPhone / iPod touch: http://www.ikmultimedia.com/products/slashiphone
Also available for Mac/PC: http://www.ikmultimedia.com/products/slashcs/
Additionally AmpliTube Slash provides a fully integrated multi-track recording studio for capturing ideas quickly and easily or producing entire songs and compositions (via in-app purchase on iOS versions). A robust song player section gives users the ability to play along with songs or backing tracks by importing them directly from their device library or computer.
AmpliTube 2.5 is a major upgrade for AmpliTube, the leading guitar amp and FX app for iPhone, iPod touch, and iPad. Together with many new features, it now also includes a NEW Recorder/Mixer.
* We have separated the recorder and mixer section for improved ease of use
* In the recorder module, you can now loop your songs (or sections of a song) with ease. Just set your IN and OUT points, then enable the loop feature by clicking the loop button.
* Now you can set the tempo of your song right from the recorder section by tapping the BPM button or entering a value.
* You can also enable the metronome, and — if you like — set it to Visual mode
* In the new Mixer section, all of your critical mixing controls are on one screen: the FX assignment, the REVERB send, PAN, VOLUME, MUTE-SOLO… and the track ARM and SELECT buttons.
* AmpliTube 2.5 also has a new audio "copy & paste" feature. Now you can copy and paste audio materials between AmpliTube and other apps like GarageBand, or simply Copy and Paste tracks from one to another within AmpliTube.
* Just select the track you want to copy, …tap COPY, select the destination track and tap PASTE.
* If you want to copy/paste your entire bounced song, go to the projects list, ..select the song, …and tap COPY. Now your song is on your clipboard and ready to be pasted into a single track in AmpliTube, or into other apps like GarageBand!