http://www.mcrow.net/Reaktor%20Ensembles.htm
SuperPan is part of Musicrow Golden Ensembles 3: Premium ensembles for NI Reaktor
Place your sound out of the speakers, create extreme stereo and 3D effects, explore distorted and unnatural spaces, and choose from many surprising 'spacey' presets. Superpan is the perfect panning tool for extremists!
Main Features:
• Pan out of the speakers
• Create super wide stereo mixes
• Extreme 3D effects
• Add unusual motion
• Modulators: Two Sequencers and an LFO
• Many surprising 'spacey' presets
SuperPan is available as part of Golden Ensembles 3 that now contains 45 ensembles, synthesizers and effects for NI Reaktor 5. The update is available for free for Golden Ensembles 3 users.
Musicrow also offers Golden Ensembles 3 for a special Xmas price of 99EURO (Instead of 169Euro) until 31 Dec, 2012.
Cubase was on show at the Music Production Show at London's Emirate Stadium this week.
"We grabbed product specialist Andy to show us more about the new Mixer Window"
Russ takes a look at the new iZotope Trash 2 plug-in and finds out that it offers far more than one would first think.
Trash 2 takes the best of Trash and makes it even better. With an entirely new sonic architecture, brand new features, optimized performance, better sound quality, and support for modern hosts and formats, Trash 2 is primed for a powerful new era of audio mangling, distortion, and experimentation. Let sonic mayhem ensue.
KEY FEATURES
Distort in ways you never dreamed with the Trash module's 60+ distortion algorithms, perfect for transforming your sound into something never before heard.
Design your own unique distortions, from massive to mild and everything in between, with a new, customizable, multiband Waveshaper.
Let your tracks inhabit any space or object with the new Convolve module. Choose from over 100 impulse responses or load your own to put your bass in a washing machine or your keys in a cave.
Find a new voice: make your audio speak and growl with two redesigned Filter modules, each one featuring new vowel formant filters, screaming peaks, node modulations, and more.
Start trashing your audio immediately with an extensive new preset library and an ear-friendly Limiter that ensures you can play without fear.
New iPad audio chopper app. See http://www.touchsynth.com for more information.
iterator is an inspiring sample based musical instrument with a stylistic interface. The premise is simple: The x-axis controls the sample playback position. The y-axis controls the repeat speed. The result is surprisingly musical.
Create your own soundscapes using any of the built-in 75+ samples from over 25 artists, including Richard Devine, Parallel Worlds, Toppobrillo, Atomic Shadow, and many more. Or, supply your own .mp3s through iTunes.
Jonas "Missing Identity" Hagenvald explains the new plugin "Dialog" from Wave Arts and enhances a vocal from the singer Lulablue.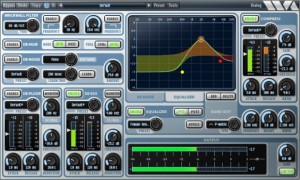 Dialog combines in one plug-in all the processing needed to clean up, adjust, and sweeten recordings of the spoken voice. It is perfect for voice-over, film/tv recordings on location or sound stage, and broadcast.
Dialog includes brickwall filters, de-hum and de-buzz processing, broadband noise reduction, de-ploding, de-essing, 10-band equalization, compression, and limiting. Separate presets for each section allow you to get results fast.
The brickwall filters have variable rolloff slopes and can be used to cutoff low or high frequency ranges. The de-hum processor uses notch filters to eliminate 10 harmonics of either 50 Hz or 60 Hz hum. The de-buzz processor squelches nasty line frequency buzzes. The de-noise processor is the stellar sounding MR Noise algorithm with a simplified interface. De-plode and de-ess are custom processors; use de-plode to tame plosive sounds and use de-ess to adjust the amount of sibiliants. The EQ section is the powerful and easy to use TrackPlug equalizer, with 10 bands of equalization, 11 different filter types to choose from, and a variety of presets. The compressor is the TrackPlug Vintage compressor, with presets tailored to voice processing.
IK Multimedia has released these two new videos featuring apps that according to themselves soon will be released on the Appstore, stay tuned for more info
Stereoizer is a high-specification stereo image manipulation tool suitable for natural expansion, reduction and introduction of stereo width at any stage of the audio production process.
Developed for and tested by professional audio engineers, Stereoizer adds natural sounding width and depth to any audio recording, mono or stereo, leaving the inherent character of the original source intact. Quite simply Stereoizer will make your audio more coherent, highly polished and spatially balanced without adding artificial reverberation, chorusing or delay.
• natural stereo to stereo extension
• mono to stereo enrichment
• leaves original character intact
• subtle to extreme enhancement
• band limited precision
• dynamic visual feedback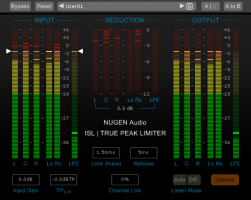 NUGEN Audio has launched ISL, an inter-sample True-Peak limiter that gives complete control over peak levels in audio signals from mono to 5.1. ISL diverges from traditional approaches to limiting by measuring inter-sample peaks and allowing the user to set the true-peak limit, rather than the traditional threshold at which limiting begins. By measuring and correcting for inter-sample levels, ISL protects against distortion that can be introduced when codecs such as mp3 and AAC are applied downstream. Like all NUGEN Audio tools, ISL is intuitive to use and lets audio professionals mix with their ears, leaving ISL to ensure compliance with loudness standards. Designed for the transparent limiting of relatively dynamic high-quality audio, ISL can also be used to hard-limit and reduce dynamic range where required.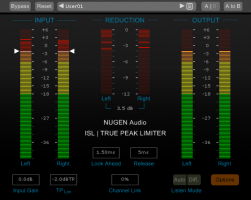 Using the standardized true-peak algorithms of ITU-R B.S. 1770 and related standards, ISL is suitable for post-production and broadcast applications. Features include comprehensive dBTP metering, adjustable channel linking, support for audio formats from mono to 5.1, adjustable ballistics, color splits, and peak indicators.
"I recently finished a "Between the Ears" program for BBC Radio 3 using ISL, and I found it completely transparent. I deliberately tried pushing it hard and it just works, even with much more gain reduction than I would normally consider using in this context. The NUGEN Audio ISL True Peak Limiter is now my limiter of choice for all my broadcast work," said independent post production engineer Mike Thornton.
ISL is part of NUGEN Audio's new range of innovative and easy-to-use loudness correction tools, which includes VisLM and LM-Correct.
ISL is RTAS, Audiosuite, AU and VST-compatible and available in 32-bit and 64-bit versions for OS X and Windows at $249.
More information about ISL and other NUGEN Audio products is available at www.nugenaudio.com.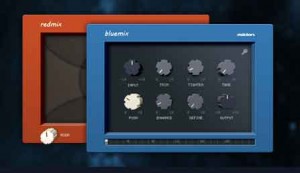 Mildon Studios has released the Redmix and Bluemix plug-ins.
"Get your mix done in no time with these powerful mixing plugins. Get your tracks to sit with Bluemix and then move them around with Redmix. It's simple and easy. Start mixing like a pro!"
Here's the details:
Ready to mix your next inspiring song? Bluemix can help you iron-out individual tracks from powerful kicks to high-flying guitars to make them sound just right.
Bluemix combines smart EQ, automatic compression, and high-frequency excitation to give you a clean signal that sits better in the mix. Use it in tandem with Redmix to create space and to add just the right amount of moisture to your mix.
Bluemix Features:
Smart EQ: Trim, Tighten, Tame
Auto Compressor: Push
Gain Reduction Meter
Exciters: Enhance, Define
Redmix puts your tracks on a virtual stage, allowing you to pan from left to right and front to back! It lets you create a lot of space just by moving things around, something that's hard to achieve with a conventional panner.
Redmix makes effective use of Haas' principles combined with spectral shaping and room reverb to create space. Use it in tandem with Bluemix for a better mix.
Redmix Features:
2-Dimensional Panning (L-R + F-B)
Automatic Haas Effect
Room Control
Pricing and Availability:
Redmix: $19
Bluemix: $19
Bundle: $28.50
More information:
Further adventures in vocal processing using the TC Helicon Voiceworks and the iVoxel vocoder iPad app.
More on the TC Helicon VoiceWorks:
This popular harmony processor has been used by songwriters, performing musicians, and jingle and movie music creators to put their creative stamp on vocals. VoiceWorks has a full complement of vocal processing tools from microphone preamp to four voices of harmony generation, pitch correction, reverb and tap tempo delay, compression and EQ. There's even a song mode that allows you to step through a pre-programmed series of steps with the optional Switch3 footswitch.
A complete signal path from mic input to stereo output. All you add is a PA, (or DAW) and your voice.
Capable of creating up to 5 part harmony or doubling with your voice
Harmonies can be controlled by MIDI keyboard or by setting key and scale
100 user-programmable presets
Reverb and delay can be used simultaneously and have extensive editing parameters
Thicken effect adds lush detune-style chorusing to your lead vocal in addition to other effects
Compressor, 3 band EQ and gate
Editor program for Mac and PC available free via download