The Fruity Loops has been busy lately…
Version 2 of the DJ mixing application works either as a standalone program or as a VSTi inside your favourite host. Deckadance can also host any VST compliant softsynth or effect.
Control Deckadance using MIDI controllers, timecoded vinyl and CD systems..
Choose 2 OR 4 decks. Smart knobs link many interface targets to one knob. GrossBeat automated glitch, stutter & scratch functions. Isolator FX chain up to three FX per deck and apply to Low/Mid/High or all bands. Customizable interface and Smart panels select Cue, Grid, DVS, Key, Smart Knob and Tempo controls.
A tutorial showing how to mix a track in Cubasis and Audiobus..also adding some instruments and work inside Audiobus with Guitarism.
Two Minute Ableton Live Tip – The Fastest Way to Clean Up Your Mixes is to cut unnecessary frequencies. Each track in a song takes up a certain amount of "frequency real estate." Often you'll have tracks that don't need much information in the upper frequencies (think bass drums) or in the lowest frequencies (think cymbals or vocals). You can quickly clean up your mixes by cutting any unnecessary frequencies out.
Visit AfroDJMac's site for more stuff like this, including Live Instrument downloads, tutorials and music! http://www.afrodjmac.com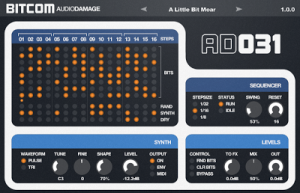 There are subtle plug-ins you put on the two-buss to give a nice gentle vibe to a track. Bitcom is not one of those. There is no "analog modeling" in this effect. There is no warmth or tube saturation. It is utterly devoid of anything to which the word "vintage" can be applied. Bitcom is a modern bit-shredding digital banshee that beggars description and lives on the edge of instability.
In a nutshell, a step sequencer drives a custom-designed bitcrusher, with a synth sidechain. But that sentence doesn't begin to describe the abuse that Bitcom is capable of. We pulled out every trick in the book to build a modern electronic music effect that can turn even the most sedate input in to a swinging, screaming pain-monkey, wreaking havoc on lesser sounds.
Bitcom requires OS X Intel 10.6.0 or later, or Windows XP SP 2 or later; the installers include both 32- and 64-bit versions.
Bitcom Features:
Bit Banging: Bitcom's bit engine is unique; each step has eight switches that (to simplify matters greatly) turn individual bits on and off. So all 8 switches on, and the output is pretty much like the input. Start turning them off and Strange Things Happen.
Synth Signal: Bitcom includes a simple monophonic synth that can either be always on, envelope driven, or controlled via MIDI. This is mixed with the input signal to create strange new sounds. Alternatively, Bitcom can be used without any input at all, as a moderately capable synth.
Sidechain: When using the VST3 version, the sidechain input can replace the synth section. This has the net effect of putting two input signals in to a meat grinder. Strange Things Ensue. Don't say we didn't warn you.
Sequencer: Bitcom's step sequencer syncs to the host DAW. The sequence can be of arbitrary length from 1 to 16 steps, and the sequencer has internal swing.
http://www.mcrow.net/Reaktor%20Ensembles.htm
SuperPan is part of Musicrow Golden Ensembles 3: Premium ensembles for NI Reaktor
Place your sound out of the speakers, create extreme stereo and 3D effects, explore distorted and unnatural spaces, and choose from many surprising 'spacey' presets. Superpan is the perfect panning tool for extremists!
Main Features:
• Pan out of the speakers
• Create super wide stereo mixes
• Extreme 3D effects
• Add unusual motion
• Modulators: Two Sequencers and an LFO
• Many surprising 'spacey' presets
SuperPan is available as part of Golden Ensembles 3 that now contains 45 ensembles, synthesizers and effects for NI Reaktor 5. The update is available for free for Golden Ensembles 3 users.
Musicrow also offers Golden Ensembles 3 for a special Xmas price of 99EURO (Instead of 169Euro) until 31 Dec, 2012.
Cubase was on show at the Music Production Show at London's Emirate Stadium this week.
"We grabbed product specialist Andy to show us more about the new Mixer Window"
Russ takes a look at the new iZotope Trash 2 plug-in and finds out that it offers far more than one would first think.
Trash 2 takes the best of Trash and makes it even better. With an entirely new sonic architecture, brand new features, optimized performance, better sound quality, and support for modern hosts and formats, Trash 2 is primed for a powerful new era of audio mangling, distortion, and experimentation. Let sonic mayhem ensue.
KEY FEATURES
Distort in ways you never dreamed with the Trash module's 60+ distortion algorithms, perfect for transforming your sound into something never before heard.
Design your own unique distortions, from massive to mild and everything in between, with a new, customizable, multiband Waveshaper.
Let your tracks inhabit any space or object with the new Convolve module. Choose from over 100 impulse responses or load your own to put your bass in a washing machine or your keys in a cave.
Find a new voice: make your audio speak and growl with two redesigned Filter modules, each one featuring new vowel formant filters, screaming peaks, node modulations, and more.
Start trashing your audio immediately with an extensive new preset library and an ear-friendly Limiter that ensures you can play without fear.
New iPad audio chopper app. See http://www.touchsynth.com for more information.
iterator is an inspiring sample based musical instrument with a stylistic interface. The premise is simple: The x-axis controls the sample playback position. The y-axis controls the repeat speed. The result is surprisingly musical.
Create your own soundscapes using any of the built-in 75+ samples from over 25 artists, including Richard Devine, Parallel Worlds, Toppobrillo, Atomic Shadow, and many more. Or, supply your own .mp3s through iTunes.
Jonas "Missing Identity" Hagenvald explains the new plugin "Dialog" from Wave Arts and enhances a vocal from the singer Lulablue.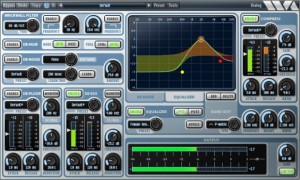 Dialog combines in one plug-in all the processing needed to clean up, adjust, and sweeten recordings of the spoken voice. It is perfect for voice-over, film/tv recordings on location or sound stage, and broadcast.
Dialog includes brickwall filters, de-hum and de-buzz processing, broadband noise reduction, de-ploding, de-essing, 10-band equalization, compression, and limiting. Separate presets for each section allow you to get results fast.
The brickwall filters have variable rolloff slopes and can be used to cutoff low or high frequency ranges. The de-hum processor uses notch filters to eliminate 10 harmonics of either 50 Hz or 60 Hz hum. The de-buzz processor squelches nasty line frequency buzzes. The de-noise processor is the stellar sounding MR Noise algorithm with a simplified interface. De-plode and de-ess are custom processors; use de-plode to tame plosive sounds and use de-ess to adjust the amount of sibiliants. The EQ section is the powerful and easy to use TrackPlug equalizer, with 10 bands of equalization, 11 different filter types to choose from, and a variety of presets. The compressor is the TrackPlug Vintage compressor, with presets tailored to voice processing.
IK Multimedia has released these two new videos featuring apps that according to themselves soon will be released on the Appstore, stay tuned for more info