Stereoizer is a high-specification stereo image manipulation tool suitable for natural expansion, reduction and introduction of stereo width at any stage of the audio production process.
Developed for and tested by professional audio engineers, Stereoizer adds natural sounding width and depth to any audio recording, mono or stereo, leaving the inherent character of the original source intact. Quite simply Stereoizer will make your audio more coherent, highly polished and spatially balanced without adding artificial reverberation, chorusing or delay.
• natural stereo to stereo extension
• mono to stereo enrichment
• leaves original character intact
• subtle to extreme enhancement
• band limited precision
• dynamic visual feedback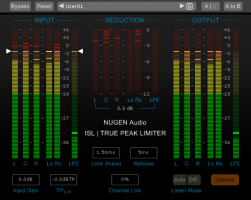 NUGEN Audio has launched ISL, an inter-sample True-Peak limiter that gives complete control over peak levels in audio signals from mono to 5.1. ISL diverges from traditional approaches to limiting by measuring inter-sample peaks and allowing the user to set the true-peak limit, rather than the traditional threshold at which limiting begins. By measuring and correcting for inter-sample levels, ISL protects against distortion that can be introduced when codecs such as mp3 and AAC are applied downstream. Like all NUGEN Audio tools, ISL is intuitive to use and lets audio professionals mix with their ears, leaving ISL to ensure compliance with loudness standards. Designed for the transparent limiting of relatively dynamic high-quality audio, ISL can also be used to hard-limit and reduce dynamic range where required.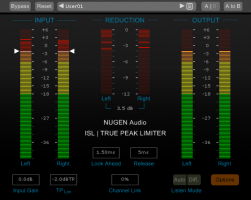 Using the standardized true-peak algorithms of ITU-R B.S. 1770 and related standards, ISL is suitable for post-production and broadcast applications. Features include comprehensive dBTP metering, adjustable channel linking, support for audio formats from mono to 5.1, adjustable ballistics, color splits, and peak indicators.
"I recently finished a "Between the Ears" program for BBC Radio 3 using ISL, and I found it completely transparent. I deliberately tried pushing it hard and it just works, even with much more gain reduction than I would normally consider using in this context. The NUGEN Audio ISL True Peak Limiter is now my limiter of choice for all my broadcast work," said independent post production engineer Mike Thornton.
ISL is part of NUGEN Audio's new range of innovative and easy-to-use loudness correction tools, which includes VisLM and LM-Correct.
ISL is RTAS, Audiosuite, AU and VST-compatible and available in 32-bit and 64-bit versions for OS X and Windows at $249.
More information about ISL and other NUGEN Audio products is available at www.nugenaudio.com.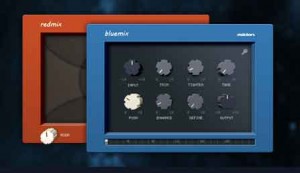 Mildon Studios has released the Redmix and Bluemix plug-ins.
"Get your mix done in no time with these powerful mixing plugins. Get your tracks to sit with Bluemix and then move them around with Redmix. It's simple and easy. Start mixing like a pro!"
Here's the details:
Ready to mix your next inspiring song? Bluemix can help you iron-out individual tracks from powerful kicks to high-flying guitars to make them sound just right.
Bluemix combines smart EQ, automatic compression, and high-frequency excitation to give you a clean signal that sits better in the mix. Use it in tandem with Redmix to create space and to add just the right amount of moisture to your mix.
Bluemix Features:
Smart EQ: Trim, Tighten, Tame
Auto Compressor: Push
Gain Reduction Meter
Exciters: Enhance, Define
Redmix puts your tracks on a virtual stage, allowing you to pan from left to right and front to back! It lets you create a lot of space just by moving things around, something that's hard to achieve with a conventional panner.
Redmix makes effective use of Haas' principles combined with spectral shaping and room reverb to create space. Use it in tandem with Bluemix for a better mix.
Redmix Features:
2-Dimensional Panning (L-R + F-B)
Automatic Haas Effect
Room Control
Pricing and Availability:
Redmix: $19
Bluemix: $19
Bundle: $28.50
More information:
Further adventures in vocal processing using the TC Helicon Voiceworks and the iVoxel vocoder iPad app.
More on the TC Helicon VoiceWorks:
This popular harmony processor has been used by songwriters, performing musicians, and jingle and movie music creators to put their creative stamp on vocals. VoiceWorks has a full complement of vocal processing tools from microphone preamp to four voices of harmony generation, pitch correction, reverb and tap tempo delay, compression and EQ. There's even a song mode that allows you to step through a pre-programmed series of steps with the optional Switch3 footswitch.
A complete signal path from mic input to stereo output. All you add is a PA, (or DAW) and your voice.
Capable of creating up to 5 part harmony or doubling with your voice
Harmonies can be controlled by MIDI keyboard or by setting key and scale
100 user-programmable presets
Reverb and delay can be used simultaneously and have extensive editing parameters
Thicken effect adds lush detune-style chorusing to your lead vocal in addition to other effects
Compressor, 3 band EQ and gate
Editor program for Mac and PC available free via download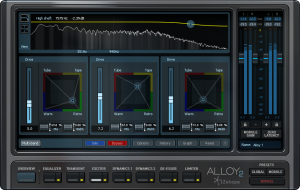 iZotope has announced the first major update to its Alloy mixing tools suite, since first introducing it in 2009. With Alloy 2, mixers can experience a number of new sound shaping capabilities, as well as improved ergonomics, low CPU usage, and zero latency operation. First time customers of Alloy have a limited window to get a significant discount. Alloy 2 will be available for $149 until September 6, 2012 after which, its suggested retail price will be $199. (iZotope customers who purchased Alloy 1 on or after June 27, 2012 will receive a free upgrade to Alloy 2 upon release, and a special upgrade price of $79 will be available for all Alloy1 customers who purchased before June 27, 2012).
Alloy is an advanced mixing suite that combines six essential tools in one self-contained and completely configurable plugin. Applications abound for mixers, producers, remixers, and post/broadcast professionals. Plugin formats include Pro Tools 7.4+ (RTAS/AudioSuite), AAX, VST, VST3, Audio Unit, and DirectX.
"A modern twist on classic mixing, Alloy 2 takes the traditional channel strip and brings it into the future with powerful sound-shaping tools, exceptional sound quality, and a streamlined workflow. Thoughtfully designed for mixing purposes across the music, audio, post and broadcast industries, Alloy 2 is perfect for engineers, musicians, and producers looking to sculpt their sound while addressing common mix issues."
Key Features
Get six powerful tools in one integrated plug-in:
– Equalizer, Dynamics, Exciter, De-Esser, Transient Shaper and Limiter
– Achieve exceptional sound quality, balancing vintage emulation with digital precision Hear results immediately with zero latency performance, whether tracking in real-time or in the midst of a mix session
– Visualize mixing decisions with rich meter displays to guide the way
– Start fast, then go deep with over 250 presets and a tweaker's paradise of advanced controls.
What's New for Alloy 2?
Fans of Alloy 1 will benefit from Alloy 2's sonic enhancements, highlights of which include a redesigned Exciter module, a revamped multiband Transient Shaper, a host of new EQ filters, including Treble and Bass Baxandall filters, and more. Alloy 2 users will also click less to achieve more thanks to both a fully overhauled user interface, enlarged to make more controls accessible, and a new Overview panel that dynamically adjusts to show only the most relevant settings of the modules in play.
With low CPU usage and zero latency operation, Alloy 2 can be used again and again across a wide range of tracks and buses, making it a perfect mixing complement to iZotope's flagship mastering suites, Ozone 5 and Ozone 5 Advanced. To this end, Alloy 2 also features an internal Meter Tap, which provides immediate visual feedback from Alloy 2's tracks and buses in the Ozone5 Advanced Meter Bridge.
Here's a teaser of Cakewalk's latest edition of Sonar named X2, check it out
http://www.cakewalk.com/SONAR-X2
SONAR X2 Producer
Professional Recording, Mixing & Mastering
From getting a great tone to releasing the final mix, today's musicians must master every element of the music production process. SONAR X2 is there every step of the way and takes each element to the next level of power and usability. And thanks to the revolutionary Skylight user interface, SONAR X2 lets you move seamlessly among the elements, instantly going from recording to editing to mixing and back again. Dial up the perfect synth sound with Rapture or a searing guitar tone with TH2 Producer. Record it, tighten it, chop it, and drop it in the Matrix for realtime triggering. Shape it with the expandable ProChannel. Warm it with the new Console Emulator. And do it all with a single Smart Tool. It's genius.
More info on Reason: http://www.propellerheads.se/products/reason/
Gary Bromham's guide to vocal recording: http://goo.gl/Vjyek
In this Reason Tips video Mattias gives you some valuable pointers on mixing vocals. Since vocals are often what carries the track, it's important to get them sitting right in the mix! Learn how what frequencies to pay attention to and how to make a de-esser in Reason's mixer in this video.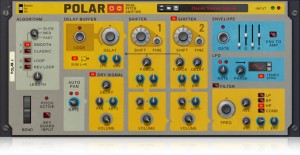 Propellerhead today announced Polar, a new Rack Extension audio effect to be available at the launch of the next versions Reason and Reason Essentials later this month.
Polar is an old school harmonizer and pitch-shifter effect with a host of modern tricks up its sleeves. Designed for classic harmonizing, stereo widening, and real-time pitch shifting, Polar also invites users to experiment with buffer looping and audio freezing to create otherworldly effects.
Consisting of selectable dual pitch-shifters with classic, smooth and looping algorithms, Polar is created for singers, producers, guitarists and remixers looking for transparent pitch-shifting as well as creative ways of turning bland recordings into wide, evolving soundscapes. The built-in LFOs, auto-panning, envelope and buffer lock provide further sound sculpting possibilities, while delay and feedback turns single-note recordings into arpeggios.
For more information about Rack Extensions, Polar, and to listen to audio examples, visit www.propellerheads.se/go/74B1DC9D
Pricing and availability
Polar will be released simultaneously with version 6.5 of Reason and version 1.5 of Reason Essentials Q2 2012, at a price of USD $69/EUR €55. Polar will be available for purchase in the Propellerhead Shop.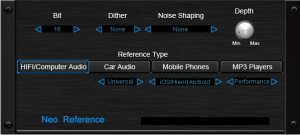 Neo Reference is a new tool for the final processing of digital music.
Neo Reference uses different algorithms to emulate the Signal to Noise Ratio, Stereo Crosstalk and Frequency Response Curve of the several most commonly used playback devices, including HIFI devices, Computer Audio, Car Audio, Mobile Phones and MP3 players.
Features:
Internal 64-bit floating point precision
4 Types of Dithering with depth control
15 Sound Magic's cutting edge noise shaping algorithms
Accurate modeling on Signal to Noise Ratio, Stereo Crosstalk and Frequency Respond Curve of common used playback devices
Can be combined use with Headphone Mix Version 3.0 for complete playback system emulation
Neo Reference is available as a Windows VST or Add-on for Supreme Piano 2 for €49.00. See the Supreme Piano site for details and demos.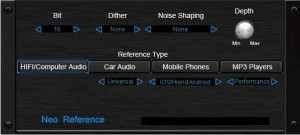 Neo Reference is a brand new tool for the final processing of digital music. It combines several of Sound Magic's cutting edge dithering and noise shaping algorithms that will change the sound of your music and let you find the best timbre for your individual style. The company says that each dither and noise shape has its own unique timbre and that what you need to do is listen to them carefully and you find the one that works best for your sound.
"You can also use Neo Reference to show you what your music will sound like on different playback devices. This killer feature allows you to preview your music as it would sound in your car, iphones, on a boom box – or an audiophile system. By Using Sound Magic Award Winning Modeling Technology, Neo Reference uses different algorithms to emulate the Signal to Noise Ratio, Stereo Crosstalk and Frequency Response Curve of the several most commonly used playback devices. Evaluate the sound quality of your music on different playback devices. Hear what your music will sound like on HIFI devices, Computer Audio, Car Audio, Mobile Phones and MP3 players. Make your style of music explode on all of these devices, adjusting your sounds for optimal playback – without having to run out to your car with a CD that you just burned! Your music will sound better and more balanced on all of these devices, not just your monitors. You can even use it to make different versions of your music to better market to specific customer groups – which may lead to more music sales!"
Neo Reference is provided as a Windows VST or Add-on for Supreme Piano 2.
Features
Internal 64-bit floating point precision
4 Types of Dithering with depth control
15 Sound Magic's cutting edge noise shaping algorithms
Accurate modeling on Signal to Noise Ratio, Stereo Crosstalk and Frequency Respond Curve of common used playback devices
Can be combined use with Headphone Mix Version 3.0 for complete playback system emulation
Pricing and Availability:
€49.00
More information: