The popular Alloy mixing suite gets a major update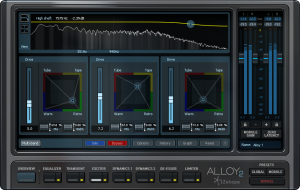 iZotope has announced the first major update to its Alloy mixing tools suite, since first introducing it in 2009. With Alloy 2, mixers can experience a number of new sound shaping capabilities, as well as improved ergonomics, low CPU usage, and zero latency operation. First time customers of Alloy have a limited window to get a significant discount. Alloy 2 will be available for $149 until September 6, 2012 after which, its suggested retail price will be $199. (iZotope customers who purchased Alloy 1 on or after June 27, 2012 will receive a free upgrade to Alloy 2 upon release, and a special upgrade price of $79 will be available for all Alloy1 customers who purchased before June 27, 2012).
Alloy is an advanced mixing suite that combines six essential tools in one self-contained and completely configurable plugin. Applications abound for mixers, producers, remixers, and post/broadcast professionals. Plugin formats include Pro Tools 7.4+ (RTAS/AudioSuite), AAX, VST, VST3, Audio Unit, and DirectX.
"A modern twist on classic mixing, Alloy 2 takes the traditional channel strip and brings it into the future with powerful sound-shaping tools, exceptional sound quality, and a streamlined workflow. Thoughtfully designed for mixing purposes across the music, audio, post and broadcast industries, Alloy 2 is perfect for engineers, musicians, and producers looking to sculpt their sound while addressing common mix issues."
Key Features
Get six powerful tools in one integrated plug-in:
– Equalizer, Dynamics, Exciter, De-Esser, Transient Shaper and Limiter
– Achieve exceptional sound quality, balancing vintage emulation with digital precision Hear results immediately with zero latency performance, whether tracking in real-time or in the midst of a mix session
– Visualize mixing decisions with rich meter displays to guide the way
– Start fast, then go deep with over 250 presets and a tweaker's paradise of advanced controls.
What's New for Alloy 2?
Fans of Alloy 1 will benefit from Alloy 2's sonic enhancements, highlights of which include a redesigned Exciter module, a revamped multiband Transient Shaper, a host of new EQ filters, including Treble and Bass Baxandall filters, and more. Alloy 2 users will also click less to achieve more thanks to both a fully overhauled user interface, enlarged to make more controls accessible, and a new Overview panel that dynamically adjusts to show only the most relevant settings of the modules in play.
With low CPU usage and zero latency operation, Alloy 2 can be used again and again across a wide range of tracks and buses, making it a perfect mixing complement to iZotope's flagship mastering suites, Ozone 5 and Ozone 5 Advanced. To this end, Alloy 2 also features an internal Meter Tap, which provides immediate visual feedback from Alloy 2's tracks and buses in the Ozone5 Advanced Meter Bridge.
Comments