Soon to be released: AURIA – 48-Track Recording System for iPad
Wavemachine Labs has announced that it has submitted Auria, a new 48-track recorder for the iPad, to Apple for approval.
Here's what they have to say about it: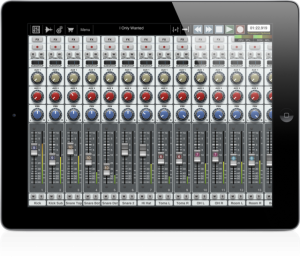 With the ability to play 48 mono or stereo 24bit/44.1 kHz (higher sample rates possible!) tracks simultaneously, record up to 24 of those tracks simultaneously (through any supported USB multichannel audio interface), and edit and mix with familiar tools and full parameter automation, it's clear Auria sets a new standard for iPad multitracking.
What's more, Auria's 64-bit Double Precision architecture ensures ample headroom for plug-in processing and mix summing, transforming your iPad into a recording and mixing system with sound quality that rivals most DAWs.
The depth is in the details. Like customizable pan laws. Like meters that are selectable between peak and RMS. Like full delay compensation for all tracks, including aux sends and sub-groups. Complete with a vintage-inspired channel strip on every channel, a dedicated master channel strip, VST effects engineered by renowned makers such as PSPaudioware, Overloud, Fab Filter and Drumagog, and support for Dropbox, Soundcloud, AAF, and MP3, Auria truly raises the bar for recording and mixing on the iPad.
The introductory price for Auria will be $49.99.
Comments