For more information on Reason:
http://www.propellerheads.se/tryreason
When Adam and his brother tried programming their own computer games as kids his own attempts were terrible. Fortunately however, the music Adam made for those games using ProTracker software on the old Atari ST computer wasn't terrible. In fact, it was so good he quickly outgrew what he could achieve on such a basic set up. After a recommendation from a friend and seeing the rack cables in action for himself, Adam was quickly a Reason user and now even pushes Reason to its limits with his epic full-bodied synth soundtracks.
After a couple independent releases, Adam Fielding's music caught the attention of Distinctive Records in the UK who promptly signed him for those and future releases. Now Adam splits his time between producing his own albums and soundtracks for TV and film use.
We caught up with Adam to check out how he builds up his ideas and arranges them in Reason using Blocks.
——————-
Project Genesis appears with permission from Conspiracy – www.conspiracy.hu
Last week Sonic State had a visit from Ryan Harlin – he's the guy behind Propellerheads Music Making Month and also puts together the ongoing video content for Propellerheads.
"He showed us around the new features in the just released Reason 7, including (finally) the introduction of MIDI, some neat mixer functions – Spectrum EQ, bussing and parallel processing, plus the new audio processing module – Audiomatic."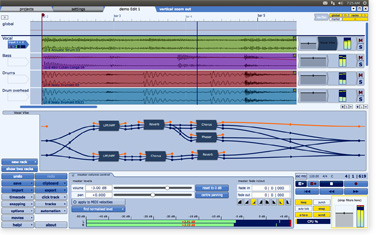 For those of you who haven't heard, Tracktion is back in the hands of its creator Julian 'Jules' Storer – otherwise known as 'The Chief' – and his new, completely independent company Tracktion Software Corporation (TSC).
Along with the the announcement of TSC is a new version of our beloved software – Tracktion 4 – featuring an all new audio engine that improves speed, stability and compatibility with the latest operating systems and formats. With the recent announcement of Linux support, "T4" has become part of a rare group of creative software solutions that run in either 32 or 64 bit on Mac/PC and 64 bit Linux – the choice is yours!
Upgrading from any previous version of Tracktion is very easy and affordable at only $29.99.
Tracktion 4 (T4) features the same operational characteristics as the original program but with an entirely new audio engine. This progression is intended not only to make T4 compatible with all the latest operating systems, plug-in and controller technology, but also to create a modern platform for further development. TSC is dedicated to the continued evolution of the product.
To be specific, T4 provides support for OSX Mountain Lion to take advantage of Apple's very latest hardware and operating systems. It also provides support for Microsoft's Windows 7 & 8. Apple Audio Unit (AU) is supported to open a new world of effects and instruments for Tracktion users and the latest generation audio codec from Microsoft, Windows Media Audio (WMA) is also supported.
Windows Audio Session API (WASAPI) is included for optimized audio data management between applications. There is also support for 64bit Mac and PC operating systems so Tracktion can squeeze the highest performance out of current computer resources.
Enjoy
What do you get when you upgrade from Live 9 Intro to Live 9 Standard or Suite? Here's a rundown of 10 great features.
Check out your personalized upgrade pricing in the Ableton.com shop: https://www.ableton.com/en/shop/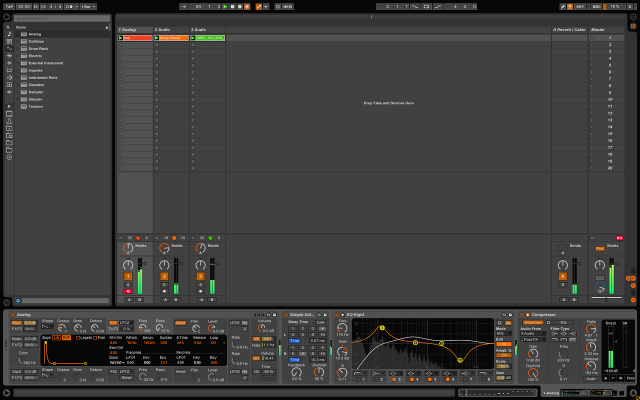 Ableton has released Live 9.0.4 – and Disco lives.
Here are the details:
9.0.4 Release Notes:
Bugfixes:
VST / AU plug-in devices could be inactive after loading a Live set containing a large number of plug-ins (regression in Live 9.0.3).
The "grab_control" function which allows to gain control over a control surface's button matrix via Max for Live would not work anymore (regression in Live 9.0.3).
Fixed a bug which could cause the File Manager window to reopen after launching Live.
9.0.3 Release Notes:
Improvements and feature changes:
Added a new skin: "Disco".
Added a new option to the "Record/Warp/Launch" preferences pane: "Start Transport with Record". If activated, the transport will start immediately when clicking on the Session- or Arrangement-Record buttons. If deactivated, it prepares for recording as in Live 8, so you have to launch a clip in Session View or click the 'Play' button. You can hold down the Shift modifier key when clicking on the record buttons to invert the behavior temporarily.
When recording automation on top of an existing automation envelope, and quickly clicking on different positions in parameters like sliders, X/Y pads, etc., Live now records a latching automation envelope instead of jumping back to the previous value.
The Compressor device does not clip input signals at +20 dB anymore.
Added control surface support for Novation Launchkey series.
Added control surface support for M-Audio Axiom Air Mini 32.
Added a user satisfaction survey. After several hours of usage, Live will ask you to rate the software on the next startup. You can submit a star rating or simply dismiss the survey.
Updated manual, lessons and translations.
Bugfixes:
The Trial version of Live 9.0.2 could hang on startup.
Live would not work as a ReWire slave on Windows.
The performance of the Ableton Index process has been improved, especially on OS X.
The Ableton Index process would sometimes not scan all folders after adding them to the sidebar.
The Ableton Index process could block the GUI during saving and exporting of Live sets, presets or clips.
Scanning folders containing a huge amount of files could take longer than necessary.
The Browser would not update its content pane after a change in the file system if the selection was somewhere outside of the Browser.
Expanding the Audio Unit folder in the browser's "Plug-ins" label could be slow for users which have a lot of library content installed.
Live would not save a clip self-contained after dragging it to the Browser and confirming the name of the new clip by clicking anywhere outside of the Browser.
The Session Record button would not turn off if the recording was aborted, e.g. by stopping or deleting the currently recording clip, disarming a track, etc.
Under certain conditions, MIDI notes would not get recorded into a clip slot after deleting a previous clip.
Overdubbing into MIDI clips could unnecessarily bloat the undo history file.
Fixed a graphical glitch which could occur in the representation of the filter curve in EQ Eight's Frequency Display.
Several MIDI control surfaces would not correctly shut down after quitting Live, e.g. motorfaders on the Mackie Control would not return to zero, Axiom Pro devices would not exit Hypercontrol mode, etc.
The "Project Mix IO" control surface would not work.
The channel strip buttons on the Mackie Control XT would not work.
Fixed a bug where the key navigation in track headers would not work properly when certain control surfaces are selected.
When using control surface scripts, the blue hand would sometimes not map to any device, e.g. after creating a device and then deleting it by using undo.
Live could sometimes crash on quit in case a faulty MIDI remote script throws an exception in the Python console.
Fixed a crash which could occur in Live Intro when right-clicking on a drum rack chain.
Changes for Push:
Using the touch strip to change banks in drum racks now requires to pick up the current value, to avoid changing banks accidentally while playing.
Fixed incorrect intervals in the Locrian scale.
The velocity curve setting would reset to the default value when opening a new Live set.
Changing the pad sensitivity settings could be slow if a drum rack was in focus.
Updating the LCD display could be slow when switching between Drum and Note mode.
The Push LCD could remain blank and no mode would be selected after holding the 'Browse' mode button.
Fixed a bug where 'Browse' mode would be exited after swapping a Max for Live instrument.
Tracks created by dragging an instrument would sometimes not be automatically armed if Push is connected.
The "Arm Exclusive" preference would not be respected when Push was connected.
Fixed a bug where recording wouldn't work properly if the default clip launch mode was set to 'Toggle' mode.
Fixed a crash which could occur when using the 'Quantize' function.
Fixed a crash which could occur when using Push to delete a device whilst recording automation for this device with the mouse.
New video merely stating the obvious I guess 😀
Try Reason: http://www.propellerheads.se/tryreason
Reason is Propellerhead Software's flagship music production platform; a virtual studio rack full of synths, drum machines, samplers, and effects like reverb, delay, distortion, and much more. Add that all together with unlimited audio recording, legendary audio slicing/stretching, a professional mixer modelled after a big-studio classic… and you've got a powerhouse of a program with one central focus: making your music better than ever.
Whatever your music needs, Reason has a rack for that.
Music in this video: Syndrome by Mikkas: http://www.mikkasmusic.com/
Appearances by:
Jakwob – http://twitter.com/jakwob
Felix Cartal – http://www.felixcartal.com
Lucky Date – http://luckydateofficial.com
The big mixer in Reason is where your songs really find their full potential – sonically speaking. The powerful EQ, channel dynamics, bus channels, parallel channels, spectrum EQ, and oh-so-lovely Master Bus Compressor are all designed with one thing in mind: making you sound great!
In this walkthrough of the big mixer, we take a look at the major sections of the mixer and what they mean for your mix.
This video features "Outside In" by Atom, mixed by Gary Bromham inside Reason 7. The track is available for download as a Reason demo song here:
http://www.propellerheads.se/demo-songs/
Reason's virtual rack is the heart and soul of Reason. Synths, drum machines, samplers, effects, and little gadgets that tweak and freak one another are the building blocks of your music.
In this walk-through, we check out the Reason rack in more detail and get you up to speed on the powerful tools in your toolbox.
This video features "Syndrome" by Mikkas and "Bobo by Schpilka:
http://www.mikkasmusic.com
http://www.schpilkas.com
Inspiration can be a tricky thing. You either feel it or you don't. So much of music making is about either capturing inspiration when it happens or making it happen through new sounds, new techniques, or new ways of processing sound.
In this video, we take a look at all the ways that Reason can inspire your music.
This video features "Be Like You" by Olivia Broadfield and "English" by Ali Payami:
http://www.soundcloud.com/oliviabroad…
https://www.facebook.com/ali.payami.f…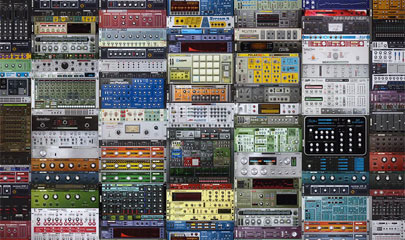 Today Propellerhead has released their latest incarnation of their popular DAW – Reason 7
Reason 7 brings tons of new improvements for the mixer, the rack and the sequencer. Integrate your instruments into Reason with MIDI out, audio slicing and audio quantize. Turn your recordings into REX loops. For mixing, we're introducing a spectrum analyzer with visual EQ, group and parallel channels and workflow improvements. To inspire, Reason 7 imports audio from your music library and web formats. The enhanced Factory Sound Bank comes fully loaded with tons of new loops and drum kits. The new Audiomatic Retro Transformer effect adds a futuristic-vintage sound to any tracks.
Reason Essentials 2 is a free upgrade for all owners of Reason Essentials, bringing audio slicing and quantizing to the sequencer. Create REX files from your recordings directly in Reason Essentials. Import audio files from your music library and the web with improved file format support. Workflow enhancements in the rack and sequencer make writing, producing and mixing music in Reason Essentials even faster, easier and more fun.
All details can be found here >>
Boomstar SEM Production Unit Demo.
Back to the raw power and purity of non-programmable discrete analog––where STUDIO ELECTRONICS started in 1985. The snap and punch of hardware envelopes drive the BOOMSTAR's brilliant voltage controlled circuits with unparalleled sonic integrity and versatility. BOOMSTAR is the ultimate desktop analog synthesizer for those who remember and desire still, the electronic Analog sound that changed the world and for seekers who have yet to discover that magic and delight… in their time.

Four Models/Filter types: 4075-classic Arp 2600, 5089-classic Moog 24db ladder, SEM-classic Oberheim 12db, 303-classic Roland TB.

This All-American-Made music machine's discrete voltage controlled analog oscillators, hand matched transistors in its filters and amplifiers and STUDIO ELECTRONICS' typically expressive hardware programming features, fully realizes its name, with its earthy, grounded subs to its deep field sonic shimmers: BOOMSTAR!
.wav file at Studio Electronics:
http://studioelectronics.com/assets/A…
Alt. multitrack performance at SoundCloud:
https://soundcloud.com/studio-electro…
Music and programming by Drew Neumann.
Additional intro and outro programming and sound design by Marc St. Regis.
Live tweaking by Drew Neumann and Marc St. Regis.
Produced by Marc St. Regis
—-No gain maximizing, no compression, no limiting, no EQ.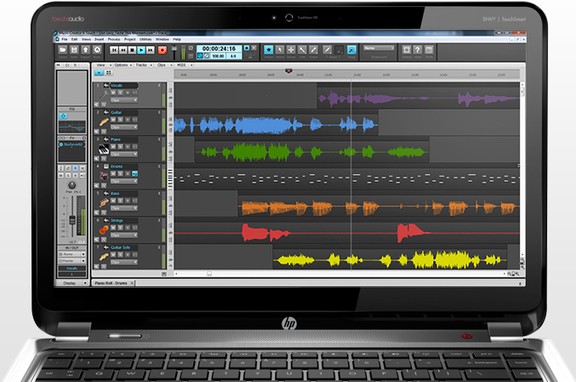 Cakewalk has announced the release of Music Creator 6 Touch, a personal music studio software for Windows.
Music Creator 6 Touch makes it fun and easy to create original music or remix your favorite songs – with no musical experience required. Transform any Windows 7 or 8 computer into your own personal music studio. Music Creator has all the tools, loops, instruments, and FX you need to create, edit, and mix great music. And when you're ready to share your music with the world, you can burn a CD or use SoundCloud to post your music on Facebook and Twitter.

Music Creator 6 Touch also adds touch support for Intel-inspired Ultrabooks and other Windows 8 touch enabled devices. Use the same multi-touch gestures you've grown accustomed to on your smartphone to interact with Music Creator 6 Touch.
Music Creator 6 Touch features
Seamlessly create, record, edit, and mix your music using the award-winning Skylight user interface.
Get creative with 32 audio tracks and 128 instrument tracks.
A complete backing band – includes 6 virtual instruments.
All the must-have FX including Reverb, EQ, more.
Plug-in your guitar and get incredible sounds using the Overloud TH2 Creator amp simulator.
Create beats and drum tracks with the integrated Step Sequencer.
Trigger audio and MIDI loops using the Matrix View for real-time performance and remixing.
Easily drag and drop loops, instruments, FX, and project templates from the built-in Browser.
Plus! Use any Windows 8 touch enabled device and interact directly with the software using your hands.
Music Creator 6 Touch for Windows is available to purchase for $49.99 USD. A bundle with all 19 Cakewalk Sound Center expansion packs *1,285 additional sounds, 3.6 GB) costs $149.99 USD.