So here are some quite unexpected news from Steinberg – Cubase goes mobile: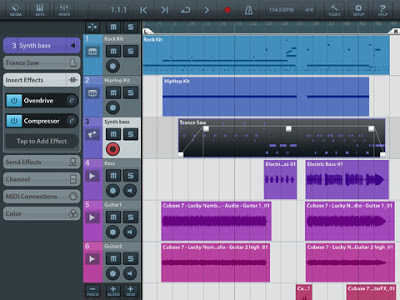 Portable Music Production System Cubasis is Steinberg's streamlined, multitouch sequencer for the iPad. Specially designed for quick and easy operation, Cubasis makes recording, editing and mixing a breeze. Record tracks in CD audio quality, and edit your music with the Key and Sample Editors, while the included mixer and audio effects polish your song to perfection. Cubasis comes loaded with dozens of virtual instrument sounds which can be played in real time using the virtual keyboard and drum pads. Cubasis' projects can be even opened in Cubase under Windows and OS X! Cubasis places touch-intuitive production tools in your hands, opening up a new world of possibilities for your creativity.
Key features
Unlimited audio and MIDI tracks (depends on the device used)
Over 70 virtual instrument sounds based on HALion Sonic
MixConsole with over 10 effect processors
Over 300 MIDI and audio loops
Virtual keyboard and virtual drum pads
Sample Editor and Key Editor
Export projects to Cubase, Dropbox, SoundCloud, AudioCopy and email
Core Audio and Core MIDI compatible hardware supported
Sequence other CoreMIDI apps (MIDI recording only) and run Cubasis simultaneously via background audio
Audio import from iTunes music library, AudioPaste, Wi-Fi server and iTunes file sharing
Audio mixdown and MIDI export
Polyphony:
48 voices: iPad 2, iPad mini
64 voices: iPad 3, iPad 4
Project export to Cubase requires Cubase 7/6.5, Cubase Artist 7/6.5, Cubase LE AI Elements 6 or higherCubasis project importer extension must be installed and is available at http://www.steinberg.net/cubasisimporter
Cubasis is priced at $49.99.
Jamal Hartwell gives you the grand tour of the features to be wowed in Neo Soul Keys Virtual Electric Piano by Steinberg. (Part 1 of 2)
Combining faithful recordings of vintage keys with state-of-the-art technology employed in Steinberg's engines and effects, Neo-Soul Keys proves to be the ultimate electric piano experience.
http://www.steinberg.net/en/products/vst/neo_soul_keys/start.html
Feature overview:
Faithful sampling of original Mark I suitcase piano
Elaborate interface for direct access and intuitive workflows
VST Amp simulation with 6 different classic amp types
Premium effect section: tube distortion, chorus, flanger & more
Vintage modeled vibrato with intensity and speed control
Realistic sounds & authentic bass, mid and treble boost
Adjustable velocity curves for individual playing behavior
Bark samples for classic grit sounds for authentic vintage sounds
Cubase was on show at the Music Production Show at London's Emirate Stadium this week.
"We grabbed product specialist Andy to show us more about the new Mixer Window"
The completely new MixConsole excels not only in terms of usability, look and feel, but also sounds better than anything before it! Featuring full-screen mode, total scalability and quick in-place access to the parameters most relevant to the task, MixConsole adjusts seamlessly to notebook screens and large-scale displays.
With its extremely flexible channel layout, 12 dB boost and dedicated processing power per channel, an exceptional feel to the controls and comprehensive online and offline automation tools, MixConsole provides uncompromising audio quality and routing flexibility from the outset, with plenty of pristine headroom and a fundamentally transparent sonic signature.
Cubase 7 brings extraordinary workflow improvements to the table, delivering a genuine benefit to professionals working regularly with the mixer. Highlights include A/B comparison and global bypass for all audio effects, a plug-in search function as well as drag-and-drop support throughout.
Plus, dynamic sends and inserts provide a streamlined overview, whereas the professional meter bridge lets you keep track of your signals. Aiming on providing barrier-free accessibility to the blind and visually impaired, MixConsole is compatible with screen reader software and can be operated using only the computer keyboard.
Based on Yamaha's innovative sonote technology, sonote beat re:edit lets you create remixes of your beats in next to no time. Extracting characteristic beat slices from an audio loop and swapping them with similar sounds from other audio files, sonote beat re:edit helps you to change the character of your grooves in the most creative and fun way.
More details
www.steinberg.net/sonote
Key features:
xchange the sounds of your beat with sounds of your own music.
Create your own sonote database out of your favorite drum sounds and tracks
Seamless import and export of audio material from and to Cubase
MIDI support to control nearly all parameters via external devices
Out-of-the-box factory library included
Available as download for Windows and Mac OS X Intel
The Nuage integrated audio production system offers top-class hardware and software working in perfect harmony, for unprecedented mixing, editing, or dialog replacement efficiency in audio post production applications. Yamaha control and interface hardware seamlessly integrates with Steinberg Nuendo DAW software in a purpose-built system that offers all-new productivity and flexibility as well as premium audio quality.
Release notes from Yamaha and Steinberg:
Yamaha and Steinberg have joined forces to create an advanced production system – NUAGE – that empowers professionals in the television, advertising, film, and media industries with unprecedented capabilities and efficiency. Yamaha hardware integrates seamlessly with Steinberg software in a cohesive platform that ushers in a new era of post-production productivity.
The numerous hardware and software components that make up a practical post-production system must function as a well-integrated whole in order to achieve professional workflow efficiency and output quality. The Nuage integrated audio production system offers top-class hardware and software working in perfect harmony, for unprecedented mixing, editing, or dialog replacement efficiency in audio post production applications. Yamaha control and interface hardware seamlessly integrates with Steinberg Nuendo DAW software in a purpose-built system that offers all-new productivity and flexibility as well as premium audio quality. For maximum system versatility the dedicated Yamaha control surface and audio interface hardware is modular, and all units communicate with each other and the central computer via a reliable Dante network, so it's easy to create custom configurations to match any application. Nuendo 6, the latest and most powerful iteration of Steinberg's acclaimed digital audio workstation software, is at the core of the system with unbeatable DAW features and performance.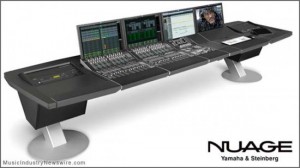 Hardware components available for Nuage systems include the Nuage Fader channel-strip control surface that works with standard LCD monitors to provide smooth visual continuity right into the Nuendo mixing window, the Nuage Master controller unit with everything needed for Nuendo editing in a remarkably efficient arrangement, Nuage Workspace units that aid in creating a unified system layout, three Nuage I/O units that deliver exceptional sonic quality in up to 128 simultaneous channels, and a Dante Accelerator card that gives the computer running the Nuendo DAW extra low latency multi-channel audio data transfer capability. The Nuendo 6 DAW software at the heart of the system is a milestone release that comes with an enviable selection of features not found in any other post-production software.
Kazunori Kobayashi, general manager of the Yamaha Corporation Pro Audio Division, comments: "Nuage is a professional production system that incorporates the most advanced technology and interface design know-how from Yamaha and Steinberg. Yamaha has been manufacturing digital mixers for 25 years, and it is 12 years since Steinberg introduced the first version of the Nuendo DAW. It is a great pleasure to be able to announce such a groundbreaking collaboration at this time, and we are confident that current Nuendo users as well as users who will experience a Nuendo based system for the first time will be more than satisfied with the extraordinary performance and efficiency that Nuage offers."
"Combining Yamaha's long-term experience in creating audio hardware with Steinberg's expertise in software development leads to a system that sets new milestones in terms of operational speed, integration, configurability and design. The Nuage system solution is the quintessence of merging dedicated post-production software and hardware seamlessly together to one complete studio environment. With the Nuage console and Nuendo 6 representing the most sophisticated platform for audio post-production available today, we are delighted to offer existing and new customers a unique approach to achieving higher levels of productivity and quality," comments Andreas Stelling, Steinberg's managing director.
NUAGE Products Page:http://www.yamahaproaudio.com/global/en/products/daw_systems/nuage
Steinberg has announced Cubase 7 and Cubase Artist 7.
Highlights of Cubase 7:
The all-new MixConsole stars with brilliant mixing capabilities that give you plenty of workflow improvements
Integrated channel strip modules for epic pro-console sound
New Chord Track with intelligent composing assistance
VariAudio 2.0 with harmonizer capabilities and multi-part editing
VST Connect SE for recording over the net
All this together with the full version of Voxengo's acclaimed CurveEQ, the brand-new Remote Control Editor, Hermode tuning, more instrument content and an array of real-world workflow enhancements make Cubase the producer's choice.
Cubase 7 and Cubase Artist 7 will be available starting December 5, 2012. See the Steinberg site for details.
Steinberg has announced Nuendo 6, the latest version of its audio post-production software.
Highlights of Nuendo 6:
New mixing console for enhanced operational speed, including a new channel strip with 'high-quality' effects
Nuendo 6 ADR Taker solution for voice recording and language dubbing
Fully integrated loudness measurement, featuring EBU-compliant metering plus a large choice of RMS metering scales and a dedicated loudness lane
Anymix Pro from IOSONO for state-of-the-art surround productions and Voxengo CurveEQ with sound-matching technology
More professional workflow, with new tools such as MemZap quick-jump tool, Remote Control Editor and Steinberg ASIO Guard with intelligent dropout-prevention techniques
Professional sound library by the specialists of Pro Sound Effects with more than 1.5 GB of dedicated post-production sounds
In addition, Nuendo 6 represents the core of the Nuage system solution, a top-end post-production platform introduced by Yamaha and Steinberg.
Background video description:
The Nuage integrated audio production system offers top-class hardware and software working in perfect harmony, for unprecedented mixing, editing, or dialog replacement efficiency in audio post production applications.
Yamaha control and interface hardware seamlessly integrates with Steinberg Nuendo DAW software in a purpose-built system that offers all-new productivity and flexibility as well as premium audio quality.
More information: http://www.yamahaproaudio.com
Consisting of HALion Sonic, Padshop Pro, Retrologue, Hypnotic Dance, Triebwerk and Dark Planet, the Absolute VST Instrument Collection offers thousands of sounds, advanced technology and state-of-the-art sound design for contemporary music production, composing and live performance. Absolute combines exceptional quality and premium value at a fantastic price.
Key features
• 6 high-quality VST instruments comprising thousands of presets
• HALion Sonic is Steinberg's premier VST workstation, featuring the latest sampling and synthesis technologies, a world-class library and an intelligent user interface that excels in the studio as well as on stage.
• Padshop Pro introduces a new way of granular sound design. Get yourself ready for out-of-this-world atmospheres and far-out effects.
• Zero Gravity is the exceptional expansion pack for Padshop Pro and comes with 250 new presets and a fully loaded new SoftGrain Wave ROM.
• Retrologue offers old-school analog synth sounds and biting sonic blocks and is ideal for creating fat and funky lead and bass sounds.
• Hypnotic Dance is a treasure trove for electronic music producers with solid bass lines, cutting leads and beautifully textured pads.
• Triebwerk is the go-to choice for club-worthy dance sounds including soaring synths, four-to-the-floor drum kits and queasy vocals.
• Dark Planet is best-suited for cinematic scores and musical excursions, comprising creepy sounds, shattering loops and eerie instruments.
• VST 3, VST 2 and AU host compatibility.
• Cross-platform 32/64-bit for Windows and Mac OS X Intel.
• Steinberg USB-eLicenser included.
More info
www.steinberg.net

Steinberg has announced the immediate availability of Nuendo Live, a new version of Nuendo, designed specifically for multitrack recording live performances.
Nuendo Live offers a single-window user interface, designed to let you focus on recording. Transport control, marker insertion and recording options can be accessed with just one click. And a convenient Record Panel gives you an instant overview of all relevant parameters. Other highlights include on-the-fly session setup, a 60-second pre-record buffer and auto-save functionality.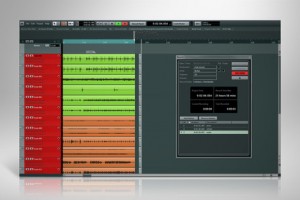 Features:
Advanced live recording system featuring a straightforward single-window operation, a record panel, a pre-record buffer and more
Seamless integration with Yamaha CL-series consoles for controlling essential Nuendo Live functions straight from the live console
State-of-the-art recording quality based on Steinberg's award-winning audio engine with up to 192 kHz lets your production stand apart from the competition
Nuendo Live Record Panel shows all essential session information at once — creating confidence in demanding live situations
Advanced Session Management with auto-naming of recorded files, multiple folder creation, easy-to-use marker track, auto-save and notepad
Zero setup time thanks to automatic track creation function that make Nuendo Live record-ready in less than a minute
24+ hours recording time thanks to EBU-compliant RIFF 64 broadcast wave format in standard recording mode
Virtual Sound Check allows for easy use of previous recordings for sound check, including marker recall and 1:1 output
Deliver with confidence due to standardized rendering formats and Nuendo
Editing on the road: Nuendo Live includes essential editing functions, making it possible to create a rough edit of the recordings right after the show
Nuendo Live is available now for US $329.