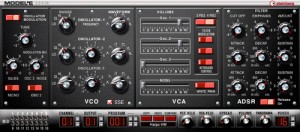 Throughout the long history of Steinberg, many products have come and gone, many have been superseded by new variants and others have been dropped completely. Once in a while, however, some of our developers like to dig up one of these long forgotten gems and polish it ready for current operating systems.
As these revived products remain discontinued, their updates are not officially supported. Updates for discontinued products are sporadic as these are voluntarily provided by our engineers in their free time.
Today, Steinberg would like to share with you the following:
Model E — classic analog synth with ultra-low CPU load
VB-1 — virtual bass emulation with selectable pick position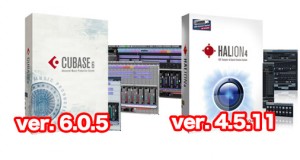 Steinberg has released the previously announced and officially supported 6.0.5 maintenance update for Cubase 6, Cubase Artist 6, Cubase Elements 6, Cubase AI 6 and Cubase LE 6. Including refined automation handles, full support for two WK-Audio remotes and improved decoding performance under Windows, the 6.0.5 update integrates several enhancements and fixes.
The 6.0.5 maintenance update introduces the following improvements:
Automation handle visibility: Automation handles are now displayed independently from any zoom level as soon as the mouse cursor is placed over an automation lane. If automation handles are selected, handles on all other automation lanes are displayed as well.
Support for WK-Audio ID-Console / ID-Mix-VU: Cubase 6 now fully supports the WK Audio ID-Console / ID-Mix-VU to ensure seamless integration.
Video engine optimizations: Under Windows OS, Cubase 6.0.5 features further improved decoding performance for Motion JPEG OpenDML video in AVI containers as well as Photo JPEG material.
The following issues that have been resolved in this version:
Project: "Delete time" command now works properly if signature track is enabled.
Record: Sample rates different than 44.1kHz no longer lead to multiplication of lanes due to wrong overlap resolution on project load.
Record: Recording MIDI in "merge" mode no longer creates additional MIDI parts instead of merging.
Comping: Copying comped audio events no longer leads to moving instead of copying the events.
MIDI: Reloading a previously saved project in Cubase Artist no longer disables the input transformer of MIDI Tracks.
MIDI: Dragging a part no longer leads to inaccessibility on newly created MIDI tracks.
VST Expression: When playing back in cycle mode all VST Expression commands are executed entirely.
MediaBay: Enabling the "Align beats to project" and "Wait for project play" options no longer leads to playback issues with loops in the MediaBay previewer.
MediaBay: Naming folders with dots no longer leads to cropped names in the result view.
MediaBay: Deleting multiple attributes for an item no longer affects other attributes than those selected.
MediaBay: When the preference "Scan unknown file types" is active, audio files without file extensions are now properly recognized when scanning.
VST Bridge: VST 2 32-bit plug-ins in Cubase in 64-bit mode under Mac OS X Lion are now displayed properly.
VST-Bridge: Under OS X certain plug-ins no longer show up as bridged even though they were updated to support 64 bit.
Plug-in: The range scale of the Micro Tuner MIDI plug-in now reflects +/-100 Cents accurately.
Plug-in: When using HALion Sonic SE in GM mode and exporting MIDI tracks, the resulting Standard MIDI files include all program changes.
Plug-in: Using REVerence as an offline process plug-in now works properly.
Steinberg has released the Yamaha Vintage Plug-in Collection. Announced at this year's Musikmesse in Frankfurt, Germany, the Yamaha Vintage Plug-in Collection comprises three groups of plug-ins: the Vintage Channel Strip, Vintage Open Deck and Vintage Stomp Pack. Based on Yamaha's Virtual Circuitry Modeling (VCM) technology, each plug-in can be used in multi-instances and is compatible with VST 3, VST 2.4 and AU plug-in formats.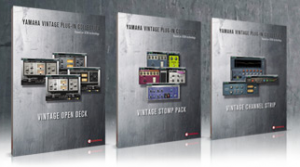 The Vintage Channel Strip consists of the EQ 601, Compressor 260 and Compressor 276, reproducing the sound characteristics of several classic Yamaha hardware equalizers and compressors from the 1970s.
The Vintage Open Deck recreates the analog circuitry and characteristics of four legendary tape recorders: Swiss '70, Swiss '78, Swiss '85 and American '70. For an even wider range of variation, the characteristics can be individually applied to the record and playback decks.
Vintage Stomp Pack features the Dual Phaser, Yamaha Phaser and Max 100 phaser plus one Yamaha flanger and one first-class wah-effect, providing effects processors for the typically 1980s' rock sound.
A 30-day evaluation copy of the Yamaha Vintage Plug-in Collection is available through the Steinberg website.
Vintage Channel Strip features at a glance
Yamaha EQ 601: six-band vintage EQ based on a legendary hardware model
Compressor 260: replicates the trademark sound of a sought-after 1970s' compressor
Compressor 276: delivers classic-style compression with analog punch and fatness
Brings the classic sound of top-end studio staples to your DAW
Based on the popular VCM add-on effects for Yamaha's digital mixing consoles
Vintage Open Deck features at a glance
Four different machine types: Swiss '70, Swiss '78, Swiss '85 and American '70
Various tweaking options: tape speed, tape type, bias, EQ settings, distortion and saturation characteristics
Different machine types and parameters can be individually applied to the record and playback deck
Faithfully replicates the unique sonic characteristics of legendary open reel tape recorders
Based on the popular VCM add-on effects for Yamaha's digital mixing consoles
Vintage Stomp Pack features at a glance
Phaser galore: Max 100, Vintage Phaser and Dual Phaser for beautifully evolving phaser sounds
Vintage Flanger provides authentic, '70s-drenched flanger tones for every taste
Vintage Wah brings back the distinct character of classic wah-wah stomp box effects
Faithfully replicates the trademark sound of classic analog stomp box effects
Based on the popular VCM add-on effects for Yamaha's digital mixing consoles
Pricing and Availability:
The bundled versions of Yamaha Vintage Plug-in Collection are available through the Steinberg Online Shop and at certified Steinberg dealers. The exact time of availability is subject to regional variations. The plug-ins of the Vintage Channel Strip can be purchased individually and are exclusively available through the Steinberg Online Shop.
The suggested retail price for the Vintage Channel Strip bundle is EUR 379, including German VAT, and GBP £320, including British VAT. The suggested retail price for the Vintage Open Deck and Vintage Stomp Pack bundles are EUR 199 each, including German VAT, and GBP £168, including British VAT.
The suggested retail price for the Yamaha EQ 601, Yamaha Compressor 260 and Yamaha Compressor 276 plug-ins, also available as bundle in the Vintage Channel Strip, are EUR 149 each, including German VAT, and GBP £126, including British VAT.
More information:
The CMC series is the world's first modular controller system for Cubase. Consisting of six unique USB controllers, CMC gives you all the control options you're looking for — along with utmost flexibility and great ease of use.
From yesterday's announcement:
Steinberg Media Technologies GmbH today released its new CMC controllers. Dedicated to Steinberg's Cubase advanced music production system, the six USB-powered CMC units offer an integrated control solution that provides a desirable degree of flexibility and configurability.
The CMC controllers are equipped with a combination of control elements that provide tactile control over certain Cubase functions. Each unit can be used separately or hooked up together with the included joint plate, resulting in a control desk that leaves no wishes unfulfilled.
"The CMC controllers are ultra-portable and the design's perfect, but more importantly, the units offer a mind-blowing array of control options. Without a doubt, the CMCs are the perfect complement to Cubase, and Nuendo too," commented Stefan Schreiber, Steinberg's product marketing manager for hardware.
The CMC-CH channel controller houses 16 illuminated rubber push-buttons, one rotary encoder and a touch fader. The multi-colored buttons provide access to VST instrument settings, solo and mute tracks, bypass EQs, sends and inserts and channel freeze. Eight of the 16 buttons can also be assigned to a second function. The Channel Select button browses through the entire Cubase mixer, while the rotary encoder is used for panning. The LED-based touch fader controls the volume level while displaying the fader position.
The CMC-FD fader controller features four high-precision touch faders with LED-based metering and solo/mute function. The touch faders offer simultaneous control over four channels in Cubase. With the Channel Select and Bank Select buttons, users can jump to individual channels or select entire channel groups in the Cubase mixer. Up to four FD units can be combined together for 16-channel control.
The CMC-QC quick controller boasts 13 illuminated buttons and eight rotary encoders in three different modes: EQ, Quick Control and MIDI. In EQ mode, the rotary encoders reflect the channel EQ controls in Cubase, while the QC mode maps Quick Control capability onto the encoders for controlling effects and other parameters. The MIDI mode turns the unit into a freely configurable MIDI controller. Eight of the 13 push-buttons can be assigned to random Cubase functions. The included CMC-QC editor allows users to adjust MIDI control change parameters through the computer.
The CMC-PD pad controller features 16 highly responsive backlit pads and one rotary encoder. The pads change their background color according to the pressure exerted. Depressing the pads triggers MIDI notes or selects volume response curves. In 4Velocity mode, the pads are used for easy step recording. The rotary encoder browses sounds and presets in Cubase. The included PD editor software is used to assign MIDI notes to each pad.
The CMC-TP transport controller houses 17 buttons and a touch slider. The slider allows users to jog or shuttle through the project, tap in the tempo, scroll, zoom and browse. All major transport functions, including play, stop, record, cycle, fast forward and rewind, are controlled via the CMC-TP. Other buttons are used, for example, to insert markers, set the locator range or insert new tracks. The top four buttons can each be assigned to a second function, for even more control in Cubase.
The CMC-AI controller highlights Steinberg's universal AI Knob, together with its ten function buttons. The AI Knob allows users to control any control element in Cubase by simply moving the mouse cursor over it. In Volume mode, the AI Knob turns into a high-precision master volume control whereas in Jog mode, the AI Knob is used to jog through the project. The AI Knob also doubles as a browse button to search and select presets. The four function buttons can be assigned to further control parameters.
CMC accessories comprise the CMC Studio Frame 4 and the CMC CC121 Extension Frame. The CMC Studio Frame 4 is a durable construction for housing up to four CMC units. The CMC CC121 Extension Frame can hold up to two CMC units and one CC121 controller.
Availability:
The CMC controllers and accessories are available through the Steinberg Online Shop in October. Shipping of the CMC controllers and accessories to dealers in Europe begins in October; however, the exact time of availability at certified Steinberg dealers is subject to regional variations.
The Spectralis 2 hybrid synth, fueled by the latest DSP- and true analog technology, delivers maximum tonal capabilities and leads you into a radical new world of sounds full of life and animation. The Spectralis 2' oscillator section takes sound design to new extremes. The 4 oscillators offer continuously variable waveshapes plus time linearity modulation, FM, PM, oscillator synchronisation, bit reduction and independent pitch and volume envelopes. The self resonating filters, a 4 pole lowpass and a 2 pole multimode filter with LP, HP, BP and notch outputs, use two highly improved true analog circuit designs to overcome the restrictions of modelling based synths. The way players can interact with the destinc-tive user interface makes the Spectralis 2 hybrid synthesizer a killer live instrument with unbeatable richness and stunning flexibility. The synthesis engine takes advantage of a sophisticated step sequencing system – 32 independent parameter control lines with up to 192 steps let you explore an universe of previously unheard rhythmic effects and atmospheric textures. Punchy high resolution envelopes, are the cutting edge of todays synthesizer technology. They are the perfect weapon for the creation of floor pounding kicks, state of the art sequencer staccatos and numerous percussion effects.
In this video:
This was a test-run for midi-clock syncing, done with a Spectralis 2, Cubase 4, a Midex Steinberg and an old Apple G5, my main problem with the new compstuff is that it forgets that a lot of musicians like to work with midi and external gear, not only with plug-syns….my one cent
HALion 4 is the latest and most powerful incarnation of the industry-acclaimed VST instrument. With a cornucopia of innovations and improvements, including a state-of-the-art sample engine, a comprehensive synth section and inspiring new tools and effects, HALion 4 is a truly universal sampler and sound creation system for the most exacting demands.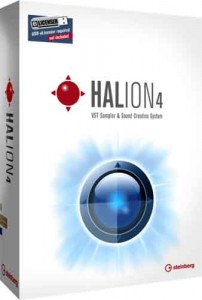 Steinberg has unveiled HALion 4, the latest and most powerful incarnation of their VST sampler. Here's what they have to say about it..
With a cornucopia of innovations and improvements, including a state-of-the-art sample engine, a complete synth section and inspiring tools and effects, HALion 4 is set to be the new global standard for professional sound design.
The core of HALion 4 is driven by a future-proof sample engine with 32 stereo outputs, 6-channel surround support and an unlimited number of audio buses with flexible routing options. A collection of 44 studio-grade effect processors, comprising everything from jaw-dropping modulation to high-end reverberation, is provided to fuel the internal mixing desk.
Among the highlights of HALion 4 is the ultra-flexible user interface, featuring scalable and moveable windows, function tabs and saveable window layouts — a time-saving approach when it comes to dealing with large-scale projects. The efficient Quick Controls, an undo history and on-the-fly mapping functions further streamline your workflow.
For those seeking for more creative headroom, HALion 4 holds a complete virtual-analog synth section. Plus, advanced sound creation tools, such as MegaTrig and FlexPhraser, enable you to create authentic instrument articulations and sophisticated playing styles, while a top-notch sound library with more than 1,600 presets complements the sound designer's toolbox. On top of this, HALion 4 features the most comprehensive VST 3.5 integration available today, making this new tool a truly universal sound creation system for the most exacting demands.
Pricing and Availability:
HALion 4 will start shipping in June 2011
More information: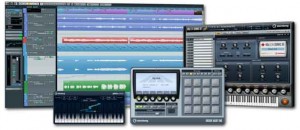 Steinberg has announcedCubase Elements 6. Here's what they have to say about it…
The latest addition to the Cubase product range offers the core technologies of the world's most popular music production software at a very competitive price.
Based on the award-winning audio engine of Steinberg's flagship workstation Cubase 6, the streamlined Elements edition offers easy-to-use tools for creating and recording music along with a range of professional instruments and effects. Highlights include the HALion Sonic SE workstation, the Groove Agent ONE drum machine, and the PitchCorrect vocal correction tool. Cubase Elements 6 comes with 64 MIDI tracks and 48 audio tracks in 24-bit/96kHz quality as well as a total of 33 high-quality audio effects for brilliant mixes and experimental sonic landscapes.
By offering a brand-new Cubase version, Steinberg is meeting the demand of many hobby musicians and songwriters for an affordable and intuitive entry-level recording solution. With the release of Cubase Elements 6, the Cubase Essential range is discontinued.
Features
Based on proven Cubase technology used by professionals around the world
Award-winning 32-bit floating-point Steinberg audio engine with flexible routing and fully automatic delay compensation
Supports up to 64 MIDI and 48 audio tracks simultaneously in DVD quality (24-bit/96 kHz)
Includes outstanding virtual instruments: HALion Sonic SE workstation, MPC-style Groove Agent ONE drum machine, Prologue synthesizer
Comes ready with 33 audio effect processors, including PitchCorrect for vocal intonation correction and the great-sounding AmpSimulator
Cross-platform 32-/64-bit for Windows and Mac OS X Intel
Pricing and Availability:
Cubase Elements 6 will be shipping end of May, 2011, and will be available as a boxed version as well as a download version from the Steinberg Online Shop.
More information: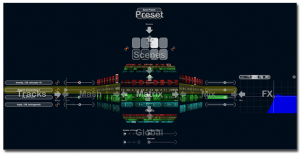 Steinberg today releases LoopMash, a mind-blowing music app for creatively mixing and rearranging beats, tunes and effects. Now available for your iPhone and iPod touch, this inspiring mobile instrument lets you choose from over 40 presets and 250 addictive loops ranging all the way from ethno to disco.
With its innovative approach to mixing music, LoopMash simultaneously merges up to four two-bar loops by matching and replacing comparable elements. By using the included studio-grade effects, you can easily spice up your performance and make your music sound even gnarlier.
Quality content, intuitive control and 3-D navigation for effortless page browsing make this app a must-have for party-goers, music aficionados and pretty much everyone in between.
Key Features
More than 250 addictive audio loops included
Over 40 presets to get you started right away
Intuitive 3-D swipe-page navigation
Load and play with up to 4 loops per scene
8 scenes available per preset
4 studio-grade effects for more sound control
Loopmash at the iTunes App Store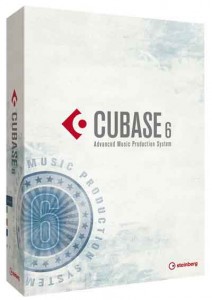 Cubase 6 and Cubase Artist 6 offer enhanced workflow features within the Project window. The newly introduced Track Edit Groups option** refines the work with multitrack recordings, allowing related events on multiple tracks to be grouped and edited simultaneously, while the new Lane Track offers convenient multitake comping for selecting and consolidating audio parts to form the perfect take. The redesigned transient and automatic tempo detection, phase-accurate audio quantization and drum replacement functions incorporated in Cubase 6 help to smooth out any glitches in live-recorded drum tracks.
The Key Editor has further been enhanced with an Inspector panel and the groundbreaking Note Expression feature for creating and editing multiple controller values on a single-note level. Also included is the new Dynamics Lane, which allows real-time listening of dynamic changes while automatically in sync with dynamic notations from the Score Editor
Brief tutorial from Steinberg on track arrangements
Let's say you have prepared a number of audio files that form the base of a typical pop song, with introduction, verse, chorus and bridge. Now you want to arrange these files. The first step is to create an Arranger track. On the Arranger track, you define specific sections of the project by creating arranger events.