VST Expression allows seamless, transparent and most importantly integrated editing of articulations, with full control over multiple articulations in the Key and Score Editors. Articulations noted in the Score Editor can be played back immediately by sample-based orchestra libraries — in real time.
SonicProjects OP-X PRO-II software VSTi synth – the new flagship. Introduction trailer.
The soundtrack of the video trailer has been exclusively done with OP-X PRO-II and Steinberg Groove Agent for drums. No external effects or treatment (except for drums) have been used, mixing just included levels and pan. All involved sounds are factory presets of OP-X PRO-II.
According to SonicProjects, the Virtual Oberheim OB-X XPander is "the perfect dream synth":
OP-X PRO-II is the new top flagship of the OP series and is the continuation of the development of OP-X PRO, based on many collected wishes of customers and too own new ideas, in order to make it the perfect dream synth. S

Some of the obvious new features include doubled polyphony, an included patch browser, an effects unit, midi learn and a completely new arpeggiator.

But there are also a lot a lot of hidden new features that can be accessed by active GUI zones or multiple button states. This keeps the GUI clean and familiar. Once you've got to know these features you'll see that despite this density the general operation is extremely intuitive and streamlined. A bunch of new one-click quick button calibration features saves a lot of work to handle voice-based settings like tuning trimpots or pans.

All of this is based on countless hours of real working experience, to give as streamlined and intuitive handling as possible.
Here's the entire list of the used presets and settings, in chronological order:
High Sweeps:
MATRIX BANK 9 SyncNotch Sweep FXPM
Deep Strings:
DEFAULT BANK 1 Matrix Softstrings II
LFO Pad:
MATRIX BANK 6 BP Stereomod Pad
Filter Effect:
EFFECTS BANK 15 Filtereffect Water Down
Deep Timpani Doublehit:
MATRIX BANK 88 Matrix Fmod Bumbs NS
BASS BANK 12 Signs Of Life Bass
Filter Selfreso Sweep:
EFFECTS BANK 14 Filtereffect Blobs (Envelope edited)
Warm Mono Sweeps:
SYNTHEX BANK 5 Synthex MM Sweep
Porta Squeak:
DEFAULT BANK 125 Sawsolo Ultra Wide Bend (Portamento set a bit slower)
Bass:
BASS BANK 1 Fretless Bass
Chord Strings:
DEFAULT BANK 1 Matrix Softstrings II
PADS BANK 2 Supersoft Slowmod Pad
Arpeggio:
ARPEGGIOS BANK 21 Jupiter Techno ARP
Porta Solo:
DEFAULT BANK 125 Sawsolo Ultra Wide Bend (Portamento set a bit slower)
Brass Stab:
BRASS BANK 13 Prophet Brass Stab
Prophet Sync Sweep:
DEFAULT BANK 60 Prophet Unisync II (Pitch Osc2 set higher)
Percussive Solo:
PROPHET BANK 76 Prophet Perc Solo
Portamento Chord:
OBERHEIM BANK 3 Poly Portamento (Portamento set a bit faster)
Sample Hold Pad:
SAMPLEHOLD BANK 3 Moving SH Arpeggio
Distorted Guitar Tone:
DEFAULT BANK 13 OB Rock Unison
Sync Solo:
DEFAULR BANK 15 OB Syncsolo Damped (Filter Sustain set higher)
Highpitch Downsweep:
DEFAULT BANK 125 Sawsolo Ultra Wide Bend
Slow Portamento Solo:
PROPHET BANK 33 Prophet Ultrawide Bend (Portamento set slower)
Drums:
Steinberg Groove Agent:
Hip-Hop Kick (eq boost: 100hz 14.4 dB low-shelf)
Hip-Hop Snare (pitch set deeper, a bit Reverb A)
Electro Hihat (a bit Cubase Double Delay 1/16 sync)
Tempo: 120bpm
Steinberg is proud to announce the release of WaveLab's latest incarnation, WaveLab 7. Adding new facilities to its previous versions for Windows, the seventh version now also sets a benchmark for audio editing and mastering under Mac OS X.
Its feature list includes the revamped graphical user interface which provides eminently convenient handling of audio material across multiple windows, montages and podcasts with an intelligent docking and scaling system. Brand-new VST3 plug-ins and restoration tools, the new, future-proof burning engine and its flexible multiprocessing capabilities are further highlights. WaveLab 7 is available as boxed version in the Steinberg Online Shop and from authorized Steinberg resellers for EUR 599*/GBP 497*. The stripped-down version, WaveLab Elements 7, is available as boxed and download version for EUR 99*/GBP 82*.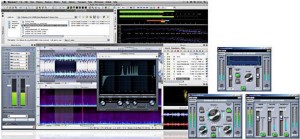 "By releasing WaveLab 7, Steinberg's range of products now encompasses an A-to-Z solution on PC and Mac computers that offers industry-standard tools all the way from music creation, production and mixing right straight down to the final master," comments Timo Wildenhain, Steinberg's product marketing manager for WaveLab. "This milestone release reflects Steinberg's commitment to cross-platform support, closing the circle to offer its current product range to both the Windows and Mac OS X platforms," Wildenhain continues.
Reengineered from top to bottom, WaveLab 7 introduces several novelties to its user interface which makes working with audio much more intuitive as well as expediting workflows in audio editing and mastering with a convenient, completely customizable window and toolbar management system. WaveLab 7 also includes a restoration tool package encompassing specialized DeNoiser, DeBuzzer and DeClicker plug-ins by leading plug-in manufacturer Sonnox plus 30 new VST3 plug-ins for further processing, expanding the depth of WaveLab's vast range of functionality. DDP support and the entirely new CD and DVD-A burning engine are features that round out the functional additions to WaveLab 7.
WaveLab 7 is the comprehensive audio editing and mastering software application which may be used to record, edit, restore and publish audio by hobbyists and professional mastering engineers alike.