The latest version of Steinberg's HALion VST sampler adds new features that extend the boundaries of virtual sampling and sound design software. New instruments and sound sources, new effects, and much more combine to form a powerfully inspirational instrument that forms the heart of modern sound creation or production environments.
For more information please visit www.steinberg.net/halion
HALion Sonic 2 is a unique software workstation that breaks new ground in terms of instrument quality, versatility and ease of use. Comprising 2,500 first-class instruments in almost every conceivable style, this multi-faceted instrument has the power to captivate and inspire you, and become the heart of your creative process.
ニンテンドー3DSダウンロード専用ソフトKORG M01D配信日決定(2013/7/10)記念
ヨナオケイシ氏がKORG M01Dのために新たに書き下ろしたデモ曲「DEST」公開。
Googlish: Nintendo 3DS download-only software KORG M01D delivery date decision (2013/7/10) Memorial
Demo songs Yonaokeishi Mr. newly written a new for KORG M01D "DEST" public.
http://www.detune.co.jp/korgm01d.html
http://www.detune.co.jp/korgm01d_jp.html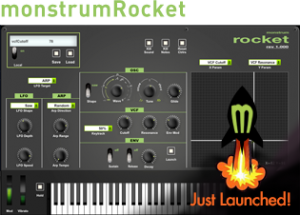 Monstrum Media has released MonstrumRocket – a software editor that gives you access to every controllable parameter on the Waldor Rocket synthesizer.
In addition to all the parameters you have access to on the actual Rocket, this editor also gives you a hold button, Vibrato Modulator, Local on/off, reset all, all notes off, MIDI panic as well as an x/y surface to modulate two parameters at once.
An added feature to this editor gives you the ability to store and load programs to and from your computer's hard drive.
Note: Waldorf omitted any ability to control the "filter type" or "Boost" mode through MIDI. Waldorf's very own ipad application for the rocket also has no way of controlling these two parameters simply because as it is now with the rocket's OS there is no CC or SysEx assigned to those parameters.
MonstrumRocket is available now for US $9.99.
Download Octatrack OS 1.25 it for free from http://www.elektron.se
More info about the Octatrack: http://www.elektron.se/products/octat…
In OS 1.25, three brand new effects have been implemented. A stereo image shaping Spatializer, a gritty and twangy Spring Reverb and a lush, smooth and wide Dark Reverb.
The extremely popular OP-1 gets a well deserved OS update, details below:
(Introductory NOTE: This is a longer original introduction to the new OS that I put together. It has outdated graphics that have since been polished. This is one example of what takes place during beta testing. All sound features are unchanged. There is a much more in depth level of explanation of operation of the new OS here and it would be a shame to have this sit on a shelf… so here you go.)
This video is an introduction and demo of the May 2013 OS update to the amazing Teenage Engineering OP-1 synthesizer music machine. In this update two astounding new features are added in the form of the "DNA" synthesizer engine and the "CWO" Frequency Shifting Delay. The DNA engine is a noise engine capable of complete aggression and fax machine battle while at the same time possessing the ability for harmonic tonal leads and chords. The CWO FX is a Frequency Shifter with a wide range that make it possible to do phasing, flanging, chorus, tremelo, ring mod and comb filter types of sounds. You have to hear it to believe it. CWO also represents the first partnership by Teenage Engineering with an outside developer to co-op code to add to the OP-1′s already heavy arsenal of sound capability. This developer is the one and only sonic master mind Magnus Lidström of Sonic Charge. I hope you enjoy the video and the demo. Most of your questions will be answered in the video and I try to do my best balancing act between info and sound. Soon you will be able to upload this OS yourself and I look forward to hearing (and seeing) what you can create with this as well as part of the OP community.
Note: This is a pre-release build and final features may vary slightly from those shown in these clips. All music is original and no creative rights have been infringed upon in the making of this video
Sonivox has announced that their Vocalizer Pro, a Vocoder musical instrument:
Vocalizer Pro allows the creation of simple or intricate vocal harmonies that can extend far beyond the natural limitations of the voice. One preset has the ability of producing thousands of different results—depending on the audio source. The original Vocalizer is known for its ability to process any type of vocal, percussive or melodic audio track;  Vocalizer Pro expands on these capabilities. Using SONiVOX?s Polaris spectral synthesis engine, Vocalizer Pro can transform any audio input "into a synthesizer," for "deep and complex" musical results.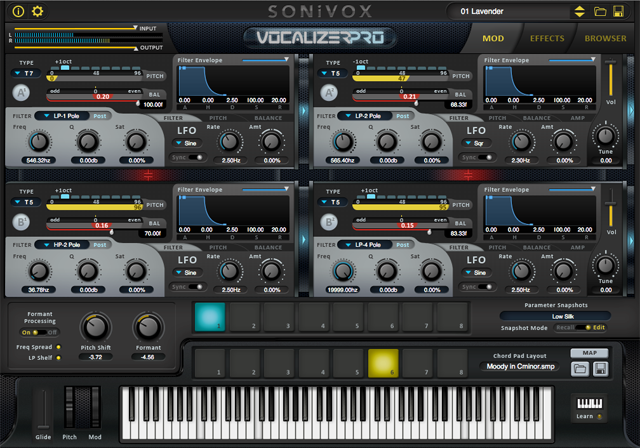 "We created Vocalizer Pro to provide a truly unique experience. These snapshot pads give you endless ways to be expressive and creative," says Jason Jordan, Head of Soundware at SONiVOX. "For each pad, every automatable parameter can be set to a different setting. It's almost as if every pad is a completely different patch, allowing the performer to instantly switch between parameter settings. People are really going to have a lot fun with Vocalizer Pro."
Sonivox Vocalizer Pro supports AU, VST, or RTAS formats, and is compatible with 32- or 64-bit Mac or Windows systems. The MSRP is $199.99 (USD).
http://www.sonivoxmi.com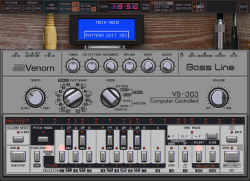 Venom VB-303 is a free software synth that simulates the iconic sound of the Roland TB-303 bass synthesizer.
It's Windows only – so sorry all you Mac users out there (including myself)
It's available for download here.
Here's a user video demo:
Go get it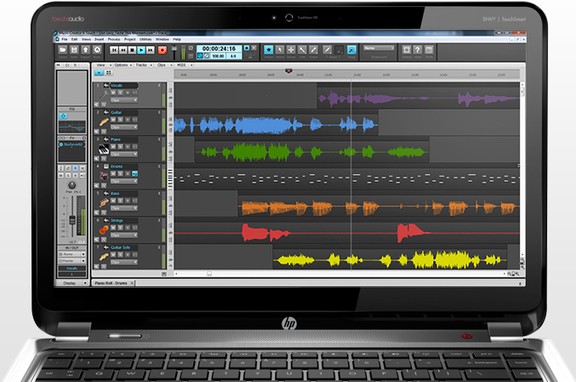 Cakewalk has announced the release of Music Creator 6 Touch, a personal music studio software for Windows.
Music Creator 6 Touch makes it fun and easy to create original music or remix your favorite songs – with no musical experience required. Transform any Windows 7 or 8 computer into your own personal music studio. Music Creator has all the tools, loops, instruments, and FX you need to create, edit, and mix great music. And when you're ready to share your music with the world, you can burn a CD or use SoundCloud to post your music on Facebook and Twitter.

Music Creator 6 Touch also adds touch support for Intel-inspired Ultrabooks and other Windows 8 touch enabled devices. Use the same multi-touch gestures you've grown accustomed to on your smartphone to interact with Music Creator 6 Touch.
Music Creator 6 Touch features
Seamlessly create, record, edit, and mix your music using the award-winning Skylight user interface.
Get creative with 32 audio tracks and 128 instrument tracks.
A complete backing band – includes 6 virtual instruments.
All the must-have FX including Reverb, EQ, more.
Plug-in your guitar and get incredible sounds using the Overloud TH2 Creator amp simulator.
Create beats and drum tracks with the integrated Step Sequencer.
Trigger audio and MIDI loops using the Matrix View for real-time performance and remixing.
Easily drag and drop loops, instruments, FX, and project templates from the built-in Browser.
Plus! Use any Windows 8 touch enabled device and interact directly with the software using your hands.
Music Creator 6 Touch for Windows is available to purchase for $49.99 USD. A bundle with all 19 Cakewalk Sound Center expansion packs *1,285 additional sounds, 3.6 GB) costs $149.99 USD.
The Fruity Loops has been busy lately…
Version 2 of the DJ mixing application works either as a standalone program or as a VSTi inside your favourite host. Deckadance can also host any VST compliant softsynth or effect.
Control Deckadance using MIDI controllers, timecoded vinyl and CD systems..
Choose 2 OR 4 decks. Smart knobs link many interface targets to one knob. GrossBeat automated glitch, stutter & scratch functions. Isolator FX chain up to three FX per deck and apply to Low/Mid/High or all bands. Customizable interface and Smart panels select Cue, Grid, DVS, Key, Smart Knob and Tempo controls.
The mighty Raven MTX at Frankfurt Musikmesse.
The RAVEN MTX is: – A state of the art touch screen display featuring the RAVEN MIXER – A powerful multitouch mixer that can control all major DAW's – And a flexible and user-customizable, multifunction TOOLBAR. The RAVEN also incorporates a full-featured analog monitoring section designed for today's audio engineer, with multiple speaker outs and input sources, smart phone connectivity, USB, multiple headphone send and cue options, and much more. But at the heart of the RAVEN MTX is the most important thing of all… Your DAW, right at your fingertips.
The Multi Touch Display
When we began to develop the Raven concept, we studied the touch screen industry for months and became experts in the various technologies. We realized something very quickly: to make a multi touch monitor suited for the pro audio industry, no "off-the-shelf" product would work; they were too slow, with thick, untreated glass and unusable parallax between your finger and the image. The screens themselves wouldn't look correct at the angle that we needed, the glass had a horrible friction to it, and there were no proper drivers to do real Mac and PC integration with professional DAWs. So we started from the beginning, and built the RAVEN touch display from the ground up, using brand new touchscreen technologies that were literally being introduced to the market as we were working. We build our own displays using commercial grade LED backlit screens and components from industry-standard display manufacturers. It's sharp, bright, and looks great at any angle. But one of the greatest achievements we made is in our custom made NANO GLIDE surface. This ultra thin 2mm glass is coated with a proprietary nano technology that makes the surface slick and smooth, even smoother than the famous touch tablet… and it allows you to work effortlessly. This is the Rolls Royce of touch screens… nothing on the market comes close in terms of performance, feel, and build quality.
The Raven Mixer
The Raven Multi Touch DAW control software puts your DAW right at your fingertips. A large-format multitouch mixer gives you complete access to faders, pans, mutes, solos, sends, automation, and even plugin inserts. Of course on a 46" screen, plugins become the size of 19" outboard gear – you can easily tweak the controls with your fingers. This is a world-first in DAW control. Having the DAW at your fingertips makes it easy to directly interact with the music.