Apollo MIDI over Bluetooth provides MIDI connections for controllers, synthesizers, and sequencers, connecting a pair of iOS devices, or an iOS device and a Mac.
https://itunes.apple.com/us/app/apoll…
http://www.secretbasedesign.com/apps/…
The Mac version of Apollo should be available shortly.
We are waiting for approval from Apple for the OSX version (which will be free). In the mean time, you can download this version. Once the OSX version is released, we would encourage you to download the one from the Mac app store (this will make updating the app much easier).

Connecting synthesizers and sequencers across multiple iOS devices has been challenging, and there have been few options. For wired connections, you need multiple MIDI adapters (either dedicated iOS devices, or a Camera Connection Kit and generic USB MIDI). WiFi MIDI can have too much latency and jitter, making it unusable for music applications.

With Apollo MIDI over Bluetooth, you can easily connect a pair of iOS devices, or an iOS device and a Mac, using Bluetooth LE. Bluetooth LE is designed for low latency — ideal for music applications.

Simply start the app on each device, select an "A" endpoint for one, and a "B" endpoint for the other, and then press search on both devices. They should detect each other, and connect quickly. Once they are connected, MIDI from one device will be sent to the other — the connection is bi-directional. On each device, you can select the MIDI destinations that you wish to forward messages to.

When connecting to a Mac, select the "A" endpoint for the iOS device; the Mac will be a "B" endpoint. Just as with the iOS set-up, press search on both devices, and they should connect quickly. With MIDI routing on a Mac, there is a danger of creating a loop in the routing (where MIDI messages get sent and relayed repeatedly). To avoid this problem, Apollo on the Mac either sends MIDI from iOS to the Mac, or vice versa — make sure that you toggle on the direction you need.

The apps require Bluetooth LE — this is available on the iPad3, iPad4, iPad Air, and iPad Mini. iPhones starting with the iPhone4S support Bluetooth LE. Newer Macs also support Bluetooth LE; older Macs may require a USB Bluetooth LE adapter (we have had good luck with the adapters from IO Gear and Ciraco).

Apollo has been designed to be simple to install and configure, and it should expand your MIDI capabilities easily.
BFD3 is the third generation of FXpansion's flagship software acoustic drum studio: new levels of realism and ground-breaking features in an intuitive redesigned engine, here's what they have to say about it:
With stunning new kits with mix-ready presets and modelling technology for tom resonance and cymbal swells, BFD3's audio engine delivers uncompromising detail while using lossless compression for efficiency. The revamped interface has a new mixer and sound browser for the easiest BFD experience yet.
BFD3's kits were recorded at two world-class studios with varied recording chains and room ambience making a huge amount of sounds possible. The library includes expressive articulations, a brushed kit and processed drum presets for fast custom kit-building. BFD3 also contains a powerful built-in environment for pattern creation and editing, complete with a range of performances by legendary drummers for effortless production of drum tracks indistinguishable from the real thing.
Availability & Pricing
BFD3 is available on a USB 2.0 flash drive or as a download product from the FXpansion web shop as well as through our international dealer partners.
Pricing is USD $349.00, EUR €269.00, GBP £229.00.
BFD3 Upgrade is available for all registered BFD2 owners for USD $199.00, EUR €155.00, GBP £129.00 for the USB flash drive version and USD $149, EUR €115, GBP £99 for the download version.
All prices are inclusive of VAT where applicable.
French audio developers UVI have announced the immediate availability of Mello, a free software recreation of the iconic tape-based Mellotron.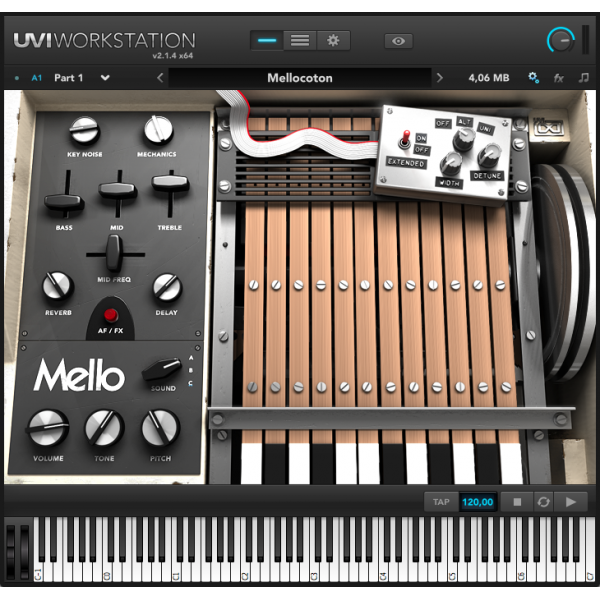 The Mellotron was made famous by John Lennon, and in the spirit of the Lennons' ongoing humanitarian effort, UVI are pledging to match donations made by its customers to the Japanese Red Cross to help survivors of the Fukushima earthquake over the next three months, during which time Mello (normally $99) will be available for free.
For those unfamiliar with the Mellotron, it was one of the earliest samplers and used tape to capture the desired sounds. When a key was pressed, the Mellotron would pull a section of tape through a magnetic play head to produce a sound. Originally built in 1963, the Mellotron became popular throughout the '60s and 70s with bands and artists such as The Beatles, Pink Floyd and David Bowie, and although they fell out of fashion for a time, they have been used more recently in big tracks from Radiohead and Vampire Weekend.
UVI have multisampled dozens of original tapes to create the most faithful recreation of the original intstrument. Being a sampler, the Mellotron had a whole range of available sounds and Mello provides 28. These are: Brass, CelestaAndVoice, Cello1, Cello2, ChoirFemale, ChoirMale, ChoirTron, ChurchOrgan1, ChurchOrgan2, ChurchOrgan3, Clarinet, Flute1, Flute2, Guit12Str, GuitElectricA, GuitElectricB, GuitSpanish, Harp, Oboe, Piano, Sax, Strings1, Strings2, Strings3, Strings4, Vibraphone1, Vibraphone2, and Viola.
Free iLok from UVIUVI's Mello requires an iLok, which UVI are also doing a great deal on. If you buy an iLok from their web site you'll receive a coupon for the value of the iLok plus shipping ($78), which can then be redeemed against any future purchase from the UVI store.
For more information on the iLok deal, go here: http://www.uvi.net/en/store/ilok-smart-key.html
For more about Mello, go here: http://www.uvi.net/en/vintage-corner/mello.html
Background video description:
ボーカロイドにピンクフロイド「虚空のスキャット」を歌わせてみた。
made Vocaloid sing "The Great Gig in the Sky "
http://info.shimamura.co.jp/digital/r…
Digiland(デジランド)
島村楽器株式会社のデジタルガジェット情報配信サイト
http://info.shimamura.co.jp/digital/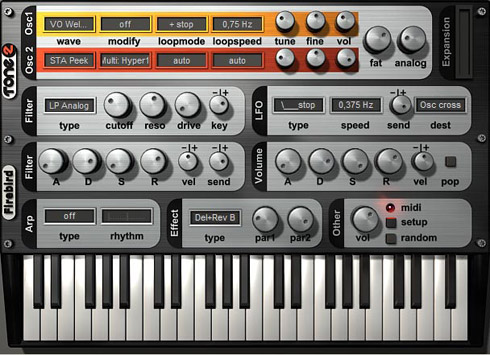 Tone2 Audiosoftware has released its FireBird 2 software synthesizer instrument for Windows as a free download.
Here's what they have to say about the free soft synth:
After seven years of faithful service, the time has come to set the bird free. Firebird itself has become vintage and even though it's no longer profitable to remain a commercial product, we feel that more people should deserve an opportunity to enjoy this sometimes heavily underestimated synthesizer.
Which is why we decided to release one last update and turn the product into freeware (previously $79). We want to say a big THANK YOU to all customers who supported the development of Firebird and other Tone2 products, by purchasing our software.
FireBird 2 for Windows is a free download here >>
Features
Very easy to program and easy to use

A unique sounding synthesis: Harmonic content morphing (HCM)

High sound quality: Warm, transparent

437 hand picked presets included, over 1000 sounds available

84 oscillator types containing 18,000 morphable waveforms

38 different filter types

True stereo mode, 4x unison mode, and up to 8 oscillators per voice

Can sound like other synthesis methods – additive, subtractive, AM, FM, phase distortion, supersaw, vocoder, sync

Can sound like natural instruments like piano, brass, organs…

23 spectral manipulations or "modifiers" can be applied to the oscillators

21 arpeggiator types

13 effect types

Skinable user interface
All sounds made with microtape 18 – Dromeda Strains, for Native Instruments Kontakt 5.1.0 (full version)
Tritone digital API560 eq used on master bus.
135 different sci-fi synth effects mapped to every key, made with the Korg Polysix – in WAV format.
Inspired by the soundtrack by Gil Mellé to the 1971 cult sci-fi classic 'The Andromeda Strain',
much sonic mileage can be attained from these
samples through experimentation with the various microtape controls and effects.
Contains 24 presets (both looped and un-looped
versions of the sounds).
Recorded to vintage tape at 7ips .
KONTAKT 5.1.0 ONLY (FULL VERSION)
www.tronsonic.com
The latest version of Steinberg's HALion VST sampler adds new features that extend the boundaries of virtual sampling and sound design software. New instruments and sound sources, new effects, and much more combine to form a powerfully inspirational instrument that forms the heart of modern sound creation or production environments.
For more information please visit www.steinberg.net/halion
HALion Sonic 2 is a unique software workstation that breaks new ground in terms of instrument quality, versatility and ease of use. Comprising 2,500 first-class instruments in almost every conceivable style, this multi-faceted instrument has the power to captivate and inspire you, and become the heart of your creative process.
ニンテンドー3DSダウンロード専用ソフトKORG M01D配信日決定(2013/7/10)記念
ヨナオケイシ氏がKORG M01Dのために新たに書き下ろしたデモ曲「DEST」公開。
Googlish: Nintendo 3DS download-only software KORG M01D delivery date decision (2013/7/10) Memorial
Demo songs Yonaokeishi Mr. newly written a new for KORG M01D "DEST" public.
http://www.detune.co.jp/korgm01d.html
http://www.detune.co.jp/korgm01d_jp.html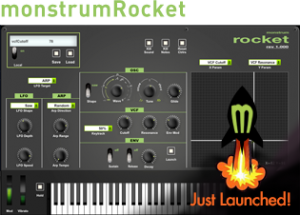 Monstrum Media has released MonstrumRocket – a software editor that gives you access to every controllable parameter on the Waldor Rocket synthesizer.
In addition to all the parameters you have access to on the actual Rocket, this editor also gives you a hold button, Vibrato Modulator, Local on/off, reset all, all notes off, MIDI panic as well as an x/y surface to modulate two parameters at once.
An added feature to this editor gives you the ability to store and load programs to and from your computer's hard drive.
Note: Waldorf omitted any ability to control the "filter type" or "Boost" mode through MIDI. Waldorf's very own ipad application for the rocket also has no way of controlling these two parameters simply because as it is now with the rocket's OS there is no CC or SysEx assigned to those parameters.
MonstrumRocket is available now for US $9.99.
Download Octatrack OS 1.25 it for free from http://www.elektron.se
More info about the Octatrack: http://www.elektron.se/products/octat…
In OS 1.25, three brand new effects have been implemented. A stereo image shaping Spatializer, a gritty and twangy Spring Reverb and a lush, smooth and wide Dark Reverb.