MonstrumRocket – new controllable editor for the Waldor Rocket synthesizer.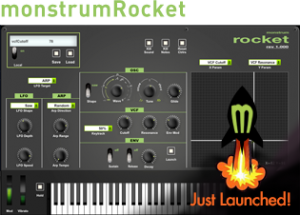 Monstrum Media has released MonstrumRocket – a software editor that gives you access to every controllable parameter on the Waldor Rocket synthesizer.
In addition to all the parameters you have access to on the actual Rocket, this editor also gives you a hold button, Vibrato Modulator, Local on/off, reset all, all notes off, MIDI panic as well as an x/y surface to modulate two parameters at once.
An added feature to this editor gives you the ability to store and load programs to and from your computer's hard drive.
Note: Waldorf omitted any ability to control the "filter type" or "Boost" mode through MIDI. Waldorf's very own ipad application for the rocket also has no way of controlling these two parameters simply because as it is now with the rocket's OS there is no CC or SysEx assigned to those parameters.
MonstrumRocket is available now for US $9.99.
Comments