Quick play of the RX7, little brother of the RX5 and almost as good. First is some preset patterns and then all the sounds.
About RX7 and RX5:
Out of the eighties comes this hugely underrated drum machine—in 1986, the RX5 was Yamaha's flagship drum machine. Although its vintage appeal may be diminished by the Roland R-8 (as well as the resurgence of the TR-808 and TR-909 machines), if you're on a budget, this one could be for you.
The RX5 has many features that other drum machines simply do not have. Aside from all of the basics, such as pitch adjustment, level control, etc., this machine also features "Attack" and "Decay" envelope controls and two levels of "Accent" for each sound, allowing you to really change the character of any of its 24 built-in sounds. The sounds range from surprisingly real and punchy kicks and snares, to gunshots, door slams, even guitar and bass samples.
The RX5 features a RAM/ROM cartridge slot for storing custom edited sounds and loading in new sounds as well (adding an additional 28 sounds to the 24 built-in). Any sound can be assigned along the top row of pads (the bottom row are preset to the usual suspects—kick, snare, toms, hats, etc.), allowing you to customize your drum kit. Make an orchestra of handclaps, bass drums, or guitars! You can create and store up to three custom drum kits.
Another interesting feature of the RX5 is its pitch envelope. There are two simple parameters: "Bend Amount" and "Bend Rate". With this feature, you can make any sound pitch-bend downwards or upwards, across several octaves. This effect can be stored as part of your custom edited sound at the touch of a few buttons.
Also overlooked but extremely useful are the "Reverse" and "Damp" functions. You can record a reverse crash cymbal at one point in a drum pattern, and switch back to a regular crash cymbal elsewhere in the same pattern. The "Damp" function emulates the dampening of a drum head or a cymbal choke. Many drum machines overlook these useful functions, which can really help add a touch more authenticity and nuance to your drum patterns.
The sequencer section can record up to 100 patterns with time signatures ranging from 01/32 to 99/2 in either Real Time or Step Time record modes. Real Time recorded patterns can be quantized to the nearest 1/2 to 1/48 note. Patterns can be arranged in up to 30 Songs. And Songs can be chained together to form complete performance sets. All sequence data can also be offloaded to external RAM cartridge or cassette tape interface.
It is also worth mentioning that the RX5 has a 12 channel mixer with stereo out plus 12 individual outputs. Along with full MIDI Implementation, it's a snap to integrate into your studio. Use it as a stand-alone desktop drum machine, or hook it up to your MIDI keyboard or DAW system like a sound module for some serious drums! Sounds can be arranged for a MIDI keyboard however you please, and the RX5 will save the keyboard mapping—even if the sounds are coming from an external sound cartridge.
The RX5 was shipped by Yamaha with one additional cartridge of sounds—the "RX5 ROM". Three additional Waveform ROM Cartridges were made to suit various genres: WRC-02 "Jazz/Fusion," WRC-03 "Heavy Metal," and WRC-04 "Effects." There were also a few third-party cartridges made, containing TR-808 and TR-909 samples, but they are rather rare. If you're looking for an RX5, try to find one with all the ROM cartridges, and maybe a "RAM4″ cartridge too, as they may come in handy.
Overall, a very unique and in-depth machine, capable of a huge variety of sounds. From the nostalgic sounds that defined 80's drum beats, to rock, metal, and electronic music. Programming a beat may not be as easy as a Roland TR machine, but it's still intuitive tap-based recording. You will have no problem finding a place for this beast in your studio.
Maybe the first MFB drum Machine, with some mods added like drum triggers
best quality
The video demonstrates The Atmegadrum, an 8-bit 16-part 16-step drum machine.
Watch this video to find out how to upload the Atmegadrum software to the Atmegatron: http://youtu.be/-JT9BsZm2bg
Go to http://soulsbysynths.com/ to find out more about the Atmegatron.
Darker Digital has released Kickboxer for Kontakt 5.
Kickboxer is designed around the sound of analog 808 drum machines processed with high end outboard gear – designed to deliver punchy transients and analog overtones.
On top of an analog 808 kit, Kickboxer includes many other analog drum and digital synth bass sounds. Kickboxer's internal step sequencer features a piano roll for basslines, a gated reverb and other sequenced effects.
The GUI also includes controls for transistor and tube distortion, tape saturation, a ladder filter, a convolution reverb and a bus compressor.
Price: $99. There is a $69 introductory offer until June 19th, 2014, at the Darker Digital online store.
Wave Alchemy has announced the release of Digital Revolution, a virtual drum machine instrument for Kontakt Player which is inspired by the classic digital drum machines of the 1980's.
Imagine having instant access to the world's most sought-after retro drum machines in a single virtual instrument plugin, being able to mix and match drum machines, creatively process and sequence sounds in a unique, easy-to-use virtual environment.
Digital Revolution faithfully captures the sound of 9 digital (and 3 analogue) drum machines spanning from 1980 to 1989, including all sample variations and parameters of the original drum machines; tune/pitch, decay and various other settings.
12 iconic drum machines, 15,000+ samples, custom interface and sequencer, real-time tone-shaping and much more.
Price: £84.95. Full version of Kontakt is NOT required.
Background video description below:
Robotic Drums is my favorite drum synth on iOS right now. It has a lot of features, and is fun… So Let's Play with it! If you enjoy these Let's Play videos please consider sponsoring them on Patreon:http://www.patreon.com/user?u=107612
Be sure to visit http://discchord.com for this and other music app news!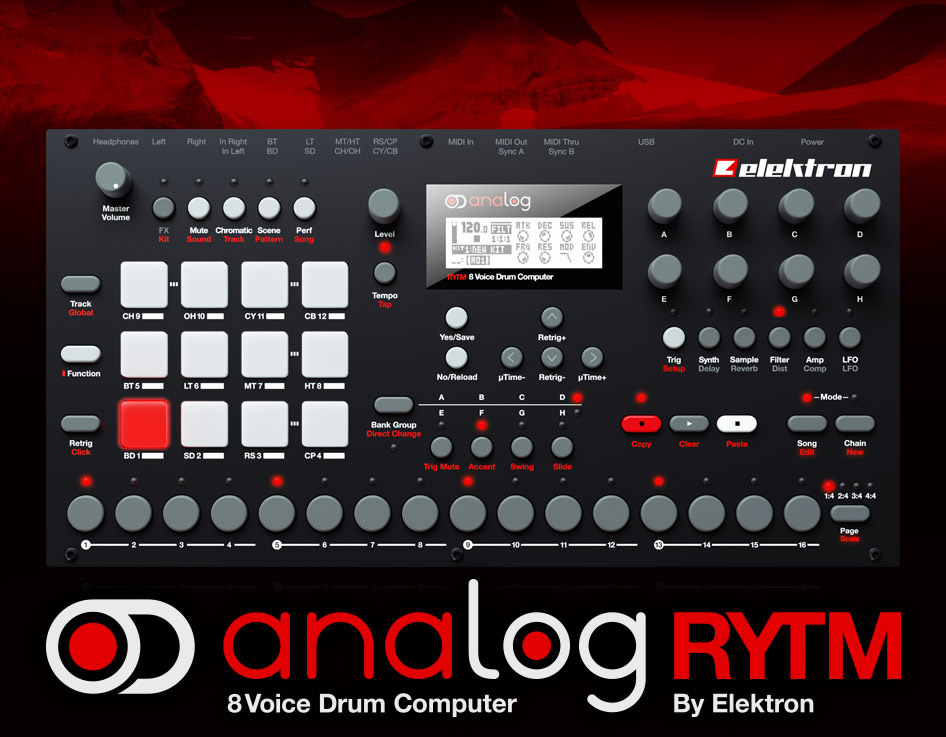 Elektron has announced that Analog Rytm, a hardware 8 voice analog drum machine with sample support, is now available for purchase.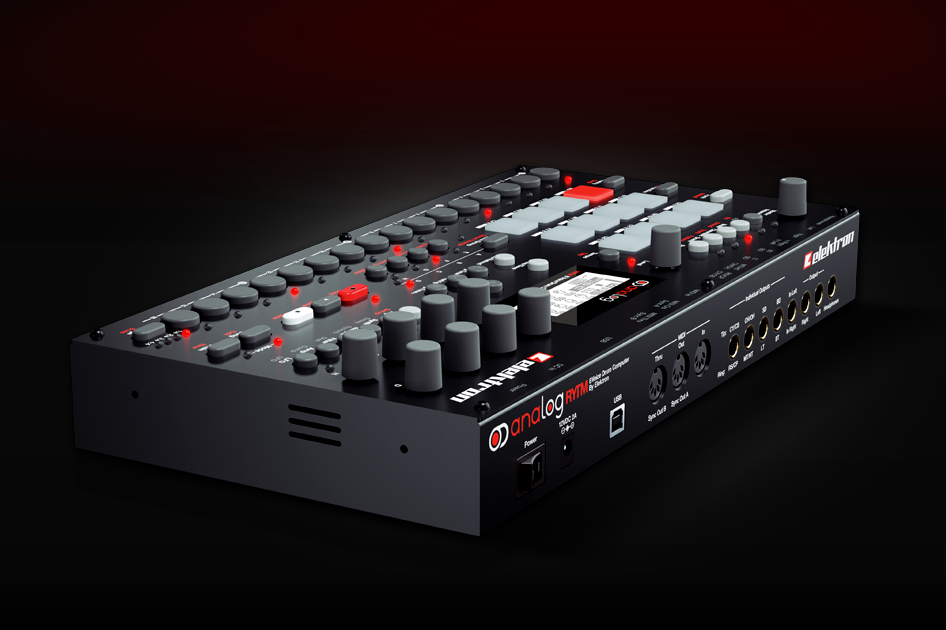 Key features:
8 drum voices, each with:

Specialized analog percussion sound generator.
sample playback (16-bit/48kHz/mono).
analog overdrive.
analog multi-mode filter.

12 velocity & pressure sensitive pads.
Analog stereo master compressor & distortion.
Reverb & Delay send FX.
Elektron step sequencer.
Chromatic, Performance, and Scene mode.
Live oriented beat control.
Individual voice outputs.
Drive storage for projects, patterns, kits, songs, sounds and samples.
Included in the box:

1 Power Supply Unit.
1 Power Supply cable of your selection (EU, US, UK, AUS).
1 Analog Rytm Quickstart Guide.
1 USB cable.
Pricing & Availability
Analog Rytm can be purchased in the Elektron Online Shop or from your favorite Elektron dealer. It costs $1549 / €1489 / £1249 / ¥174900. The demand is high and initial supplies are limited, so please note that it will be sold on a first come, first served basis – and that early orders might take a few days extra to process and ship.
Overbridge, the technology that erases the line between analog hardware and software plug-in instruments and makes it possible to seamlessly integrate the Analog Rytm in a DAW environment will be a part of a free OS update expected to be released Q4 2014.
Stunning analog drum machine with parameter locks, two kicks and 2 Step Sequencer Tracks.
Programming a Pattern on the MFB TANZBÄR. I could be easier, honestly. Since ethere is no display you must observe and read the red, yellow and green states of the LED carefully!!!
'UncertainMusicCorps' explores the synthesis capabilities of the Nord Drum 2.
First serious session with Nord Drum 2. Using Vermona fourMulator quad LFO to trigger 4 channels with Stoichea picking up the remaining 2. Using S/H waveforms from the Vermona via attenuators (matrix mixer) for timbral variation on the Nord Drum.
Bent melodic drone comes courtesy of Braids with rhythmic wavetable modulation.
A rough demo of a Tama Techstar TS206 Drum Module; 80's drum brain with twin "tom" synths.
Controls:
SENS; ATTACK; DECAY; NOISE; BEND; TUNE; NOISE MIX; EMPHASIS; LEVEL.
A drum loop is sent to each "Pad Trigger In" via CV. An audio signal can also be used to trigger the drums.
The beginning and end are without effects.
"Frohmage" and "TAL Dub" plug-ins are used elsewhere on the recording, just to keep it interesting, hopefully!!
Tama Techstar TS206 demonstration, pads knobs and external input. This is a 1984 drum brain that consists of two analogue synth modules factory-tuned for toms, in a nearly-19″ rackable unit. I only found TS305 material on the internet so I figured I'd start documenting the TS206.
It turns out to be so much more than a mere drum brain, after the camera ran out of juice I basically had it tuned into a monophonic synthesizer. Wonder how I can add envelope controls and more, if it's at all possible? Tama Techstar units are a DIY electro-musicians dream, do yourself a favour and pick 'em up!
The pads you see in the start are original Tama Techstar, the drum skins are not. If you're curious, I got the entire kit including tom stand (also original Tama-line model, but different brandname) for approximately 70€