This is definitely one of my favorite iPad apps right now, check out the video below to find out why, but I guess a hint would the choice of presets

"Kraftpad is a Drum Pad. I really love it because you can edit the 6 available Pads. Shape the sound of each instrument, or change it.21 kits are available. All, as the name of this App implies, dedicated to Electronic Music. You also have a reverb, and you'll be able to record and loop your Performances. No sharing features are available, and no Midi either. A Super + Drum Pad. I think that it could easily become a Killer One with AudioCopy / Paste and the Midi…"
Taking a closer look at Tanzbär, video description below:
My second MFB Dancing Bear session: Headphones or good speakers are recommended. Enjoy!
Facebook: https://www.facebook.com/martin.kern….
Short demonstration of the Jomox Xbase 999 analog drum synthesizer. All sounds are generated by the Xbase 999. Kickdrum, Snaredrum, Low Tom, and High Tom are true analog. Hi Hats, Clap, Rim Shot, Crash, and Ride are digital and can have different 8 bit samples assigned to them.
Nine Inch Nails "Came Back Haunted" covered live on the Dave Smith Instruments Tempest Drum Machine. Stereo Line out of the Tempest, single take, no post processing.
MFB's Tanzbär drum-computer offers fourteen analogue percussion instruments as well as a synthesizer for bass- and melodic voices.
Its integrated step-sequencer allows flashlight-programming and storage of up to 144 patterns. All parameters can be recorded per step! Because of its ability to control and call up all functions on the fly, while the unit is running, Tanzbär is ideally suited for live performances.
Tanzbär features
Analogue drum-computer with tight step-sequencer and 16 instruments.
Immediate control, integration of MIDI and CV/Gate.
Different step-lengths per instrument.
Programmable accent- and pitch-bend-functions.
144 patterns with A/B-variations, fill-function to chain various patterns.
3 CV- and 2 Gate channels.
Roll- and flam-recording.
Individual and global swing-quantization.
Recording of control-value per step.
12 individual outputs, stereo output.
MIDI- and clock-sync, MIDI-dump.
Microshift-function via MIDI (future update).
Metal chassis with wood side panels.
Tanzbär is available to purchase for MSRP 840 EUR.
The A4 is a beautiful sounding synth and syncs perfectly with vintage gear like the TB303
Vintage gear demo by RetroSound
LinnDrum drummachine from the year 1982
12 sampled 8bit sounds: bass, snare, rimshot, hihat, 3 toms, crash, ride, cabasa, tambourine, high and low congas, cowbell, claps
15 individual outs
trigger out; tape sync and clock
the 80s hit drummachine
more info: http://www.retrosound.de
It's a combination between analog drum machine and organ. There isn't too much information (neither pictures) about this drum machine on the web.
"The CAROUSEL is an interesting analog preset rhythmbox with accompaniment made by Elgam, Italy. It has rhythm (like the Elgam Rhythm Match series), bass, chord and 3 arpeggiators! Rare, obscure and very interesting!

I played the Elgam Carousel along with a Roland DEP-5 for dely effects."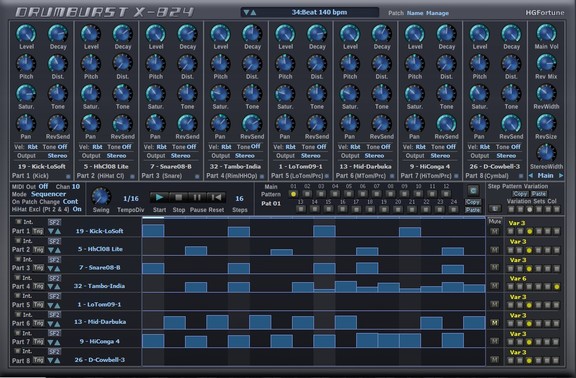 H.G. Fortune has announced the releases of DrumBurst X-824, a free drum machine plug-in for Windows.
Finally here it is: DrumBurst X-824, and the good news is it is free. The bad news, well, not really bad as only temporary this is my last Synthedit based plugin. Thus it marks the end of a 10 years era. Now I'm looking for new tools to create plugins in future, but this may take some time.

DrumBurst is an 8 parts drum machine with 64 waves at each slot making 512 waves in total: not too much for a quick selection but a good variety to work with.

The inbuilt sequencer features 24 Main Pattern each based on the combination of a dedicated wave, Mute status and 1 out of 6 Step Pattern variations per part. This provides a lot of variation and less of programming effort as pattern can be re-used with a different instrument.
DrumBurst X-824 for Windows (VST) is available to download here.
Tanzbär just received!!! First test !
MFB Tanzbär + xoxbox + disto + reverb. all analog.