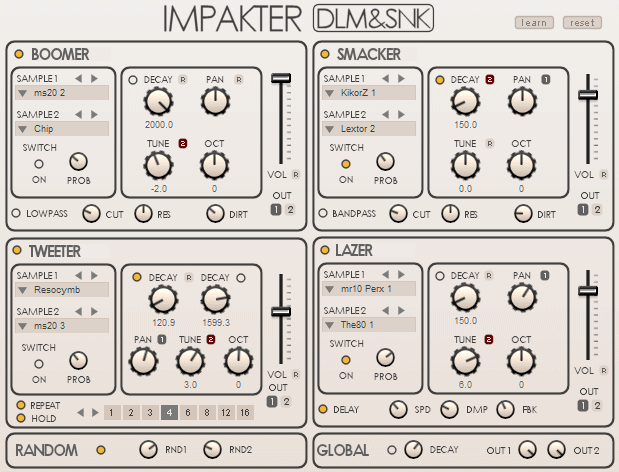 de la Mancha has set free loophole, a midi-triggered loop sampler, and Impakter, a vintage drum module plugin containing 320 samples of original drum sounds generated on analogue synths and drum machines.
Thank you to the 44 wonderful people who have donated so far! After this you all responded positively to help me to raise over £500 (against a target of £1000) for Cancer Research UK, a deserving charity that funds scientists, doctors and nurses to help beat cancer sooner.

As we made it to the half way mark, I am releasing 2 of the 4 plugins for free, for everyone.
The plug-ins are available to download for Windows (VST).
Apple Store link:https://itunes.apple.com/us/app/egdr9…
ElliottGarage presents EGDR909, a drum machine that emulates the vintage hardware from the 80's with all the facilities of modern software.
Its realistic and clear interface recalls the analog machine from the past, for all the vintage fanatics.
You can play with the groove presets included or you can create your own beat to play along your favorite song via InterApp, Audiobus, Core MIDI and clock MIDI.
You can also share your drum patterns with iTunes filse sharing or Audio Copy.
Features:
– Interface like the real drum machine from the 80's
– 16 steps sequencer, with variable lenght
– 48 programmable rythm patterns
– Save the pattern you've created and play your songs
– Manual Play, Pattern Write and Pattern Clear mode
– Drumkit pieces parameters control (tuning, decay and snappy)
– Song Mode page (swipe to left to open) with loop option
– Swing and tap tempo
– Core MIDI & clock MIDI (network session, external controller, inter app midi)
– Audiobus
– Interapp (generator)
– Export with iTunes, mail or Audio Copy
– Korg Wist sync
Check the videos on http://www.youtube.com/ElliottGarage
support: info@elliottgarage.com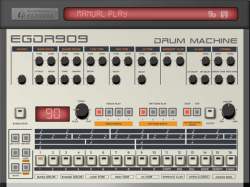 Elliott Garage has released EGDR909, a drum machine that emulates the sound of the classic Roland TR-909.
The iPad virtual instrument lets you create tweak sounds and create beats, and supports Inter-App Audio, Audiobus, Core MIDI and clock MIDI.
You can also share your drum patterns with iTunes filse sharing or Audio Copy.
Features:
16 steps sequencer, with variable length
48 programmable rythm patterns
Save the pattern you've created and play your songs
Manual Play, Pattern Write and Pattern Clear mode
Drumkit pieces parameters control (tuning, decay and snappy)
Song Mode page (swipe to left to open) with loop option
Swing and tap tempo
Core MIDI & clock MIDI (network session, external controller, inter app midi)
Audiobus
Interapp (generator)
Export with iTunes, mail or Audio Copy
Korg Wist sync
EGDR909 is available in the App Store for US $2.99.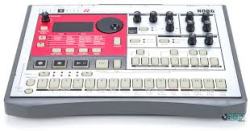 Legowelt has released a free sample library, featuring the 90's-tastic virtual analog sounds of the Korg ER-1 drum machine.
The free sample library includes 150 .wav samples made with the Korg ER-1, including 'Earthshaking Bass drums, crispy snares, audacious claps, sizzling hi hats, warbly FX + lots more!'
"When I was in Japan last month I made a samplepack from my Korg ER1 drumsynthesizer in my hotelroom
The Korg ER1 is a "digital virtual analogue" drumsynthesizer from 1999. This is basically a drum machine with a special synthesizer to make your own drums ounds.
It has a XOX style sequencer and the classic cool late 90s Korg pweieieieieuuuu delay effect."
DrumORama is an interesting and clever drum machine for your iPad
A drum machine and solo tool. Drum pads have beat sequencers that play programmed rhythm patterns once when you tap them, or can loop. Tapping pads at different times generates interesting asynchronous patterns from simple sequences. Contains hundreds of drum and percussion sounds.
Teenage Engineering's new PO-12 drum machine is awesome! In this video I'm taking a pre-production unit for a test spin, and it's great 😀
Looking forward to a 2015 release.
more cuckoo: http://www.cuckoo.no
more Teenage Engineering: http://www.teenageengineering.com
The PO-12 is a new drum machine from Teenage Engineering. This is one of the first 200 prototypes ever manufactured, made exclusively for the artists who performed at Moogfest 2014.
Here the PO-12 is featured with the MF Ring, MF Delay, and MF Drive from the Minifooger line of Analog Effects Pedals by Moog.
Learn more about Moog Minifooger Analog Effects here:http://bit.ly/Minifoogers
Teenage Engineering PO-12 unveiling at Norbergfestivalen 2014.
The creators of OP-1 finally reveal the sound of their upcoming $50 drum machine. There is a slight delay in development, but they're confident that it'll be released in 2015.
Stay tuned for more details.
more footage from 6/17 shoot in video studio. use headphones as with v1. RW hardware and step sequencer test 2. pls review.
Rhythm Wolf Highlights:
5-voice analog drum machine and synth, with analog design that references classic rhythm machines and synthesizers
Analog drum sounds: kick, snare, open and closed hi-hat, and metallic percussion
Synth bass module: selectable square or sawtooth wave
Onboard 32-step sequencer
Six genuine MPC pads for sequencing and finger drumming
"Howl" knob: custom distortion circuit for additional sound design
MIDI connectivity: USB-MIDI and MIDI In/Out
Gate Trigger: for triggering via modular synths, vintage sequencers, or external sound sources
Dedicated outputs for the drum machine and synth-bass
Pricing and Availability
Akai Pro's Rhythm Wolf is expected to be available in the Fall with a street price of US $199.99. For more information, check out the Akai Professional website.
Quick play of the RX7, little brother of the RX5 and almost as good. First is some preset patterns and then all the sounds.
About RX7 and RX5:
Out of the eighties comes this hugely underrated drum machine—in 1986, the RX5 was Yamaha's flagship drum machine. Although its vintage appeal may be diminished by the Roland R-8 (as well as the resurgence of the TR-808 and TR-909 machines), if you're on a budget, this one could be for you.
The RX5 has many features that other drum machines simply do not have. Aside from all of the basics, such as pitch adjustment, level control, etc., this machine also features "Attack" and "Decay" envelope controls and two levels of "Accent" for each sound, allowing you to really change the character of any of its 24 built-in sounds. The sounds range from surprisingly real and punchy kicks and snares, to gunshots, door slams, even guitar and bass samples.
The RX5 features a RAM/ROM cartridge slot for storing custom edited sounds and loading in new sounds as well (adding an additional 28 sounds to the 24 built-in). Any sound can be assigned along the top row of pads (the bottom row are preset to the usual suspects—kick, snare, toms, hats, etc.), allowing you to customize your drum kit. Make an orchestra of handclaps, bass drums, or guitars! You can create and store up to three custom drum kits.
Another interesting feature of the RX5 is its pitch envelope. There are two simple parameters: "Bend Amount" and "Bend Rate". With this feature, you can make any sound pitch-bend downwards or upwards, across several octaves. This effect can be stored as part of your custom edited sound at the touch of a few buttons.
Also overlooked but extremely useful are the "Reverse" and "Damp" functions. You can record a reverse crash cymbal at one point in a drum pattern, and switch back to a regular crash cymbal elsewhere in the same pattern. The "Damp" function emulates the dampening of a drum head or a cymbal choke. Many drum machines overlook these useful functions, which can really help add a touch more authenticity and nuance to your drum patterns.
The sequencer section can record up to 100 patterns with time signatures ranging from 01/32 to 99/2 in either Real Time or Step Time record modes. Real Time recorded patterns can be quantized to the nearest 1/2 to 1/48 note. Patterns can be arranged in up to 30 Songs. And Songs can be chained together to form complete performance sets. All sequence data can also be offloaded to external RAM cartridge or cassette tape interface.
It is also worth mentioning that the RX5 has a 12 channel mixer with stereo out plus 12 individual outputs. Along with full MIDI Implementation, it's a snap to integrate into your studio. Use it as a stand-alone desktop drum machine, or hook it up to your MIDI keyboard or DAW system like a sound module for some serious drums! Sounds can be arranged for a MIDI keyboard however you please, and the RX5 will save the keyboard mapping—even if the sounds are coming from an external sound cartridge.
The RX5 was shipped by Yamaha with one additional cartridge of sounds—the "RX5 ROM". Three additional Waveform ROM Cartridges were made to suit various genres: WRC-02 "Jazz/Fusion," WRC-03 "Heavy Metal," and WRC-04 "Effects." There were also a few third-party cartridges made, containing TR-808 and TR-909 samples, but they are rather rare. If you're looking for an RX5, try to find one with all the ROM cartridges, and maybe a "RAM4″ cartridge too, as they may come in handy.
Overall, a very unique and in-depth machine, capable of a huge variety of sounds. From the nostalgic sounds that defined 80's drum beats, to rock, metal, and electronic music. Programming a beat may not be as easy as a Roland TR machine, but it's still intuitive tap-based recording. You will have no problem finding a place for this beast in your studio.