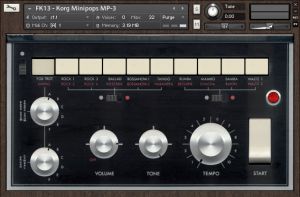 Forgotten Keys has released FK13, a virtual Korg Mini-Pops 3 (AKA Univox SR-55) analogue drum machine.
The FK13 features isolated multi-samples of each drum sound and re-creations of all the internal rhythm patterns. These patterns can be combined with each other like the original. The volume, panning, tuning and mute status of each sound can be adjusted, and the MIDI input and audio output routing can be customised. The interface is designed to have an authentic layout.
Price: £3.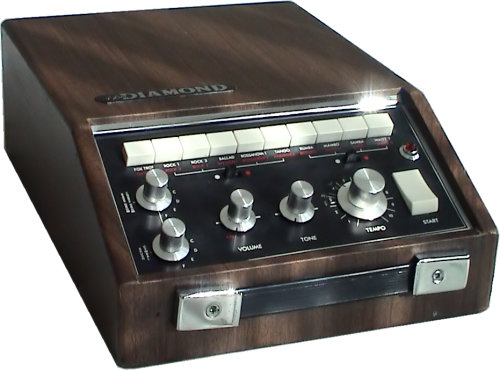 The Korg Mini-Pops 3 (also sold as Univox SR-55 and Aria Diamond) should not be confused with the drum machine used by Jean-Michel Jarre on his Oxygene album as you often see misstated in online auction adverts. For that, you need the Mini-Pops 7. No, the MP-3 will not create the famous Jarre rhythm but it will create some nice retro analogue sounds and rhythms. Of the nine sounds available most are similar to the MP-7 with perhaps the exception of the bass drum and cymbals. Indeed, the drum sounds are created using inductor coils, or tuned resonant tanks as they are often called just as on the MP-7.
Rhythm-wise, there are twenty named rhythms but the foxtrot/swing rhythm requires more explanation. It has 36 variations of its own due to the two knobs below it that select between six drum and six cymbal variations. The other rhythms are divided into two groups, each with its own upper/lower selector switch, so more combinations are available than on the MP-7¹. As usual, rhythms can be combined.
The VXXY DCM8 Drum Machine offers a wealth of chiptune sounds ready to program and use for rhythm pattern & song. Still, during playback, you can loop 4 steps (shift+3), loop 2 steps (shift+4), hold beat (shift+5) or sidechaining audio output with stutter at playback speed with pattern env profile (shift 6). Nice!!!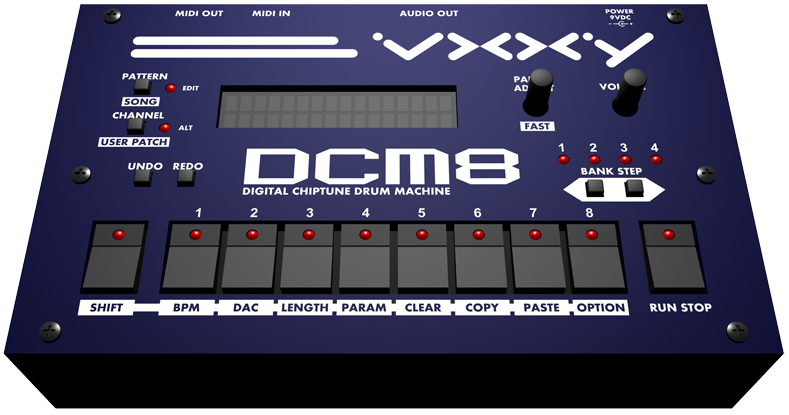 The DCM8 is presented in a powder coated steel case with a CNC punched royal blue anodized aluminium front panel and white silk screen legend. The control layout has been designed to be compact and functional with eight main step editing and selection buttons, mode function buttons, an encoder knob for parameter adjustment and undo / redo buttons for ease of editing as well as live performance pattern modification. A 16 x 2 black & white negative LCD provides status information and menus for editing sounds and changing options.
A diverse range of chip tune sounds have been recreated by an old school programmer of commercial game sound engines from Gameboy and ZX Spectrum days, mixed with modern FM synthesis, digital filtering and adjustable DAC bit masking for manic distortion effects. Step sequencing also allows for pitch and decay parameters to be edited on a per step basis, and as the sounds are produced by formulas and micro-coded sequences this allows for greater sonic flexibility rather than just tweaking the pitch of a sample. Included is the ability to generate upto 32 custom sounds via a simple yet expressive editor and utilise the sounds within programmed sequences.
64 Patterns in 8 banks of 8.
Selectable 8, 16 or 32 steps per pattern with half, normal and double speed timing scales.
Adjustable instrument volume, decay and pitch on per step basis.
Dual channel architecture with wide range of retro and unique preset sounds generated by a scripted synthesis engine.
255 digitally synthesized chip sounds, consisting of 223 presets and 32 user generated patches.
8 Levels of live undo on each pattern.
8 Songs with 128 pattern selections.
Clear, Copy and Paste 8, 16 or 32 steps between patterns.
EEPROM based storage of all patterns and user data, with SYSEX backup.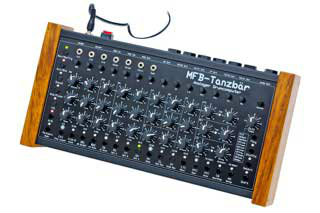 Specialist analogue synthesiser and innovative musical hardware distributor ALEX4 Distribution has announced that partner manufacturer MFB is now shipping its eagerly-awaited Tanzbär Analoger Drumcomputer. Here's what they have to say about it…
"Having first created an eye- and ear-opening rhythmical stir on ALEX4 Distribution's well-visited stand at Musikmesse 2013 (where it apparently attracted the third-highest search rate on YouTube), Berlin-based electronic musical instrument manufacturer MFB's Tanzbär Analoger Drumcomputer takes the nostalgic sound of an analogue percussive past and transports it kicking and screaming to the performance-orientated present as a powerful new analogue sound. Perfectly packaged with innovative functions from contemporary sequencers and workstations, it's perfect for adventurous beat- making musical activists here, there, and everywhere!
Despite already having been a hit in its initial prototype form in Frankfurt, MFB engineers and programmers Manfred Fricke and Sebastien Preller have seen fit to add another synth voice to the hand-built production version so that it now features 16 high-quality analogue drum instruments. These include two bass drums, snare drum, rim shot, cymbal, hi-hat, and clap, plus low-tom, mid-tom, and hi-tom. These can all be thoroughly tweaked via dedicated knobs for spontaneous, hands-on control of various performance parameters like Decay, Tune, and more besides, making for an even more attractive analogue percussion proposition housed in an upmarket metal casing with eye-catching wooden end panels. Bringing up the rear, six full-size individual output jacks maximise mixing and processing flexibility for even more creative handling.
The tight step sequencer central to the Tanzbär Analoger Drumcomputer allows different step lengths per drum instrument with programmable accent and pitch-bend functionality, roll and flam recording, individual and global swing quantisation, and also per step recording of control values. Surely anyone recognising the value of intricate beat-making needs look no further? Furthermore, up to 144 patterns with A/B variations can be programmed and stored.
Yet those creative capabilities of the Tanzbär Analoger Drumcomputer extend beyond the scope of purely programming beats — intricate or otherwise. Thanks to inbuilt MIDI and CV connectivity it can also act as a perfectly serviceable sequencer with rock-solid rousing rhythmical results. Hitch up a MIDI- or CV/Gate-equipped synth, see where your musical muse takes you, and press Play!
With a diminutive desktop footprint, the Tanzbär Analoger Drumcomputer works well in any hybrid modern and/or vintage live performance or studio setup. And with an MSRP of only €840.00 EUR, what's not to like? So why not become a slave to the analogue rhythm with the production-ready Tanzbär Analoger Drumcomputer, shipping now!"
Pricing and Availability:
€840.00 EUR
The LXR is a digital drum synthesizer. They sell it as a DIY kit, so you will have to build/solder it yourself.
The kit contains an unassembled frontpanel PCB and all needed parts, as well as an assembled mainboard with all the SMD components. A picture of the kit content can be found here.
"Today my new drum machine LXR arrived, this is a first test-jam where i tried out some functions and only playing around with other synths… so no real music here, sorry

"
Features:
Cortex M4 based
6 voices (VA and FM)
7 sequencer tracks (extra open HH channel)
44kHz / 16 bit audio
4 mono outputs
4 different instrument engines
1/128 step pattern resolution
USB/Din Midi
different lengths for each track
8 chainable patterns per preset
Step probability
SD-Card
Cowbells!
39 buttons
6 LFOs routable to every voice parameter
complete kit. comes with all needed parts for assembly
No SMD soldering required
open source
All! actions possible without stopping the sequencer playback
A quick live jam in the early '90s Tribal House style.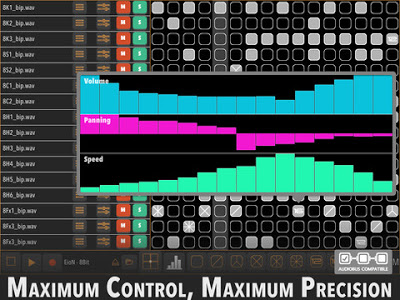 A new drum machine arrives for your iPad. Here's the app's description:
Praxis Beats is a retro-elegant interface for electronic rhythm composition. Express yourself with absolute precision and maximum control over your beats.
Drum Rolls: Instantly glitch or retrigger any beat.
Hifi Wifi: Fetch samples directly from your Dropbox®, Box.net®, Gmail®, or GDrive® accounts. Praxis Beats will stash them for you for future use, too. (You can also use iTunes File Sharing.)
Maximum Control: Individually control the volume, panning, and speed for every sound down to 1/128th notes.
Batteries Included: 2 touch-controlled effects pads, programmable to control any of 9 different effects.
Live Record: Record your sessions as wav files. Upload them directly to Dropbox®, email, or SoundCloud®, or use iTunes File Sharing to retrieve them manually.
Save Songs: Save and load different songs. Praxis Beats autosaves for you as well. And, you can back up your compositions using iTunes File Sharing.
Absolute Precision: sample precise rendering from 10 to 999 BPM.
Multitouch Manipulation: Speed up your creation process by allowing multiple fingers, hands or people to control the sequencer grid, effects pads, or note graphs.
Meta Controls: Controls provided to clear out the sequencing for any row or for the whole song.
Feeling Lucky: Randomize the sequencing for any row or for the whole song.
The Basics: Individual controls for each sample track, including mute, solo, volume, and panning.
Start Jamming: 7 free drum kits are included for a total of 112 drum samples. Made by EioN and James Frame, LA's hottest new producers.
Audiobus Support: Stream audio from Praxis Beats to other apps.
Korg MS-20 Mini
King Korg Synthesizer
Drum Computer MFB 522
Korg Monotribe
Pedro Zopelar – MAWW Records
http://mawwrecords.bandcamp.com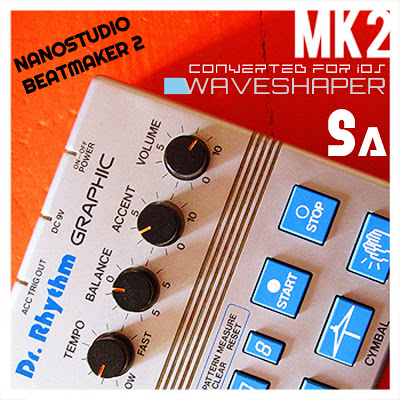 The Boss DR-110 is a cute little drum machine from the early 80s, the last analogue one made by Roland. 
The overall sound is very reminiscent to the much praised TR-808 and TR-606. The DR-110 will give you that classic, sought-after sound but with some slight difference and much character. 

Plasticid MkII takes this sample pack one step further, with 120 new samples gathered in 18 kits. This new version aims at coloration and expands the sonic palette of the DR-110, processing it using vintage hardware to shape it up nicely. The cymbals are spitting, the bassdrum is kicking, and the snare and claps tones ranging from dark to bright make each kit acting like a rebirth for the mighty DR-110! Great care has been taken about recording a semi open hat sample for even more expression.
Converted and exclusively available for iOS use (Nanostudio and Beatmaker 2) from Sunsine Audio. Please visit http://waveshaper.12r.org/ for original Wav file versions.
*Requires Beatmaker 2 or Nanostudio*
Format:
• 120 One Hit Samples
• 18 Kits
• 18 .bmkz files for Beatmaker 2
• 18 .trg files for Nanostudio
• Easy Installation Instructions
Price: $3.40
Improvised live performance by Jon-Eirik Boska.
The Nord Drum 2 is sequenced from the Nord Beat 2 MIDI step sequencer for iPad (connected via an iRig MIDI interface).
Thanks to Petra, Roman and Jon-Eirik for making this video!
Direction, camera and editing: Petra Hermanová and Roman Přikryl
Music and performance: Jon-Eirik Boska
Read more about the new Nord Drum 2 modeling percussion synthesizer here:
http://www.nordkeyboards.com/main.asp…
Get the free Nord Beat app for iPad here:
http://www.nordkeyboards.com/main.asp…
The Nord Pad is available as an optional accessory for the Nord Drum 2.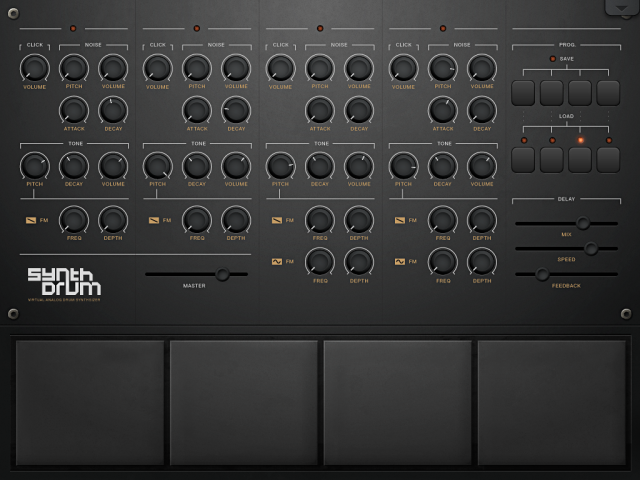 DesignByPaul has released SynthDrum Pad – a free pad-controlled drum synthesizer for the iPad.
Features:
Virtual Analog Drum Synthesizer
4 Pads
4 Voices
3 Signal generators per voice; Noise, Click and Tone
Modify pads 3 & 4 with Frequency Modulation
4 Save/Load slots
Delay unit (with infinite looping capabilities)
Here's an audio demo:
Capable of creating vintage drum sounds such as the 808 to contemporary percussion for modern electronic dance music. SynthDrum Pads can also make melodic tones for warm bass and interesting tones.