Darker Digital has released Kickboxer for Kontakt 5.
Kickboxer is designed around the sound of analog 808 drum machines processed with high end outboard gear – designed to deliver punchy transients and analog overtones.
On top of an analog 808 kit, Kickboxer includes many other analog drum and digital synth bass sounds. Kickboxer's internal step sequencer features a piano roll for basslines, a gated reverb and other sequenced effects.
The GUI also includes controls for transistor and tube distortion, tape saturation, a ladder filter, a convolution reverb and a bus compressor.
Price: $99. There is a $69 introductory offer until June 19th, 2014, at the Darker Digital online store.
Wave Alchemy has announced the release of Digital Revolution, a virtual drum machine instrument for Kontakt Player which is inspired by the classic digital drum machines of the 1980's.
Imagine having instant access to the world's most sought-after retro drum machines in a single virtual instrument plugin, being able to mix and match drum machines, creatively process and sequence sounds in a unique, easy-to-use virtual environment.
Digital Revolution faithfully captures the sound of 9 digital (and 3 analogue) drum machines spanning from 1980 to 1989, including all sample variations and parameters of the original drum machines; tune/pitch, decay and various other settings.
12 iconic drum machines, 15,000+ samples, custom interface and sequencer, real-time tone-shaping and much more.
Price: £84.95. Full version of Kontakt is NOT required.
Background video description below:
Robotic Drums is my favorite drum synth on iOS right now. It has a lot of features, and is fun… So Let's Play with it! If you enjoy these Let's Play videos please consider sponsoring them on Patreon:http://www.patreon.com/user?u=107612
Be sure to visit http://discchord.com for this and other music app news!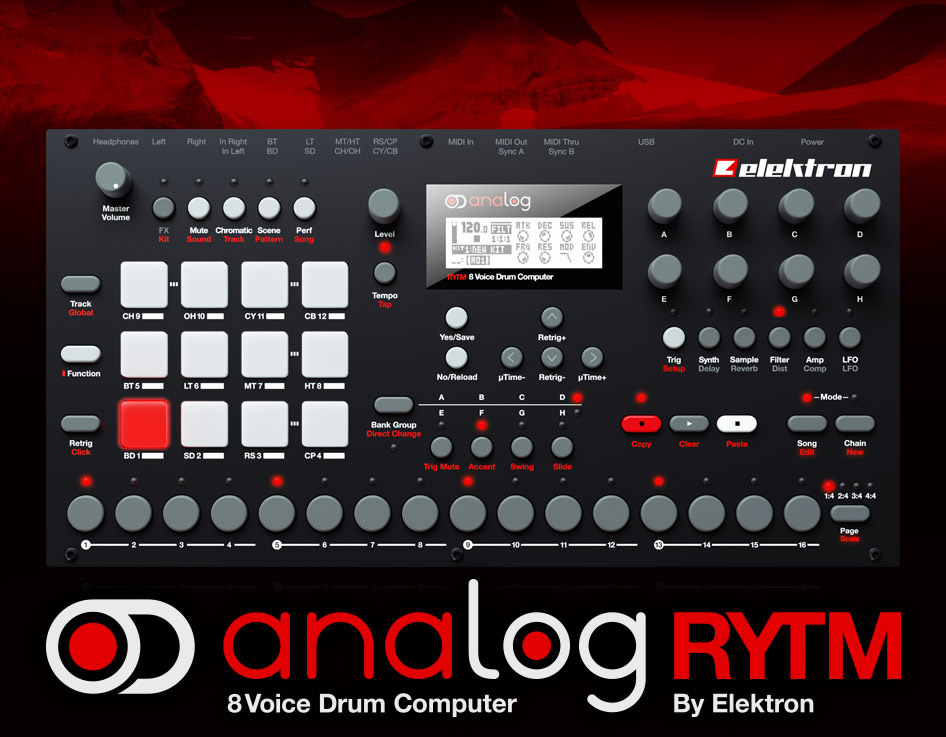 Elektron has announced that Analog Rytm, a hardware 8 voice analog drum machine with sample support, is now available for purchase.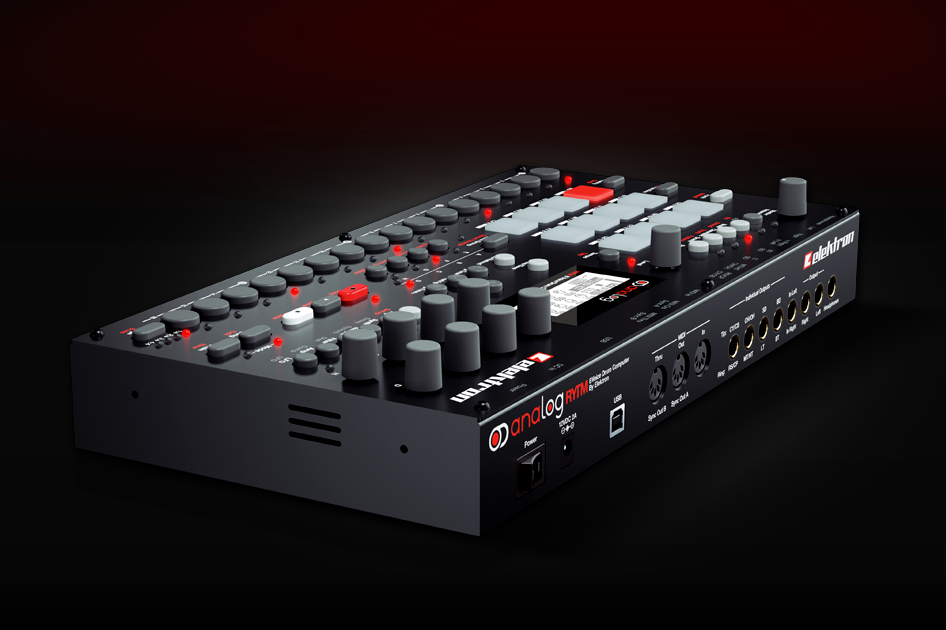 Key features:
8 drum voices, each with:

Specialized analog percussion sound generator.
sample playback (16-bit/48kHz/mono).
analog overdrive.
analog multi-mode filter.

12 velocity & pressure sensitive pads.
Analog stereo master compressor & distortion.
Reverb & Delay send FX.
Elektron step sequencer.
Chromatic, Performance, and Scene mode.
Live oriented beat control.
Individual voice outputs.
Drive storage for projects, patterns, kits, songs, sounds and samples.
Included in the box:

1 Power Supply Unit.
1 Power Supply cable of your selection (EU, US, UK, AUS).
1 Analog Rytm Quickstart Guide.
1 USB cable.
Pricing & Availability
Analog Rytm can be purchased in the Elektron Online Shop or from your favorite Elektron dealer. It costs $1549 / €1489 / £1249 / ¥174900. The demand is high and initial supplies are limited, so please note that it will be sold on a first come, first served basis – and that early orders might take a few days extra to process and ship.
Overbridge, the technology that erases the line between analog hardware and software plug-in instruments and makes it possible to seamlessly integrate the Analog Rytm in a DAW environment will be a part of a free OS update expected to be released Q4 2014.
Stunning analog drum machine with parameter locks, two kicks and 2 Step Sequencer Tracks.
Programming a Pattern on the MFB TANZBÄR. I could be easier, honestly. Since ethere is no display you must observe and read the red, yellow and green states of the LED carefully!!!
'UncertainMusicCorps' explores the synthesis capabilities of the Nord Drum 2.
First serious session with Nord Drum 2. Using Vermona fourMulator quad LFO to trigger 4 channels with Stoichea picking up the remaining 2. Using S/H waveforms from the Vermona via attenuators (matrix mixer) for timbral variation on the Nord Drum.
Bent melodic drone comes courtesy of Braids with rhythmic wavetable modulation.
A rough demo of a Tama Techstar TS206 Drum Module; 80's drum brain with twin "tom" synths.
Controls:
SENS; ATTACK; DECAY; NOISE; BEND; TUNE; NOISE MIX; EMPHASIS; LEVEL.
A drum loop is sent to each "Pad Trigger In" via CV. An audio signal can also be used to trigger the drums.
The beginning and end are without effects.
"Frohmage" and "TAL Dub" plug-ins are used elsewhere on the recording, just to keep it interesting, hopefully!!
Tama Techstar TS206 demonstration, pads knobs and external input. This is a 1984 drum brain that consists of two analogue synth modules factory-tuned for toms, in a nearly-19″ rackable unit. I only found TS305 material on the internet so I figured I'd start documenting the TS206.
It turns out to be so much more than a mere drum brain, after the camera ran out of juice I basically had it tuned into a monophonic synthesizer. Wonder how I can add envelope controls and more, if it's at all possible? Tama Techstar units are a DIY electro-musicians dream, do yourself a favour and pick 'em up!
The pads you see in the start are original Tama Techstar, the drum skins are not. If you're curious, I got the entire kit including tom stand (also original Tama-line model, but different brandname) for approximately 70€
Korg's Rich Formidoni explains the ins and outs of the drum machine-style step sequencer on the Kross Music Workstation.
Demo of Dr. Böhm Digital Drums: instruments, preset patterns, auto-fills, breaks and solos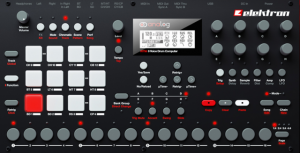 Elektron has released full specs on the new Analog Rytm, its new drum machine.
Eight analog drum voices take advantage of several dedicated analog circuit designs, each of them tuned for generating a distinct class of analog drum sounds. For percussive flexibility, every voice can also be 'spiced up' with customizable samples.
Features:
8 drum voices, each with: Specialized analog percussion sound generator. Sample playback. Analog multimode filter. Analog overdrive.
12 velocity & pressure sensitive pads
Analog master compressor & distortion
Reverb & Delay send FX
World class Elektron step sequencer
Chromatic, Performance, and Scene modes
Performance oriented beat control
Individual voice outputs
Analog Rytm, the analog drum machine from Elektron, is just around the corner. Now the full specifications- and the first proper audio demos – have been published online. Elektron describes Analog Rytm as an 8 voice analog drum machine with sample support. The analog circuits and the sample engine are ingeniously handled by clever software. Drum pads and an Elektron sequencer provide maximized playability. Here's some details in Elektron's own words…
A more powerful drum machine
The Analog Rytm pushes the limit of what is possible to achieve with a single machine. The eight analog drum voices take advantage of several dedicated analog circuit designs, each of them fine-tuned for generating a distinct class of analog drum sounds. For ultimate percussive flexibility, every voice can also be spiced up with customizable samples. The perfect unity of analog drum sounds and samples simply goes beyond.
Beats with character
Plenty of tools are available for shaping the vibe of the beats. Affect every voice with its own analog multimode filter and analog overdrive circuit. To add shimmer and polish to the rhythms, the reverb and delay send FX will prove invaluable. And before the beats hit the sound system, the analog compressor and analog distortion of the master channel will ensure proper pump and grit. The sound of the Analog Rytm has no match.
Maximized playability
The twelve back-lit, velocity and pressure sensitive drum pads offer beat smiths a quick and spontaneous way of creating rhythms. At the same time, the critically acclaimed Elektron step sequencer offers features like manipulating sounds on a per sequencer step basis. The combination of drum pads and step sequencing gives both instant results and the opportunity of detailed editing. The ultimate beat is just around the corner.
Pricing: $1549 / 1489 Euro /£1249
It is not possible to order the Analog Rytm just yet, but you may sign-up to the waiting list to be notified the second it becomes available.