The Bleep Drum + MIDI controlled by an Electribe EMX-1
Get your own MIDI controllable rad-fi drum machine at bleeplabs.com
Available fully built or as a kit.
Video by Thomas Fang and Cordey Lopez
As an addition to the TR8 review I managed to get hold of an original TR808.
I must say that after using the TR8 – its not at all intuitive to use – hence the rather simple demo.
Audio Realism today announced ABL3 – the latest version of its software TB-303 clone and at the same time making some fun of the Aira

More 303? We're going to have it. From the release of ABL1 in 2003 to ABL2 in 2007 we're still striving to raise the bar in analog modeling and more specifically 303 emulation. In 2014 we plan on raising this bar even further. Release date: TBA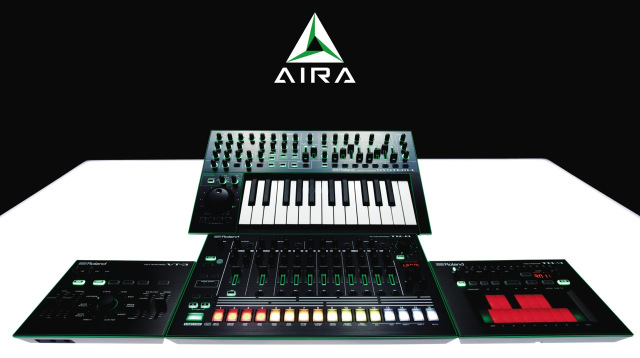 Roland has officially announced its new series of AIRA products:
The AIRA TR-8 Rhythm Performer – a $499 drum machine;
The AIRA TB-3 Touch Bassline – a $299 bassline synth;
The AIRA VT-3 Voice Transformer – a $199 vocal effects processor and vocoder; and
The AIRA System-1 Plug-Out Synthesizer – a $599 virtual analog synthesizer that can transform into a variety of classic synth, and act as a hardware controller for a new line of software synthesizers.
The AIRA series is based on Roland's newly-developed Analog Circuit Behavior (ACB) which the company says faithfully captures the sound of some of Roland's most revered classics. In developing the AIRA line, Roland modeled classic circuits, using original design specs, consultation with original product engineers, and a detailed part-by-part analysis of each analog circuit, using pristinely-archived Roland drum machines and synthesizers.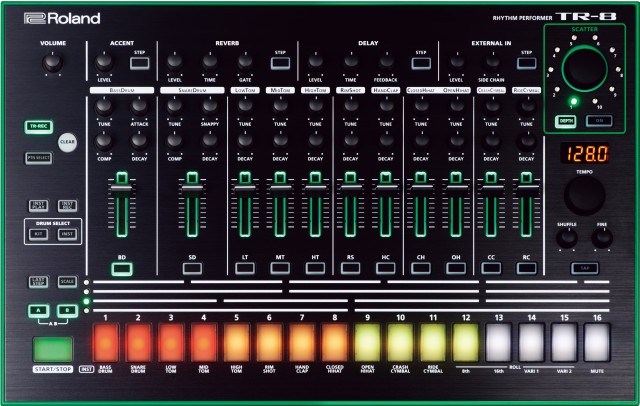 The TR-8 Rhythm Performer is a 'performance rhythm machine'. It offers the sounds of Roland's classic TR-808 and TR-909, 4 audio outputs and greater tweakability than the originals.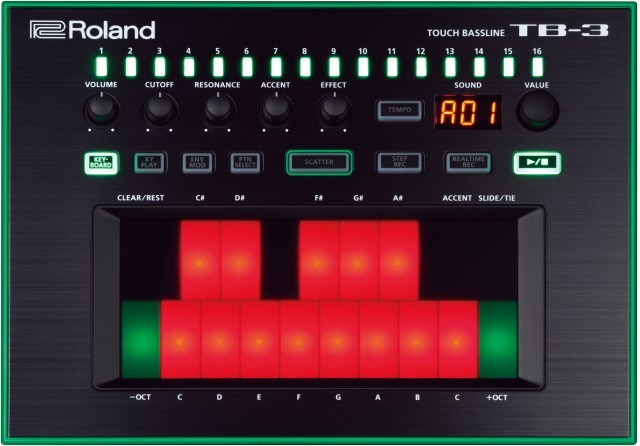 The TB-3 Touch Bassline is based on the classic Roland TB-303.
The new TB-3 Touch Bassline uses Roland's ACB modeling to recreate the classic bassline sound and offers controls that will be familiar to users of the original. But the TB-3 also offers a large touch control surface that streamlines sequence programming and introduces new performance options.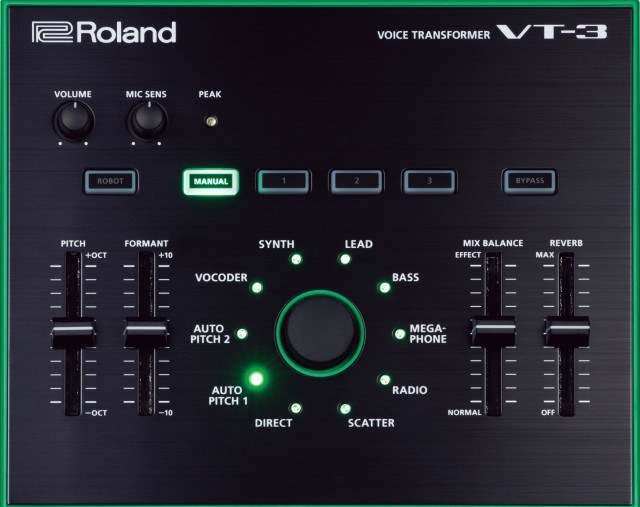 The VT-3 Voice Transformer is designed for creating heavily processed vocal sounds, with pitch and formant shifting, vocoder effects and more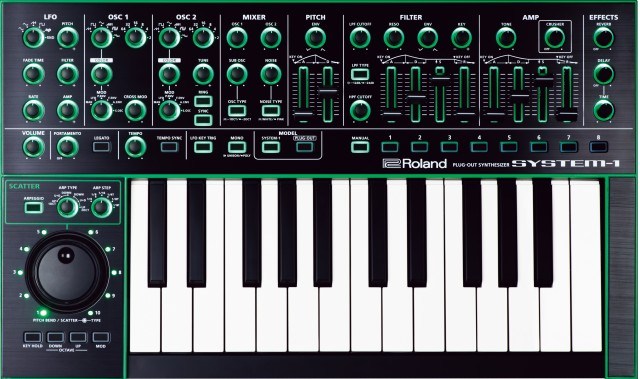 The System-1 Plug-Out Synthesizer is a new keyboard that can transform into a variety of types of synths.
It's very hands-on and knobby, but the key feature is the synth's Plug-Out technology, which lets the System-1 control – and even host – software recreations of classic Roland synths, with no computer connected.
Videos:
Pricing and Availability:
The TR-8 Rhythm Transformer will retail for a street price of $499;
the TB-3 Touch Bassline has a street price of $299;
the VT-3 street price will be $199; and
he System-1 Plug-Out Synthesizer will retail for $599.
Roland AIRA products will be shipping by the end of second quarter 2014
Vintage gear demo, details below:
The sample based Roland TR-707 from the year 1985 was my first drummachine and I really love the crisp 8bit sound.
– 15 sounds (kick 1, kick 2, snare 1, snare 2, low tom, mid tom, high tom, rim-shot, cow bell, hand clap, tambourine, open and closed high-hat, crash/ ride cymbals)
– 64 pattern
TR-707 review written by me for the german amazona music magazine:
http://www.amazona.de/black-box-rolan…
Elektron's in-house product expert Cenk aka Mr. Dataline gives us the rundown on the new Analog Rytm analog drum machine.
See and hear Elektron's brand new Analog Rytm hybrid analogue and digital drum machine in this exclusive demo at NAMM 2014
Elektron Analog RYTM Drum Machine Analog drum synth with sample layer
First look at the new drum machine from Elektron. It is an eight voice analog drum machine with sample support. Distinguished by the power of analog drum sounds fused with samples. Perfected by the immediacy of drum pads coupled with Elektron sequencing.
8-voice analog drum machine with sample support
Analog filter & distortion per voice
12 velocity- and pressure-sensitive pads
Reverb & delay send effects
"World-class" Elektron step sequencer
Performance-oriented beat control
More info soon on http://www.elektron.se
Discuss at http://www.elektronauts.com
Dancers from performance Me – every body, volume 2:
http://www.3vaningen.se/me-every-body…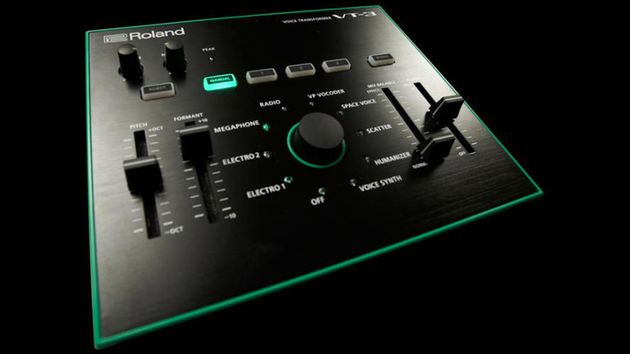 Much more than a standard drum machine like the TR-08
Designed to change the sound of your voice, it looks like this comes with a selection of presets and hands-on Pitch and Formant controls.
Unofficial details are below. Keep an eye on the Roland Aira website for updates.
Roland VT-3 unofficial specs
Features
Effects unit intended for the human voice
Quickly controlling pitch and formant
Various effects, subtle and extremely
User-friendly operation
Input peak indicator
Compact, easy to transport
Effects
Electro 1
Electro 2
Megaphone
Radio
VP-vocoder
Space Voice
Scatter
Humanizer
Voice Synth
This machine, normally associated with beats, can transmit MIDI notes from each of the drum triggers. I tuned the first seven triggers to the Eb scale, with the further three notes on the lower octave.
The accent control functions in the same way, allowing you to vary it`s relative level.
Second half of the video has the synth output going into the ER-1, allowing the use of `Motion Sequence` and `Tempo Delay` effects.