Mitch tries out two apps in this episode of Sweetwater's iOS Update. First, we check out the "BOOM! 808″ drum machine app, based on the original Roland TR-808 drum machine. Next, Mitch tries out a metronome/setlist app called Tempo.
The "BOOM! 808″ drum machine app, based on the original Roland TR-808 drum machine: and
a metronome/setlist app called Tempo.
BD808, SD808, Hats808, and RS808 sequenced by Delptronics Trigger Man.
Catching up with David Arlund at the Dancefair Utrecht to walk us through the features of the Roland Aira TR-8 drum machine. The TR-8 is a hardware model of two of the most coveted drum machines of all time, the TR-808 and TR-909.
8 bits drum VST plugin, by DSK Music.
Features:
– 8 sound slots (C3 to C4 white keys)
– Pitch control for each sample
– Level and pan control
– 6 full kits + extra sounds
– Midi automation
– Velocity response
– Preset selector
Info and download: http://www.dskmusic.com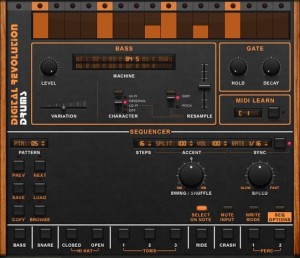 Wave Alchemy has introduced Digital Revolution, an upcoming drum machine instrument library for Native Instruments Kontakt.
Since the release and subsequent update of Transistor Revolution MKII we have been busy behind the scenes working on a brand new instrument which is inspired by the classic digital drum machines of the past…

Powered by 'Revolution Engine' technology our forthcoming Digital Revolution virtual instrument puts vintage digital drum sounds from the 1980′s at your fingertips.

We have faithfully captured the unique sound of 9 iconic digital drum machines spanning from 1980 to 1989, including all sample variations of the original drum machines, tune, decay and various other settings. Each drum sound has also been re-sampled multiple times through an iconic 'grey' 12-bit sampler to allow for real-time re-sample/grit modes which can easily be selected from the instrument interface.
Digital Revolution features
9 classic digital drum machines and 3 bonus analogue machines.
New 'Character Mode' allowing real-time selection of Lo-Fi (re-sampled), Hi-Fi and Original sound sources.
Sequence patterns quickly and easily using the 'Revolution Engine' step sequencer.
Mix and match drum sounds from 12 iconic drum machines in real-time and dynamically browse any available sound either by machine or drum voice.
Assign the same percussion sound to multiple voices to quickly play and sequence melodic patterns.
Easy synchronization with any host or DAW.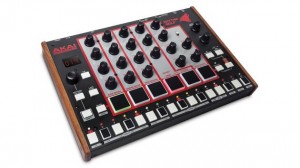 Akai is the latest brand to get in on the vintage-inspired groovebox action with the announcement of the Rhythm Wolf – an analogue unit combining a five-voice drum machine and single-ocsillator bass synth.
The drum machine section of the Rhythm Wolf comprises kick, snare, metallic percussion, and open and closed hi-hat sounds, all of which are tuneable. The bass synth, meanwhile, can be switched between saw and square waveshapes, and features a filter with resonance control and a basic envelope shaper. Akai describes Rhythm Wolf as having an "authentic analog design that references classic rhythm machines and synthesizers" – no prizes for guessing which instruments the company is alluding to.
The whole unit is built around a 32-step sequencer, and also features six MPC pads for live performance. There's also a 'Howl' distortion circuit for adding a bit of dirt to the sounds. Additionally, the Rhythm Wolf features a USB MIDI connection and has both MIDI and gate in and out ports, so can be triggered via a DAW or external hardware. It packs a swing control on its front panel, and the unit also appears to have a built-in preset bank.
Arguably the most interesting aspect of the Rhythm Wolf, however, is its price. At an estimated street price of $199, the unit comes in at slightly cheaper than the combined price of the Volca Beats and Bass, and cheaper than either the Roland TR-8 or TB-3.
The Rhythm Wolf is due to arrive summer 2014. Visit Akai Professional for more details.
Rhythm Wolf highlights (from the official press release)
5-voice analog drum machine and synth—authentic analog design that references classic rhythm machines and synthesizers
Legendary analog drum sounds—kick, snare, open & closed hi-hat, and metallic percussion
Synth-bass module—selectable square or sawtooth wave with classic filter design for warm, deep basses and squelchy leads.
Onboard 32-step sequencer—classic drum machine workflow for quickly laying down grooves and melodies
Six genuine MPC pads—responsive controls for sequencing and finger drumming
Howl knob—custom distortion circuit for additional sound design
USB-MIDI and MIDI In/Out—flexible MIDI connectivity for easy integration into modern studios
Gate Trigger—triggering via modular synths, vintage sequencers, or external sound sources
Independent audio outputs—dedicated outputs for the drum machine and synth-bass module for precise mixing
The Bleep Drum + MIDI controlled by an Electribe EMX-1
Get your own MIDI controllable rad-fi drum machine at bleeplabs.com
Available fully built or as a kit.
Video by Thomas Fang and Cordey Lopez
As an addition to the TR8 review I managed to get hold of an original TR808.
I must say that after using the TR8 – its not at all intuitive to use – hence the rather simple demo.
Audio Realism today announced ABL3 – the latest version of its software TB-303 clone and at the same time making some fun of the Aira 😀
More 303? We're going to have it. From the release of ABL1 in 2003 to ABL2 in 2007 we're still striving to raise the bar in analog modeling and more specifically 303 emulation. In 2014 we plan on raising this bar even further. Release date: TBA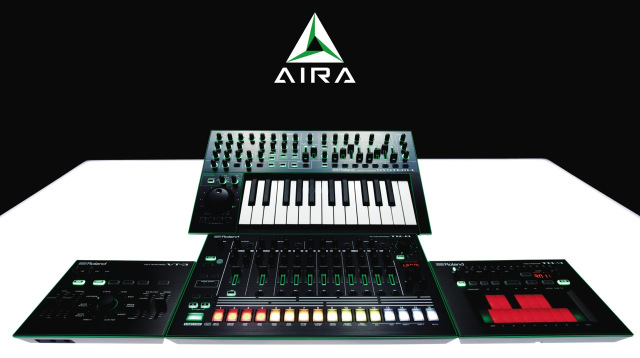 Roland has officially announced its new series of AIRA products:
The AIRA TR-8 Rhythm Performer – a $499 drum machine;
The AIRA TB-3 Touch Bassline – a $299 bassline synth;
The AIRA VT-3 Voice Transformer – a $199 vocal effects processor and vocoder; and
The AIRA System-1 Plug-Out Synthesizer – a $599 virtual analog synthesizer that can transform into a variety of classic synth, and act as a hardware controller for a new line of software synthesizers.
The AIRA series is based on Roland's newly-developed Analog Circuit Behavior (ACB) which the company says faithfully captures the sound of some of Roland's most revered classics. In developing the AIRA line, Roland modeled classic circuits, using original design specs, consultation with original product engineers, and a detailed part-by-part analysis of each analog circuit, using pristinely-archived Roland drum machines and synthesizers.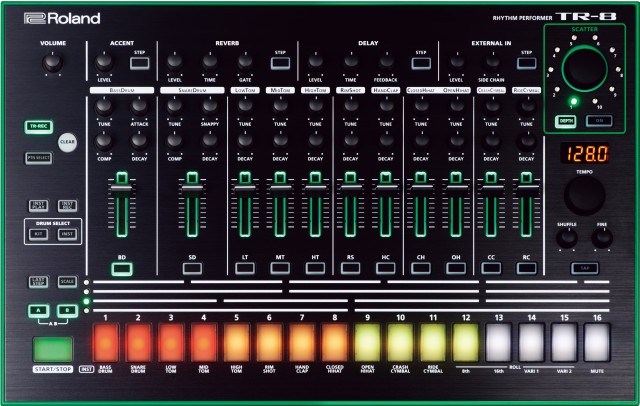 The TR-8 Rhythm Performer is a 'performance rhythm machine'. It offers the sounds of Roland's classic TR-808 and TR-909, 4 audio outputs and greater tweakability than the originals.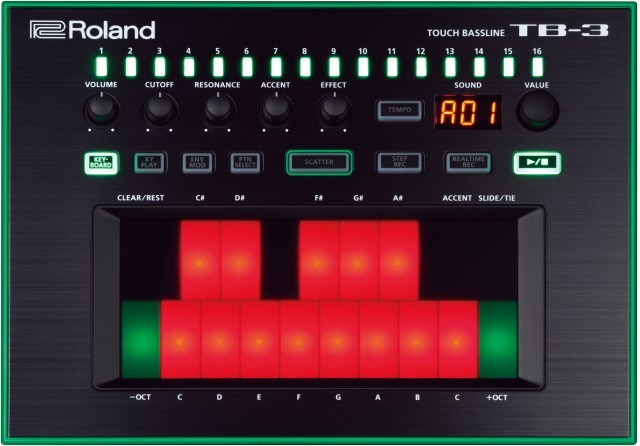 The TB-3 Touch Bassline is based on the classic Roland TB-303.
The new TB-3 Touch Bassline uses Roland's ACB modeling to recreate the classic bassline sound and offers controls that will be familiar to users of the original. But the TB-3 also offers a large touch control surface that streamlines sequence programming and introduces new performance options.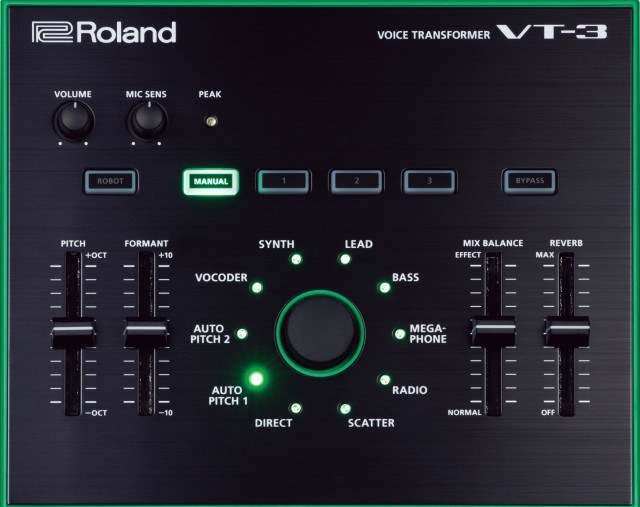 The VT-3 Voice Transformer is designed for creating heavily processed vocal sounds, with pitch and formant shifting, vocoder effects and more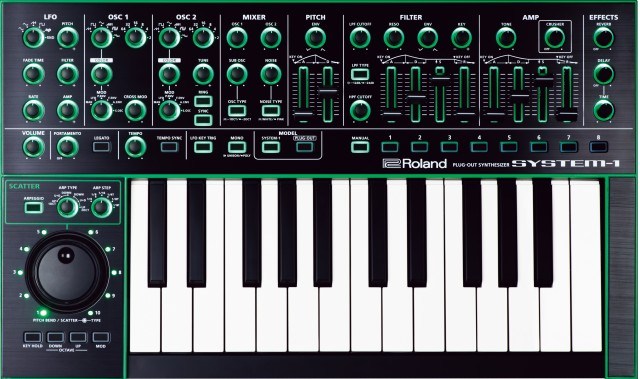 The System-1 Plug-Out Synthesizer is a new keyboard that can transform into a variety of types of synths.
It's very hands-on and knobby, but the key feature is the synth's Plug-Out technology, which lets the System-1 control – and even host – software recreations of classic Roland synths, with no computer connected.
Videos:
Pricing and Availability:
The TR-8 Rhythm Transformer will retail for a street price of $499;
the TB-3 Touch Bassline has a street price of $299;
the VT-3 street price will be $199; and
he System-1 Plug-Out Synthesizer will retail for $599.
Roland AIRA products will be shipping by the end of second quarter 2014