All sounds are played by Yocto. More information www.e-licktronic.com
Best quality sound on SoundCloud https://soundcloud.com/e-licktronic/s…
The reproduction comes courtesy of E-licktronic, who says it represents an exact reproduction, with a modern sequencer and additional features included – such as the ability to mute each instrument, a roll mode, and the ability to store up to 256 patterns.
Says E-licktronic: "The only difference compared to the TR-808 is the BA662, VCA Clap has been replaced by the modern equivalent BA6110."
The OCTO is a build-it-yourself model, and ships with all the necessary components to assemble. The clone costs €379,00 and is out now.
For more info, visit E-licktronic.
Introducing Robotic Drums, a new Universal iOS app by Big Robot Studios.
Robotic Drums is a drum synthesizer with a probability sequencer.
It features:
- 6 analog-modeled synth voices with realtime control
- A probability sequencer for each voice
- Dropbox support
- Midi-clock sync support
- AudioBus support
- Quantized patterns switching
- An optimized, simple UI
For more info see: http://bigrobotstudios.com or find it on the App Store.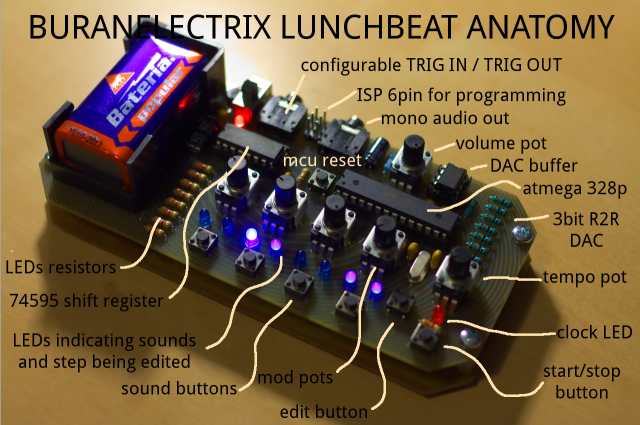 Jan Cumpelik has introduced the Lunchbeat groovebox – an 'impossibly dirty' 1-bit drum machine. It's designed to be a 'minimalistic groovemachine' that also offers interesting lo fi sounds.
Features:
4 channels with 1 bit realtime generated sounds
kickdrum, snare, hihat and bass
8 step sequencer
It's an open source project. Cumpelik also plans to offer Lunchbeat kits.
More noodling around with the Arturia MicroBrute and one of the factory programmed sequences.
"One of the best features of the MiniBrute and MicroBrute is the Metalizer function on the triangle wave. Since the LFO can sync to the sequencer and the sequencer is being synced to the 909, the LFO is now synced to MIDI clock and the rate knob now acts as a clock divider for the LFO as I modulate the filter with the various waveforms and speed intervals. The camera stopped recording about halfway though, which I guess is alright since it was getting rather repetitive."
The 606 has been modded by Analogue Solutions.
Much punchier than my old one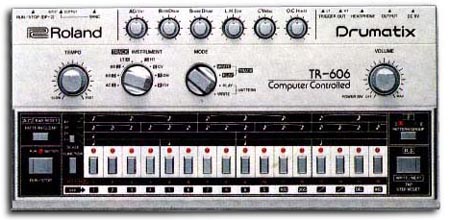 The 606 was the percussion side-kick to the TB-303. It even looks like the 303. It stores up to 32 patterns and 8 songs. The 606 allows switching between Pattern Play and Write mode while running – making the 606 the only drumcomputer in the X0X series that can be edited while performing and switching patterns. It is also possible to link up to 4 consecutive patterns in Pattern Play mode. There is only a mono audio output, however there are mods from Kenton Electronics and Analog Solutions that will add individual outputs for each drum tone.
The 606 has seven analog drum sounds which are simple, yet great! Kick, Snare, 2 toms, open hat, closed hat, cymbal, accent. The hi-hats are a very tinny electronic sound and its toms are great for soft tribal patterns.
Sign up and learn more here: http://www.djtechtools.com/2013/11/03…
On the surface, each Midi Fighter Twister is equipped with 16 endless encoders, each with a push state, plus a full ring of LEDs. Capped off with 2 full-color LEDs at the bottom, each encoder can transform into a wide range of displays and functions depending on the mapping, configuration, or page. This provides infinite levels of control with clear visual feedback similar to a touch screen, while maintaining the tactile feel of a real knob.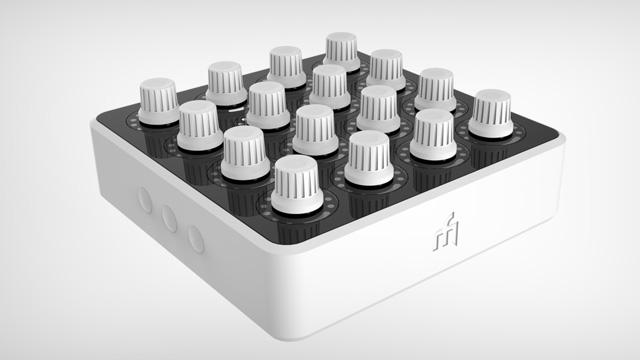 The possibilities – from Ableton control to Traktor effects – are endless, but to really showcase the potential of this dynamic work surface we decided to go a little nuts and create something totally next level.
The Bleep Drum has been upgraded with full MIDI control.
Now you can trigger the four samples, toggle noise and reverse modes, as well as change the pitch of all four samples with any device that can send MIDI.
Retrofit kits available to upgrade any previous Bleep or Dam Drum.
Order now at bleeplabs.com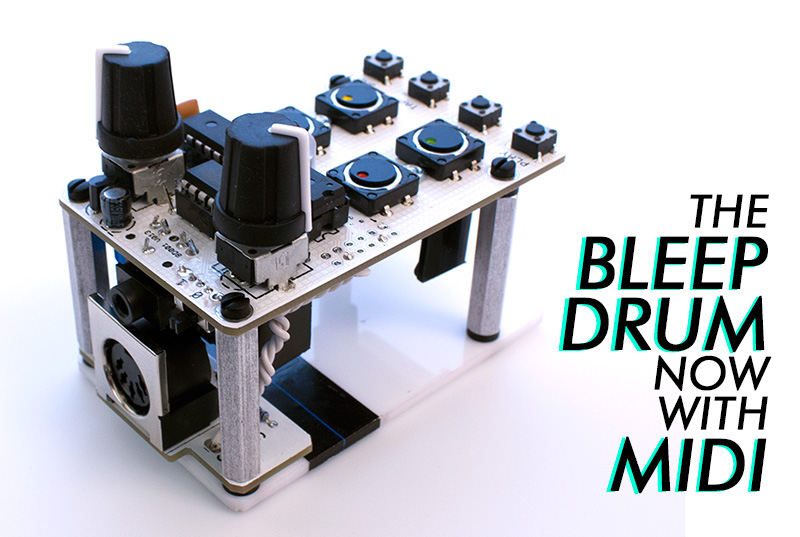 The Bleep Drum is an Arduino based lo-fi rad-fi drum machine designed by Dr. Bleep.
- Four sounds, two with pitch control
- Four selectable sequences
- Record patterns just by playing them
- Tap tempo
- Reverse mode
- Hypernoise 30XX mode
- Stereo 1/8″ output
massivebeatzzoffers his take on the Roland TR-909 inspired drum machine, the Jomox XBase 09
Built from 1997-2005 this now legendary drum box was first reviewed in June 1997 by SOS (Sound On Sound Magazine) asking: "So what do you get when you cross '80s retro with '90s know-how?"
They wrote:
XBase 09 is serious about emulating the Roland TR-909. Like the 909, it is an analog drum machine, and it sounds just like the 909, and more! It offers the same types of analog controls that the TR-808 and TR-909 did such as tuning, level, decay, snap, etc. However it provides more of these controls for more sounds than the originals ever did and has MIDI implementation and Patch memory making the XBase 09 a much more versatile machine than those originals.
Kick and snare are true analog, not emulation and not sampled. The Hihats, cymbal, ride, rimshot, claps and noise sounds are samples but are still quite tweakable. All your edited sounds can be stored into the 100 patches of memory. Use the built-in LFOs to modulate the Bass drum pitch, Snare Tune, Snare Snap, Snare Noise Tune, HiHat Tune or LFO 2.
The XBase 09′s built-in sequencer is also more advanced yet faithful to the style of its mentors. Step or Real-Time programming just like it's done on the 909 and 808! However, on the XBase, any edits to the sounds will also be stored with the pattern or song! This really liven's up your beats and allows you freedom and control to do things not easily possible on the original beat boxes! There's also an extensive Shuffle mode. Of course the XBase 09 is also happy as a simple drum tone module, with all editable controls accessible using MIDI. The controls also send MIDI data when tweaked so you can record real-time edits into your external sequencer.
The XBase09′s editable controls include…
Bass drum — TUNE (controls the pitch envelope amount), PITCH (VCO tuning parameter), DECAY (controls the decay time), HARMONICS (changes the harmonics of the VCO using a diode limiter), PULSE (square wave impulse), NOISE (clap-like sound), ATTACK (controls how much of the PULSE and NOISE mix is added), EQ (smoothes the sound with a filter).
Snare drum — TUNE (controls the pitch of the two oscillators), NOISE TUNE (tunes the noise filter), XSNAPP (controls the proportion of noise), DECAY (noise decay time), DETUNE (detunes the two oscillators), NOISE TUNE (tunes the noise filter).
Sample section — OH DECAY (controls the decay time of the analog volume envelope for sample assigned to OHH), CH DECAY (same but for CHH), HH BAL (controls the volume balance between the samples assigned to OH and CH), TUNE defines the playback speed (pitch) of the sample.
No effects added. Tempest stereo outputs to USB audio interface into ableton
This video takes a look at using the Dave Smith Instruments Tempest drum machine as a 6-voice polyphonic synth module.
The DSI Tempest is based on analog voices tailored to percussion, but the drum machine has a lot of synthesis capabilities that go beyond traditional drum synth sounds, as this video demonstrates.
MFB Kult, a sample based drumcomputer that collect many samples of famous drummachines from the 80′s
In MFB's own words about the machine:
On the occasion of MFB's 25th anniversary, we are proud to announce something special. Since 1979 four rhythm machines were developed and produced: MFB-301, MFB-501, MFB-512 and MFB-612. In Germany these devices are very popular, since the inexpensive machines contained interesting rhythms for rock musicians. MFB digitized some of these sounds, and a multiple sounds of other far common rhythm machines. All these samples are packed into the memory of the MFB-KULT. The 192 sounds are divided in 16 sets, whereby each set contains 12 sounds. Since not every each rhythm machine had 12 sounds, a set consists of sounds of up to three rhythm machines. On a keyboard each set has one octave, so that a 4 octave keyboard or each MIDI channel has four sound sets.
Sounds from following drummachines and devices are available: Boss 55, Casio PT-68, Casio VL-1, CR-78, CR-8000, Drumtracks, Drumulator, El. Harmonix, Hohner, Korg DDD1, Korg-220, KPR-77, Linn 1, MFB-401, MFB-501, MFB-512, MFB-612, Pearl SC-40, Rhythm Ace, Simmons Clap, Simmons SDS, TR-606, TR-727, TR-808, TR-909 and Vermona.
With each sound the volume and the panorama can be programmed. Beyond that the Attack time and the release time can be programmed for each sound. Since the sounds cannot be longer than the original sample, with longer release the compression is increased. The sounds can be played naturally also individually over the tracer. The sound can be stopped with an automatic controller .
Additionally an integrated Sequencer is available, which can play some rhythms of the MFB-501. The speed is adjustable. The MFB-KULT has an stereo output. Additionally there is the MIDI IN. As current supply a plug power pack is provided.