A rough demo of a Tama Techstar TS206 Drum Module; 80's drum brain with twin "tom" synths.
Controls:
SENS; ATTACK; DECAY; NOISE; BEND; TUNE; NOISE MIX; EMPHASIS; LEVEL.
A drum loop is sent to each "Pad Trigger In" via CV. An audio signal can also be used to trigger the drums.
The beginning and end are without effects.
"Frohmage" and "TAL Dub" plug-ins are used elsewhere on the recording, just to keep it interesting, hopefully!!
Tama Techstar TS206 demonstration, pads knobs and external input. This is a 1984 drum brain that consists of two analogue synth modules factory-tuned for toms, in a nearly-19″ rackable unit. I only found TS305 material on the internet so I figured I'd start documenting the TS206.
It turns out to be so much more than a mere drum brain, after the camera ran out of juice I basically had it tuned into a monophonic synthesizer. Wonder how I can add envelope controls and more, if it's at all possible? Tama Techstar units are a DIY electro-musicians dream, do yourself a favour and pick 'em up!
The pads you see in the start are original Tama Techstar, the drum skins are not. If you're curious, I got the entire kit including tom stand (also original Tama-line model, but different brandname) for approximately 70€
Korg's Rich Formidoni explains the ins and outs of the drum machine-style step sequencer on the Kross Music Workstation.
Demo of Dr. Böhm Digital Drums: instruments, preset patterns, auto-fills, breaks and solos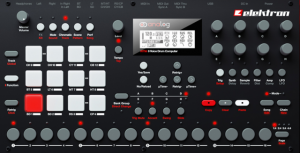 Elektron has released full specs on the new Analog Rytm, its new drum machine.
Eight analog drum voices take advantage of several dedicated analog circuit designs, each of them tuned for generating a distinct class of analog drum sounds. For percussive flexibility, every voice can also be 'spiced up' with customizable samples.
Features:
8 drum voices, each with: Specialized analog percussion sound generator. Sample playback. Analog multimode filter. Analog overdrive.
12 velocity & pressure sensitive pads
Analog master compressor & distortion
Reverb & Delay send FX
World class Elektron step sequencer
Chromatic, Performance, and Scene modes
Performance oriented beat control
Individual voice outputs
Analog Rytm, the analog drum machine from Elektron, is just around the corner. Now the full specifications- and the first proper audio demos – have been published online. Elektron describes Analog Rytm as an 8 voice analog drum machine with sample support. The analog circuits and the sample engine are ingeniously handled by clever software. Drum pads and an Elektron sequencer provide maximized playability. Here's some details in Elektron's own words…
A more powerful drum machine
The Analog Rytm pushes the limit of what is possible to achieve with a single machine. The eight analog drum voices take advantage of several dedicated analog circuit designs, each of them fine-tuned for generating a distinct class of analog drum sounds. For ultimate percussive flexibility, every voice can also be spiced up with customizable samples. The perfect unity of analog drum sounds and samples simply goes beyond.
Beats with character
Plenty of tools are available for shaping the vibe of the beats. Affect every voice with its own analog multimode filter and analog overdrive circuit. To add shimmer and polish to the rhythms, the reverb and delay send FX will prove invaluable. And before the beats hit the sound system, the analog compressor and analog distortion of the master channel will ensure proper pump and grit. The sound of the Analog Rytm has no match.
Maximized playability
The twelve back-lit, velocity and pressure sensitive drum pads offer beat smiths a quick and spontaneous way of creating rhythms. At the same time, the critically acclaimed Elektron step sequencer offers features like manipulating sounds on a per sequencer step basis. The combination of drum pads and step sequencing gives both instant results and the opportunity of detailed editing. The ultimate beat is just around the corner.
Pricing: $1549 / 1489 Euro /£1249
It is not possible to order the Analog Rytm just yet, but you may sign-up to the waiting list to be notified the second it becomes available.
Mitch tries out two apps in this episode of Sweetwater's iOS Update. First, we check out the "BOOM! 808″ drum machine app, based on the original Roland TR-808 drum machine. Next, Mitch tries out a metronome/setlist app called Tempo.
The "BOOM! 808″ drum machine app, based on the original Roland TR-808 drum machine: and
a metronome/setlist app called Tempo.
BD808, SD808, Hats808, and RS808 sequenced by Delptronics Trigger Man.
Catching up with David Arlund at the Dancefair Utrecht to walk us through the features of the Roland Aira TR-8 drum machine. The TR-8 is a hardware model of two of the most coveted drum machines of all time, the TR-808 and TR-909.
8 bits drum VST plugin, by DSK Music.
Features:
– 8 sound slots (C3 to C4 white keys)
– Pitch control for each sample
– Level and pan control
– 6 full kits + extra sounds
– Midi automation
– Velocity response
– Preset selector
Info and download: http://www.dskmusic.com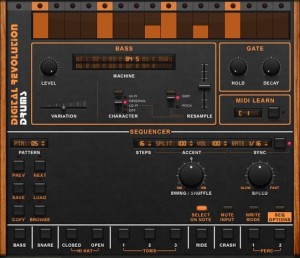 Wave Alchemy has introduced Digital Revolution, an upcoming drum machine instrument library for Native Instruments Kontakt.
Since the release and subsequent update of Transistor Revolution MKII we have been busy behind the scenes working on a brand new instrument which is inspired by the classic digital drum machines of the past…

Powered by 'Revolution Engine' technology our forthcoming Digital Revolution virtual instrument puts vintage digital drum sounds from the 1980′s at your fingertips.

We have faithfully captured the unique sound of 9 iconic digital drum machines spanning from 1980 to 1989, including all sample variations of the original drum machines, tune, decay and various other settings. Each drum sound has also been re-sampled multiple times through an iconic 'grey' 12-bit sampler to allow for real-time re-sample/grit modes which can easily be selected from the instrument interface.
Digital Revolution features
9 classic digital drum machines and 3 bonus analogue machines.
New 'Character Mode' allowing real-time selection of Lo-Fi (re-sampled), Hi-Fi and Original sound sources.
Sequence patterns quickly and easily using the 'Revolution Engine' step sequencer.
Mix and match drum sounds from 12 iconic drum machines in real-time and dynamically browse any available sound either by machine or drum voice.
Assign the same percussion sound to multiple voices to quickly play and sequence melodic patterns.
Easy synchronization with any host or DAW.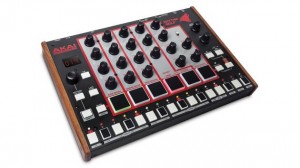 Akai is the latest brand to get in on the vintage-inspired groovebox action with the announcement of the Rhythm Wolf – an analogue unit combining a five-voice drum machine and single-ocsillator bass synth.
The drum machine section of the Rhythm Wolf comprises kick, snare, metallic percussion, and open and closed hi-hat sounds, all of which are tuneable. The bass synth, meanwhile, can be switched between saw and square waveshapes, and features a filter with resonance control and a basic envelope shaper. Akai describes Rhythm Wolf as having an "authentic analog design that references classic rhythm machines and synthesizers" – no prizes for guessing which instruments the company is alluding to.
The whole unit is built around a 32-step sequencer, and also features six MPC pads for live performance. There's also a 'Howl' distortion circuit for adding a bit of dirt to the sounds. Additionally, the Rhythm Wolf features a USB MIDI connection and has both MIDI and gate in and out ports, so can be triggered via a DAW or external hardware. It packs a swing control on its front panel, and the unit also appears to have a built-in preset bank.
Arguably the most interesting aspect of the Rhythm Wolf, however, is its price. At an estimated street price of $199, the unit comes in at slightly cheaper than the combined price of the Volca Beats and Bass, and cheaper than either the Roland TR-8 or TB-3.
The Rhythm Wolf is due to arrive summer 2014. Visit Akai Professional for more details.
Rhythm Wolf highlights (from the official press release)
5-voice analog drum machine and synth—authentic analog design that references classic rhythm machines and synthesizers
Legendary analog drum sounds—kick, snare, open & closed hi-hat, and metallic percussion
Synth-bass module—selectable square or sawtooth wave with classic filter design for warm, deep basses and squelchy leads.
Onboard 32-step sequencer—classic drum machine workflow for quickly laying down grooves and melodies
Six genuine MPC pads—responsive controls for sequencing and finger drumming
Howl knob—custom distortion circuit for additional sound design
USB-MIDI and MIDI In/Out—flexible MIDI connectivity for easy integration into modern studios
Gate Trigger—triggering via modular synths, vintage sequencers, or external sound sources
Independent audio outputs—dedicated outputs for the drum machine and synth-bass module for precise mixing