Soon time for the highly anticipated 808 movie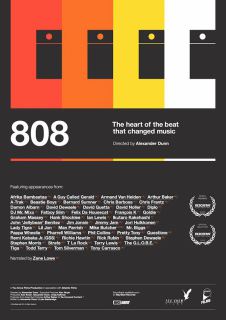 808 The Movie – a documentary about the Roland TR-808 drum machine and its influence on music – makes its world premiere this Friday, March 13th, at SXSW.
The film has been in production for three years, and feature a "Who's Who" of producers, including: Afrika Bambaataa, The Beastie Boys, Pharrell Williams, Questlove, Phil Collins, Rick Rubin, Diplo, New Order, David Guetta, Damon Albarn and many others.
808 is an inspirational story of the Roland TR808 drum machine and how its ground-shaking beats changed the musical world.
Its sound transcends countries and musical genres, in turn inspiring countless artists and producers, giving them an iconic sound from which to build upon.
Even if you don't know the 808 by name, you know its sound. It's everywhere, even now. 808 reveals the stories of the world famous artists, producers and most importantly the hit music to which the 808 was key, offering a cross section of personal experiences about the development of musical genres from around the world.
And 808 reveals why, after only three years of production, the 808 befell an untimely demise.
Comments