A quick look inside the Roland Aira VT-3 . nothing much to see really but I end the video by trying out a few instruments through it and using it as an effects unit for the TR-8 and TB-3 and AX-Synth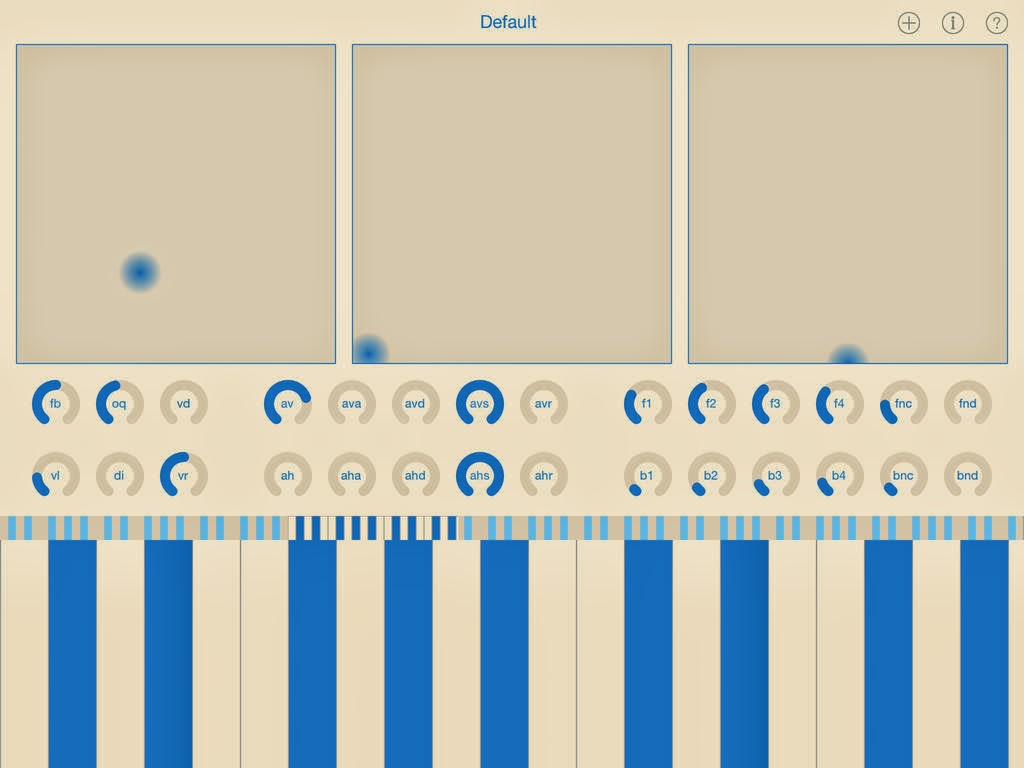 Voxen is a voice synthesizer. It lets you synthesize singing voices. Any voice, not just the few voices that someone else designed into it.
Plus voices that no vocalist can sing. No pitch shifting. No time warping. Just good ol' pure synthesis.

Voxen is based on the voice synthesis technology used by speech scientists and psychoacousticians around the globe. Even though it can be great fun to play with, it is not a toy. Voxen is intended for musicians, DJs and producers who are looking for new and different sources of sounds.

It's time to set your aural imagination free…

FEATURES
Eight note polyphony

Keyboard range of more than ten octaves

Three X-Y touchpads

Twenty-eight vertical linear knobs

Choice of dark or light background colour

Eight choices of foreground colour

Save and load user-defined patches

SUPPORT

If you have any questions or problems, our community forum is the best place to find support:http://community.modphon.com

This is version 1.0, so please do not expect perfection. It would be nice to believe that all bugs have been found and eliminated, but years of experience says that there are still a few left to be found. If you do find a problem, please tell us so we can fix it!

There is additional functionality already in the pipeline for version 1.1 and beyond. Top of the list are MIDI and Audiobus support. We have great plans for Voxen. Visit our community forum to help shape the future of Voxen.


PS

Voxen is *not* a text-to-speech system. You cannot provide it with lyrics and expect it to sing them. Voxen is a synthesizer that acoustically simulates a glottis and vocal tract, allowing you to manually control the sound. It synthesizes sounds, not words.

Because a human voice is more complex than nearly any other musical instrument, a synthesizer of human voices is also very complex. To control one can require the real-time manipulation and coordination of dozens of separate parameters.

If you are looking for something that creates a musical performance from a piece of sheet music and some lyrics on a scrap of paper, hire a good vocalist. On the other hand, if you are looking some new and different sounds, use Voxen.

Voxen is 50% off at launch. The initial price is $7.99.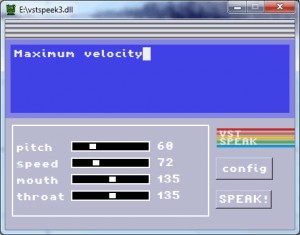 VST Speek is a free vocal synthesis VST plug-in for recreating the old skool robotic text to speech. You simply choose a preset, type any text and get the speech.
VST Speek – http://www.vstplanet.com/News/2014/Wa…
Developer: Wavosaur
Official audio demo!
– you can trigger the speech with MIDI keyboard (velocity sensitive)
– you can use MIDI pitchbend
– you can change original pitch or mouth/throat parameters while it's speaking
This is not a vocal synth like "Vocaloïd", it's intended to do crunchy robotic lofi techno voices! It's not intended for good quality speech synthesis too, better speech synthesis softwares exist now.
– 64 bit version
– MAC version
– ability to assign different text to MIDI notes
– ability to read longer text (and / or read from text file)
– assign pitchbend or midi CC to voice parameters.
– Android version ?
– more parameters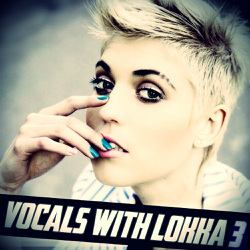 Function Loops has launched Vocals With Lokka 3, a new sample library featuring 700MB of vocal samples by Lokka.
"Vocals With Lokka 3″ will provide you all the professional tools for vocal music production, covering most of the EDM genres. The whole content is 100% royalty-free.

Inside you will find vocal loops and snippets (dry and wet versions), full vocal acappellas (dry and wet versions), musical loops (dry and wet versions) plus MIDI files and also full musical mixdowns for quick edit and remix. Also a bonus folder has been included with five drum loops from the demos.

In addition, you will also find a Raw Extra Dry folder for each Kit, where some of the raw and not edited vocals are located, as well as backing vocals and more. All of these options will give you the maximum flexibility while working on your productions. That's why this sample pack is suitable both for beginners and professionals.So get ready for the winter studio sessions with 'Vocals With Lokka 3′!
The sample pack is available to purchase for $29.90 USD.
In this video one uses a TC-Helicon VoiceWorks, VirSyn HarmonyVoice app, Ableton Live and abunch of Moog and other synth gear to create an interesting vocal performance environment. Analog Control Voltage step sequencing created by Ableton Live and a Moog Multi-Pedal ad an interesting rhythmic dimension.
Learn more at www.experimentalsynth.com
Background video description:
ボーカロイドにピンクフロイド「虚空のスキャット」を歌わせてみた。
made Vocaloid sing "The Great Gig in the Sky "
http://info.shimamura.co.jp/digital/r…
Digiland(デジランド)
島村楽器株式会社のデジタルガジェット情報配信サイト
http://info.shimamura.co.jp/digital/
Here is a simple yet deep Vocal Effect Rack for Ableton Live 9. It has many common effects and some tools to help fight feedback.
AfroDJMac uses a variation of this exact rack for my live performances. It's a lot of fun and can add a lot of excitement to your performances.
Free Download: http://bit.ly/freesynth85
Visit his site for more stuff like this, including Live Instrument downloads, tutorials and music! http://www.afrodjmac.com
Numerical Sound has announced Tone Mutation: Vocals, a Rack Extension for Reason and Reason Essentials.
Numerical Sound Tone Mutation: Vocals (TMV) contains 36 human vowels and animal resonances designed to greatly expand the range of your synthesizer and audio tracks by transforming them into vocal sounds.
High precision resonances dramatically enhance vibrato – giving accurate vibrato tone from any synth. Elevated high frequencies allow TMV to work with maintain clarity and impact on any percussion sound. Dramatically changes the sound of your existing patches, especially pads and full-frequency sounds. The available combinator patch allows smooth morphing through 8 different selectable vocal sounds on any Reason instrument.
Tone Mutation: Vocals features
36 Timbral Impulses cover a wide range of vowels and semi-vowels as well as a selection of Walrus, Whale, Alligator, Leopard and Panther vocalizations snapshots.
The Convolution approach enables capabilities and precision sound that is impossible with parametric and multiband EQ's.
Stereo Width, Gain, Pan and Dry/Wet controls make it easy to mix and shape the sounds.
Audiophile design supports 44.1, 48, 88.2, 96 and 192 KHz sample rates, with processing transparently optimized for each sample rate.
Bonus: Find different ways to use TMV instantly with the free combinator instrument patches. Some patches are available to trial users to get started quickly, but registered users get even more, including intermittent e-mailed updates from Numerical Sound
The Rack Extension is available from the Propellerhead Shop for 55 EUR.

See VocaLive (with iRig MIC for vocal input) and AmpliTube (with iRig HD as input for guitar and bass) with great apps like Audiobus (of course) and GarageBand in this great video. See how easy it is to connect VocaLive with other apps that are compatible with Audiobus.
Audiobus (from Audiobus Pty Ltd) allows the processing and output of audio apps to be used in real time with other apps, thus "connecting" them much like audio cables connect pieces of gear. Singers can now use VocaLive to add stunning vocal effects to their recordings in other apps like AmpliTube or GarageBand, or add instrumentation from other apps to their recordings in VocaLive.
VocaLive for iPhone, iPad and iPod touch and AmpliTube for iPhone, iPad and iPod touch are now Audiobus compatible. Audiobus is a groundbreaking new app (developed by A Tasty Pixel in cooperation with Audanika) that allows users to connect the audio of multiple apps, opening up countless new sonic possibilities. For example Audiobus lets users send audio out of one app, filter it through the next one in the chain, and receive it in the third. Vocals can be run through a filter or multifx; or a synth could be looped by a looper and its output sent to a recorder; or an electric piano could be run through a guitar multi-FX app and then into a sampler — all in real time.
For more info:
http://www.ikmultimedia.com/news/?ite… for more information – VocaLive: http://ikmultimedia.com/vocalive – iRig MIC: http://www.irigmic.com iRig HD: http://www.irighd.com – AmpliTube: http://www.amplitube.com/ios

MaxSynths lets us know that DSP-2 is a high precision insert effect for vocal processing which includes an Intelligent Dynamic Processor, a saturator, a four band equalizer fixed on vocal key frequencies and a room emulator based on the Schroeder reverberator. They say that DSP-2 has been designed to be an easy to understand solution for all your vocal processing needs.
Features:
Intelligent Dynamic Processor (IDP)
Four different automatic operative modes:
Fast attack, fast release
Fast A, slow R
Slow A, fast R
Slow A, slow R
Selectable compression ratio
Saturator with three different operation modes
EQ fixed on vocal key frequencies
Room emulator based on Schroeder reverb model
Transparent increment of the perceived volume level
High precision input/output VU-meter
Low CPU usage