Transform your voice into a mesmerizing instrument. Morph and shape the sounds you create by exploring Vio's entrancing interface. Learn more at http://transformyourvoice.com
Sonic adventures — always in tune
Build sonic universes from your own voice. The innovative audio engine behind Vio goes far beyond existing voice effects to create novel, futuristic vocal styles. Vio's sound spaces vary in character from edgy and energetic to mellow and relaxing. Vio surprises and inspires your creativity: you may not intend to do something, and it comes out cool. Whether you are an amateur or seasoned professional, Vio's pitch correction technology ensures that everyone sounds in tune and is beautifully harmonized.
Touch Control
Explore each sound space by touching Vio's swirling particle vortex. Move the vortex around the screen and change how your voice is transformed – harmony is added or subtracted, melodies emerge and disappear, and reverberations shape shift.
Looping
Double-tap the screen, loop what you have just sung or hummed, and focus on morphing your sound with the particle visualizer.
Recording & Sharing
Record your performances and share them via email, SoundCloud, Dropbox, or iTunes file sharing. Choose between compressed and high quality audio files.
Advanced Features
Visit http://squareb.co/vio to learn about advanced features like changing keys and recording high quality audio.
Demotrack of the breakaway vocalizer, all sounds from the vocalizer, some reverb and delay
The vocalizer has a pitch to midi converter build inside
It contains 74 sounds wich can be expanded by extra cartridges (mine has the new age cartridge)
The soundchip inside is the same as the Ensoniq ESQ-1 synthesizer.
This machine can be controlled by midi but is also has an external input.
In this demo i fed all kinds of things into the input like a radio, a mic, a drumcomputer and multitracked it.
The results can be somewhat unpredictable wich is good for experimental music.
Running a Texas Instruments "Speak & Music" keyboard through a Chamber of Sounds LSD (Light Sensitive Delay). Get your LSD on, only at chamberofsounds.com
ReaComp is REAPER's compression effect. In this quick tip Ken Theriot uses ReaComp on a vocal track and demonstrates how to make the most of it.
Jonas "Missing Identity" Hagenvald explains the new plugin "Dialog" from Wave Arts and enhances a vocal from the singer Lulablue.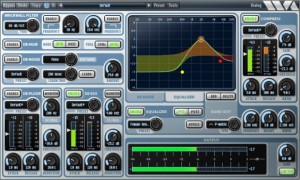 Dialog combines in one plug-in all the processing needed to clean up, adjust, and sweeten recordings of the spoken voice. It is perfect for voice-over, film/tv recordings on location or sound stage, and broadcast.
Dialog includes brickwall filters, de-hum and de-buzz processing, broadband noise reduction, de-ploding, de-essing, 10-band equalization, compression, and limiting. Separate presets for each section allow you to get results fast.
The brickwall filters have variable rolloff slopes and can be used to cutoff low or high frequency ranges. The de-hum processor uses notch filters to eliminate 10 harmonics of either 50 Hz or 60 Hz hum. The de-buzz processor squelches nasty line frequency buzzes. The de-noise processor is the stellar sounding MR Noise algorithm with a simplified interface. De-plode and de-ess are custom processors; use de-plode to tame plosive sounds and use de-ess to adjust the amount of sibiliants. The EQ section is the powerful and easy to use TrackPlug equalizer, with 10 bands of equalization, 11 different filter types to choose from, and a variety of presets. The compressor is the TrackPlug Vintage compressor, with presets tailored to voice processing.
Further adventures in vocal processing using the TC Helicon Voiceworks and the iVoxel vocoder iPad app.
More on the TC Helicon VoiceWorks:
This popular harmony processor has been used by songwriters, performing musicians, and jingle and movie music creators to put their creative stamp on vocals. VoiceWorks has a full complement of vocal processing tools from microphone preamp to four voices of harmony generation, pitch correction, reverb and tap tempo delay, compression and EQ. There's even a song mode that allows you to step through a pre-programmed series of steps with the optional Switch3 footswitch.
A complete signal path from mic input to stereo output. All you add is a PA, (or DAW) and your voice.
Capable of creating up to 5 part harmony or doubling with your voice
Harmonies can be controlled by MIDI keyboard or by setting key and scale
100 user-programmable presets
Reverb and delay can be used simultaneously and have extensive editing parameters
Thicken effect adds lush detune-style chorusing to your lead vocal in addition to other effects
Compressor, 3 band EQ and gate
Editor program for Mac and PC available free via download
App description can be found below:
Download Sing! for iPhone and iPod touch: http://bit.ly/SingTutorialVideo
Sing! Join the global karaoke party.
I sing, you sing, we all sing! Share your voice with people all over the globe, invite others to join your songs, or perfect a challenging song and then share it with the world.
SING THE HOTTEST SONGS:
Choose from a huge catalog of songs, with the hottest hits by your favorite artists. Sing songs from an array of genres, from Pop to Rock, Hip-Hop to Musicals, Country to Classics. New songs are added all the time! Sing the song featured in this video: Count On Me by Bruno Mars!
JOIN THE KARAOKE PARTY:
Find and follow your friends in Sing!, and discover new songs and new artists — both artists whose songs are in the app, and incredible singers who are using the app just like you and me. Sing your heart out on Solo songs, or express your musicality with others in Duets or Group songs. Keep up with your friends and favorite singers, and love and comment on performances to show your support.
SOUND LIKE A STAR:
Sound amazing every time with Sing!'s basic voice enhancement technology. Use special voice filters to spice up your performance even more. Sing! is a supportive, joyful community where music-making at all levels is encouraged and appreciated.
Songbook includes:
Call Me Maybe — Carly Rae Jepsen
Boyfriend — Justin Bieber
Rolling in the Deep — Adele
Love You Like A Love Song — Selena Gomez & The Scene
The Edge of Glory, Bad Romance, Poker Face, Born This Way — Lady Gaga
Before He Cheats — Carrie Underwood
Count On Me, Grenade, Nothin On You — Bruno Mars
And many more! New songs added all the time!
Want a song that's not yet available? Suggest songs on Smule's Facebook page: www.facebook.com/smule
Features:
– Connect with your friends by giving & receiving comments and likes.
– Share your performances with the community through the globe.
– Join other songs for free and make it a duet or group song!
– Enhance your voice with special voice effects: Pop, Vintage, or SupaTune.
– Easy sharing to outside the community via Facebook.
– And much more!
Improvisation with home-made MIDI ribbon controller, "Slidesounder"
Dace playing slidesonder. new instrument-playing technique is yet to be invented, but she manages well.
More info on Reason: http://www.propellerheads.se/products/reason/
Gary Bromham's guide to vocal recording: http://goo.gl/Vjyek
In this Reason Tips video Mattias gives you some valuable pointers on mixing vocals. Since vocals are often what carries the track, it's important to get them sitting right in the mix! Learn how what frequencies to pay attention to and how to make a de-esser in Reason's mixer in this video.
Time for another Ableton tutorial on this sunny Sunday morning, check it out – details can be found below:
http://ohdratdigital.com This week we're looking at how you can get started chopping vocal melody lines in Ableton Live to get sounds great for that UK Garage, Future Garage, Dubstep sound. Think Todd Edwards, Sunship, et al. Let us know what you think!