App description can be found below:
Download Sing! for iPhone and iPod touch: http://bit.ly/SingTutorialVideo
Sing! Join the global karaoke party.
I sing, you sing, we all sing! Share your voice with people all over the globe, invite others to join your songs, or perfect a challenging song and then share it with the world.
SING THE HOTTEST SONGS:
Choose from a huge catalog of songs, with the hottest hits by your favorite artists. Sing songs from an array of genres, from Pop to Rock, Hip-Hop to Musicals, Country to Classics. New songs are added all the time! Sing the song featured in this video: Count On Me by Bruno Mars!
JOIN THE KARAOKE PARTY:
Find and follow your friends in Sing!, and discover new songs and new artists — both artists whose songs are in the app, and incredible singers who are using the app just like you and me. Sing your heart out on Solo songs, or express your musicality with others in Duets or Group songs. Keep up with your friends and favorite singers, and love and comment on performances to show your support.
SOUND LIKE A STAR:
Sound amazing every time with Sing!'s basic voice enhancement technology. Use special voice filters to spice up your performance even more. Sing! is a supportive, joyful community where music-making at all levels is encouraged and appreciated.
Songbook includes:
Call Me Maybe — Carly Rae Jepsen
Boyfriend — Justin Bieber
Rolling in the Deep — Adele
Love You Like A Love Song — Selena Gomez & The Scene
The Edge of Glory, Bad Romance, Poker Face, Born This Way — Lady Gaga
Before He Cheats — Carrie Underwood
Count On Me, Grenade, Nothin On You — Bruno Mars
And many more! New songs added all the time!
Want a song that's not yet available? Suggest songs on Smule's Facebook page: www.facebook.com/smule
Features:
– Connect with your friends by giving & receiving comments and likes.
– Share your performances with the community through the globe.
– Join other songs for free and make it a duet or group song!
– Enhance your voice with special voice effects: Pop, Vintage, or SupaTune.
– Easy sharing to outside the community via Facebook.
– And much more!
Improvisation with home-made MIDI ribbon controller, "Slidesounder"
Dace playing slidesonder. new instrument-playing technique is yet to be invented, but she manages well.
More info on Reason: http://www.propellerheads.se/products/reason/
Gary Bromham's guide to vocal recording: http://goo.gl/Vjyek
In this Reason Tips video Mattias gives you some valuable pointers on mixing vocals. Since vocals are often what carries the track, it's important to get them sitting right in the mix! Learn how what frequencies to pay attention to and how to make a de-esser in Reason's mixer in this video.
Time for another Ableton tutorial on this sunny Sunday morning, check it out – details can be found below:
http://ohdratdigital.com This week we're looking at how you can get started chopping vocal melody lines in Ableton Live to get sounds great for that UK Garage, Future Garage, Dubstep sound. Think Todd Edwards, Sunship, et al. Let us know what you think!
Channel Robot has released Tech Vocals, a sample library is the Grid Machine Slice series for Kontakt.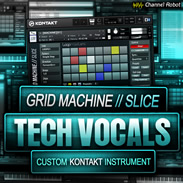 Here are Volumes 2 and 3 of the best selling Minimal Tech Vox – a fantastic collection of snipped, glitched, processed and tweaked minimal vocal samples, produced specifically for the dance music producer.
Whether you are making Tech, Electro, Deep or Mainroom Dance Music – these samples recorded by pro session singers have been mangled, chopped and edited to provide you with the building blocks for some awesome grooves.
Featuring a killer selection of one word single shot samples, glitched vox sounds, vox stabs, Fx Processed Loops, vocal hooks and re-sequenced parts which together form a formidable collection of samples for any producer looking to introduce the human element to loops and sections of their productions, and now you can further process cut, mix, slice and glitch to produce completely unique content in Grid Machine Slice.
The sound library is available to purchase from Loopmasters for £29.95 GBP.
Then perhaps this something for you: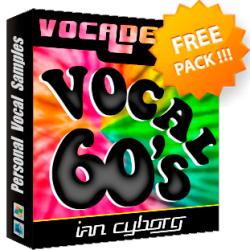 Sample producers Vocal Sample have released a free vocal sample library, Vocal 60′s:
VOCAL 60´s features 551 Royalty-Free Male and Female Vocal Samples in 24-bit Wav Format. Includes spoken words, lines, shouts, adlibs, funny vocals, slang, scats and more!
352 Mb of 24 bit resolution .wav format files, covering a tempo range of 090 to 170 bpm. All these features makes Vocal 60 `s Pack a powerful composing tool that gives you more life and dynamism to your music.
This is a Vocal Pack suitable for both DJs and Producers from different musical genres.
Whenever you need a great vocal track for an electro, ambient, trance, chillout, lounge, Electronica, minimal or soul releases, no doubt about it, this is your pack!!!
It's a free download from the VocalSample site.
Play Hatsune Miku Songs Live! With The Yamaha Vocaloid Keyboard
The keyboard is made possible by the relative simplicity of Japanese phonology, with only fifty or so possible syllables in the language altogether. Syllables are selected by simultaneously pressing a Roman alphabet key with a D-pad-shape modifier for one of the five Japanese vowels — so, for example the "K" key with an "A" directional press would result in a "KA" consonant. This is all done with the left hand, with the right hand controlling each syllable's pitch via a standard keyboard layout, and there's an LED display to confirm character input. The interface seems simple and logical for Japanese speakers, though it will take some practice to get right — Yamaha says that several players so far have been able to play nursery rhymes after around three hours with the device.
DigInfo TV – http://diginfo.tv
17/3/2012 interaction 2012
Yamaha
VOCALOID Keyboard
The keyboard is still in development with no solid plans for a commercial release, and the prototype still looks pretty rough from a design standpoint. The company says it's more likely that it would provide the sound chip inside for other companies to use in their own hardware. However, if a product ever sees the light of day it could well be the next step along the way to Vocaloid domination of J-pop.
More info: http://bit.ly/yUCtMg
Dubspot Instructor Dan Freeman explains and demonstrates tips and tricks for processing live vocals with Ableton Live. This video is aimed at folks who want to take advantage of Ableton Live's powerful effects and use them for live vocal performance. This is also for producers who what to know how to route vocals into Live and work with the vocoder effect.
Ableton Live Producer Program starts online the week of February 5th and in NYC the week of February 22nd. Course details and registration info here: http://bit.ly/oqTbm1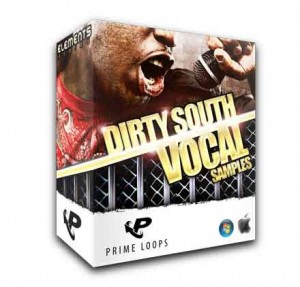 Prime Loops tell us that Lil Jon, T.I. and Ludacris were some of the inspirations for their latest release, Dirty South Vocal Samples. They say that it's the ultimate one-stop for all the Dirty and Southern vocal hooks, group shouts, urban hype hooks and hip hop phrases you'll need to make your tracks stand out.
Here's all the details in Prime Loops' own words…

For this sample pack the Prime Loops team has brought no less than three top-notch MCs into the studio, each delivering a multitude of spoken gems. Many of these vocals come in several variations, which makes this collection extremely versatile. "Dirty South Vocal Samples" gives you 400+ shout-outs, phrases and stanzas and have been arranged over 6 folders with names such as "Area Shouts", "Dirty Hollas", "Dirty Shots", Group Spittin", "Smooth Talkin" and "Straight Shootin" and all samples have been recorded, edited and mastered by Prime Loops' sound specialists.

All of "Dirty South Vocal Samples" is 100% royalty-free so you don't have to worry about any sample clearances! Simply load these pre-formatted vocal patches into your favourite software sampler, or drag and drop the 24Bit samples straight into any sequencer of your choice – then listen through, pick what you list, twist it to your tastes or not and enjoy the authentic Dirty South touch!

Whether you want to be the next Luke Skywalker with some extra fast 2 Live Crew – embracing Miami Bass beats or slow things down in a "Chopped and Screwed" style – vocal chords really can't get much more Southern and Dirty than this! And even if you're coming from any other genre, such as house, dance or electro; with this selection of southern hooks and hype vocals you're sure to ad a right street edge to your tracks!

Formats include: .WAV, Acid Samples, Akai MPC, Garageband, Reason Refill, Kontakt, Halion, EXS24, Sonar SFZ and more.
Pricing and Availability:
Dirty South Vocal Samples is available for download for £17.95
More information:
Melodyne editor 2.0 comes with extended timing tools. See in this video, how the new Time Handles and the Attack Speed tool allow for even more detailed editing of your audio tracks.
New in this release:
Attack Speed tool for editing transients. (That could make this a lot more interesting creatively.) New Time Handles for changing time in the notes. These tools have special applicability to percussion and vocal phrasing, respectively, but may have some other interesting alternative applications.
Edit notes in other scales, temperaments, and tunings. (Re-tuning to alternative tuning systems, anyone?)
Keyboard shortcuts work in plug-in mode, display and highlight is improved.
Work via ReWire with hosts that lack plug-ins. Read: Reason. And that could make this an interesting companion to Reason's record workflows.
More about Melodyne editor 2.0:
http://www.celemony.com/editor2
Here's the pitch:
Shape audio as never before
Vocal polishing of the highest quality, the removal of wrong notes from piano recordings, incredible harmonic and rhythmic freedom: Melodyne editor is the most powerful edition of our one-track product family and offers you the entire spectrum of Melodyne's award-winning capabilities
Unique and award winning
Melodyne editor, with its Direct Note Access technology, makes possible what had previously been considered impossible: access to individual notes in polyphonic audio material. Correct wrong notes in a piano recording; change the chords in a guitar accompaniment after the recording is over; refashion a sample lick. Only Melodyne editor gives you the freedom to work like this with audio. And allows you to do things you could only dream of doing before.
Edit music and not just audio data
With Melodyne editor you can edit your audio material in an intuitive and flexible way. Simply move an audio note to a different pitch or a different position. Make notes longer or shorter, louder or softer. Delete notes from chords or add new ones by copying. Use a multitude of scales, create your own or extract scales from audio recordings. Control the timing in detail and even the time course within notes. These functions for shaping audio will give you an experience you don't want to miss.
Best sound, best reputation, best of company
Melodyne editor is at home in all the great studios of the world and can be heard on countless productions. Leading producers are of one voice in praising the sound quality, flexibility, speed and reliability. Whether used as a problem solver in the hard day-to-day work of production or as a source of ideas and creative tool: Melodyne editor quickly becomes indispensible and inspires time and again.
The future of audio
Melodyne editor will change the way you work with audio. The note-based approach and intuitive operation of Melodyne editor will soon seem so natural to you and so much a matter of course that you will no longer regard audio as something fixed and given but quite simply as music. As music you can shape and refashion virtually at will. To correct and optimize or fully restructure in order to make new ideas reality. This is how we picture the future of audio editing. And with Melodyne editor, this future is yours already today.
Have fun