Melodyne editor 2.0 comes with extended timing tools. See in this video, how the new Time Handles and the Attack Speed tool allow for even more detailed editing of your audio tracks.
New in this release:
Attack Speed tool for editing transients. (That could make this a lot more interesting creatively.) New Time Handles for changing time in the notes. These tools have special applicability to percussion and vocal phrasing, respectively, but may have some other interesting alternative applications.
Edit notes in other scales, temperaments, and tunings. (Re-tuning to alternative tuning systems, anyone?)
Keyboard shortcuts work in plug-in mode, display and highlight is improved.
Work via ReWire with hosts that lack plug-ins. Read: Reason. And that could make this an interesting companion to Reason's record workflows.
More about Melodyne editor 2.0:
http://www.celemony.com/editor2
Here's the pitch:
Shape audio as never before
Vocal polishing of the highest quality, the removal of wrong notes from piano recordings, incredible harmonic and rhythmic freedom: Melodyne editor is the most powerful edition of our one-track product family and offers you the entire spectrum of Melodyne's award-winning capabilities
Unique and award winning
Melodyne editor, with its Direct Note Access technology, makes possible what had previously been considered impossible: access to individual notes in polyphonic audio material. Correct wrong notes in a piano recording; change the chords in a guitar accompaniment after the recording is over; refashion a sample lick. Only Melodyne editor gives you the freedom to work like this with audio. And allows you to do things you could only dream of doing before.
Edit music and not just audio data
With Melodyne editor you can edit your audio material in an intuitive and flexible way. Simply move an audio note to a different pitch or a different position. Make notes longer or shorter, louder or softer. Delete notes from chords or add new ones by copying. Use a multitude of scales, create your own or extract scales from audio recordings. Control the timing in detail and even the time course within notes. These functions for shaping audio will give you an experience you don't want to miss.
Best sound, best reputation, best of company
Melodyne editor is at home in all the great studios of the world and can be heard on countless productions. Leading producers are of one voice in praising the sound quality, flexibility, speed and reliability. Whether used as a problem solver in the hard day-to-day work of production or as a source of ideas and creative tool: Melodyne editor quickly becomes indispensible and inspires time and again.
The future of audio
Melodyne editor will change the way you work with audio. The note-based approach and intuitive operation of Melodyne editor will soon seem so natural to you and so much a matter of course that you will no longer regard audio as something fixed and given but quite simply as music. As music you can shape and refashion virtually at will. To correct and optimize or fully restructure in order to make new ideas reality. This is how we picture the future of audio editing. And with Melodyne editor, this future is yours already today.
Have fun
ARA Audio Random Access is a pioneering extension for audio plug-in interfaces such as VST, AU or RTAS. It was developed by Celemony, best known for the multiple award-winning Melodyne software, in collaboration with PreSonus, the company behind Studio One. In this interview, Celemony's software architect Carsten Gehle talks about the technical background of ARA Audio Random Access.
For more Melodyne videos see:
http://www.celemony.com/id/videos
Learn how to craft grooves, rhythms and sound variations from single one-shot drum samples with Melodyne.
Human hearing is particularly sensitive when it comes to vocal tracks, which is why producers all over the world are grateful that intonation and timing corrections with Melodyne studio are practically inaudible. Correct the notes quickly and easily with the help of a macro or drag them with the mouse to the correct pitch or position in time. Fine-tune their length, their volume or the intensity of their vibrato. They'll sound as if they had always been that way. With Melodyne studio, you can see and edit not just one but as many tracks as you like. So you can create with extraordinary ease multi-voice arrangements from a source track with only one voice, taking advantage even of the possibility of outputting each individual voice via a separate channel in the mixer. You can quantize tracks using other tracks for reference and even copy pitches from one audio track to another. Melodyne studio offers the greatest possible degree of flexibility and creative freedom for your arrangements. Multi-tracking adds up to a lot more here than the sum of multiple tracks.
Tutorial videos:
"What does a stone sound like?"
A film portrait of Melodyne inventor Peter Neubäcker
The man primarily behind such Celemony innovations as Melodyne, DNA Direct Note Access and Capstan is Peter Neubäcker — a passionate musician, researcher and inventor, who sets unusual goals for himself and manages even on occasion to realize in practice things that in theory can't be achieved. It was the question "What does a stone sound like?" that led Peter Neubäcker to the invention of Melodyne around 15 years ago.
In this interview with Maximilian Schönherr, he airs some of the secrets of Melodyne and offers insights into his thoughts and personal history. He talks about his passion for philosophy, music and mathematics as well as how guitar-making, Johannes Kepler and the science of Harmonics have influenced him. From the conversation, a fascinating 30-minute film portrait has emerged that not only shows one of the most resourceful and multi-facetted personalities in the audio industry but also the background to Celemony innovations.
00:30 — Music, philosophy and the Numbers
04:25 — The Monochord, Lambdoma and zero and infinity as the origin of all notes
09:50 — Grasp and comprehend, chaos and fractals
12:35 — Programming and guitar-making
16:00 — Youth, years of quest, and the birth of an interest
21:30 — The sound of a stone and the idea of Melodyne
24:40 — DNA Direct Note Access and the legendary roll of bathroom tissue
Hehe, if you can afford it, yikes it retails at 3600€
Here's what they have to say about it:
For over 100 years, music has been recorded on mechanical storage mediums, and for over 100 years such recordings have been plagued by the same problems: wow and flutter. Who isn't familiar with the wobbling and warbling, the droning and dragging? Mechanical degradation caused by defective devices or sticking tapes, by aging or defective storage. Furthermore, wow and flutter were for the most part irremediable.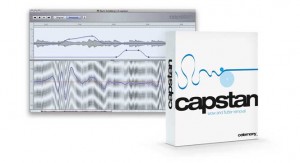 Countless recordings of renowned orchestras, big bands and rock groups are currently slumbering deep in archives because precisely this problem has rendered them unusable. The tapes worthless, the recordings lost to posterity. Until now.
For with Capstan there is now for the first time a program capable of removing wow and flutter from musical recordings — whether on tape, compact cassette, wax, shellac or vinyl. Capstan detects wow and flutter by analyzing the musical material itself, so the medium is of no relevance. In this, Capstan is clearly superior to solutions such as bias tracking, because Capstan still works even if the tape has already been copied several times or digitized only in low resolution.
Being musically intelligent, the Capstan algorithm is capable of recognizing not only the minutest amounts of wow and flutter but also continuous speed variations within the musical material itself and makes possible detailed editing that extends even to drawing in the curve manually. It is based on the patented DNA Direct Note Access technology made famous by the award-winning program Melodyne, which is used worldwide in all major studios for the editing of pitch and timing.
Whilst the precise detection of the wow and flutter represents the actual technological revolution, repairing the recording is easy: the musical material is simply played back with the velocity curve inverted. Pure varispeed — guaranteed free from artifacts.
More info:
http://www.celemony.com/cms/index.php?id=capstan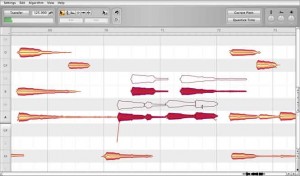 Celemony is making entry into the world of Melodyne simpler than ever before: you can try out the current version of Melodyne editor now for 30 days without any limitations on its use. Furthermore, a multi-language "First Steps" video tutorial including a demo arrangement is provided to guide users swiftly to their first taste of Melodyne success.
The trial version of Melodyne editor allows you to try out all the functions in a relaxed manner without the exasperating limitations typical of demo versions. For 30 days, you can use the trial version of Melodyne editor in exactly the same way as the full one: either as a stand-alone application or as a plug-in in the DAW of your choice, using your own material in an authentic practical context. You can save projects, open them again, and even exchange them with other Melodyne users.
You will find the trial version of Melodyne editor in the Download section of the Celemony web site. To register and use the program, all you need is Internet access. Later, you can purchase the full version from within the trial one, with no further download or fresh installation being necessary.
Like the full version, the trial version comes with a "First Steps" tutorial that offers a swift and easy way of getting to know and experiencing your first taste of success with Melodyne. The tutorial consists of a film about ten minutes long introducing all the most important functions of Melodyne, from note detection to navigation and the editing of notes, drawing examples to demonstrate their use from the supplied audio material. With this material and the ready-prepared arrangements for Pro Tools, Logic, Cubase, Live and Studio One, users can try out the various procedures themselves, getting to know and learning to master Melodyne effortlessly along the way.
Melodyne editor is the most powerful of the one-track editions of Melodyne. At the recent NAMM Show, it won the coveted TEC award for the pioneering DNA Direct Note Access technology that allows you to edit individual notes even in polyphonic audio material.
Pricing and Availability:
Free trial.
More information: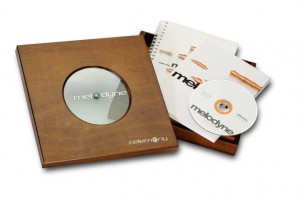 Celemony has a birthday to celebrate: the company was founded 10 years ago, and Melodyne has been with us 10 years. 10 years in which the outstanding software has gone from an insider tip to one of the most highly valued audio tools around. Celemony is expressing its thanks with 10 of the legendary wooden boxes in which the first Melodyne was delivered. Each box contains a license for Melodyne editor, for Melodyne studio and for all Celemony software products released in the next 10 years. What that means is that everyone who gets a box will receive all the software products and updates released by Celemony until the year 2020 free of charge. Here's the Celemony press release with all the details…
To participate in the prize draw, all you have to do is leave Celemony a birthday greeting. Starting now: in the Celemony Forum, on the Facebook Fanpage wall, or on the MySpace page "Music With Melodyne" – whichever is preferred. Three people whose names are drawn from among those greetings will each receive one of the ten boxes. Celemony is most looking forward, naturally, to greetings with a touch of originality – a short film, a Melodyne anecdote, a poem or something of that kind. The fourth box will go to the person who comes up with the best greeting (selected by our jury). The closing date for entries is the 16th January 2011, the last day of the NAMM Show, where Melodyne was presented for the first time 10 years ago.
A further three boxes are being offered as prizes in competitions organized by the specialist magazines Sound On Sound and EQ. You will find further information in their recent issues and on their web sites. The three remaining boxes will be auctioned on eBay. We will transfer the proceeds of the three auctions to the charity Médecins Sans Frontières (aka Doctors Without Borders). You will find all the relevant information and links on the Celemony web site, where in January the names of the four winners will be announced and the best birthday greeting will be published.
About Celemony
It wasn't with its patented, multi-award-winning DNA Direct Note Access technology that Celemony first turned the world of music production upside down, but with the very first version of Melodyne, released in the year 2000. When it first appeared, Melodyne was so revolutionary that only open minded users recognized the potential of the software. The notion that it was possible to reach inside an audio recording and modify notes directly was altogether too novel. Melodyne, however, was so intuitive to use and sounded so good that soon more and more musicians and producers were becoming enthusiastic about it and discovering in the process one of its particular fortes: vocal correction. Admittedly Melodyne was just as good at editing other monophonic instruments and percussive material, but it was with sensitive lead vocals that the excellence of its algorithms was most apparent. Today, with its DNA technology, Melodyne even allows you to modify individual notes in recordings of polyphonic instruments like the piano or the guitar.
What will the next 10 years bring? We at Celemony are convinced that the possibilities are far from exhausted. "Behind Melodyne lies above all the desire to understand the music in the audio data," says Peter Neubäcker, the inventor of Melodyne and founder of Celemony, "and the more we know about this music, the better the editing possibilities we are able to offer the user. I believe that further improvements are possible here that will make Melodyne more intuitive and offer at the same time still greater creative potential."
More information:
Via Sonic
Celemony has updated their awesome Melodyne Editor to version 1.2, providing 64-bit support and improved transfer handling as well as extending MIDI export to the plug-in implementations of Melodyne editor and assistant. Melodyne essential supports additional plug-in formats and can now also be operated in stand-alone mode.
The highlight of Version 1.2 is support for 64-bit operation, which in compatible DAWs brings great advantages: Melodyne can be used on more tracks and process longer transfers as well as being extremely stable in operation. Major gains have been made not only in terms of performance and reliability but also in terms of speed: the detection of the transferred material with Version 1.2 is up to 30% quicker – even in 32-bit operation.
The handling of transfer storage paths is easier in Version 1.2 and more transparent too. In many DAWs (currently Cubase 5.5, Nuendo 5, Pro Tools LE/MP 8.0.4, Pro Tools HD 8.1), the saving of transfers is even automatic in the current DAW project. The list of DAWs supported by Celemony and tested with Melodyne also includes from Version 1.2 onwards Sonar, Digital Performer, Nuendo and Studio One.
The update to Version 1.2 is free-of-charge for registered users. More information on Celemony Melodyne Editor.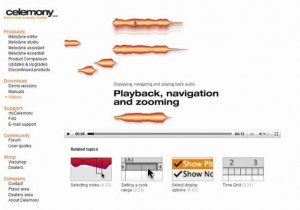 Celemony has made available on the Internet a revised and expanded range of videos dealing with Melodyne. Here's their press release with all the details…
From the Celemony website Melodyne users can now learn everything worth knowing about Melodyne editor and Melodyne essential in ease and comfort. There are also new films in Celemony's 'Artists' series, in which prominent users discuss their work with Melodyne.

"We know no one likes reading manuals," says Uwe G. Hoenig, Melodyne's Product Manager, who is responsible for documentation, "which is why we've simply filmed the entire content of the manuals. We are very satisfied with the results, as the films make it far easier to understand functions and the contexts in which they are used." The total running time of the numerous English-language Video Tours comes to over three hours. They are clearly arranged in terms of content with sensible links between them. They make it possible for anyone to familiarize themselves swiftly and in a targeted manner with Melodyne and its functions.
From the new films in Celemony's 'Artists' series, visitors can find out first-hand how Melodyne is used in day-to-day professional music production and why it is so highly valued. You can hear from high-caliber songwriters and producers including Mischke (Michael Jackson, JLo), Ali Staton (Madonna), Steve Williams (Sting, Seal) amongst others. If further proof was needed that in the sacred halls of contemporary music production Melodyne has made itself indispensable, these personalities' statements provide it.
Additional Melodyne videos are available from third-party suppliers: DAW and effects professional Eli Krantzberg is offering a comprehensive collection of English-language tutorials (http://www.groove3.com/str/melodyne-explained.html) and at MacProVideo you can find a video course by Melodyne specialist David Andris (http://www.macprovideo.com/tutorial/melodyne101). A charge is made in each case for this material but you can watch a certain number of films free of charge.
More information:
Image-Line  posted a preview video of a new pitch correction plugin called Newtone. According to their news page, "The final version will have full toolbars and work as a FL Studio native plugin." – I'm assuming this means the plugin will be released in FL Studio 9.5.
Newtone could make FL Studio more relevant. Of course  VST version would be even better. Bottom line, Newtone looks like an a very affordable option to get Melodyne functionality into the hands of FL users and users of other hosts via Rewire.