Celemony's birthday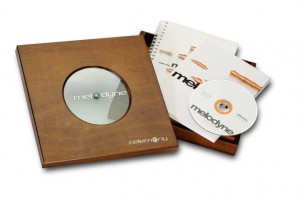 Celemony has a birthday to celebrate: the company was founded 10 years ago, and Melodyne has been with us 10 years. 10 years in which the outstanding software has gone from an insider tip to one of the most highly valued audio tools around. Celemony is expressing its thanks with 10 of the legendary wooden boxes in which the first Melodyne was delivered. Each box contains a license for Melodyne editor, for Melodyne studio and for all Celemony software products released in the next 10 years. What that means is that everyone who gets a box will receive all the software products and updates released by Celemony until the year 2020 free of charge. Here's the Celemony press release with all the details…
To participate in the prize draw, all you have to do is leave Celemony a birthday greeting. Starting now: in the Celemony Forum, on the Facebook Fanpage wall, or on the MySpace page "Music With Melodyne" – whichever is preferred. Three people whose names are drawn from among those greetings will each receive one of the ten boxes. Celemony is most looking forward, naturally, to greetings with a touch of originality – a short film, a Melodyne anecdote, a poem or something of that kind. The fourth box will go to the person who comes up with the best greeting (selected by our jury). The closing date for entries is the 16th January 2011, the last day of the NAMM Show, where Melodyne was presented for the first time 10 years ago.
A further three boxes are being offered as prizes in competitions organized by the specialist magazines Sound On Sound and EQ. You will find further information in their recent issues and on their web sites. The three remaining boxes will be auctioned on eBay. We will transfer the proceeds of the three auctions to the charity Médecins Sans Frontières (aka Doctors Without Borders). You will find all the relevant information and links on the Celemony web site, where in January the names of the four winners will be announced and the best birthday greeting will be published.
About Celemony
It wasn't with its patented, multi-award-winning DNA Direct Note Access technology that Celemony first turned the world of music production upside down, but with the very first version of Melodyne, released in the year 2000. When it first appeared, Melodyne was so revolutionary that only open minded users recognized the potential of the software. The notion that it was possible to reach inside an audio recording and modify notes directly was altogether too novel. Melodyne, however, was so intuitive to use and sounded so good that soon more and more musicians and producers were becoming enthusiastic about it and discovering in the process one of its particular fortes: vocal correction. Admittedly Melodyne was just as good at editing other monophonic instruments and percussive material, but it was with sensitive lead vocals that the excellence of its algorithms was most apparent. Today, with its DNA technology, Melodyne even allows you to modify individual notes in recordings of polyphonic instruments like the piano or the guitar.
What will the next 10 years bring? We at Celemony are convinced that the possibilities are far from exhausted. "Behind Melodyne lies above all the desire to understand the music in the audio data," says Peter Neubäcker, the inventor of Melodyne and founder of Celemony, "and the more we know about this music, the better the editing possibilities we are able to offer the user. I believe that further improvements are possible here that will make Melodyne more intuitive and offer at the same time still greater creative potential."
More information:
Via Sonic
Comments