For more information: http://shop.propellerheads.se/product/radical-keys/
Introducing Radical Keys, a new Rack Extension instrument for Reason that faithfully recreates three classic electromechanical keyboards—Rhodes, Pianet and Wurlitzer. Based on the same 'Radical' technology as our Radical Piano instrument, Radical Keys goes beyond flawless emulation, by enabling you to sculpt your own instruments from the originals.
Disclaimer: All product names used are trademarks of their respective owners, and in no way constitutes an association or affiliation with Propellerhead Software. All trademarks are solely used to identify the products whose sound was sampled and studied during the development of Radical Keys.
WretchUp is a unique handheld effect and instrument for the iPhone that anyone can play. Developed by Mouse on Mars, it's easy to learn, but also sophisticated enough that it's heavily used in their live shows and new albums. Now with your help, we want to bring it to everyone.
"We're launching an IndieGogo campaign to support developing WretchUp for all iOS users. (With enough funding, we'll port to Android, too.) We'll share exclusive music, updates from the band and development team, and more with backers – plus, of course, the app. And the entire project will be open source, including iOS projects and a free Pure Data (Pd) patch for users of any OS.
Here, Andi and Jan explain what the app is about and how they use it."
See you on IndieGogo!
Peter KIRN, createdigitalmusic.com
Jan St. Werner, Mouse on Mars
Andi Toma, Mouse on Mars
Shot at Mouse on Mars' studio at the Funkhaus, Berlin; edited by Peter Kirn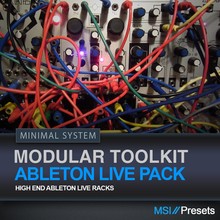 Minimal System Instruments has announced the Modular Toolkit, a collection of audio racks for Ableton Live.
The 'Modular Toolkit' pack is a selection of custom effect racks produced by Minimal System Instruments for Ableton Live. This pack contains ten audio effect racks designed to bring the sound of hardware modular synthesis in to Ableton. To create this pack we first would create a detailed patch on our Eurorack Modular Synthesiser, we would then mimic this patch in Ableton using its built in tools.

The ten racks in the Modular Toolkit are based around modulation, movement, space, and atmosphere. They are designed to transform your samples and instruments in to something really special.
The sound library is available to purchase for £5 GBP.
Included in the pack are the following racks:
Modular CV Filter Bank
Modular CV Modulation
Modular Darkness
Modular Deep Drone
Modular Frequency Shifter
Modular Molecular
Modular Motion Filter
Modular Shimmer
Modular Soundscaper
Modular Spring Reverb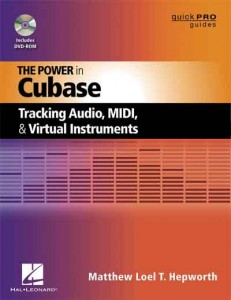 Hal Leonard Books has published ThePower in Cubase by Matthew Loel T. Hepworth. They say that it's a comprehensive, thoughtful, and engaging guide, written to help the new user master the ins and outs of Cubase. Here's what they have to say:
Consider this: Cubase is a program that will turn your computer into a complete recording studio. That is, Cubase can create virtually every button, knob, switch, and fader found in a "real" studio, including a few components that don't exist in the hardware realm. Imagine the challenge of sitting at a large mixing desk and being expected to use all that technology to produce professional recordings. Well, by installing Cubase on your computer, that's exactly what you've expected of yourself. Knowing how daunting that task sounds, it's easy to get overwhelmed, if not disillusioned.
The Power in Cubase: Tracking Audio, MIDI, and Virtual Instruments will help you get started so that you can use Cubase to your full benefit. It is specifically written to allow a new user to quickly get started with Cubase while avoiding a myriad of pitfalls. First, you'll learn the process of installation and proper studio configuration. Next, you'll learn the foundations of rudimentary Cubase operations. You'll also learn how to avoid common mistakes that can ruin a recording. Finally, you'll learn how to properly record MIDI, instrument, and audio tracks. Whether they're your own tracks or those of a client, you'll achieve recordings in your own home or project studio that were recently considered unobtainable without a big studio. And you'll discover Cubase is easier to learn than you may have expected.
QuickPro Guides
If you want to quickly start implementing professional techniques into your audio recordings and productions, the Hal Leonard Books Quick Pro Guides are designed for you. These straightforward, task-driven, and easy-to-understand books cover music industry topics in a way that gets to the point and helps maximize your creative and technical accomplishments. The Quick Pro Guides are efficient and accessible, and the included DVD-ROM provides audio and video demonstrations of key QuickPro topics.
About the Author:
Matthew Loel T. Hepworth has been teaching music technology since 1984. He authors how-to videos on Cubase and Waveloab for macProVideo.com. He has also written Wavelab7 Power! for Course Technology PTR. He records, mixes, and masters audio projects for clients including Air Supply, FranklinCovery, Jonni Lightfoot, and many more. Hepworth also consults with several pro audio manufacturers like Steinberg North America, Yamaha Corporation of America, Lexicon, and Tascam. He is a video producer and photographer, and in his spare time, he plays bass guitar and Theremin in his band, ZenTherStick. He lives in Salt Lake City, Utah.
Pricing and Availability:
$16.99
More information:
Muza is an upcoming musical instrument and MIDI controller for iPad, iPhone and iPod Touch.
Subscribe to a channel for Muza news and tutorials.
http://muzamusic.com/
"Harmony" instrument that was made specially to generate sweet harmonies.
Easy to use side keyboard "Stripe" that allows you to play up to 4 notes in a selected scale.
2 extra pads for one-shot or looped samples and a pitch wheel. Great for making sketches on the fly.
Connect your Muza to Ableton, Cubase, FL Studio, Reaper or any other digital audio workstation (DAW) via MIDI!
You can also connect to hardware synthesizers using third party midi interface.
This project combines the collective talents of musicians, dancers, programmers, designers and animators to create an amazing visual instrument. Creating music through motion is at the heart of this creation and uses the power of the Kinect to capture movement and translate it into music which is performed live and projected on a huge wall.
We created and designed the live visual spectacle with a music video being produced from the results. We wanted it to be clear that the technology was real and actually being played live. The interface plays a key role in illustrating the idea of the instrument and we designed it to highlight the audio being controlled by the dancer. Design elements like real time tracking and samples being drawn on as they are played all add to authenticity of the performance. The visuals are all created live and the music video is essentially a real document of the night.
Check out the tech behind the project here:
custom-logic.com/blog/v-motion-project-the-instrument/
Background information:
** Download the Arena Bass instrument, demonstrated in this video, along with our new free mega pack available on the XSSR Academy website – http://xssracademy.com/en/articles/free-mega-pack.html **
** We are giving away a whole bundle of packages with free Ableton Live projects, including Mars' Top 10 dubstep hit India Sleeping and the house tune called Pleasure; the Arena Bass instrument, and over one hundred bass samples and Massive presets. **
Many dubstep producers like to use Massive synth. You can hear its special sound in many tracks. I used to use this synth too, but later decided to make my own tool. In this video tutorial I'll show you the basic idea of making the instrument. Improve and refine this idea yourself for your own unique sound!
You should start with the creation of your dubstep bass. You can use the bass techniques from this video in your own tracks.
Watch the video in full to not miss any part of the creation process.
*** Please experiment and develop your own instruments, then Email – academy@xssrmusic.com – them to us and the best ones will be posted to our website! ***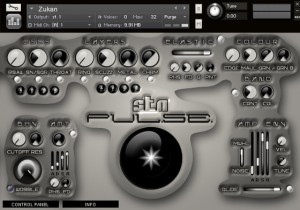 Stretch That Note has announced the release of PULSE, a bass instrument for Native instruments Kontakt.
The idea behind this particular module was quite simple: to create a bass module that not only boasts some very distinct oscillators but also provides 'layers' to ..er…layer the primary oscillators with. These layers have been processed with comb filtering and some specific phase cancellation to provide acres of scope for layering sounds.

Married to this 7 oscillator facility comes a ton of warping and mauling tools. Ring, Scuzz, Chrome, Colour and so on, describe beautifully what the functions do and they came from a very disturbed place. And if that wasn't enough, well, I threw in a detailed WOBBLE section for those of you that are into Dubstep. The rest is sheer saturation and distortion mayhem but in a clear kinda way…if you know what I ..er mean…
The Pulse library is available to purchase for $30 USD. Through June, 2012, a free bass module (LEWD or PULSE) is included with a purchase of the EPIC Series 1 bundle.
SampleRider is a Max for Live instrument that uses a user-defined sample as a table for an oscillator. Basically, a sinewave that is modulated by another sinewave sets the sample index for reading back sample points from the loaded sample. Frequency is set by incoming MIDI notes. Velocity sets volume. The user can define other parameters (e.g. modulating oscillator amount and frequency). There are two main oscillators and two modulating oscillators. All timbral changes are created simply by reading back from the loaded sample at different points / in a different way.
Download here: http://milkcrate.com.au/_other/downloads/M4L/SampleRider/little-scale.SampleR…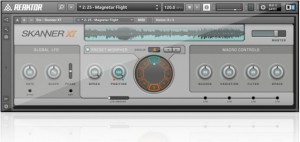 Native Instruments today introduced Skanner XT, a 'unique and highly distinctive' virtual instrument, designed by the team behind Reaktor:
With a strong focus on unconventional tone and genuine musical expression, SKANNER XT is both an exceptional library addition for REAKTOR 5 users as well as an excellent sound resource for the free REAKTOR 5 PLAYER. Part sampler, part synth, SKANNER XT utilizes a unique synthesizer architecture to create a wide variety of intense and cutting-edge sounds for contemporary electronic music production and sound design. Two oscillators 'scan' a sample, which at low frequencies deliver a scratch sound.
At higher frequencies the oscillators, shaped by the sample waveform, become the dominant force. In this way, Skanner XT provides a broad range of highly distinctive sounds – from heavy and dirty bass tones to morphing soundscapes and organic pads.
About Skanner XT
Developed together with NI synthmeister Stephan Schmitt, Skanner XT offers two interface views for different levels of interaction with the complex architecture under the hood. Besides a simplified page with a preset morpher and four macro controls, a second view provides access to more detailed parameters in order to further explore the sonic potential of the instrument. A morph control option allows for convenient switching between eight different snapshots – producing unpredictable, evolving sounds that range from the ethereal to the extreme.
Skanner XT is available at the NI Online Shop for $59 / 49 EUR. See the NI site for details.