June 28, 2014 · Posted in
Uncategorized
·
Comments Off

on Scylla – free 32 bit Windows VST instrument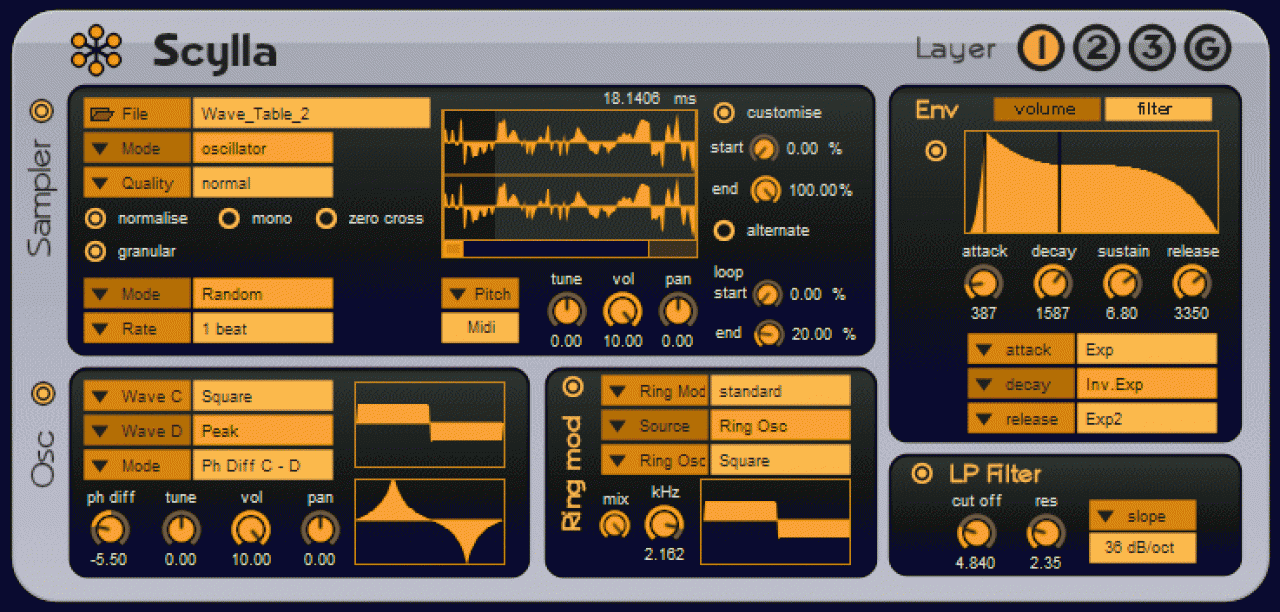 De La Mancha has released Scylla – a 32 bit Windows VST instrument – as a free download.
Scylla is capable of sample playback, combined with subtractive synthesis, to produce a wide variety of sonic possibilities, ranging from lush pads, soundscapes and effects, leads and bass.
Scylla includes three different types of oscillators that can be modified to a wide variety of styles and three built-in samplers that can accommodate .wav audio samples, which can be played back in grain table, waveform, sample or single hit format. All the audio can be modified and modulated through LFO, volume and filter envelopes, Ring-Modulation, and Unison.
Scylla has a tabbed interface with a different tab for each of the 3 layers and a Global tab for effects and LFOs. Each Layer is identical except each has a different type of oscillator, with a Cross-modulation osc, a Morphing osc and a Spectral osc
Features:
Three layers of programmable audio sources
Each layer consists of:

Sample player capable of loading full-length samples and custom waveforms
Oscillator (Dual-OSC with cross-modulation, Morphing OSC, Spectral OSC)

Each sampler features:

Playback: Oscillate, Play-Once, Loop-Release
Basic audio playback features (normalize, stereo to mono, zero-crossing)
Customizable Loop points
Granular and Wavetable playback
Loads any WAV format sample from your own library

96MB of sample content, including waveforms, samples and loops
128 presets by brian botkiller
All audio sources have independent tune, volume, and pan
Ring-Modulation per layer
Variable stage Filter per Layer
Adjustable Amp and Filter Envelopes per layer (Envelope contours can be changed)
Layer Assignable Granulator engine
2 layer assignable LFO effects for modulating ring-mod, cutoff (filter), and phase of one LF
Adjustable Global Amp Envelope
Mix level of each audio source can be adjusted
Mix level of each layer can be adjusted
Master Volume
Each audio source, envelope, ring-mod and filter can be switched off to save CPU
Midi CC support
Scylla is free to download.
June 12, 2014 · Posted in
Uncategorized
·
Comments Off

on AudioThing – Tank Drum Walkthrough
AudioThing has released Tank Drum for Kontakt 5, a new virtual instrument based on samples from a steel tongue drum.
Also called hang drums, these instruments are usually made out of propane tanks with tongues of different sizes and tuned in different scales.
The instrument sampled features 8 tongues and is tuned in E minor pentatonic. It was played both with hands and rubber mallets, along with some sound effects with hands and brushes. The sound has a long release and is rich in harmonics.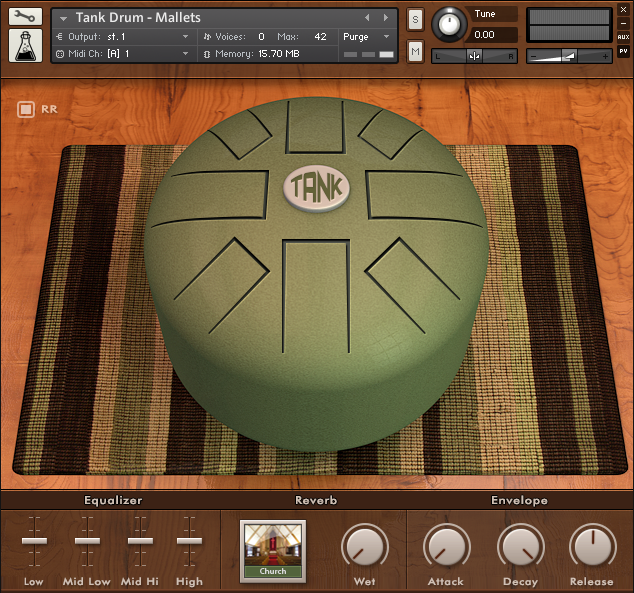 Specifications:
7 Kontakt Instruments (.nki)
5 Round Robin samples
3 Velocity Layers
7 Custom Impulse Responses
274 Samples (44.1kHz / 24Bit)
Formats: Kontakt 5 and WAV
May 31, 2014 · Posted in
Uncategorized
·
Comments Off

on Signal Return – performable Kontakt instrument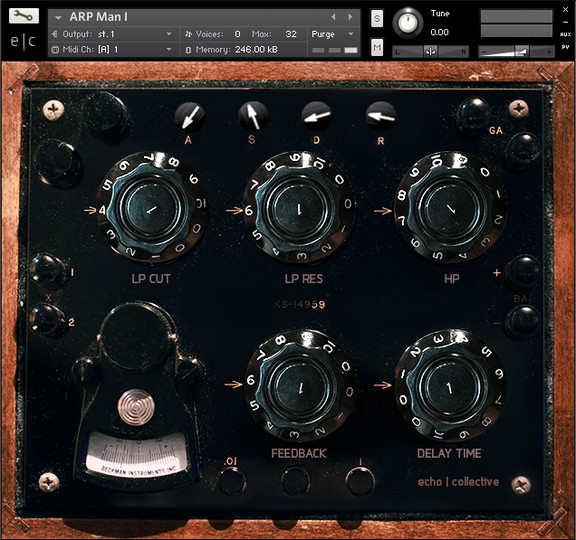 echo|collective has announced Signal Return, a performable Kontakt instrument and soundset designed to create a wide variety of interesting and textured sounds.
All of the source material comes from recordings of various devices feeding back into themselves either electrically or acoustically. No software based speaker emulators or distortions were used in the creation of these sounds.

We covered all of the classic forms of feedback including an SM58 through a PA, an electric guitar through a tube amped miked with an SM57 and a Royer 121, a set of Sony headphones feeding into themselves, and a pair of Uniden walkie talkies with both mics open too close to one another.

We also did a series of line level loops with devices like a sansamp bass driver DI, a Danelectro Honeytone amp, and a Roland Cube amp. The line level loops were also run through guitar pedals and pitch/delay plugins to further bend and distort the looped signals.
Signal Return features
24 bit 96k metadata tagged wav files.
Soundminer embedded spectrograms created with iZotope RX3.
250+ unique recordings.
4.8 total Gb of sounds.
22 Kontakt fully programmed unlocked .nki files.
.nki files require full version of NI Kontakt 5.0 or higher.
The library is available for purchase for $20 USD.
May 29, 2014 · Posted in
Uncategorized
·
Comments Off

on Shruti Box – new Kontakt instrument library featuring traditional drones and a shruti-sizer.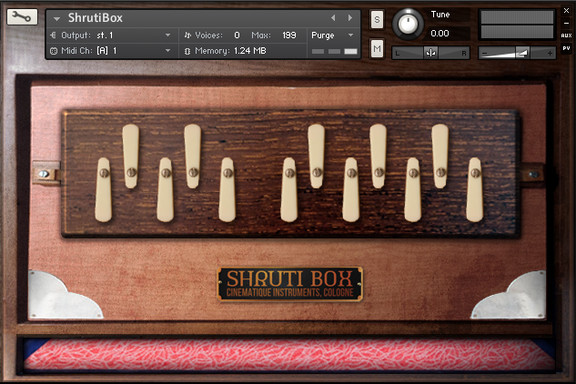 Cinematique Instruments has announced Shruti Box, a Kontakt instrument library featuring traditional drones and a shruti-sizer.
The Shruti Box is a traditional Indian instrument which works on a system of bellows. It is a keyless version of the harmonium, which was invented for the specifc purpose of producing drone sounds. On the front it has 12 valves to control the pitch. The instrument is generally used to accompany other instruments in rehearsal sessions or concerts of classical Indian music. But the shruti box is enjoying a renaissance in the West amongst traditional and contemporary musicians who are using it for a range of different styles.

We carefully sampled the individual notes, even the noises which are produced by the bellow and paid special attention to capture the unique character of a Shruti Box which can described as rough and vibrant. Traditionally the Shruti Box has a range of 13 notes which we expanded up to 3 full octaves. In order to get a realistic Shruti sound and enrich the sound with vividness we provided two kinds of pump action which can be switched on separately. We also added distortion, chorus and a rotary simulation to shape the sound as well as a special sustain mode which will play an endless drone. All these features are giving the Shruti Box nice options to shape the sound.

But that's not all! We thought how could we push the Shruti Box forward to much more versatility? And that's why invented the Shruti-Sizer:
If you turn around the Shruti Box you are getting to a complete different interface which has nothing to do with the traditionally Shruti Box. It reminds you to an old synthesizer look with knobs, symbols and an oscilloscope. It is a complex LFO modulation section. You can modulate several parameter by four different wave forms with a variable speed. It puts the Shruti Box to another level and lets you create individual pad sounds an even constantly evolving rhythmic textures.

The result of it all is a unique instrument and a perfect supplement to the Cinematique Instruments family.
The library is available for purchase for 28 EUR. Requires Kontakt 4.22 or higher, full version.
May 28, 2014 · Posted in
Uncategorized
·
Comments Off

on ARPOLOGY: Overview
All sounds are 100% Arpology!
The Next Step In Music
www.samplelogic.com/products/arpology
Arpology, recently announced by Sonic Faction, is available for download today. A virtual instrument for Native Instruments' Kontakt, Arpology is dedicated to arpeggiated/sequenced instruments.
The core of Arpology has been designed around Sample Logic's Step Animator – a step sequencer and arpeggiator, combined into a single engine for animating complex melodic and rhythmic patterns on a per-step basis.
The first video, above, takes an in-depth look at Arpology's features and how they can be used.
May 22, 2014 · Posted in
Uncategorized
·
Comments Off

on Multi performance instrument for iOS – ThumbJam
ThumbJam is a powerful musical performance experience. You get over 40 high-quality real instruments multi-sampled exclusively for this app. Hundreds of included scales allow you to effortlessly play in any style from rock to classical, whether you are a musical novice or a seasoned professional.

—====—
Jordan Rudess, the world-renowned keyboardist for Dream Theater says:

"ThumbJam stands at the very top of the overcrowded music app world. The sounds included absolutely rival those found in pro instruments and making music on the app is a total joy. The only problem I have with this app is that I did not make it myself! Luckily, I'm able to work with the developer and offer a few good feature ideas as well as some choice sounds from my personal collection!"
—======—-

Even if you've only played air guitar, ThumbJam lets you sound like a pro. Pick an instrument and jam — with all the scales to choose from you'll never hit a wrong note. The high quality instrument samples will make you sound like you just skipped years of music lessons.

For the performing musician, this app is awesome for soloing on an instrument you didn't bring along. Play in any key, any style — go from a string ensemble to a wailing guitar. ThumbJam was developed and tested by musicians to feel and sound like a real instrument. You'll be surprised at how expressive it can be, make sure to check out the videos and audio at thumbjam.com.

ThumbJam makes use of tilt and shake to add vibrato, tremolo, note bends, and volume swells for more realistic and expressive results. It supports up to five (eleven on iPad) simultaneous touches and up to 24 voice polyphony, for each of up to 8 loaded instruments! Delay and stereo reverb add depth to the sound, and a resonant lowpass filter gives you more tone shaping power. Put on your headphones or plug in to your home stereo to experience some of the highest quality instruments in the App Store.

Build your own loops from the ground up or import your favorites and jam from there. Layer as many loops as you want, with different instruments for each. Export your loops as audio files or Ardour DAW sessions via WiFi. Copy and paste audio from other apps using Sonoma Wire Works AudioCopy/Paste as well the general pasteboard, via email, AudioShare, iTunes Document Sharing, or open directly in another application. Supports Audiobus and Inter-App-Audio for streaming sound to/from other apps in real-time, including state save/restore with Audiobus2.

Want to jam with your friends? ThumbJam lets you broadcast tempo, key, and scale to other nearby devices via Bluetooth so you can be in sync live. Even better, you can use it as a MIDI or OSC controller over WiFi, with any CoreMidi compatible device, or other apps on the same iOS device with virtual MIDI, or play ThumbJam with other hardware or software MIDI controllers or apps!

The app includes a huge variety of scales, from western to eastern. Save your favorites for quick access, or create your own in-app. You can even import new scales in the Scala format for complete flexibility.

You can also record your own instruments using a built-in or attached microphone, or from file import. 

Included instruments:

+ Cello, Violin, Viola
+ Upright Bass (plucked and bowed)
+ Several drumkits
+ Darabukka
+ Djembe
+ Electric Guitar
+ Electric Bass
+ Trumpet
+ Trombone
+ Tenor Sax
+ Flute
+ Low Whistle
+ Acoustic Guitar
+ Hammered Dulcimer
+ Mandolin
+ Cittern
+ Grand Piano
+ Drawbar Organ (2 types)
+ Rhodes
+ Pipe Organ
+ Synth Strings
+ Synth Choir
+ Theremin
+ Sawtooth Waveform
+ Sine Waveform
+ Triangle Waveform
And from Jordan Rudess:
+ JR Zendrix
+ JR Smooth Steel 

Many more for immediate FREE download in the app including several drumkits, Mellotron, basses, banjo, tabla, ukelele, guitars and more! New instruments posted regularly.
April 29, 2014 · Posted in
Uncategorized
·
Comments Off

on Statique – free glitch & cuts rhythm generator for Kontakt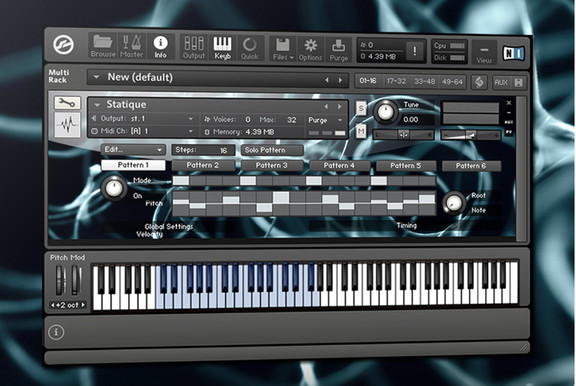 Audiomodern has announced the release of Statique, a free glitch & cuts rhythm generator for Native Instruments Kontakt.
Statique is a sequencer based pattern generator which is best suited to give your music production a contemporary percussive fundament.

You can easily create groovy electronic patterns or add-on loops built out of bits, cuts, glitches and blips!
Statique is a free download at Audiomodern (email registration required).
April 11, 2014 · Posted in
Uncategorized
·
Comments Off

on LA-50 – new virtual instrument based on the classic Roland D-50 keyboard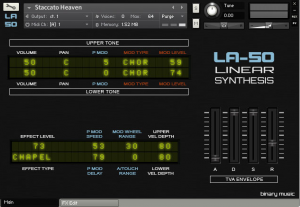 Binary Music has released LA-50, a new virtual instrument based on the classic Roland D-50 keyboard.
The upper and lower tones of each patch were sampled separately and their levels, pans and modulation can be adjusted independently. In total there are 100 instruments made from 2,486 samples – 2GB uncompressed.
The samples were recorded dry, then carefully matched reverb impulses were created using a Roland SRV3030. All samples were recorded in 24 bit at 44.1 kHz.
Released in 1987, the D50 was Roland's answer to the Yamaha DX7. Although much easier to program, many of the presets found their way unedited straight onto hits during the late '80s and early '90s. Sounds such as Digital Native Dance, Soundtrack, Pizzagogo, Staccato Heaven and Fantasia, (all included in LA-50) became staples of many producers. The D50 features on albums by artists as diverse asMichael Jackson, Seal, 808 State, Duran Duran, Foreigner, Enya and Vangelis.
The D50 used a combination of PCM samples and a form of synthesis called Linear Arithmetic, which was actually quite analogue sounding. It was also the first synth to include an onboard digital reverb. On the D50 the reverb had to be switched off on a per patch basis, but on the rack mount D550 it could be switched off globally. By recording the tones dry, it's possible to use a third party reverb instead of the included impulses.
April 10, 2014 · Posted in
Uncategorized
·
Comments Off

on Enzyme CM – FREE VST/AU scanned synth instrument for PC/Mac
Humanoid Sound Systems lets us know that the Enzyme Player VST/AU synth plugin contains the complete synthesis engine from their Enzyme synth, which has won awards for its innovative design and sound, and has all the essentials for music creation (access to all of the parameters, and the saving of presets is available with the full version).
They say that the synth uses a unique combination of wavetable and physical modeling synthesis to create rich, dynamic musical timbres. Hybrid Scanned / FM synthesis is also on offer for even more sonic possibilities.
March 29, 2014 · Posted in
Uncategorized
·
Comments Off

on Earhoof – new exciting virtual instrument for iPad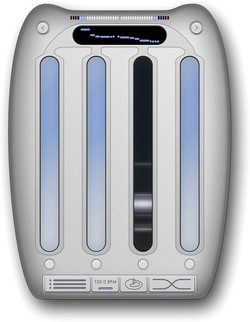 Psicada has launched Earhoof, a virtual instrument for iPad.
A sophisticated instrument creation tool, it allows you to layer multiple audio files and combine them with high quality digital signal processing. By continuously changing the sound parameters along the length of your device, Earhoof allows you to create highly expressive playable surfaces.

Its innovative internal rhythm engine allows you to easily play this surface, switching seamlessly between complex rhythms while remaining in complete control of the generated sounds. The result is a playing experience unlike any other, blurring the line between sequencer and instrument.
Psicada features
Includes over 80 carefully crafted presets, each one a unique multi-sample instrument.
Intuitively draw curves to modulate DSP parameters for Gain, Pitch, Pan, Filters, Delay and more.
Easily import your own WAV and AIFF files with iTunes File Sharing.
Record or manually create your own rhythms.
Audiobus and Inter-App Audio support allows Earhoof to interact with other music apps.
Record your performances as audio files without ever leaving the app.
In-app help manual will help you quickly learn the ins and outs of the program.
The app is available from the iTunes App Store for $4.99 USD.