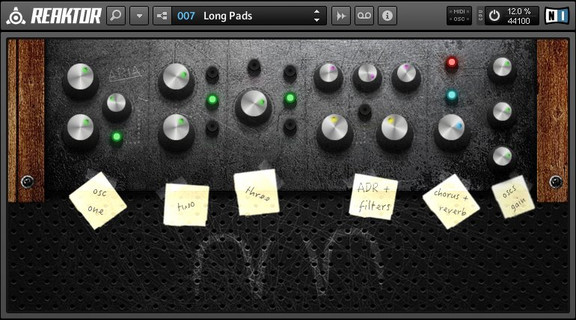 Need a Name has introduced Aria, a free synthesizer instrument for Native Instruments Reaktor.
Hey guys, I released a new Reaktor ensemble named Aria, it's an experimental synthesizer.

The synth is mostly enjoyable when playing it with a dynamic keyboard, 'cause filters are modulated by velocity.
Aria is a free download at Need a Name. Requires Reaktor full version.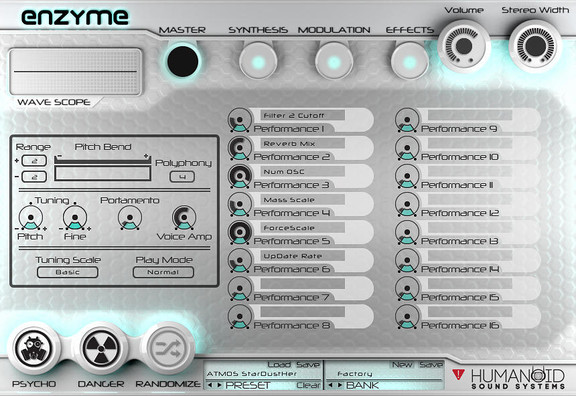 Humanoid Sound Systems has released a public beta of Enzyme, a "scanned synthesis" instrument for Windows and Mac.
Enzyme incorporates all the popular features of our Scanned Synth Pro, but takes its scanning synthesis in several new directions simultaneously.

Sample import is now available so you can resynthesise existing sounds with automatic pitch detection and click-free looping, while Hybrid Scanned/FM synthesis is also on offer for even more sonic possibilities.
Enzyme features
Next generation Scanned Synthesis Engine with Sample import function & Hybrid Scanned/FM synthesis options.
Multiple scanner options for fatter 'Unison Mode', brighter 'Harmonic', or imported 'Explorer Mode' with imported samples.
New Effects Rack, allowing practically unlimited layering of effects such as analog modelled filters, reverb, chorus, flanger, and destortion.
Automatable performance controls, allowing control of important parameters from a single location and multiple parameters to be controlled using a single control.
Alternative tunings.
VST 2.4, Audio Units (AAX Support coming soon).
Support for both 32 and 64 bit architectures under both Windows and OS X.
As with SSP, each Enzyme voice includes a complex Scanning Oscillator with hammer, wave, mass and connection matrix controls, a 7-mode resonant filter, three ADSR envelopes and two LFOs, and a separate Multi-Effects section featuring reverb, tempo-synced echo, chorus, flanger and 7-mode resonant filter.
Enzyme for Windows and Mac (VST/AU) is available to purchase for $49.99 USD. Note: This is still officially a beta version of Enzyme but it is totally safe to run on your computer.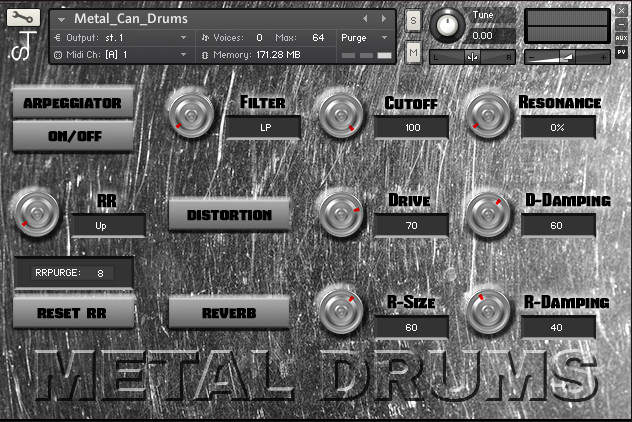 Syntone has announced Metal Can Drums, a virtual instrument library for Native Instruments Kontakt.
Metal is an interesting material. On the one hand, you can hit it to create a sharp attack and barely any release. But on the other hand, you can tap it and get a long, rattly sound.

That is the concept for the Metal Can Drums library: to provide a set of metal drums that give you the best of both worlds. The library comes with 8 round robin, 7-8 velocity layers, 33 different types of hits from 4 different types of cans and custom scripting, including a custom-made arpeggiator.
Metal Can Drums features
8 round robin, 7-8 velocity layers.
33 different types of hits from 4 different types of cans.
Custom-scripting, including an arpeggiator.
48kHz/24-bit quality.
1.35GB (572MB compressed).
Requires Kontakt 4.2.4+ full version.
The library is available to purchase for the introductory price of $20 AUD until December 9th, 2013 (regular $40 AUD).
WHOOSH is a true sound design instrument and enables you to create breath taking whoosh and pass-by effects. It is possible to precisely design sounds varying from whistling wind whooshes to air ripping engine pass-bys or completely over the top granular sci-fi effects.
The included doppler effects engine was designed from ground up to physical model the acoustic phenomena of an object that approaches, passes, and recedes from an observer. The individual playback engines, the source mixer and doppler engine can be manipulated in synchronized connection to each other. This makes it possible to playback the desired sound effect at different durations while remaining everything in perfect sync.
Whoosh comes with an extensive onboard sample library licensed from leading sound effect recordists. It includes categories like wind, fire, metal, water, engine and explosion effects.
Whoosh is built for Native Instruments Reaktor 5.8 or later – (Player not supported).
Features:
• Enables you to design breath taking whoosh and pass-by sound effects.
• Complex but intuitive to use sound design engine.
• 4 loop / grain samplers, 4 impact samplers, wave mixer, doppler engine and post effects.
• Comes with over 240 sounds exclusively licensed from professional sound effect recordists.
• Note: Loading your own sounds is not supported at the moment – but it is possible.
(This will become officially available in a future update)
System Requirements:
• Mac or PC running a full version Native Instruments Reaktor 5.8 or later
• Download size: 150 MB zipped (200 MB uncompressed)
• Note: whoosh does not run in Reaktor Player – a full version of Reaktor is required.
Price: $79,00 US
All sounds made with microtape 18 – Dromeda Strains, for Native Instruments Kontakt 5.1.0 (full version)
Tritone digital API560 eq used on master bus.
135 different sci-fi synth effects mapped to every key, made with the Korg Polysix – in WAV format.
Inspired by the soundtrack by Gil Mellé to the 1971 cult sci-fi classic 'The Andromeda Strain',
much sonic mileage can be attained from these
samples through experimentation with the various microtape controls and effects.
Contains 24 presets (both looped and un-looped
versions of the sounds).
Recorded to vintage tape at 7ips .
KONTAKT 5.1.0 ONLY (FULL VERSION)
www.tronsonic.com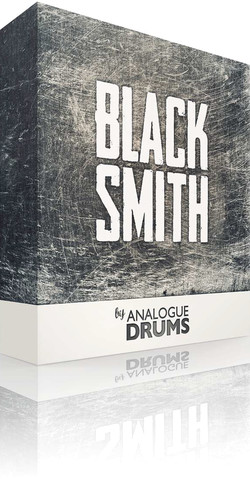 Analogue Drums has launched BlackSmith, a virtual drum instrument for Native Instruments Kontakt.
BlackSmith is a modern metal workhorse with an aggressive yet toneful sound. This kit will lay an unshakable foundation for any metal track, or any other genre where a tight punchy articulate kit is called for.

BlackSmith gives you several mic layers to blend to your taste, easily taking the sound of the kit from clean and tight to spacious or dirty with the push of a fader. Three swappable snare variations help fit the kit to your track.

The kit we sampled is a top-of-the-line Sonor SQ2 Acrylic set, with three snare options, and classic Zildjian A Custom cymbals. The kit was sampled in Melbourne's Sing Sing South studio, a medium sized tracking room.
BlackSmith features
Multi-sampling: each kit component contains up to 7 velocity layers for expressive detail and dynamics, and 6x round-robin hits for every single zone for realistic performances.
Mic layers: 6x individually controllable mic layers: Close mics, Overheads, Room mics, Smash mic, Kick Sub, and Snare-Bottom
eKit mode switch to 'eKit' mode when using a Roland V-Drum kit, or leave set to 'Keyboard mode' for direct MIDI sequencing. The layout is General MIDI (GM) compatible.
Output routing: stereo and multi-channel output versions provided.
Sensitivity control: increase the sensitivity of the kit for more intricate and subtle performances or leave it set to full dynamic range for heavier tracks.
Presets: for quickly accessing different sounds.
Trigger maps: for sound replacement: kick, snare, toms – each with separated mic layers
BlackSmith is available to purchase for $29 USD. Requires Kontakt 4.2+ full retail version.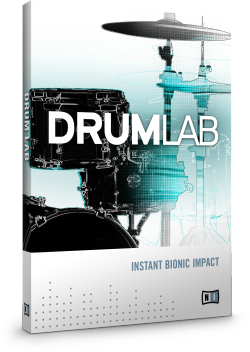 Native Instruments has released Drum Lab, an "advanced drum layering instrument" with an intuitive workflow designed for fast results for use with their Kontakt 5 Player (included in free Komplete Players), or Kontakt 5.
Drum Lab combines acoustic and electronic drum samples with a "groove library" of over 900 patterns for fast groove production.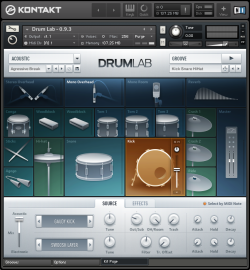 Drum Lab creates a hybridized layering technique from the combination of the organic sound of acoustic drums with the weight and punch of electronic samples. Drum Lab's acoustic layer is made up of 38 individual drums, each recorded in three different rooms with high-end vintage and modern equipment on analog tape. For Drum Lab's electronic component 380 drum hits were sampled from a range of classic and modern drum machines, then matched, phase aligned, faded, and pitched to blend with the acoustic drum samples.
Drum Lab's interface provides all sound-shaping controls (TRANSIENT MASTER, SOLID EQ, G COMP, an optimized drum compressor, and a rich convolution reverb) directly on the front panel. Producers can choose individual acoustic and electronic layers, blend them via slider, and adjust details with some of Native Instruments' studio effects listed above. Drum Lab also integrates perfectly with Native Instruments' Maschine for the ultimate in hybrid drum groove production.
Feeling Groovy. Drum Lab also delivers some authentic grooves. A new set of patterns were recorded by a professional drummer, then converted to MIDI files and arranged by genre in Drum Lab's groove library. Users can drag-and-drop these patterns into their sessions, using the software's unique visual display to line up grooves in their tracks for added visual reference when creating beats.
Native Instruments' Drum Lab is available now from the NI Online Shop for $99 / 99 Euro / ¥ 9800.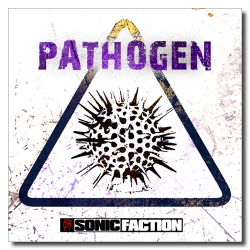 Sonic Faction today announced Pathogen, a free wavetable instrument for Ableton Live.
Based on the classic oscillator of the The Sickness (which itself was originally sampled from the Virus TI), Pathogen has, according to Sonic Faction, "the DNA of a truly infectious synth."
The instrument has three multi-sampled oscillators: Sawtooth, Pulse and Spectral Wave. The wavetable features 64 timbres ranging from "haunting" glass, bells, and mallets, to synthetic textures, "blurps" and bleeps.
Pricing and Availability. Users can download the free instrument at Ableton.com or directly from Sonic Faction's website. Listen to a demo of Sonic Faction's Pathogen on Soundcloud.
Boscomac has announced the release of Orgamundo, a free organ ensemble for Native Instruments Reaktor.
It is a drawbar organ very sensual, very soft. This kind of musical instrument that is printed on our vinyls and that has allowed more than one of you to dance with a girl or a boy … at least in dream.

An organ of love that warms the coldest of your productions with three chords … A great classic, a must have.
The ensemble is a free download for Reaktor (full version required). Donations are appreciated.
Subatomic Software has announced the release of Audulus 2.1 for iPad and Mac. This update to the modular music processing app adds support for JACK on iPad, as well as five new nodes for both iPad and Mac versions.
JACK for iOS is a free app that allows JACK-compatible apps such as Audulus to be connected in any way, with the only restriction being CPU power.
"JACK is a mature, powerful inter-app audio system," explains Audulus developer W. Taylor Holliday. "It's great to see it ported to iOS."
Audulus 2.1 introduces the Poly Pack, an In-App-Purchase upgrade consisting of four new nodes which facilitate stereo and quadraphonic processing of audio input. Audulus nodes can process multiple channels of audio.
"Previously, the only way to generate a polyphonic signal in Audulus was via the Keyboard node in Poly Mode," explains Holliday. "Now, you can do polyphonic processing of audio input. You can even use the QuadToMono node to apply separate processing chains to each voice of a synth."
"I'm not aware of another app on iOS that gives you this fine-grained control of multi-channel processing," adds Holliday.
Version 2.1 also adds a phasor node (not to be confused with the phaser effect), which outputs a phase angle suitable for driving custom oscillators.
Audulus development is user-driven, and these new features were requested by users on the Audulus forum.
Audulus for iPad is available on the App Store for $9.99, 30% off for the remainder of June to celebrate JACK support.
Audulus for Mac is available on the Mac App Store for $29.99.