)
MESSE 2014: Dualo Unique French Instrument Two keyboard hex machine records and plays
BIRL wind instrument prototype by Snyderphonics.
Development by Jeff Snyder and Danny J. Ryan.
A little explanation:
Super quick rough edit to show to some people I know, I'll edit a real demo together at some point.
It is designed to have a very basic wind instrument keying kind of like a recorder/flute/saxophone, with octave keys for the thumb. It lacks a lot of the special-purpose saxophone keys (i.e. the multiple pinky keys and whatnot).
The cool thing is that you can "train" it to use any fingering (within the limits of the physical keys) that you want. As in – put your fingers in some pattern and say "this should be an Eb" to the software. Then, you can store those as presets in the instrument and it will remember them and recall them. It's using a neural net to learn what you want.
The other neat feature is that I am trying to get a much better sense of embouchure. Right now it's in an early stage, but you can see it working in the video. You can put your mouth in some particular position (say, tightening your lips) and say "when I do this I want the sound to get buzzier". The neural net also learns these things. Then it creates an large space of possibilities – I'm trying to approach the wealth of sound and technique options that something like a saxophone has, so that you can really shape the tone and get microtones and squeals and fluttertongue and everything. The idea is that every new "training" you do will have a whole world of extended techniques alongside the expected behavior you have trained.
For synthesis, it's using some simple FM stuff and a physical modelling patch (which is amazing with it).
I'm working on a schedule to try and come out with it as a small-run product via a kickstarter campaign by the end of summer.
Let me know if you're interested and I'll put you on the list to get updates!
Jeff at snyderph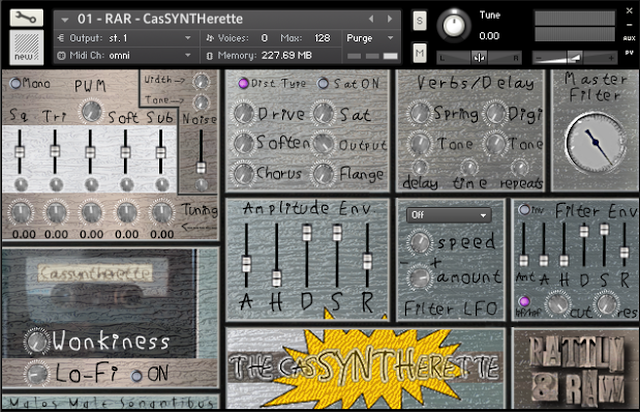 Rattly and Raw has announced the release of The CaSYNTHerette, a virtual instrument library for Native Instruments Kontakt.
TWO synths, one using waveforms from classic synthesisers sampled from a very rare, stable, full range cassette recorder with loads of character and the other using waveforms sampled using the dirty, noisy Cassamplerette recording mechanism.

Whilst the Cassamplerette was looped and single shot recordings of real instruments, the CasSYNTHerette is a fully functional synthesis instrument using waveforms from some classic synth oscillators recorded and looped onto different cassette tape systems.
The CaSYNTHerette features
FOUR cassette tape-based waveform oscillator faders: Square, Triangle, PWM and Soft (a combination wave from a classic synth).
Additional SUB oscillator fader!
Tape cassette noise fader with stereo and tone controls.
Individual waveform tuning via tape speed controls!
Individual waveform pans.
HP/LP Filter + lfo + envelope.
Amplitude envelope.
x2 custom convolution reverbs with tone control. One very rare cranky vintage spring verb and one old spacey hardware digital verb!
Fully controllable delay.
Two state distortion control with 'soften' control.
Saturation control.
LoFi (Bitcrush) control.
Chorus and Flanger controls.
Wonkiness control – magnify the cassette tape wobbliness!
Switchable MONO/POLY.
Loads of PRESETS!
The library is available to purchase for £20 GBP.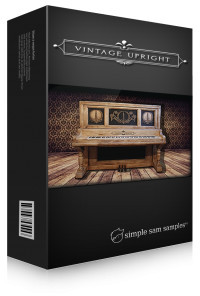 Simple Sam Samples has launched Vintage Upright, a virtual piano instrument for Native Instruments Kontakt.
Vintage Upright is a beautiful "character" piano, subtly out-of-tune, bursting with realism, and filling a gap between the pristinely sampled pianos on the market and novelty "junk" pianos.

Its haunting tone shines beautifully as a solo instrument or in the mix, and lends extraordinary character to any style of music including jazz, rock, blues, pop, ragtime, and film applications.
Vintage Upright features
More than 3000 samples in 24 Bit.
All 88 keys individually sampled in 10 dynamic levels.
Two microphone perspectives (Close and Room).
Multi-velocity adjustable mechanical noises (pedal, hammer, release).
Authentically modeled una corda (soft pedal) samples.
Sympathetic String Resonance with real overtones.
True repedaling and Pedal "catch".
User controllable microphone/recording noise.
Adjustable stereo width and controllable reverb.
The library is available to purchase for the introductory price of $29.99 USD (regular $49.99 USD). Requires the full retail version of Kontakt 5.1 or later (Kontakt 4 version coming soon).
This Free Ableton Live collection was created with a Casio SK-1, Teenage Engineering OP-1, Ice Cave Samples, Forest, Fire, Earth and Water Samples. There is a percussion rack, a synthesizer, and convolution reverbs.
Get the CasiOP-1 Ice Cave Synth here: http://bit.ly/freesynth99
Get the Forest Fall Micro Drums and Reverbs here: http://bit.ly/forestfall
Visit his site for more stuff like this, including Live Instrument downloads, tutorials and music! http://www.afrodjmac.com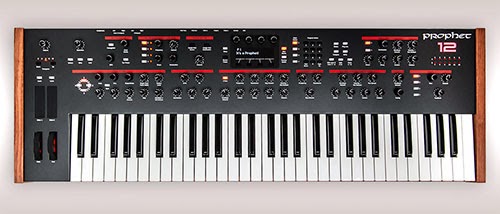 Francis Preve has released a free instrument for Ableton Live, based on Dave Smith's new Prophet 12 synthesizer.
Here's what Preve has to say about the free Live instrument:
Dave Smith's Prophet 12 is one of the most buzzworthy keyboards of 2013. It's arguably the deepest analog-hybrid polysynth ever released – and since all of my previous packs have used single note samples, I decided to create a pack entirely from chord stabs.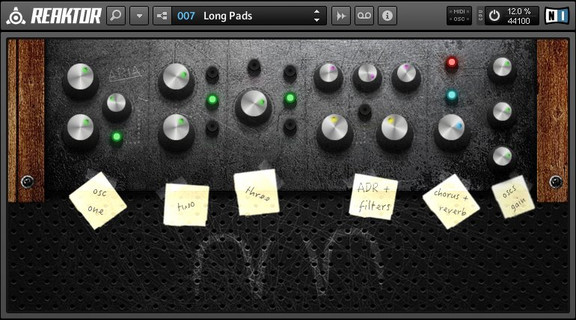 Need a Name has introduced Aria, a free synthesizer instrument for Native Instruments Reaktor.
Hey guys, I released a new Reaktor ensemble named Aria, it's an experimental synthesizer.

The synth is mostly enjoyable when playing it with a dynamic keyboard, 'cause filters are modulated by velocity.
Aria is a free download at Need a Name. Requires Reaktor full version.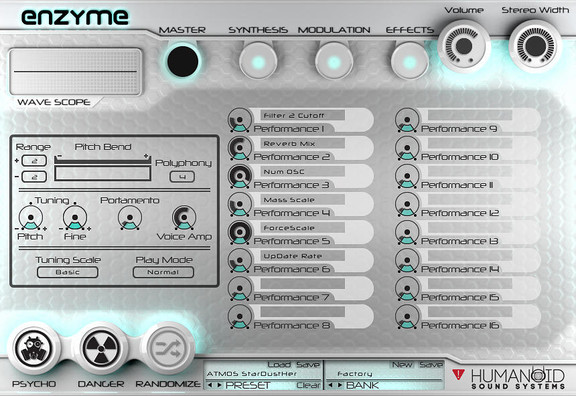 Humanoid Sound Systems has released a public beta of Enzyme, a "scanned synthesis" instrument for Windows and Mac.
Enzyme incorporates all the popular features of our Scanned Synth Pro, but takes its scanning synthesis in several new directions simultaneously.

Sample import is now available so you can resynthesise existing sounds with automatic pitch detection and click-free looping, while Hybrid Scanned/FM synthesis is also on offer for even more sonic possibilities.
Enzyme features
Next generation Scanned Synthesis Engine with Sample import function & Hybrid Scanned/FM synthesis options.
Multiple scanner options for fatter 'Unison Mode', brighter 'Harmonic', or imported 'Explorer Mode' with imported samples.
New Effects Rack, allowing practically unlimited layering of effects such as analog modelled filters, reverb, chorus, flanger, and destortion.
Automatable performance controls, allowing control of important parameters from a single location and multiple parameters to be controlled using a single control.
Alternative tunings.
VST 2.4, Audio Units (AAX Support coming soon).
Support for both 32 and 64 bit architectures under both Windows and OS X.
As with SSP, each Enzyme voice includes a complex Scanning Oscillator with hammer, wave, mass and connection matrix controls, a 7-mode resonant filter, three ADSR envelopes and two LFOs, and a separate Multi-Effects section featuring reverb, tempo-synced echo, chorus, flanger and 7-mode resonant filter.
Enzyme for Windows and Mac (VST/AU) is available to purchase for $49.99 USD. Note: This is still officially a beta version of Enzyme but it is totally safe to run on your computer.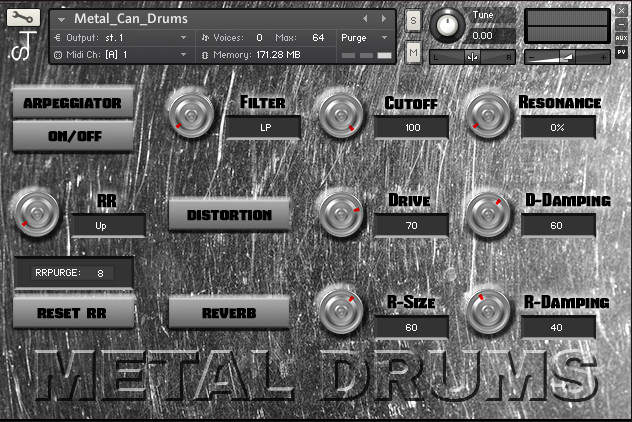 Syntone has announced Metal Can Drums, a virtual instrument library for Native Instruments Kontakt.
Metal is an interesting material. On the one hand, you can hit it to create a sharp attack and barely any release. But on the other hand, you can tap it and get a long, rattly sound.

That is the concept for the Metal Can Drums library: to provide a set of metal drums that give you the best of both worlds. The library comes with 8 round robin, 7-8 velocity layers, 33 different types of hits from 4 different types of cans and custom scripting, including a custom-made arpeggiator.
Metal Can Drums features
8 round robin, 7-8 velocity layers.
33 different types of hits from 4 different types of cans.
Custom-scripting, including an arpeggiator.
48kHz/24-bit quality.
1.35GB (572MB compressed).
Requires Kontakt 4.2.4+ full version.
The library is available to purchase for the introductory price of $20 AUD until December 9th, 2013 (regular $40 AUD).
WHOOSH is a true sound design instrument and enables you to create breath taking whoosh and pass-by effects. It is possible to precisely design sounds varying from whistling wind whooshes to air ripping engine pass-bys or completely over the top granular sci-fi effects.
The included doppler effects engine was designed from ground up to physical model the acoustic phenomena of an object that approaches, passes, and recedes from an observer. The individual playback engines, the source mixer and doppler engine can be manipulated in synchronized connection to each other. This makes it possible to playback the desired sound effect at different durations while remaining everything in perfect sync.
Whoosh comes with an extensive onboard sample library licensed from leading sound effect recordists. It includes categories like wind, fire, metal, water, engine and explosion effects.
Whoosh is built for Native Instruments Reaktor 5.8 or later – (Player not supported).
Features:
• Enables you to design breath taking whoosh and pass-by sound effects.
• Complex but intuitive to use sound design engine.
• 4 loop / grain samplers, 4 impact samplers, wave mixer, doppler engine and post effects.
• Comes with over 240 sounds exclusively licensed from professional sound effect recordists.
• Note: Loading your own sounds is not supported at the moment – but it is possible.
(This will become officially available in a future update)
System Requirements:
• Mac or PC running a full version Native Instruments Reaktor 5.8 or later
• Download size: 150 MB zipped (200 MB uncompressed)
• Note: whoosh does not run in Reaktor Player – a full version of Reaktor is required.
Price: $79,00 US