The official video of the track "Molecules And Carbon". Machinista is the creation of John Lindqwister (Cat Rapes Dog, #366: A life lived, Basswood Dollies etc.) on vocals and lyrics together with Richard Flow (Vision Talk, Haze For Sale etc.).
John Lindqwister:
(Cat Rapes Dog, #366: A life lived, Basswood Dollies etc.) – Vocals, Lyrics
Richard Flow:
(Vision Talk, Haze For Sale etc.) – Music
www.machinistamusic.com
www.facebook.com/machinistamusic
Background message from Joakim (Covenant):
Ok.
An overwhelmingly intense week in the studio has passed. In glorious pain and love not given lightly, metaphorically speaking, the masters for the first release of the "Leaving Babylon" epic just arrived. I'm right now enjoying the honour of being the first person on the planet to hear the "Last Dance EP" in its entirety. Sometimes it's pretty kool to be a member of Covenant.
It's a 6-track EP with 4 songs and 2 remixes on it. One track written by each of us, including our new live member Andreas Catjar, so it's a rather complex beast, this one. Majestic synths, quirky noises, unexpected harmonies, scary singing machines, fog horns, massive beats and of course Eskil's incomparable vocals. I for one really look forward to see where this road is going to take us.
The exact release date is still in the shadows but we aim for June. Do keep tuned to keep track of that. We hope you'll like it. Or find it interesting enough to react to it.
I'll leave you with a little snippet from the title track "Last Dance" together with the evocative picture Eskil captured, from the ferry, of the castle Kronborg across the sound in Helsingör where Hamlet and his homies made such mayhem in Shakespeare's classic. It's like a mirage. Mist is common here, but I've never seen the castle like that. One can almost hear Horatio exclaim:
"And then it started like a guilty thing, upon a fearful summons"
With that paraphrase I bid you adieu. Peace, love and robot laws unto you all.
/joakim

Our electro friends at RMM have compiled a list with some – not all – of the releases coming up that you might be interested in. All focused on electronic and synth based music:
March
The Juggernauts: "Phoenix" (EP, March 1)
Spetsnaz: "For Generations to Come" (March 1)
The Klinik: "Eat Your Heart out" (March 1)
Autechre: "Exai" (March 4)
Front 242: "Transmission SE91" (live, March 4)
Blush Response: "Tension Strategies" (March 8)
Melotron: "Stuck in the Mirror" (single, March 8)
Hurts: "Exile" (March 11)
Ghost & Writer: "Red Flags" (March 12)
Pankow: "And Shun the Cure They Most Desire" (March 12)
The Mary Onettes: "Hit the Wave" (March 12)
Karl Bartos: "Off the Record" (March 15)
Mesh: "Automation Baby" (March 15)
IAMX: "The Unified Field" (March 21)
Leaether Strip: "Serenade for the Dead II" (March 22)
Welle:Erdball: "Computerklang Vollversion" (EP, March 22)
How to Destroy Angels: "Welcome to Oblivion" (March 25)
Informatik: "Playing with Fire" (March 26)
Depeche Mode: "Delta Machine" (March 26)
Autodafeh: "Blackout Scenario" (March 28)
Syntax: "EP2″ (EP, tbc)
April
The Knife: "Shaking the Habitual" (April 5)
OMD: "English Electric" (April 8)
Torul: "Tonight We Dream Fiercly" (April 9)
Wumpscut: "Madman Szpital" (April 9)
Snog: "Babes in Consumerland" (April 23)
Juno Reactor: "The Golden Sun of the Great East" (April 23)
Die Krupps: "The Machinists of Joy" (tbc)
May
Alison Moyet: "The Minutes" (May 6)
Suicide Commando: "When Evil Speaks" (May 14)
Thyx: "Below the City" (May 14)
Skinny Puppy: "Weapon" (May 28)
Martin Sköld: "The Fire Is on Me" (date in May tbc)
Kite: "V" (EP, date in May tbc)
Daft Punk (date in May tbc)
June
Henric de la Cour: "Mandrills" (tbc)
September
Covenant: "Leaving Babylon" (date in September tbc)
Code 64: "Power up" (tbc)
Dates and/or titles tba

Iron Fist of the Sun: "Who Will Wash My Right Hand?"
League of Nations/David Sinfield: "Music for the New Depression/Oblique Strategy"
Sleep Musuem: "White Like Summer Sutures"
Welle:Erdball: "Tanzmusik für Roboter"

Haujobb: "Blendwerk"
The Prodigy: "How to Steal a Jet Fighter" (working title)
Nine Inch Nails
Ohm
Front Line Assembly
Kiethevez
Seabound
Pride & Fall
Iris
Conjure One
Cat Rapes Dog
The Machinist
Cryo (tbc during autumn)

Uncertain
VNV Nation
Röyksopp
Erasure
Electronic Music by RetroSound
two new albums now available for download
1. A Voyage Into The Hearth Of Analog Synthesizers (16 tracks)
available here: http://directpaylink.com/?id=1002LYKPV
used synthesizers:
Oberheim OB-X
Oberheim OB-Xa
Roland Juno-60
Roland Juno-106
Roland SH-101
Roland Jupiter-4
Roland VP-330
Roland SH-101
Korg Polysix
Korg Mono/Poly
Crumar Performer
Arp Odyssey
Moog Minimoog
Moog Taurus 1
Moog Source
SCI Pro-One
Logan SM2
TR-808
TR-606
2. A Voyage Into The Hearth Of Digital Synthesizers (16 tracks)
available here: http://directpaylink.com/?id=1003XMKNO
used synthesizers:
PPG Wave 2.2
PPG Waveterm A
SCI Prophet VS
Yamaha DX7 II
Roland JD-800
Roland D-50
Roland D-550
Korg Wavestation
Korg DW-8000
Korg Z1
Yamaha AN1x
Roland TR-707
SCI Drumtraks
more info about RetroSound:
http://www.retrosound.de and
http://www.facebook.com/pages/RetroSo…
Instruments used:
Akai XR10
Simmons SDS 800
Oberheim Matrix 6R
Kawai K1m
Roland MKS-70
Ensoniq Mirage DSK
Outboard:
Dynacord DRP20
Lexicon MPX 1
Ensoniq DP/4
Boss RRV-10
Boss RCL-10
Live synthesizer music, all parts played live, recorded and looped live with Ableton.
No midi sequencing or quantization whatsoever! (only 4 drum patterns pre-programmed on Battery)
Gear list: Korg R3, Roland Sh201, Novation Astation, Waldorf MicroQ, Waldorf Blofeld, Acess VirusB, Oberheim Matrix6, Akai APC40, Akai Synthstation 25, Evolution MK361C, Behringer BCR2000, TC Electronic Finalizer Express, RME Fireface UC.
All music composed and performed by Ludvig.
Held on October 28th, 2006. This is the full movie and some preparations of the day before. The goal of this meeting was to do an improvised electronic music concert like those of the Tangerine Dream in the seventies by some fans.
The Gasometer in Oberhausen is an unique location. The Oberhausen gasometer, the largest disc-type gas holder in Europe, is an industrial monument located in Oberhausen, Germany. It was constructed between 1927 and 1929. It has a long reverb because of its height 117.5 m (385 ft) and its diameter of 67.6 m (222 ft).
The three guys who performed this unique concert are:
Hajo Liese
Till Kopper
René van der Wouden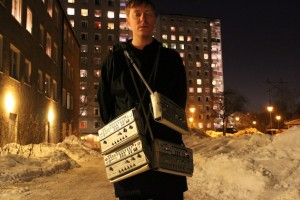 Attack Magazine has a nice interview out with Swedish electronic pop artist and producer Andreas Tilliander
Andreas Tilliander's latest album sees him focus his attentions on Roland's classic x0x series. We spoke to him to find out how the project came about and discover how he avoids techno cliches.
Attack: Tell us about the roots of the project. Did you decide in advance to make an album based entirely on the classic Roland gear or was it an organic process?
Andreas Tilliander: The funny thing is that I never had an album or concept in mind. I recorded the first couple of tracks just as a joke for my friends. People kept telling me I was crazy collecting all those Roland boxes. I had the entire series, but I also had several of some machines, like the 303 especially.
I wanted to show them that it's possible to use several 303s in one track. You just have to have some imagination and good will. I filmed it just to show them that I didn't overdub it or anything like that.
Read the full interview here >>
Out by March 8 is the newest Melotron single "Stuck in the mirror" which comes in a limited and hand numbered first edition. Included is also a remake of their classic "Folge mir ins Licht" that sees the band collaborate with Soprano Lauren Francis.
The single is a teaser for the band's upcoming CD "Werkschau".
Track list:
Stuck in the Mirror
Folge mir ins Licht (Melotron feat. Lauren Francis)
Erase
Angst oder Wahn
Stuck in the Mirror (AndyK Remix)
Ohne Worte (Instrumental)
Tenek are releasing a new EP "Another Day" on Monday 11th March to coincide with their UK tour supporting Republica. This will be the band's first release on their own 'Alien Six Productions' label since leaving Toffeetones in early 2012.
Included on the EP will be the title track "Another Day (Radio Edit)", along with an alternate version for the dance-floor remixed by Airwolf One (aka Alberto Trevisan). Included as well is "A New Foundation" and a remixed 2013 version of one of the band's most popular tracks, "Elusive", originally from their "EP2″ release in 2011. You can hear a preview clip of 2 of the tracks from the forthcoming "Another Day" after the jump. The tracks featured are "Another Day" and "A New Foundation".
For Tenek all started in September 2007 when the band released their first EP. More info at www.tenek.info .
"RevolutionAir" is the new single taken from Redrum Alone's debut album "De Redrum Natura"
Buy "RevolutionAir" on iTunes:
http://smarturl.org/sqfff
Follow Redrum Alone:
http://facebook.com/Redrumalone
http://twitter.com/redrumalone
http://soundcloud.com/redrumalone
TITLE:RevolutionAir
ARTIST:Redrum Alone
DIRECTOR:Marco Gernone
DOP:Andrea Ferrante
PRODUCER:Film Found Family Produzioni Cinematografiche
www.filmfoundfamily.it
©2013filmfoundfamilyproduzionicinematogr
­afiche
Playing atmospheric, ambient space drone music on Access Virus B synthesizer. Featuring reverb, sustain, LFO, filter and resonance adjustments.
Performed live, no external processing. Excerpt from a longer session.
=======
For more:
http://synth4ever.bandcamp.com — download tracks or buy album
http://www.facebook.com/synth4ever.music
http://www.soundcloud.com/synth4ever
http://www.youtube.com/synth4ever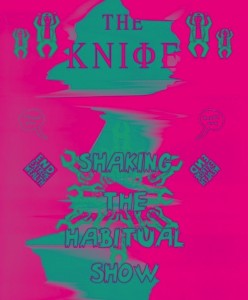 Swedish synthpop maestros The Knife have today announced a 14-date European tour in support of their forthcoming fifth album Shaking The Habitual, out on April 8 via Brille. Their sole UK date will be at London's Roundhouse on May 8 – pre-sale tickets will be available to mailing list subscribers on Wednesday, January 16, at 9am; subscribe here.
In the meantime, take a look at last month's teaser trailer for the album below:
Music can be so meaningless.
We had to find lust.
We asked our friends and lovers to help us.
http://theknife.net