Original music featuring ARP2600, Moog Voyager, Mellotron, D6 Clavinet, Nord Electro 3 and Fender Rhodes
The leaked news from Moog last week is now official – the new Minifoogers
In this video Queens of The Stone Age guitarist, Troy Van Leeuwen, explores the fundamental capabilities of all 5 Minifooger Analog Effects Pedals – The MF Drive, MF Delay, MF Trem, MF Boost, and MF Ring. Each Minifooger is assembled by hand at the Moog factory in downtown Ashville, NC in a rugged, cast aluminum enclosure and features a 100% analog signal path, true bypass design, optional battery power, and a single expression pedal input that provides hands-free control of one specified parameter for under $200 a piece.
Recording Chain: 2x Blue Dragonly condenser microphones – Apogee Quartet interface.
No EQ or Compression has been applied to the audio in this video. For best results set quality to HD.
Learn more about the entire family of Minifooger Analog Effects Pedals at: MINIFOOGERS.COM
Xander Singh and Ian Hultquist of the band Passion Pit came into the Moog Soundlab to Experiment with the new Minifooger family of analog effects pedals. Hultquist played a Fender Telecaster through all five Minifoogerwhile Singh experimented with the sonic capabilities of to create an evolving musical landscape,
ProdMod is a new Ableton instrument library with sounds derived from a customized Moog Prodigy. The Prodigy that was sampled has got a breakout connection with a handmade patchbay attached to it. This allows to interrupt and split the synth's internal wirings and therefore offers much more sonic possibilities that go far beyond the off-the-shelf version.
ProdMod Live Pack contains 30 multi-sample instruments in Abletons Live's Rack format that transfer the sound of this vintage mono synth into today's music production environments.
The library delivers diversified material as the source for fat basslines, lively synth and keyboard sounds, warm pads or idiosyncratic oddities.
specifications
Format: Ableton Live Pack, Live 8/9
Instruments: 30
Samples: 497
Disk space: 200 MB
ProdMod Live Pack is available to purchase as download for 9.00 Euro.
This is a quick demo of the Sub Phatty's presets and basic features. This is not a musical statement, but an exhibition of the sound and control of the synth.
Tenori-on MIDI sync to the MFB desktop Filter and the Urzwerg Pro sequencer.
Tenori "drums" are through the MFB Filter & it is sequencing:
1) Moog Minitaur
2) Cwejman S1
3) Moog Slim Phatty
4) Prophet 08
Then the Urzwerg Pro seq. the Polivoks.
No effects were added, but Lots Of EQ!!
In this video one uses a TC-Helicon VoiceWorks, VirSyn HarmonyVoice app, Ableton Live and abunch of Moog and other synth gear to create an interesting vocal performance environment. Analog Control Voltage step sequencing created by Ableton Live and a Moog Multi-Pedal ad an interesting rhythmic dimension.
Learn more at www.experimentalsynth.com
A quick inspirational video showing a nice result from step sequencing the Moog Voyager's filter cutoff.
Playing the Multimoog with reverb effects from a Lexicon MPX-500 and delay effects from a Roland DEP-5.
The Multimoog is a highly versatile analog monophonic synthesizer. It is basically an extended version of the Micromoog, which came out 3 years before. It features a ribbon controller and a touch sensitive keyboard. It has many interesting modulation routings and has a powerful, analog sound.
The Multimoog has 2 VCOs and a suboscillator. The filter can be modulated by the oscillator B in different ways. It has oscillator sync, noise generator, sample & hold, mixable oscillator waveforms, pulse width modulation, the 24 dB Moog filter and two envelopes. It has all interfacing you would expect from a good monophonic synth: CV / Gate IN and OUT, EXTERNAL SIGNAL IN, VCF IN. You can even play a Moog modular system from the Micromoog keyboard.
Another shot of Brian Fedirko's Moog and Doepfer setup at the studio.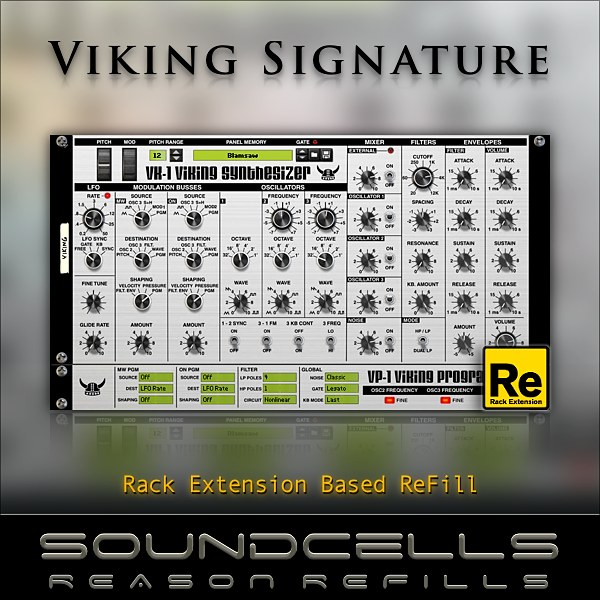 Viking Signature is based on the Viking Rack Extension synthesizer – a great sounding emulation of the Moog Voyager. The Viking Signature ReFill convinces with its funky and soulful leads, authentic sounding bass patches with an awesome bottom end and several wired SFX patches.
If you own Viking be sure to complete your ReFill collection with Viking Signature – a powerful soundset at a 'knockdown' price …
Viking Signature Contents:
• 45 combinator patches.
• 70 Viking patches full of soulful leads and great basses.
• Authentic Moog character for your Reason Rack.
• Well balanced volume settings & carefully assigned modwheel and combinator buttons and knobs
Introductory price is 7.90 ,- EUR (normal price 9.90 ,- EUR)