This video series is intended to demonstrate the patch creation process on the Moog Sub37. It is not a musical statement or a full-on demo.
SynthFest 2015 – Nantes. Présentation Moog Modular par Olivier Grall.
A very quick look inside the MOOG Sub 37 to see if it has the capability of a CV Output.
"Apologies for the Shaky Camera"
Sequential Session with the Moog Little Phatty and Slim Phatty.
Background video description:
MOOG LITTLE PHATTY "Toxic" GREEN Edition
ROLAND JUNO-106 "The HOLY SYNTH"
THRU KORG KRONOS Insert Effects Delay & Reverb
***Watch in HD***
First we have the Moog Little Phatty TOXIC thru
the Korg Kronos insert effects….
I use the JUNO-106 as a midi controller in this part.
Then we layer the two analog synths via MIDI thru
the Korg Kronos insert effects!!! Sa-WEEEEET!
I also am controlling the Moog with the JUNO-106.
Keeping the pad sound "Moogy" with the JUNO-106,
the layer is totally Wakeman… I LOVE it!!
Not trying to show off any playing skills,
just having fun on a rainy day!
Always a good thing to do on a rainy day!!!
Thanks for watching!!
Please subscribe!
More synthesizer videos coming soon!
Rik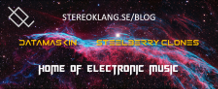 This track is 100% Moog Voyager XL presets, except the drums and percussion which are from Logic X.
'Viking-1' is from the Ep 'Landers' and is available to purchase here :https://paullawler.bandcamp.com/album…
Sound: Memorymoog
Reverb from Behringer X32 Desk
Brass/Synth + Strings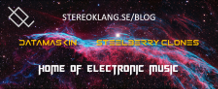 Bob Moog explaining the aspects of the analog synthesizer by using the analog board of the Minimoog Voyager
The Prodigy was an entry-level monosynth from Moog, which has since become a very popular and widely used Bass-synth in techno and electronic music. It was designed as an affordable dual-oscillator synth. It was, however, designed without any help from Bob Moog himself. But that didn't stop the Prodigy from becoming an excellent analog synth!
Its simple yet effective design employs two voltage controlled oscillators (VCOs) with saw, triangle and pulse waveforms…all classic analog stuff! There's also a genuine Moog 24dB / octave lowpass filter (emphasis), A/D/S envelope generator, and LFO with square or triangle waveforms and routing to the VCF, VCO or both! Even Portamento, Pitch and Mod wheels. To save money there are no highly flexible modulation routings, no on-board sequencers or arpeggiators, and a simple 32 note keyboard.
Background video description:
Hello Everyone this is another update on the mods I have been performing inside a Prodigy and thought I would share.
As always, thanks for watching, I appreciate it!
All the best,
Jareth

MOTU and the Bob Moog Foundation have released of the Bob Moog Foundation Encore Soundbank, a new and exciting collection of instrument and percussion sounds produced in commemoration of Bob Moog's 81st Birthday, coming up on May 23rd. All proceeds from the sale of the Encore Soundbank will benefit the Bob Moog Foundation.
The library ships in the form of a UVI soundbank that can be loaded into the cross-platform, universally compatible UVI Workstation virtual instrument player, available for free download from uvi.net. The library can also be loaded into MOTU's MachFive 3 sampler for side-by-side integration with other MachFive-compatible soundbanks. Most of the 200+ Encore Soundbank presets are scripted to include vintage Moog-style filter and envelope controls.
The following artists generously contributed to this project: Vince Clark, Al Kooper, Jordan Rudess, Suzanne Ciani, Larry Fast, Tangerine Dream (Edgar Froese / Thorsten Quaeschning), Goldfrapp (Will Gregory), Kevin Antunes, Adam Holzman, Erik Norlander, Peter Gorges, Amin Bhatia, CJ Vanston, Drew Neumann, Kevin Lamb, Dave Spiers, Jack Hotop, Jerry Kovarsky, Kent Spong, Klaus Peter Rausch, Taiho Yamada, Michael Koehler, Chris Cox, "Magic" Dave Roberts, Marty Cutler, Marc Doty and I Monster (Dean Honer / Jerrod Gosling).
The soundbank is released in special remembrance of Edgar Froese, who enthusiastically donated sounds for the project, but passed away suddenly on January 20, 2015. His contribution to the Encore Soundbank was one of his last musical endeavors.
Sounds included in the library were created using classic instruments including various Moog modulars and Minimoogs, Buchla modular, EMS Synthi A and VCS3, Yamaha CS-80, Alesis Andromeda, Sequential Circuits Prophets, Hammond B3 organ, classic Korg synths, rare Russian Polivoks, multiple theremins and effects pedals, a rare and exotic Ondioline, and an extremely rare Moog Apollo, plus much more.
"Bob Moog's legacy touches each and every one of us every day, " said Jim Cooper, Director of Marketing at MOTU. "Here at MOTU, we were inspired by the milestone of his 81st birthday, to pay tribute to his lasting effect on music. What better way than with kids, and supporting the work of the Bob Moog Foundation to educate and inspire them through his life's work."
Michelle Moog-Koussa, Executive Director of the Bob Moog Foundation, notes, "The Foundation is tremendously grateful to MOTU and the contributing artists who have made the Encore Soundbank an extraordinary resource for musicians across genres. The funding generated from this product will allow us to expand our educational project, Dr. Bob's SoundSchool, and to inspire even more children through the intersection of science, music, and technology."
Price: $99. All proceeds will be donated to the Bob Moog Foundation.