Background video description:
アナログシンセサイザー「SUB PHATTY」を試してみました・・
demo by Mitsuru SAKAUE
Digiland(デジランド)
島村楽器株式会社のデジタルガジェット情報配信サイト
http://info.shimamura.co.jp/digital/
Googlish:
I have tried analog synthesizer "SUB PHATTY" …
demo by Mitsuru SAKAUE
Digiland (Dejirando)
Digital gadgets information delivery site of Shimamura instrument Co., Ltd.
A jam with three classics of the '80s – the Moog Source, the Roland Juno-106, and the E-mu Drumulator.
Source = synth bass
Juno-106 = chorus pad with resonance
Drumulator = rhythm
FX = Eventide H3000-D/SE patch 795 "LONG & SMOOTH"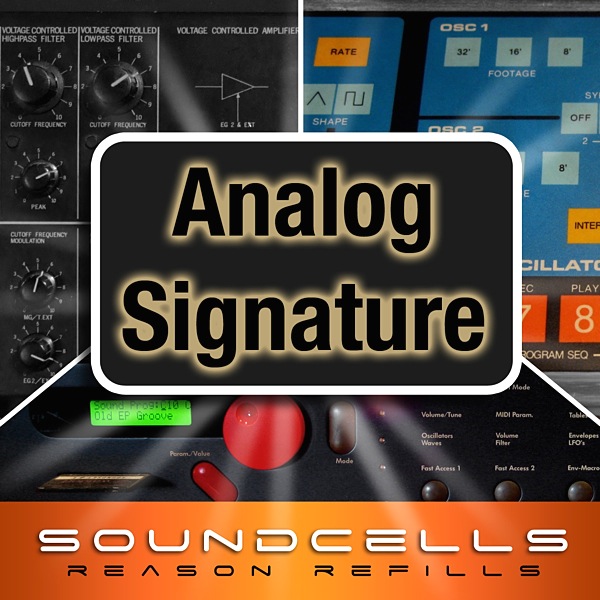 With version 4 of Analog Signature a new member is added to the family: the ROLAND Jupiter 6!
Moog Source, Korg MS20, the Waldorf Microwave 1, the Waldorf Pulse 1, and – from version 4 onwards – the Roland Jupiter 6 have been accurately sampled in such a way that their charming inaccuracies are still there in this perfect Reason environment in which Soundcells took their chance to add polyphony and velocity. A good balance of retro 1970′ s and 80′ s analog / digital sounds with modern programming makes this ReFill versatile for current styles of music as well as retro …
Analog Signature v4 Contents:
• 540 combinator patches.
• 276 NNXT patches containing the basic patches which were used to build the combinators.
• 1792 samples, 44 khz / 24bit.
• Samples coming from five classic synthesizer.
• 10 demo tracks in Reason format included.
http://www.sampletank.com/ipad and http://www.sampletank.com/iphone for more information
SampleTank is the first professional-quality sound and groove module that puts hundreds of world-class instruments and patterns in your pocket. What's more, you can now expand your library with our new Downloadable Sound Collections via in-app purchase. Our latest collection is SampleMoog™ – Mobile Edition, featuring classic synth sounds from Moog Music®. We also recently released the Miroslav Philharmonik – Mobile Edition, a downloadable collection of orchestral and choir sounds.
You can play SampleTank instruments on stage with the iRig PRO or iRig MIDI interfaces and a keyboard or pad controller just like you would any other sound or synthesizer module. Or pair it with iRig KEYS, our 3-octave, bus-powered mini-keyboard to create the ultimate portable MIDI studio.
The Bob Moog Foundation invited Colorado based Mark Mosher to bring his "9 Box" installation / instrument to the Mountain Oasis Festival 2013 to be part of Dr. Bob's Interactive Sonic Experience. The 9 Box ran for 18 hours over 3 days and was played by 100s of festival goers of all ages, details below:
The 9 Box is a Collaborative AudioCube Jam Instrument with Music, Sound & Light by Mark Mosher (http://www.MarkMosherMusic.com & http://9box.modulatethis.com). Part collaborative instrument, part interactive installation — the 9 Box allows up to six casual players to instantly make music and shape sound by manipulating blocks called AudioCubes.
This video to youtube which will give you a taste of 9 Box in the booth area. It was so rewarding see people's reactions to the 9 Box and to hear their creations throughout the weekend.
AudioCubes, made by California based Percussa (http://www.percussa.us), are smart wireless cubes capable of sensing each other's location and orientation as well as distance to your hands, fingers and other objects. They also emit feedback in the form of light as you interact with them.
Ultimately this hands-on approach allows players to manipulate sets of sounds in 3×3 grids — hence the name 9 Box. The 9 Box supports also supports user creatable "refills" allowing for unique and endless sonic possibilities.
Mountain Oasis Festival was just an incredible experience all the way around. One of the coolest music-related trips ever!!! HUGE thanks to:
- Michelle Moog-Koussa for inviting me out and including the 9 Box in Dr. Bob's Interactive Sonic Experience!!! It was so great to be a part of a vibrant music education program.
- All the players throughout the weekend
- Ken Jones from mountainsongguitars.com who provided the PA
- The Bob Moog Foundation's wonderful staff and volunteers (http:www.moogfoundation.org)
- BMF's Andi Morell & Marc Doty for helping me with logistics
- Geary Yelton and Susan Granados for being such amazing hosts.
- Bert Schiettecattefor inventing the incredible AudioCubes
- Ableton for creating Live
- TheGigEasy for providing mic stand cube mounts
Background video description:
This is a recording from august when i got my mini.
I must say i love the Korg Ms-20 mini,
It have a warm and nice vintage sound and its very creative to play.
Keys.nois and build quality…..i dont have time to think about that when im in orbit


So this is me exploring the MS-20 mini next to the Moog Rogue
Download (no registration or login required) at:
http://templates.demostudioberlin.com…
This TB MIDI Stuff ipad template covers all the hidden CC parameters from the manual. Amos may have added new ones since the manual was published. In order to use this template you have to have TB MIDI Stuff (under $5 in the app strore) on your ipad. I use and ipad 1 with a generic camera connection kit, going through a novation remote 37 SL MIDI out to the Sub Phatty…
King Britt fills us in on his big week in the Asheville area. He is here for the LEAF Festival, the Bob Moog Foundation and for a big show at the Mountain Oasis Festival with Pia Ercole, and more…
King Britt is an American DJ and record producer from Philadelphia, Pennsylvania.
Original music featuring ARP2600, Moog Voyager, Mellotron, D6 Clavinet, Nord Electro 3 and Fender Rhodes
The leaked news from Moog last week is now official – the new Minifoogers
In this video Queens of The Stone Age guitarist, Troy Van Leeuwen, explores the fundamental capabilities of all 5 Minifooger Analog Effects Pedals – The MF Drive, MF Delay, MF Trem, MF Boost, and MF Ring. Each Minifooger is assembled by hand at the Moog factory in downtown Ashville, NC in a rugged, cast aluminum enclosure and features a 100% analog signal path, true bypass design, optional battery power, and a single expression pedal input that provides hands-free control of one specified parameter for under $200 a piece.
Recording Chain: 2x Blue Dragonly condenser microphones – Apogee Quartet interface.
No EQ or Compression has been applied to the audio in this video. For best results set quality to HD.
Learn more about the entire family of Minifooger Analog Effects Pedals at: MINIFOOGERS.COM
Xander Singh and Ian Hultquist of the band Passion Pit came into the Moog Soundlab to Experiment with the new Minifooger family of analog effects pedals. Hultquist played a Fender Telecaster through all five Minifoogerwhile Singh experimented with the sonic capabilities of to create an evolving musical landscape,