A quick improvisation. Tools used: Moog Voyager, Camel Audio Alchemy Player, Logic Pro X (sequencing and effects). Audio captured direct to camera. More at www.experimentalsynth.com
The Bob Moog Foundation Archives contain a lot of fantastic historical pieces. This 1978 Moog Apollo is one of them. Marc Doty explains the history of this device and explores its functionality.
Marc Doty explores the Moog Apollo in the second of two videos that tell the history of the Moog Apollo as far as we currently know it, and let you hear this rich analog device do what it does.
Little demo of the Paraphonic Scene for the Moog Voyager in the iPad app "Patch Morpher" from Jazzman Ltd.
This is not just an editor and a patch morpher allows to create new sound morphing from one sound to another, but allows your Moog Voyager to become a real paraphonic synthesizer, with all the three oscillators perfectly in tune!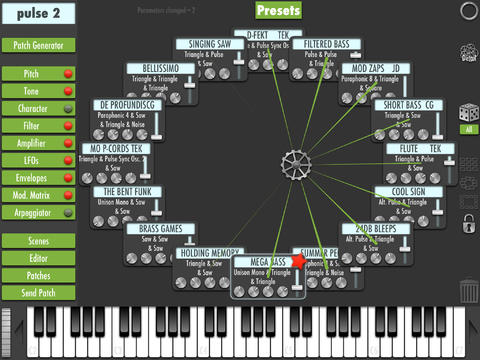 Patch Morpher is a patch librarian & editor for hardware synthesisers – with a twist: its powerful and innovative sound generator allows you to easily create your own totally original sounds without the hassle of editing 100s of parameters by hand.

This is truly innovative technology with all 5-star reviews from enthusiasts to professional sound designers.

Start with your favourite patches, then morph, blend & randomise them to create new sounds – editing 100s of parameters in real-time.

Patches can be organised into scenes for live performance, and you can then morph or mutate between them to create totally original new sounds & patches, controlling hundreds of parameters with one finger, all in real-time. You can even keep playing your synth as the sound evolves.

The fully-featured editor allows you to further tweak your sounds, taking advantage of the iPad's touch screen to give you full control whilst allowing you to view many parameters at a single glance with no hidden menus. Patches can be saved on your iPad so you won't run out of storage slots on your synthesiser.

Play the Moog Voyager paraphonically – addressing each of its three oscillators independently!

Automatically convert patches between the Prophet 08 and the Prophet 12.

Patch Morpher uses Core MIDI: connect to your synth via WiFi, the Apple camera connection kit or a compatible MIDI interface. 

Patch Morpher is compatible with the following synthesisers:
- Moog Voyager
- Access Virus TI
- Waldorf Blofeld
- Waldorf Pulse 2
- Dave Smith Mopho
- Dave Smith Prophet 08
- Dave Smith Prophet 12
- Korg KingKorg
- Mutable Instruments Shruthi-1

Please see our web-site for a video demo, user manual & free patch downloads.

Patch Morpher is an invaluable tool if you own one of these hardware synthesisers. Its revolutionary approach to patch generation makes it very easy & fun to create new & inspiring sounds. Allow your music to stand out with its own totally original sounds!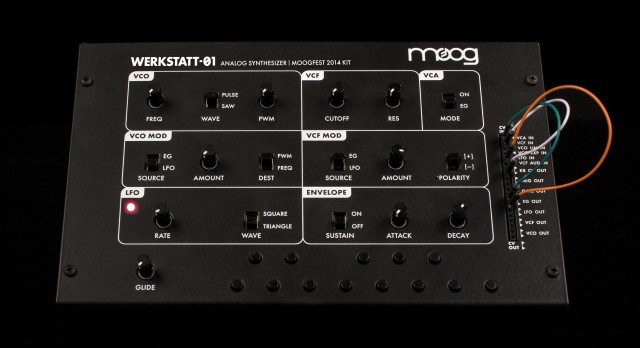 Moog Music today announced that it is releasing the Moog Werkstatt – originally designed for a hands-on workshop during Moogfest 2014 – as a limited edition hackable synthesizer.
During Moogfest, the comppany facilitated a two-day workshop, in which Moog engineers assisted 125 participants in building Werkstatt, an educational, patchable analog synthesizer designed specifically for the event. It was Moog's first workshop since 1997, when Bob Moog held a theremin workshop in Portland, Maine.
Moog has responded to interest by creating a no-soldering-required version of Werkstatt, the Werkstatt-Ø1 Moogfest 2014 Analog Synthesizer. They are releasing it in limited quantities to a small number of US dealers only
"We created Werkstatt specifically as an educational tool for teaching electronics assembly techniques and analog synthesizer circuit design in a workshop at Moogfest 2014." said Moog Product Development Specialist Steve Dunnington, creator of the Werkstatt."That workshop was very special for the Moog engineers. We learned so much from the experience and each of the participants."

"While we can't duplicate the experience of the Moogfest 2014 Engineering VIP Workshop," adds Dunnington, "Werkstatt-Ø1 will still offer a valuable and fun educational experience for customers."
The Werkstatt-Ø1 Moogfest 2014 Analog Synthesizer features a single voltage controlled oscillator with two selectable waveshapes, saw and pulse. This section also includes a control for adjusting pulse width modulation and oscillator frequency, which extends from 8Hz to 16KHz.
The voltage controlled filter section houses a classic 4-pole Moog Ladder Filter with 20Hz-20kHz frequency response, and a variable resonance control that is capable of driving the filter into self oscillation.
Werkstatt-Ø1 has two selectable modulation sources; a dual waveshape LFO with 0.2Hz-600Hz sweepable range, and a variable attack/decay envelope section with sustain on/off switch. Modulation sources are easily assigned via dedicated VCO and VCF modulation sections, each with a variable control for modulation amount.
Also included in each Werkstatt-Ø1 is a breadboard-style patchable header, which expands its sonic abilities. This patchable header features a dedicated external audio input, and control voltage inputs for VCO linear FM, VCO exponential FM, VCF, VCA, and LFO. CV outputs are in pairs, and include dual outputs for Keyboard CV, EG, LFO, VCF, VCO, Gate, and Trigger.
The Aluminum Minimoog Voyager is a limited edition, 100 piece production of the legendary Minimoog Voyager — the analog synthesizer that was the culmination of a lifetime of work for synthesizer pioneer Dr. Robert Moog. It is housed in an elegantly machined, all aluminum cabinet that has been weight relieved for portability. The cabinet features a clear anodized finish with industrial fixtures securing an electric blue backlit panel with electric blue LEDs, all black switches and nuts, and electric blue pitch & mod wheels.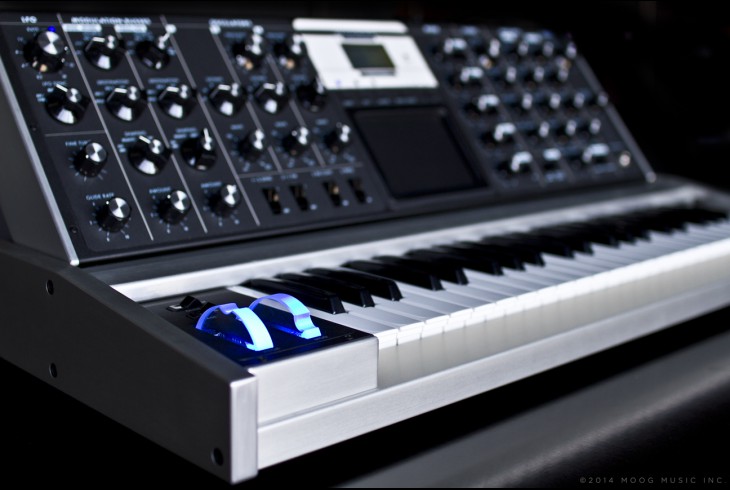 Moog has announced the availability of the Aluminum Minimoog Voyager, a limited edition of the analog synthesizer.
The Aluminium Minimoog Voyager is a limited edition, 100 piece production of the legendary Minimoog Voyager – the analog synthesizer that was the culmination of a lifetime of work for synthesizer pioneer Dr. Robert Moog.

It is housed in an elegantly machined, all aluminium cabinet that has been weight relieved for portability. The cabinet features a clear anodized finish with industrial fixtures securing an electric blue backlit panel with electric blue LEDs, all black switches and nuts, and electric blue pitch & mod wheels.
The Aluminum Minimoog Voyager is now available at select dealers and distributors, priced at $3,995 USD.
The Will Gregory Moog Ensemble first performed together in 2005 as part of the Bath Festival, recreating some of the 'Switched on Bach' arrangements of Wendy Carlos in the Seventies. As one half of the electronic music sensation Goldfrapp, the keyboard-player and composer Will Gregory is one of the UK's leading advocates of using synthesizers and electronic instruments to create new sounds and reinvent old ones. The band perform a mixture of specially composed music, transcriptions of classical works, and their own versions of music from popular culture and film scores.
This was filmed in May 2014 at a rehearsal for their forthcoming shows.
Vintage synthesizer sound tutorial featuring the Moog Source
part 9: the bass sound in "Blue Monday" from New Order
very important is the VCO waveform and the filter settings
this is the dry synth sound.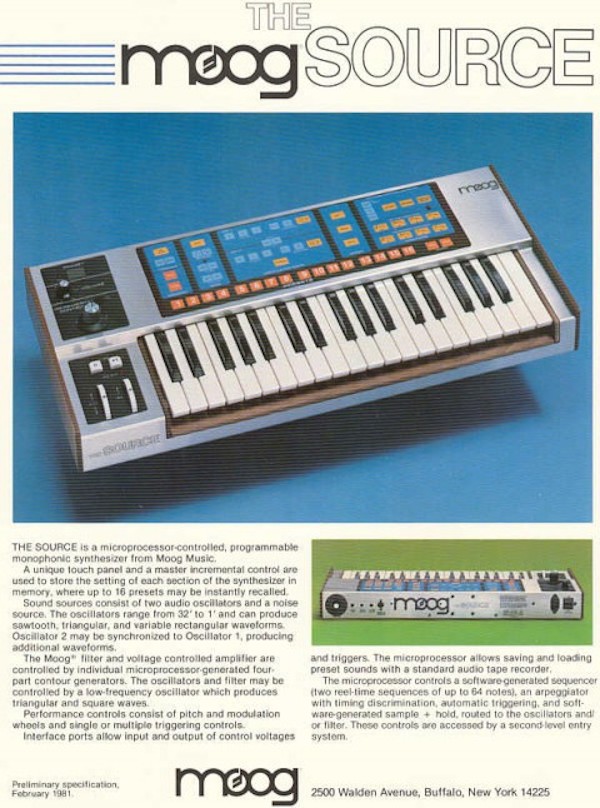 Bob Moog Foundation benefit, Isis music Hall, Asheville NC
Background history:
The Polymoog is the descendant of an ambitious project by Moog Music to create a large ensemble system called the Constellation. It was to include two keyboard synthesizers, the polyphonic Apollo and monophonic Lyra, and the Taurus foot pedalboard synthesizer. Although the Constellation project never made it to production, the Taurus pedalboard was released on its own, while the "Apollo Polyphonic Synthesizer" went on to become the Polymoog. It is also noteworthy that the Apollo/Polymoog project did not directly involve Bob Moog and was instead mostly designed by Dave Luce at Moog Music.
The Polymoog (model 203a) is a fully polyphonic preset-based synthesizer released in 1975. Its eight preset sounds consist of Strings, Piano, Organ, Harpsichord, Funk, Clavi, Vibes and Brass. There is also a Var (Variation) mode that allows any one of the preset sounds to be fully modified into unique and wild analog sounds using all of the available synthesis parameters on board. There's a genuine Moog ladder filter inside with modulation, keyboard tracking and lots of LFO modulation sources. The Polymoog features a full 71-key, velocity sensitive Pratt & Read weighted keyboard that can be split into three sections, each with independent volume sliders. There is a 3-band EQ, sample-and-hold, pitch controller ribbon and a full set of envelope controls. What you won't find, however, is patch memory or MIDI control.
The Polymoog 203a was originally known as the Polymoog Keyboard. In 1978, a newer, cheaper and more simplified model was released, the Polymoog Keyboard 280a. The original model 203a was thus re-named the Polymoog Synthesizer. The 280a model has more preset sounds (fourteen of them) but eliminated most of the editing functions that make the original 203a so much more flexible. The 280a model's new preset sounds included Vox Humana, Strings 2, Electric and Honky Tonk pianos, Chorus Brass and a Rock Organ. Because programming is so limited you're pretty much stuck with the presets. Fortunately the Vox Humana preset is a wonderful sound (used famously by Gary Numan). Editing is reduced to volume, tuning, hi-pass filtering, and basic LFO features. The 280a model can easily be identified by the name 'Polymoog Keyboard' printed where sliders and knobs would exist on the 203a model.
It should be noted that the Polymoogs are not true poly synths in the traditional sense. They use a 'divide-down' circuitry arrangement similar to certain string synths, combo organs, etc. This allows them to be fully polyphonic across the entire range of the 71-note keyboard. Sadly, the Polymoog is rather unreliable and prone to breakdown; used specimens are often problematic when left unserviced. Unfortunately, their complexity makes them difficult to service and even more difficult to find a qualified technician. By the way, the large amount of real-estate on the top of the Polymoog was designed that way as a place to put yourMinimoog (or other synthesizers) on top of it. Don't worry, it can take the weight, as the Polymoog itself weighs a whopping 82 pounds!
Unique among Moog's lineup, the Polymoog is not at all like the Minimoog or any of the other mono-synths Moog has become famous for. Instead, it was designed to complement Moog's monophonic synthesizers. It's a unique and finicky product, the brain child of David Luce instead of Dr. Bob Moog himself. But like all Moog products, this isn't an ordinary instrument — it's the Polymoog and it sounds fantastic for what it is.