Programming the great Moog Sub37( part 3/4). Using as a "Modular synth approach". All tracks recorded with the Moog except 2 tracks with Oberheim OBM-x.
recorded with SSL Channel, X32 Mixer Desk, Magix Sequoia.
Basis tracks from coming title "earth Albedo 0.37" /Kurtz Mindfields / 2016 album)
PATCHES PERFORMED LIVE – NO OVERDUBS
In June, Moog Music traveled to Arcosanti urban laboratory to take part in FORM, a three day happening curated by Hundred Waters. With three Mother-32 prototypes on-hand, visiting artists Kyle Dixon and M. Geddes Gengras explored the sonic capabilities of the Mother-32 in the alien landscape of Arizona's high desert.
M. Geddes Gengras uses a discrete Mother-32 and Minifooger Analog Delay to experiment with FM applications and LFO modulation routings, while Kyle Dixon integrates a pair of Mother-32s and a duo of Minifooger delays with his personal Eurorack case, using the 4ms QCD to clock each of the Mother's sequencers independently.
M. Geddes Gengras:
https://mgeddesgengras1.bandcamp.com/
Kyle Dixon:
https://www.facebook.com/survivesurvive
Moog:
http://www.moogmusic.com/
Ok, this is a two part test by request… PART ONE: Raw sound, no effects, testing to see how well the second (top) Mother-32 tracks via CV when the first (bottom) Mother-32 is being played via MIDI keyboard (in this case, the KMI QuNexus with MIDI Expander.) PART TWO: "Almost Berlin-School" test with delay and reverb effects, first (bottom) Mother-32 sync'd via MIDI from Ableton Live and second (top) Mother-32 being played via MIDI from a Moog Sub 37, then sequencer sync'd via CV from the first Mother-32… these are definitely two little boxes with a big sound! I can't wait for my 3-Tier rack to be delivered so I can add the third Mother-32 to this setup!
Additional Note: on part two of this video, I was trying to sync the second Mother-32 in a different way; previously I was syncing from GATE out of one M32 to RUN/STOP in (or to TEMPO in) to the second unit, but the problem with that is, if there is Ratcheting or Gate length changes on the first unit, then the second unit will pick those up. So in this video I used the ASSIGN CV as a sequence tempo out to the TEMPO in of the second unit… unfortunately it didn't work quite like I had hoped, so I'll need to experiment with this more.
Chords played with the Sub 37 and two Slim Phatties, set to random slow motion footage.
Another "on the fly" sequence with the Sub 37 and two Slim Phatties in polychain mode.
* Patch performed live * No overdubs *
Utilizing a trio of Mother-32 semi-modular synthesizers, hardware-techno producer Max Ravitz (aka Patricia) constructs a pure, simple, yet driving electronic cadence anchored by an organic analog pulse. In this patch, all three Mother-32 synthesizers exist as a closed ecosystem, each running independent patterns from their respective 32 step sequencers and communicating via control voltage through each unit's corresponding 1/8″ patch bay.
Max Ravitz: https://soundcloud.com/patriciaaa
Moog: http://www.moogmusic.com
Recently, Moog had the honor of sitting down with Nine Inch Nails' Trent Reznor, the genre-defining music innovator, master synthesist and Academy Award winning composer. In the interview, Reznor recounts his intimate relationship with the Minimoog Voyager, which he feels "is the archetype of what a synthesizer is and should be." Through personal stories, Reznor reveals his decades long history with the instrument and how it has shaped the way he views and creates music.
The video is set to an original score by British electronic music producer, The Haxan Cloak, co-producer of Bjork's Vulnicura.. Befitting the occasion, the artist used a Minimoog Voyager and a prototype Mother-32, Moog's newest synthesizer, to create the score.
"I made the track in a unique way that I never have before.
I have had modular synths for a long time, and consistently produced music with them, but purposefully never had a 'keyboard-based' setup because of not wanting to treat them in such a 'traditional' manner (purely for reasons of self-limitation).
Having the Voyager allowed me to utilize a more responsive approach of seeing the picture and essentially 'playing' along to it. I then took those results and used them to modulate other parameters and processed them further. The Mother 32 was used extensively as a sound source alongside also.
The Voyager is a synth I have always been fascinated by, but unfortunately never had the opportunity to own. I knew people that had them, but my first physical encounter was actually on the recent Bjork tour. I used it for a lot for recreating basslines from her back catalogue, which it did effortlessly.
It's such an incredibly versatile synth and has already become a uniquely indispensable backbone of my studio." – The Haxan Cloak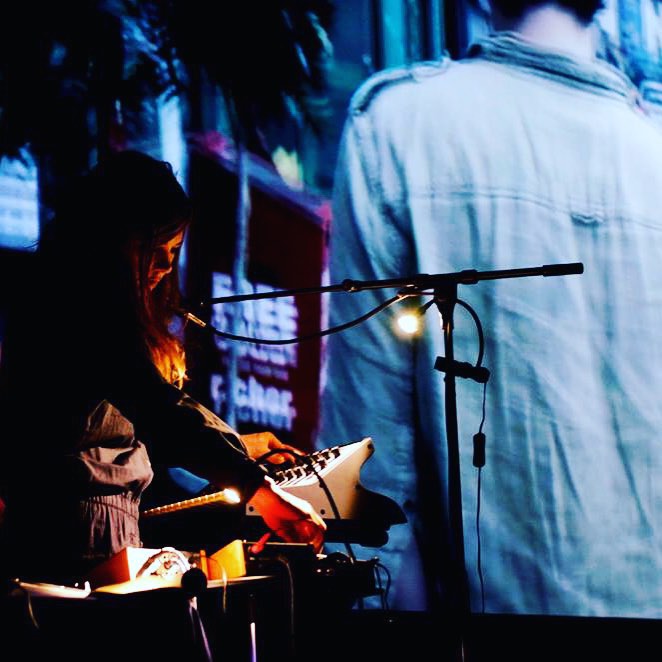 I Speak Machine (Tara Busch and Maf Lewis) has recently finished another of their live gigs in Malmö, Sweden, at Inkonst, this as an integrated performance with the ongoing art installation Sisters Academy. The band, being welcomed in a surreal environment featuring blindfolded students and experimental activities going on all over the place, fits nicely with the horror-futuristic music and visuals that I Speak Machine (ISM) performs on stage. Just like ISM the Sisters Academy are not just there due to general fascinations with the obscure, but rather a closer search into the realms of our existence and human conditions.
For those of you who have not seen ISM on stage, their live performances is far more than playing backtracked songs and soundscapes on laptops to visuals on the screen. Tara, a true machine geek, will bring a plethora of hardware gems on stage paired with intriguing vocals run through vocoders and the like. Perhaps not the most obvious route considering hers and Maf's common roots in the downtempo electronica band Dynamo Dresden. However, Tara and Maf apparently weren't content with performing in the straight forward rock/pop format. Tara have always had a fling towards dark and disturbing music, music that leaned towards horror and sci-fi, filled with those bizarre soundscapes – almost limitless in their nature.
Neither Tara nor Maf are 'true' horror/sci-fi geeks, but these type of movies do represent great reflexions on culture, and through ISM they have developed a new process on how to do things in this genre, without getting trapped in the conventional like the use of theremins and scary strings. This also means that ISM do not operate in a conventional way, such as adding music to a film score, but rather let the two grow and develop organically together, and through cross-pollination in the creative phase let music and visuals influence each other. And perhaps more importantly it is all being developed for live performances, not for home cinema viewing.
Read the full interview here >>
A set of sound samples made with a single Mother-32 unit by British electronic music producer The Haxan Cloak.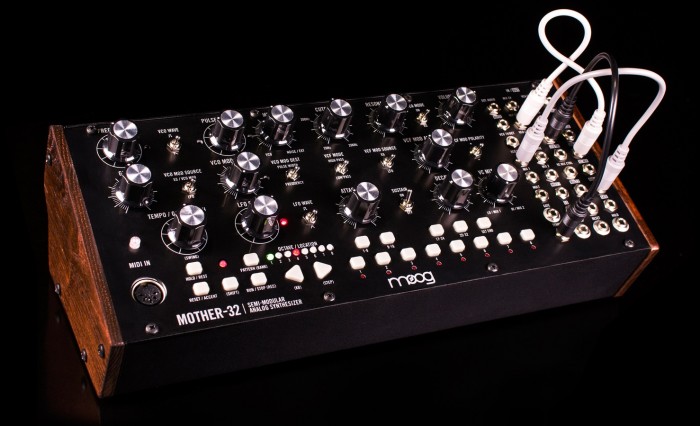 Moog has announced the Mother-32, a distinctively vintage-voiced analog performance and production synthesizer, meticulously handcrafted to inspire unique sound creation, new music and endless sonic exploration.
The Mother-32 is mounted in a black, laser-etched extruded aluminum enclosure and finished with traditional wood sidepieces. The 100% analog instrument features a comprehensive voltage-controlled sequencer and 32-point analog patchbay.

Mother-32's semi-modular design means that no patching is required to create powerful analog sound. This allows musicians of any experience level to quickly make music. Synthesists will enjoy exploring the extensive 32-point patchbay which unlocks truly expressive, unique and complex synthesis capabilities. The patchbay provides access to a wealth of sounds and functionality including an assignable CV output jack, MIDI to CV conversion, a second voltage-controlled mixer, sync, interconnectivity and expandability.

Onboard sound sources include a powerful 10-octave analog oscillator with variable pulse width, and an all-analog white noise generator. The signals from each are blended together by a voltage-controlled mixer for dynamic sound creation and manipulation. From the mixer output, sound travels through a Moog Ladder Filter with selectable low pass and high pass filter types.

Musical creation and programming is executed via Mother-32's comprehensive 32-step, voltage controlled sequencer or external MIDI controller. There are two sequencing styles, allowing each user to create new musical ideas with ease and familiarity. A total of 64 patterns can be stored within Mother-32's memory bank.

Mother-32 is an expandable analog ecosystem that allows multiple units to easily be mounted and patched together for extended synthesis capabilities.
Mother 32 features
Semi-Modular design requires no patching for swift, inspired music creation.
Voltage Controlled 32 Step Sequencer with 64 Sequence Locations.
Low Pass & High Pass Moog Ladder Filter (20Hz–20kHz) with voltage controlled resonance.
External audio input for processing outside sound sources.
Definitive Moog oscillator with Pulse and Sawtooth wave outputs.
5-pin MIDI input and MIDI to CV converter.
32 Modular Patch Points (Includes 5 patch cables).
2 Voltage controlled mixers.
Superb companion to Werkstatt 01, Minitaur and other synthesizers.
Main module can be easily transferred into a Eurorack skiff or case.
Mount 2 or 3 units vertically with optional 2 and 3 Tier kits.
Complete solution for new Eurorack users – no other items required.
The Mother-32 is available for purchase for $679 USD. Direct orders will ship within 10 weeks.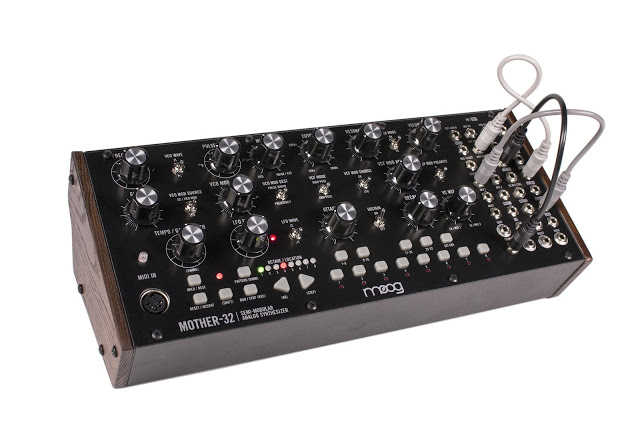 Looks like the Mother-32 will be a single oscillator desktop, eurorack type, patchable, monophonic synth, with a built-in sequencer