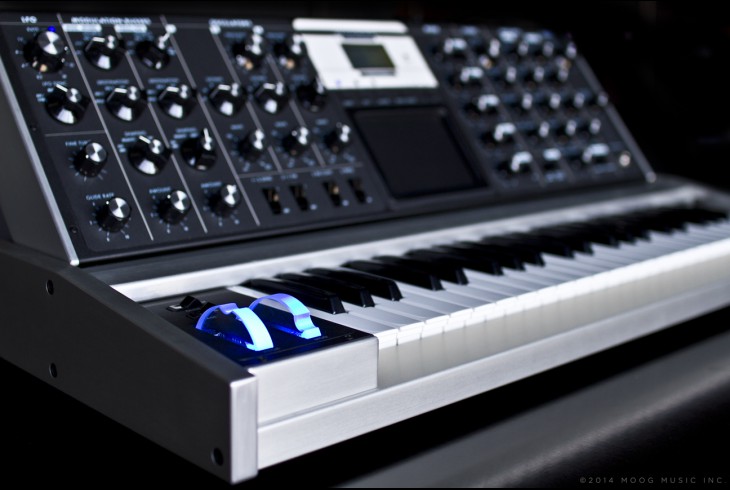 Moog has announced the availability of the Aluminum Minimoog Voyager, a limited edition of the analog synthesizer.
The Aluminium Minimoog Voyager is a limited edition, 100 piece production of the legendary Minimoog Voyager – the analog synthesizer that was the culmination of a lifetime of work for synthesizer pioneer Dr. Robert Moog.

It is housed in an elegantly machined, all aluminium cabinet that has been weight relieved for portability. The cabinet features a clear anodized finish with industrial fixtures securing an electric blue backlit panel with electric blue LEDs, all black switches and nuts, and electric blue pitch & mod wheels.
The Aluminum Minimoog Voyager is now available at select dealers and distributors, priced at $3,995 USD.
The Will Gregory Moog Ensemble first performed together in 2005 as part of the Bath Festival, recreating some of the 'Switched on Bach' arrangements of Wendy Carlos in the Seventies. As one half of the electronic music sensation Goldfrapp, the keyboard-player and composer Will Gregory is one of the UK's leading advocates of using synthesizers and electronic instruments to create new sounds and reinvent old ones. The band perform a mixture of specially composed music, transcriptions of classical works, and their own versions of music from popular culture and film scores.
This was filmed in May 2014 at a rehearsal for their forthcoming shows.
Vintage synthesizer sound tutorial featuring the Moog Source
part 9: the bass sound in "Blue Monday" from New Order
very important is the VCO waveform and the filter settings
this is the dry synth sound.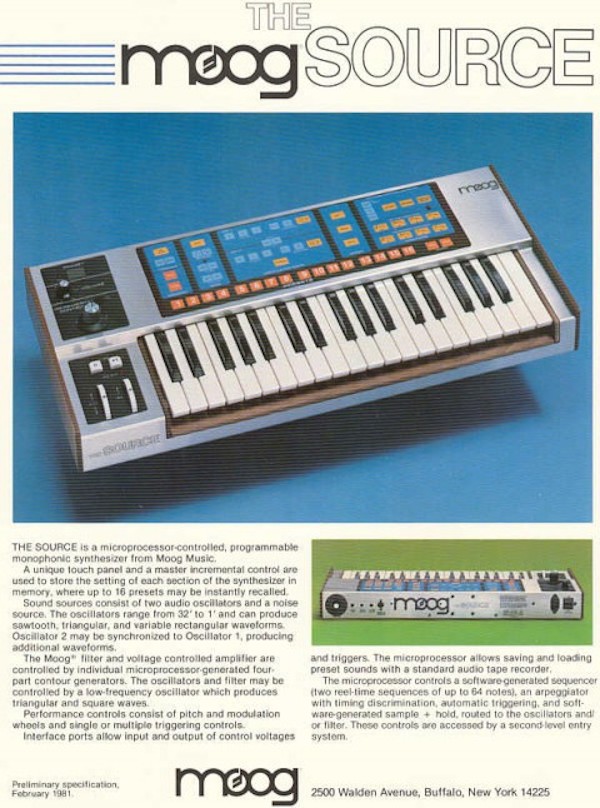 Bob Moog Foundation benefit, Isis music Hall, Asheville NC
Background history:
The Polymoog is the descendant of an ambitious project by Moog Music to create a large ensemble system called the Constellation. It was to include two keyboard synthesizers, the polyphonic Apollo and monophonic Lyra, and the Taurus foot pedalboard synthesizer. Although the Constellation project never made it to production, the Taurus pedalboard was released on its own, while the "Apollo Polyphonic Synthesizer" went on to become the Polymoog. It is also noteworthy that the Apollo/Polymoog project did not directly involve Bob Moog and was instead mostly designed by Dave Luce at Moog Music.
The Polymoog (model 203a) is a fully polyphonic preset-based synthesizer released in 1975. Its eight preset sounds consist of Strings, Piano, Organ, Harpsichord, Funk, Clavi, Vibes and Brass. There is also a Var (Variation) mode that allows any one of the preset sounds to be fully modified into unique and wild analog sounds using all of the available synthesis parameters on board. There's a genuine Moog ladder filter inside with modulation, keyboard tracking and lots of LFO modulation sources. The Polymoog features a full 71-key, velocity sensitive Pratt & Read weighted keyboard that can be split into three sections, each with independent volume sliders. There is a 3-band EQ, sample-and-hold, pitch controller ribbon and a full set of envelope controls. What you won't find, however, is patch memory or MIDI control.
The Polymoog 203a was originally known as the Polymoog Keyboard. In 1978, a newer, cheaper and more simplified model was released, the Polymoog Keyboard 280a. The original model 203a was thus re-named the Polymoog Synthesizer. The 280a model has more preset sounds (fourteen of them) but eliminated most of the editing functions that make the original 203a so much more flexible. The 280a model's new preset sounds included Vox Humana, Strings 2, Electric and Honky Tonk pianos, Chorus Brass and a Rock Organ. Because programming is so limited you're pretty much stuck with the presets. Fortunately the Vox Humana preset is a wonderful sound (used famously by Gary Numan). Editing is reduced to volume, tuning, hi-pass filtering, and basic LFO features. The 280a model can easily be identified by the name 'Polymoog Keyboard' printed where sliders and knobs would exist on the 203a model.
It should be noted that the Polymoogs are not true poly synths in the traditional sense. They use a 'divide-down' circuitry arrangement similar to certain string synths, combo organs, etc. This allows them to be fully polyphonic across the entire range of the 71-note keyboard. Sadly, the Polymoog is rather unreliable and prone to breakdown; used specimens are often problematic when left unserviced. Unfortunately, their complexity makes them difficult to service and even more difficult to find a qualified technician. By the way, the large amount of real-estate on the top of the Polymoog was designed that way as a place to put yourMinimoog (or other synthesizers) on top of it. Don't worry, it can take the weight, as the Polymoog itself weighs a whopping 82 pounds!
Unique among Moog's lineup, the Polymoog is not at all like the Minimoog or any of the other mono-synths Moog has become famous for. Instead, it was designed to complement Moog's monophonic synthesizers. It's a unique and finicky product, the brain child of David Luce instead of Dr. Bob Moog himself. But like all Moog products, this isn't an ordinary instrument — it's the Polymoog and it sounds fantastic for what it is.
At MoogFest 2014, Peter Kirn gets a tour of Moog's mammoth new tribute synth, a part-for-part reconstruction of Keith Emerson's iconic Moog Modular.
In 1969, Emerson incorporated the Moog modular synthesiser into his battery of keyboards. While other artists such as The Beatles and The Rolling Stones had used the Moog in studio recordings, Emerson was the first artist to tour with one. Emerson's use of the Moog was so important to the development of new models that he was given prototypes, such as the Constellation he took on one tour[8] and the Apollo, which had its debut on the opening track of Brain Salad Surgery, "Jerusalem."
The Moog was a temperamental device; the oscillators went out of tune with temperature change. Emerson: "I had my faithful roady Rocky tune the instrument to A 440 just prior to the audience coming in, but once the audience came into the auditorium and the temperature rose up then everything went out of tune."
His willingness to experiment with the Moog led to unexpected results, such as the time he stumbled into the signature sound for Hoedown, one of ELP's most popular tunes. Emerson: "We'd started working on that arrangement and then I hit, I don't know what, I switched a blue button and I put a patch cord in there, but anyway 'whoooeee.'"
The so-called "Monster Moog," built from numerous modules, weighed in at a whopping 550 pounds, stood 10 feet tall and took 4 roadies to move. Even with its unpredictability, it became an indispensable component of not only ELP's concerts but also Emerson's.
He is known for his technical skill and for his live antics, including using knives to wedge down specific keys of hisHammond organ during solos, playing the organ upside down while having it lie over him and backwards while standing behind it, and has cited guitarist Jimi Hendrix and English organist Don Shinn as his chief theatrical influences. He also employed a special rig to rotate his piano end-over-end while he was playing it, though this of course is purely for visual effect, as a piano cannot operate as an instrument while upside down.
The Moog Sub 37 Tribute Edition is a limited edition paraphonic analog synthesizer built on the award winning Sub Phatty sound engine. Its panel features 40 knobs, 74 switches, and has a dedicated LCD display, placing each critical sound creation element and live performance tool quickly at your command.
The Sub 37's new features include Duo Mode, which allows oscillator 1 and oscillator 2 to be played independently, programmable arpeggiator/step sequencer, two modulation busses with assignable source and destination options, access to 256 presets, and a 37-note velocity sensitive keyboard with aftertouch.
Adam Berzowski demonstrates the Moog Sub 37 analog synthesizer at Kraft Music.
The Moog SUB 37 Tribute Edition is a limited edition paraphonic analog synthesizer built on the award winning Sub Phatty sound engine, but specifically designed to meet the demands of synthesists, sound designers, and professional keyboard players. It is also the first Moog synthesizer released in over 30 years with the ability to play more than one note at a time. The SUB 37 panel is fitted with 40 knobs, 74 switches, and features a dedicated LCD display. Each critical sound creation element and live performance tool is quickly at your command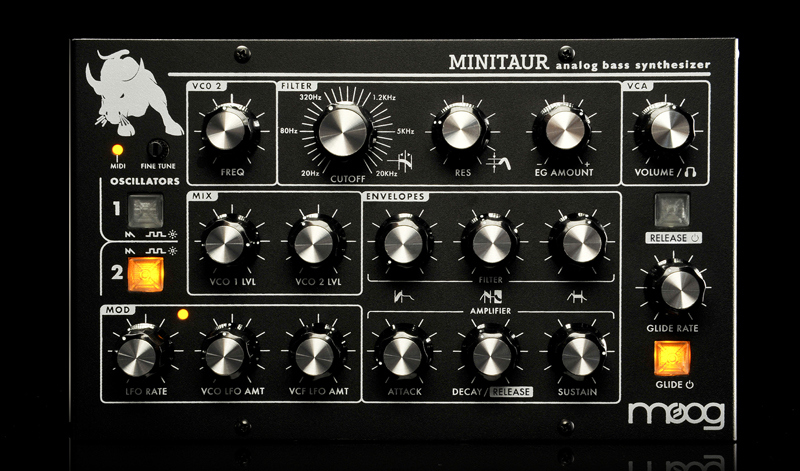 Moog Music has announced a big update to Minitaur Editor:
"The Minitaur Editor has been rebuilt from the ground up and is now available free to all registered Minitaur owners.
In addition to the new standalone editor – VST, AU, RTAS, and AAX plugin compatibility have been added for improved DAW integration. Every feature on and under the hood of your Minitaur can now be easily accessed, automated, and recalled from within your favorite DAW."
The new firmware, version 2.1, also adds new features to Minitaur, including:
Ability to save presets from the panel
Polychain capability
Support for custom tuning scales
Change presets with program changes
MIDI note transposition
Load mod wheel position w/ preset
Load volume knob position w/ preset
For additional information about the updated Minitaur Editor 3.0, or to download the new editor (Mac or Windows versions available), visit the Moog Music website.
Note: Moog Music says that the Minitaur Editor 3.0 requires the installation of firmware version 2.1 onto your Minitaur in order to function properly. If you own Minitaur serial number 6247 or below, you must install this included update. Back up your presets before installing the new firmware.
At Moogfest 2014, Moog Music introduced the Werkstatt as a special DIY project that attendees could build in a two-day course at the Moog Factory.
In this video, Moog Music's Steve Dunnington and Trent Thompson give a behind-the-scenes look at the Werkstatt and what it can do.
Background video description:
I'm only a day back from this years Moogfest in Asheville and already have my new Moog Werkstatt synth talking to my TB-303 with CV and Gate.
This is just after i got it working for the first time…
www.leecoombs.net
Acid baby! I made this in 5 minutes
So excited about the possibilities this little Werkstatt synth has…