Background video description:
This video is for David but everyone else is welcome to watch as well. This is one of the 4 memorymoogs from Alan Gary Campbell's collection that I restored back to fully working order, it was a parts unit originally that I ended up turning back into a very good unit. I upgraded many things in this unit including the autotune circuit which helps with accuracy.
I hope you enjoy it David and congratulations on your purchase.
Thereminist Lydia Kavina, first taught by Léon Theremin himself, gives us great tips and tricks for playing the wonderful new Moog Theremini. If you're just getting started with the Theremini, make sure to check it out! Want more info? See below!
The Moog Theremini is an affordable modern re-imagination of the classic Theremin, which anyone can learn to play – it has:
• User friendly pitch assist correction with selectable scales and root note, so you can't play a wrong note! You can also turn this off for classical theremin glissando sounds, or just dial it back for partial correction as you improve your technique.
• 32 different sounds on-board, covering a range of basses, lead sounds, classical theremin tones and much more.
• Adjustable stereo ping-pong delay built right in, for wonderful ethereal sounds right out of the box!
• Built in tuner gives live visual feedback of currently playing note, showing how close you are to hitting the note to help learn pitch and scales.
• Built in speaker for instant playback anywhere.
• Headphone output (which mutes the speaker) for practising!
• Stereo 1/4″ audio outputs to connect Theremini to audio interfaces, looping pedals, stereo systems, multitrack recorders or anything you like!
• Single Pitch CV output w/ selectable range, so you can connect it to analogue synthesizers and use the Theremini as a wild CV modulation source.
• 21 user selectable scales and user-adjustable root note selection (including chromatic)
• User selectable note range: choose the highest note and lowest note (stored per preset), so it can be set up as you prefer
• Removable pitch antenna – built in storage compartment on bottom-side for easy storage and transportation (carry bag sold separately)
• Built in 3/8" Mic stand and Camera stand adaptor.
• High quality rubberised feet so it can be placed on a table.
All audio and video content c.2014 G-Storm Electro
All original patches. Mostly bass, arpeggio and some sound FX stuff. The only sound is the Sub37 and sometimes the Volca Beats (off camera) mixed on an Alesis Multimix8. No effects added to the synth recording.
Learn more here: http://bit.ly/Sub37MoogMusicInc
This is the power of modularity with the immediacy of a self contained instrument. Detailing the underlying philosophies and design goals that culminated in the realization of the Sub 37 Bob Moog Tribute Edition paraphonic analog synthesizer, this video explores the vast modulation possibilities and sequencing options available via the front panel.
This video contains complex harmonic content that may be difficult for your computer speakers or phone to reproduce.
We recommend using a high quality set of headphones for the proper listening experience.
Moog's new affordable mono seems to be the bee's knees. We take a look at the SUB 37 Tribute edition.
For review notes: http://www.sonicstate.com/news/2014/1…
"The Sub 37 feels like a properly grown up synthesizer," notes Batt, "with really musical parameter scaling – and is well worth the asking price."
The Sub 37 Tribute Edition is a limited edition (2-note) paraphonic analog synthesizer. It's built on the Sub Phatty sound engine, but its panel features 40 knobs, 74 switches and has a dedicated LCD display.
no processing at all
In this tutorial we will be adding a button controlled vibrato effect using a photoresistor, LED, and Arduino microcontroller. By using an external circuit for vibrato we are able to free up our LFO for other forms of modulation.
Find complete fritzing models, Arduino code, more mods and tutorials here: http://bit.ly/WerkstattWorkshop
In this project we will use a 555 timer to create a second square wave LFO. By adding a second LFO we can create much richer textures and more complex sounds.
In this project we will be integrating an accelerometer to measure movement in three dimensions with our Werkstatt using an Arduino microcontroller. An accelerometer is a device that measures acceleration in three dimensions and outputs a corresponding voltage.
Generative Music with Ableton Live
http://en.wikipedia.org/wiki/Generati…
Dsi Prophet 08 launching clips in Ableton Live
Moog Voyager + Moog MF Delay
Moog Little Phatty
DSI Evolver
Akai VX 90
Roland Alpha Juno 2
Novation Bass Station 2
Jomox AirBase 99
Lexicon MX 300
TC Electronic M 350
Boss CE 20
Korg Monotron Filter on Cymbals
Allen & Heath Zed 428
Sound effects created with a Micro Moog from 1975 and an Ibanez AD-80 Analog Delay pedal from 1979.
https://www.facebook.com/engstrandrobert
Micro Moog: http://www.vintagesynth.com/moog/micr…
Ibanez AD-80 Analog Delay: http://www.tonehome.de/ibanez-effects…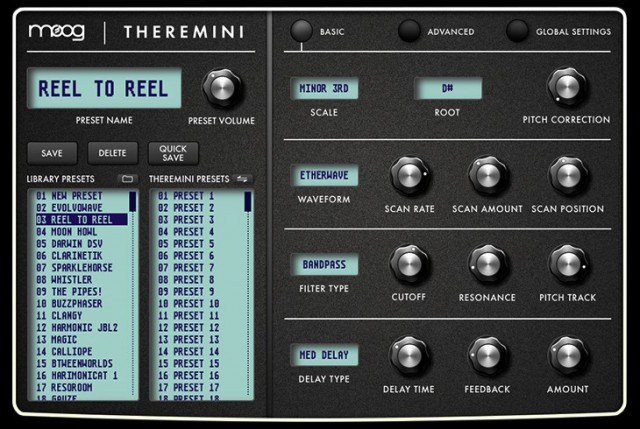 At the 2014 NAMM Show, Moog introduced the Theremini – a new take on the theremin that offers traditional analog control, combined with an advanced synthesis engine. Now they have added an editor for it, details below:
Unlock your Theremini's previously unseen world of sonic features with The Moog Theremini Advanced Software Editor. This editor puts the power of sound design in your hands by allowing you to access new layers of the Theremini's synthesis engine. Easily craft new and exciting sounds for your Moog Theremini, re-sculpt existing presets, and share your sonic creations with others. The Moog Theremini Advanced Software Editor also includes an exclusive library of new presets to kick-start your creative process.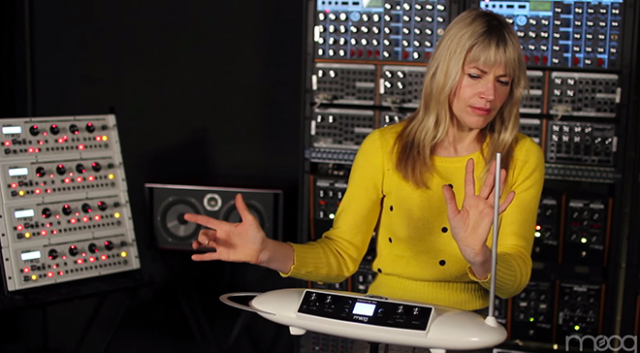 NOTE: This application does not make sound by itself. It is an editor librarian app for the Moog Theremini. To use this app, the user must have a Lightning to USB host adapter (for iPads with Lightning connector) or the Apple Camera Connection Kit (for iPads with 30pin connector) and a mini USB cable.
FEATURES
Create new presets
Edit existing presets
Craft new sounds in real-time while playing your Moog Theremini
Create or edit preset libraries with built in Library Manager
Unlimited preset storage
Share libraries of sounds via email or iTunes file sharing
Edit the Theremini's global settings
Built in Editor User Manual, Theremini User Manual, and Quick Start Guide
Simple drag-and-drop preset library
Quick Save for instantly editing an existing sound
Headphones highly recomended
An afternoon improvisation.
Gear used: Waldorf Blofeld and MicroQ, Arturia Microbrute through Eventide H9, Elektron Machinedrum, Akai mpc500 as main sequencer, Korg Ms2000, Clavia Nord Modular G2 and DSI Tetr4. Hardwire DL7 and RV8 were used on the Tetra.
A funky moog jam. Drums are 100% Tempest, I also added a moog bass line, some rhodes sounds off the nord, and a clav type patch off the prophet 08. The main moog lead is going through an MXR carbon copy.