A quick 1 minute video getting into the awesome Moog Sub 37 analog synth with the Maschine Studio. Having a nice time with a funky hip hop beat.
All video and audio by G-Storm Electro c.2015
Visit http://gstormelectronica.blogspot.com/ to download the patches.
Doing something a little different this time. I have packed ALL 64 of my original Sub 37 patches into a 4-track MEGA DEMO, a cornucopia of basses, leads, arpeggios, and otherworldly sound effects. Everything you hear is ALL SUB 37, I wanted something true to the tone of just the Sub 37 and nothing else. You may see other effects and things in the background, but NONE are used here.
It took two weeks to compose, film, and edit the video.
The patches are free to download on my blog as a system exclusive file, AKA sysex. If you do, be sure to FIRST backup your own sounds to a computer, and confirm they are saved. If you need guidance be sure to check out my video at https://youtu.be/ulNTvar2fCQ for uploading sysex patches to a synthesizer using a MIDI utility program like MidiOX.
The Mother32 is a Eurorack synth module that is a basic all-in-one synth voice. Architecturally, it is a single-VCO Moog synth voice – but with 32 audio and control voltage patch points, a built-in sequencer and 'Moog sound'.
Key Features:
All-in-one Moog synth voice in Eurorack format
Can be used as a standalone desktop synth module or as part of a Euro system
MIDI & CV control
32 patch points
Built-in step sequencer, with per-note control over a large number of parameters, including gate length and ratcheting
The Moog Mother32 is expected to be available in early October, priced at US $599.
Background video description:
Having fun with the Moog Sub37 sequencer.
This is my first real encounter / jam with the Sub37 since I got it a few days ago.
The step sequencer is amazing and highly tweakable live ; and with the new firmware, it gracefully turns everything you throw at it into something musical.
Started with an init patch and took it from there.
Recorded straight into Ableton via the Scarlett 6i6 with just a touch of reverb.
Drums courtesy of the Aira TR-8.
Ambient musician and composer, Robert Rich, is well-known for creating immersive soundscapes that transport the listener to another place. While studying in Stanford's Center for Computer Research in Music and Acoustics during the 1980s, Robert would perform nine hour "Sleep Concerts" – influencing the REM sleep cycle of the audience with auditory stimulus.
During a visit to the Moog Music factory in Asheville, NC, Robert engaged in an atmospheric session with the Moog Modular System 55. Controlling the massive hand-wired synthesizer, Robert orchestrates a sonic continuum that evokes the perpetual organic motion of the natural world.
Moog Sub 37: http://www.moogmusic.com/products/pha…
Moog MF-104M: http://www.moogmusic.com/products/moo…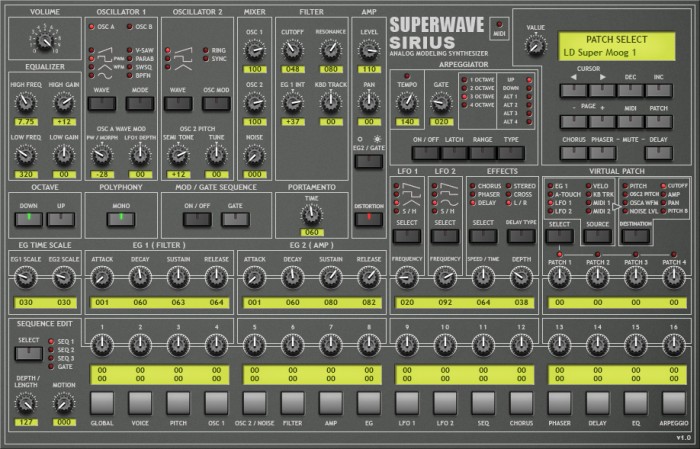 SuperWave has announced the release of Sirius, a powerful virtual analogue synthesizer incorporating a Moog Filter for that nostalgic warm and fat analogue sound.
If you're looking for a synthesizer capable of huge leads, pads, strings and basses, then you must check out the Sirius. The Sirius features much of the technology used in the Tarkus synthesizer, but has a Moog 4-Pole 24dB Filter instead of a State Variable Filter. In short, think of the Sirius as a Mini Moog Synthesizer using the Korg MS2000 Block diagram for the sound structure.

The Sirius features four sixteen step Sequencers, Arpeggiator and Multi-Effects which include Chorus, Phaser, Delay, Distortion and EQ. If you're lucky enough to own a Korg MS2000, then you can use the MS2000's control surface to edit most of the Sirius's common control parameters.
Sirius for Windows (VST) is available for purchase for £14.99 GBP.
Sculptor / programmer / interactive interface designer, Chas Llewellyn, explores the form and function of a large-scale light sculpture he designed using Moog Music's Animoog app as the control source. From his former Wedge Studios workspace in Asheville's River Arts District, Chas details the multiple electronic communication protocols that he integrated into the final working installation.
Check out the Moog Sub Phatty at
http://www.moogmusic.com/products/pha…
https://www.youtube.com/user/JohnLRice
http://www.matrixsynth.com
Moog Sub Phatty unboxing video and demo by John L Rice. An exploration of presets, live tweaking, and processing with external effects and modular gear.
Huge thanks to Moog Music for the Sub Phatty and John L Rice for taking the time to try it out and make this video!
The Sonic Six is an interesting, although obscure synthesizer from the Moog history books. Its predecessor, the Sonic V, was designed by an ex-Moog employee for the muSonics brand. When muSonics eventually bought out R.A. Moog, forming Moog muSonics, the Sonic V's basic design was moved into a portable brief-case style synthesizer, and with only a few tweaks, the Sonic Six was born.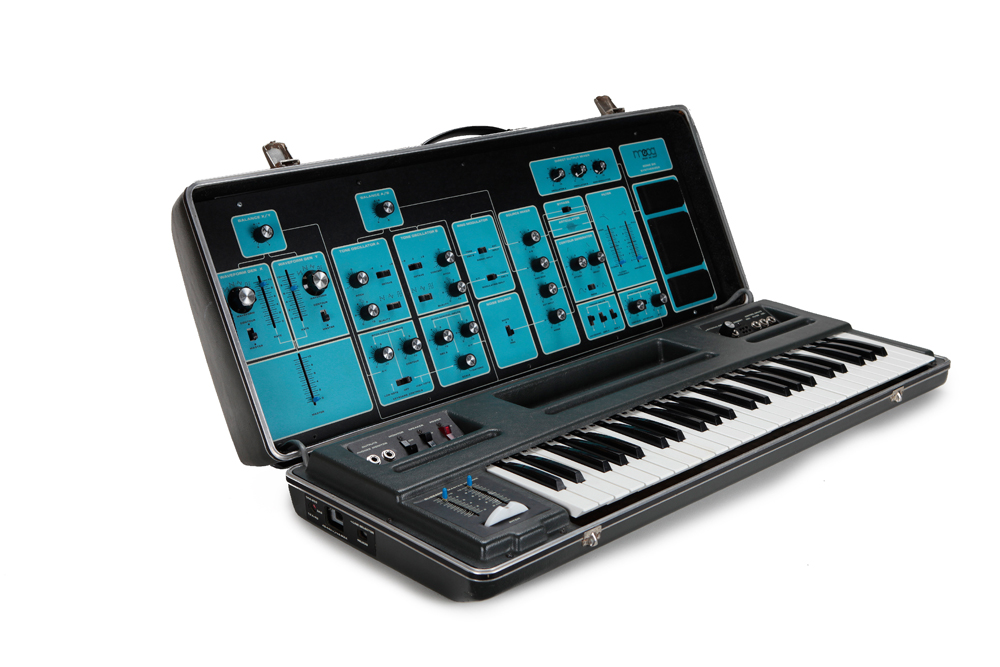 The fact that the Sonic Six originated from another company's design not only accounts for why the Sonic Six looks different than any other Moog, but also for some pretty unique differences under the hood as well. To start, it is duo-phonic, utilizing two analog oscillators with three basic waveforms each plus tuning, modulation and scaling controls. There are two independent LFO generators with advanced control options not seen on other Moog synths (for instance, an X/Y knob is used to mix and balance the LFO outputs). Also on-board is a Ring Modulator (that can modulate either Osc. B or external audio) and pink/white noise generators.
Moog synthesizers are known for their filters, and the Sonic Six strays from the usual Moog in this area as well. While it is known that ARP stole a filter design from Moog for use in some of their 2600 and Odyssey models, leading to lawsuits between Moog and ARP, according to Mark Vail in "Vintage Synthesizers," the Sonic Six actually used some circuitry in its filters which were stolen from an ARP design, although ARP never sued Moog over it. However, later models of the Sonic Six were eventually fitted with a more traditional Moog designed filter. In either case, the filter is a low-pass 24dB/oct which offers the usual controls and is capable of self-oscillation. The VCA, however, has a rather limited set of controls – attack and decay plus a sustain on/off switch.
You'll need headphones or some good speakers to hear all of this. Laptop speakers just won't give you the full bottom end where a lot of this is happening…! Moog Sonic6 "played" via a Q960 sequencer… you can't beat it…;)