The new Moog Werkstatt in action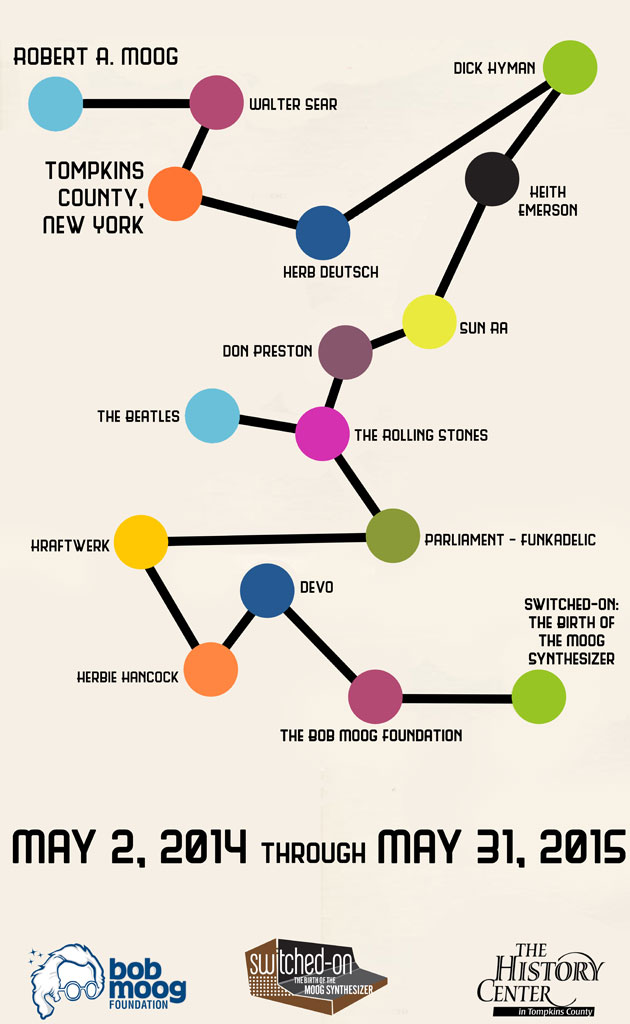 The History Center in Tompkins County will open the highly anticipated exhibition Switched-On: The Birth of the Moog Synthesizer on Friday, May 2nd. Telling the story of Bob Moog and the development of the groundbreaking electronic instruments bearing his name, Switched-On will provide museum-goers an interactive, engaging opportunity to learn about this important chapter of our region's history. Based on a series of wide-ranging oral history interviews done with family members, colleagues, and contemporaries, and done in partnership with the Asheville, N.C.-based Bob Moog Foundation, the exhibition provides unparalleled insight into the unique genius of Bob Moog and the ways in which he ushered in a revolution in music. Switched-On is the first major exhibition on Bob Moog and Moog Synthesizers to occur in the region, and will run through May 31st, 2015.
First Friday Gallery Night
Friday, May 2nd, 2014
5:00 – 8:00 p.m.
The History Center
More info on the museum here – http://www.thehistorycenter.net/thc_exhibits/2014/moog.php and more info on The Bob Moog Foundation here http://moogfoundation.org/.
Joy Division cover, live in studio.
DSI Tempest
Moog Little Phatty
Korg Volca Keys
MS20 Mini
Gforce Virtual String Machine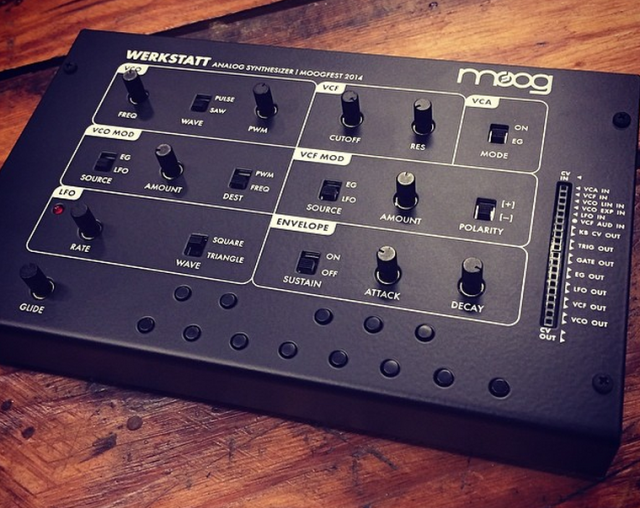 Moogfest has released this sneak preview image of the new Moog Werkstatt Analog Synthesizer, with a couple of interesting features:
Along the right-hand side, there is a break-out patch-bay, allowing modular patching of the Werkstatt; and
Along the bottom, there's a button-style keyboard.
"Werkstatt" means "workshop" in German, so the DIY function is probable. The architecture is a single-oscillator monosynth, switchable between saw waves and PWM. Both the filter and oscillator mod can be set to either an independent LFO or the envelope. Attack / Decay / sustain switch controls the envelope. The most interesting feature is the analog patch bay along the right-hand side of the unit, implemented as a simple header strip. This should suggest semi-modular capabilities by patching with jumper wires. A prototype shot shows those jumpers in action and a 1/4″ jack plug for audio coming out the back.
Vintage synthesizer demo track by RetroSound
all synthesizer sounds: Moog Minimoog Analog Synthesizer (1972)
(bass, lead, sweeps, portamento, pads, fm-sounds)
drums: Roland TR-707
recording: multi-track
fx: reverb and delay
AeroMIDI is a 3D MIDI controller for Mac and Windows. AeroMIDI uses 3D input devices, like the Leap Motion shown above, to track your hand in space allowing you to control any MIDI software or MIDI hardware.
AeroMIDI allows you to use your hands in 3D space to trigger notes and MIDI continuous controller messages. AeroMIDI works with any MIDI software or hardware.
Background video description:
I hooked my Sub Phatty up to my sound card so I could use Aeromidi for Leap to control a few functions… more to come.
for more info go to www.aeromidi.net
Preview of the presets from Soundsdivine's MM+ synthesizer for Kontakt .
Based on the Moog Memorymoog Plus .
MM+ features
3 Oscillators.
31 Waveforms.
2 Filters.
2 Aux Envelopes.
1 Programmable Arpeggiator.
3 Monophonic Pitch Sequencers.
2 Additional Sequencers.
25 Custom Impulse Responses.
5 FX inc. Transient Shaper / Phaser / Delays & Reverb.
6.97GB (compressed) samples from the Moog MemoryMoog.
200+ Presets.
The sample library is available to purchase for 79 EUR incl. VAT.
"Nadsat" by David Baron. For Moog Modular 3p Synthesizer (with sequencer). Recorded at Sun Mountain Studios, Boiceville, NY
Marc Girard takes on the challenge to compare a classic synth with its emulated counterpart, background video description below:
Here's a quick video we made testing out the differences between a real Minimoog and a virtual one from Arturia, iMini. I was quite surprised!
Trent from Moog Music walks us through the 500 Series Analog Delay with full MIDI plug-in control for integrating with your digital audio workstation.