Moog's new affordable mono seems to be the bee's knees. We take a look at the SUB 37 Tribute edition.
For review notes: http://www.sonicstate.com/news/2014/1…
"The Sub 37 feels like a properly grown up synthesizer," notes Batt, "with really musical parameter scaling – and is well worth the asking price."
The Sub 37 Tribute Edition is a limited edition (2-note) paraphonic analog synthesizer. It's built on the Sub Phatty sound engine, but its panel features 40 knobs, 74 switches and has a dedicated LCD display.
no processing at all
In this tutorial we will be adding a button controlled vibrato effect using a photoresistor, LED, and Arduino microcontroller. By using an external circuit for vibrato we are able to free up our LFO for other forms of modulation.
Find complete fritzing models, Arduino code, more mods and tutorials here: http://bit.ly/WerkstattWorkshop
In this project we will use a 555 timer to create a second square wave LFO. By adding a second LFO we can create much richer textures and more complex sounds.
In this project we will be integrating an accelerometer to measure movement in three dimensions with our Werkstatt using an Arduino microcontroller. An accelerometer is a device that measures acceleration in three dimensions and outputs a corresponding voltage.
Generative Music with Ableton Live
http://en.wikipedia.org/wiki/Generati…
Dsi Prophet 08 launching clips in Ableton Live
Moog Voyager + Moog MF Delay
Moog Little Phatty
DSI Evolver
Akai VX 90
Roland Alpha Juno 2
Novation Bass Station 2
Jomox AirBase 99
Lexicon MX 300
TC Electronic M 350
Boss CE 20
Korg Monotron Filter on Cymbals
Allen & Heath Zed 428
Sound effects created with a Micro Moog from 1975 and an Ibanez AD-80 Analog Delay pedal from 1979.
https://www.facebook.com/engstrandrobert
Micro Moog: http://www.vintagesynth.com/moog/micr…
Ibanez AD-80 Analog Delay: http://www.tonehome.de/ibanez-effects…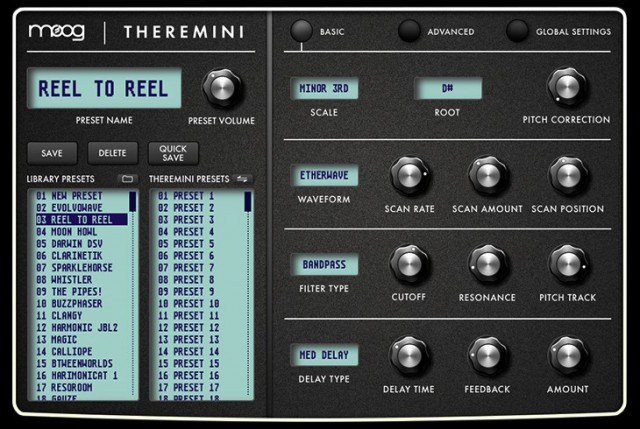 At the 2014 NAMM Show, Moog introduced the Theremini – a new take on the theremin that offers traditional analog control, combined with an advanced synthesis engine. Now they have added an editor for it, details below:
Unlock your Theremini's previously unseen world of sonic features with The Moog Theremini Advanced Software Editor. This editor puts the power of sound design in your hands by allowing you to access new layers of the Theremini's synthesis engine. Easily craft new and exciting sounds for your Moog Theremini, re-sculpt existing presets, and share your sonic creations with others. The Moog Theremini Advanced Software Editor also includes an exclusive library of new presets to kick-start your creative process.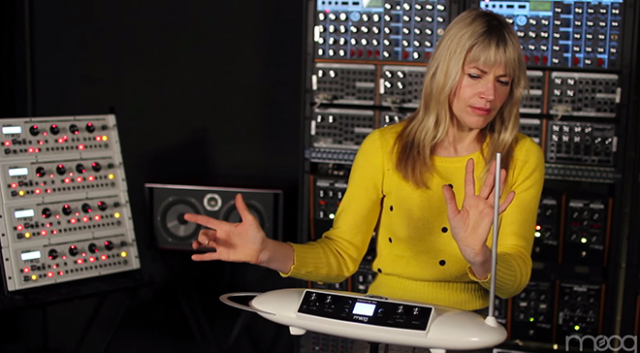 NOTE: This application does not make sound by itself. It is an editor librarian app for the Moog Theremini. To use this app, the user must have a Lightning to USB host adapter (for iPads with Lightning connector) or the Apple Camera Connection Kit (for iPads with 30pin connector) and a mini USB cable.
FEATURES
Create new presets
Edit existing presets
Craft new sounds in real-time while playing your Moog Theremini
Create or edit preset libraries with built in Library Manager
Unlimited preset storage
Share libraries of sounds via email or iTunes file sharing
Edit the Theremini's global settings
Built in Editor User Manual, Theremini User Manual, and Quick Start Guide
Simple drag-and-drop preset library
Quick Save for instantly editing an existing sound
Headphones highly recomended
An afternoon improvisation.
Gear used: Waldorf Blofeld and MicroQ, Arturia Microbrute through Eventide H9, Elektron Machinedrum, Akai mpc500 as main sequencer, Korg Ms2000, Clavia Nord Modular G2 and DSI Tetr4. Hardwire DL7 and RV8 were used on the Tetra.
A funky moog jam. Drums are 100% Tempest, I also added a moog bass line, some rhodes sounds off the nord, and a clav type patch off the prophet 08. The main moog lead is going through an MXR carbon copy.
The Moog Sub37 & DSI Pro2 together with the GrooveAgent (Cubase)
I don't wanted to show wich one is better – but how good they play together 😉
this was a special wish from someone of the german forum for better comparing the two…
The Memorymoog from 1982 is a fantastic sounding polyphonic vintage synthesizer. A true piece of art. This track is created with Memorymoog sounds only by Mr Firechild www.firechild.se
October 12, 2014 marks the 50 Year anniversary of the unveiling of the Moog modular synthesizer at the Audio Engineering Society's (AES) New York convention. On that day in 1964, Dr. Robert Moog introduced the world to a completely new type of instrument that would go on to change the course of music history and influence decades of future instrument design. Told by a Moog engineer, Moog Historian, and Bob Moog himself, this mini-documentary explores Moog Music's quest to resurrect the original methods, materials and designs used in the foundational modular synths. Through recreating Keith Emerson's modular system, Moog Music rediscovers the power, elegance, and enduring legacy of its first instruments.
Find out more at www.moogmusic.com
Tom demonstrating his new (old) Moog Sonic 6
The Sonic Six is an interesting, although obscure synthesizer from the Moog history books. Its predecessor, the Sonic V, was designed by an ex-Moog employee for the muSonics brand. When muSonics eventually bought out R.A. Moog, forming Moog muSonics, the Sonic V's basic design was moved into a portable brief-case style synthesizer, and with only a few tweaks, the Sonic Six was born.
The fact that the Sonic Six originated from another company's design not only accounts for why the Sonic Six looks different than any other Moog, but also for some pretty unique differences under the hood as well. To start, it is duo-phonic, utilizing two analog oscillators with three basic waveforms each plus tuning, modulation and scaling controls. There are two independent LFO generators with advanced control options not seen on other Moog synths (for instance, an X/Y knob is used to mix and balance the LFO outputs). Also on-board is a Ring Modulator (that can modulate either Osc. B or external audio) and pink/white noise generators.
Moog synthesizers are known for their filters, and the Sonic Six strays from the usual Moog in this area as well. While it is known that ARP stole a filter design from Moog for use in some of their 2600 and Odyssey models, leading to lawsuits between Moog and ARP, according to Mark Vail in "Vintage Synthesizers," the Sonic Six actually used some circuitry in its filters which were stolen from an ARP design, although ARP never sued Moog over it. However, later models of the Sonic Six were eventually fitted with a more traditional Moog designed filter. In either case, the filter is a low-pass 24dB/oct which offers the usual controls and is capable of self-oscillation. The VCA, however, has a rather limited set of controls – attack and decay plus a sustain on/off switch.
Not commonly seen, they are actually rather durable devices and used ones generally (if proper care was taken of them) are found in good working order. It was originally designed for educational and home use so it is light and portable and even has a built-in amplifier and speaker. It's a genuine Moog synth that is equally as obscure as useful these days. And its rather simple looking front-panel layout hides the uniquely flexible, powerful and great sounding little beast it truly is!