"Created a chiptune-typical arpeggio lead sound on the Nord Rack and played around with it."
Gear used in this video:
- Clavia Nord Rack 2X (chiptune arpeggio lead)
- Moog Slim Phatty (bass)
- Kurzweil Micropiano (piano)
- MAM mb33 mkII (bitcrushed 303 acid bass)
- Vermonad DRM1 mkIII (analog drums)
- Akai MPC 500 (sequencing)
- Korg Kaosspad Mini (decimator effect on mb33)
- Yamaha Tenori-On (sequencing mb33)
- Yamaha AW1600 (recording, mixing & mastering)
Background video description:
Moog Music is the leading producer of analog synthesizers in the world. The company and its customers carry on the legacy of its founder, electronic musical instrument pioneer, Dr. Bob Moog. The company hosts Moogfest, a three-day festival celebrating the intersection of music and technology in honor of Moog's innovative spirit. All of Moog's instruments are hand built in its factory on the edge of downtown Asheville, NC.
Learn more about Moog at:
http://www.moogmusic.com/
Suit & Tie Guy of STG Sound Labs brought his modular synthesizer by the Moog Sound Lab and controlled four of our Sub Phatty Analog Synthesizers with his labyrinth of analog modules.
Video description: Just having fun with the Prophet 08, Moog Little Phatty and Reaktor Neewscool. All recorded in HDV to provide the image and sound quality that this demo deserves.
About the Newscool: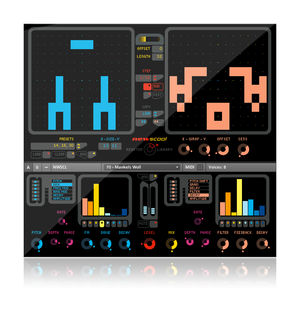 Newscool is a REAKTOR classic. The sound engine consists of a tone generator and a multi-effects unit. The innovative sequencer is based on the Life model developed by John Conway in the 1970s.
A two-dimensional pattern is processed in steps: An element of the pattern becomes alive in the following step if at least three of its eight neighbors are alive in the current step.
Live recorded jam session; mainly to demonstrate some analog/hybrid synths.
"Unfortunately since I had only 1 hand free I couldn't tweak that much realtime and also had to move fast on switching between synths, so there might be some delays. Only pre-recorded tracks were the drums and the synth midi tracks, which was basically 1 loop. This is not a worked-out track, but maybe I will do so one day

No effects used, only some minor mastering/compression on the total mix."
Background video description:
This may appear that isn't an improvisation, but it is. The thing is that after hours playing with both, I was inspired!

Sub Phatty
Little Phatty
EHX Cathedral
Focusrite Scarlett 2i2
Background video description:
As requested in other video, I'm posting a square wave test with the Moog Sub Phatty. Exploring the sound of the square wave and PWM. Nothing really deep or musical…
'synthway' has shared a teaser of upcoming presets for the Sub Phatty:
Just a little sample of the 32 presets programmed for the Sub Phatty Editor v0.94. I don't know if all sounds will be included, but I shared them with Amos from Moog Music.
TBdriv3
Sweet Meow
Drive N Sync
Lady in the Wind
False Echoes
Singing Sync
Cyclodrone
Delicate Horn
'synthway' has shared a new video featuring the Sub Phatty, details below:
First video of my new synth, the Moog Sub Phatty. Just a basic monosynth improvisation with a nice amount of reverb!

Gear:
Moog Sub Phatty
EHX Cathedral
Focusrite Scarlett 2i2
Tweaking a few knobs with the Moog Sub Phatty… using mainly lower register sounds. I wasn't very creative with it because nothing was planned. Playing random licks in C minor (mostly) and randomly tweaking the knobs.
I'm planning on making new videos like this (but smaller!) that show a few special features of this great instrument.
Background video description:
This is a two step sequence using the ef303.
I am using the doepfer quantizer, the clock sequencer and two envelopes on the filter (adsr and ar) to make it come allive.The ar generator is triggerd by the clocksequencer and the adsr is triggerd by the ef303.
And i also use some delay .
And i jam along on the rouge and juno.