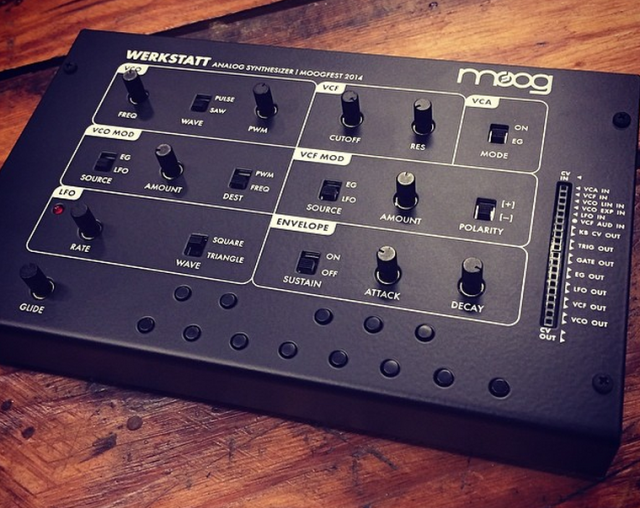 Moogfest has released this sneak preview image of the new Moog Werkstatt Analog Synthesizer, with a couple of interesting features:
Along the right-hand side, there is a break-out patch-bay, allowing modular patching of the Werkstatt; and
Along the bottom, there's a button-style keyboard.
"Werkstatt" means "workshop" in German, so the DIY function is probable. The architecture is a single-oscillator monosynth, switchable between saw waves and PWM. Both the filter and oscillator mod can be set to either an independent LFO or the envelope. Attack / Decay / sustain switch controls the envelope. The most interesting feature is the analog patch bay along the right-hand side of the unit, implemented as a simple header strip. This should suggest semi-modular capabilities by patching with jumper wires. A prototype shot shows those jumpers in action and a 1/4″ jack plug for audio coming out the back.
Vintage synthesizer demo track by RetroSound
all synthesizer sounds: Moog Minimoog Analog Synthesizer (1972)
(bass, lead, sweeps, portamento, pads, fm-sounds)
drums: Roland TR-707
recording: multi-track
fx: reverb and delay
AeroMIDI is a 3D MIDI controller for Mac and Windows. AeroMIDI uses 3D input devices, like the Leap Motion shown above, to track your hand in space allowing you to control any MIDI software or MIDI hardware.
AeroMIDI allows you to use your hands in 3D space to trigger notes and MIDI continuous controller messages. AeroMIDI works with any MIDI software or hardware.
Background video description:
I hooked my Sub Phatty up to my sound card so I could use Aeromidi for Leap to control a few functions… more to come.
for more info go to www.aeromidi.net
Preview of the presets from Soundsdivine's MM+ synthesizer for Kontakt .
Based on the Moog Memorymoog Plus .
MM+ features
3 Oscillators.
31 Waveforms.
2 Filters.
2 Aux Envelopes.
1 Programmable Arpeggiator.
3 Monophonic Pitch Sequencers.
2 Additional Sequencers.
25 Custom Impulse Responses.
5 FX inc. Transient Shaper / Phaser / Delays & Reverb.
6.97GB (compressed) samples from the Moog MemoryMoog.
200+ Presets.
The sample library is available to purchase for 79 EUR incl. VAT.
"Nadsat" by David Baron. For Moog Modular 3p Synthesizer (with sequencer). Recorded at Sun Mountain Studios, Boiceville, NY
Marc Girard takes on the challenge to compare a classic synth with its emulated counterpart, background video description below:
Here's a quick video we made testing out the differences between a real Minimoog and a virtual one from Arturia, iMini. I was quite surprised!
Trent from Moog Music walks us through the 500 Series Analog Delay with full MIDI plug-in control for integrating with your digital audio workstation.
Moog Music's Amos Gaynes gives us a panel tour of the new Sub-37 duophonic synth.
Amanda C of CatSynth attempts to play the new Theremini from Moog Music, Inc.
Dave from Moog Music shows us the Moog Theremini from NAMM 2014.
This video captures an overview of the newMoog Sub 37 analog synthesizer by Moog Product Development Specialist, Amos Gaynes,
The Sub 37 is in the same 'synth family' as the Sub Phatty, but it offers 40 knobs, 74 switches, and has a dedicated LCD display.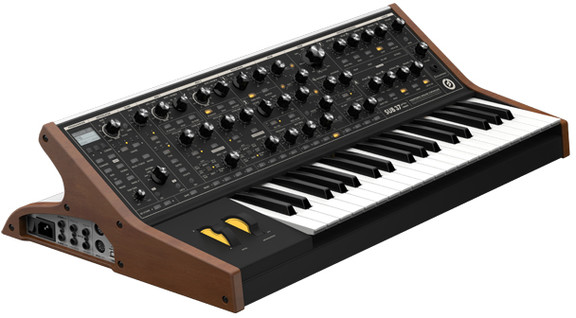 In the video, Gaynes covers the Sub 37′s features in depth and also demos the new synth.
The Sub 37 Tribute Edition is a limited edition (2-note) paraphonic analog synthesizer built on the award winning Sub Phatty sound engine.

Its panel features 40 knobs, 74 switches, and has a dedicated LCD display – placing each critical sound creation element and live performance tool quickly at your command.
Sub 37 Tribute features
Perform in Monophonic or Duo-Paraphonic modes.
37 note velocity sensitive keyboard w/ after touch.
2 modulation busses w/ assignable source and destinations.
DAHDSR (Delay, Attack, Hold, Decay, Sustain, Release) looping envelopes with sync.
256 Presets -16 banks of 16 patches.
Standalone and DAW Plugin editor included.
Syncable Arpeggiator and Step Sequencer.
Classic Moog Ladder Filter with resonance, MultiDrive, and selectable filter slopes.
The Sub 37 will be available to purchase for $1,579 USD.