Another quick test of the Moog Sub 37… nine tracks recorded live into Ableton Live.
All sounds including the beat are from the Moog Sub 37 only (with a touch of delay from the Strymon El Capistan on two of the synth parts.) I tried to show a wide variety of sounds, from classic soft leads to crunchy distorted bass, as well as some filter and modulation tweaks.
And this time, instead of recording me actually playing each part (which is a pain in the butt to do) I thought I'd spare you all from having to look at my ugly hairy arms… and show more of the Light Show mode! As always, a good pair of headphones are highly recommended.
The Ensemble plays 'switched on' versions of classical music, John Carpenter and more.
Nick Batt talks with Gregory about the origin of the Ensemble, their gear and more. The Will Gregory Moog Ensemble first performed together in 2005 as part of the Bath Festival, recreating some of the 'Switched on Bach' arrangements of Wendy Carlos in the Seventies.
As one half of the electronic music sensation Goldfrapp, the keyboard-player and composer Will Gregory is one of the UK's leading advocates of using synthesizers and electronic instruments to create new sounds and reinvent old ones. The band perform a mixture of specially composed music, transcriptions of classical works, and their own versions of music from popular culture and film scores.
We were lucky enough to attend a rehearsal of the Moog Ensemble – not strictly all Moogs, but a collection of analogue mono synths playing classical pieces and contemporary compositions
Moog Music Chief Engineer Cyril Lance gives an overview of the technical effort and advancements made during the design of the Sub 37 analog synthesizer. This video includes insights on the Sub 37's new VCO design, mixer architecture, filter topology, as well as the implementation of paraphonic functionality via Duo Mode. Sonic exposition of the Sub 37's performance potential is presented by formidable multi-instrumentalist Cory Henry. Henry is also a member of the Grammy Award Winning group Snarky Puppy.
The Sub 37 Bob Moog Tribute Edition analog synthesizer is shipping now.
To learn more, go to: MoogMusic.com/Sub37
The PO-12 is a new drum machine from Teenage Engineering. This is one of the first 200 prototypes ever manufactured, made exclusively for the artists who performed at Moogfest 2014.
Here the PO-12 is featured with the MF Ring, MF Delay, and MF Drive from the Minifooger line of Analog Effects Pedals by Moog.
Learn more about Moog Minifooger Analog Effects here:http://bit.ly/Minifoogers
Here Flux302 shows some comparison of the Moog Sub Phatty analog synth and Native Instruments Monark Virtual analog Moog clone. then I midi map the two together for some fun
Vintage synthesizer demo track featuring the Moog Prodigy
all sounds: Moog Prodigy Analog Synthesizer (1979)
drums: LinnDrum (1982)
recording: multi-track without midi
sequencing: Doepfer DarkTime step sequencer
A musical demonstration of using a external gate in jack with the Moog Werkstatt-01 hackable analog synth.
1st modification of my werkstatt: adding an ext gate IN jack. All info on it is here:http://laurentidesynthworks.blogspot….
effects used: moogerfooger MF-104M Delay & Electro Harmonix Cathedral Reverb
A quick improvisation. Tools used: Moog Voyager, Camel Audio Alchemy Player, Logic Pro X (sequencing and effects). Audio captured direct to camera. More at www.experimentalsynth.com
The Bob Moog Foundation Archives contain a lot of fantastic historical pieces. This 1978 Moog Apollo is one of them. Marc Doty explains the history of this device and explores its functionality.
Marc Doty explores the Moog Apollo in the second of two videos that tell the history of the Moog Apollo as far as we currently know it, and let you hear this rich analog device do what it does.
Little demo of the Paraphonic Scene for the Moog Voyager in the iPad app "Patch Morpher" from Jazzman Ltd.
This is not just an editor and a patch morpher allows to create new sound morphing from one sound to another, but allows your Moog Voyager to become a real paraphonic synthesizer, with all the three oscillators perfectly in tune!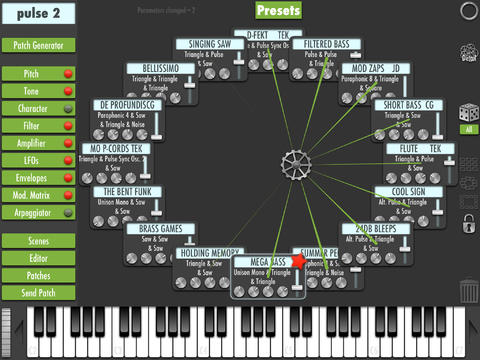 Patch Morpher is a patch librarian & editor for hardware synthesisers – with a twist: its powerful and innovative sound generator allows you to easily create your own totally original sounds without the hassle of editing 100s of parameters by hand.

This is truly innovative technology with all 5-star reviews from enthusiasts to professional sound designers.

Start with your favourite patches, then morph, blend & randomise them to create new sounds – editing 100s of parameters in real-time.

Patches can be organised into scenes for live performance, and you can then morph or mutate between them to create totally original new sounds & patches, controlling hundreds of parameters with one finger, all in real-time. You can even keep playing your synth as the sound evolves.

The fully-featured editor allows you to further tweak your sounds, taking advantage of the iPad's touch screen to give you full control whilst allowing you to view many parameters at a single glance with no hidden menus. Patches can be saved on your iPad so you won't run out of storage slots on your synthesiser.

Play the Moog Voyager paraphonically – addressing each of its three oscillators independently!

Automatically convert patches between the Prophet 08 and the Prophet 12.

Patch Morpher uses Core MIDI: connect to your synth via WiFi, the Apple camera connection kit or a compatible MIDI interface. 

Patch Morpher is compatible with the following synthesisers:
- Moog Voyager
- Access Virus TI
- Waldorf Blofeld
- Waldorf Pulse 2
- Dave Smith Mopho
- Dave Smith Prophet 08
- Dave Smith Prophet 12
- Korg KingKorg
- Mutable Instruments Shruthi-1

Please see our web-site for a video demo, user manual & free patch downloads.

Patch Morpher is an invaluable tool if you own one of these hardware synthesisers. Its revolutionary approach to patch generation makes it very easy & fun to create new & inspiring sounds. Allow your music to stand out with its own totally original sounds!