A littel jamsession with Moog Sub37 & Pocket Piano.
https://www.facebook.com/stephanfunkm…
Test of my "Frobe" hand-wired (no printed circuits) prototype Moog modular clone. What better way to test if a Moog is sounding like a Moog than with a little taste of Aquatarkus?
The Sound of the Moog, musical direction, Chris Swansen
Analog Downtempo Groove. Live Hardware.
Like and subscribe for more live hardware music.
Gear used:
Moog Sub 37 (three new patches)
Roland TR8 (7X7)
Volca Keys
Arturia Microbrute CV to Korg Monotribe
Mooer Reecho – Delay
EH Small Tone – Phaser
More videos at http://youtu.be/J2dOmjz3r6k
This video series is intended to demonstrate the patch creation process on the Moog Sub37. It is not a musical statement or a full-on demo.
SynthFest 2015 – Nantes. Présentation Moog Modular par Olivier Grall.
A very quick look inside the MOOG Sub 37 to see if it has the capability of a CV Output.
"Apologies for the Shaky Camera"
Sequential Session with the Moog Little Phatty and Slim Phatty.
Background video description:
MOOG LITTLE PHATTY "Toxic" GREEN Edition
ROLAND JUNO-106 "The HOLY SYNTH"
THRU KORG KRONOS Insert Effects Delay & Reverb
***Watch in HD***
First we have the Moog Little Phatty TOXIC thru
the Korg Kronos insert effects….
I use the JUNO-106 as a midi controller in this part.
Then we layer the two analog synths via MIDI thru
the Korg Kronos insert effects!!! Sa-WEEEEET!
I also am controlling the Moog with the JUNO-106.
Keeping the pad sound "Moogy" with the JUNO-106,
the layer is totally Wakeman… I LOVE it!!
Not trying to show off any playing skills,
just having fun on a rainy day!
Always a good thing to do on a rainy day!!!
Thanks for watching!!
Please subscribe!
More synthesizer videos coming soon!
Rik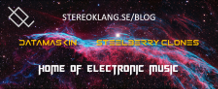 This track is 100% Moog Voyager XL presets, except the drums and percussion which are from Logic X.
'Viking-1' is from the Ep 'Landers' and is available to purchase here :https://paullawler.bandcamp.com/album…