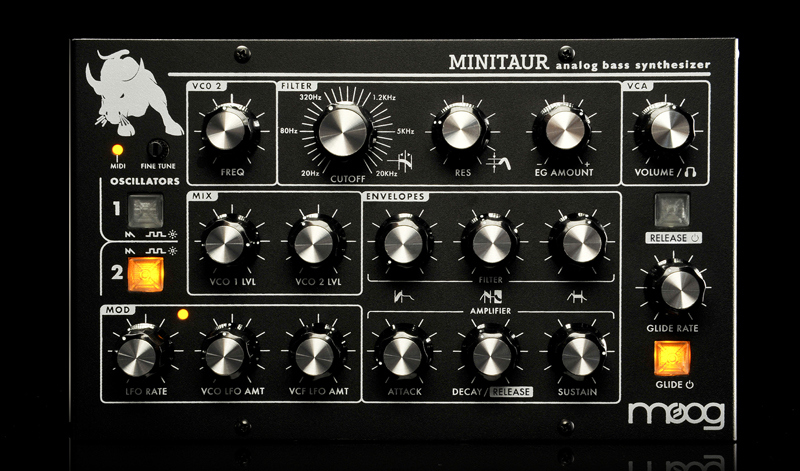 Moog Music has announced a big update to Minitaur Editor:
"The Minitaur Editor has been rebuilt from the ground up and is now available free to all registered Minitaur owners.
In addition to the new standalone editor – VST, AU, RTAS, and AAX plugin compatibility have been added for improved DAW integration. Every feature on and under the hood of your Minitaur can now be easily accessed, automated, and recalled from within your favorite DAW."
The new firmware, version 2.1, also adds new features to Minitaur, including:
Ability to save presets from the panel
Polychain capability
Support for custom tuning scales
Change presets with program changes
MIDI note transposition
Load mod wheel position w/ preset
Load volume knob position w/ preset
For additional information about the updated Minitaur Editor 3.0, or to download the new editor (Mac or Windows versions available), visit the Moog Music website.
Note: Moog Music says that the Minitaur Editor 3.0 requires the installation of firmware version 2.1 onto your Minitaur in order to function properly. If you own Minitaur serial number 6247 or below, you must install this included update. Back up your presets before installing the new firmware.
At Moogfest 2014, Moog Music introduced the Werkstatt as a special DIY project that attendees could build in a two-day course at the Moog Factory.
In this video, Moog Music's Steve Dunnington and Trent Thompson give a behind-the-scenes look at the Werkstatt and what it can do.
Background video description:
I'm only a day back from this years Moogfest in Asheville and already have my new Moog Werkstatt synth talking to my TB-303 with CV and Gate.
This is just after i got it working for the first time…
www.leecoombs.net
Acid baby! I made this in 5 minutes
So excited about the possibilities this little Werkstatt synth has…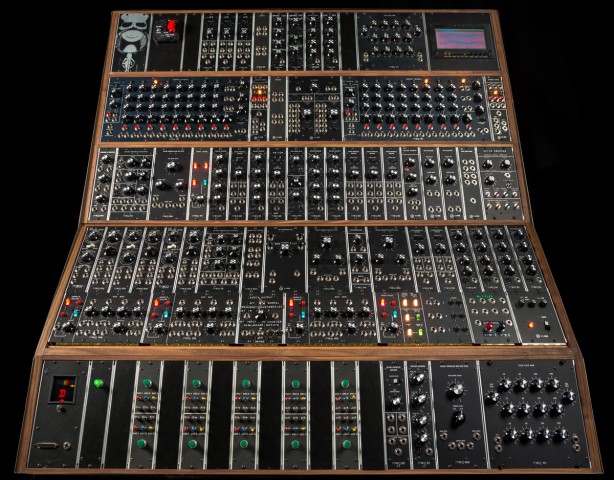 Moog Music unveils one of its largest engineering undertakings, the new Emerson Moog Modular System.   
On the 50th anniversary of the introduction of the Moog Modular, the first voltage controlled synthesizer, Moog Music is proud to honor Keith Emerson and his seminal collaboration with Bob Moog.  Today, for the first time at Moogfest 2014, Moog Music reveals its three year effort faithfully recreating the iconic Emerson Moog Modular.
In the intervening 50 years since the advent of the first Moog synthesizer, people have steadily come to appreciate the power and flexibility of the early Moog modular systems. Now in 2014, 60 years after Bob Moog started his electronic musical instrument company, with great respect for the tradition, design, and craftsmanship of the original Moog modular systems, Moog Music proudly announces the recreation of arguably the most famous synthesizer in history–Keith Emerson's Moog Modular System.
Over the last 3 years Moog Music has set out to research and build a faithful recreation of this highly complex, custom instrument. Using the original documentation as well as circuit board and art files for nearly every original Moog module, Moog Engineers have painstakingly recreated the original Emerson Modular System. The new Emerson Moog Modular System is comprised of handcrafted Moog modules built from the original circuit designs and are true recreations of the originals, utilizing the same hand assembly methods used in the Moog Music factory in Trumansburg, NY in 1969. The modules in the new Emerson Moog Modular System are built just as the originals were, by hand-stuffing and hand-soldering components to circuit boards, and using traditional wiring methods. Even the front panels are photo-etched aluminum (a rare process now), which is the classic and durable, look of vintage Moog modules.
Moog Music is proud to partner with Keith Emerson and salute his pioneering artistry with the announcement that Moog will build a handful of these incredible, custom handcrafted Emerson Moog Modular Systems.
To celebrate the introduction of the new Emerson Moog Modular System, Moog Music featured Emerson as a headliner at Moogfest 2014, where he played a special performance last night on Thursday, April 24th and is featuring a live discussion with Emerson today, Friday, April 25th.
To inquire about the new Emerson Moog Modular System, contact Moog Music. Price available upon request. 828.251.0090
The new Moog Werkstatt in action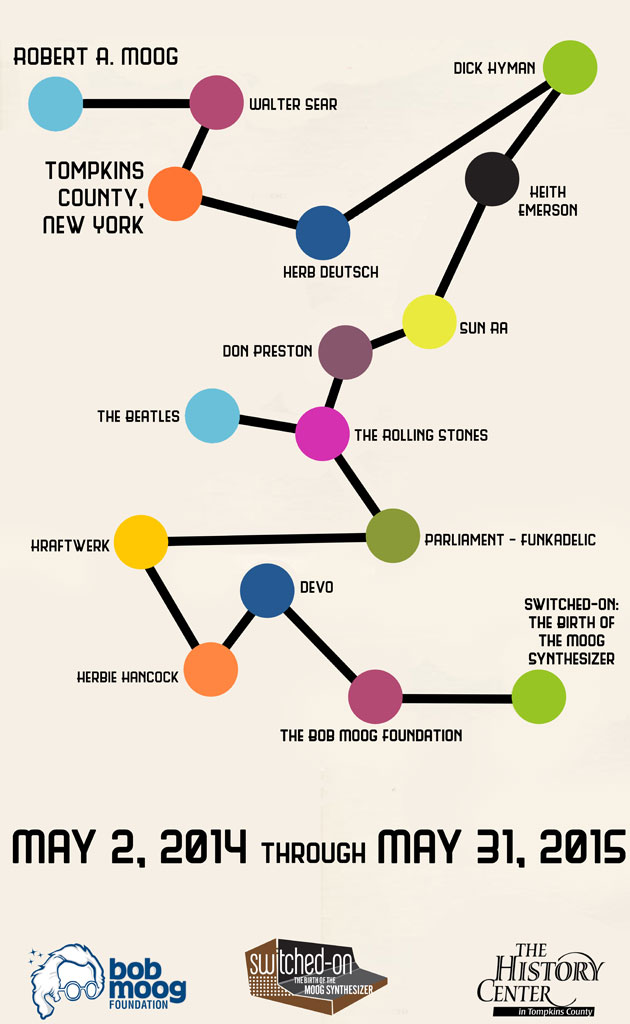 The History Center in Tompkins County will open the highly anticipated exhibition Switched-On: The Birth of the Moog Synthesizer on Friday, May 2nd. Telling the story of Bob Moog and the development of the groundbreaking electronic instruments bearing his name, Switched-On will provide museum-goers an interactive, engaging opportunity to learn about this important chapter of our region's history. Based on a series of wide-ranging oral history interviews done with family members, colleagues, and contemporaries, and done in partnership with the Asheville, N.C.-based Bob Moog Foundation, the exhibition provides unparalleled insight into the unique genius of Bob Moog and the ways in which he ushered in a revolution in music. Switched-On is the first major exhibition on Bob Moog and Moog Synthesizers to occur in the region, and will run through May 31st, 2015.
First Friday Gallery Night
Friday, May 2nd, 2014
5:00 – 8:00 p.m.
The History Center
More info on the museum here – http://www.thehistorycenter.net/thc_exhibits/2014/moog.php and more info on The Bob Moog Foundation here http://moogfoundation.org/.
Joy Division cover, live in studio.
DSI Tempest
Moog Little Phatty
Korg Volca Keys
MS20 Mini
Gforce Virtual String Machine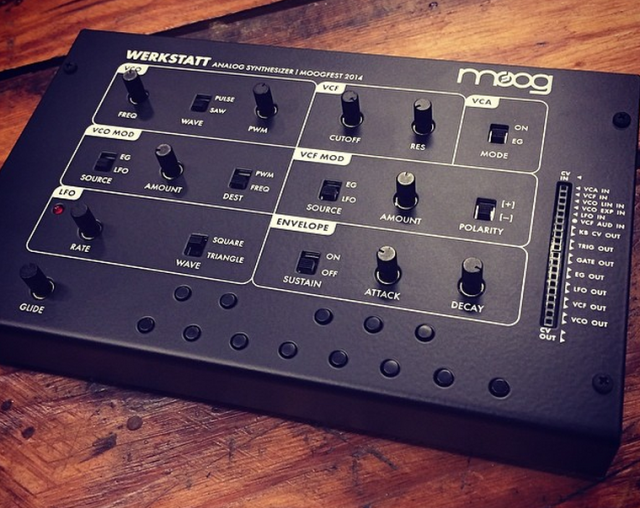 Moogfest has released this sneak preview image of the new Moog Werkstatt Analog Synthesizer, with a couple of interesting features:
Along the right-hand side, there is a break-out patch-bay, allowing modular patching of the Werkstatt; and
Along the bottom, there's a button-style keyboard.
"Werkstatt" means "workshop" in German, so the DIY function is probable. The architecture is a single-oscillator monosynth, switchable between saw waves and PWM. Both the filter and oscillator mod can be set to either an independent LFO or the envelope. Attack / Decay / sustain switch controls the envelope. The most interesting feature is the analog patch bay along the right-hand side of the unit, implemented as a simple header strip. This should suggest semi-modular capabilities by patching with jumper wires. A prototype shot shows those jumpers in action and a 1/4″ jack plug for audio coming out the back.
Vintage synthesizer demo track by RetroSound
all synthesizer sounds: Moog Minimoog Analog Synthesizer (1972)
(bass, lead, sweeps, portamento, pads, fm-sounds)
drums: Roland TR-707
recording: multi-track
fx: reverb and delay
AeroMIDI is a 3D MIDI controller for Mac and Windows. AeroMIDI uses 3D input devices, like the Leap Motion shown above, to track your hand in space allowing you to control any MIDI software or MIDI hardware.
AeroMIDI allows you to use your hands in 3D space to trigger notes and MIDI continuous controller messages. AeroMIDI works with any MIDI software or hardware.
Background video description:
I hooked my Sub Phatty up to my sound card so I could use Aeromidi for Leap to control a few functions… more to come.
for more info go to www.aeromidi.net