Another shot of Brian Fedirko's Moog and Doepfer setup at the studio.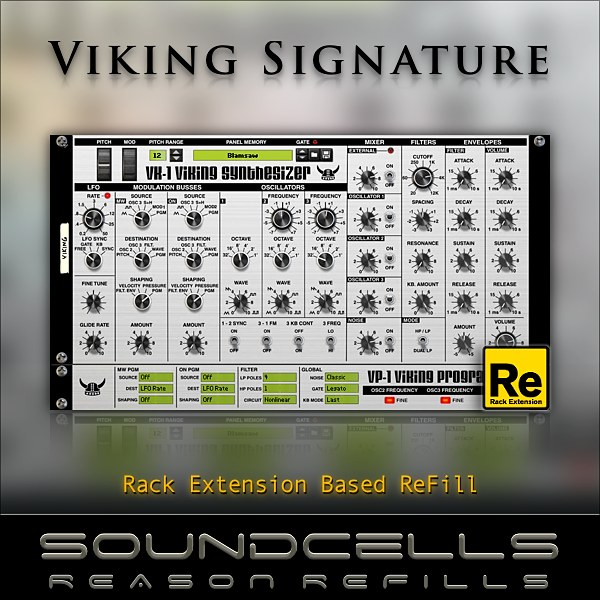 Viking Signature is based on the Viking Rack Extension synthesizer – a great sounding emulation of the Moog Voyager. The Viking Signature ReFill convinces with its funky and soulful leads, authentic sounding bass patches with an awesome bottom end and several wired SFX patches.
If you own Viking be sure to complete your ReFill collection with Viking Signature – a powerful soundset at a 'knockdown' price …
Viking Signature Contents:
• 45 combinator patches.
• 70 Viking patches full of soulful leads and great basses.
• Authentic Moog character for your Reason Rack.
• Well balanced volume settings & carefully assigned modwheel and combinator buttons and knobs
Introductory price is 7.90 ,- EUR (normal price 9.90 ,- EUR)
Slow improvisation on two classic Moog synths – the Moog Minimoog and the Moog Source
Moog's Source was their first to offer patch memory storage as well as some other new features. It boasted 16 memory locations so you could finally save and recall your synth patches. A casette-tape jack was also implemented to transfer your patches to and from an external tape and free up the on-board memory for additional new patches. But in an effort to modernize with the eighties, the Moog had replaced all buttons, knobs and sliders with flat-panel membrane buttons and a single data-wheel assignment format. At the time, this may have seemed far-out, but in all actuality it is the Source's downfall.
Parameters are edited not with hands-on sliders and knobs but by assigning a selected parameter to the dedicated data wheel. This is very tedious and does not allow for true hands-on tweaking during performances nor can you adjust different parameters simultaneously or while playing. These days, the membrane buttons don't always seem to work quite right either. However, those famous monophonic Moog sounds are still inside this synth which has two fat analog oscillators and the legendary 24 dB Moog filter.
The factory patches of the Moog Source, classic mono from 1981
0:10 Program 01 – LEAD 1
0:32 Program 02 – LEAD 2
1:00 Program 03 – HORN
1:31 Program 04 – FLUTE
2:04 Program 05 – CLAV BASS
2:24 Program 06 – VIBES
2:46 Program 07 – STRING BASS
3:07 Program 08 – HARPSICHORD
3:30 Program 09 – ORGAN
4:05 Program 10 – TRILL VOICE
4:54 Program 11 – TAURUS
5:36 Program 12 – SYNTHEVOX
6:29 Program 13 – SAX
6:55 Program 14 – WIND
7:22 Program 15 – SNARE DRUM
7:40 Program 16 – Bonus – modern Electro House synth sound
"Messing about with a Roland Juno 6 and a Moog Clusterflux.
Juno 6 outputs in mono into the MF-Clusterflux – multitracked 4 times.
The Clusterflux lends a nice evolving texture to the Juno 6, but I think I got carried away and overdid it."
The Cluster Flux is an ultra-powerful and flexible, sound-sculpting tool for use live or in the studio. Expansive functionality combined with warm, analog sound come from the state-of-the-art all-analog audio signal path. Musical, flexible, playable, and durable, the Cluster Flux is capable of providing classic flanging, chorusing, and vibrato effects, but is also capable of a much wider range of modulated delay line effects than traditional stomp boxes in this class due to the wide range of the front panel controls, the multi-waveform LFO, as well as CV and MIDI Control.
The MF-108M Cluster Flux is more powerful than traditional chorus/flange effects offering musicians the  added modulation of multiple LFO waveforms: Sine, Triangle, Square, Saw, Ramp and Random, to create many kinds of new modulated BBD Delay effects. MIDI IN allows control of Delay Time, Range, Feedback, Output Level, LFO Waveform, LFO Rate, LFO Amount and Mix.
MFB Tanzbär – Dancing Bear (GER), Analog Modular System Tinysizer (GER), moogerfooger MF-104M analog delay (USA), Korg Monotribe (JAP).
Sequenced and recorded with Ableton Live, a bit of reverb added to Monotribe but no other additional effects.
Dave Smith & Analog four "Analog Home"
Just a programmed sequence with the Tempest master (home)CLOCK. The Poly Evolver, Mopho X4 are following. Slim Phatty doing some ambient leads.
Enjoy and dutch Grtz from the Netherlands !
The Little Phatty was released in 2006 as a tribute to the life and legacy of Moog Music founder and synthesizer pioneer, Bob Moog. Following the passing of Dr. Moog, The Little Phatty was the first Moog synthesizer designed by Moog Music's Chief Engineer, Cyril Lance.
Over the course of its seven year production run, the Little Phatty has gone through three incantations including The Tribute, Stage I, and Stage II editions. During that time, the Little Phatty has become one of the best selling professional analog synthesizers in history. Its sonic impact on modern music can be heard on thousands of records, and its signature swooped-back silhouette can be seen in top recording facilities around the world as well as on the stages of internationally touring musical acts such as Rush, Jack White, Queens of The Stone Age, No Doubt, Bernie Worrell and the hit shows American Idol, Nashville and Portlandia
This modification comes with a Little Phatty gig bag and full tune up to bring your Little Phatty back to original factory specification.
The Little Phatty CV Out modification unlocks a host of modular control features and flexibility tucked away in your Little Phatty.
It allows you to connect to Moogerfoogers, synthesizers and other analog gear to create sounds in new ways not possible with MIDI.
You also gain access to the Little Phatty's analog noise source for creating powerful analog snare drums and percussion effects.
Mod Bus Output- Provides access to any selected modulation source. Send an LFO to your Moogerfooger, or select noise as a source and patch it to the Phatty's audio input for hard-hitting snare drums and percussion effects.
Pitch Output- As the pitch of your synthesizer increases, so does the control voltage.When this output is connected to any control input on a Moogerfooger or analog synthesizer, that control inputs value will increase as higher notes are played and decrease as lower notes are played.
Gate Output- Each time a note is pressed, a gate signal is sent and when that note is released, the signal ends. This output can be used creatively with the Phatty's built in arpeggiator to create rhythmic, drone, percussive effects in analog synthesizers and Moogerfoogers.
Volume Envelope Output- The shape of your Volume Envelope is outputted as a control voltage. When connected to other analog devices, an envelope yields dynamic and evolving control information that can be used in a variety musical ways.
Filter Envelope Output- The shape of your Filter Envelope is outputted as a control voltage. When connected to other analog devices, an envelope yields dynamic and evolving control information that can be used in a variety musical ways.
A live "dreamy" improvisation on Minimoog, Memorymoog, and LinnDrum.
Minimoog: synth bass
Memorymoog: synth
LinnDrum: drum machine
"Another, more "hypnotic" and laidback live jam on Minimoog, Memorymoog and Linndrum. My silly camera decided to stop recording the video after 10 seconds, so I placed a photo of the gear. Listen to this one in low lights ;-)"
Amelia and Nick of Sylvan Esso came into the Moog Sound Lab armed with only a Laptop and a voice. They surrounded themselves with an array of Moog synthesizers and Moogerfoogers to rework their debut single "Hey Mami".
How'd they get that sound?
· Amelia is singing through an MF-104M Analog Delay and live looping her voice to create all of the harmonies.
· Kick drum was created using the filter resonance and overload on a Slim Phatty
· High Hat is a Voyager Rack Mount and Nick is tweaking the Filter Cutoff to change the pitch of the high hat
· Snare Drum is created with a Voyager Rack Mount- a combination of noise with the input being driven and processed through a 500 Series Analog Delay
· Nick is using Ableton Live to record and trigger all of the live samples. The entire MIDI sequencing of all the Moog gear is coming from Ableton, but all of the automation is being done manually by Sanborn
· The harmonic bell-like sounds are from a Sub Phatty
· Bass lines are a Minitaur bass synthesizer. An MF-104M Analog Delay is turned on and off as he adjusts the pitch on the fly throughout the song.
Check out more Moog Sound Lab videos at: www.moogsoundlab.com