Marc Girard takes on the challenge to compare a classic synth with its emulated counterpart, background video description below:
Here's a quick video we made testing out the differences between a real Minimoog and a virtual one from Arturia, iMini. I was quite surprised!
Trent from Moog Music walks us through the 500 Series Analog Delay with full MIDI plug-in control for integrating with your digital audio workstation.
Moog Music's Amos Gaynes gives us a panel tour of the new Sub-37 duophonic synth.
Amanda C of CatSynth attempts to play the new Theremini from Moog Music, Inc.
Dave from Moog Music shows us the Moog Theremini from NAMM 2014.
This video captures an overview of the newMoog Sub 37 analog synthesizer by Moog Product Development Specialist, Amos Gaynes,
The Sub 37 is in the same 'synth family' as the Sub Phatty, but it offers 40 knobs, 74 switches, and has a dedicated LCD display.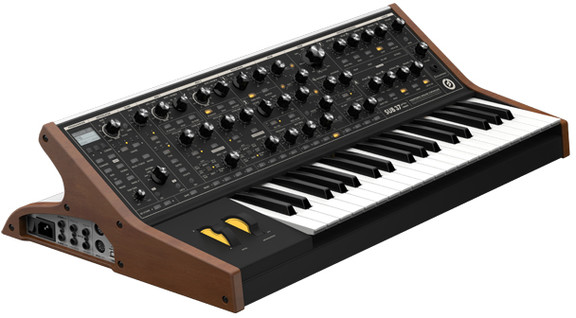 In the video, Gaynes covers the Sub 37′s features in depth and also demos the new synth.
The Sub 37 Tribute Edition is a limited edition (2-note) paraphonic analog synthesizer built on the award winning Sub Phatty sound engine.

Its panel features 40 knobs, 74 switches, and has a dedicated LCD display – placing each critical sound creation element and live performance tool quickly at your command.
Sub 37 Tribute features
Perform in Monophonic or Duo-Paraphonic modes.
37 note velocity sensitive keyboard w/ after touch.
2 modulation busses w/ assignable source and destinations.
DAHDSR (Delay, Attack, Hold, Decay, Sustain, Release) looping envelopes with sync.
256 Presets -16 banks of 16 patches.
Standalone and DAW Plugin editor included.
Syncable Arpeggiator and Step Sequencer.
Classic Moog Ladder Filter with resonance, MultiDrive, and selectable filter slopes.
The Sub 37 will be available to purchase for $1,579 USD.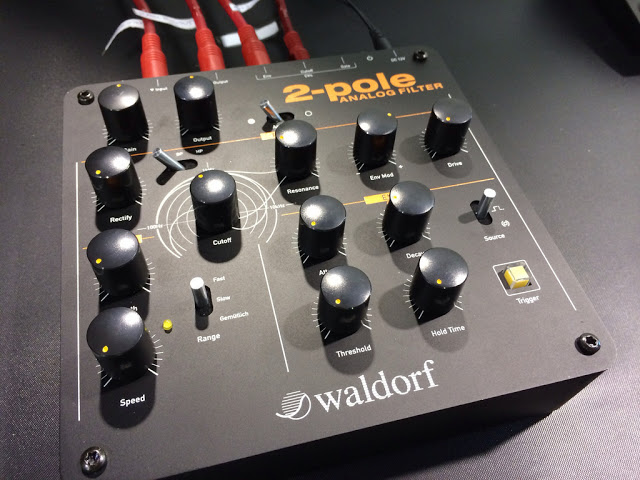 "Waldorf's mystery knob is the filter control from a big filter in a box.
That's right, Waldorf is introducing a 2-pole filter. And one heck of a 2-pole filter it is:
Filter with cutoff and resonance, but also a Drive setting, Rectify, and switchable between low-pass, band-pass, and high-pass
LFO with Depth and Speed
LFO set to Fast, Slow, and (hilariously) Gemütlich (kinda hard to translate, actually easy-going and slower than slow)
Envelope controls: Attack/Decay/Hold, threshold, a source (hard to tell what that does), and trigger.
And it takes CV for envelope, cutoff, and gate, with jack plugs for input and output."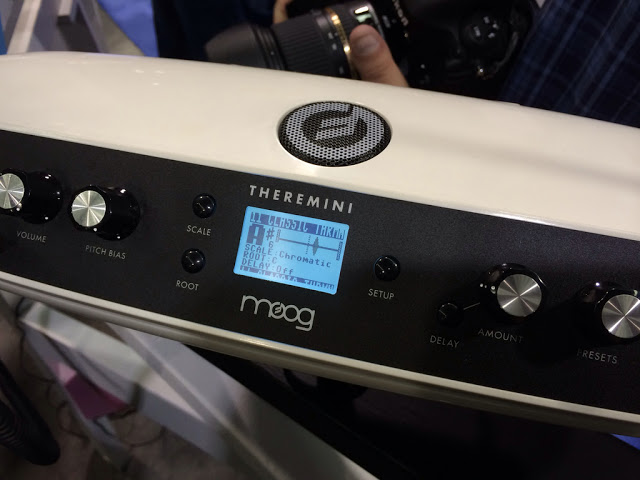 "Then there's Moog, who are introducing, as rumored, a new Theremin. And this isn't just any Theremin: it's a Theremin that can assist you in keeping things in tune, all whilst looking like a space-age egg from Woody Allen's Sleeper.
It's a Theremin with presets. Crazy presets.
It's a digital instrument with Theremin-style controls. (Readers who speculated, you guessed right.) It'll upset purists, perhaps, but this is rather cool: it's based on the unique-sounding Animoog sound engine.
The synth is digital, but the input is analog: classic heterodyning style, then digitized as control signal for the engine. Onboard MIDI, CV output (presumably pre-digitization, in fact), and USB. But that engine gives you more different ways to play.
Yes, there's a display, scale and root controls, a Presets knob, plus built-in delay. There's a built-in speaker and headphone jack, as well, for convenience.
Price: US$299 estimated is what we heard on the floor…"
Product descriptions from our colleagues at CDM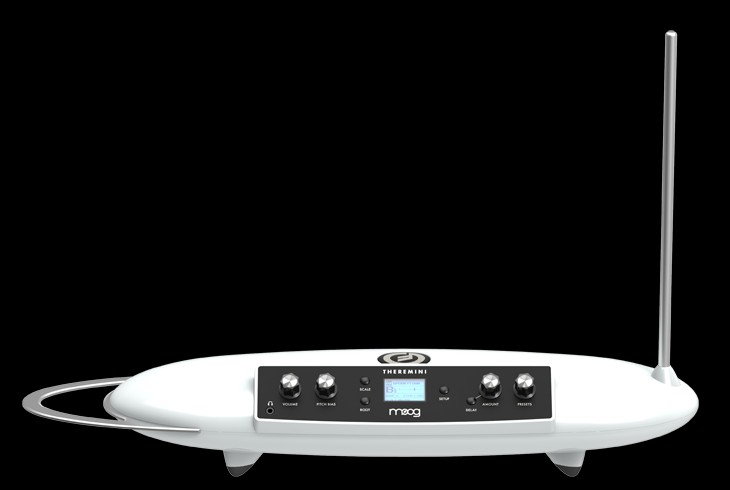 "The Theremini is a re-imagination of one of the oldest electronic musical instrument in history, and Bob Moog's first love – the theremin. Its design fuses the experience of performing with an instrument you don't actually touch, with a powerful sound engine derived from Moog's award winning synthesizer, Animoog. The Theremini guarantees immediate success to any player at any skill level, while providing new ways to experiment with music, education, and gestural control.
Assistive pitch correction allows each player to adjust the instruments level of playing difficulty. At the maximum position, the Theremini will play every note in a selected scale perfectly, making it impossible to play a wrong note. As this control is decreased, more expressive control of pitch becomes possible. When set to minimum, the Theremini will perform as a traditional theremin with analog heterodyning oscillator and absolutely no pitch assistance.
A built in tuner supplies real-time visual feedback of each note as it is played, as well as its proximity to perfection. This is useful for correcting a users playing position, or to educate younger players about pitch and scales.
The presets section allows you to select from 32 wave or wavetable-based patches, store a selected scale & root note, set and recall a specified playing range, and specify per-patch settings for the included stereo delay.
Recessed in the top of the Theremini is a compact speaker perfect for private rehearsal and quick setup anywhere. Silent rehearsal is also possible via front panel headphone jack. Simply plug in ear-buds or headphones and the built in speaker becomes silent.
For live performance and gestural control, the rear panel features two line level audio outputs, a pitch CV output with selectable range, and a mini USB jack for MIDI I/O and connectivity.
Playing around with the new Moog Sub37 Analog Synth at NAMM 2014!
Here's a presentation of the new Moog Sub 37 at the NAMM Show 2014.
Enjoy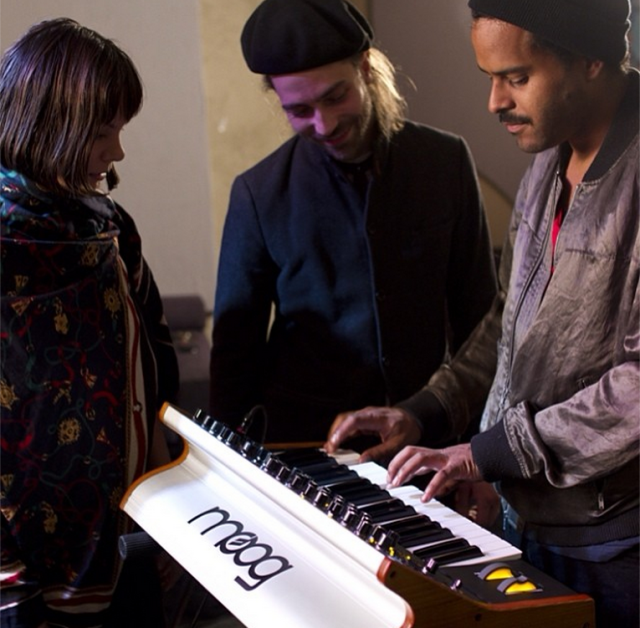 Moog Music shared this teaser image of what looks like it could be the new Moog Sub 37 Paraphonic Analog Synthesizer.
More details will be provided as soon as we get them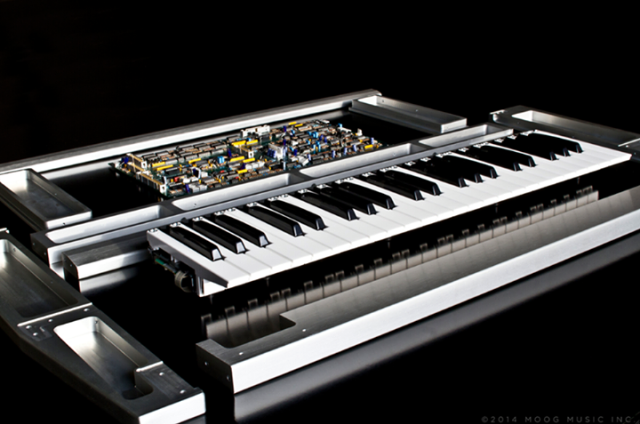 Moog Music will be introducing a limited edition aluminum Minimoog Voyager.
The only thing that they've released at this point is this teaser image of the components that make up the new synth.
Details on availability and pricing are to come at the NAMM Show later this week.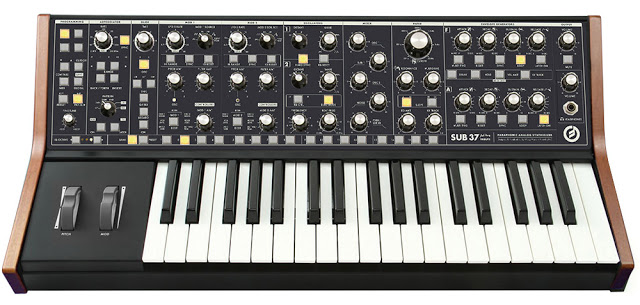 Via Moog's Facebook page we get this message:
"…the new Moog synth is '2-note paraphonic' — it can play two independent pitches from its two oscillators, in response to two keys played at once. Paraphonic still seemed less misleading than 'Duophonic' (to me) because of the single VCF, VCA, and their respective envelope generators. Although ultimately I had very little to do with what got written on the panel"
Paraphony is the property of an electronic musical instrument that can produce multiple notes or voices, but falls short of being truly polyphonic because the voices are not fully independent since they share at least one common element. For example, there might be just one single filter working on all voices collectively rather than the one filter per voice of truly polyphonic instruments; or there might be only one envelope generator.
One well-known paraphonic synth is the Korg Poly-800, which had 8 oscillators and could produce 8 voices (or 4 2-oscillator voices), but had just one filter.