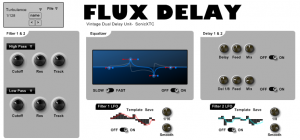 SonicXTC has released Flux Delay, a dual modulated delay VST effect plug-in for Windows.
Flux Delay is designed to re-create the classic high end studio effect chain of two independent stereo delay units processing a signal at the same time. By doing this producers can enhance the feeling of stereo space and/or make one instrument sound like two different instruments playing at the same time.
The Flux Delay allow musicians to craft the tone of each delay unit separately. The user can preserve the highs on one delay and emphasize the low end on another. The Flux Delay also allows producers the ability to create unique LFO waveforms, which can independently transform each ping pong delay over time.
Highlights:
Dual stereo delay units.
Dual variable filters.
Dual step LFOs.
4 Band Parametric EQ.
128 user presets.
MIDI automation.
Price: $29.99.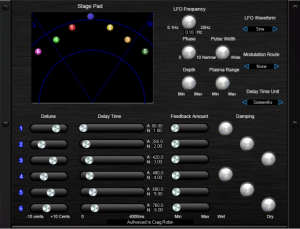 Sound Magic has introduced Neo Plasma – a new multi delay type effect that uses a 'Plasma Collision System' to maximize the randomness of several parameters and create a bigger and richer sound.
Neo Plasma produces several kinds of effects, including:
Multi delay effect with feedback control and different modulation options that give it too many sound possibilities to list here. It can be a exciting modern delay FX one minute and a vintage delay effect with mellow and richer sound the next!
Multi tap effect.
6 voices Echo effect.
Chorus effect – but with our built-in modulation options, users can achieve a richer sound than other chorus effects on the market. Make their own unique chorus now!
Flange effect.
Many newly created EFX – Neo Plasma has a modular structure inside so it is possible for users to create new effects with different settings.
Neo Plasma is provided as a Windows VST or Add-on for Supreme Piano 2
Features:
Internal 64-bit floating point precision.
Innovative Plasma Collision System.
Six modulated stereo delay lines.
Independent feedback and LFO with stereo phase shift control on each tap.
Over 20 modulation waveforms.
Support up to 32Bit/384KHz resolution.
For more information or to download a demo version, visit the Sound Magic site.
For more information, downloading demo version, please visit
http://www.supremepiano.com/product/plasma.html
The MF-104M features an all-analog signal path with 800ms of all analog delay time, 6 Waveshape LFO, Dedicated Tap Tempo switch assignable to Delay Time or LFO Rate, MIDI control and recall of every function, and Spillover Mode which has been the most popular modification to the MF-104.
The Classic MF-104 was designed by synthesizer pioneer Bob Moog and released in 2000. It utilized a special "Bucket Brigade" delay chip that allowed the effect to remain completely analog. Unfortunately, the supply of these chips was limited and the final MF-104 was sold in 2001.In 2005 there were two limited reissues of the Classic MF-104; the MF-104Z and the extremely rare MF-104SD, of which only 250 were made.
The new MF-104M Analog Delay utilizes the same vintage Bucket Brigade chips found in the Classic MF-104 and faithfully recreates the sound of its coveted predecessors. In addition, the MF-104M includes a number of customer requested feature and function upgrades.
Learn more at:
http://www.moogmusic.com/products/moogerfoogers/mf-104m-analog-delay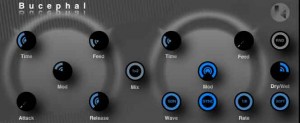 Bucephal is a delay plug-in that is not meant to be used as a delay. It gives you two parallel delay lines, each one up to 2 seconds, and lets you mangle delay times with two nice modulators.
A spokesperson told us, " Thanks to an envelope follower and a LFO, Bucephal can fulfill some of your daily glitch needs, morphing between vibrato, flanging, pitch shifting, and crushing effects. The large modulation range of delay times can lead to some pleasingly annoying artifacts, and if your incoming audio needs even more dirt, the randomizer and waveshaper will be there to help."
Bucephal is available for both Windows and Mac Os X, as VST (32/64 bit) and AU (32/64 bit, Mac only).
Features:
2 parallel delay lines with up to 2 seconds length
Time parameter interpolation provides nice pitch artifacts
First delay line time can be controlled by an envelope follower
Second delay line time can be controlled by a LFO (tempo free or synced)
Classic waveforms for the LFO (sin, square, saw up, saw down, triangle, sample and hold)
7 mix modes
Soft clipping and waveshaping can be applied to the output
Randomizer
Clean minimalist interface
Lifetime free updates for registered customers
Pricing and Availability:
20€ – all platforms and formats
More information:
Here's a new modular from Pittsburgh:
A brand new analog delay module designed around a pair of 4096 Bucket Brigade Delay Line (BBD) ICs to produce a distinct analog delay effect. The maximum delay time when shipped is set at 9/10ths of a second but this can be adjusted up to 2 seconds. The Analog Delay offers voltage control of the delay time, feedback, and wet signal. A true bypass switch allows the delay to be enabled and disabled quickly.
Little improv of the model 101 going through the superdelay on "tape" mode.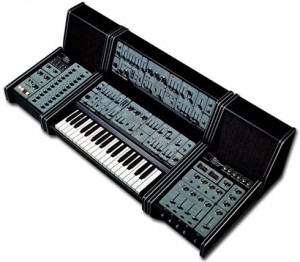 The System 100 is a great and classic analog synth! It's a beautiful semi-modular monophonic synth consisting of 5 module components: the Synthesizer 101, Expander 102, Mixer 103, Sequencer 104, and Monitor Speakers 109. The Synthesizer 101 section is the heart of the system, from which you could add-on any of the other modules of your choice. Different combinations of these components can be used to create systems of varying potential.
The Synthesizer 101 section is a fully self-contained analog mono-synth. It features a 37-note keyboard (with no performance controls, velocity or aftertouch), and lots of sliders to tweak. Its design is similar to the SH-series analog synths. Controls for the VCO, LFO, VCF lowpass/highpass filters, VCA with ADSR, Noise, and Portamento/Glide effects are all within hands reach. There's also a handy A-440Hz tuning oscillator, like on the Minimoog.
Hardware:
Roland System 100 Model 101
Empress Effects Vintage Modified Superdelay
Software:
Valhalla Room
"A good delay was an essential part of the classic analog synthesizer sound. More often than not, that delay came from a tape-style echo machine until affordable digital delays were created. The monotron DELAY is an analog synthesizer optimized for sound effects. In addition to its analog oscillator, filter, and LFO, it also provides a Space Delay that's indispensable for swooping, cosmic sounds. The monotron DELAY even reproduces the pitch changes that occur when you vary the delay time, just as though you were using an analog tape echo. As with the filter, the delay effect can be added to any external sound via the Aux In jack. This fat and warm delay will add an authentic edge to your analog sounds!" – Korg.com
Via WTTE/Oliver Chesler
Playing the Orphion iPad app through a Moog MF-102 Ring Modulator and MF-104Z Analog Delay. Moogerfooger parameters are controlled with the Moog Voyager Touch Surface CV outputs. Learn more at www.experimentalsynth.com
The superdelay is on the "tape" setting the entire time. No other effects are applied. The Vintage Modified superdelay is based on a superdelay with some modifications to the tape modes. The Vintage setting  has some added modulation and the Old mode has had some high end rolled off a bit with the same modulation and some grit added to reproduce the sound of worn heads and dirty tape on your tape delay. The Vintage Modified Superdelay still has all the rest of the features and delays as the original.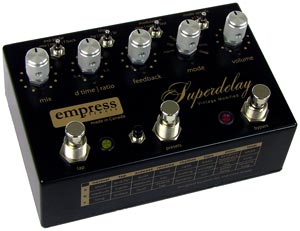 Hardware:
Korg MS-20
Empress Effects Vintage Modified Superdelay
Propellerhead Software's product specialist Mattias Häggström Gerdt shows you how to great a gated delay combinator in Reason based on the patch "Echodile" from the Reason Factory Soundbank.