"A good delay was an essential part of the classic analog synthesizer sound. More often than not, that delay came from a tape-style echo machine until affordable digital delays were created. The monotron DELAY is an analog synthesizer optimized for sound effects. In addition to its analog oscillator, filter, and LFO, it also provides a Space Delay that's indispensable for swooping, cosmic sounds. The monotron DELAY even reproduces the pitch changes that occur when you vary the delay time, just as though you were using an analog tape echo. As with the filter, the delay effect can be added to any external sound via the Aux In jack. This fat and warm delay will add an authentic edge to your analog sounds!" – Korg.com
Via WTTE/Oliver Chesler
Playing the Orphion iPad app through a Moog MF-102 Ring Modulator and MF-104Z Analog Delay. Moogerfooger parameters are controlled with the Moog Voyager Touch Surface CV outputs. Learn more at www.experimentalsynth.com
The superdelay is on the "tape" setting the entire time. No other effects are applied. The Vintage Modified superdelay is based on a superdelay with some modifications to the tape modes. The Vintage setting  has some added modulation and the Old mode has had some high end rolled off a bit with the same modulation and some grit added to reproduce the sound of worn heads and dirty tape on your tape delay. The Vintage Modified Superdelay still has all the rest of the features and delays as the original.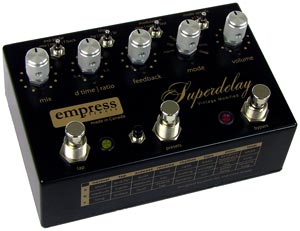 Hardware:
Korg MS-20
Empress Effects Vintage Modified Superdelay
Propellerhead Software's product specialist Mattias Häggström Gerdt shows you how to great a gated delay combinator in Reason based on the patch "Echodile" from the Reason Factory Soundbank.
Background information (Googlish from japanese):
Palm-sized battery-powered, with analogue synthesizers monotron DELAY echo like an analog delay.
The VCF circuit is equipped with a highly rated circuit is employed to MS-10/MS-20, adopt a similar filter to MS-10/MS-20 DELAY FEEDBACK. Further input to the AUX input sound because it is inserted in front of the filter circuit can be used as a filter / delay effects to monotron DELAY.
For more product information
http://www.korg.co.jp/Product/Dance/monotronDUODELAY/monotronDELAY.html
The Space Station, or SST-282, was described as a "reverberation effect." It could apparently get reverb times of up to 3.5 seconds. This may not seem like a particularly long time by modern standards, but it was a huge achievement given the architecture that was used. In the SST-282, the reverb effect was obtained by using a single delay line, with 15 output taps from the delay buffer summed and used for feedback, and an additional 8 taps used to monitor the delay line. Multitap delay lines such as this, where several taps are summed and used for feedback, can quickly reach a high reflection density. However, they are notoriously unstable, with the maximum feedback gain being allowed under conventional circumstances being equal to 1 divided by the number out output taps.
The heart of the new Space Station is a single 140MHz Motorola DSP chip programmed with faithful recreations of the original Space Station's algorithms, some updated versions, plus the new Room reverb. The unique aspect, though, is that the unit is packaged in a slim panel with wooden side cheeks, which is designed to sit on a desk. It measures just 165 x 127 x 150mm (hwd) and weighs next to nothing, with a four-metre connecting cable which terminates in a pair of XLR connectors and a compact universal mains power supply. The latter accepts the usual IEC mains lead and operates on AC voltages from 90V to 260V, consuming less than one Watt of power.
Audio connections are provided only in digital form, with stereo AES input and output provided on flying XLR connectors. The SST206 is a stereo output device, like the original, but where it differs is that it accepts a stereo source where the original was a mono-input device. However, the stereo input is a convenient by-product of adopting the AES input format, and the stereo input is summed to mono to feed the delay/reverb processor. A dedicated Dry Level control allows a percentage of the stereo source signal to be passed through to the stereo outputs, if required.
The unit is optimised for use at a 48kHz sampling rate with 24-bit resolution. It will also operate happily at 44.1kHz and even 32kHz — although the control calibration will be inaccurate at these lower sample rates since the delay and decay times are related to the sampling rate. Similarly, it can also be used at 88.2kHz and 96kHz (but only with the SST Reverb and Echo programs), with proportionally shorter delay and decay times again.
Overview of functions and features of the Doepfer A188-1 BBD Delay module.
Video, voice, and sound by Raul Pena.
Module A-188-1 is a so-called Bucket Brigade Device module (abbr. BBD). BBDs have been used to delay audio signals before digital delays dethroned the BBD based effect units. But BBDs have some very unique advantages (or disadvantages dependent on the point of view) over the digital counterpart which result from the special properties of the BBDs. BBD circuits can be treated as a chain of Sample&Hold units (S&H) which pass on their voltages to the next S&H in the chain at each clock pulse. A more detailed explanation – including the different types of BBDs – can be found in following chapter.
In any case the sounds generated by module A-188-1 are very special. Typical applications are: Flanger, Chorus, Analog Delay or Karplus/Strong synthesis. But as the A-188-1 has a lot of very unique features (voltage controlled clock rate / delay time with extreme range, polarity switches for the CV inputs, feedback and BBD out/mix, clock and CV output of the high speed VCO, BBD clock input, feedback insert, feedback up to self-oscillation) a lot of unusual applications can be realized with the module (e.g. delay controlled by ADSR, envelope, random or sequencer with positive or negative effect). The A-188-1 also has no built-in anti-alisaing filter in order not to limit the possibilities of the module. For this the CV out is intended.
In this video:
Demo featuring the Electra EP-501 Sampler Delay. In Logic I'm using a preset beat from Ultrabeat. The EP-501 is being controlled by a MIDI-to-CV converter. Ultrabeat is being fed into the EP-501 which is sampling the beat. The pitch and gate of the EP-501 is coming from a MIDI track in Logic. The EP-501 takes a sample each time it receives a gate signal and loops it until the next gate signal.
Checking out some new Moduls, like the 4 ms Shuffling Clock Multplier and the Synthesis Technology E-580 Delay. The synthesis technology e580 resampling mini-delay emulates the classic sounds of digital, bbd and tape-based delays with 4 parameters under voltage control. the 14hp wide euro module accepts either +-12v euro standard power or +-15v motm/frac power. using a 40mhz dsp and 24-bit codec, the e580 recreates the pitch-shift modulating of bbds with the variable bandwidth and noise floor without costly bbd ics. in tape mode, wow& flutter, tape saturation and non-linear distortion model classic tape units without the bulk and maintenance. there are 2 simultaneous audio outputs: a straight delay and a variable tapped delay. the tap position is a percentage of the main delay time. this allows very short delays (<350us) as well as long delays (750ms). both tap position ('offset') and main delay time are voltage-controlled over a -5v to +5v range.
feedback is jumper-selectable from either the tapped position or the main delay. this flexibility can generate standard 'rhythmic' delays (feedback from main delay) or a series of 'pre-delay reflections' (tapped delay) which sound very different from each other.
AudioMIDI has a sale on the Rob Papen Delay. $10 instead of $65.
RP-Delay is a unique delay which is heavily focused on some very special features, including brand new fx routing!
For instance, the sound reverser can reverse the input, while simultaneously reversing one of the delay lines.
The reverse sound can also be triggered with your keyboard, generating totally new sounds, and sending them into the reverser with its own filter and distortion!
You can have 6 delay lines with 8 active multi-mode filters all operating at once in each of several delay models. Of course, we included basic delay models like a simple mono delay and a stereo delay, but also a tape-sound delay which allows you to change tape length without any clicks. The delays, filters, and reverser can all be modulated by the built-in modulators. There are 4 modulation sequencers, 4 LFO's, and 4 envelopes, complete with several trigger options!
There are many other new features and options for you to discover which aren't mentioned here, so go ahead, take the plunge, and dig into the brand new experience of RP-Delay.
Features:
VST2.4, AU and RTAS plug-in for PC (Xp/Vista 32/Vista 64/Win7 32/Win7 64)and Mac OS-X 10.4 > (IntelMac+ppc)
Two activations allowed. 2nd activation after registering product.
6 delay lines grouped in two sets (a/b/c for both delay 1 & 2).
Delays can be routed in a number of ways to create various distinct delay.
models: mono, stereo, dual stereo, channel split, split multi, serial multi, parallel multi, full serial and reverse.
Each set of delays has a tape mode, simulating the analog tape delay effect.
The delays each have a number of controls: delay time/length, sync to host, multi-mode filter, distortion effect and more.
Reverser module for both delays allows you to reverse the sound at any stage of the signal flow.
Up to 4 triggers can have a MIDI CC control assigned for triggering events.
Audio follower for processing input volume as a modulation source.
Four envelopes and four LFOs can be used to modulate controls.
Includes various triggering options.
LFOs have a humanization parameter which lets the LFO speed change randomly over time.
8 individual modulators.
4 sequencers with 16-step interface.Sequencer includes copy/paste and file management options so you can easily reuse sequencer settings.
5 banks of presets – both as insert and send, ranging from simple delay effects to more crazy effects