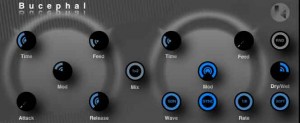 Bucephal is a delay plug-in that is not meant to be used as a delay. It gives you two parallel delay lines, each one up to 2 seconds, and lets you mangle delay times with two nice modulators.
A spokesperson told us, " Thanks to an envelope follower and a LFO, Bucephal can fulfill some of your daily glitch needs, morphing between vibrato, flanging, pitch shifting, and crushing effects. The large modulation range of delay times can lead to some pleasingly annoying artifacts, and if your incoming audio needs even more dirt, the randomizer and waveshaper will be there to help."
Bucephal is available for both Windows and Mac Os X, as VST (32/64 bit) and AU (32/64 bit, Mac only).
Features:
2 parallel delay lines with up to 2 seconds length
Time parameter interpolation provides nice pitch artifacts
First delay line time can be controlled by an envelope follower
Second delay line time can be controlled by a LFO (tempo free or synced)
Classic waveforms for the LFO (sin, square, saw up, saw down, triangle, sample and hold)
7 mix modes
Soft clipping and waveshaping can be applied to the output
Randomizer
Clean minimalist interface
Lifetime free updates for registered customers
Pricing and Availability:
20€ – all platforms and formats
More information:
Here's a new modular from Pittsburgh:
A brand new analog delay module designed around a pair of 4096 Bucket Brigade Delay Line (BBD) ICs to produce a distinct analog delay effect. The maximum delay time when shipped is set at 9/10ths of a second but this can be adjusted up to 2 seconds. The Analog Delay offers voltage control of the delay time, feedback, and wet signal. A true bypass switch allows the delay to be enabled and disabled quickly.
Little improv of the model 101 going through the superdelay on "tape" mode.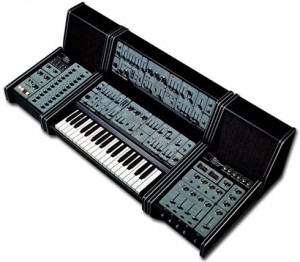 The System 100 is a great and classic analog synth! It's a beautiful semi-modular monophonic synth consisting of 5 module components: the Synthesizer 101, Expander 102, Mixer 103, Sequencer 104, and Monitor Speakers 109. The Synthesizer 101 section is the heart of the system, from which you could add-on any of the other modules of your choice. Different combinations of these components can be used to create systems of varying potential.
The Synthesizer 101 section is a fully self-contained analog mono-synth. It features a 37-note keyboard (with no performance controls, velocity or aftertouch), and lots of sliders to tweak. Its design is similar to the SH-series analog synths. Controls for the VCO, LFO, VCF lowpass/highpass filters, VCA with ADSR, Noise, and Portamento/Glide effects are all within hands reach. There's also a handy A-440Hz tuning oscillator, like on the Minimoog.
Hardware:
Roland System 100 Model 101
Empress Effects Vintage Modified Superdelay
Software:
Valhalla Room
"A good delay was an essential part of the classic analog synthesizer sound. More often than not, that delay came from a tape-style echo machine until affordable digital delays were created. The monotron DELAY is an analog synthesizer optimized for sound effects. In addition to its analog oscillator, filter, and LFO, it also provides a Space Delay that's indispensable for swooping, cosmic sounds. The monotron DELAY even reproduces the pitch changes that occur when you vary the delay time, just as though you were using an analog tape echo. As with the filter, the delay effect can be added to any external sound via the Aux In jack. This fat and warm delay will add an authentic edge to your analog sounds!" – Korg.com
Via WTTE/Oliver Chesler
Playing the Orphion iPad app through a Moog MF-102 Ring Modulator and MF-104Z Analog Delay. Moogerfooger parameters are controlled with the Moog Voyager Touch Surface CV outputs. Learn more at www.experimentalsynth.com
The superdelay is on the "tape" setting the entire time. No other effects are applied. The Vintage Modified superdelay is based on a superdelay with some modifications to the tape modes. The Vintage setting  has some added modulation and the Old mode has had some high end rolled off a bit with the same modulation and some grit added to reproduce the sound of worn heads and dirty tape on your tape delay. The Vintage Modified Superdelay still has all the rest of the features and delays as the original.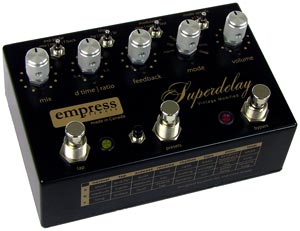 Hardware:
Korg MS-20
Empress Effects Vintage Modified Superdelay
Propellerhead Software's product specialist Mattias Häggström Gerdt shows you how to great a gated delay combinator in Reason based on the patch "Echodile" from the Reason Factory Soundbank.
Background information (Googlish from japanese):
Palm-sized battery-powered, with analogue synthesizers monotron DELAY echo like an analog delay.
The VCF circuit is equipped with a highly rated circuit is employed to MS-10/MS-20, adopt a similar filter to MS-10/MS-20 DELAY FEEDBACK. Further input to the AUX input sound because it is inserted in front of the filter circuit can be used as a filter / delay effects to monotron DELAY.
For more product information
http://www.korg.co.jp/Product/Dance/monotronDUODELAY/monotronDELAY.html
The Space Station, or SST-282, was described as a "reverberation effect." It could apparently get reverb times of up to 3.5 seconds. This may not seem like a particularly long time by modern standards, but it was a huge achievement given the architecture that was used. In the SST-282, the reverb effect was obtained by using a single delay line, with 15 output taps from the delay buffer summed and used for feedback, and an additional 8 taps used to monitor the delay line. Multitap delay lines such as this, where several taps are summed and used for feedback, can quickly reach a high reflection density. However, they are notoriously unstable, with the maximum feedback gain being allowed under conventional circumstances being equal to 1 divided by the number out output taps.
The heart of the new Space Station is a single 140MHz Motorola DSP chip programmed with faithful recreations of the original Space Station's algorithms, some updated versions, plus the new Room reverb. The unique aspect, though, is that the unit is packaged in a slim panel with wooden side cheeks, which is designed to sit on a desk. It measures just 165 x 127 x 150mm (hwd) and weighs next to nothing, with a four-metre connecting cable which terminates in a pair of XLR connectors and a compact universal mains power supply. The latter accepts the usual IEC mains lead and operates on AC voltages from 90V to 260V, consuming less than one Watt of power.
Audio connections are provided only in digital form, with stereo AES input and output provided on flying XLR connectors. The SST206 is a stereo output device, like the original, but where it differs is that it accepts a stereo source where the original was a mono-input device. However, the stereo input is a convenient by-product of adopting the AES input format, and the stereo input is summed to mono to feed the delay/reverb processor. A dedicated Dry Level control allows a percentage of the stereo source signal to be passed through to the stereo outputs, if required.
The unit is optimised for use at a 48kHz sampling rate with 24-bit resolution. It will also operate happily at 44.1kHz and even 32kHz — although the control calibration will be inaccurate at these lower sample rates since the delay and decay times are related to the sampling rate. Similarly, it can also be used at 88.2kHz and 96kHz (but only with the SST Reverb and Echo programs), with proportionally shorter delay and decay times again.
Overview of functions and features of the Doepfer A188-1 BBD Delay module.
Video, voice, and sound by Raul Pena.
Module A-188-1 is a so-called Bucket Brigade Device module (abbr. BBD). BBDs have been used to delay audio signals before digital delays dethroned the BBD based effect units. But BBDs have some very unique advantages (or disadvantages dependent on the point of view) over the digital counterpart which result from the special properties of the BBDs. BBD circuits can be treated as a chain of Sample&Hold units (S&H) which pass on their voltages to the next S&H in the chain at each clock pulse. A more detailed explanation – including the different types of BBDs – can be found in following chapter.
In any case the sounds generated by module A-188-1 are very special. Typical applications are: Flanger, Chorus, Analog Delay or Karplus/Strong synthesis. But as the A-188-1 has a lot of very unique features (voltage controlled clock rate / delay time with extreme range, polarity switches for the CV inputs, feedback and BBD out/mix, clock and CV output of the high speed VCO, BBD clock input, feedback insert, feedback up to self-oscillation) a lot of unusual applications can be realized with the module (e.g. delay controlled by ADSR, envelope, random or sequencer with positive or negative effect). The A-188-1 also has no built-in anti-alisaing filter in order not to limit the possibilities of the module. For this the CV out is intended.