This is a first demo of the newly revised GetLoFi Delay Kit. The kit will be available for purchase from GetLoFi.com/shop. The metal tines are mounted on a piece of wood with a Piezo pick underneath. The signal from the pickup is then routed directly into the LoFi Delay Unit and the output is routed strait to the audio recorder. The only controls on the delay unit are Delay Time and Delay Feedback. Unit turns on when an output cable is inserted. In the demo the unit is operated by an optional 9 Volt Wall supply.  The delay itself is based on the PT2399 Digital IC, only bare minimum of components were used to make assembly as simple as possible. No OP-Amps are present in the circuit.

WOK has released Echo Freeze Unit EFU-1, a universal echo delay unit with hold function for Windows.
"EFU-1 is more than another delay plugin. Besides all the basic functions (host sync or milliseconds, digital/tape/analog sound, modulation) it features a distinctive freeze function; like some famous hardware delay units, the delay buffer can act like a sampler. Up to 4/1 bars of input signal can be recorded (or lets better say: frozen) and continously played back at a selectable speed – even reverse.
But EFU-1 is more flexible than hardware devices: while a frozen audio segment is played back, the delay unit remains useable – even at a different delay time / sync divider! Also to hold and freeze a signal it is possible to first choose 'record' and then send audio to the plugin, or you continously play thru the delay and if the 'last loop' was interesting, you hit 'Record' to freeze it!
And while the recorded phrase is played back – even reverse, you may continue to play along with it thru the delay at a different time setting. By the way: feedback can be cranked up until nearly endless, and in millisecond mode, the delay time can be changed smoothly from many seconds to very short – producing these famous dub sounds!"
Price: 29 EUR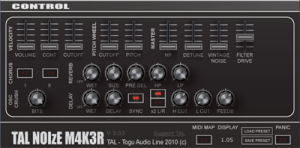 TAL has released an update to its free software synthesizer, TAL-NoiseMaker.
Here's what's new:
Vintage delay added (version 3.03).
Filter overdrive (version 3.03).
Own preset save and load functionality for preset exchange (version 3.03).
Osc 2 noise waveform added (version 3.03).
LFO 1/2, OSC 1&2 modulation support (version 3.03).
Full automation support. Drop downs also compatible with VST automation (version 3.03).
Changes in the preset management, single preset support (version 3.03).
Envelope Editor: Fix tempo option added (version 3.03).
Envelope Editor: One shot option added (version 3.03).
Envelope Editor: Reset button (version 3.03).
256 presets by Frank "Xenox" Neumann / Particular – Sound FN, The Unshushable Coktor TUC, Alexandra Sendy AS, Patrick Kunz TAL (version 3.03).
Small volume correction in the 24 dB filter at high cutoffs and full resonance (version 3.03).
TAL-NoiseMaker is available for Mac & Windows.
People have been wondering about the difference in sound between the Modcan 30B Super Delay (which is a true analog delay) and the Modcan 59B Digital Delay, so I set up a simple audio demonstration. It's not meant to be an analog vs. digital contest — as you'll hear, both of them sound beautiful but have very different tonal characteristics as well as unique reactions to control voltage manipulation.
The Modcan Sequencer is triggering a Modcan 58B VCDO that is passing through a Modcan 68B Matrix Filter (using the 4-Pole Bandpass output). In the first half of the video, that signal is passing through the analog Super Delay — which is a mono device. I twiddle the knobs throughout and then eventually let triangle waveforms from the Modcan 61B Quad LFO take over the invisible finger chores.
The second half of the video is the same sequence and signal chain passing through the Digital Delay, which has been engaged to output the audio in stereo mode. Again, after some manual twiddling I put the 61B Quad LFO to work once more and send a slow-moving triangle waveform into the control voltage inputs.
As may be apparent from the studio configuration, I do love the Modcan modules for their sound, aesthetic beauty and a user interface that squeezes myriad functions per module into a reasonably-sized space. I hope you find this a useful and entertaining video.
Shared by scootermccrae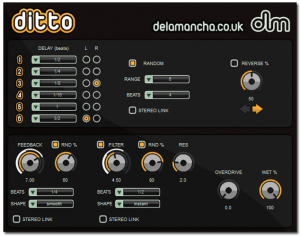 Ditto is a creative delay effect, using randomised tempo-sync modulation to provide a constantly changing but musical delay effect. You can randomise the delay time, feedback and filter cut-off, with independent left and right channel modulation if you wish. Reverse delay can also be randomly set to change things up even more.
All delay times are tempo-synced to your host, with up to 6 different selections that can be randomly selected. The randomisation is also set to change in tempo-sync, so the results always sound musical and rhythmic (unless you don't want that, there are some unusual sync patterns too).
You can use ditto for subtle variances in repeating patterns, constantly evolving soundscapes or just some good old random craziness. It is very suited to drum patterns and rhythmic / percussive loops, but is also great on pads, leads, basses and just about anything you'd like to randomise for effect.
Features:
• Tempo-sync, randomly-modulated, stereo delay for adding variance and randomisation to patterns
• Randomisation of delay time, feedback, filter cut-off and delay direction
• All randomised parameters can independently change in tempo-sync with host (1/32 beat to 32 beats)
• All randomised parameters can also be made static independently
• Random selection of up to 6 different delay times (1/32 beat to 32 beats)
• Delay time can be independent for the Left and Right channels
• Feedback and Filter cut-off amount of randomisation can be controlled and smoothed
• Feedback and Filter cut-off can be independent for the Left and Right channels
• Feedback direction amount of randomisation can be controlled
• Filter resonance control
• Overdrive control on the feedback signal
• Wet / dry control on the feedback signal
• Developed with SE 1.1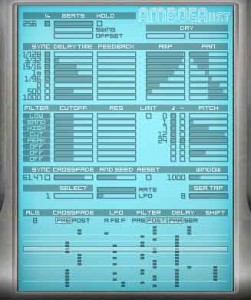 Xoxos has released Amboea VST plug-in for Windows which they tell us arranges eight filtered stereo delay lines in serial or parallel with algorithmic crossfading to create a multidelay effect tailored for ambient music.
Twenty algorithms allow the crossfading and filters to be applied before or after the delay lines with optional randomised modulation and pitchshifting. Xoxos says that one instance of Amboea can turn any sound into a dense, continuously varying soundscape, or be used as a straightforward multitap or parallel multidelay.
Pricing and Availability:
Amboea has an introductory price of $10 which will increase to $15
More information: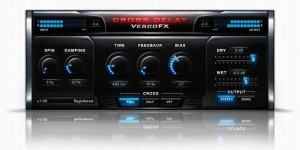 Vesco FX tell us that Cross Delay allows you to create advanced stereo delay images in your mixes all in a single plug-in. Here's what they have to say about it…
Say goodbye to configuring multiple plugins in parallel with complex routing schemes. The controls to allow echo output to be directed between channels is at the unique heart of this VST plugin. Each echo can be sent to the opposite channel from the source signal (echo of the left channel is heard on the right) or subsequent echoes can ping pong between channels. A modulation section allows tweaking the delayed sound with a dynamic combination of depth and speed all on a single control with realistically usable settings through its entire range. Throw in the independent output controls and an adaptive damping and what you end up with a VST delay plugin able to deliver lively and exciting delays for all your mixing needs from home studio to pro studio.
Features:
64-bit internal processing resolution.
Lots of built in presets to get your mix jumpstarted.
Full automation support of all controls for VST compliant hosts (additional extensions for REAPER).
Sample accurate, zero-latency algorithm.
Delays can be routed to the opposite channel or ping pong between channels.
Single knob, adaptive modulation brings life to the delayed signal.
Single knob, adaptive damping gives the delayed signal extra depth.
Delays can be biased to either side for a wider image
Turns mono tracks into stereo.
Output can be summed to mono for chorus style effects or to check mono compatibility.
Eliminates complex routing required to create stereo delay effect
Works with both mono and stereo input.
Works with 64-bit and 32-bit audio hosts running on 32-bit Windows OS.
Pricing and Availability:
Introductory price: $19
More information:
The LSD module can take a simple beat and morph it into something entirely new. You can hear the "glitch mode" in action, when i turn the rate knob past 2:00. It also makes some spectacular vibrato/delay effects. Freak out on LSD ~ only from chamberofsounds.com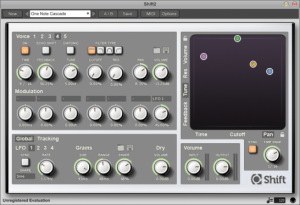 Loomer has updated Shift,its diatonic granular pitch shifting delay effect for Mac OS X, Windows, and Linux, to version 2.0.
Details on Shift 2.0 below.
Features:
Five independent true stereo delay lines, with discrete delay, feedback, pitch shifting, filters, pan, and volume.
Pitch shifting comes courtesy of a powerful granular synthesis engine: with a few simple grain parameters, you can create the perfect granular sound, be it for guitar, synth, drums, loops, or anything else.
Fast and accurate monophonic audio analysis component extracts pitch information, in real-time, for intelligent in-scale pitch shifting and harmonies. Calibrate the tracker to your sound and style using the built-in tuner.
Perfect your preset design: use the XY grid to maneuver the seven main delay line parameters in real-time or to get at-a-glance feedback on the overall preset shape.
A comprehensive modulation matrix allows each delay voice parameter to be individual contoured. Modulation sources come in the form of four tempo-syncable LFOs, each producing five modulation shapes: sawtooth, sinus, triangle, square, or stepped random noise.
Over 100 presets included, from the simple to the exotic, each tagged ready for searching, and annotated with playing suggestions. Listen to a preset in context with 'hot-swap previewing'. Create partial presets to build up a library of delay voices, grain engine, and diatonic tracker settings.
Shift is available for £45 GBP (+ VAT). It's a free upgrade for registered owners of Shift 1. A demo version is available.
This is a demonstration of the Synthetic Sound Labs 1310 Digital Delay module. The $199 device is capable of subtle doubling, hard timed delays and super flanging.
Details below.
Synthetic Sound Labs 1310 Digital Delay Description
The SSL 1310 Voltage Controlled Digital Delay is a single width 5U/MU module for producing short to medium audio delays. For shorter delays, short room like slap-backs are killer. At medium delays, you can emulate vintage tape echos. You can even force the module for longer delays, but digital quantizing noise becomes audible – but who's to say what's musical and what's not?
It's based on the ubiquitous Princeton Technologies PT2399 delay chip which is used in countless effects pedals. The really cool part is that delay times are voltage controllable, allowing everything from a little chorusing effect to a grinding, gurgling mass hysteria.
RECIRC-ulation (repeats) are controlled manually and can go way beyond self-oscillation! The MIX control smoothly blends dry, undelayed signal with the delayed, all the way through delay only (no original signal), thus saving a mixer at the output. Using an external VCA, filters and mixers, you can also create your own feedback patches. Cool and simple. Use two 1310s for cool stereo effects and through-zero-flanging!
CV AMT controls how much of the DELAY CV control voltage input is mixed with the manual DELAY setting. Go from Rockabilly slap to literally audio clicks in a single bound.
INPUT and OUTPUT levels are designed for the hot signals a synth produces, so for minumum noise and best performance, external audio devices such as microphones and guitars should be preamplified before being fed to this module.
See the Synthetic Sound Labs site for more info.
via davidryle:
I mostly am using it as a gentle flanger in this demo but it is far more powerful than what I demo here. You can get one for your 5U MU modular synthesizer by checking out the website at http://www.steamsynth.com/

I also finished a project where I was modifying a stock Q111 Pan/Fade module from Synthesizers.com. I added an attenuator pot to the control input and added an inverter circuit to the output #2. This enables the Panning portion of the module to output audio to two channels of my mixer in stereo. I have control over how wide the panning is and both output channels are normal (un-inverted) so there is no cancellation when sending to effects etc..

I am using several other delay units as well in this demo. TC Electronics D-Two is way in the background so it isn't really a factor. Strymon 's Blue Sky Reverberator is the heavy plate reverb in the background. The Korg Kaoss 3 pad is used to have some looping fun, but I tried to keep it low level so not to interfere with the demo of the 1310 delay module.

There are four separate voices playing in this piece from the modular. The sequencers are generating various time signatures and loops but all of the distorted flanging effect is the 1310 Digital Delay. This is one fun unit and a great addition to my modular synth.

The title is about the amount of time since I got serious about building a modular synth to work with. It has been a little over two years (9 seasons) since I made the commitment. No looking back and I am very happy with the move away from dedicated keyboards and soft synths (although I still use them for other things).

Thanks to Doug Slocum at Synthetic Sound Labs for the great delay module. He has other ideas in the works and I am very excited about the future of his endeavor.