We just received the very first shipment of Pittsburgh Modular Analog Delay modules. This module is awesome!
We're running a simple sequence using the Analogue Systems rs200 Sequencer, Livewire AFG, Division 6 Filtaire, Analogue Systems rs60 Envelope Generator, A.S. rs85 LFO, and the Malekko VCA. We used the LFO's triangle output to modulate the delay time, then the feedback amount. This is a really well designed and beautiful sounding delay module and we are happy that it's available now.

A basic initial overview of the awesome Pittsburgh Analog Delay module. Piston Honda is the audio source, with Maths and .VCA for shaping. The excellent Pittsburgh Timetable is driving a Rene', which provides quantized pitches to the Piston as well as non-quantized CV to the Delay Rate of the Analog Delay later on in the video.
The multi-band delay machine FDELAY is an exciting tool for sound design and loop manipulation in realtime. In contrast to the delay machines you're used to FDELAY splits the frequency spectrum of the input signal into 27 bands and applies a separate delay unit to each band. The delay times can be synchronized to the host tempo generating nearly infinite rhythmical and sonic variations of the input signal. For each of the delay bands you can specify the delay time, the level and the feedback amount separately. These parameter changes can even be automized in realtime for glitch free rhythmical morphings.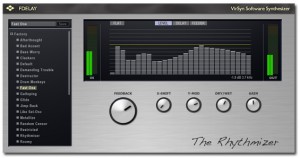 A few high level parameters let you change the delay times and feedbacks of all delays with the turn of a single knob
The Rhythmizer
- 27 band realtime multiband delay.
- Frequency dependant level, delay time and feedback
- Linear phase precision filters for maximal transparency
- Tempo syncable delay times up to 6 seconds.
- Meta parameter for quick access to rhythm variations
- Minimized latency ( 12 ms )
Host compatibility
- VST 3
- VST 2.4
- AudioUnit
- RTAS
Minimal system requirements PC
° Intel Pentium 4 / Intel Core Duo / AMD Athlon 64
° 1GB RAM
° Microsoft Windows XP 32bit or Vista 23/64bit or Windows 7 32/64bit
° USB port required for eLicenser copy protection device
° VST2.4 / VST3 / RTAS compatible host sequencer.
Minimal system requirements Mac
° Intel Core Duo.
° 1 GB RAM
° Mac OS X version 10.5 / 10.6
° USB port required for eLicenser copy protection device
° AudioUnit / VST2.4 / VST3 / RTAS compatible host sequencer.
This is a first demo of the newly revised GetLoFi Delay Kit. The kit will be available for purchase from GetLoFi.com/shop. The metal tines are mounted on a piece of wood with a Piezo pick underneath. The signal from the pickup is then routed directly into the LoFi Delay Unit and the output is routed strait to the audio recorder. The only controls on the delay unit are Delay Time and Delay Feedback. Unit turns on when an output cable is inserted. In the demo the unit is operated by an optional 9 Volt Wall supply.  The delay itself is based on the PT2399 Digital IC, only bare minimum of components were used to make assembly as simple as possible. No OP-Amps are present in the circuit.

WOK has released Echo Freeze Unit EFU-1, a universal echo delay unit with hold function for Windows.
"EFU-1 is more than another delay plugin. Besides all the basic functions (host sync or milliseconds, digital/tape/analog sound, modulation) it features a distinctive freeze function; like some famous hardware delay units, the delay buffer can act like a sampler. Up to 4/1 bars of input signal can be recorded (or lets better say: frozen) and continously played back at a selectable speed – even reverse.
But EFU-1 is more flexible than hardware devices: while a frozen audio segment is played back, the delay unit remains useable – even at a different delay time / sync divider! Also to hold and freeze a signal it is possible to first choose 'record' and then send audio to the plugin, or you continously play thru the delay and if the 'last loop' was interesting, you hit 'Record' to freeze it!
And while the recorded phrase is played back – even reverse, you may continue to play along with it thru the delay at a different time setting. By the way: feedback can be cranked up until nearly endless, and in millisecond mode, the delay time can be changed smoothly from many seconds to very short – producing these famous dub sounds!"
Price: 29 EUR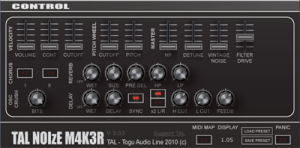 TAL has released an update to its free software synthesizer, TAL-NoiseMaker.
Here's what's new:
Vintage delay added (version 3.03).
Filter overdrive (version 3.03).
Own preset save and load functionality for preset exchange (version 3.03).
Osc 2 noise waveform added (version 3.03).
LFO 1/2, OSC 1&2 modulation support (version 3.03).
Full automation support. Drop downs also compatible with VST automation (version 3.03).
Changes in the preset management, single preset support (version 3.03).
Envelope Editor: Fix tempo option added (version 3.03).
Envelope Editor: One shot option added (version 3.03).
Envelope Editor: Reset button (version 3.03).
256 presets by Frank "Xenox" Neumann / Particular – Sound FN, The Unshushable Coktor TUC, Alexandra Sendy AS, Patrick Kunz TAL (version 3.03).
Small volume correction in the 24 dB filter at high cutoffs and full resonance (version 3.03).
TAL-NoiseMaker is available for Mac & Windows.
People have been wondering about the difference in sound between the Modcan 30B Super Delay (which is a true analog delay) and the Modcan 59B Digital Delay, so I set up a simple audio demonstration. It's not meant to be an analog vs. digital contest — as you'll hear, both of them sound beautiful but have very different tonal characteristics as well as unique reactions to control voltage manipulation.
The Modcan Sequencer is triggering a Modcan 58B VCDO that is passing through a Modcan 68B Matrix Filter (using the 4-Pole Bandpass output). In the first half of the video, that signal is passing through the analog Super Delay — which is a mono device. I twiddle the knobs throughout and then eventually let triangle waveforms from the Modcan 61B Quad LFO take over the invisible finger chores.
The second half of the video is the same sequence and signal chain passing through the Digital Delay, which has been engaged to output the audio in stereo mode. Again, after some manual twiddling I put the 61B Quad LFO to work once more and send a slow-moving triangle waveform into the control voltage inputs.
As may be apparent from the studio configuration, I do love the Modcan modules for their sound, aesthetic beauty and a user interface that squeezes myriad functions per module into a reasonably-sized space. I hope you find this a useful and entertaining video.
Shared by scootermccrae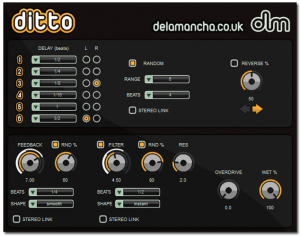 Ditto is a creative delay effect, using randomised tempo-sync modulation to provide a constantly changing but musical delay effect. You can randomise the delay time, feedback and filter cut-off, with independent left and right channel modulation if you wish. Reverse delay can also be randomly set to change things up even more.
All delay times are tempo-synced to your host, with up to 6 different selections that can be randomly selected. The randomisation is also set to change in tempo-sync, so the results always sound musical and rhythmic (unless you don't want that, there are some unusual sync patterns too).
You can use ditto for subtle variances in repeating patterns, constantly evolving soundscapes or just some good old random craziness. It is very suited to drum patterns and rhythmic / percussive loops, but is also great on pads, leads, basses and just about anything you'd like to randomise for effect.
Features:
• Tempo-sync, randomly-modulated, stereo delay for adding variance and randomisation to patterns
• Randomisation of delay time, feedback, filter cut-off and delay direction
• All randomised parameters can independently change in tempo-sync with host (1/32 beat to 32 beats)
• All randomised parameters can also be made static independently
• Random selection of up to 6 different delay times (1/32 beat to 32 beats)
• Delay time can be independent for the Left and Right channels
• Feedback and Filter cut-off amount of randomisation can be controlled and smoothed
• Feedback and Filter cut-off can be independent for the Left and Right channels
• Feedback direction amount of randomisation can be controlled
• Filter resonance control
• Overdrive control on the feedback signal
• Wet / dry control on the feedback signal
• Developed with SE 1.1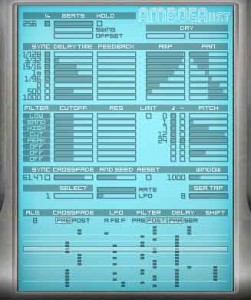 Xoxos has released Amboea VST plug-in for Windows which they tell us arranges eight filtered stereo delay lines in serial or parallel with algorithmic crossfading to create a multidelay effect tailored for ambient music.
Twenty algorithms allow the crossfading and filters to be applied before or after the delay lines with optional randomised modulation and pitchshifting. Xoxos says that one instance of Amboea can turn any sound into a dense, continuously varying soundscape, or be used as a straightforward multitap or parallel multidelay.
Pricing and Availability:
Amboea has an introductory price of $10 which will increase to $15
More information: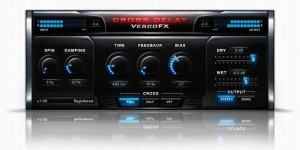 Vesco FX tell us that Cross Delay allows you to create advanced stereo delay images in your mixes all in a single plug-in. Here's what they have to say about it…
Say goodbye to configuring multiple plugins in parallel with complex routing schemes. The controls to allow echo output to be directed between channels is at the unique heart of this VST plugin. Each echo can be sent to the opposite channel from the source signal (echo of the left channel is heard on the right) or subsequent echoes can ping pong between channels. A modulation section allows tweaking the delayed sound with a dynamic combination of depth and speed all on a single control with realistically usable settings through its entire range. Throw in the independent output controls and an adaptive damping and what you end up with a VST delay plugin able to deliver lively and exciting delays for all your mixing needs from home studio to pro studio.
Features:
64-bit internal processing resolution.
Lots of built in presets to get your mix jumpstarted.
Full automation support of all controls for VST compliant hosts (additional extensions for REAPER).
Sample accurate, zero-latency algorithm.
Delays can be routed to the opposite channel or ping pong between channels.
Single knob, adaptive modulation brings life to the delayed signal.
Single knob, adaptive damping gives the delayed signal extra depth.
Delays can be biased to either side for a wider image
Turns mono tracks into stereo.
Output can be summed to mono for chorus style effects or to check mono compatibility.
Eliminates complex routing required to create stereo delay effect
Works with both mono and stereo input.
Works with 64-bit and 32-bit audio hosts running on 32-bit Windows OS.
Pricing and Availability:
Introductory price: $19
More information:
The LSD module can take a simple beat and morph it into something entirely new. You can hear the "glitch mode" in action, when i turn the rate knob past 2:00. It also makes some spectacular vibrato/delay effects. Freak out on LSD ~ only from chamberofsounds.com