In this video:
Demo featuring the Electra EP-501 Sampler Delay. In Logic I'm using a preset beat from Ultrabeat. The EP-501 is being controlled by a MIDI-to-CV converter. Ultrabeat is being fed into the EP-501 which is sampling the beat. The pitch and gate of the EP-501 is coming from a MIDI track in Logic. The EP-501 takes a sample each time it receives a gate signal and loops it until the next gate signal.
Checking out some new Moduls, like the 4 ms Shuffling Clock Multplier and the Synthesis Technology E-580 Delay. The synthesis technology e580 resampling mini-delay emulates the classic sounds of digital, bbd and tape-based delays with 4 parameters under voltage control. the 14hp wide euro module accepts either +-12v euro standard power or +-15v motm/frac power. using a 40mhz dsp and 24-bit codec, the e580 recreates the pitch-shift modulating of bbds with the variable bandwidth and noise floor without costly bbd ics. in tape mode, wow& flutter, tape saturation and non-linear distortion model classic tape units without the bulk and maintenance. there are 2 simultaneous audio outputs: a straight delay and a variable tapped delay. the tap position is a percentage of the main delay time. this allows very short delays (<350us) as well as long delays (750ms). both tap position ('offset') and main delay time are voltage-controlled over a -5v to +5v range.
feedback is jumper-selectable from either the tapped position or the main delay. this flexibility can generate standard 'rhythmic' delays (feedback from main delay) or a series of 'pre-delay reflections' (tapped delay) which sound very different from each other.
AudioMIDI has a sale on the Rob Papen Delay. $10 instead of $65.
RP-Delay is a unique delay which is heavily focused on some very special features, including brand new fx routing!
For instance, the sound reverser can reverse the input, while simultaneously reversing one of the delay lines.
The reverse sound can also be triggered with your keyboard, generating totally new sounds, and sending them into the reverser with its own filter and distortion!
You can have 6 delay lines with 8 active multi-mode filters all operating at once in each of several delay models. Of course, we included basic delay models like a simple mono delay and a stereo delay, but also a tape-sound delay which allows you to change tape length without any clicks. The delays, filters, and reverser can all be modulated by the built-in modulators. There are 4 modulation sequencers, 4 LFO's, and 4 envelopes, complete with several trigger options!
There are many other new features and options for you to discover which aren't mentioned here, so go ahead, take the plunge, and dig into the brand new experience of RP-Delay.
Features:
VST2.4, AU and RTAS plug-in for PC (Xp/Vista 32/Vista 64/Win7 32/Win7 64)and Mac OS-X 10.4 > (IntelMac+ppc)
Two activations allowed. 2nd activation after registering product.
6 delay lines grouped in two sets (a/b/c for both delay 1 & 2).
Delays can be routed in a number of ways to create various distinct delay.
models: mono, stereo, dual stereo, channel split, split multi, serial multi, parallel multi, full serial and reverse.
Each set of delays has a tape mode, simulating the analog tape delay effect.
The delays each have a number of controls: delay time/length, sync to host, multi-mode filter, distortion effect and more.
Reverser module for both delays allows you to reverse the sound at any stage of the signal flow.
Up to 4 triggers can have a MIDI CC control assigned for triggering events.
Audio follower for processing input volume as a modulation source.
Four envelopes and four LFOs can be used to modulate controls.
Includes various triggering options.
LFOs have a humanization parameter which lets the LFO speed change randomly over time.
8 individual modulators.
4 sequencers with 16-step interface.Sequencer includes copy/paste and file management options so you can easily reuse sequencer settings.
5 banks of presets – both as insert and send, ranging from simple delay effects to more crazy effects
Unleash the power of delay in Native Instruments REAKTOR's Massive to take your sounds in wild new directions. Seriously powerful stuff…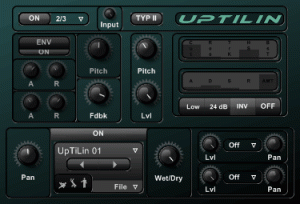 Tekky Synths has released a new pitched feedback delay VST effect plug-in for Windows called UpTiLin.
UpTiLin, which stands for Up Time Line allows the user to pitch a delayed signal in real time to achieve some funky effects ranging from classical stereo delay to cartoon-like, monsters and ghost effects. UpTiLin can also be a tool for vocal processing when used as a vocal-doubler or with more subtle settings such as a reverb.
UpTiLin features:
2x chained BPM delays: 1 master delay and 1 stereo delay.
2 types of algorithm for pitch-shifting.
Stereo envelope follower with independent settings for L/R (attack and release) for shift engine 1.
Reverse/envelope-follower selection (type 1).
Filter section with envelope.
Input level.
Wet/dry signal mix.
Master pan.
Preset manager with copy/paste.
Complete new MIDI learn system implementation (now works in Cubase5).

Right click any knob.
Move hardware controller.
CC learned.
Double right click.
Knob is free of any CC.

New double-click on knobs to restore default value.
Price: 45 EUR.
We just received the very first shipment of Pittsburgh Modular Analog Delay modules. This module is awesome!
We're running a simple sequence using the Analogue Systems rs200 Sequencer, Livewire AFG, Division 6 Filtaire, Analogue Systems rs60 Envelope Generator, A.S. rs85 LFO, and the Malekko VCA. We used the LFO's triangle output to modulate the delay time, then the feedback amount. This is a really well designed and beautiful sounding delay module and we are happy that it's available now.

A basic initial overview of the awesome Pittsburgh Analog Delay module. Piston Honda is the audio source, with Maths and .VCA for shaping. The excellent Pittsburgh Timetable is driving a Rene', which provides quantized pitches to the Piston as well as non-quantized CV to the Delay Rate of the Analog Delay later on in the video.
The multi-band delay machine FDELAY is an exciting tool for sound design and loop manipulation in realtime. In contrast to the delay machines you're used to FDELAY splits the frequency spectrum of the input signal into 27 bands and applies a separate delay unit to each band. The delay times can be synchronized to the host tempo generating nearly infinite rhythmical and sonic variations of the input signal. For each of the delay bands you can specify the delay time, the level and the feedback amount separately. These parameter changes can even be automized in realtime for glitch free rhythmical morphings.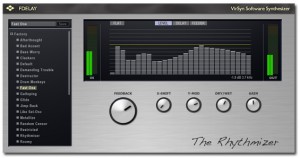 A few high level parameters let you change the delay times and feedbacks of all delays with the turn of a single knob
The Rhythmizer
– 27 band realtime multiband delay.
– Frequency dependant level, delay time and feedback
– Linear phase precision filters for maximal transparency
– Tempo syncable delay times up to 6 seconds.
– Meta parameter for quick access to rhythm variations
– Minimized latency ( 12 ms )
Host compatibility
– VST 3
– VST 2.4
– AudioUnit
– RTAS
Minimal system requirements PC
° Intel Pentium 4 / Intel Core Duo / AMD Athlon 64
° 1GB RAM
° Microsoft Windows XP 32bit or Vista 23/64bit or Windows 7 32/64bit
° USB port required for eLicenser copy protection device
° VST2.4 / VST3 / RTAS compatible host sequencer.
Minimal system requirements Mac
° Intel Core Duo.
° 1 GB RAM
° Mac OS X version 10.5 / 10.6
° USB port required for eLicenser copy protection device
° AudioUnit / VST2.4 / VST3 / RTAS compatible host sequencer.
This is a first demo of the newly revised GetLoFi Delay Kit. The kit will be available for purchase from GetLoFi.com/shop. The metal tines are mounted on a piece of wood with a Piezo pick underneath. The signal from the pickup is then routed directly into the LoFi Delay Unit and the output is routed strait to the audio recorder. The only controls on the delay unit are Delay Time and Delay Feedback. Unit turns on when an output cable is inserted. In the demo the unit is operated by an optional 9 Volt Wall supply.  The delay itself is based on the PT2399 Digital IC, only bare minimum of components were used to make assembly as simple as possible. No OP-Amps are present in the circuit.

WOK has released Echo Freeze Unit EFU-1, a universal echo delay unit with hold function for Windows.
"EFU-1 is more than another delay plugin. Besides all the basic functions (host sync or milliseconds, digital/tape/analog sound, modulation) it features a distinctive freeze function; like some famous hardware delay units, the delay buffer can act like a sampler. Up to 4/1 bars of input signal can be recorded (or lets better say: frozen) and continously played back at a selectable speed – even reverse.
But EFU-1 is more flexible than hardware devices: while a frozen audio segment is played back, the delay unit remains useable – even at a different delay time / sync divider! Also to hold and freeze a signal it is possible to first choose 'record' and then send audio to the plugin, or you continously play thru the delay and if the 'last loop' was interesting, you hit 'Record' to freeze it!
And while the recorded phrase is played back – even reverse, you may continue to play along with it thru the delay at a different time setting. By the way: feedback can be cranked up until nearly endless, and in millisecond mode, the delay time can be changed smoothly from many seconds to very short – producing these famous dub sounds!"
Price: 29 EUR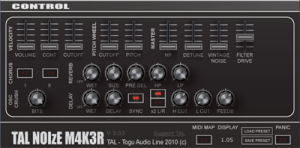 TAL has released an update to its free software synthesizer, TAL-NoiseMaker.
Here's what's new:
Vintage delay added (version 3.03).
Filter overdrive (version 3.03).
Own preset save and load functionality for preset exchange (version 3.03).
Osc 2 noise waveform added (version 3.03).
LFO 1/2, OSC 1&2 modulation support (version 3.03).
Full automation support. Drop downs also compatible with VST automation (version 3.03).
Changes in the preset management, single preset support (version 3.03).
Envelope Editor: Fix tempo option added (version 3.03).
Envelope Editor: One shot option added (version 3.03).
Envelope Editor: Reset button (version 3.03).
256 presets by Frank "Xenox" Neumann / Particular – Sound FN, The Unshushable Coktor TUC, Alexandra Sendy AS, Patrick Kunz TAL (version 3.03).
Small volume correction in the 24 dB filter at high cutoffs and full resonance (version 3.03).
TAL-NoiseMaker is available for Mac & Windows.