Flux Delay – new dual modulated delay VST effect plug-in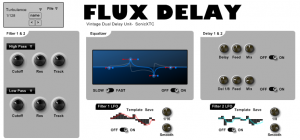 SonicXTC has released Flux Delay, a dual modulated delay VST effect plug-in for Windows.
Flux Delay is designed to re-create the classic high end studio effect chain of two independent stereo delay units processing a signal at the same time. By doing this producers can enhance the feeling of stereo space and/or make one instrument sound like two different instruments playing at the same time.
The Flux Delay allow musicians to craft the tone of each delay unit separately. The user can preserve the highs on one delay and emphasize the low end on another. The Flux Delay also allows producers the ability to create unique LFO waveforms, which can independently transform each ping pong delay over time.
Highlights:
Dual stereo delay units.
Dual variable filters.
Dual step LFOs.
4 Band Parametric EQ.
128 user presets.
MIDI automation.
Price: $29.99.
Comments