beatassist.eu says that Mantra Evo is a high capable synthesizer, combining FM and Phase Dist synthesis, all in one. Here's what they have to say about it…
Mantra Evo is based on an FM synth and a Phase Dist synth. Both of these synths are gifted with a morphing system that will morph the basic waves into some more complex ones. Each of these synths are also gifted with 5 envelopes (amp, pitch, filter, modulation and morphing). The modulation of these synths is based on FM modulation system using kbd and depth.
On the filter envelope you can tweak just cutoff, resonance or both. Each of these synths are gifted of an LFO with two targets, dedicated filter, free speed knob, sync option and waveform choice. There is a Chorus for each synth too, making your sounds phater.
The effects you can use for Mantra are Octave Stepper, Distortion, Reverb, EQ, Stereo Delay and Trancegate.
Each of the synths can be individually connected to any of these effects leaving the other off.
Mono Mode can be used with a high gliding range.
Mantra Evo runs on Windows XP/Vista/Win7/Win8 32-bits and 64-bits when bridged.

WOK has released MiniStepper, a free MIDI Step Sequencer Plug-in for Windows. Ministepper is designed to be easy to use.
There are 8 steps, each with velocity, gate length and mute. Several play directions, start- and end-step selectable on the fly. Sequence can be transposed by incoming MIDI notes (polyphonic). Host sync with dottet and triplet speed selection, swing, run on key press, MIDI-channels selectable for combined use, clear layout, free.
Price: Free.
easy#toolz has released Mormox Imitate, a free synthesizer instrument plug-in for Windows.
Its an "Emulation" of a very new Hardware-synth from Greece, called "Murmux Initate"
And it has a very "simple" Structure at Original: 2 Oscillators with Subosc, 2 waves (Saw and Pulse)
Lowpass-Filter, simple LFO, 2 Envelopes (one AD, one ADSR)… thats all

My "Emu" has some extra Features, indeed, i have tried to receive the brilliantly easy structure.
Mormox Imitate is available to download for Windows (VST) as freeware as part of the KVR Developer Challenge 2014.

Acrobatics has released Mate, a free synthesizer instrument for Windows.
Mate is a hands-on, simple desktop musicians friend, inspired by synthesizers of the seventies and eighties.

It produces original synth tones and reproduces strings, pianos, basses, organs and bells patches with ease, but it can also explore wild and spacey atmos using its flexible modulation options and smart programming.
Mate features
32-bit ultra-optimized code, zero latency, samplerate independent engine.
All sample rates supported.
Each control is fully recordable and automatable in host.
Most knobs & switches receive external MIDI control changes.
Mate for Windows (VST) is available to download from KVR Audio as part of the Developer Challenge 2014.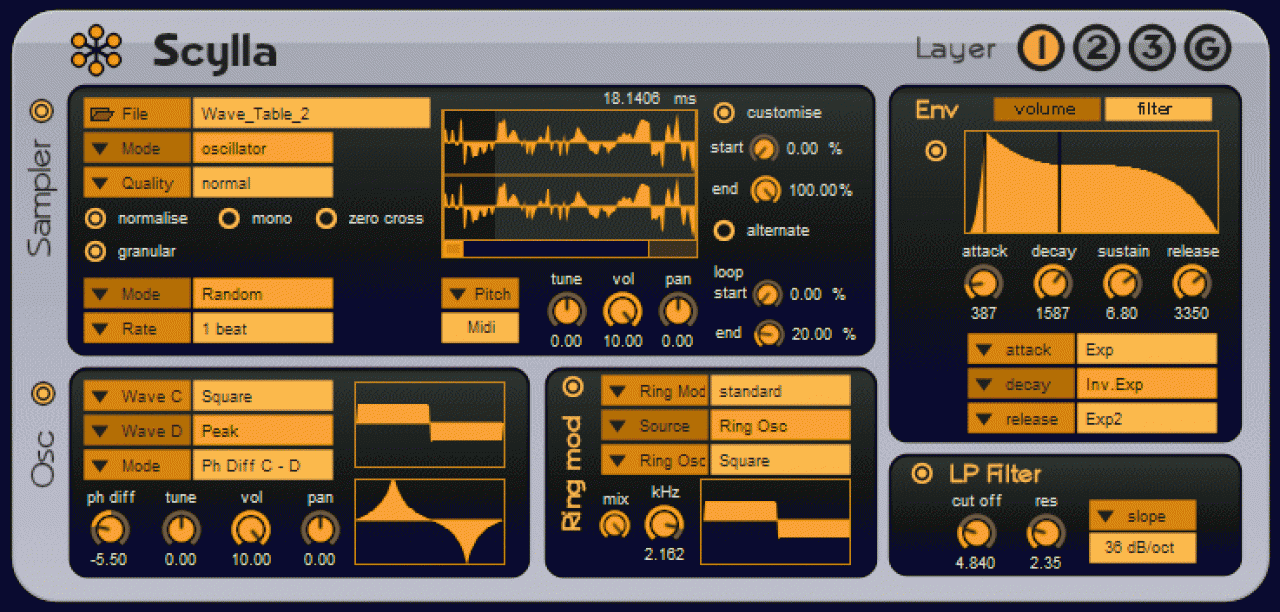 De La Mancha has released Scylla – a 32 bit Windows VST instrument – as a free download.
Scylla is capable of sample playback, combined with subtractive synthesis, to produce a wide variety of sonic possibilities, ranging from lush pads, soundscapes and effects, leads and bass.
Scylla includes three different types of oscillators that can be modified to a wide variety of styles and three built-in samplers that can accommodate .wav audio samples, which can be played back in grain table, waveform, sample or single hit format. All the audio can be modified and modulated through LFO, volume and filter envelopes, Ring-Modulation, and Unison.
Scylla has a tabbed interface with a different tab for each of the 3 layers and a Global tab for effects and LFOs. Each Layer is identical except each has a different type of oscillator, with a Cross-modulation osc, a Morphing osc and a Spectral osc
Features:
Three layers of programmable audio sources
Each layer consists of:

Sample player capable of loading full-length samples and custom waveforms
Oscillator (Dual-OSC with cross-modulation, Morphing OSC, Spectral OSC)

Each sampler features:

Playback: Oscillate, Play-Once, Loop-Release
Basic audio playback features (normalize, stereo to mono, zero-crossing)
Customizable Loop points
Granular and Wavetable playback
Loads any WAV format sample from your own library

96MB of sample content, including waveforms, samples and loops
128 presets by brian botkiller
All audio sources have independent tune, volume, and pan
Ring-Modulation per layer
Variable stage Filter per Layer
Adjustable Amp and Filter Envelopes per layer (Envelope contours can be changed)
Layer Assignable Granulator engine
2 layer assignable LFO effects for modulating ring-mod, cutoff (filter), and phase of one LF
Adjustable Global Amp Envelope
Mix level of each audio source can be adjusted
Mix level of each layer can be adjusted
Master Volume
Each audio source, envelope, ring-mod and filter can be switched off to save CPU
Midi CC support
Scylla is free to download.
The Asus VivoTab Note 8 is an affordable Windows 8 tablet with a Wacom digitizer screen. The VivoTab Note 8 is also a very nice musical sketchpad because it can run just about any Windows software within it's 2 gigs of memory limitation. All in all, it's a great tablet for creative work on the go.
Created with MAGIX Video deluxe 2013

B.Serrano tells us that IO is a set of VST effects for Windows driven by a sophisticated GUI envelope. He says that duration is theoretically infinite, so the envelope can run from 1 nanosecond to several minutes,even hours. Here's B.Serrano's descriptions of the individual effects:
Paraphonic multifilter
Multimode filtering: LP, HP, BP, Peak
Cascade filtering up to 4 stages (stack)
Advanced GUI envelope up to 32 stages
Loopable or 1 shot
Host-Bpm syncable
Individual curve-type for each segment
High precison editing
Stereo Phaser
4, 8 or 12 stages
Advanced GUI envelope up to 32 stages
Loopable or 1 shot
Host-Bpm syncable
Individual curve-type for each segment
High precison editing
Multi level adjuster
Advanced GUI envelope up to 32 stages
Loopable or 1 shot
Host-Bpm syncable
Individual curve-type for each segment
High precison editing
Multi level Auto-Pan
Advanced GUI envelope up to 32 stages
Loopable or 1 shot
Host-Bpm syncable
Individual curve-type for each segment
High precison editing
Ring Modulator
Advanced GUI envelope up to 32 stages
Loopable or 1 shot
Host-Bpm syncable
Individual curve-type for each segment
High precison editing
Pricing and Availability:
Free download.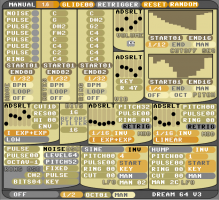 Odo Synths has announced the release of version 3.0 of Dream 64, the free Chip Synth VST instrument plug-in for Windows.
Dream 64 is not an SID emulator, but it's a plug-in that can recreate sounds that are used in chip-music. It's inspired by the SID chip from the old but good Commodore c64 but with some extra features for fun.
Main features:
All sequencers have a start and end loop but start always at step one.
Start-step never can be higher than the end.
Every sequencer has its own BPM rate or all have one manual rate.
8 step Wavetable sequencer with audio on/off (gate effect).
8 step Arp sequencer notes from c to c3 and one c4 note.
8 step Ring modulation sequencer notes from c to c3 and one c4 note.
A Bitcrusher only for the ringmod. This is nice if you use the Wavetable.
16 step easy to edit filter-sequencer. Can be used for nice bass sounds because it has an end step (will sustain).
Waveforms for the oscillator are saw, triangle, pulse, noise, ringmod mode. The noise is very special – it can be pitched by key or fixed.
Oscillator octaves from -3 to 2.
Ring modulation oscillator notes from c to c3 and one c4 note and a bitcrusher (this is nice for the wavetable sequencer).
2 LFOs with 21 waveforms BPM rates and manual with inverter.
The LFOs can start (key sync) (host sync) and (free run).
Destinations of the LFOs are pitch/pulse/ring osc and Filter.
2 modulation envelopes with inverter and BPM retrigger.
Destinations Pitch/pulse/ring modulation.
Filter Envelope can be switched to the filter sequencer.
filters lowpass/hipass/bandpass/low and hipass/band and hipass/band and lowpass.
Random for most of the controls.
Reset most of the controls.
Double click is reset for most of the controls.
Bitcrusher before and after filter.
Dream 64 is a free download at http://chips.site90.com
Torn Sub has released Byron, a VA-style organ synth for Windows that offers 3 oscillators with a 50 waveforms sound engine in each. Each sound engine has a secondary engine which gives the ability to morph the driving waveform to another one and to combine the whole 3 oscillators together, so that method can create a wide range of organ sound combinations.
Apart from the engine, each oscillator has its own sound engine designing section, envelope, powerful 5 states filter (low pass, high pass, band pass, band reject, peak) with its own envelope, 2 LFOs (one for the amp, one for the filter) and 3 built-in effects: equalizer, tube and bass tube, so in fact, every oscillator can perform as a complete instrument. Each oscillator also has its own ability to send itself to each of the global effects directly from the synthesis section, with only a single button press.
Byron reduces the use of the mouse to the necessary minimum as it has been built according to the "one click" approach and is suitable for touch screens. No matter if it comes to choosing a new preset or just leaping to another section, everything is bright and clear and done with only one click. This approach is particularly evident in the preset manager section: In addition to the traditional method, every preset gets its own knob on the panel with its name on it, and will help to find sounds easily and efficiently, with only on one single click.
Byron is equipped with 8 master effects (tube, bass tube, overdrive, phaser, chorus-flanger, reverb tremolo and delay) alongside a wide MIDI section.
The MIDI section contains some new features like "octaver" effect, MIDI limiter (limits the maximum velocity gain to a specific value), Fixed velocity (plays any note with a specific velocity), a separate "MONO MODE" with portamento effect for each oscillator, "MIDI learn" possibility for every Significant knob and "MIDI split" that splits the user's keyboard into 2 ranges, low and high, allows the user sending each of the 3 oscillators to a selected keyboard range with only one button press.
Byron gives the possibility to combine the beloved drawbars method and obtain an organ playing experience with 9 drawbars that divide the frequency spectrum into 9 frequency ranges. The user may choose to turn on\off sending each oscillator's signal via drawbars separately from the oscillator's synthesis section with only one button press.
Pricing: For 39$, customers will get licenses for three computers on the first purchase for both Windows VSTi and stand-alone versions. Each extra license for both versions will cost 13$.
Find out more at www.tornsub.com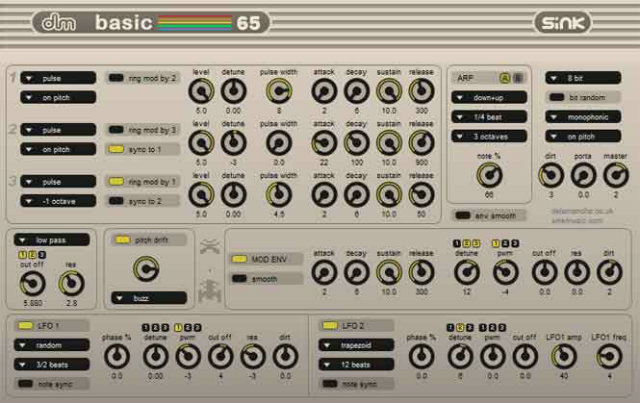 de la Mancha is continuing to put synths that were previously available for purchase online as free downloads. The latest is a monophonic synth, basic 65, inspired by the classic 80s home computer, the Commodore 64 and its legendary SID chip. Building on the waveforms and signal path of this famous chip, basic 65 adds further features and options to take things a step further. Here's more details:
The double arpeggiator allows complex versions of that retro 8-bit game sound and the modulation options inspire experimentation via the mod envelope and 2 comprehensive LFOs. Pulse width modulation, ring modulation and oscillator detune/sync are key ingredients in the signature sound. Throw in some pitch drift, bit drift, a sprinkle of dirt and randomisation and you have a wide range of lofi, chiptune, retro-tastic sounds at your disposal.
This version is the update to the popular basic 64, redesigned from scratch, with many improvements, new features and all new presets. basic 65 was co-developed with sink, who also made the amazing presets.
Features
Monophonic synth in VST format for Windows based hosts
3 oscillators with pulse, saw, triangle and noise waveforms
Pulse width can be modulated by envelope or both LFOs
Each oscillator can be sync'd to another and/or ring modulated by another
Each oscillator has its own ADSR envelope and can be routed to filter individually
Resonant filter with low pass, high pass, band pass and notch modes
2 tempo-sync Arpeggiators in series for complex arp sounds
Arp tempo, range and note length can be adjusted
Modulation envelope can control pulse width and pitch of individual oscillators as well as filter and dirt
2 tempo-sync LFOs with wide range of waveforms, including random
Both LFOs can control pulse width and pitch of individual oscillators
One LFO also controls filter and dirt, the other can modulate the depth and speed of the first LFO
Envelopes are non-linear and can be retriggered from zero or smoothed on each new note
Pitch drift models instability with variable depth and frequency
Options for 4, 6, 8, 12 or 16 bit audio with randomising feature
Developed with SE 1.1, so no problems with multiple instances
128 presets by sink covering arps, leads, bass, drums and lofi sounds
Pricing and Availability:
basic65 VSTi for Windows used to be a payware plugin, but is now free to download. However, if you like and use any de la Mancha plugins, please consider donating to Cancer Research UK in order to help care for and find a cure for cancer sufferers.