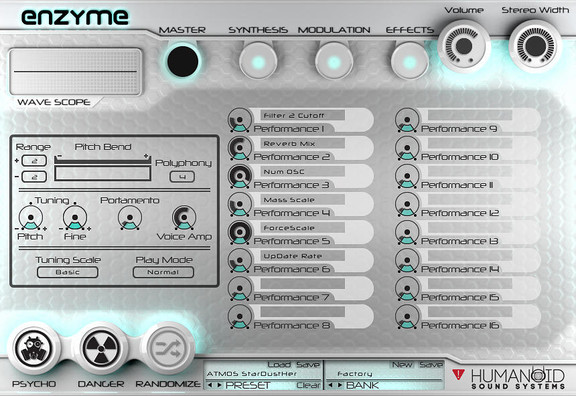 Humanoid Sound Systems has released a public beta of Enzyme, a "scanned synthesis" instrument for Windows and Mac.
Enzyme incorporates all the popular features of our Scanned Synth Pro, but takes its scanning synthesis in several new directions simultaneously.

Sample import is now available so you can resynthesise existing sounds with automatic pitch detection and click-free looping, while Hybrid Scanned/FM synthesis is also on offer for even more sonic possibilities.
Enzyme features
Next generation Scanned Synthesis Engine with Sample import function & Hybrid Scanned/FM synthesis options.
Multiple scanner options for fatter 'Unison Mode', brighter 'Harmonic', or imported 'Explorer Mode' with imported samples.
New Effects Rack, allowing practically unlimited layering of effects such as analog modelled filters, reverb, chorus, flanger, and destortion.
Automatable performance controls, allowing control of important parameters from a single location and multiple parameters to be controlled using a single control.
Alternative tunings.
VST 2.4, Audio Units (AAX Support coming soon).
Support for both 32 and 64 bit architectures under both Windows and OS X.
As with SSP, each Enzyme voice includes a complex Scanning Oscillator with hammer, wave, mass and connection matrix controls, a 7-mode resonant filter, three ADSR envelopes and two LFOs, and a separate Multi-Effects section featuring reverb, tempo-synced echo, chorus, flanger and 7-mode resonant filter.
Enzyme for Windows and Mac (VST/AU) is available to purchase for $49.99 USD. Note: This is still officially a beta version of Enzyme but it is totally safe to run on your computer.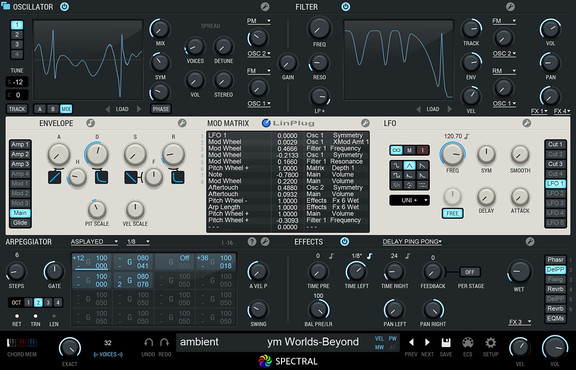 LinPlug has announced the release of Spectral, a new synthesizer instrument plugin for Windows and Mac.
If you are familiar with subtractive synthesis, you will feel right at home with the Spectral, because you can choose an oscillator waveform, choose a filter shape and go on from there.

But Spectral delivers far more options than you would expect from the well sorted user interface. Both Oscillator Waveform and Filter Shape can be edited in depth. The unique audio engine is capable of delivering many sounds never heard before.
Spectral features
Four Oscillator and Filter modules with powerful yet detailed harmonics and filter band editing and modification functions.
Extensive Oscillator and Filter audio rate cross-modulations..
Versatile Arpeggiator with in depth editing of every step, including length, transpose, voice number and Glide.
Each Oscillator and Filter with own dedicated envelope to control its volume or frequency respectively.
Additional 3 freely assignable Modulation Envelopes..
Five LFOs with various waveforms, up to 320 Hz, tempo-sync, poly-, mono- and one-shot-mode, unipolar and bipolar options, integrated delay-attack-envelope, phase, symmetry and smoothing adjustable.
15 slot Modulation Matrix with 35 sources and more than 100 destinations including all important parameters.
Fully recognizes Velocity, Aftertouch, Pitch Bend , Modulation-Wheel and various other MIDI controllers.
A sophisticated effects section containing 15 Effects including various Delays, Chorus, Phaser, Filter, Reverb, Flanger, Gator, Stereo Enhancer, Parametric EQ and Crusher.
Glide / Portamento featuring mono/polyphonic operation, constant Time / Rate operation, Auto-Bend Modes and detailed options on where Glide takes place.
32-voice polyphony (CPU and sound program dependent) and adjustable voice limit.
Supports AU and VST hosts on Mac OS X and Windows PC.
Scaleable user interface on PC.
Comes with 850 presets to get you started.
Spectral is available to purchase for the introductory price of $99 USD until December 31st, 2013 (regular $149 USD).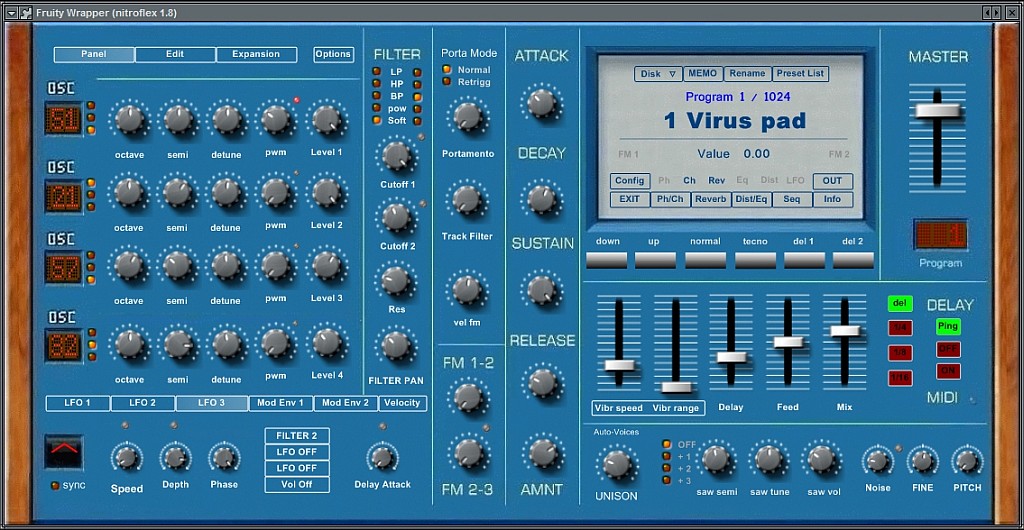 Synthblitz has released version 1.8 of the Nitroflex synthesizer instrument for Windows.
Nitroflex is a powerful, feature packed virtual synthesizer that is well suited for professional music producers, enabling them to create unique waveforms.

The new version introduces 2 new LFOs, 300 new presets for a total of 1024, and other new features.
Changes in Nitroflex v1.8
300 new presets for a total of 1024.
2 new LFOs for a total of 3 LFOs.
Added in "edit" panel "single cycle waveform from disc".
Fixed "waveform random generator".
Adding controls for multiplication and subtraction (in edit panel).
New "Output" for create 3d sound.
New "Options menu" in the principal panel.
New Vibrato setting (vibrato attack,delay,speed,range,velocity and more).
The main panel has been modified to simplify access to functions.
Solved the problem in Cubase (preset recall).
Added new LP filter.
Added 80 new waveform files in the folder.
interpolation and normalization of each waveform before and after the mathematical operations.
Nitroflex is available to purchase for 49 EUR.

Sound Magic has announced the release of Neo DynaMaster, a dynamic processor effect plug-in for Windows and Mac.
Neo DynaMaster is a full-featured, multi-purpose stereo dual dynamics processor utilising a unique custom designed metering system and modelling engine, providing emulations of many vintage units, e.g. SSL, Tube-Tech and so on.

Neo DynaMaster performs simultaneous compression and expansion allowing more complex dynamics response curves than common compressors and provides huge scope to engineer your final sound. Neo DynaMaster's intuitive GUI allows you to precisely edit view the dynamics response curve which is essential if you want to take full control of your dynamic range.

The comprehensive metering section comprising Peak and RMS bar meters, multi-channel scope, and Input/Output volt meters continuously provides all the information you need to better control your dynamics and levels.

Neo DynaMaster features a transparent, natural sound. In order to achieve this, Neo DynaMaster utilises a new, custom designed Peak Metering system to provide an unrivalled stable metering signal which eliminates audible level modulation artefacts while still retaining sample accurate transient detection resulting in -122dB THD+N (Total Harmonic Distortion + Noise); far below the human audible range.
The plug-in is available to purchase for 99 EUR.
Saltline has announced ADHDidi, a free additive synthesizer plug-in for Windows.
Created for facebook fans as a thanks for their feedback and support, ADHDidi is an additive synthesizer comprising of 16 sine waves tuned to different frequencies (fundamental plus the first 15 harmonics).

Facebook fans were asked what they would like as a free download exclusively for them. We received many suggestions and settled on James Jason Duckett's idea of creating an additive synthesizer.
ADHDidi for Windows (VST) will be available soon as a free download from the Saltline Facebook page.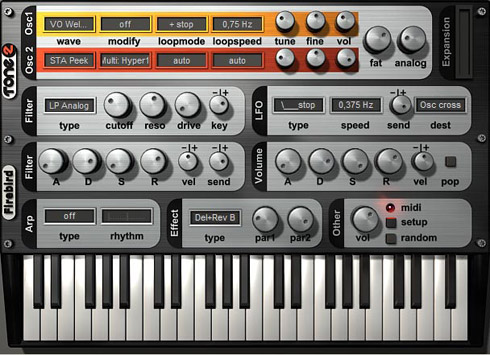 Tone2 Audiosoftware has released its FireBird 2 software synthesizer instrument for Windows as a free download.
Here's what they have to say about the free soft synth:
After seven years of faithful service, the time has come to set the bird free. Firebird itself has become vintage and even though it's no longer profitable to remain a commercial product, we feel that more people should deserve an opportunity to enjoy this sometimes heavily underestimated synthesizer.
Which is why we decided to release one last update and turn the product into freeware (previously $79). We want to say a big THANK YOU to all customers who supported the development of Firebird and other Tone2 products, by purchasing our software.
FireBird 2 for Windows is a free download here >>
Features
Very easy to program and easy to use

A unique sounding synthesis: Harmonic content morphing (HCM)

High sound quality: Warm, transparent

437 hand picked presets included, over 1000 sounds available

84 oscillator types containing 18,000 morphable waveforms

38 different filter types

True stereo mode, 4x unison mode, and up to 8 oscillators per voice

Can sound like other synthesis methods – additive, subtractive, AM, FM, phase distortion, supersaw, vocoder, sync

Can sound like natural instruments like piano, brass, organs…

23 spectral manipulations or "modifiers" can be applied to the oscillators

21 arpeggiator types

13 effect types

Skinable user interface

Prysm Audio has released Monosc, a free VST synth for Windows.
FEATURES:
One oscillator (Sine, Saw, Triangle, Square).
Unison, from 1 to 16 voices.
Unique filter with 4 filter types.
Polyphony (Monophonic Portamento)
Easy-to-use

J1000 has released two new free VST plug-ins for Windows. Here's the details:
MQ55
Parametric mixing equalizer based on MQ57. Most of the functions are the same, except that MQ55 operates only in stereo mode, has more flexible pass filters and has gain ratio that acts like dry/wet control. This is my go-to EQ for music production.
SX36
Three-band stereo processor that separates audio into low, mid and high frequencies and lets you manipulate their stereo properties – width and panning or rotation. Crossover points are easily adjusted with single knob. It has simple meters for each range showing correlation or panning. High-pass filter cuts unwanted frequencies on side channel for more stable bass.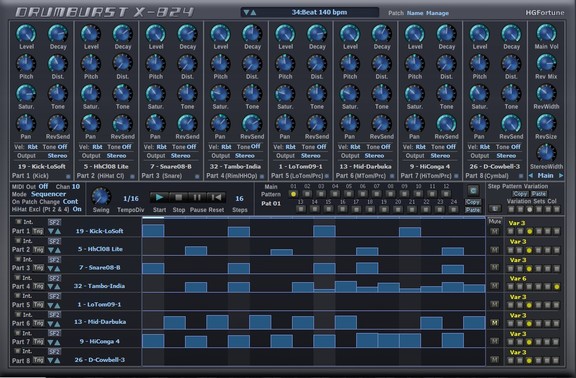 H.G. Fortune has announced the releases of DrumBurst X-824, a free drum machine plug-in for Windows.
Finally here it is: DrumBurst X-824, and the good news is it is free. The bad news, well, not really bad as only temporary this is my last Synthedit based plugin. Thus it marks the end of a 10 years era. Now I'm looking for new tools to create plugins in future, but this may take some time.

DrumBurst is an 8 parts drum machine with 64 waves at each slot making 512 waves in total: not too much for a quick selection but a good variety to work with.

The inbuilt sequencer features 24 Main Pattern each based on the combination of a dedicated wave, Mute status and 1 out of 6 Step Pattern variations per part. This provides a lot of variation and less of programming effort as pattern can be re-used with a different instrument.
DrumBurst X-824 for Windows (VST) is available to download here.

Odo Synths has launched a first beta version of its Dream Drums synthesizer instrument for Windows.
NEXT update will have a noise synth
distortion for all the synths
Multi outs
Midilearn
The beta is available to download for Windows (VST).