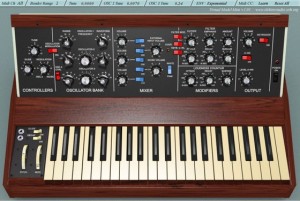 Elektrostudio has released the Virtual Model Mini, a virtual synthesizer instrument for Windows.
Virtual Model Mini features
Polyphony: Monophonic.
Timbrality: Monotimbral.
Oscillator: 3 VCOs, white/pink noise.
LFO: Oscillator 3 can function as LFO.
Synthesis type: Analog Subtractive.
Filter: 24dB/oct, 4-pole lowpass filter, resonance, ADS envelope generator, key tracking.
Attenuator: ADS envelope generator.
Effects: Frequency modulation using oscillator 3/noise.
External Signal: Feedback mode in VSTI version.
The Virtual Model Mini is available as a freeware VST instrument plug-in for Windows.
KX-Polymod is a free modular synth for Windows, inspired by Klaus Schulze, who the developer calls "my electronic music reference.
Features:
Stereo routing.
Up to 6 voices.
15*12 Matrix controlled by 5*5 Sub matrix, include 4 Kxmod sources!
5 Vcos with 5 waveforms, include the TriSaw, with Phase modulation and Sync (Vco1 only).
Oscillators 100% compatible with the Kx-Modulad's waveforms (med, 498k).
1 Stereo SF2 player (16 and 24 bits).
1 SF2 drum set (24 bits, 12 samples, 3.3 Mo).
4 Keyboard traking (-10 to 10) for the Vcos and the Vcfs.
1 Ring Modulator with EQ.
1 Noise Generator with EQ.
1 Monophonic LFO with ADSR.
2 Mulitmode VCFs (20) with oversampled processes.
4 Polyphonic EGs with curves for each segment, velocity and Kbd controls.
1 X Y joystick controller.
1 Sample & Hold.
10 host sync clocks.
1 compressor.
1 oversampled Distortion.
1 Soft Vintage EQ.
2 Delays with sync, multimode filter and modulation oscillator with sync.
1 Scope with 10 ms of buffer size.
1 Frequency display.
1 Note pad.
Full Midi learn.
Internal Fxp and Fxb management.
128 KX's presets, very 70′s!
KX-Polymod is a free download here >>
Background video description:
Sometime I like to do some improvisation like K. Schulze,
just because this author is my electronic music reference.
I give my apologies for the listeners because
this is not really always correctly played!
It's just some ideas, a moment, not really solid …
All tracks are done with the Kx-PolyMod, also the drum tracks with its SF2 player.
The way to do this kind of music is always to start with a simple sequence.
I transpose all tracks with the bender, it is limited but I can do that when I feel it.
I used the Kx-MidiFilter to create a bender track.
I used few Kx-synth-x16 voices to do the background sequence (x16)
and one track of the X16 sequencer is used to control drums
with a plate reverb does with the Mverb.
Some sample and hold fx chord tracks are synchronized with the tempo.
The lead is an imaginary Moog lead like KS's albums of 70's.
Win8ChucKBasicFrettingAndLegato Wi Fi, details below:
I got basic fretting (loose fretting… it won't completely prevent quartertones, etc if you play them exactly), and legato rules. I am back to the ChucK engine while I get better acquainted with SuperCollider coding. This is just a Windows 8 based OSC controller. It works running into ChucK or SuperCollider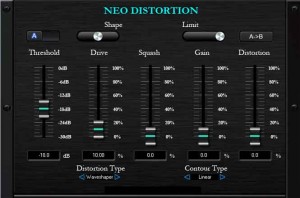 Sound Magic tells us that Neo Distortion is a distortion effect unit which features a 2-stage distortion Overdrive, followed by 4 optional distortion units including a Waveshaper, Fuzz, Soft Distortion and Contour.
They say that it provides meticulous controls for the 4 distortion types and combined with the Overdrive unit, you can build your own style of distortion to feature your unique sound style.
Features
Internal 64-bit floating point precision.
2 Stages Distortion, First OverDrive, Followed by 4 optional distortion units including a Waveshaper, Fuzz, Soft Distortion and Contour.
Support up to 32Bit/384KHz resolution.
Pricing and Availability:
Neo Distortion costs €49
More information:
Polyphonic Full-Modular Synthesizer with Patch-cable system, "Kamioooka"
VST Instrument 32/64bits for Windows freeware.
Participated in KVR Developer Challenge 2012.
http://www.kvraudio.com/kvr-developer-challenge/2012/
Jordan wowing us in his piano room at his home in NY. I just set up the PC (Jordan's first PC) and installed the apps before Jordan sat down to play. The PC is a Lenovo A720 running Windows 8 RTM, with 10 point multi-touch at 1920×1080. The app is MorphWiz by Wizdom Music.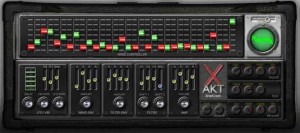 Krakli Synths has released the XaKT synth. A spokesperson had this to say, "A completely new plugin from the Krakli dungeon. This spectral synth is gifted at dark textures and sounds with plenty of movement. Take the time to become accustomed to its unusual interface and you will have a real beast on your hands."
Pricing and Availability:
Free download.
More information: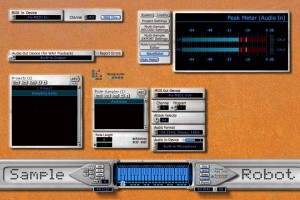 SKYLIFE has announced an updated cross platform version of their premier sampling suite, now available for both Mac OSX and for Windows OS. SampleRobot Pro and Multi-X are now upated to version 4.25 with optimized cross-platform support for Mac OS X and Windows 7. Furthermore an updated operation manual is included.
About SampleRobot 4:
With SampleRobot 4 Pro you can easily do automatic sampling of acoustic and electronic instruments. It does not matter what you would like to sample: orchestral instruments, choir, organs, electric guitars, ethnic percussion, adlips, sound scapes, noises, MIDI gear, virtual instruments, alpenhorns or whatever, SampleRobot makes your sampling as fast and as satisfying as possible. SampleRobot samples all sound nuances automatically and creates high-end sampled instruments in various formats. Seamless integrated WaveRobot software finds perfect loop points even for whole multi-samples with different velocity layers during recording. It was never easier to build professional-sounding software instruments.
Benefits of SampleRobot:
* Feed your compositions with inspiring samples from the world outside your studio
Create digital copies of your favorite instruments and sounds;
* Borrow instruments and keep a virtual copy (abiding by relevant copyright laws and license agreements of course);
* Build and sell/share your own sample libraries;
* Have all your sound hardware on your hard disk and travel with your laptop;
* Buy used gear and resell it after automatic sampling;
* Use all your software instruments cross-platform
* Work in other studios or on stage without carrying additional sound expanders;
* Play monophonic instruments polyphonically;
* Total recall for every session.
SampleRobot Multi-X is available as download alternatively with and without WaveRobot.
Learn more at: http://www.samplerobot.com/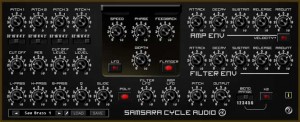 Thursday morning freebee stuff – Saw Wave synth, details below:
Samsara Cycle Audio has released the Saw Wave SynthesizerVSTi.
Features:
4 Pitch controls with selectable 'feet' switch in the range of 32′ 16′ 8′ 4′ 2′
Filter Section: Cutoff Resonance with individual level controls
Filter Pass Mix Section: Low Pass, High Pass, Band Pass and Q settings
Glide
Mono / Poly Selector
Filter and AMP section LFO Level Control
AMP and Filter Envelope Sections: Attack, Decay, Release, Sustain and Amount
LFO Section – Selectable Host Sync Function
Flanger effect: Speed, Phase, Feedback and Depth Controls
Pitch Control
Output Level Control
Midi Learn
Pricing and Availability:
Free download.
More information: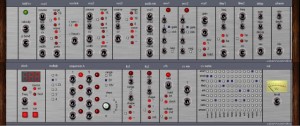 Meesha has released a free modular synth for Windows, Datmatriks:
Damatriks is a "classic" modular synthesizer system VST plugin, inspired by the modular analog synths. With many different modules in place, endless creativity is guaranteed. These modules can be patched using a CV (control voltage) matrix module, creating complex CV patches.
Modules:
MIDI/cv
vco type 1 (2)
vco type 2
vco link (sync/Xmod)
mixer (with noise gen)
envelope type 1 (2)
vca type 1
filter type 1
filter type 2
delay
phaser
clock (with multiplier)
stepsequencer
lfo type 1
lfo type 2
s/h
cv mixer
cv matrix 9->14
output
It's a free download at the Meesha site.