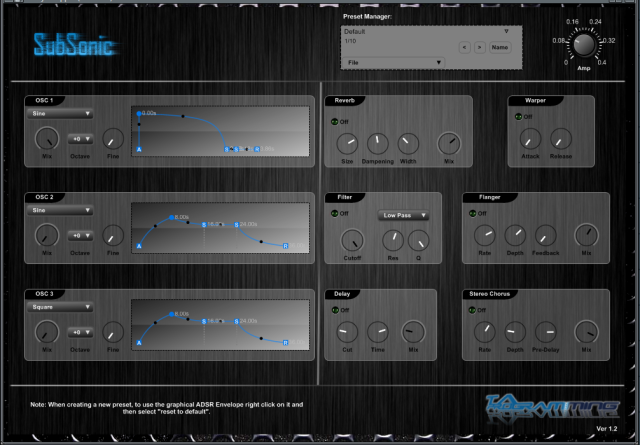 TA Programming has released a new free subtractive software synthesizer, SubSonic.
Features:
3 Oscillators (Sine, Sawtooth, Triangle, Square, Noise) with detune
Graphical ADSR Envelope
Multiple filter selection: Low Pass, High Pass, Band Pass, Band Reject, and Peaking.
Fully customisable reverb module
Delay Module for standard Echo delay effects.
Stereo Chorus
The Flanger module is versatile and powerful, combining overall sound of the 3 oscillators and using a sine wave to phase invert the sounds before adding feedback. This can give 'unearthly sci-fi like textures'.
The Warper: This module is an envelope modulator. Aviss notes that some 'wacky timbres can' be made using this.
Amp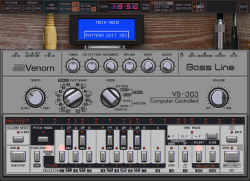 Venom VB-303 is a free software synth that simulates the iconic sound of the Roland TB-303 bass synthesizer.
It's Windows only – so sorry all you Mac users out there (including myself) 😉
It's available for download here.
Here's a user video demo:
Go get it
Josh Morky – a Mac user for 10 years and also an iPad music app fan – was intrigued by the new Windows 8 Surface tablets
I've been a mac user for almost 10 years now and recently learned about the new Windows 8 taking the leap into touchscreen. More or less all new windows computers are touch. Its pretty obvious from the thousands of apps that have popped up on the iPad in recent years that performing electronic music on a touch screen is fun, expressive, and kind of what we've all been waiting for. It just makes sense. Ive used an iPad for playing music – which I love – but can't help but feel that Apple is purposefully limiting its potential. File management is a nightmare, and multitasking just doesn't work. The iPad is brilliant at making sure you get all your apps, music, movies through Apple. By controlling your work/data flow, they make more money – a good business model, but not good for the creative user.

Windows 8 seemed too good to be true, but nobody on the internet has been writing about it. I decided to take the leap and bought a Microsoft Surface. Best Buy has a great return policy, so if I didn't like it, I could always return it….

Basically, I ended up loving this thing. The operating system looks great, works great, and is altogether fun to use. Multitasking and switching between programs is great, and its really fun to be able to use a pen/stylus in addition to touch (its super precise and pressure sensitive). It really feels like the future of computers. I use a new 15″ macbook pro in my studio and a new 27″ imac at work, and now it feels like a bummer every time use them. They feel outdated. Trying to use the iPad is even more depressing. There are a lot of new windows tablets/laptops out there – but there are two things that made the Surface appeal to me more: 1) it comes with a pen (which helps if you need precision – especially with such a small screen – and taking notes or drawing is a lot of fun) and 2) the kickstand. I didnt really realize how nice it would be to be able to prop up a tablet – the ipad can be annoying to use in a lot of situations because it doesnt have one. Other things that are awesome is that it supports flash (Hulu!) and has usb – so you can use external drives, midi controllers, audio interfaces, etc….

Using Reaktor is great. I personally hate having to use midi controllers whose interface bears no resemblance to the patch Im using, and touch OSC on an ipad can be buggy and you have to create templates for every patch you use and end up constantly changing your template if you change anything in your patch. I also dont want to have to take 2 computers to a show, I want a tablet up there with me and thats all. Surface does this. Reaktor is really responsive and expressive – but it doesnt support multitouch yet. I thought this would make it pointless to use on a touchscreen, but I barely notice it. There are times it would be great to use multitouch, and things could definitely get more interesting with multitouch, but even just touching one thing at a time completely blows away using a mouse/midicontroller/touchOSC.

I tried using Ableton and it was super buggy with touch. You'd need a mouse, but even then, the screen on the Surface is just a bit too small.

As much as I loved the Surface, I ended up returning it. My car required $1000 to fix the day after I bought this thing, and as close to perfect as it was, the screen size of the Surface is just a bit too small for performing. At 10.1 inches, it has the same problem as the iPad in that you can't fit too much on a screen without making the controls too small. Its fine if you miss a knob when you're working in your studio, but in a live setting, you'd want something you can reliably hit 100% of the time. Unfortunately, most of the windows tablets are around 10/11 inches – and for some reason the idea of getting a laptop sounds too old fashioned to me – I DONT want a keyboard. Im going to wait around a little bit till things like the Dell XPS 18 come out (an 18 inch tablet with a sweet kickstand thats even more versatile than the Surface's – though doesnt have a pen) or Microsoft comes out with a second edition (rumors are that they'll make a 14 inch version, which sounds like the perfect size for mobility, home use, and performance). In the next 6 months a ton of new computer sizes/formats will be coming out – and they'll get cheaper. When the perfect one comes out, I'll be ready for it.

What REALLY needs to happen is that software companies need get on board. Theres not much yet that takes full advantage of multitouch. It'll come, but its not there yet. This is really exciting – its the obvious next step in the evolution of the computer. Windows made a great new operating system, now its the software companies turn to take advantage it.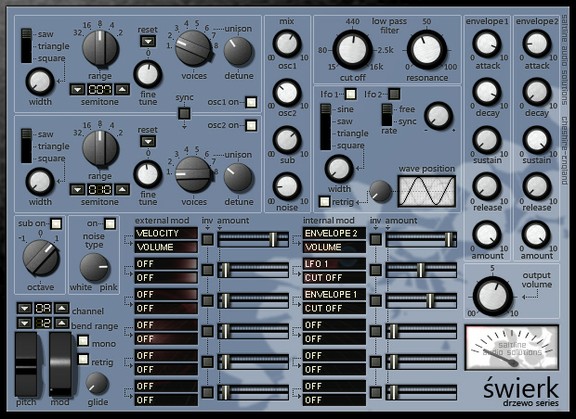 Saltline has released Świerk, a free synthesizer plug-in for Windows.
Świerk is a simple VA subtractive synthesizer. It's layout and signal path allows the user to create sounds quickly and with ease.
Świerk is available to download as a freeware VST instrument plug-in for Windows.
Features:
–2 Oscillators (each consists of the following)
–3 waveforms (Saw, Triangle and Square)
–Width (Square waveform)
– Octave range (32, 16, 8, 4, 2)
–Semitone (-12 to +12)
–Fine tune (-1 to +1 semitone)
–Unison/detune (up to 8 voices per oscillator)
–Sync (Oscillator 1 master, Oscillator 2 slave)
–1 Sub Oscillator
–Sine wave
–Octave range (-1 to +1 octaves)
–1 Noise Generator
–Noise type (White/Pink)
–Mixer
–Volume for each sound generator (oscillators 1+2, Sub and Noise)
–Low Pass Filter
–Frequency cut off
–Cut off point resonance
–Envelopes
–2 ADSR envelopes (Attack, decay, sustain, release)
–Envelope amount
–2 Low Frequency Oscillators (LFO) (each consists of the following)
–4 waveforms (Sine, Saw, Triangle and Square)
–Width (Square waveform)
–LFO rate (user defined/sync to host)
–Wave cycle re-trigger
–Re-trigger wave position
–Master Volume
–Midi Control
–Pitch bend wheel
–Pitch bend range (1 to 12 semitones)
Modulation wheel
–Midi channel (All, 1 to 16)
–Re-trigger
–Mono mode
–Left click controls for midi learn, unlearn and edit
–Internal Modulation Matrix
–8 Modulation slots (with invert source signal and source to amount control)
–4 Sources
–Envelope 1
–Envelope 2
–LFO1
–LFO2
–12 Destinations
–Oscillator 1 pitch
–Oscillator 1 width
–Oscillator 1 mix
–Oscillator 2 pitch
–Oscillator 2 width
–Oscillator 2 mix
–Sub pitch
–Sub mix
–Noise type
–Noise mix
–Filter cut off
–Master volume
–External Modulation Matrix
–8 Modulation slots (with invert source signal and source to amount control)
–5 Sources
–Pitch wheel
–Mod wheel
–Velocity
–Aftertouch
–Kef follow
–24 Destinations
–Oscillator 1 pitch
–Oscillator 1 width
–Oscillator 1 mix
–Oscillator 2 pitch
–Oscillator 2 width
–Oscillator 2 mix
–Sub pitch
–Sub mix
–Noise type
–Noise mix
–Filter cut off
–Master volume
–LFO1 rate
–LFO1 width (Square waveform)
–LFO2 rate
–LFO2 width (Square waveform)
–IM amount 1 (This sends the chosen source signal to the amount of internal modulation
matrix slot 1 e.g. You select "MOD WHEEL" as your source, you select "IM AMOUNT 1"
as your destination. The mod wheel will now control the signal amount of Internal modulation
Slot 1)
–IM amount 2
–IM amount 3
–IM amount 4
–IM amount 6
–IM amount 7
–IM amount 8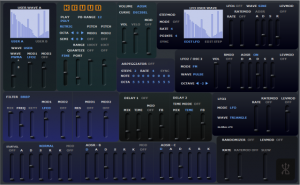 Xenobioz has released Kruud, a free hybrid Synthesizer that offers 'a lot of modulation capabilities.'
Features:
1 Oscillator with low resolution user waveforms, and a few normal waveforms inlcuding
noise.
1 LFO with OSC,FM, Audio rate modes.
1 LFO with low resolution user waveforms, and a few normal waveforms inlcuding noise.
A Randomizer
3 ADSRs
A Filter with 9 different modes
1 Delay with tuned mode for physical modelling.
1 normal delay
Both delays can be modulated
1 Arpeggiator
1 Step modulator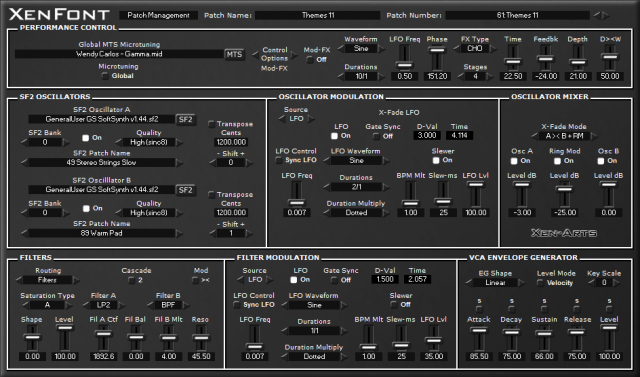 Xen-Arts has released XenFont – a two oscillator, hybrid SF2 SoundFont & Subtractive Synthesis VST for Windows.
It features full-controller MIDI Pitch Microtuning, using the MTS (MIDI Tuning Standard) format, where any MIDI Note Number can be freely microtuned to any desired pitch across the MIDI range, enabling computer musicians and composers to explore the expressive possibilities of composing music with alternative intonation systems.
XenFont is 'a microtonal sound-designer's SF2 sample-based synthesizer', with a carefully designed workflow for quickly creating powerful sounding and musical useful timbres. The instrument lets you load your own SF2 SoundFont files. Routing the SF2 SoundFont Oscillators through the internal synthesis functions of the VSTi, provides a way to radically transform the original sounds and create new synthesized timbres.
XenFont is also an educational tool for learning about computer music sound-design, sampling and subtractive sound synthesis, as well as musical instrument intonation (aka microtuning and xenharmonics).
Key Features:
Load your own SF2 SoundFonts into a fully microtonal, hybrid sampling & subtractive synthesis based VSTi.
A 'knob-less' design featuring slider controls only, which enables intuitive direct control with a computer mouse.
A dedicated control signal system mapped to the most important synthesis functions.
Settings are made by typing values into fields, dropdown lists, left-and-right arrows, switches and sliders.
Specify precise microtonal pitch-bend settings.
Features arbitrary microtonal oscillator transposition settings.
Velocity modulation of harmonics enables dynamically playing harmonics of the fundamental pitch.
Envelope generators with per-stage ADSR keyboard tracking.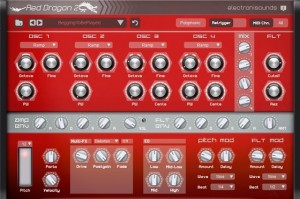 Electronisounds has announced version 2 of its Red Dragon software synthesizer for Windows.
Changes in Red Dragon 2
Completely re-coded engine.
NEW GUI.
NEW built-in FX (Chorus, Delay, Distortion, Flanger).
614 ALL-NEW presets, plus the original 384 presets for a total of 998 presets.
Built-in preset browser.
and more.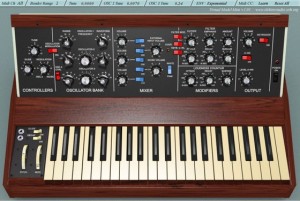 Elektrostudio has released the Virtual Model Mini, a virtual synthesizer instrument for Windows.
Virtual Model Mini features
Polyphony: Monophonic.
Timbrality: Monotimbral.
Oscillator: 3 VCOs, white/pink noise.
LFO: Oscillator 3 can function as LFO.
Synthesis type: Analog Subtractive.
Filter: 24dB/oct, 4-pole lowpass filter, resonance, ADS envelope generator, key tracking.
Attenuator: ADS envelope generator.
Effects: Frequency modulation using oscillator 3/noise.
External Signal: Feedback mode in VSTI version.
The Virtual Model Mini is available as a freeware VST instrument plug-in for Windows.
KX-Polymod is a free modular synth for Windows, inspired by Klaus Schulze, who the developer calls "my electronic music reference.
Features:
Stereo routing.
Up to 6 voices.
15*12 Matrix controlled by 5*5 Sub matrix, include 4 Kxmod sources!
5 Vcos with 5 waveforms, include the TriSaw, with Phase modulation and Sync (Vco1 only).
Oscillators 100% compatible with the Kx-Modulad's waveforms (med, 498k).
1 Stereo SF2 player (16 and 24 bits).
1 SF2 drum set (24 bits, 12 samples, 3.3 Mo).
4 Keyboard traking (-10 to 10) for the Vcos and the Vcfs.
1 Ring Modulator with EQ.
1 Noise Generator with EQ.
1 Monophonic LFO with ADSR.
2 Mulitmode VCFs (20) with oversampled processes.
4 Polyphonic EGs with curves for each segment, velocity and Kbd controls.
1 X Y joystick controller.
1 Sample & Hold.
10 host sync clocks.
1 compressor.
1 oversampled Distortion.
1 Soft Vintage EQ.
2 Delays with sync, multimode filter and modulation oscillator with sync.
1 Scope with 10 ms of buffer size.
1 Frequency display.
1 Note pad.
Full Midi learn.
Internal Fxp and Fxb management.
128 KX's presets, very 70′s!
KX-Polymod is a free download here >>
Background video description:
Sometime I like to do some improvisation like K. Schulze,
just because this author is my electronic music reference.
I give my apologies for the listeners because
this is not really always correctly played!
It's just some ideas, a moment, not really solid …
All tracks are done with the Kx-PolyMod, also the drum tracks with its SF2 player.
The way to do this kind of music is always to start with a simple sequence.
I transpose all tracks with the bender, it is limited but I can do that when I feel it.
I used the Kx-MidiFilter to create a bender track.
I used few Kx-synth-x16 voices to do the background sequence (x16)
and one track of the X16 sequencer is used to control drums
with a plate reverb does with the Mverb.
Some sample and hold fx chord tracks are synchronized with the tempo.
The lead is an imaginary Moog lead like KS's albums of 70's.
Win8ChucKBasicFrettingAndLegato Wi Fi, details below:
I got basic fretting (loose fretting… it won't completely prevent quartertones, etc if you play them exactly), and legato rules. I am back to the ChucK engine while I get better acquainted with SuperCollider coding. This is just a Windows 8 based OSC controller. It works running into ChucK or SuperCollider