HG Fortune has released Ghost Machine – a multipart algorithmic composing machine for Windows.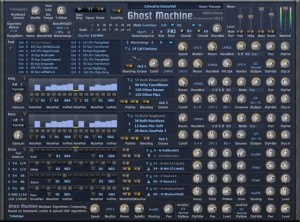 Ghost Machine features:
a Pad part with Long Wave Sequencing
a HiSq part with a 16 step sequencer and customizable note pattern
a bass part with a 16 step sequencer and customizable note pattern, and
a drum part with 4 instruments parts each with a 16 step sequencer.
Here's what they have to say about Ghost Machine:
These 16 step sequencers are pattern driven which are changing due to an internal algorithm to create music. In AutoPlay mode you can let the machine do all the composing work for you, or you can transpose manually at realtime to change the current rootnote. As the system is based on scales (97 heptatonic) you need not worry about getting some 'wrong' notes in between. For a more advanced usage i.e. not just playback of a patch, it is recommended to fade in/out and/or mute a part at realtime, or, even more, 'hold' some pattern for a certain time in disabling algorithmic pattern change. In fact the spirit of this machine is more about flowing pattern changes and arranging a track or performance at realtime.
There are three different sequencers driving one the other. The main sequencer with 16 beats drives HiSq, Bass and Drum part, and after several loops triggers the Note Sequencer to change the root note which then triggers the third sequencer to advance the count for the Wave Sequencer at the Pad part til its end count is reached to change to next wave. The step count at the Note Sequnecer for the root note is also incremented, and the one at the Wave Sequencer respectively, if transposed manually via MIDI keyboard. Thus the algorithmic system does work in manual transpose mode too. Along with the fairly slow progressing of Note and Wave Sequencer certain algorithmic rules have been applied to change pattern and waves at the HiSq, Bass and Drum part.
GhostMachine Pro Suite is available now for 49 Euro til June., 21st. After that, it will be priced at 79 Euro. See the HG Fortune site for details.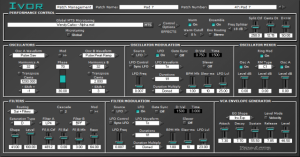 Xen-Arts has introduced IVOR – a two-oscillator subtractive synthesizer that features full-controller MIDI Pitch Microtuning using MTS (MIDI Tuning Standard). Any MIDI Note Number can be freely microtuned to any desired pitch across the MIDI range, enabling musicians and composers to explore the expressive possibilities of composing music with alternative intonation systems.
Features:
Oscillator Section

Two Oscillators with 22 Waveforms
Microtonal, Harmonic Series and Subharmonic Series Oscillator Transposition
LFO (with Rate Sequencer) and Envelope Generator for Phase, Pulse-Width and Pitch Modulation
LFO and Envelope Generator features both Unidirectional and Bidirectional Modulation
Analog Pitch Drift Emulator with both Unidirectional and Bidirectional Modulation
Velocity-to-Harmonics Modulation enables oscillators to dynamically sound harmonics of the fundamental pitch
Ring Modulation with 23 RM Types
Oscillator and Ring Modulator Mixer

Filter Section

Pre-Filter Saturation Stage with 20 Saturation Types
Two Independent Filters with Six Filter Types: LP4, LP2, HPF, BPF, BRF, APF
One and Two Stage Filter Cascade
LFO (with Rate Sequencer) and Envelope Generator for Filter Cutoff Frequency Modulation
LFO and Envelope Generator enables both Unidirectional and Bidirectional Filter Modulation

VCA Section

Dedicated Envelope Generator
Switchable Velocity Sensitivity and Fixed Volume Control

Performance Control

MIDI Pitch Microtuning with MTS (MIDI Tuning Standard)
MTS Support for both Single Note and Bulk Dump
Loads MTS Microtuning Format Files Internally and Receives MTS Externally
Local (Per-Patch) and Global Microtuning (Static Microtuning for All Patches)
Microtunings can be loaded from any directory on hard drives or storage devices connected to the computer
Ten Note Polyphonic
Monophonic Legato Mode
Polyphonic Portamento with Three Glide Modes
Microtonal Pitch Bend
Vibrato
Effects include Warm Filter and Stereo Ensemble
IVOR is available for download as a 32-bit VSTi for Windows XP or higher.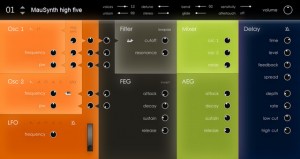 Pekka Kauppila has released a new beta version of MauSynth, a free polyphonic synthesizer plug-in for Windows.
MauSynth is a basic subtractive synthesizer with emphasis on high sound quality and friendly interface.

The plugin is written in c++. It is currently in beta stage, feedback is welcome. MauSynth will stay free even after beta.
Changes in the new beta version

Improved oscillators.
Improved filter.
Improved GUI.
Aftertouch support.
Adjustable velocity sensitivity.
Improved legato mode.
The MauSynth beta is available to download as a VST instrument plug-in for Windows.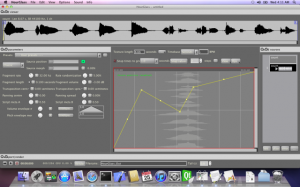 Xenakios has released a free granular effects processor for Windows, HourGlass:
HourGlass is a standalone application intended for radical sound processing by taking fragments (more commonly referred to as "grains" in other similar software) from sound recordings, to create sound textures. It is not intended for minor transparent corrections of playback speed or pitch, but is rather placed firmly in the sound mangling/glitch territory.
A Mac version is also in the works. Download HourGlass at the Xenakios blog.
Sound Magic has released Neo Harmonic, an equalizer/exciter hybrid effect plug-in for Windows featuring a custom shaped filter response curve.

There's an EQ theory called "Yin and Yang" which says that adjusting one band will automatically influence the others. Neo Harmonic takes this theory to a new level by not only boosting/cutting the selected frequency, but also exciting the harmonic partials of that frequency, extending changes throughout the whole audible frequency band. The result is a unique sound which traditional parametric EQs would be hard pressed to achieve.
Neo Harmonic will give you a fuller sound, with more detail and clarity than is possible with a traditional parametric EQ.
Neo Harmonic features
Innovative Harmonic Excite Technology.
Innovative Custom Curve Shape enables users the define their own harmonic curve to achieve unique sound.
Super Wide Bandwith adjusting range gives users more controls on final sound.
Sample and hold fuction enables users to analyze an audio signal first, then hold its harmonic information and apply to another audio track.
Up to 32Bit/384KHz resolution.
Neo Harmonic for Windows (VST/Supreme Piano 2 add-on) is available to purchase for 49 EUR.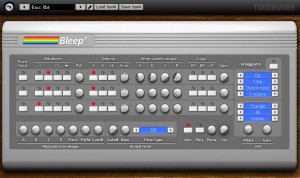 ToneBytes has announced Bleep', a free synthesizer instrument for Windows.
Bleep' — is a free VSTi synthesizer plug-in for Windows which inspired by the sound of MOS Technology SID. At the same time Bleep' is not emulator of this chipset but only partially similar to its architecture.
Bleep' features
3 oscillators with four waveforms: sawtooth, triangle, pulse (with PW) and noise.
Each oscillator has own detuner, ADSR envelope and multimode LP/BP/HP filter.
Multimode LFO synced with BPM.
Modulator Envelope Generator.
Pseudo arpeggiator.
Overall multimode filter.
Built-in preset manager with ability to patch name editing.
VST automation and full MIDI Learning are supported.
Bleep' is available to download as a freeware VST instrument plug-in for Windows PC.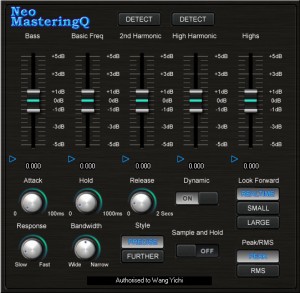 Sound Magic has announced Neo MasteringQ, an effect plug-in for Windows.
Based on Sound Magic's Neo EQ technology, Neo MasteringQ is a revolutionary concept in equalizer technology.

Totally different from traditional EQ, Neo MasteringQ is able to automatically detect and lock in the most audible/sensitive frequency. This makes the whole EQ process much easier than traditional EQ methods – much more efficient and effective than traditional parametric EQ. In addition, Neo MasteringQ also has many special "weapons" designed for mastering EQ processing.

Mastering Engineers often think it would be perfect if an EQ curve could change as the RMS or peak level changes. With a lot of time and a super precise frequency control, this could be done within the traditional realm. However, with Neo MasteringQ, this process is a whole lot easier. Neo MasteringQ provides a 16 Stage, 32 User Preset Changing Curve for each slider. You can achieve a different boost or cut amount as your dynamics change, giving you meticulous timbre control which will add great depth to your music.
Neo MasteringQ features
Innovative pitch detection algorithm special for mastering and multi-instrument mixing, can lock up the right frequency even when there was a lot instruments mixes together.
4 pitch detecters focus on bass, basic frequency and harmonic.
Innovative Auto Distortion Correction Peaking Filter Technology brings lowest distortion rate ever.
Artificial Intelligence Assisted Bandwidth control based on the behavior modeling on over 70 mastering engineers, included frequency furthering.
Sample and hold function enables users to analyze an audio signal first, then hold its harmonic information and apply to another audio track.
Different plug-in version to fit for usage on M/S, Sidechain, Mono.
Up to 32Bit/384KHz resolution.
Neo MasteringQ for Windows (VST) is available to purchase for 69 EUR. A bundle with Neo EQ is 99 EUR.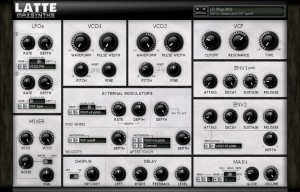 MaxSynths has announced the release of Latte, a virtual synthesizer instrument for Windows.
Latte is inspired by the old synthesizers from the past and is able to produce powerful synth sounds, fat basses, expressive leads, crazy sounds and more.

Despite the synth layout looks very simple the modulation options allows to shape the sound in a lot of different ways. One of the most interesting features is the possibility to use the polyphonic aftertouch as a modulation source to create the typical expressive sounds which has been a trademark for the well known synth gurus of the past.

The Saw/Pulse oscillator of Latte, characterized by a powerful and warm sound, has been created specially with the aim to recreate a realistic vintage sound.
Latte features
2 Oscillators with custom Saw and Pulse waveforms and noise generator (White and Pink noise).
12dB Low Pass/High Pass state variable filter.
2 LFOs with assignable destinations.
Assignable envelope generator.
Extensive options for external modulation with routable Channel or Poly Aftertouch.
FX section with Chorus and Delay.
16 voice polyphonic.
Low CPU usage.
Latte for Windows (VST) is available to purchase for 19.90 EUR. A free version (limited to 4 voice polyphony) is available to download.
TubeOhm say that they are offering a big "thank you" to all TubeOhm users for their support for the 5 last years and hope that they have had a good time with their Instruments.
Available now is Alpha-Ray, a VA synth that includes special TubeOhm features. The full version is free but saving the settings is disabled. Unlocking the effects unit costs 4.95 €.
Features
2 main and 1 sub-oscillator / 10 Voices polyphony.
2 main and 1 mod LFO (Pitch wheel), tempo host sync and phase sync.
3 filters, a 6 dB HP , a 24 dB ladder and a main 12 dB state veriable filter. The 6dB filter coupled to the main filter gives a BP filter.
OSC FM with OSC 1+2 and OSC SYNC with OSC 1+2.
Polyphonic overdrive for OSC 1,2 and sub osc.
Auto Portamento mode. Activates the portamento when 2 keys are played in mono mode.
Aftertouch for enhanced modulation for the filter and the pitch modulation.
User manual in 4 languages (German, English, French and Italian).
Additionally, unlocking Alpha-Ray enables saving the effects settings per patch:
2-stage overdrive.
3-stage chorus.
Delay 'x' and ' normal mode, tempo sync to host.
Special reverb, delay cluster, normal reverb, oil tank effect.
Pricing and Availability:
Free, but unlocking the effects unit costs 4.95 €
More information: