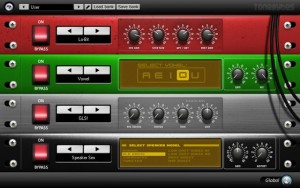 ToneBytes has introduced Lo-Fizer, a free lo-fi effect plug-in for Windows.
Lo-Fizer is a free VST effect plug-in for Windows, designed to add some nice lo-fi effects to your recordings for a variety of artistic techniques.
Lo-Fizer features
10 lo-fi devices which are decorated in a rack units:

Vinyl – produces vinyl cracks and pops.
Hum – produces adjustable low frequency hum.
Hiss – produces warm adjustable high frequency hiss.
Monoizer – stereo to mono converter.
Speaker Sim – simple preset based speaker simulator.
Lo-Bit – bit-crasher simulator.
Crusher – resampler simulator.
Vowel – simple vowel filter.
GLS – vocal remover that uses mid-side technique.

Combine up to 4 devices in the rack.
Built-in preset manager.
VST automation and full MIDI learning.
The Lo-Fizer plug-in is available to download as a freeware (ad-supported) VST effect plug-in for Windows.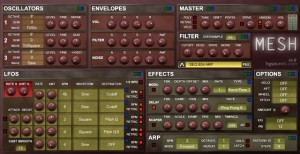 Homegrown Sounds has announced Mesh, a virtual synthesizer instrument for Windows.
The idea behind Mesh was to create a Virtual Analogue mono synth in the style of the Minimoog with the addition of 5 Tempo based LFOs for exploring rhythmic potential. In comparison to previous Homegrown Synths, Mesh is very simple using 3 Oscillators and a Sub Oscillator to shape the sound, a single oversampled Low Pass Moog style filter, and 3 Envelopes. The LFOs can modulate most parameters, and there are several quantized pitch destinations to enable complex one finger sequences to be constructed. Add to this a compact effects section comprising of a Modulator, a Delay and SoundScaper and Finally an Arpeggiator which all adds up to a simple lightweight sonic playground.

The Oscillators provide the usual suspect waveforms such as Sine, Saw, Ramp, Triangle and Square, but also add a large selection of Digital Waveforms to expand it's sonic capabilities. The filter can be oversampled up to 8 times which improves the quality of the sound as well as providing a different character for each of the modes.

Although Mesh is designed as a non velocity based Mono Synth, it can be used as a Polyphonic instrument, and velocity can also be enabled. There are also a set of modulation parameters for assigning Velocity, Aftertouch, Mod Wheel and Pitch to a wide selection of destinations.
Mesh for Windows (VST) is available to purchase for the introductory price of $20 USD for a limited time (regular $40 USD).
Vintage Double Phaser VST by Softrave
Softrave says that their new Vintage Double Phaser VST plug-in for Windows provides a classic phase shift effect and some extended possibilities. They tell us that you can create phase shift effect on left and right channel separately for a strange unique sound. This plug-in was apparently inspired by The Worm guitar pedal by Electro-Harmonix.
http://www.tikov.com/softrave/vdphaser.htm
Vintage Double Phaser Vst is providing classical phase shift effect and some extended possibilities. You can create phase shift effect on left and right channel separately that makes strange unique sound. Or just enjoy classic phaser sound. Its good for guitars, pads, drums and percussion lines. This plugin was inspired by The Worm guitar pedal by Electroharmonix.
Price is 11 EU – 15 USD
Music in this demo is some stems from the album of the band Green Dragonfly
taken by permission of band members
http://www.greendragonfly.net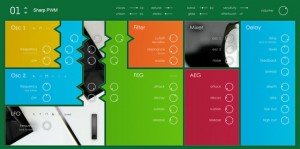 Pekka Kauppila has released MauSynth, a free polyphonic synthesizer plug-in for Windows.
MauSynth is a polyphonic analog-modeling substractive synthesizer VST plugin by Pekka Kauppila. You can create all sorts of awesome sounds with it.
MauSynth features
Band-limited oscillators.
Zero-delay feedback filter.
Audio-rate modulation.
32 voice polyphony.
Stereo unison.
Friendly user interface.
MauSynth for Windows (VST) is available to download as donationware.

SyncerSoft has announced the release of its Lizard Morph freeware effect plugin for Windows.
Lizard Morph is detune and morph effect designed to deliver the powerful, penetrating sounds favoured by trance musicians. It's ideal for use in trance, dance, techno, dubstep, electronica, drum n bass, big beat, dub, reggae and all other styles.

LFO modulation sections was designed specialy for Dubstep genre but can be used in other styles too of course. The plug-in contains: Main section. Filter section. LFO section. Morph section.
The plug-in is available to download as a freeware VST effect plugin for Windows.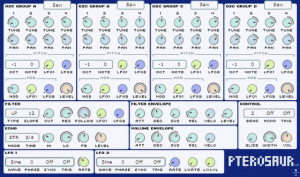 Contralogic has released an updated version of Pterosaur, a free synthesizer plug-in for Windows.
Pterosaur is a 16 oscillator synth. It's loosely inspired by the classic Supersaw sound of the Roland JP-8000 in that the output of each oscillator can be independently detuned and panned, creating a very rich sound.

The basic waveform produced by the oscillators is a sawtooth wave which can be morphed into a sort of saw/pulse hybrid with the mod control.
Changes in Pterosaur
Polyphonic mode added.
More LFO shapes.
3 additional oscillator waveforms (sine, triangle and square), all of which can be morphed in the same way as the sawtooth wave in the original version.
Pterosaur for Windows (VST) is available to download at no cost.
HG Fortune has released Ghost Machine – a multipart algorithmic composing machine for Windows.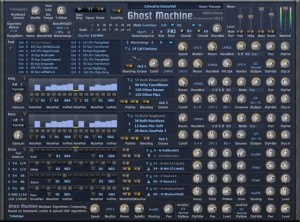 Ghost Machine features:
a Pad part with Long Wave Sequencing
a HiSq part with a 16 step sequencer and customizable note pattern
a bass part with a 16 step sequencer and customizable note pattern, and
a drum part with 4 instruments parts each with a 16 step sequencer.
Here's what they have to say about Ghost Machine:
These 16 step sequencers are pattern driven which are changing due to an internal algorithm to create music. In AutoPlay mode you can let the machine do all the composing work for you, or you can transpose manually at realtime to change the current rootnote. As the system is based on scales (97 heptatonic) you need not worry about getting some 'wrong' notes in between. For a more advanced usage i.e. not just playback of a patch, it is recommended to fade in/out and/or mute a part at realtime, or, even more, 'hold' some pattern for a certain time in disabling algorithmic pattern change. In fact the spirit of this machine is more about flowing pattern changes and arranging a track or performance at realtime.
There are three different sequencers driving one the other. The main sequencer with 16 beats drives HiSq, Bass and Drum part, and after several loops triggers the Note Sequencer to change the root note which then triggers the third sequencer to advance the count for the Wave Sequencer at the Pad part til its end count is reached to change to next wave. The step count at the Note Sequnecer for the root note is also incremented, and the one at the Wave Sequencer respectively, if transposed manually via MIDI keyboard. Thus the algorithmic system does work in manual transpose mode too. Along with the fairly slow progressing of Note and Wave Sequencer certain algorithmic rules have been applied to change pattern and waves at the HiSq, Bass and Drum part.
GhostMachine Pro Suite is available now for 49 Euro til June., 21st. After that, it will be priced at 79 Euro. See the HG Fortune site for details.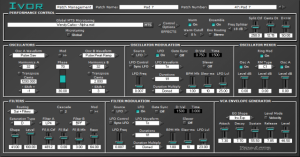 Xen-Arts has introduced IVOR – a two-oscillator subtractive synthesizer that features full-controller MIDI Pitch Microtuning using MTS (MIDI Tuning Standard). Any MIDI Note Number can be freely microtuned to any desired pitch across the MIDI range, enabling musicians and composers to explore the expressive possibilities of composing music with alternative intonation systems.
Features:
Oscillator Section

Two Oscillators with 22 Waveforms
Microtonal, Harmonic Series and Subharmonic Series Oscillator Transposition
LFO (with Rate Sequencer) and Envelope Generator for Phase, Pulse-Width and Pitch Modulation
LFO and Envelope Generator features both Unidirectional and Bidirectional Modulation
Analog Pitch Drift Emulator with both Unidirectional and Bidirectional Modulation
Velocity-to-Harmonics Modulation enables oscillators to dynamically sound harmonics of the fundamental pitch
Ring Modulation with 23 RM Types
Oscillator and Ring Modulator Mixer

Filter Section

Pre-Filter Saturation Stage with 20 Saturation Types
Two Independent Filters with Six Filter Types: LP4, LP2, HPF, BPF, BRF, APF
One and Two Stage Filter Cascade
LFO (with Rate Sequencer) and Envelope Generator for Filter Cutoff Frequency Modulation
LFO and Envelope Generator enables both Unidirectional and Bidirectional Filter Modulation

VCA Section

Dedicated Envelope Generator
Switchable Velocity Sensitivity and Fixed Volume Control

Performance Control

MIDI Pitch Microtuning with MTS (MIDI Tuning Standard)
MTS Support for both Single Note and Bulk Dump
Loads MTS Microtuning Format Files Internally and Receives MTS Externally
Local (Per-Patch) and Global Microtuning (Static Microtuning for All Patches)
Microtunings can be loaded from any directory on hard drives or storage devices connected to the computer
Ten Note Polyphonic
Monophonic Legato Mode
Polyphonic Portamento with Three Glide Modes
Microtonal Pitch Bend
Vibrato
Effects include Warm Filter and Stereo Ensemble
IVOR is available for download as a 32-bit VSTi for Windows XP or higher.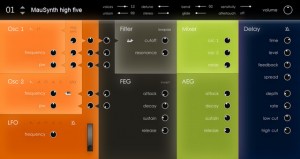 Pekka Kauppila has released a new beta version of MauSynth, a free polyphonic synthesizer plug-in for Windows.
MauSynth is a basic subtractive synthesizer with emphasis on high sound quality and friendly interface.

The plugin is written in c++. It is currently in beta stage, feedback is welcome. MauSynth will stay free even after beta.
Changes in the new beta version

Improved oscillators.
Improved filter.
Improved GUI.
Aftertouch support.
Adjustable velocity sensitivity.
Improved legato mode.
The MauSynth beta is available to download as a VST instrument plug-in for Windows.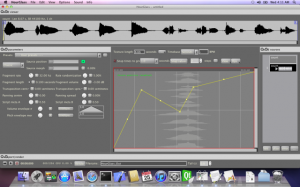 Xenakios has released a free granular effects processor for Windows, HourGlass:
HourGlass is a standalone application intended for radical sound processing by taking fragments (more commonly referred to as "grains" in other similar software) from sound recordings, to create sound textures. It is not intended for minor transparent corrections of playback speed or pitch, but is rather placed firmly in the sound mangling/glitch territory.
A Mac version is also in the works. Download HourGlass at the Xenakios blog.