Josh Morky – a Mac user for 10 years and also an iPad music app fan – was intrigued by the new Windows 8 Surface tablets
I've been a mac user for almost 10 years now and recently learned about the new Windows 8 taking the leap into touchscreen. More or less all new windows computers are touch. Its pretty obvious from the thousands of apps that have popped up on the iPad in recent years that performing electronic music on a touch screen is fun, expressive, and kind of what we've all been waiting for. It just makes sense. Ive used an iPad for playing music – which I love – but can't help but feel that Apple is purposefully limiting its potential. File management is a nightmare, and multitasking just doesn't work. The iPad is brilliant at making sure you get all your apps, music, movies through Apple. By controlling your work/data flow, they make more money – a good business model, but not good for the creative user.

Windows 8 seemed too good to be true, but nobody on the internet has been writing about it. I decided to take the leap and bought a Microsoft Surface. Best Buy has a great return policy, so if I didn't like it, I could always return it….

Basically, I ended up loving this thing. The operating system looks great, works great, and is altogether fun to use. Multitasking and switching between programs is great, and its really fun to be able to use a pen/stylus in addition to touch (its super precise and pressure sensitive). It really feels like the future of computers. I use a new 15″ macbook pro in my studio and a new 27″ imac at work, and now it feels like a bummer every time use them. They feel outdated. Trying to use the iPad is even more depressing. There are a lot of new windows tablets/laptops out there – but there are two things that made the Surface appeal to me more: 1) it comes with a pen (which helps if you need precision – especially with such a small screen – and taking notes or drawing is a lot of fun) and 2) the kickstand. I didnt really realize how nice it would be to be able to prop up a tablet – the ipad can be annoying to use in a lot of situations because it doesnt have one. Other things that are awesome is that it supports flash (Hulu!) and has usb – so you can use external drives, midi controllers, audio interfaces, etc….

Using Reaktor is great. I personally hate having to use midi controllers whose interface bears no resemblance to the patch Im using, and touch OSC on an ipad can be buggy and you have to create templates for every patch you use and end up constantly changing your template if you change anything in your patch. I also dont want to have to take 2 computers to a show, I want a tablet up there with me and thats all. Surface does this. Reaktor is really responsive and expressive – but it doesnt support multitouch yet. I thought this would make it pointless to use on a touchscreen, but I barely notice it. There are times it would be great to use multitouch, and things could definitely get more interesting with multitouch, but even just touching one thing at a time completely blows away using a mouse/midicontroller/touchOSC.

I tried using Ableton and it was super buggy with touch. You'd need a mouse, but even then, the screen on the Surface is just a bit too small.

As much as I loved the Surface, I ended up returning it. My car required $1000 to fix the day after I bought this thing, and as close to perfect as it was, the screen size of the Surface is just a bit too small for performing. At 10.1 inches, it has the same problem as the iPad in that you can't fit too much on a screen without making the controls too small. Its fine if you miss a knob when you're working in your studio, but in a live setting, you'd want something you can reliably hit 100% of the time. Unfortunately, most of the windows tablets are around 10/11 inches – and for some reason the idea of getting a laptop sounds too old fashioned to me – I DONT want a keyboard. Im going to wait around a little bit till things like the Dell XPS 18 come out (an 18 inch tablet with a sweet kickstand thats even more versatile than the Surface's – though doesnt have a pen) or Microsoft comes out with a second edition (rumors are that they'll make a 14 inch version, which sounds like the perfect size for mobility, home use, and performance). In the next 6 months a ton of new computer sizes/formats will be coming out – and they'll get cheaper. When the perfect one comes out, I'll be ready for it.

What REALLY needs to happen is that software companies need get on board. Theres not much yet that takes full advantage of multitouch. It'll come, but its not there yet. This is really exciting – its the obvious next step in the evolution of the computer. Windows made a great new operating system, now its the software companies turn to take advantage it.
For the past 2 years the market has more or less been swamped with tablet synthesizers, drum machines, vintage clones, ambient electronic instruments for tablets. At first it was more or less an iOS only business, Android has been struggling for a long time with its user experience and more importantly with its audio latency. But now there is movement also on the Android side with several music creation app developers porting their apps also on to Android, ie FL Studio, Caustic to name but a few.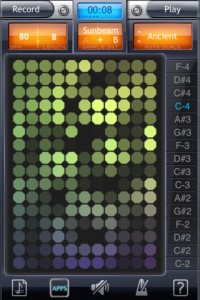 NOTE: We do not claim that this screenshot necessarily implies a poor music experience, it is for illustrative purposes only
All this is great in a sense but how much real music production is being done on these devices, sure there are bands and artists that claim that their entire new album has been done on a tablet, but seriously how many go beyond using them for leisure playing or perhaps inspirational journeys into the ambient worlds of many of these glossy and experimental tablet synthesizers. Of course in a studio environment you can hook these tablets up, attach necessary controllers and get it all in your DAW, but is it effective – will it actually transform how we create music, will it replace an acoustic guitar or piano to create a new tune or melody. As of right now it tends to be more an effects generator for adding cool sounds, ambient pads, chip sounds etc. To be honest music creation is much more than machines – in the end no song is better than the melody that forms the base of music creation – tablets will not change this.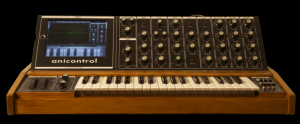 Just to be clear, we are not hardware fanatics in any way, most is done in a virtual studio environments. The question we ask, can tablets really take the jump from a toy or perhaps experimental control surfaces, to be effective tools in the music creation process. With crisp graphics and UIs you can run awesome looking vintage clones, like the iMS-20, but still comparing the feeling of twisting a virtual knob to a physical one – the sense of precision is not the same, sure you can hook it up to a keyboard and sure you can get a "real" KORG analog synth for the price of a couple of visits to Starbucks, but it is not the same as dealing with the real thing. But maybe this is good enough for a greater crowd and we have with tablets definitely pushed the envelope on what defines a music production environment. However, what can be seen now is that we only get more of the same – more ambient synths, more vintage clones, more cheap drum machines and sequencers, more experimental control surfaces and hybrid DAWs.
What will be the next step and will we ever take these guys below seriously


We sure do in one sense, but in another it still feels so 2012…
The Laptop Orchestra of Lake Forest Academy plays Radiohead's "Meeting in the Isle" as they open their Fall 2012 concert. 8 musicians play and project iPads on sound panels behind them while using a combination of apps including Animoog, iMS-20, iElectribe, Reactable, and Garageband.
After all talks about the iPad this might inspire the rest of you

This is a new 11″ Tablet PC by the manufacturer Pegatron. This will be available in May 2011. I had the luck of being asked to be the guinea pig and showing how this may work in the Musician's world. Enjoy!!

Today's big rumor, coming from an un-named single source by way of the Download Squad blog, is that a Google tablet, made by HTC, running Google's Chrome OS, and available on the Verizon network, will go on sale on November 26th this year. That's Black Friday.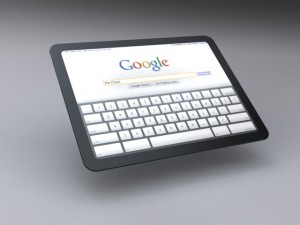 Or, maybe not: Citing similarly un-named sources among "upstream component makers," Digitimes asserts that it's Motorola, not HTC, that is Google's first choice for a tablet, which Digitimes says will be based on Android.
The Motorola-made Google tablet will utilize Nvidia's Tegra 2 processor platform, and will have a 10.1-inch Sharp-manufactured LCD that's not as bright as the iPad, but is thinner, says Digitimes. It will be in production by the end of 2010, the paper added.
Judging from the number of micro synths and drum machines that has popped up for Android, I guess it is just a matter of time before we see a similar development on the tablet side