Get free tracks from Carl Craig, El-P, Divine Fits and Exitmusic: http://goo.gl/DkYIB
Watch performances from the Moog Sound Lab: http://moogfest.com/
In May of 2012, Google turned its homepage over to Moog, creating a playable version of one of their synthesizers. The synth "Doodle" was used by over 300 million users, and brought a new level of attention to the Asheville, N.C.-based company. Acknowledging this, Moog, as part of their 3rd Annual Circuit Bending Contest held during the Moogfest music event, called for enthusiasts and benders to create a sampler and use the Google Moog Doodle as the basis for it's sounds. The winning sampler was unlike anything we'd ever seen, and we contacted some of our favorite musicians, including Detroit techno pioneer Carl Craig and hip-hop icon El-P, to create or rework songs using this new tool. The resulting tracks and documentary chronicle the dynamic relationship between technology and music, and how each field pushes the other in unpredictable and amazing directions.
Subscribe to the Google Play YouTube channel: http://goo.gl/UX1U4
We of course all new that some people would enjoy the challenge to make some music on the Google Moog synth 😀
Daft Punk cover performed on today's interactive 'Google Doodle'.
Percussion performed on Korg Monotribe.
http://www.twitter.com/brettdomino
http://www.brettdomino.com
And by the way here's another one from Jordan Rudess:
And of course Moog has to try it out as well:
In celebration of Bob Moog's Birthday Google created a web based synthesizer for the world to enjoy. Moog's Chief engineer, Cyril Lance, overviews the doodle' s capabilities to help you get started crafting sounds. Now everyone can explore the wonders of subtractive synthesis and express their creativity by sculpting sounds. Remember, experimentation and learning will reward you with a lifetime of rich synthesizer experiences. #celebratebob
Enjoy !
What happens when you take Animoog, a MF-102 Ring Mod, a MF-104Z Analog Delay, the Moog Google Doodle, and put them in a room together? Pure sonic creativity.
Has Bob Moog inspired you? #celebratebob
check out the whole celebration at: www.moogmusic.com
By the way here's a birthday gift from Google – Google Honors Bob Moog, Turns Search Engine Into A Synth!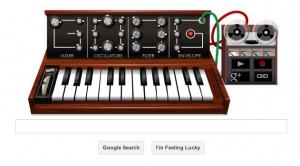 t had to be done! I saw the Les Paul interactive guitar Google homepage www.google.com a couple of hours ago so I performed a quick song/mashup about it… here it is.
It wasn´t more then 24h after CDM released the beatbox thinking in relation to Google Translate before this video appeard
Google translate beatbox Meme Video Mashups
Thanks internet for the LOLs :*
This is actually quite funny

German to German translation turns Google Translate into a Beatbox
Click here and then click on listen >>
Rumor has it that Google will go for a holiday-season launch for a new music download service. Google's new msic service would be deeply connected to the Android mobile operating system. Apparently the company would go for the launch of a music download service first and then have that followed by an online subscription service next year. The service Google is aiming at would be a cloud-based subscription service with the ability to stream directly to Android mobile devices.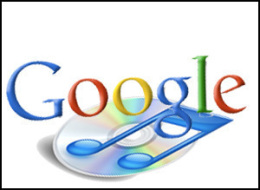 It remains to be seen if 'Google Music' will be able to present a serious threat to Apple's iTunes. AdMob reports have already revealed that Android users are half as likely to pay for mobile apps as iPhone users. Users of the iPhone download an average of 8.8 apps a month, of which just 1.8 are paid for. Android users, meanwhile, download 8.7 apps a month and only pay for 1.1 of them. Good to know, AdMob is Google's mobile ad company and Android is its mobile platform.
Today's big rumor, coming from an un-named single source by way of the Download Squad blog, is that a Google tablet, made by HTC, running Google's Chrome OS, and available on the Verizon network, will go on sale on November 26th this year. That's Black Friday.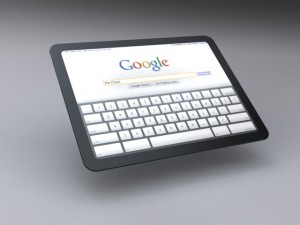 Or, maybe not: Citing similarly un-named sources among "upstream component makers," Digitimes asserts that it's Motorola, not HTC, that is Google's first choice for a tablet, which Digitimes says will be based on Android.
The Motorola-made Google tablet will utilize Nvidia's Tegra 2 processor platform, and will have a 10.1-inch Sharp-manufactured LCD that's not as bright as the iPad, but is thinner, says Digitimes. It will be in production by the end of 2010, the paper added.
Judging from the number of micro synths and drum machines that has popped up for Android, I guess it is just a matter of time before we see a similar development on the tablet side