August 19, 2010 · Posted in
Uncategorized
·
Comments Off

on iPad, as a music prod tool, up for serious competition from Google
Today's big rumor, coming from an un-named single source by way of the Download Squad blog, is that a Google tablet, made by HTC, running Google's Chrome OS, and available on the Verizon network, will go on sale on November 26th this year. That's Black Friday.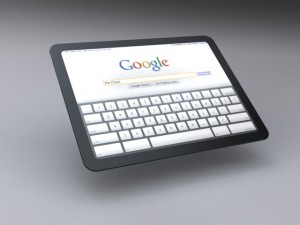 Or, maybe not: Citing similarly un-named sources among "upstream component makers," Digitimes asserts that it's Motorola, not HTC, that is Google's first choice for a tablet, which Digitimes says will be based on Android.
The Motorola-made Google tablet will utilize Nvidia's Tegra 2 processor platform, and will have a 10.1-inch Sharp-manufactured LCD that's not as bright as the iPad, but is thinner, says Digitimes. It will be in production by the end of 2010, the paper added.
Judging from the number of micro synths and drum machines that has popped up for Android, I guess it is just a matter of time before we see a similar development on the tablet side