Moog Doodle Sonic Experiment and Google honors
What happens when you take Animoog, a MF-102 Ring Mod, a MF-104Z Analog Delay, the Moog Google Doodle, and put them in a room together? Pure sonic creativity.
Has Bob Moog inspired you? #celebratebob
check out the whole celebration at: www.moogmusic.com
By the way here's a birthday gift from Google – Google Honors Bob Moog, Turns Search Engine Into A Synth!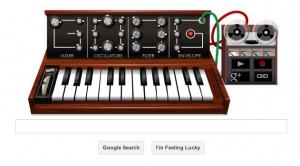 Comments